Nicknames are crucial parts of our lives now. Whether it's a game name or your username in social media, it's the first thing other people look at before interacting with you. That's why it's important to have an unusual name that matches your personality.
There are lots of nickname generator apps and websites that can make usernames that will help you stand out from the crowd. Plus, these apps and platforms may save lots of time you could've spent trying to come up with a nice name.
In case you're looking for a baby name, check out this article: 11 Best Baby Name Apps for Android & iOS
Here's the list of the 9 best apps and websites in that category you should try. Take a look!
Fancy Text Symbols
Let's start with an app called Fancy Text Symbols. This is an app made for you to make unusual nicknames that will match your personality.
This app is capable of making various types of nicknames so you could stand out from the crowd on any platform you want. For instance, you can use the app for making a cool gaming name or the name for multiple social media like IG or Twitter. But the coolest thing about this app is that you can not only generate the name but create a unique style of it.
In other words, you can try out various fonts, add symbols and even use animated art writing. The app has a huge collection of fonts, characters, and writing styles so there's something for everyone. Plus, all the styles are organized by sections so you can search for something specific as well.
There's also a popularity section that empowers you to view the trendiest fonts and symbols right now. Plus, there's a collection of extra fonts that turns the letters upside down or make the text impossible to read (in case you're in the mood for something uncommon).
All you need to use the outcome nickname or text is to copy it and paste it wherever you need.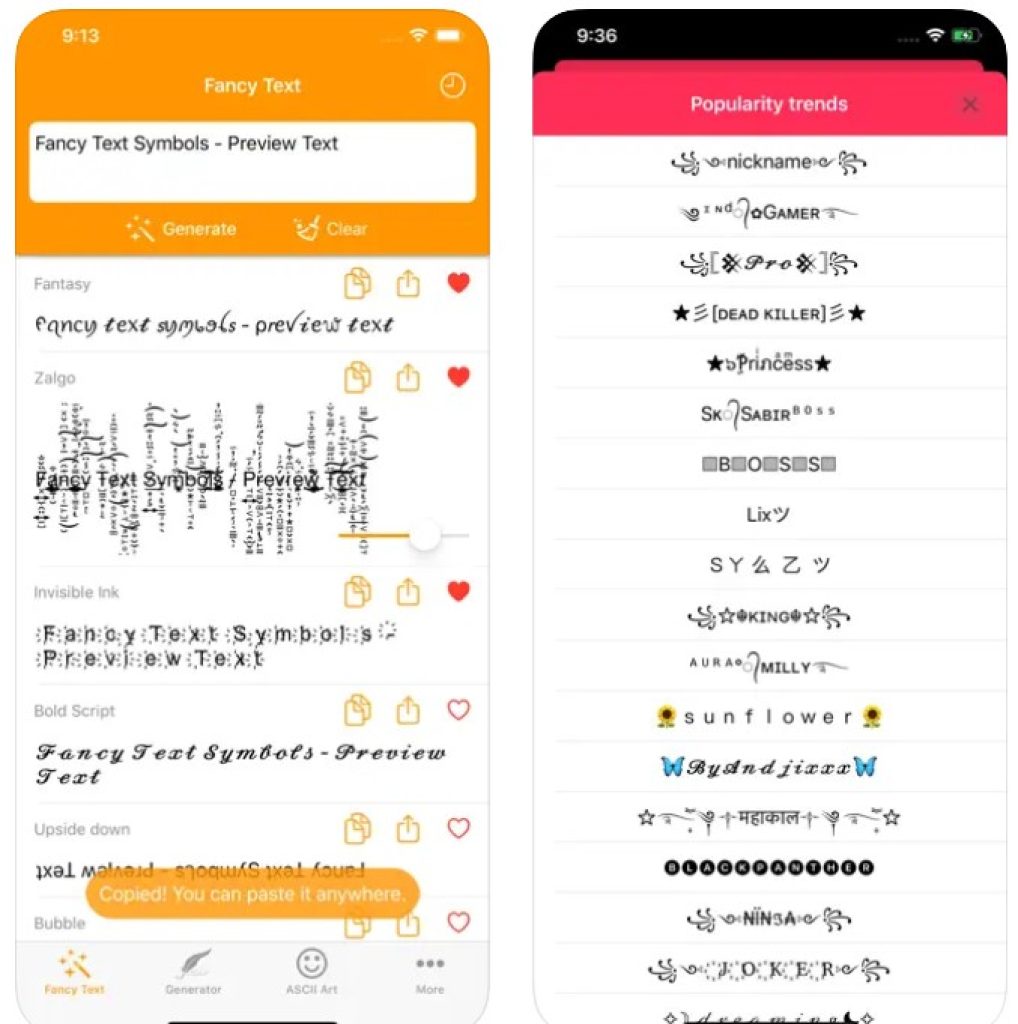 You may also like: 8 Modern calligraphy generator apps for Android & iOS
Name Generator
As you can guess by the title, Name Generator is an app that will come up with an unlimited amount of random names for you.
The first thing to point out is this app is only a generator — no fonts or symbols. Plus, apart from most of its sister apps, this one doesn't actually give you nicknames in general — it comes up with full-on names instead. So basically what you get here is an unlimited source of names and surnames that can be used for whatever comes to your mind.
In other words, you can use these names for making anonymous accs in SM or even for designing a fictional character. The cool thing is the app covers more than 40 origins and you can generate names for any of those. Once you'll pick the origin you can also enter the gender or leave it random if needed.
Plus, due to the origin metric, all the names will look authentic and real so if you're a journalist or a writer looking for a pseudonym this app will work just fine.
For now, the app is capable of generating more than 4 million combinations of names and the number is still counting. As for the interface, it's minimalistic and clear — there's nothing extra that may annoy or distract you.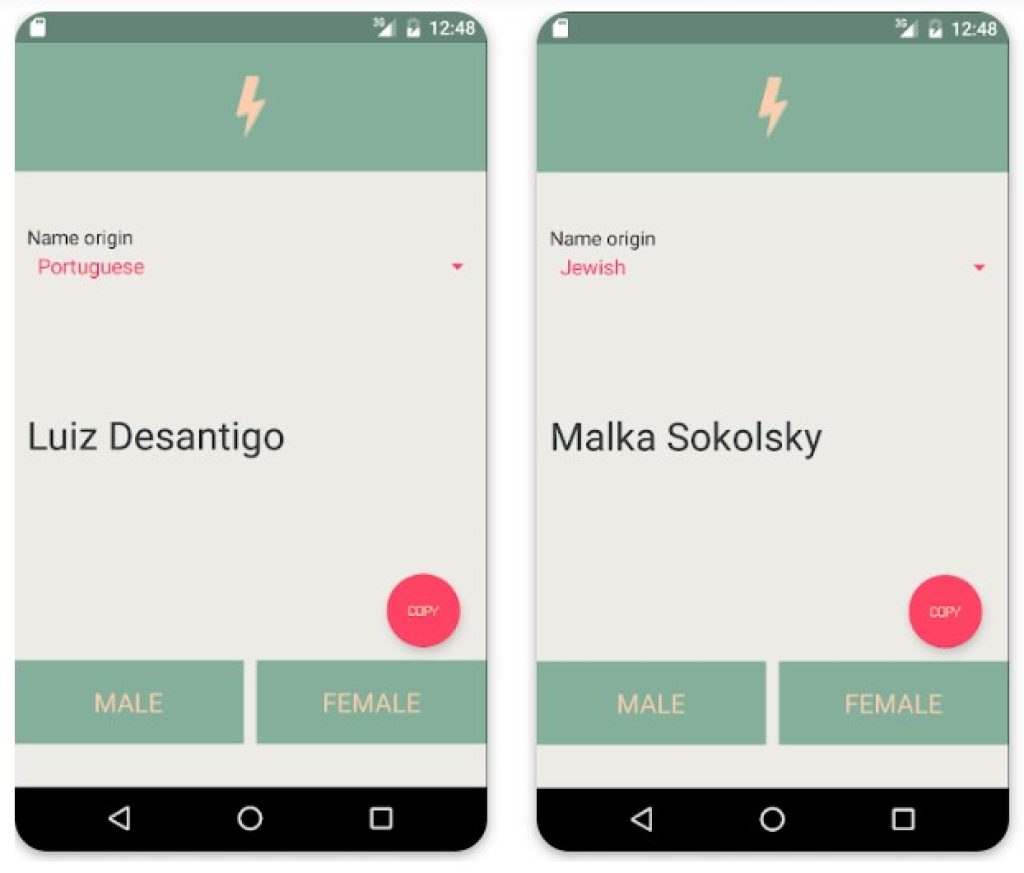 Fancy Name
Fancy Name is another app that will make a cool individual nickname for you.
The main goal of this app is to make memorable nicknames for any purpose possible — from gaming to social media access. And considering the name for SM and game accounts should have different aesthetics, there are separate generator pages for those.
Plus, the app can pick a font to come along with the name. For now, there are more than 200 stunning fonts and new ones are being added with each update.
Besides, there are multiple symbols that you can add to the name to make it more personalized and unique. It also needs to be mentioned that the app has a clear and comfortable UI that is not overloaded with ads and extra buttons.
Speaking of how to use the nicknames, you just need to copy them and then paste them wherever you want. Therewith, there are no limits on the number of random generations you can make throughout the day and no paid fonts a well. In case you'll find a cool name but won't be ready to use it, you can add it to your faves for quick access.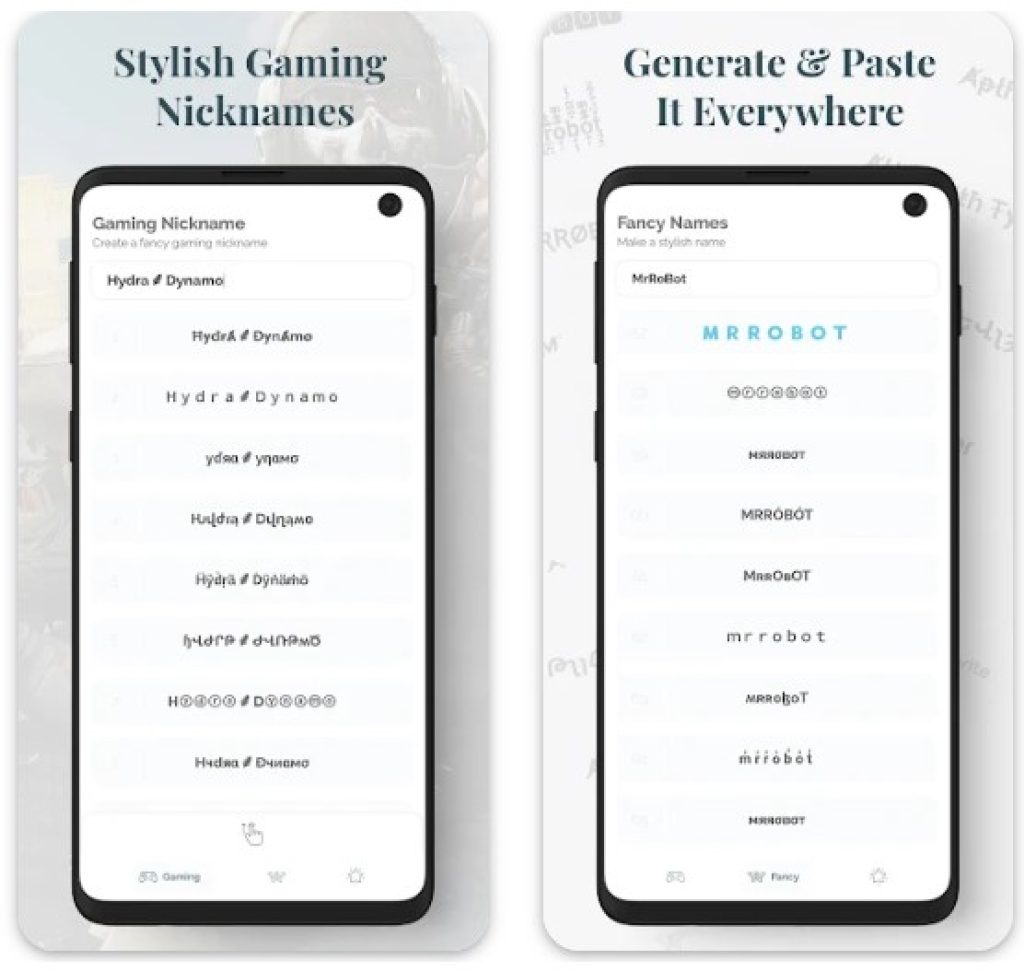 Nickname Generator: NickName
This is another name generator that is aimed mostly at gamers to find their perfect name. But actually, everyone can use this app and find something interesting with its options.
The selection of names are quite wide and can be related to any topic, for instance, superhero names, cartoon names, and so on.
The app's menu is quite standard: it has the main page, which displays the different name generators available, and a favorites page, where you can save the names.
There is also a section for creating custom nicknames, where you can type in the names from scratch.
The user interface design is quite average, and the overall quality of images doesn't really correspond to modern standards.
But overall, it's a lightweight and simple app that you can use if you need to quickly generate a name for a game account and you don't want to waste too much time on it.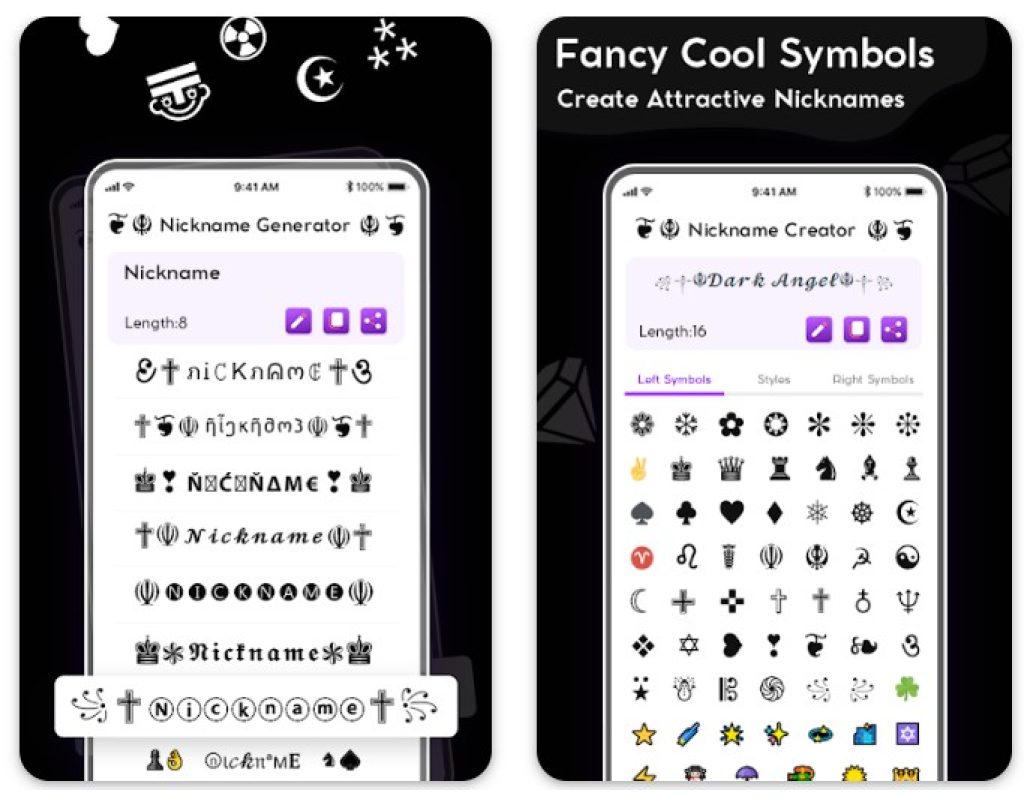 Fantasy Name Generator
As its name supposes, Fantasy Name Generator is a generator app that specializes in a fantasy theme.
If you're a gaming type of person you've probably gotten confused about picking an authentic name for your character at least once. Well, it would kinda be weird to call an immortal elf Steve or John (there's nothing wrong with these names they just sound too human).
And that's what this app is here for — to facilitate the process of picking a cool fictional name for a fantasy character. Therewith, this app can also be used by writers and game developers as there are lots of specific metrics you can point out.
Of course, you can go for an absolutely random generation but if you have any specific request the app can take it as a note as well. To be more precise, you can pick the race of a character, some cultural qualities, and so on. Moreover, you can use the app to generate a name for fantasy places!
There are four categories of names — the real name with a surname, a fantasy one, an ancient one, and the places. And each category has plenty of subcategories so you can spend hours picking up the perfect name.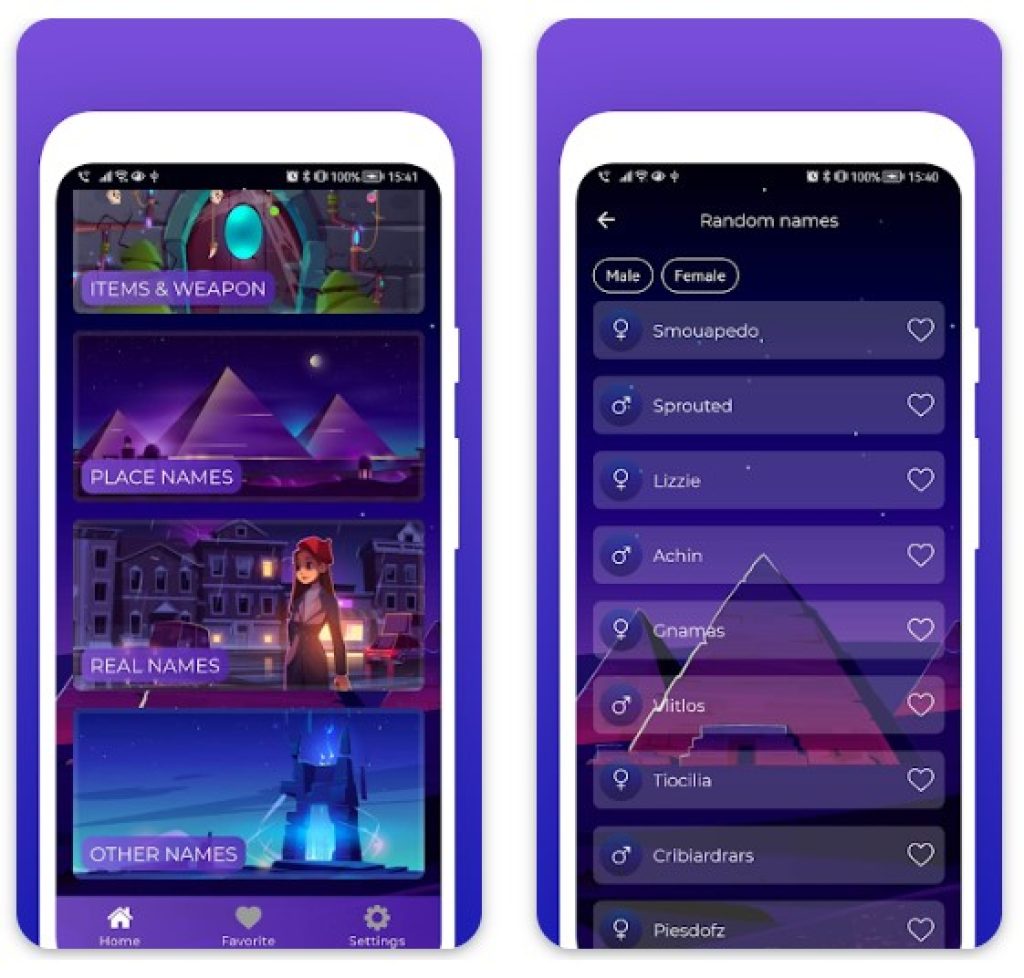 Check also: 11 Free Stylish Name Maker Apps for Android & iOS
Fancy text – cool fonts, nickname generator
Fancy text is a nick generator that covers multiple calligraphic styles.
Frankly speaking, this one is quite similar to the first app on our list — from the features, it provides to an old-school-looking UI. Of course, the particular amount of fonts and symbols may vary but the overall vibe is very similar.
As for the generator tool, it's quite basic. You can not add any preferences except for gender here. Nevertheless, you can view the trendiest nicks and go through several categories like hot, funny, bossy, and all that.
Once you've got the nickname you can move to the next part — playing with fonts. Therewith, the app has some basic fonts along with unique barely readable calligraphic styles so there's something for everyone. In case you'll like several calligraphic styles and will be unable to pick one you can add them all to your faves and decide it later on after a side-by-side comparison.
Plus, you can also add several symbols to the name to make it more personalized. There's even a collection of emoticons in case you're growing with some old-school early 2010s vibe. Plus, there's a tool that converts your name into emojis (which doesn't make any sense sometimes but it's still fun to try).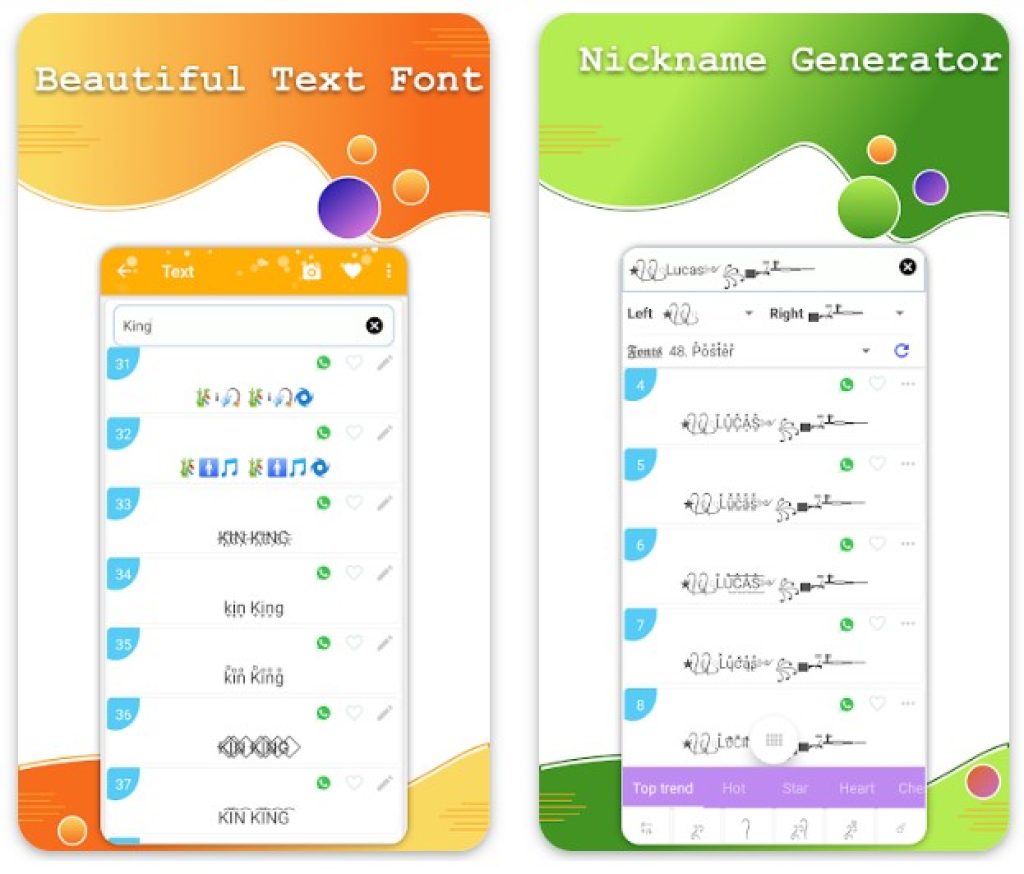 Name Generator
Name Generator is a website fully dedicated to picking up the perfect name for any occasion you can think of.
Considering that different occasions imply different types of names, the platform splits generators between sections. Once you'll get on the main page you'll see 10 categories the images can be generated in — from character name to band name.
When you move to a specific category, you'll be given various questions that aimed to help the service to pick the best name for you (the questions may vary according to the category). In the case of a character name, you can even pick the first and last letters of the name and the surname.
It needs to be said if you just want a random name and don't have any preferences you can pick the "doesn't matter" option. You also get to adjust the popularity of the name if needed. Plus, you can play with the complicity of the name which stands for the number of letters in it.
Besides, you can view the top used names in different categories. For now, the site covers more than 200 thousand names in each category so you'll have options to choose from.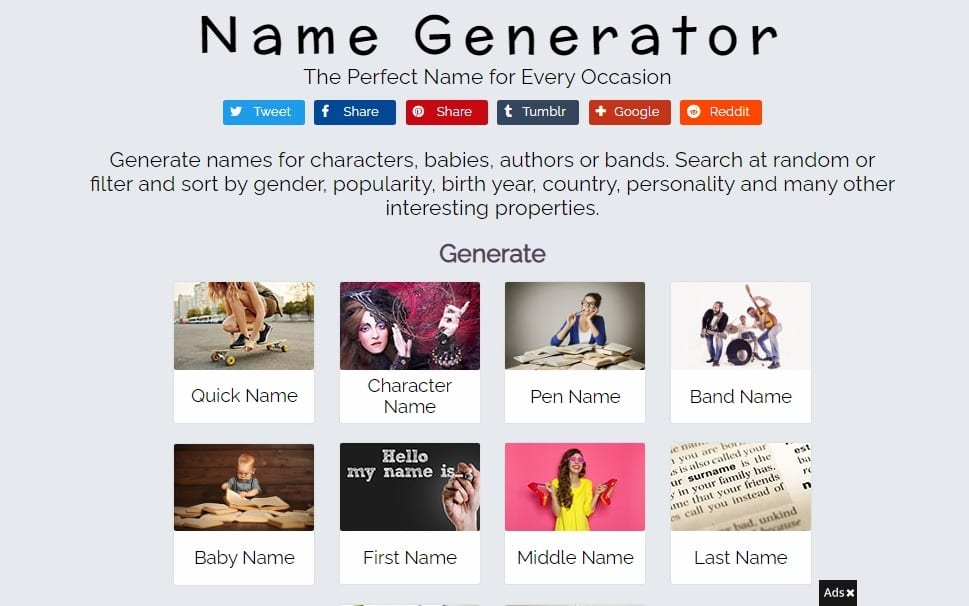 Name style: Nickname Generator
This is quite a nice name-generator app. Different content creators and gamers will probably find useful ideas from here. The main features of the app provide a wide selection of name generators, customizable options, and a user-friendly interface.
You can generate any type of name with this app, for example, fantasy names, superhero names, clan names, and more. You are also enabled to customize the names by selecting different categories, for instance, funny, cool, scary, and so on.
Moreover, the app includes a section for trending names, which shows popular name options among people.
In the menu of the app you will find several sections, such as the Home page, which displays the different name generators available, and the Favorites page, where you can save your favorite names. There is also a Share section, so you can even share generated names if you want.
We really liked the interface design of the app, it's a minimalistic approach but has wide functionality at the same time.
In general, this is quite an interesting name-generator app that you can use if other options don't suit you enough.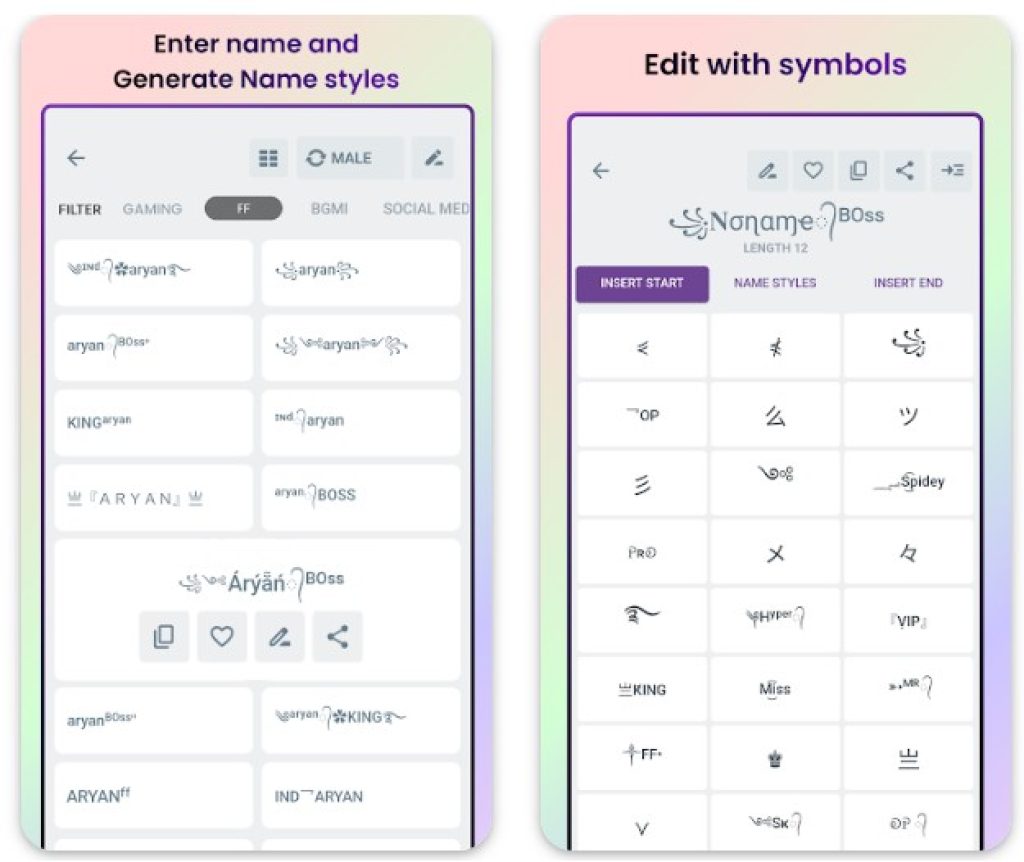 You may also check: 7 Best Text Generating Apps for Android & iOS
Plarium
And lastly, Plarium is a website that will pick the coolest fantasy name for you.
Apart from the app with the same theme, this site doesn't have as many filter options but it's still great especially if you want the name generated as quickly as possible. As for the things you can pick here, you can give (or not to give) your preferences on the gender of the character.
Plus, you can point out the type of a figure such as a superhero, the one for an RPG game, a fantasy name, a clan name, and so on. Each type of name has its own explanation page. So if you don't know what any category on this filter means you can explore it. In case you're not sure what name you want you can leave this filter untouched.
The good thing is you can generate new names for as long as you want, there are no paid options here. When you'll find the perfect name you can just copy and paste it wherever you like.