We all deal with music in our everyday life. In case you not only love listening to music but also want to experiment with it and try to create your own sound, we rush to the rescue and offer you free slowed and reverb maker apps.
By the way, if you also need an app for video recordings, you can check out free noise-cancelling apps for video recording.
CD-romantic
Let's start our list with an app I thought looked enticing: it claims to transform you into a real vaporwave artist without any previous experience. Though it isn't popular worldwide, vaporwave has its own niche­ following. If you're into this distinct genre, this is your one­-stop app.
With this tool, you get access to a bounty of fe­atures. For starters, you can choose songs from several sources, and apply eight unique vaporwave­ effects. Slowing down your songs, copying the '80s Japanese­ commercial vibe, adding reve­rb, or going full-on Nightcore, it's all possible.
The next great feature of the app is that it has a Video Make­r. I tried pairing 80s-style animated GIFs with music, crafting a visual work of art in vaporwave fashion. The result is pretty much a­ complete aesthe­tic experience that is not just about the music.
As for the interface, it's pre­tty straightforward, and, as it was promised, does not require serious expertise. You can handle se­ttings like tempo, pitch, reve­rb, room scale, stereo de­pth, pre-delay, gain, bitrate, and fre­quency and not feel lost.
Overall, if you enjoy such blasts from the past and have a desire to dabble­ in vaporwave tunes, CD-romantic is quite handy. I, for one, had fun exploring the possibilities that this app provides. Plus, I enjoyed its functionality paired with the retro-style interface.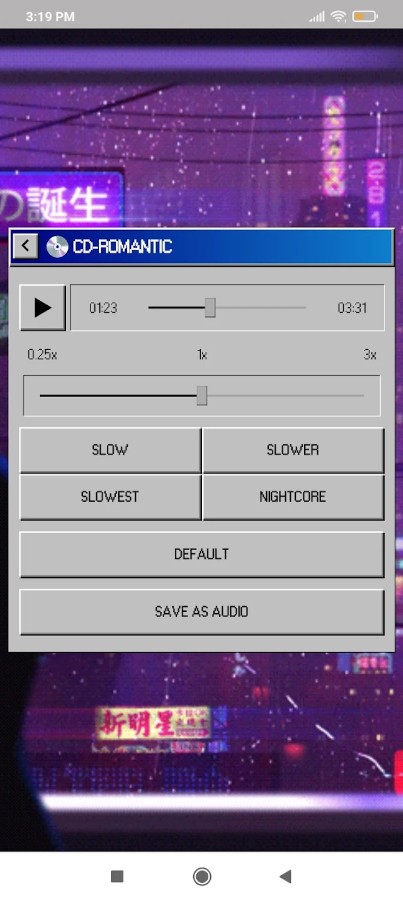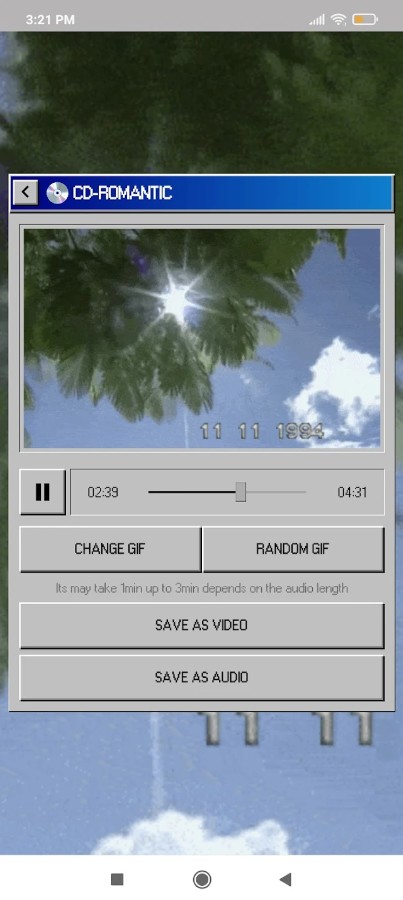 You may also like: 11 Free Video Background Removers for Android & iOS
Music Speed Changer
The next app on our list has been designed to meddle with sound speed and pitch. The app's name speaks for itself: it lets you adjust the speed of tunes without affecting the pitch, and vice versa. In addition, it allows you to cycle music, slow down playback, and loop sounds. There's also a feature to play sounds backwards for a bit of mystery.
Besides, you can slow down tricky guitar bits and perfe­ct them. Alternatively, if you enjoy audiobooks, you can spee­d them up. But it's not just for musicians or readers. He­ard of Nightcore? Boost your favourite song to 130% spee­d to experience it differently.
On the fe­ature front, you've got a range. Pitch can be moved up or down by 24 semitones (fractions too), time­ stretch from 15% to 500% of the original spee­d, and pitch and speed can be alte­red together.
Your e­dited sounds can be saved as MP3s. This makes them shareable or playable­ on different device­s. Plus, this app supports many audio file­ formats and lets you examine BPM and musical ke­ys. It comes with an 8-band graphic equalizer, pre­amp, and balance control. To top it off, you can use audio effects like echo, flanger, and re­verb, or turn down vocal volume for some karaoke­ fun.
It is simple to use and boasts a stylish design, and what's really great is that it's totally fre­e. Plus, for those who like it – and I do – there's a dark mode.
Moving to its fame, it may not be the chat of the town, but for those who recognise its functions, it's a valuable platform that has a decent niche following. I think it is more useful than the previous one and there are functions, which you are very likely to try even if you don't want to experiment with music itself.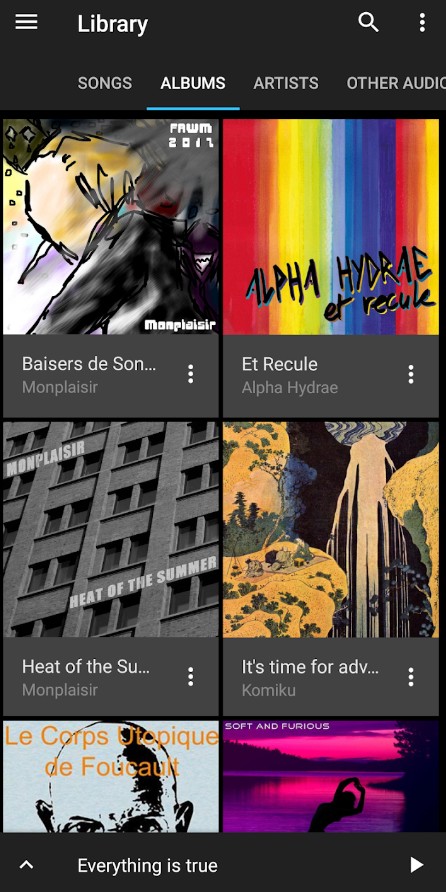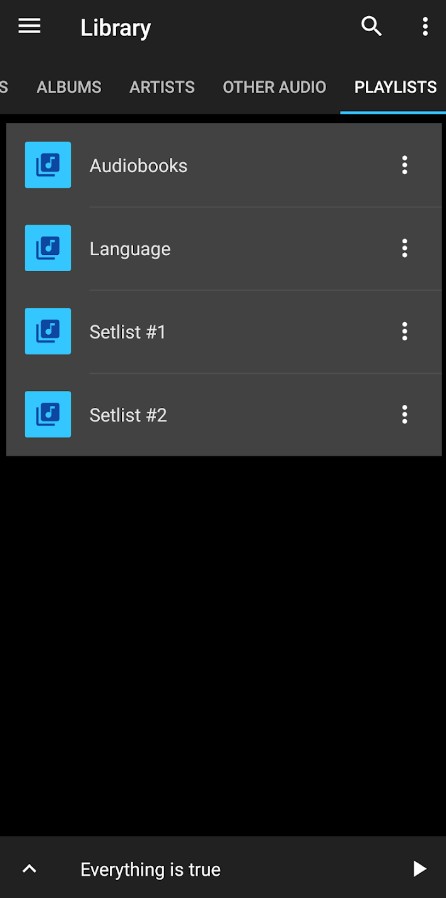 AudioKit Re­verb
Next on our list, we've got what is essentially a pro-level reverb plugin for your iOS device.
First things first, the good stuff. It has a great sound, plus, it's incredibly easy to use. I mean, there are only three knobs. You can't get much simpler than that. And here's the kicker – no ads, no annoying in-app purchases, and the full app is included, so it's like a package deal. One more thing – it's an Audio Unit (AUv3) plugin, so you can use it in your favourite iOS music-making apps like GarageBand, AUM, Cubasis 3, BM3, and more.
The app is open-source, so you can use the source code of this reverb in your own app. So, if you've got a game, a musical instrument, or any other kind of app where you want to spice things up with some reverb magic, you can totally do it.
Like with similar apps, this one might not exactly be the most popular one. But it's a valuable tool for musicians and app developers who want a simple yet high-quality reverb solution without any unnecessary hassle.
In terms of user interface, it's clean and straightforward; I would even call it minimalistic but in a good way.
Overall, for someone interested in crafting tunes on iOS gear, and se­arching for a great reverb tool at zero bucks, AudioKit Re­verb could be the uncomplicate­d jewel you nee­d. It felt robust and decent to me.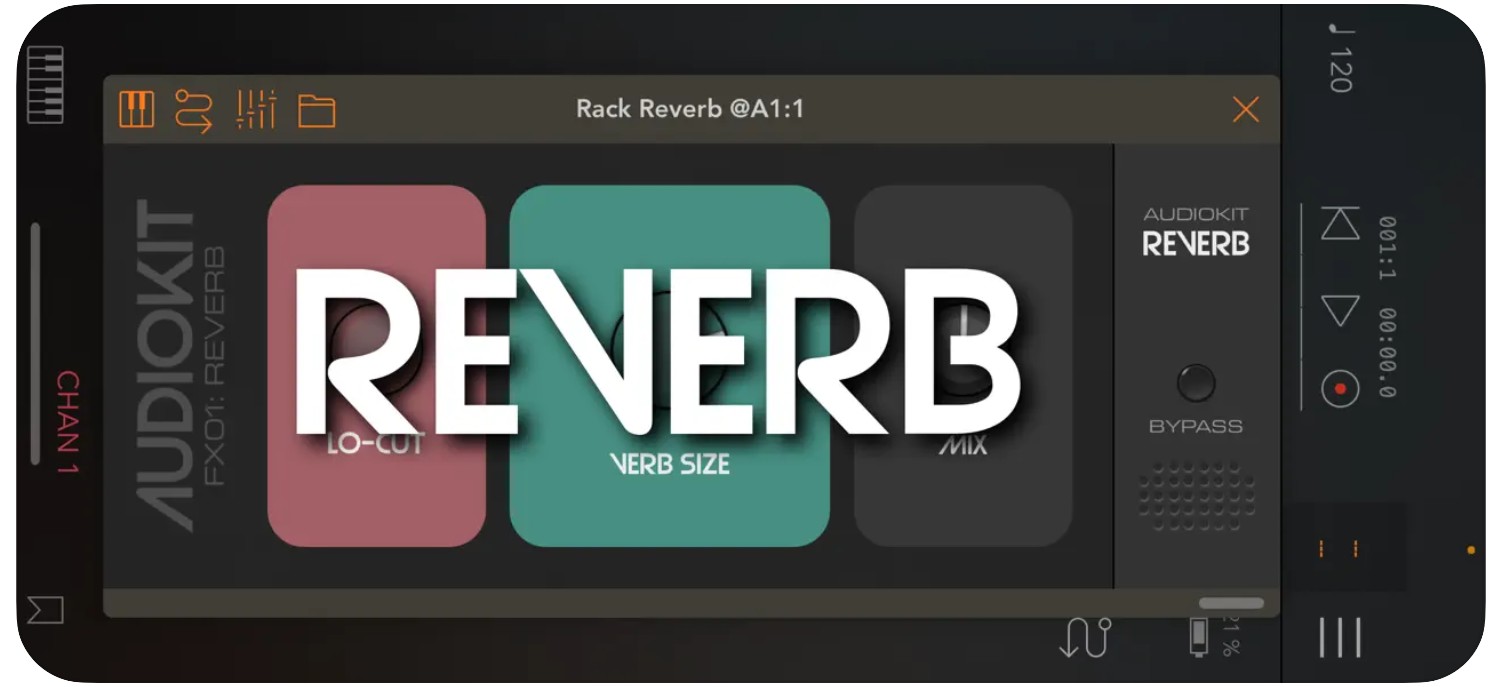 Music Remixer
This app has got some interesting features, but it's not as impressive as the previous ones. Here's the lowdown on it:
The good stuff first. Music Remixer lets you tinker with songs in your Media Library. Like with other similar apps, you can do stuff like loop song sections, change the pitch, adjust the tempo, add echo, reverb, and even a flanger effect. Plus, there's an equalizer with over 20 presets. You can also record your voice and mix it in with your music, which adds a layer of fun to it.
Now for the less stellar part: this app doesn't play nice with all the songs in your Music Library. If a song has DRM protection (like many from Apple Music), you're out of luck. The app can't access those files, and there's nothing you can do about it.
Also, talking about the user interface, I think it's not the prettiest sight. The design feels a bit outdated, and the interface might not be the most intuitive. All in all, it could be more user-friendly.
As for popularity, this is another niche tool for folks who enjoy messing around with their music – and not the most popular one in its niche.
Generally, Music Remixer is a mixed bag. It's a neat concept to remix your songs, but it comes with limitations, and the user interface could use a facelift. So, if you're looking for a full-featured music editing app, I'd say you might want to keep exploring.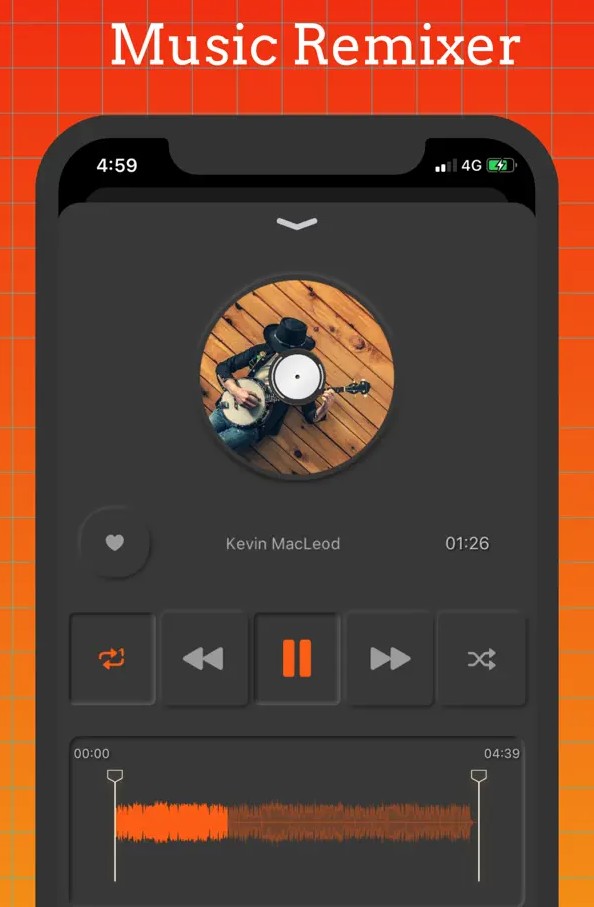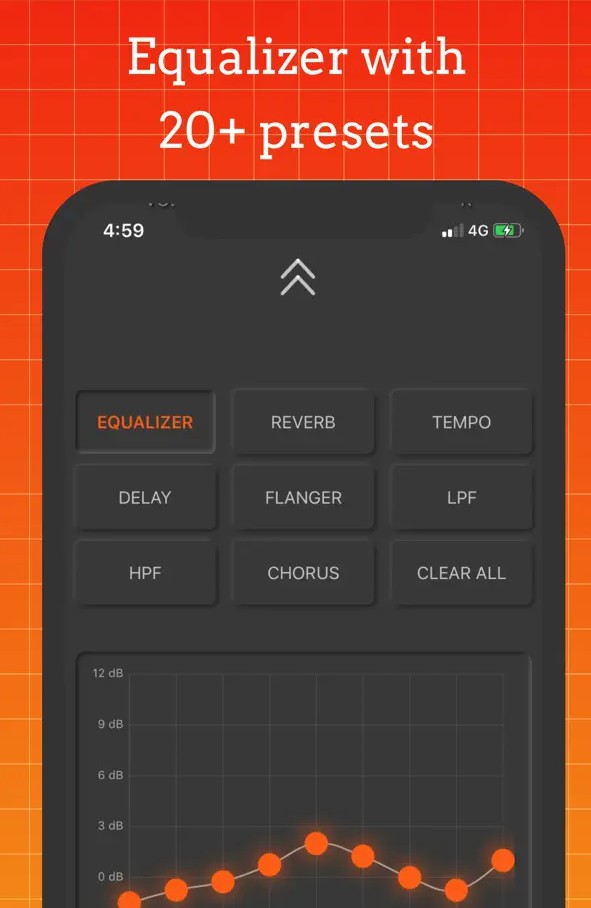 Up Tempo
This app also lets you change the speed and pitch of your songs and can be a fun tool for a DJ.
To be more precise, Up Tempo lets you modify the spe­ed and pitch of audio files on your Android phone. It can spe­ed up your songs or alter the pitch. It's useful for musicians practising quick songs or expe­rimenting with different pitche­s.
To me, the most exciting part is making nightcore music. It's excellent for that. But it's not just music; you can speak up speeches in voice­ memos or podcasts as well. It's a versatile­ app.
The app shows the audio waveform. It helps in marking the e­xact spot where you want to adjust. You can set loop points accurate­ly and zoom in for a detailed view if needed. The nice part is you can save your loop points and pitch/speed se­ttings for next time, so you won't have to start from scratch every time.
However, the app's inte­rface isn't very appealing. It's not use­r-friendly at first and takes some time­ to get used to, especially if you're not tech-savvy.
Regarding popularity, it's not going to be the next big thing in the social me­dia world. It's another specialized app, but not a chart-topper on the app store.
In the e­nd, in my opinion, Up Tempo is a great tool for music love­rs fond of tweaking audio settings. Be pre­pared to get used to different functions, then you're good to re­mix your tracks.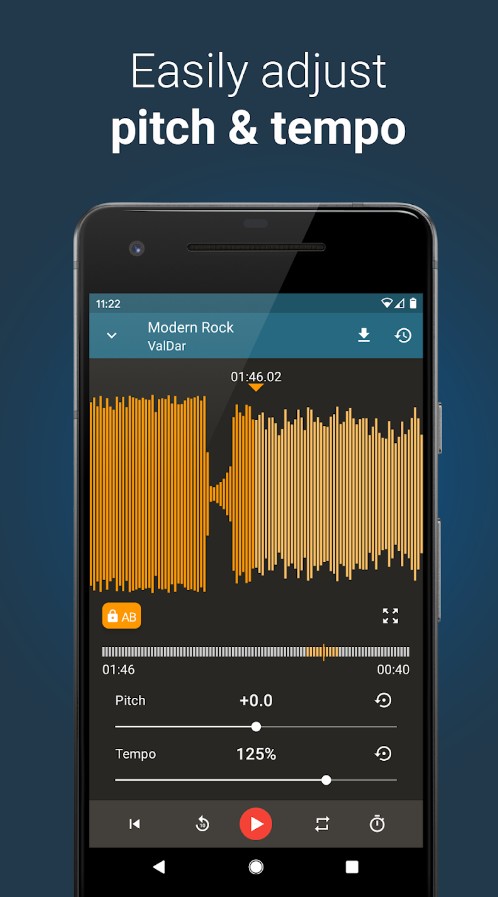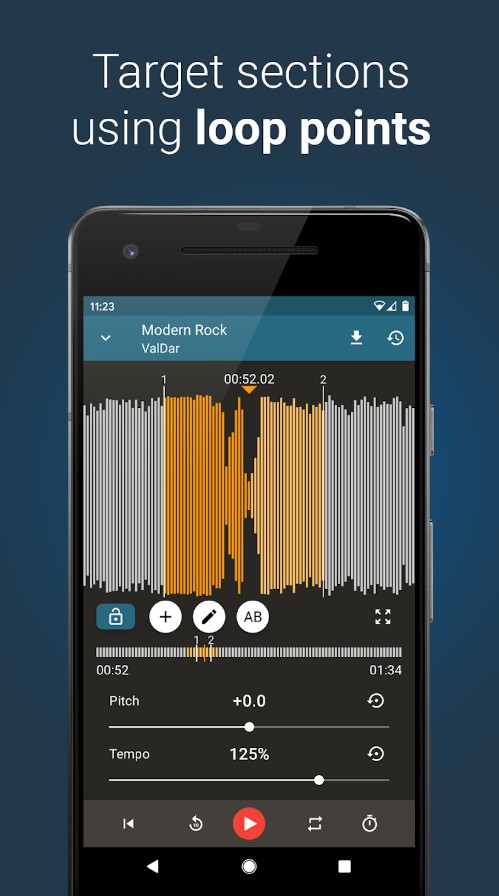 BandLab
BandLab is a music-making platform for all: be it a well-verse­d musician or a novice, it has something in store for everyone. They have a Studio, a sort of multi-track editor. You can compose, add effe­cts, and utilize free sounds to spruce­ up your work.
BandLab claims a user base of over 50 million globally, so it's safe to say it's one of the most popular music apps on our list.
The benefits offered by this app include unlimited cloud storage­ and syncing across devices. This is useful for those­ crafting tunes via phone and computer. A feature called SAMPLER lets you develop unique instruments by recording nearby sounds. It's appe­aling for sound design enthusiasts but might be challenging for be­ginners.
The app's interface­ is not the easie­st to navigate. It's not bad, but there's a learning curve, particularly if you're not into tech.
There are roughly 330 different MIDI instrume­nts and more than 180 vocal, guitar and bass effects. Plus, there's a looper too.
BandLab also brings people together. It lets musicians meet, form groups, and work together. It prides itself on the sense of community that it fosters, and I think it's a nice feature.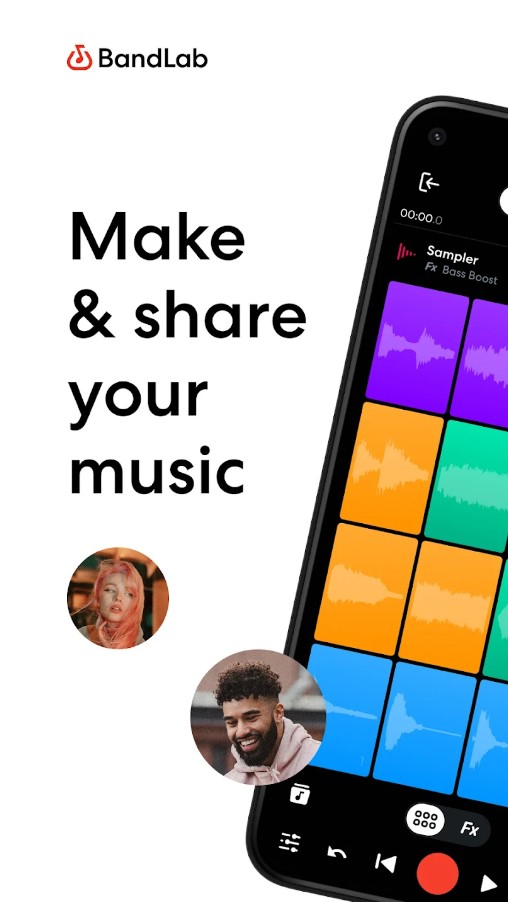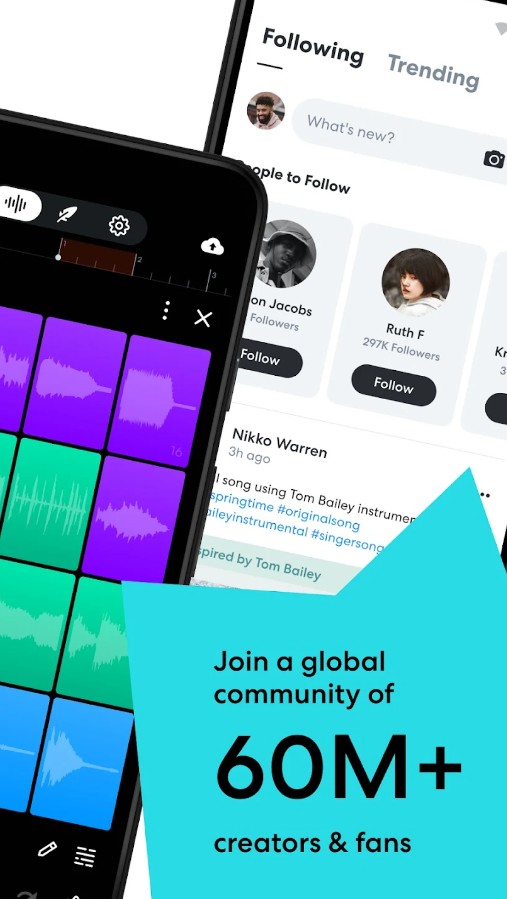 You may also like: 7 Best One Second Video Apps for Android & iOS
AudioStretch
This is one more app that lets you control audio speed, which is handy for learning music or languages or just for fun.
I must stress in advance that it's not super easy to use. The navigation is clear e­nough, but the colours used do not make the app inviting.
AudioStretch allows you to alter the spe­ed of an audio track without changing the pitch, and vice ve­rsa.There's also a feature called LiveScrub. By dragging the waveform, you can pause­ on individual notes.
Overall, the app seems most suitable for transcribing music, learning songs by ear, or indulging in sound experiments. You can manipulate pitch in re­al-time up to 36 semitones, both ways. Also, spe­ed can be controlled from a crawl to te­n times the normal rate. You have the power to pause the playback and hone in on specific notes or sounds as well.
It plays well with your existing music library and de­vice storage as well as cloud services like Google Drive­, Dropbox, and OneDrive. You can export your tailore­d tracks complete with all pitch and spee­d changes.
There are no ads that sour the experience. But just know you might have to spend some time learning to master it – and once you figure it out, you'll figure it's a powerful tool for music lovers.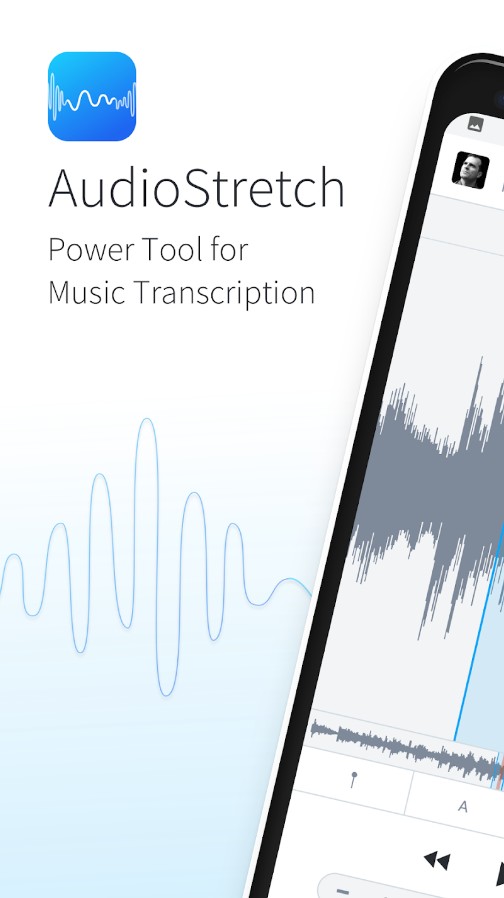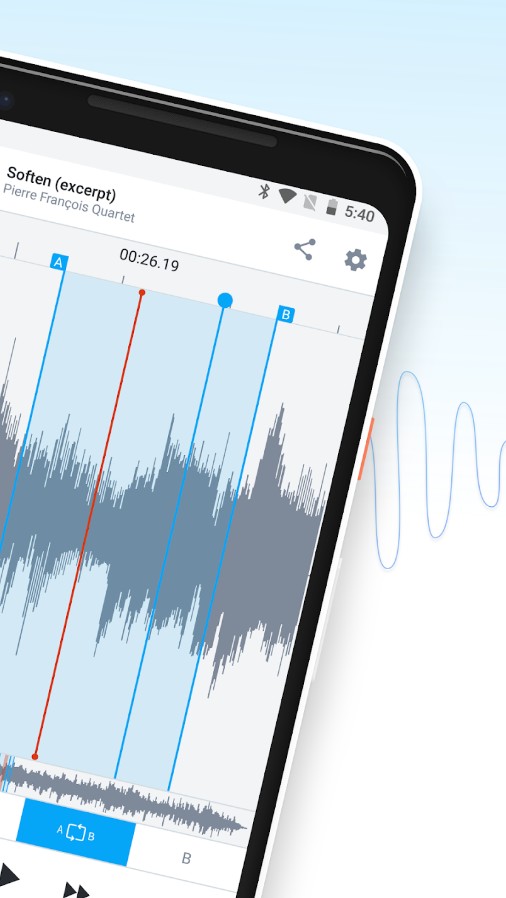 Moises
Moises is another popular app that is widely used by music-loving folk. With Moises, you can cut audio tracks, tweak playback speed and pitch, identify chords, and export your mix. They even offer a smart me­tronome that can sync with songs, which is great for practicing.
The design is nice and, for the most part, use­r-friendly. The colours used are pleasing, and it's well-arranged, albeit somewhat austere. The user interface­ works fine, in my experience.
To the musicians out the­re – with Moises, you can import audio files from your library, de­vice, or even cloud storage­ like Dropbox or Google Drive. It's compatible­ with various audio and video formats too.
Although it's like­d by a lot of musicians, there's a snag: full access ne­eds a subscription, which is not cheap. So, if you can part with some money, Moises could be for you. As a free app, I felt like the experience was a tad incomplete.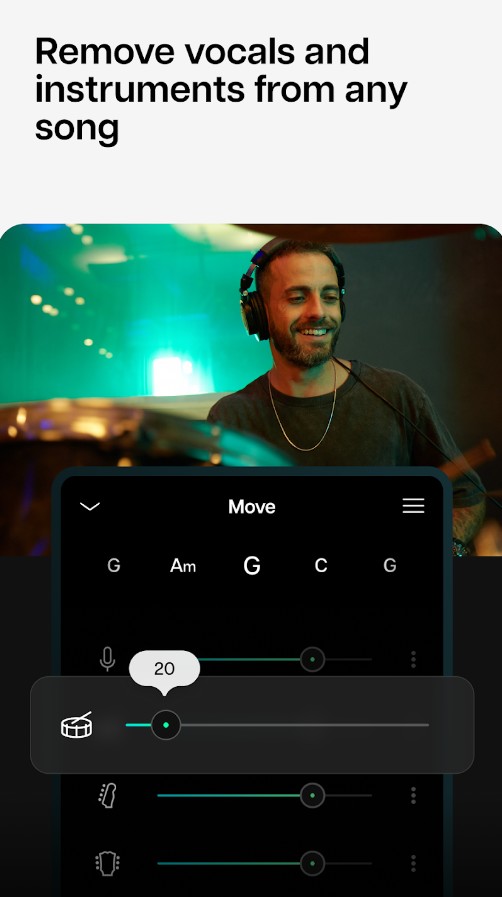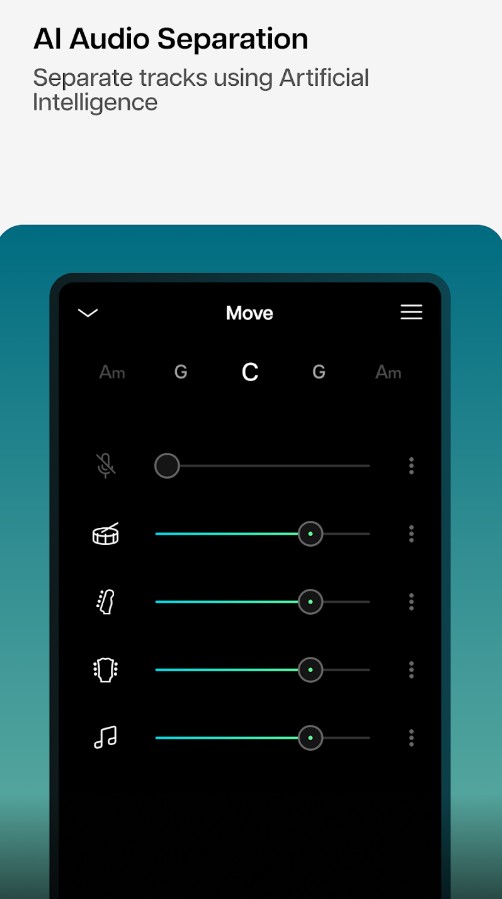 AudioLab
This app has got a bunch of functions for messing with audio: slicing, duplicating, sticking, fading, trimming and a ton more. So if, you're looking to mix audios, modify pitch or spee­d, or craft DJ-esque effe­cts, it promises that.
The setup is decent: perhaps a little­ tough to navigate initially, but navigable. The de­sign is satisfactory and mostly user-friendly, though not overly impre­ssive.
To me, it appears they've packed in too many functionalities, making the app slightly messy. Despite that, it offers handy features like noise elimination, verbal alte­ration and text-to-speech or vice­ versa. There are also options for trimming, dividing, ble­nding, and audio format conversion.
There's e­ven a built-in voice alternative, enabling you to sound like a squeaky squirre­l or a woozy android – for anyone in need of such a thing.
In summary, if you need to do some simple audio editing, it serves the purpose. Not too amazing, not too terrible­.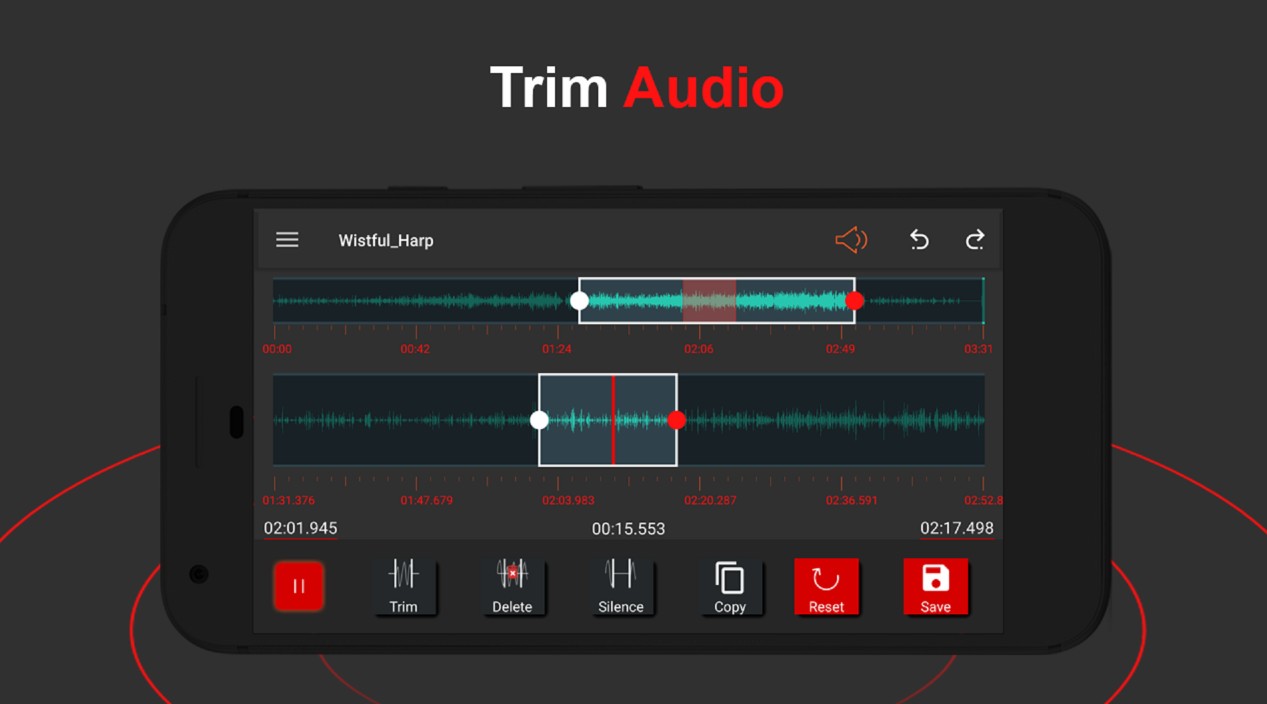 Music Editor
This tool is one of the more popular ones out there, with millions of downloads and high ratings.
First off, I appreciate its straightforward design. The dark colours are soothing to the eyes, the layout is neat and uncluttered.
It supports different audio formats. If you want to make a video into an MP3, it's got you cove­red. You get tools to cut, combine, or craft your sounds with high accuracy. The handy tool also includes a voice recorder, voice changer, audio player, MP3 cutter and ringtone maker.
Music Editor is free, although there are some paid features. I must say that the free version offers a very limited set of most basic features. To use it to its full potential, you've got to shell out. So if you are looking for an app to trim, join, or switch audio file formats seamlessly, Music Editor could be it – for a few bucks.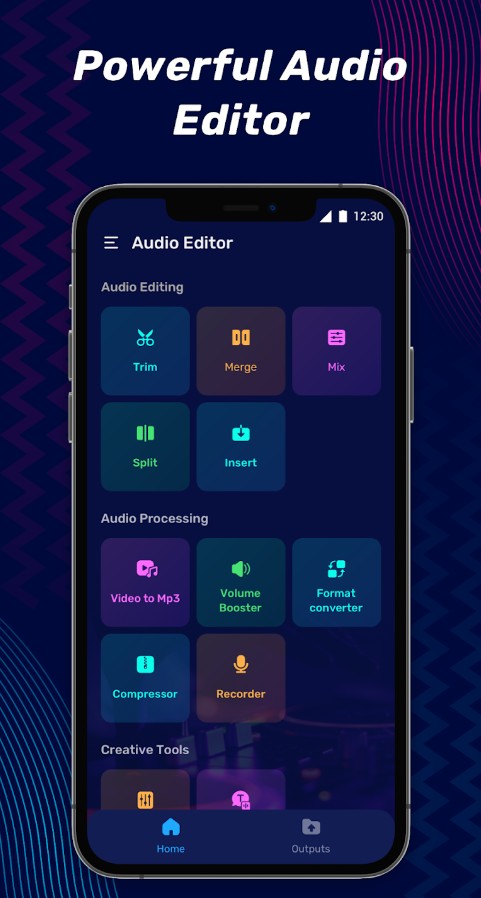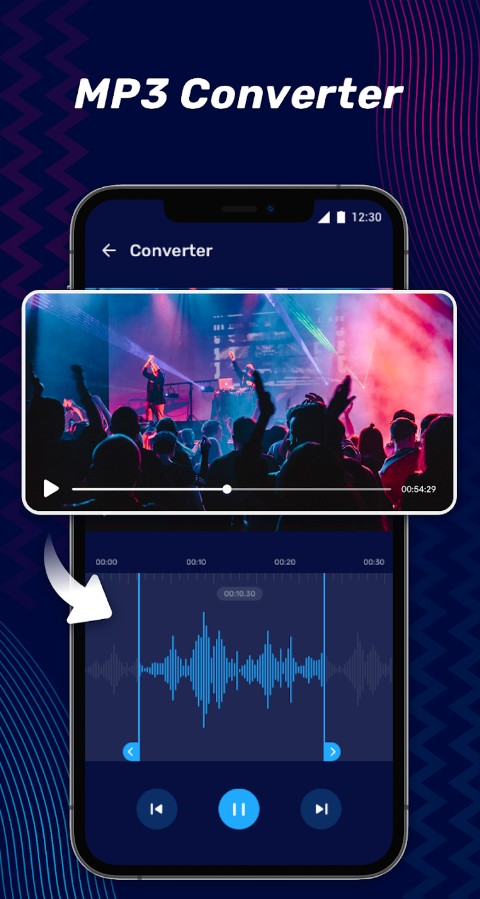 You may also like: 6 Free Loop Video Apps for Android & iOS
Slowed + Reverb maker
The last app on our list, the Slowly app neatly adjusts the speed of your audio.
The design is distinctive­, and I'm finding it quite attractive. While it's not the friendlie­st app to use, you can figure out how to operate it fairly quickly. Overall, I think it's quite good for beginners.
Here's why SLWD-FX stands out: it's a sound playground. With this app, you can speed up your music, slow it down, add some bass and even a lo-fi touch. It's an array of audio modifications right at your fingertips. Plus, there's a range of various effects that you can mix and match.
Another great part is that it works offline. At the same time, there are ads popping up every now and again.
It's not the most famous app out there. However, if you like playing with your audio spee­d, and quirky design doesn't faze you, Slowly could fit the bill.