Spying on other people isn't very nice, but what if you really want to? Well, then it's alright! Luckily, today there are lots of cool apps that might be of help to you. Secret recorders, trackers, apps for eavesdropping… The list is huge! Check out some of the best spy apps for Android in the list below!
To see other fake caller apps, go through these best prank apps. As for this one, it is definitely worth checking out! Every spy should know where to leave and how to do it right.
EAR SPY: Listening Device
With this app, your hearing will go beyond its peak. Now you can hear further. There is a function of noise suppression and search for soft sounds. The equalizer is represented graphically. Automatic adjustment is available. Important sounds can be recorded on a dictaphone.
The volume when recording is also adjustable. All settings are personalized. The app is suitable for students in the back row who want to hear the instructor. It will be welcomed by wildlife enthusiasts. Journalists will use the platform as a voice recorder.
The hearing impaired will get an essential accessory for life, and parents will track the sniffles of a sleeping child. The app amplifies the sound coming through the headset.
An equalizer is used for fine-tuning. To work with the instrument, turn on the headset and bring the phone as close as possible to the source of the noise.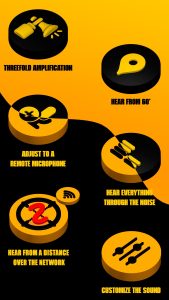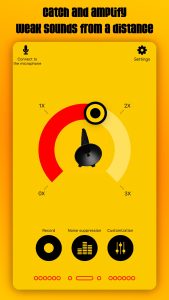 You may also like: 11 Free call recorder apps for Android & iOS
Smart Voice Recorder
Recording secret videos are great and stuff, but what if you don't want to look too fishy holding your phone in an unnatural way all the time? In this case, you can just use a voice recorder. No pictures, we get it, but still something, right?
You can use a default voice recorder, of course, but getting the one with additional features is also worth considering. Smart Voice Recorder cuts out periods of silence and leaves only the interesting stuff. You can use the app with the turned off-screen and you can adjust the sensitivity of recorder. So, an excellent choice to substitute your stock app!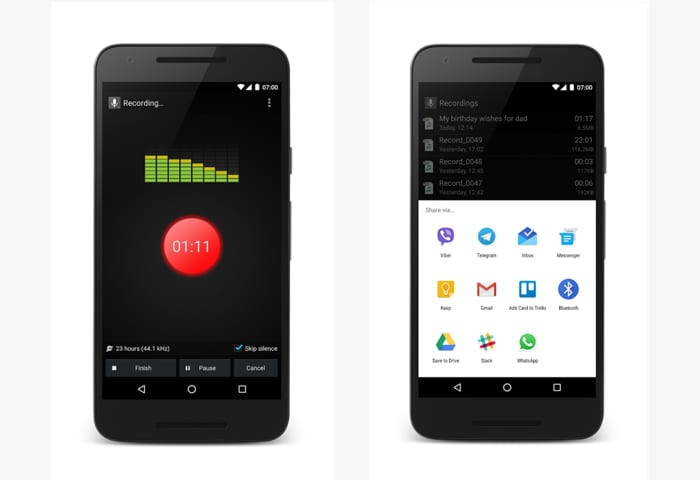 Secret Agent
Secret Agent is a spy's toolkit that got lots of cool tools in it. Some of them are real, others are just for fun. Among the real ones are a flashlight, info of your device like battery, memory, CPU, GPU, etc., wifi scanner, compass, your satellite information, audio recorder and more. Among the 'fake' ones are different camera filters like thermal or infrared.
All in all, the app's main appealing feature is that it makes you feel like you've got a real spying device. Although there are lots of working functions, the real goal of the app is to make you feel like James Bond ready for all kinds of adventures. So, if you wanna feel like that, you should get this app!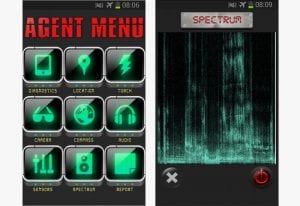 Ear Spy Pro
Not only kids like to hide behind the walls and listen to others' conversations. Unfortunately (or fortunately) there is a lot of situations in life when you have no other choice but to invisible invade someone else's conversation. Or you are just too overwhelmingly curious?
Whichever goals you have, this is the tool using which you will be able to hear every single word said in your house. Ear Spy Pro provides the clear and loud hearing of all the conversations happening nearby. With this app it is easy to pretend like you are binding your won business, then get closer to the object and listen to the conversation.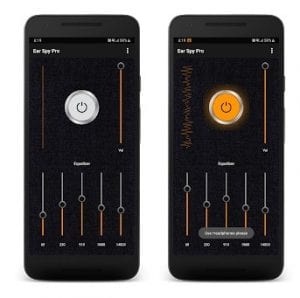 Real-Time GPS Tracker 2
Nowadays tracking the GPS location of another person is not an easy task and, unfortunately, there are no apps, which would allow us to do that completely in secret.
However, there is a bunch of "family GPS trackers" which you can use as a normal tracker – of course, you will need to make it that way that another person wouldn't guess he/she is being followed. What you have to do is to install this app on your phone and to another person's phone and you will get the 24-hour access to their current GPS location.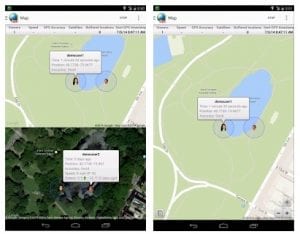 WiFi Map®
This is not exactly a spy app, but it is a very useful one if you want to have the password to basically any WiFi. The idea of this app is that the users make marks on the map with the places that have WiFi and publish the passwords for those networks so everyone could use it.
Just open the map and see how many passwords it has! WiFi Map is extremely useful, especially when you are traveling and you need to save your data. Maybe there is a place to the WiFi of which you wanted to get the password for a very long time already – check it out here.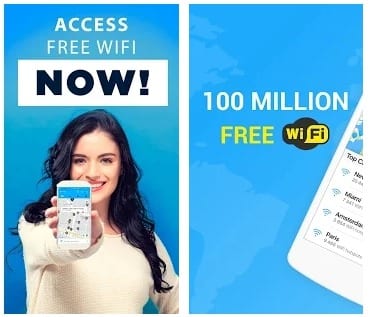 Smart Recorder
Do you remember all those spy movies when the main characters would always have the secret recorder with them? Now you have a chance to become just like them because this app will turn your phone into the ultimate spying device.
And it is not just a recorder, it is a "smart" recorder, that skips all the silent moments, thus, saving them time and memory on your phone. Another cool feature is that Smart recorder provides a really high quality of the sound – you will be able to hear everything you want to hear.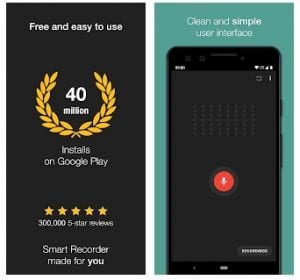 You may also like: 12 Best spy camera detector apps for Android & iOS
Phone Tracker By Number
An app to track your child's movements. Location is determined accurately and quickly. Data is available only to parents and is not shared with third parties. You can add an unlimited number of children to the system, which is convenient for large families.
The app is free to download. It will show the full route of the child's movement. When he or she is near, a notification will come. Battery usage is optimized. You can use the tool to find a lost phone. It is supported by most mobile network operators.
When the location is changed, a notification will also come. It will be mapped to make it easier to navigate. Children are indicated by icons. You can see the battery level of the kids' phones. All routes are saved in the history. Now every child will be under control and safe.
Eyezy – Kids Location Tracker
This is an app for parental control of children's movements around the city.
Location is displayed in real-time. You can add an unlimited number of children to the system. Family links to the control can be shared by trusted persons. Allowed and prohibited locations can be added. If children violate parental will, the app will beep and send coordinates.
The entire route is saved in history. If the child is in danger, it will press the alarm button. The app will help to come to the rescue in time. It is possible to check sent messages.
The phone controller allows you to get acquainted with the list. It is important to make sure that there are no strangers among them. It also checks the installation of any apps to comply with the age limit. The microphone button allows you to hear what is happening around the child.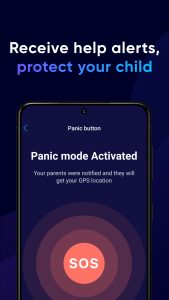 Automatic Call Recorder Pro
One of the top call recording apps of 2020, it provides the no-hassle use. People might need to record their phone calls (and calls of others) for different reasons, and if you decided to do so – go for this Automatic Call Recorder Pro. You can pick up the contact the calls of which you want to record manually, or just choose everything.
The best part of this app is of course, that it doesn't deal with any privacy issues, thus, you won't need to contact the provider of another person's phone for permission (which pretty much ruins everything). Or, if you can, you can secretly install this call recorder to another person's phone and all the calls will be the recorder.
Apart from recording the calls, this app also gives you the opportunity to block them and create "white" and "black" lists for numbers. Considering the fact that usually, apps like these are boring apps with couple of weak functions, this one is really a gem in its kind.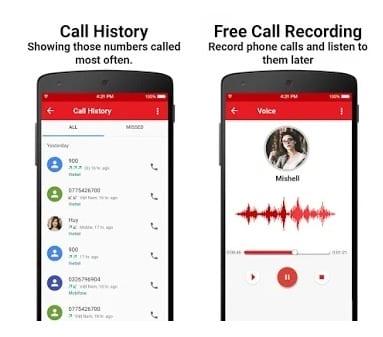 Ear Agent Live: Ultimate Super Hearing Aid App
Ear Agent is a listening device. It's suitable for curious people who like getting new experiences (like hearing new sounds in this case) and for those who suffer from loss of hearing. Many people use it as a hearing aid app, so if you know someone who is hard of hearing, you can advise them this app.
And, of course, the app can turn your phone into a spying device. You can pretend that you are listening to music and instead listen to someone's conversation.
The main feature of the app, as we see, is amplifying sounds. The app does it using the mic of your phone, so be sure nothing is blocking it. Also be sure to put on your headphones, otherwise hearing terrible sounds is guaranteed.
From the first sight, the app looks really simple, but it is really powerful. All you have to do is to press the red button and the app will gather all the sounds across you in radius of 50 m. It is better to use headphones for a more clear sound. You can regular the range of sound collection during the process, with the runner under the button.
Another feature of this app is its visualizer that helps you to track the intensity of the sound – it looks like a diagram. Overall, this is a great app for various purposes.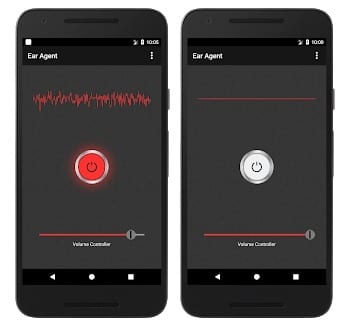 You may also like: 15 Free GPS tracking apps for Android & iOS
Phone Tracker
It is initially a parental control app, however, anyone can use it to track the other's personal location. By the way, it is one of the most popular spying apps and it was even recommended by the magazine US Today.
After you install this app to another smartphone you will not be able to track the location of another person but to track all their incoming and outcoming calls, all the messages, including social networks, all the websites that were watched, and so on.
The only one significant disadvantage is that it will be difficult to install this app to another person's device without going unnoticed, You will either have to explain the situation to them or, use this app and it was meant to be used – parental control.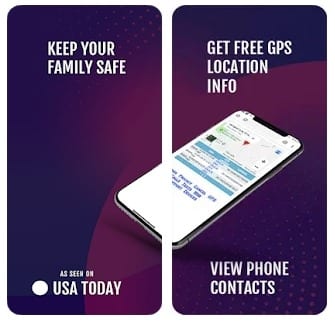 That was it for the spy apps. Remember to respect other people's privacy while using these. As always, be smart in choosing apps and… 'till later!