5 Coolest clean time counter apps for Android & iOS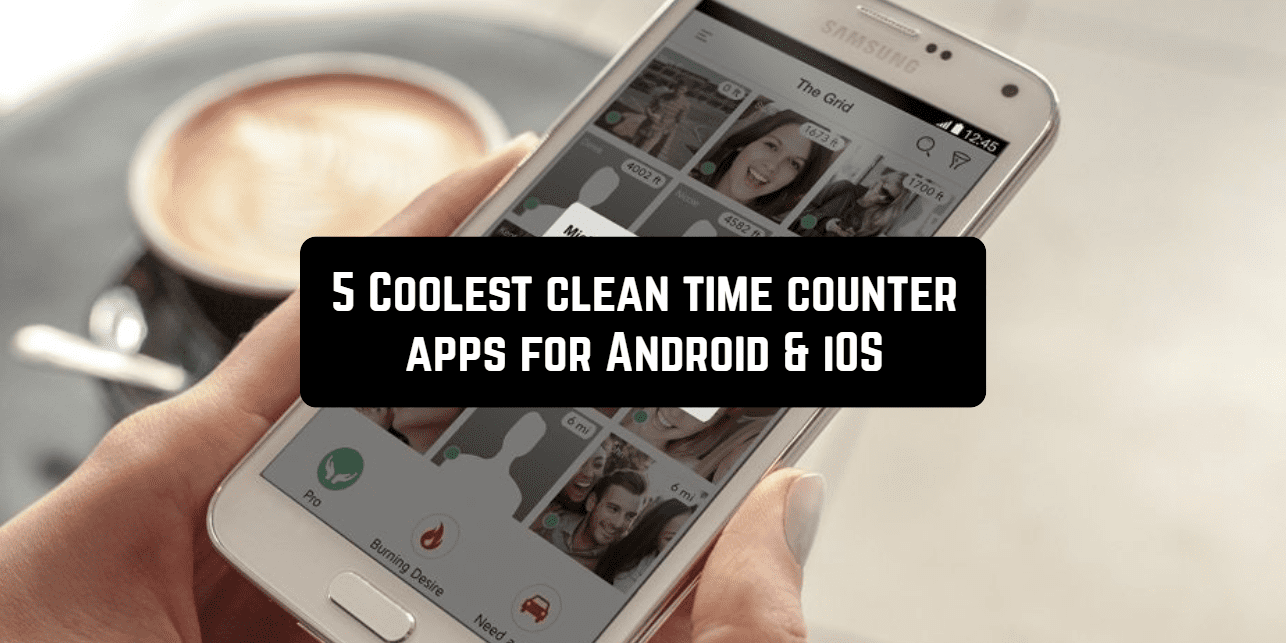 Refusing to drink alcohol involves changing your habits and lifestyle. Specially designed applications will help you achieve your goals:
You may also like: 10 Free apps to stop drinking alcohol (Andoird & iOS)
Clean Time App
Clean Time App is a clean day counter for those who gave up drinking alcohol or any other bad habit. It helps to keep track of years, months, and days you are sober.
The app has a clean, simple interface, and is easily customizable.  You can enter your name, date, and set a theme. On the screen, you can see the days, years, hours, and even seconds of your sober life.
You can also check: 9 Best alcoholics anonymous apps for Android & iOS
NACC
NACC is a colorful application that counts the days after stopping drinking alcohol. It says nothing about your qualifying your recovery. That's between you and your sponsor. To start the counter you just need to tap "What's your clean date", choose a date and click "OK".
NACC is an application with a beautiful interface, and the ability to count days. NACC calculates the time of a sober life up to minutes.
Sobriety Tracker Clock
Sobriety Tracker Clock is an elegant and smart counter which helps you to recover tracking sober time. It also helps to struggle with other addictions such as smoking or drugs.
The main features of the application:
track several addictions at once
different backgrounds to choose from
stay motivated receiving motivational quotes
see how much money you saved
join a vibrant community to discuss anything related to sobriety
Share your results
track statistics
daily notifications
track any addiction in the sobriety clock
You may also like: 5 Best Health insurance apps for Android & iOS
SoberTool
Alcohol can be a hard addiction but it is beatable! If you believe and you want to give it up, you can do anything. The developers of this app have made an app to help you on this difficult journey, so you would feel the constant support and motivation to stay sober.
The interface of the app is a little bit obsolete, but it is outshined by the functionality of this app. In SoberTool you will find everything you need to stay sober – local communities, online support, journal, articles, and, of course, the clean timer. As soon as you launch the app and put the data the app starts counting your clean days.
And interesting and at the same time cool feature of SoberTool is that you are getting paid for staying sober! The other members of community can donate money to each other for support and motivation. So it is fair enough to claim that this app is a clean counter and a money-making app in one!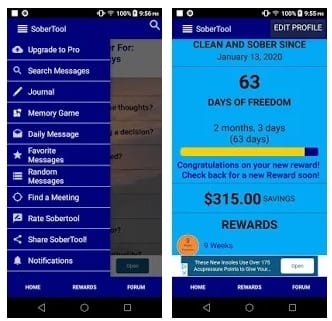 You may also like: 11 Best medication tracker apps for Android & iOS
Clean & Sober Time
Clean & Sober Time is a simple tool that helps you to overcome such a serious addiction as drinking. You will see your progress through a nice interface.
The main features of the application:
gain badges for staying sober and clean
daily motivation (get motivational quotes and new motivational backgrounds)
Panic Button (get the support of other users when you feel down)
security (set a password to lock and unlock the app)