Investing is always a puzzle and a lot of risks. Before working with the stock market, you will need to think through all the nuances, analyze the market, and always keep an eye on statistics.
However, investments in the stock market are a great way to earn money and income, and can also provide you with additional funds for old age or large purchases. In fact, this can be done not only by professional investors but also by ordinary people, who can monitor the current market situation.
In order to always have up-to-date information on transactions, you need to have a resource for this. You will not always have to invest your money in boring funds – you can use more modern approaches.
Even a sale should be made at a certain favorable moment for you. For most novice investors, there is a huge number of applications to help you monitor the situation. We offer you 11 Free stock trading apps that will help you to keep informed at all times.
Yahoo Finance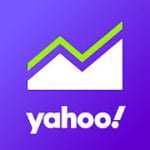 Yahoo Finance is probably one of the most popular and well-known applications that investors and all interested people can use. Here you can follow the statistics of the shares you are interested in, as well as receive personalized notifications in case of changes in rates or statistics.
All information is provided in real-time and according to the trades and market position – so that your information is always up-to-date and real.
At Yahoo Finance, you collect your own virtual stock collection, which you will keep track of. It is a separate service that tracks the effectiveness of your portfolio and constantly updates your quotes.
For beginners, it will be possible to get useful advice on deposits, as well as monitor the statistics of major global companies.
Enable all notifications and synchronize your devices to receive notifications as soon as Yahoo Finance has access to new information. Additional tools for professionals are available with a Premium subscription.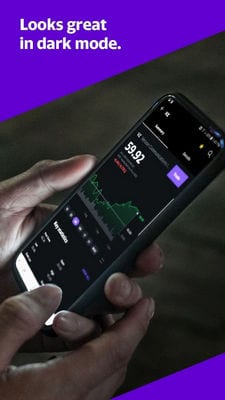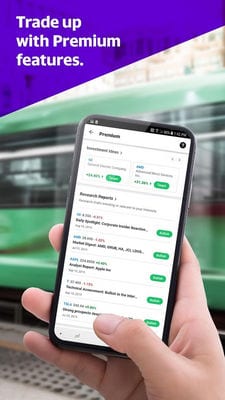 Stocktwits – Stock Market Chat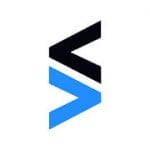 For those people who are interested in buying cryptocurrency and even making money from it, the Stocktwits application will be useful. It allows you to track not only current stocks on the standard market but also to follow the statistics of the crypt currency, as well as to find out the probable forecasts.
An analysis is performed by thousands of real investors and traders, and you get already processed information, that is most relevant to the actual situation.
There is a separate category of trends in Stocktwits, which contains the most popular stocks at the moment. They are either bought by a large number of people, or these investors make certain big moves.
By the way, you will also be able to communicate with other investors and traders on your own to get useful information or advice from them.
Stocktwits also has an income calendar, which calculates when exactly you make a profit from certain stocks. So with Stocktwits, you will still be able to control what income is available for a given month and whether it is worth buying additional shares.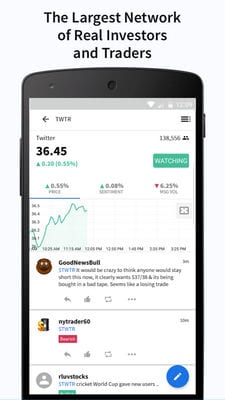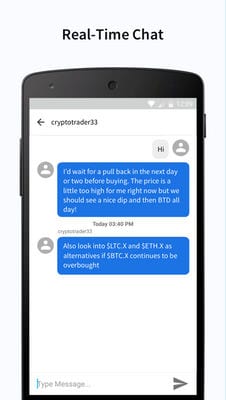 Bloomberg: Market & Financial News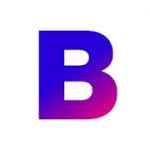 Bloomberg has long been a popular news source for people around the world. The company also has a well-known service for receiving financial news, including the stock market, cryptocurrency, and other sources of earnings.
You will be able to customize your feed so that you can immediately see only the most interesting news and events for you.
For ordinary people who just want to be aware of what is happening in the financial world, you can get a generalized economic and corporate information, which will give you a complete picture of everything.
Regardless of whether you have stocks or are just interested, Bloomberg will still tell you about the most important things in the world of finance. And of course, here you will be able to track your personal stock portfolio, as well as receive notifications about the most profitable offers.
All data is provided personalized for your region – goods, currencies, bonds, and much more. If you don't have time to read all the material, just watch Bloomberg TV Live directly in the application and follow the financial news.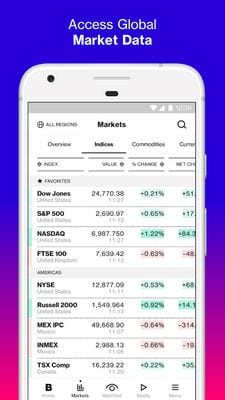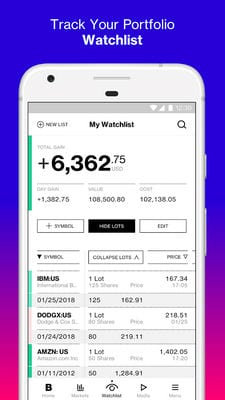 You may also like: Top 5 Bloomberg mobile apps review
MarketWatch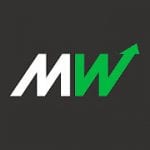 Would you like a more in-depth and expanded financial analysis? Perhaps you need a professional's opinion, but wouldn't you like to approach it in real life? The MarketWatch application provides you with the latest news and in-depth market analysis.
Here you will find index dynamics, statistics on the rise and fall of stock prices, as well as other important information about securities. In fact, you will have your own financial advisor and informant in your smartphone, which is always available.
MarketWatch collects all the latest information about the stock market and business, as well as publishes the most interesting and informative articles. The main news page is customizable, and you can choose specific news channels specifically for you.
Trading information is collected from different world markets, so you will not get any subjective assessment or limited data. All information is synchronized with the MarketWatch website, allowing users to track their savings on the go.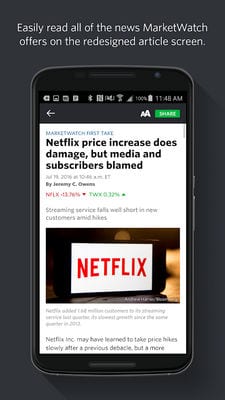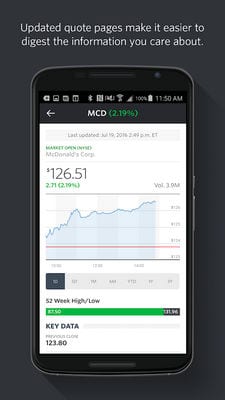 Real Time Stocks Track & Alert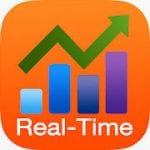 Real Time Stocks is not just an application with information for interested people. Here you can start your first virtual trade, as well as get real money for it.
It is worth noting right away that it is best to start with small investments until you understand the financial market at a good level. In Real Time Stocks you will get streaming stock prices, market quotes, and overtime, as well as be able to fully monitor the level of your own shares.
Real Time Stocks has a convenient notification function that keeps you informed about all changes in the price. That is, as soon as interest or price changes, you receive a push notification. In real-time, you can also easily monitor the quotes.
However, there may be small delays of 15-20 minutes, but this depends not only on the service but also on the market. Prices presented in Real Time Stocks are always linked with time and are published only if they are actual. Add everything you are interested in the monitoring list and become a financial expert.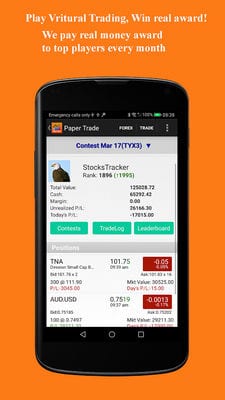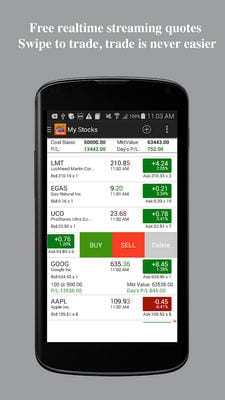 You may also like: 11 Best news aggregator apps for Android & iOS
JStock – Stock Market, Watchlist, Portfolio & News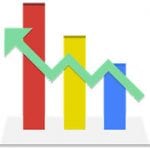 JStock can be called a simple and convenient service. It perfectly manages the collection and systematization of financial information, as well as integrates with the Desktop version.
In total, in JStock you can find information from 28 world stock markets, which are currently the main and fundamental in the world of finance. For interested people, it will be possible to view a 10-year chart of growth and development history of companies, stocks, and other moments.
The application can easily track your personal equity investment portfolio without the need for additional services. All information can be presented in the form of charts, as well as scaled according to the period of time you are interested in.
All financial data is displayed in local currency (transfer from dollars and euros is made according to the current exchange rate). For the United States, JStock has separate indicators and information such as financial ratios or growth rate reports.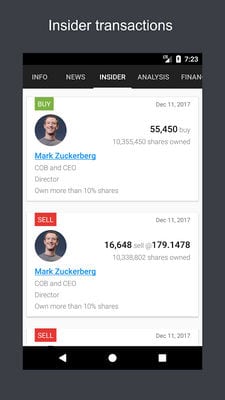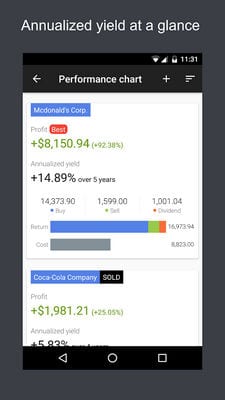 Investing.com: Stocks, Finance, Markets & News
Investing.com is a specialized service that has been used by millions of users. Thanks to it, they stay informed on the global markets wherever they are.
In Investing.com traders and investors, as well as users interested in finance can receive information. All quotes and data are delivered to your smartphone in real-time, and over 70 global exchanges are used to gather information.
Of course, the key information in the application are stocks, bonds, commodity rates, and many other global financial indicators. The latest data from analysts are also collected worldwide, and information is presented in a convenient format for you.
You can watch the video or read the latest articles. In order to have access to personal stocks and data, you will need to register at Investing.com. This way you can continue to work from any device in the future.
By the way, you can choose your bond and share data depending on the country in which you live or which one you are interested in.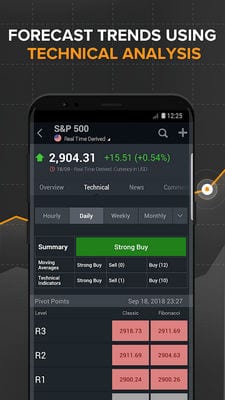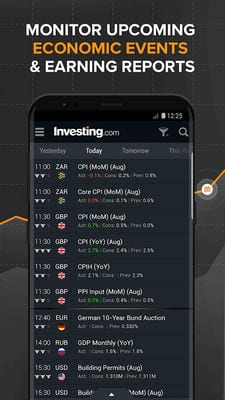 StockMarkets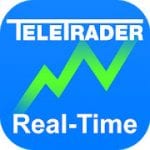 If you are mainly interested in the American stock market, you can use the StockMarkets financial application. Here you can find information specifically for the United States, but the international markets are also given attention.
Here you can find daily qualitative and verified news from the whole team, collect visual charts for stock prices, as well as access to free quotes and push-prices of world markets.
For every symbol of the market in StockMarkets, there is a large overview, which will cover all the details. These can be commodities, indices and currencies, and much more. To view information for another country, you can simply change this parameter right on the page.
For each popular company, StockMarkets has a separate profile, collecting information about it, its shares, and other data.
In the application, you will be able to collect your own portfolio of shares that you are going to follow. StockMarkets will help you keep track of your profits and losses in real-time.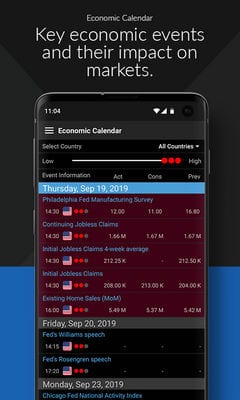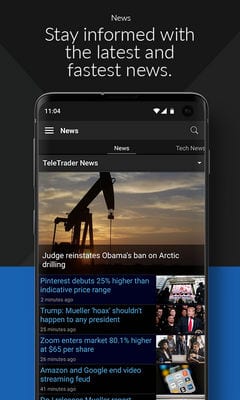 TradingView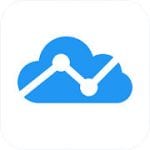 The TradingView application is ideal for beginner brokers, but it will also be useful for powerful financial experts. You can view trading ideas, quotes in real-time, and watch the price charts absolutely everywhere.
All data in the application is published after receiving them from professionals who have direct access to stocks and futures. Information about Bitcoin, Forex and CFD will also be useful for modern financiers.
TradingView can be called a social network for investors, traders, and brokers. People from all over the world who are involved in finance can communicate here, share their own experiences, and learn from others for further development.
The most convenient thing is that in TradingView the information is immediately provided in clear charts, which even desktop trading platforms cannot boast of. You will be able to personalize the service yourself in a way that is convenient for you.
For you, the application can select the major indices and the shares you are interested in. Alerts are set up in the same way so that you do not miss any changes in the market.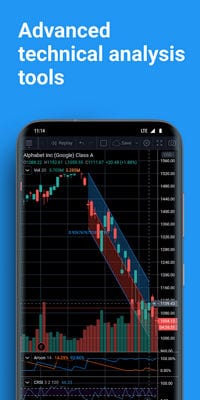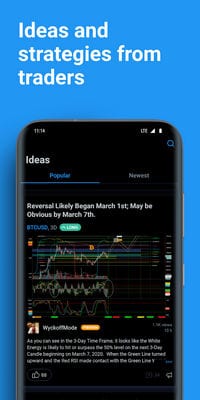 You may also like: 7 Free news streaming apps for Android & iOS
FundSpec : Stock Analysis, Financial Models & Data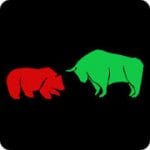 If you can't fully analyze complex financial markets on your own, it's not a bad thing – sometimes even people who deal with finances all their lives can't do it properly.
FundSpec application has all the tools that will help you to make a complete picture of financial markets today and use the data to make a profit.
You will feel less worried and nervous when you invest your personal funds in currency or shares – FundSpec gives you reliable information.
All quotes are provided in real-time and are updated according to the work of the stock exchange. FundSpec even allows you to know the financial sentiment among users and investors so that you can predict a rise or fall in prices.
There are separate recommendations and articles for analysts, which assess the profit and efficiency of companies. In FundSpec it becomes possible to be the first to learn about insider transactions and even large purchases of global companies.
If you need even more information, then in the application you can use the deep learning model, which by means of neural networks searches for regularities in the data.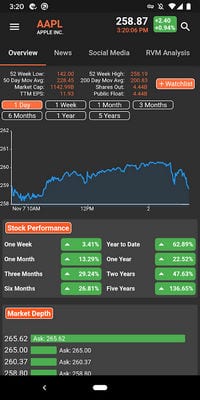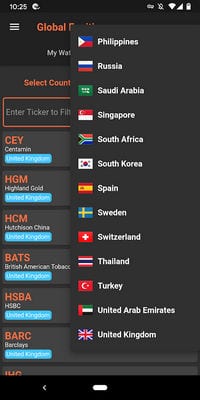 Barchart Stocks & Futures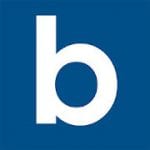 Beginning investors really need a good tool to help them monitor the situation in real-time. Barchart is a complete financial application that informs people about the prices of stocks, futures, as well as everything that happens in the foreign exchange markets.
The information is always at your fingertips, and the charts allow you to comprehensively view each financial symbol.
Since the Barchart application has a website, from which its development began, the application publishes all the information from the site every day. This way the financial news are covered, and registered users can save their portfolios and track them with their mobile phones.
Graphs are collected from data from more than 55 studies, and all comments and data are exclusive to Barchart. You will also be able to get historical data up to 5 years old to monitor the development of the company or its shares. It is worth noting that the most relevant information in Barchart will be for the USA and Canada.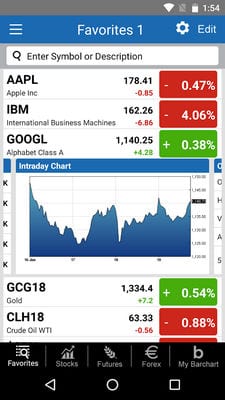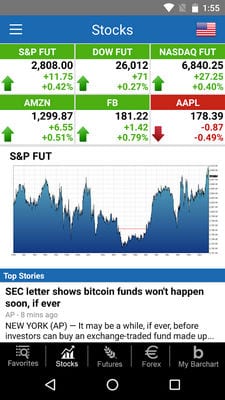 It is much easier to make money on deposits when you really keep up with specific market trends. Despite the fact that there are a huge number of financial newspapers, websites, and analysts, it is much more convenient for modern people to use applications to track the current situation.
You can also do this even when you are just about to buy shares or contribute to one of the companies. Depending on your needs, level of interest, and overall experience, you will be able to select the most appropriate application for you among those we have presented in this article.
We have tried to consider both services for start-up brokers and investors as well as for advanced professionals.