Voice mail was still used when people were actively using landlines. It was invented so that you could pass on some information to the person even if it is impossible to reach them.
Previously, it could have been used when a person was simply not at home or could not come to the phone. Now voice mail is a great way to say something when the person is out of range.
Nowadays, it's hard enough to find a special application that can sort your voice mail or simply save it. Usually, after the first listening, you can lose that voice message or just not find it again.
The earliest voicemail applications have been purchased by other messengers, and now there are new, but little known ones. We have selected 11 free and convenient voice mail applications for you, designed for iOS and Android.
YouMail
YouMail is one of the most popular and frequently used voice mail applications. You can also make an individual reply for each contact. Callers will get the information they need to hear from you – for example, you can give the most important people your other contact for communication.
All the mail you receive will be stored on your smartphone or in the cloud. You can save the most important messages to specific folders. If you don't have access to your smartphone now, you can listen to everything online – you just need to sign in to your email account.
Alternatively, you can create your own digital receptionist or even bind multiple numbers to one email. Configure auto-responses for your contacts and they'll get your answer in text form.
The app is free, but it displays ads. This is made in order for developers to be able to get paid for their work for a great product. If you are ready to accept advertisements, YouMail is the ideal voicemail application.
Visual Voicemail & Missed Call Alerts – InstaVoice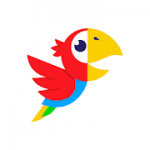 InstaVoice is the only application on the market that allows you to manage not only incoming but also outgoing voice mail. This means that you can delete the messages you have sent to a subscriber.
The app stores all your incoming messages in the cloud without taking up memory on your smartphone. Contrary to the laws of physics, developers claim that its size is unlimited and you can save all your notifications there.
In case you are unable to listen to the voice message – for example, you are in a quiet place or just did not have your headphones with you – InstaVoice converts your voice mail into a text format. For this feature, you have 2 free credits.
You will also see that you missed a call – for example when your smartphone was turned off. This feature is available for several numbers at the same time – in one InstaVoice you can combine up to 10 different numbers without mixing messages.
The application itself is free, but you will be charged according to your operator's tariffs for calls or diversions. Even if you change your mobile phone operator, InstaVoice will still save all your voice mails so you can access them – the main thing is to keep your account.
AT&T Voicemail Viewer
In case you still have a landline phone with voice mail function, AT&T Voicemail Viewer will help you even remotely track calls and messages. You can also easily connect your office phone to your smartphone and even get the latest information at home.
To download and use the application, you need a PIN code from voicemail. We think it's already clear that AT&T Voicemail Viewer works exclusively with AT&T phones. For standard landline phones, the application is not available and will not accept all messages.
The number must be linked to an email, so you can sign in to your account in the application. When you have connected your landline voice mail, AT&T Voicemail Viewer will show you a complete list of messages and you can choose how they are played back.
Can't listen? AT&T converts the voice message into text! This feature automatically transcripts your voice mail for easy reading. If you use the AT&T Voicemail Viewer with a fixed-point business phone, you can keep track of your work and transactions wherever you are.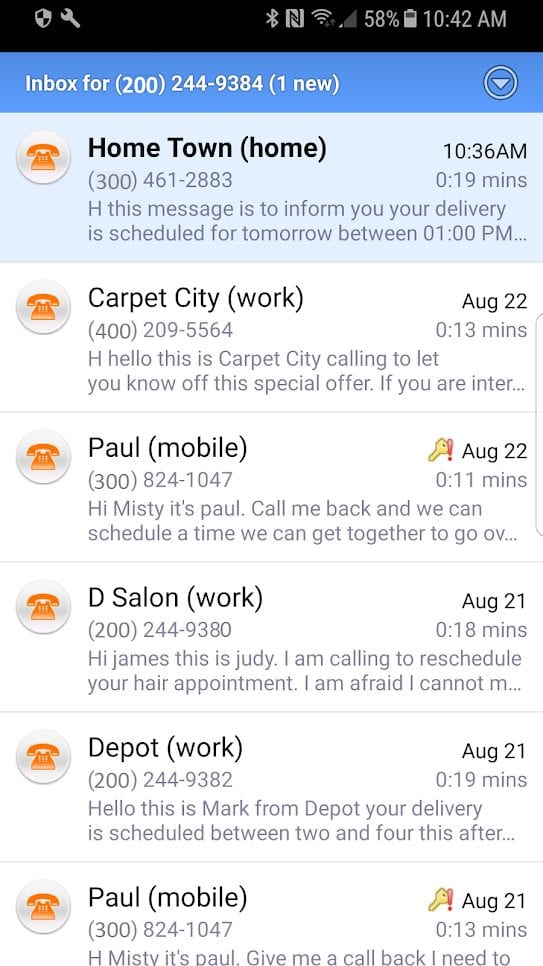 Google Voice
For people living in the United States, there is a great voicemail application available for you. Google has also succeeded in this field and launched Google Voice. It collects all your voicemails into one number, which can also be used to make calls and messages.
Synchronize your computer, smartphone or tablet wherever you are. Although it's worth noting that text messages are not always properly displayed and stored.
One of the features of Google Voice is automatic spam filtering. Any promotional calls or annoying surveys will be forwarded or even blocked.
All important voice messages from your contacts will be saved, and there's also a backup feature. Google Voice gives you the opportunity to save on calls to other countries and regions – you don't pay extra money to your mobile operator.
Your emails will also receive transcripts of your voice messages. You can read them from your computer or from mobile apps. In general, if you live in the U.S., Google Voice is a great way to organize your voice mail.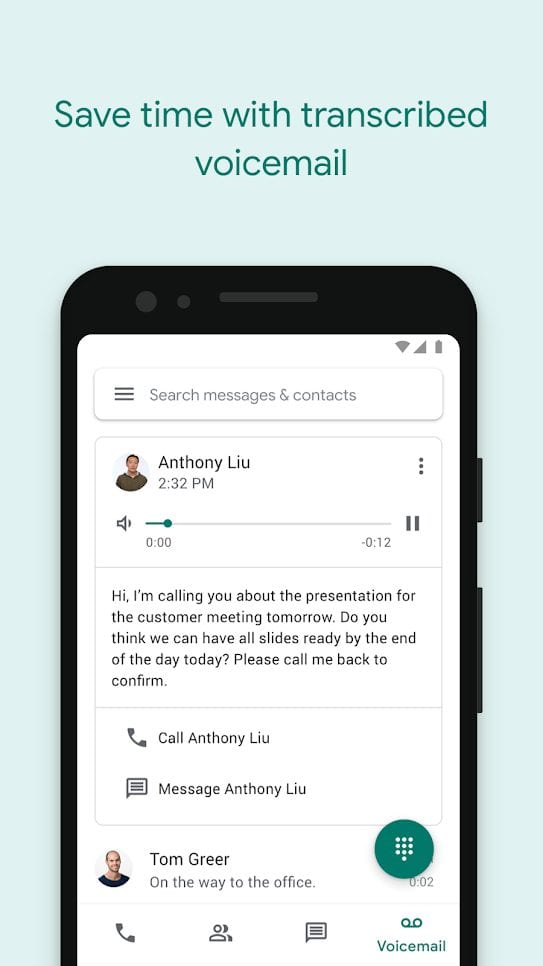 You may also like: 11 Best Free Caller ID Apps for Android & iOS
HulloMail Voicemail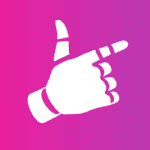 HulloMail Voicemail meets all the requirements of the average user. The application has a beautiful and intuitive interface, is easy to use and does a great job with voice mail. You can share, search or even read voice messages.
HulloMail decrypts all your records and converts them into text. This way, you can search for messages without even listening to them. The most important audio files can be sent by email to your team, but they will still be stored and available to you anytime. If you have unwanted contacts, you can block them and they won't be able to call you or leave voice mail messages.
HulloMail has several types of subscriptions – Lite and Pro. In the Lite version, only 10 messages will be stored in memory and you will need to send them to your email account. Of course, there is a security system and access control. With Pro, you get audio-to-text conversion, subscriber blocking, and limitless storage of your recordings.
Voxist: Visual voicemail you can read
Voxist presents your voicemail in the most accessible visual form. On one screen you will be able to get acquainted with all the messages and choose which ones you really need to listen to.
There is no opportunity to listen? Voxist supports more than 40 languages to decode voice into text. If you're on the train, at an important meeting or just don't want to listen to your work email in your spare time, just read it. Messages will be sent to your phone and email – if you connect it.
The number of email addresses you should send messages to can be unlimited. If your voicemail is left on a business or company number, you can send it to all your employees. Voxist is practical for those who face a huge number of calls and are unable to process them in time.
However, such privileges are available to users with a subscription to the service. In the free version, you can send messages to 1 e-mail address, record only 10 messages per month and use transcription in one language.
Of course, the more you pay, the more features you have. Although it should be noted that Voxist provides a full and convenient free version.
T-Mobile Visual Voicemail
Not all people actively use voice mail. In case you have to use it sometimes, you can download T-Mobile Visual Voicemail – it allows you to send infrequent voice mail messages. The main thing is that you don't need to change your voice mail number – the call forwarding is done automatically at the first launch of the application.
T-Mobile Visual Voicemail helps you manage your voice mail. The service organizes messages by contacts, quickly updates the data and you do not even need to dial your voice mail number.
You can keep track of unread (or rather unheard) voice mail messages. T-Mobile Visual Voicemail can even be placed on your smartphone's desktop as a widget, so you'll immediately notice the slightest update to your voice mailbox.
For a small fee, the application can also convert audio to text. All your new messages will come in text form to your e-mail or even in the form of messages. With each update, T-Mobile Visual Voicemail adds even more useful features.
Coco
Coco can be called the analog of many messengers, which has the function of voice mail. Its interface resembles WhatsApp, and the functionality is similar to a more popular competitor.
However, Coco is interesting because it allows you to use the unlimited space of the application for instant communication with other people around the world – regardless of countries and language.
Voice mail, of course, is what interests us most. It works inside the application itself, so you can record messages to other users who are currently offline. When you communicate in real-time, send instant voice and text messages and attach photos and videos.
Coco has a "Moments" feature that resembles the History in Instagram. There you and your friends upload memories and keep a diary of your activities. In Coco you can also meet new people from different parts of the world – social functions will help you.
Call all over the world, and if you can't talk – leave voice messages. Voice mail is sure to help you contact the right person and tell them something important.
You may also like: 11 Best Private Messages Apps for Android & iOS
Verizon Visual Voicemail
This application has a minimalistic design and strictly defined functionality. When using Verizon Visual Voicemail, you get only voice mail and nothing extra. The application allows you to manage voicemail without calling and dialing.
Verizon Visual Voicemail tracks and records all your voice messages, so you can listen to them, delete them, or go back to them at your convenience. Not interested in what you have received? Delete a message without even listening to it.
The message list is displayed to you like a list of contacts who have tried to contact you. Each entry has a record date and duration – if the message lasts just 1-2 seconds, you can see that it was recorded by accident.
Listening is almost the same as playing music – Verizon Visual Voicemail uses an audio player. The service really does not do anything unnecessary and does not store your personal data.
Hi Voicemail
Whenever you need a tool to help you increase your productivity and save your personal time, Hi Voicemail may be of interest to you. This application is suitable for working with corporate customers, improving the quality of service and keeping them in touch.
You can store all your records in your cloud storage so they won't be lost and you can find them when you need them. Hi Voicemail lets you set up multiple greetings depending on the person who calls you. If you have more than one category of customers, it's a handy feature to personalize your responses.
The application can also be automatically reconfigured if you change your location. If you leave your workplace or otherwise return, Hi Voicemail can change the greeting or send you other notifications. You can also share messages with your team by simply sending information via email directly from the app.
Hi Voicemail has Pro accounts. When you purchase it, you don't get any promotional notifications, you can quickly change your greetings as many times as you like and much more. Although the app performs its main function perfectly even when using the free version.

Nowadays it's hard to get anywhere without mobile phones. However, voice mail works even when the user does not answer the phone for a long time!
Do you have any urgent messages? Can't you contact your friends or family for a long time? Leave them a voice message! Your friends can also do the same when they want to say something to you.
Systematize and save all messages so you can listen to them later or again. Hopefully, our article has helped you find the most convenient voicemail application. Remember that voicemail is both a convenient and reliable way to get information across.