Sometimes it feels like everybody makes presentations — from students to managers and businessmen. And that's why a powerful presentation app could save you lots of time and sources.
Luckily, there are lots of free video presentation apps 2023 (Android & iOS) that will help you make stylish slides effortlessly. These apps include multiple templates and animated objects that will bring your presentations to a whole new level.
In case you're into making slideshows from your pics, check out this article: 11 Best apps to make photo slideshow with music (Android & iOS)
Here's the list of the 6 best apps in that category you should try. Have a look!
Canva: Graphic Design & Video
Let's start with an app called Canva. Frankly speaking, this app is an absolute must-have for everyone who needs to make presentations on a regular basis.
The coolest thing about this app is the massive amount of templates for all kinds of graphic designs.
However, most people use this platform for making social media graphics and logos and miss its presentation-making capabilities. Therewith, the amount of presentation templates this app has to offer is very impressive.
The app has a full-on presentation section with various pre-made designs, interactive elements, graphics, and so on.
Wherein, the interface of an app is easy enough for people of all ages to cope with it. As for pre-made templates, those are even sorted by themes so you can always pick the one that fits you the most and just paste your data in it.
Beyond that, you can add your own pics, GIFs, multiple animated elements, and all that. Once you're done you can save the presentation as a PDF file or as a video.
You can even pick several pages from your project you'd like to save if needed. Besides, the whole service is cloud-based so you can reach all your projects on any device.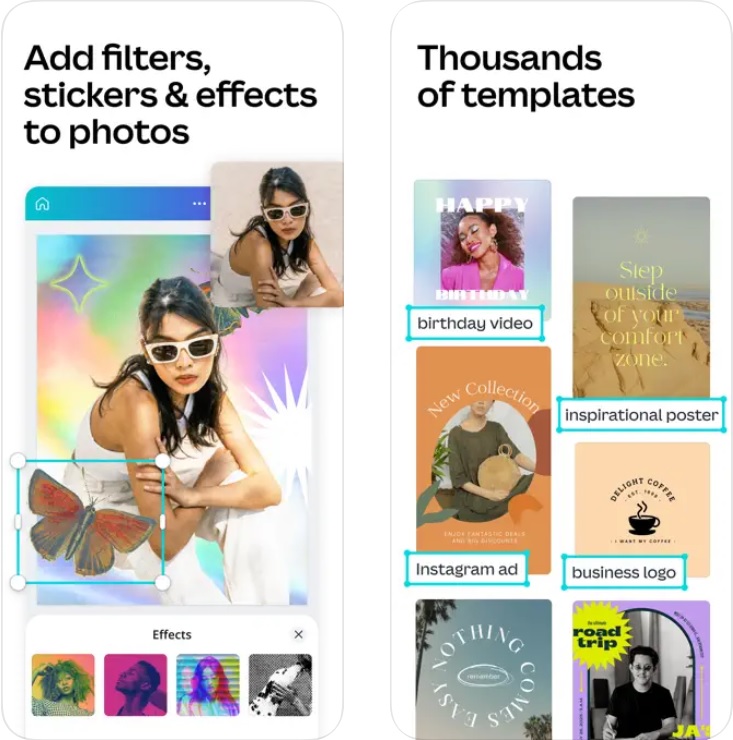 You may also like: 11 Best logo design apps for Android & iOS
Google Slides
Google Slides is by far the most popular presentation apps after PowerPoint.
Along with most Google products, this one will also be free for you as long as you have a Google account. This app is probably the best service if you need to make a presentation quickly without much effort.
Therewith, this app has an extremely basic interface so you'll quickly realize how to use it (it's basically the same as a PowerPoint).
However, it needs to be said that the app doesn't have that many creative capabilities and templates as Canva does. To tell the truth, the design capabilities of this app are quite limited but it's not always a problem. So if all you need is a classic bold project — you go for this service.
The app also empowers you to collaborate with other users and give them entrance to your presentation. All you need to do for that is to send them a link.
Wherein, there are two types of links — the ones that empower people to edit the project and the viewing ones. The service is also cloud-based so you can reach it on your phone or PC.


Zoho Show – Presentation Tool & Slideshow creator
Zoho Show is a presentation creator app that gives you all capabilities for making a nice-looking presentation effortlessly.
The main goal of this platform is detailed and thoughtful presentation templates that will be a perfect base for your projects.
In case you don't have much time for presentation making you can just copy-paste your own text and add to the templates.
Plus, the platform empowers you to switch themes and graphic elements with just one tap so if you want to customize your projects you can do it in secs.
Another great thing about this app is that you can add your business logo in PNG and automatically add it to all your presentations. You can also broadcast your project right from the app to any person you want. Plus, you can give your co-workers access to your projects, so they could edit them as well.
The service has versatile elements, shapes, and graphs you can add to your presentation and there are even some animated items if needed.
Furthermore, all your projects are being automatically saved on your account so you can always come back to them. You can also rather save your presentation as a PDF or a video file.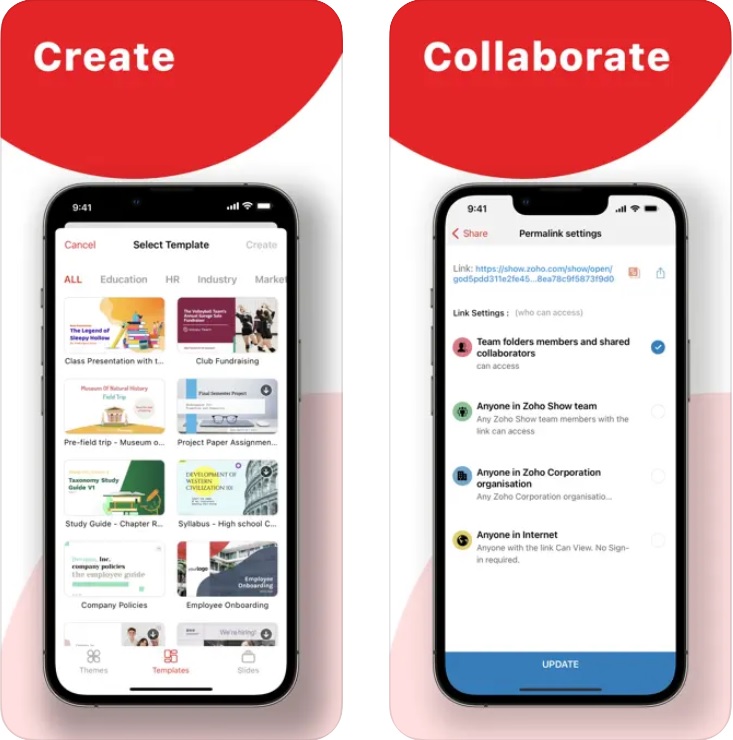 Check also: 10 Best Calligraphy Apps for Android & iOS
As you can guess by the title, SlideShare is an app that empowers you to share your presentations on the go.
The main thing you need to know about this app — this is not an editor. The aim of this one is to empower you to where your content wherever you are.
o do so, you need to load any presentation you have onto the app and then share it with anyone.
Therewith, you can make you project private or public to control the number of people who get to view it. You can also make your projects accessible by the link if you want your co-workers or mates to see it.
In case you want your presentation to be seen by the world you can promote it within the app. You can also leave comments under the presentation and even DM their makers.
It needs to be said, the app covers millions of presentations on multiple themes you can view and save. All the projects are sorted by themes and topics so it's not a big deal to find something specific. Once your project is loaded onto the app you can public it directly on your website if needed.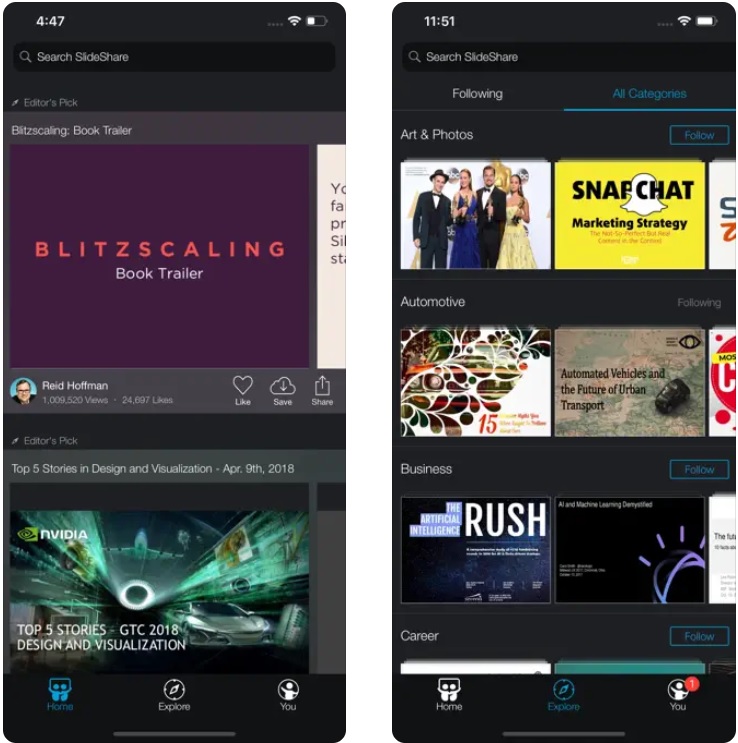 Prezi
Prezi is an app that empowers you to view, edit, and show your projects wherever you are.
As for the editing, the app has all the basic tools and templates you can use as a base for your project.
Plus, there are multiple themes, fonts, shapes, and graphs you can add to your presentation. Once it's done you can rather save it as a PDF or a video file. And when it comes to vids, you can adjust the transitions and the timing for each slide to be shown.
Another cool thing about this app is its broadcasting tool. The app empowers you to connect to any big screen via Bluetooth and open your presentation on it. You don't even need an internet connection to do so. In case you've saved a project as a PDF, you can scroll through the page right on your mobile's screen.
Furthermore, you can zoom the presentation by pinching your fingers. You can also share your presentation by sending it via email.
Besides, you can set multiple access and allow visitors to view your presentation and leave comments. You can also set collaborative access so several people could edit the project at the same time.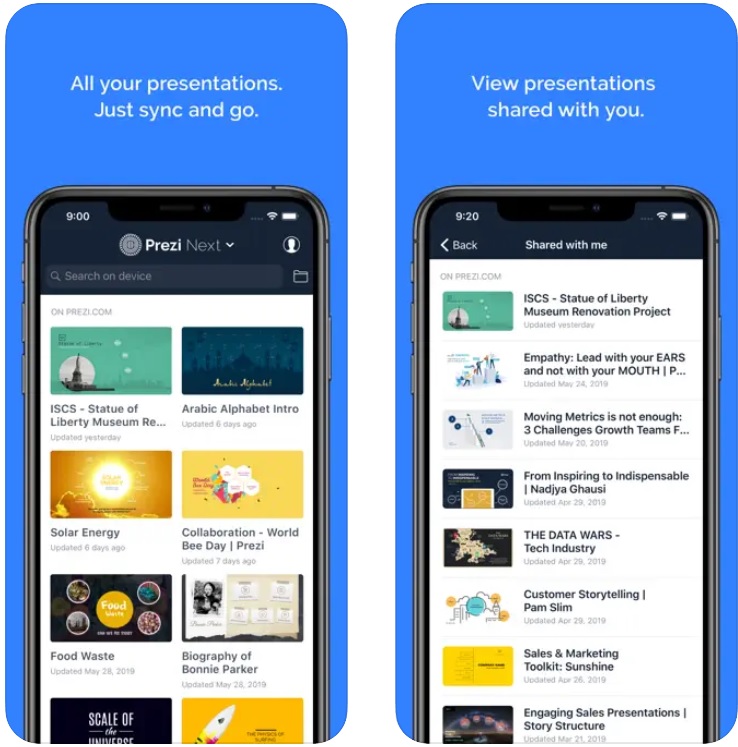 Microsoft PowerPoint: Slideshows and Presentations
Well, the last one is kinda obvious, right? Microsoft PowerPoint app is a mobile version of your good-old presentation maker.
In case you wonder if the mobile version is any different from the desktop one, the answer is no.
The main point of the app is to give you unlimited access to all your projects on the go. Thus, you can quickly edit, save, and share your presentations wherever you are.
Along with the desktop version, the app also has multiple presentation templates. All the templates are sorted by categories and themes so you can quickly find the one you need. Besides, there are lots of graphic options, illustrations, shapes, and so on. And of course, you can add your own images.
When the presentation is completed, you can save it in various formats and even as a video. In case you'll decide to go with a vid, you will get to set the transitions and the time each slide will be shown for.
On top of that, you can five other people access your presentation. It's getting done via the link and you can rather let people view the presentation or edit it.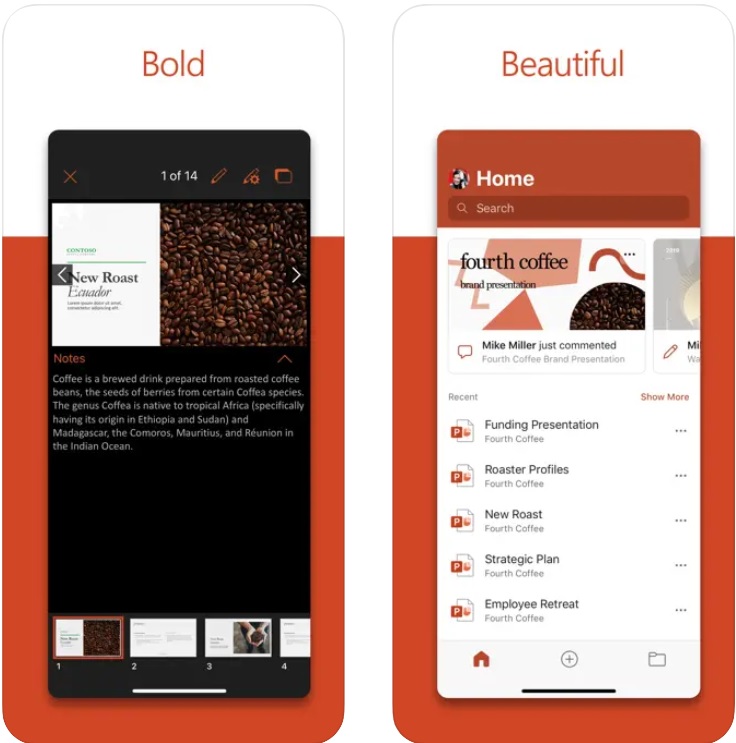 You may also check: 11 Best graph paper drawing and digital drawing apps for Android & iOS
Desygner Presentations
Desygner Presentations is a great solution for those who would like to create presentations and show them to other people.
The app features a drag-and-drop interface, allowing users to add text, images, and other multimedia elements to their presentations with just a few clicks.
Another strength of Desygner Presentations is its robust collection of templates, which can be a starting point for building a presentation.
The templates are used to cover different topics and themes, such as business presentations, educational presentations, and even personal slideshows.
While the templates are well-designed, some of the elements such as icons and graphics lack the level of polish seen in other presentation-making apps.
This can make the finished product look slightly unprofessional, which may be a concern for those using the app for business purposes.
There are also some occasional glitches and bugs reported by users, such as difficulty in editing text and issues with exporting presentations.
Anyway, its vast collection of templates and user-friendly interface make it an excellent choice for beginners and those without any design experience.
Advantages:
Easy-to-use interface.
Wide variety of templates.
Drawbacks:
Limited design features.
Unpolished graphics.
Occasional glitches.