Do you have difficulties with geometry? In this case, we have found an excellent solution for you – Geometry solver app. So, let's read more about its features!
The first thing that we have to mention – Geometry solver installs in a few seconds. After opening the app, it asks you to choose a preferred category – a student, parent, teacher, or professional.
More geometry helper apps can be found here.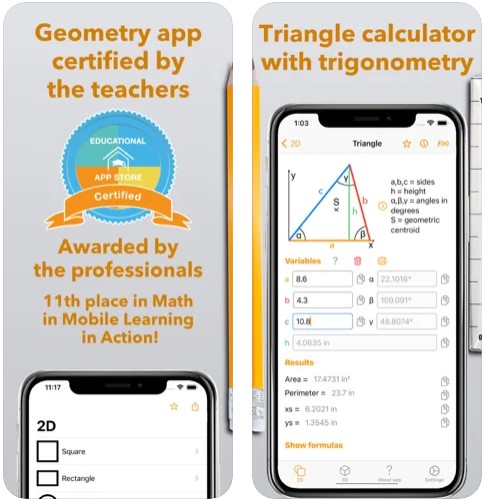 Then, you will find several sections on the bottom of the screen – 2D, 3D, Purchases, About app, and Settings.
In this tool, you can quickly calculate variables and check formulas. Additionally, the app allows you to carry out the tasks of your everyday life. For example, you can calculate the perimeter, area, or surface of various geometric shapes.
We have to admit that this tool offers a great number of various shapes – square, pyramid, cube, cylinder, triangle, rectangle, circle, and so many others.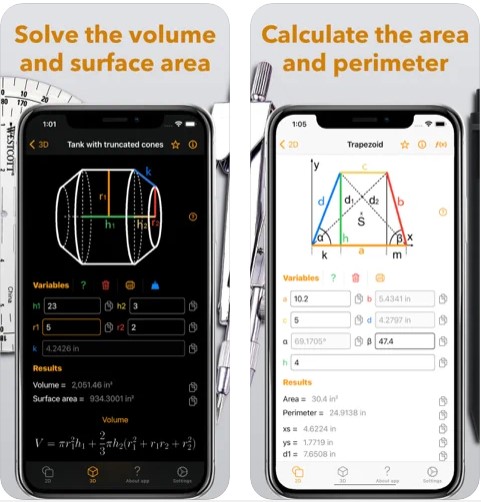 The next useful feature that many users will certainly like – the app makes very fast calculations in a few clicks.
Moving on, Geometry solver features a magnificent design that makes its interface quite simple. Despite a great number of options, the app is very convenient to navigate. No doubt, this is a great bonus!
What is more, the developer stands firmly behind the product's quality, therefore the app's version is constantly updated. Besides, the app supports various foreign languages.
By the way, if you face any issues while using this app, you can contact tech support. The customer specialists are very responsive, so they will help you at any time!
Geometry solver comes with a free version, but if you want, you can purchase a Pro version at a very accessible price.
As a whole, all the users are fully satisfied with this application, as we have not found any negative comments.
And in order to make the learning process more fun, especially with math, we recommend downloading math game apps that will make the whole process more engaging.
To sum up, Geometry solver is a must-have app for all mathematicians, students, and their parents. There are not any significant drawbacks of this app. So, we can surely say that you will like it!