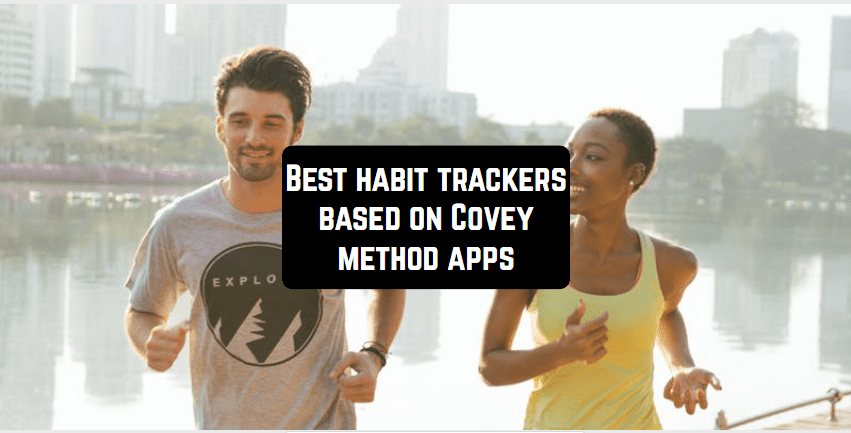 You must have heard of Tony Robbins, Nick Vuychich or Steven Covey… Self-actualization is a bid deal in our society nowadays. If you don't do it yourself, then you got a friend who's into personal development for sure. There are a thousand speeches on YouTube about it, there are millions of books about it.
One of the most popular is "7 Habits of Highly Successful People" by Steven Covey. The problem is when you decide to form new habits and transform your life you're often overwhelmed by all that informational flow and just lose track of what you do and eventually quit.
With the apps listed below, you will finally go from theory to practice and start monitoring your daily progress on a system, based on the book by Steven Cover, mentioned above.
FranklinCovey Living the 7 Habits
Since personal development has become almost a religion nowadays, it is cool to be on-trend. Self-developments has not hurt anyone yet, moreover, it is a cool trend which allows you to discover your inner talents and become more aware of the life you're living. Today all the ways of self-development are well structured and explained step-by-step so even the busiest person on the planet would find a time to dedicate to working on their personality.
We are presenting you the FranklinCovey Living The 7 Habits app, winner of the eLearning Guild's "Guild Masters' Choice Award" at the 2014 mLearning DemoFest. This app is synchronized with the same course by Franklin Covey and help you to accelerate results and keep the tracker of your new habits in your smartphone. There is also a lot of self-study materials, so if you want, you can learn on your own – sometimes it is way more effective.
The purpose of this app is to help you to create your personal Mission Statement. To accomplish that goal, you must decide where you want to focus your time, attention, and energy. After some efforts, you will get insights into your true talents and desires which will help you to find the right path.
First, you need to put your data into the app. Then, day by day, you will be making small notes, noticing what you're doing the best, the worst and what excites you. You will also receive useful pieces of advice in order to increase your daily awareness. There will be questions that will make you think of certain aspects of your life.
This is a dedication to the 25th Anniversary edition of The 7 Habits of Highly Effective People book by Stephen R. Covey that address common challenges that people face in their efforts to become more effective personally, at home, and at work.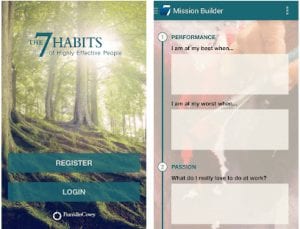 You may also like: 17 Best nutrition and diet apps for Android & iOS
back to menu ↑
7 Weeks – Habit & Goal Tracker
It is easy to form negative habits. But good ones are sometimes incredibly difficult to form. Many people try to eat more healthy, do sports, read books, not use plastic, but then they fail because they are simply not aware of the algorithm according to which new habits are formed.
With this habit tracker, you will form new habits within 7 weeks.  Based on Charles Duhigg's bestselling book, "The Power of Habit" and the X effect method of completing goals. In this app, you are creating a new habit while achieving one of your goals at the same time.
Every day you will be receiving small tasks to accomplish in order to make this day meaningful in your personal development. Gradually, you become closer to the new you day by day and you can monitor the progress that you make. It increases your motivation, willpower, and discipline.
It is scientifically proved that 7 weeks are enough to form a new habit (49 days). Or you can use this time to break a harmful habit. The app is a widget and it is easy to use it right on the home screen. Design of the app looks neat and beautiful, with more than 15 customizable colors. And if you wish, you can go longer than 49 days to form a new habit.
You can compile your plan individually day by day or use the schedule presented in the app. All the notes are customizable. You can set several goals for each week and watch your progress as well.
back to menu ↑
Habit-Bull: Daily Goal Tracker
Have you ever noticed that all the prominent people of our society are maniacs of personal development? Now that we follow them on social media, we can see that they have numbers of useful habits and a lot of discipline. They do things that we are lazy to do every day. But, mostly, they found a way to build-in this process into their daily routine and make it actually work for them.
Do you want to build a discipline and become one of them? Do you have really serious intentions to do that? Well, you should try this app out. As you can see, it has all kinds of habits tracking. You can watch your food habits, and how well you're doing on improving it, you can set one-day goals. The app will show you the percentage of action you took on a certain goal.
Days in the calendar will be highlighted by different colors. Each color is tied to one goal. If you've been working more on a certain goal one of the days, this date will have the color of that goal on the calendar. Some days, when you're working proportionally on several goals, the circle will be a mix of colors.
You will also discover a lot of inspiring quotes which will assist you on your way of forming a new positive habit (or killing a bad one). Reminders are built-in the app and the notifications are consistent, so you won't skip anything.  Habits are no more than routines which you perform subconsciously. To build one – train yourself. To break one, find another one which is similar, yet different and nicer, and repeat it until it sticks.
back to menu ↑
HabitHub – Habit and Goal Tracker
Because of our countless negative habits, we are often get caught in indulgence. We feel unmotivated and frustrated, feeling like not doing anything. The reason is that we need to achieve something in our lives, work on ourselves, otherwise, we are feeling down. Even the smallest effort can bring a lot of joy to your being.
HabitHub is based on Seinfeld's productivity secret, which involves building long streaks of days. The system is created in such a way that you are staying motivated throughout the whole process. Your daily progress looks like a chain with circles which will light green as soon as you have accomplished a task. A visualization like this makes the whole process more simple and understandable.
Reminders will always catch up with you so you don't miss anything. HabitHub sends out the reminders directly to your smartwatch allowing you to mark the days directly from the watch. Add notes daily and build your routine.
Any kind of habit you can imagine – you can put into this app: jogging, aerobics 3 times a week, reading 1 book a month, meditation 1 time a day, wash your car one time a week – literally everything! Useful graphs make everything even more clear. No excuses anymore – just act!
back to menu ↑
Strides Habit Tracker
They say that once you started a new habit ii's extremely hard to break. However, the statistic shows, that around 45% of people who used to smoke and then quit get back to their habit after a while. Bad habits are hard to break, especially if they are nutritional because we are used not to consider our food as something insignificant. The same is with our thoughts. We don't notice it during our daily life but positive thinking is a habit itself requiring constant practice.
So it is better to stay consistent when forming a new habit or achieving an important goal. This app will help you with that. First, you set a specific goal with a certain date when you want to achieve it. In general, this is a SMART goals approach which says that goals must be specific, measurable, achievable, relevant and timely.
This app helps you to follow this principle. It will send you reminders at any time you set it – for example, your reminder can be at 7 a.m., 10 a.m. and 6 p.m. In the process, you will be filling the green circles in the calendar and therefore keep track of your progress. When you see it visually, it motivates and inspires you.
It can also display your budget or savings depending on the goals you set before. The system can also keep the record of your workouts and show your graduation status depending on how soon it will be. Drinking water is also significant for your health. With the necessary settings given, the app will keep track of everything.
back to menu ↑
Loop – Habit Tracker
The rhythm of modern life is intensive and demanding. We must always stay in the "hustle" mode, run as fast as we can, achieve more and more and more… Absence of discipline or bad habits is destructive in this case. They make you exhausted, with lack of power and decrease our mental abilities. When there is chaos in your thoughts, there is chaos in your life. So put your life together with the assistance of this app.
Even though there are plenty of different aspects, the interface is easily understood. The app itself is open-source and it has no ads in it which is rare nowadays. Loop has an advanced formula for calculating the strength of your habits. For each repetition, you will be receiving or losing points and at the end, you will see how many of them you collected on your way. When you skip, you get no points at all.
This way you can compile statistics and watch how your progress has evolved over time. You can open an additional link to see how your habits changed over time. Creation of more complicated schedules is also available and 1 action can repeat itself more than 1 times a week. What else you can do is to change the design of the interface of the app according to your taste – there are several options for it.
back to menu ↑
Habitify: Habit Tracker
We all wish we were perfect people, with perfect behavior and habits. This idea of perfectionism rules in our society. Many people reach perfection but never actually achieve it and it makes them frustrated. The first thing to understand here is that perfection is not achievable in general. However, there are techniques which help to improve our lives in many personal ways. We should not try to grab everything at once – repetition is key.
This app will become your daily tool to work on yourself. You will get more conscious of life as a result. Habitify is a free iOS habit tracker app that helps you form habits that actually stick. It's designed to motivate you every day and reward you with beautiful streaks.
Habify will help you to stay focused on your goals and forming a new positive lifestyle. You will see your daily progress and notice in which fields you can make improvements. No matter where you are you can always check at which stage you're currently at – app will save all your data.
Overall, this app is not that different from the previous one for Android, it just has different design and it's up to you to choose which one you like more.
You may also like: 13 Best Health Coach Apps for Android & iOS