JacksOrBetter is an amazing card video game of the new generation with great criteria. Every poler lover will definitely like it. Of course, this game is made for adults but children can also play it if they want. Video poker is a casino game based on five-card draw poker.
Are you enjoying playing card games with friends? Check out this article to discover the best websites for that.
The goal of the game is to collect the best possible poker combination. The game is won if the player has at least a pair of jacks in his hand. First you are dealt five cards, then you choose which one to keep before discarding and replacing the rest.
Then you get paid depending on the strength of your cards. When we open the game, we see the start screen. You can register an account via Facebook for the game, but this is optional. The registration process lasts no longer than 5 minutes. We see the name of the app in the middle of the screen, the background is purple.
Next, we select the mode and proceed to the poker itself. It presents a small instruction on how to use the app which is very useful for beginners. The interface of the game is very nice, the colors are similar to the original colors of poker: green, white, red, black. The game has 100 levels and the last one is Las Vegas.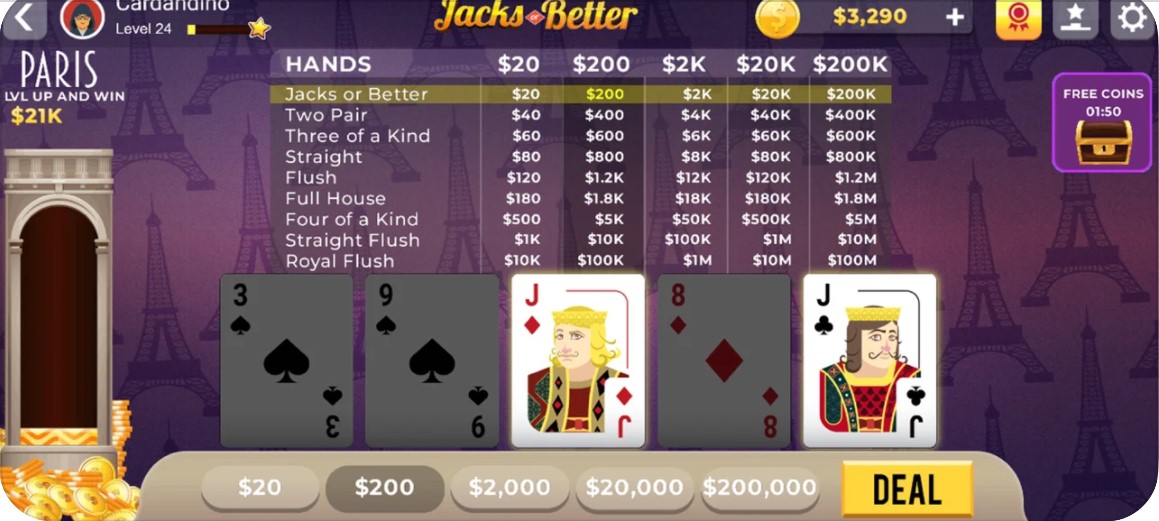 At the beginning every player receives some coins, then free money available to take after watching advertisements. Players receive gifts and prizes every day and win chips. The game has a leaderboard that you can get into if you have excellent results. The screen of the card game itself is very interesting.
What is more, we picked up the best apps that will allow you to play poker together with friends online.
The interface looks very professional and colorful. At the bottom we see our cards, at the top there is a table of possible card combinations, making which you can earn different amounts of money.
This game has both great animation and . It is an enjoyable way to spend free time with fun and benefit. People playing this game develop logic and reaction.