Light is an important detail in beautiful photographs. When you take a photo or video, light plays a crucial role in highlights and colors. If you use a professional camera, these devices usually have built-in utilities and light sensors.
But when you use a phone, you do not have the option of using a light meter. Light meters help you determine the exact value of the photo's shutter speed, the brightness of the light, and much more.
If you're really into photography, you'll need a light metering system. Although your smartphone may not have such a system, there are many special applications that will do this.
If you need just to measure space you should try some measure distance apps or tape measure apps. But for the light measuring, there is another good way below.
It should be noted that the quality of these utilities depends on the model of your smartphone – that is, the values may differ slightly from the real ones. So, we have selected the top 15 light meter apps for Android & iOS.
Pocket Light Meter by Nuwaste studios
If you need a simple and effective tool for measuring light levels, Pocket Light Meter is the right choice for you. This utility is really indispensable when you are going to take pictures with a smartphone camera or camera without built-in sensors.
The application calculates and measures the light reflected by surfaces. All you have to do is point the camera at what you want to take the picture and the Pocket Light Meter will give you the light level immediately.
The application also calculates the reciprocity of light. The tool fits the name perfectly – it's the light meter that you'll always have in your pocket.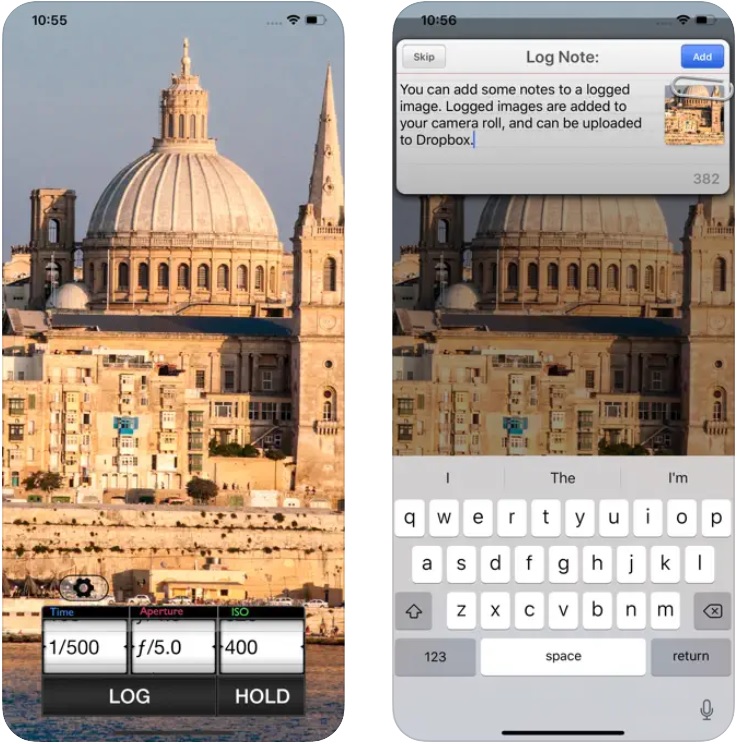 You may also like: 7 Best Lux Meter Apps for Android & iOS
Lux Meter (Light Meter)
Most of us are used to stylish and modern app designs. If you really want an app to look modern, then you can try Lux Meter. This app is a simple tool for measuring light.
Each smartphone has a special light sensor that adjusts the brightness of your screen. With it, Lux Meter calculates how brightly you are at the moment and what light levels you have in your room.
The calculation is done in Lux, the units of light. The application displays the maximum, minimum, and average light values. All Lux Meter data is obtained with the help of sensors, i.e. the accuracy of the application directly depends on the quality of your smartphone. For better accuracy, you can calibrate the device yourself.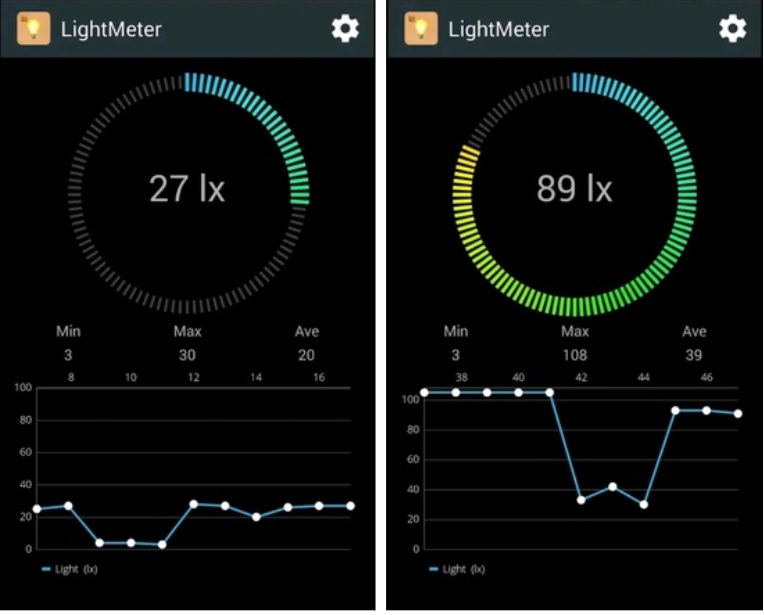 LightMeter by David Quiles
Analog cameras do not have brightness or lightness control. We think you've noticed this yourself if you've ever held pictures taken with such a device in your hands.
To make your photos look beautiful, you can use a lux meter. The LightMeter app was created just for fans of analog photos.
It is worth noting right away that LightMeter only works with devices that can maintain exposure. Of course, in other cases, the application will also give you the result, but it may be less accurate.
All measurements are made with the help of sensors and camera of your smartphone, and it is also worth making a small calibration. If your camera zooms the images a bit, you can translate the measure calculated by the application. In general, LightMeter is efficient enough to measure your performance.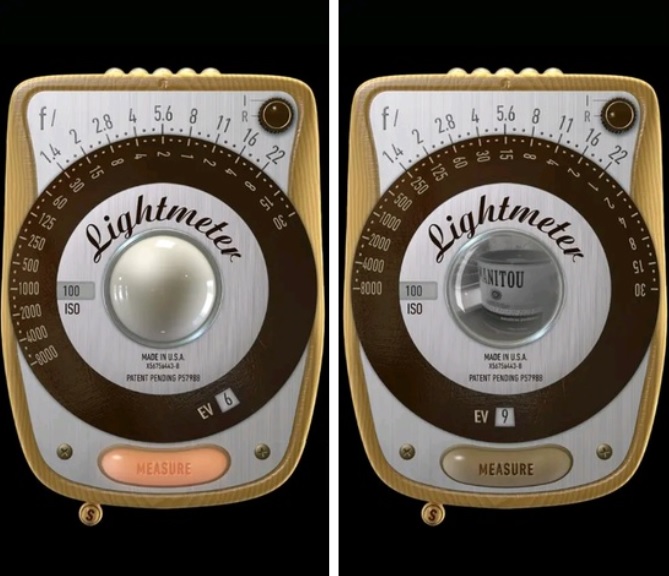 myLightMeter PRO
If you are a professional photographer, you can support the myLightMeter PRO app. It was created by professional photographers for their colleagues so that you can reliably and brightly create photos, both digital and analog. The app takes into account several factors that are important for any shooting.
MyLightMeter PRO has enhanced sensitivity to dark scenes and helps you adjust the lighting. For people with special interface requirements, there are 2 interface design options for one application where you can customize it.
Two different measurement modes can be calibrated independently of each other so that you get only accurate data. Also in myLightMeter PRO you can calculate the hyperfocal distance for 5 different lenses which are automatically memorized by your device.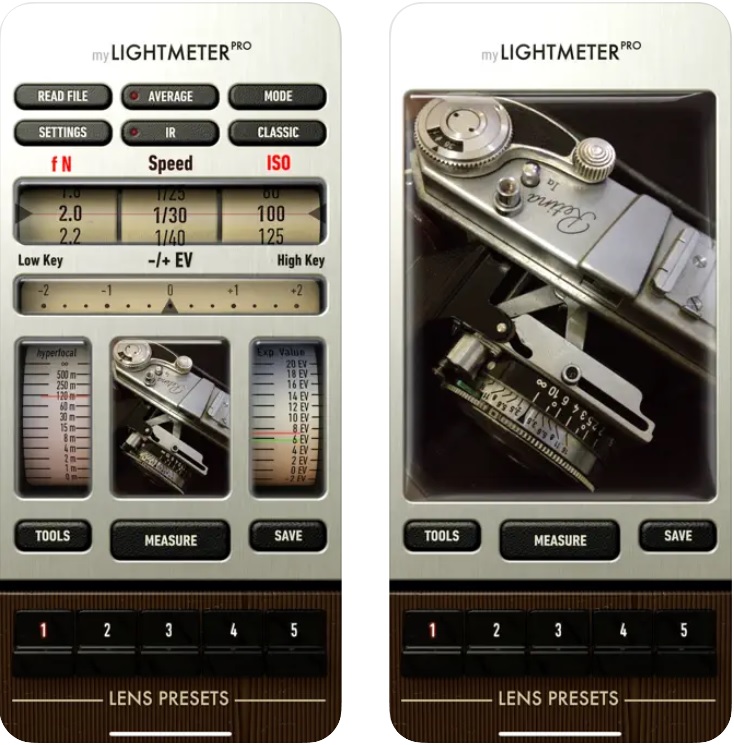 Lux Light Meter Free
In case you need to remember all the light measurements that you have made, you will regret that the application does not have a history of your measurements.
With Lux Light Meter Free, you will remember everything you do and you will be able to understand all the sensor characteristics of your smartphone. The app uses intelligent calculation algorithms, and the developers guarantee accurate results.
By the way, measurements of light levels will be useful not only for photographers – such data is important for builders, biologists, and electricians.
You can use the application to find out what kind of light your garland gives, set the best light level for photosynthesis, or simply expose the photo.
Check out how intense the light in your home is and whether you should add extra light sources – all with Lux Light Meter Free.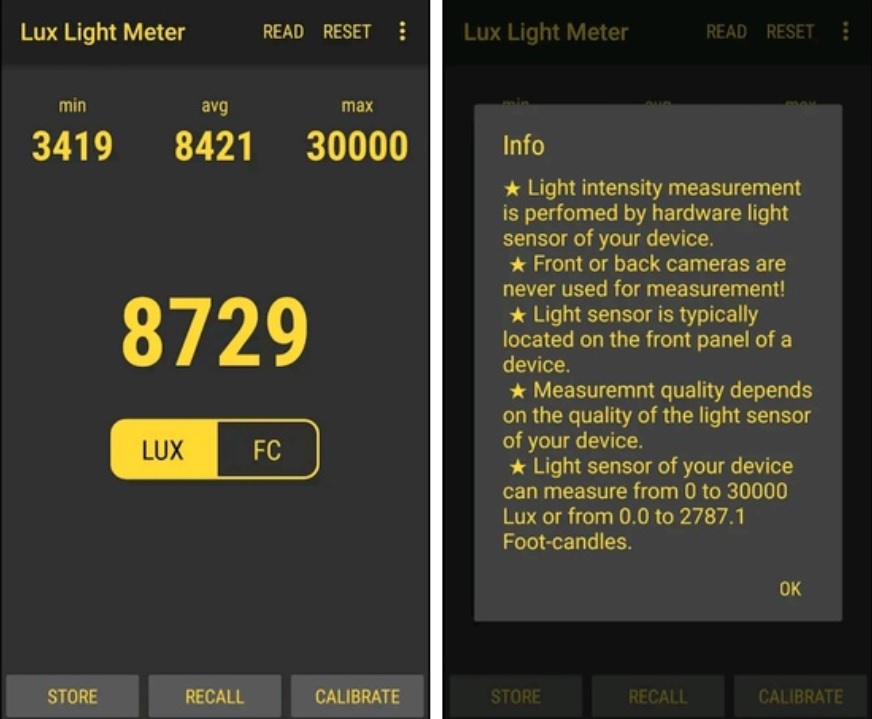 Lux Light Meter Pro
To use a handheld or film camera, you will need to adjust the light indicators yourself. Lux Light Meter Pro can help you with this difficult task. This application is a simple light meter that will help you adjust the light level in any room, and will also help you with the task of adjusting the light for your photos.
Like any other such application, Lux Light Meter Pro uses sensors built into your device. They gather information about the light intensity – and you just press a button!
Lux Light Meter Pro can also help you adjust the light level in your greenhouse or adjust the light in the living rooms of your home. All measurements are made in real-time – and you will see the slightest change on the screen. You can also calculate the maximum light in the room.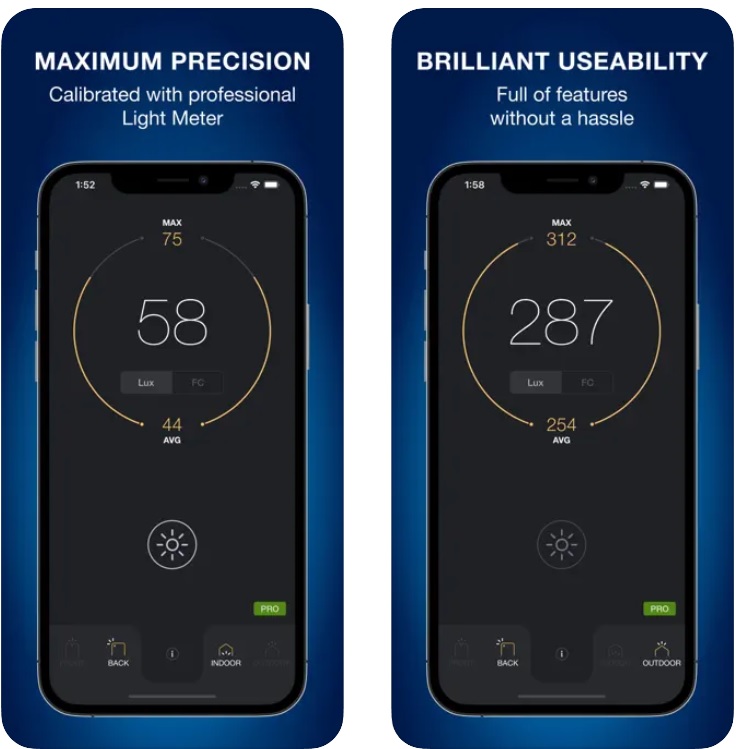 Light Meter – Free by WBPhoto
This free application has a very simple and clear interface. All its functionality is immediately displayed on the start page, so you'll find out what you need to do.
Light Meter will do a great job of measuring light for any type of camera, as well as help you make the picture more cinematic and enjoyable to watch.
There are 2 types of measurements in the Light Meter: point measurement with your smartphone camera and incident light measurement. You can switch between modes at any time and see the changes.
If you decide to compare the data from the Light Meter with the data from real meters, you will notice that the difference is minimal. In addition to the 2 modes, you can calculate the depth of field of the photo and EXIF.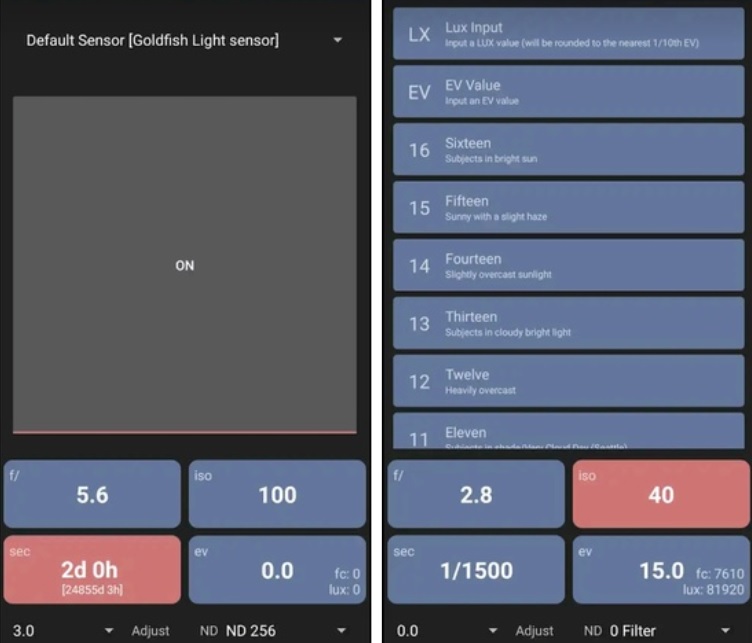 You may also like: 11 Best Decibel Meter Apps for Android & iOS
Lumu Light Meter
Lumu Light Meter is a tool that was designed to help photographers and others who use light indicators in their work.
It can be used in combination with their hardware, or stand-alone – for measurements with a smartphone. Yes, Lumu Light Meter has its own devices for professional color temperature and lighting measurement.
The application mainly uses a camera from your smartphone. It measures reflective light, which plays an important role when taking pictures. It is worth noting that the Lumu Light Meter is still designed to work with Lumu Power.
This device will be useful for professional photographers, as in tandem with the application it will automatically set all the necessary settings and exposure.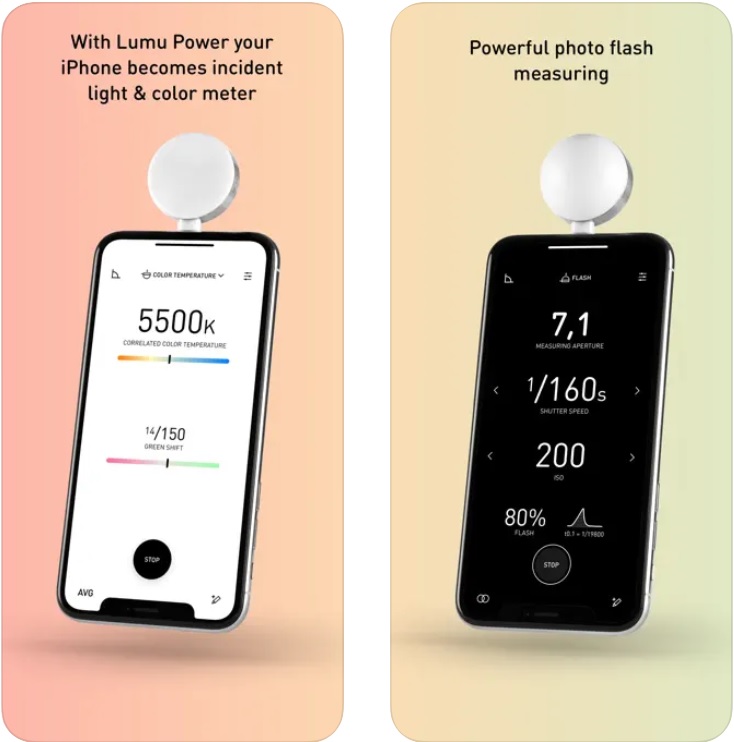 Light Meter – EV for Photography
Perhaps you have a question – why even measure light for a photo? These measurements are necessary so that you can set the correct shutter speed and aperture values for your camera.
After all these settings your pictures will be much better in terms of quality, illumination, and other indicators. The Light Meter will help you determine what kind of lighting is around you at the moment.
There are 3 modes in the app that you will use. When you take your first measurements, the Light Meter will calculate aperture and shutter speed for the photo, and even ISO settings.
In addition, you can adjust other parameters on the camera. For users who have purchased a subscription, there are separate settings and measurements in real-time. All measurements are made using sensors, so the sensitivity may vary depending on the model and manufacturer of smartphones.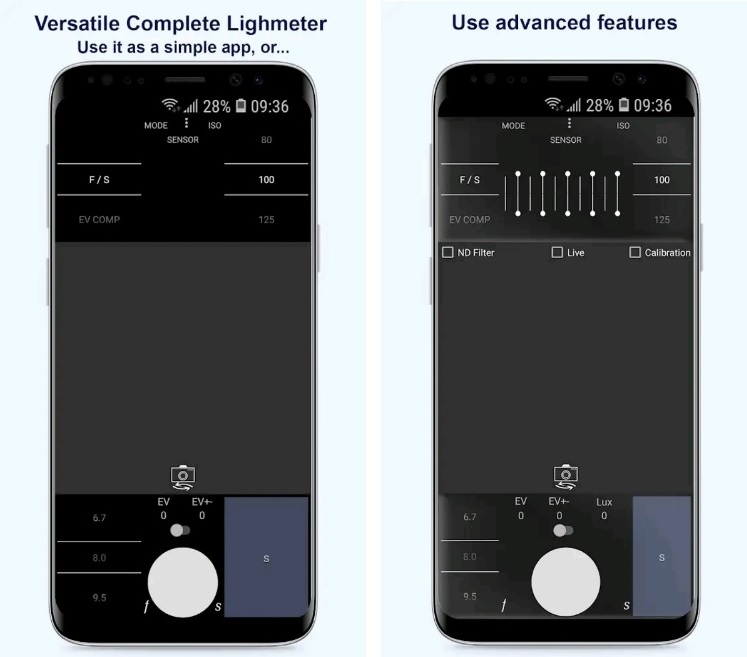 Light Meter by Blackcurrant Studioz
To measure lighting, special lux meters are usually used, which have multiple sensors. You can make all these measurements with your smartphone and the Light Meter application.
It will use the built-in functions and sensors on your smartphone to perform the calculations. The app is completely free, so it is suitable for beginner photographers and others who want to measure lighting.
If your camera has zoom, Light Meter will automatically measure distance points and take them into account when calculating. It also measures the reflection of light and the light that is direct.
This will require compatible cameras and sensors. In the premium version, direct measurement, automatic calculations, and even linearity correction are added. If you just want to know what shutter speed you need to set for the best shot, the free version of Light Meter is also sufficient.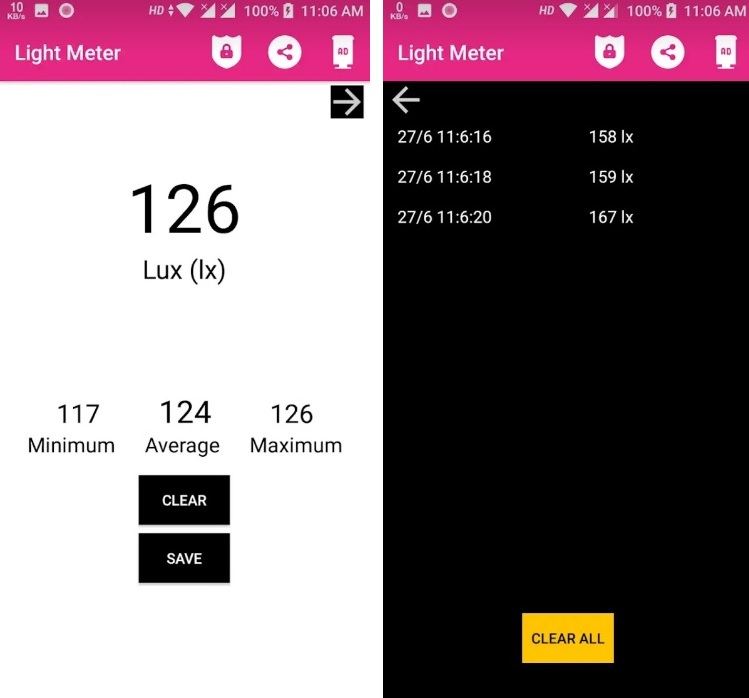 FotometerPro
Film camera enthusiasts know for a fact that light problems can easily ruin even the most beautiful photo. FotometerPro is an application designed to make it easy for you to adjust all your shooting settings as well as work with Lomo toy cameras, for example.
You will be able to use the utility to create the perfect shooting environment as well as to check if the atmosphere is suitable for your work.
FotometerPro works together with your camera. Fullscreen mode allows you to adjust the exposure so that the color is not distorted in any way when shooting. To help you learn how to take pictures, you will be able to view a log of your shooting data.
As with many other functional applications, FotometerPro has a subscription. With this subscription, you will discover many other features, such as adjusting the aperture value or manually locking the camera.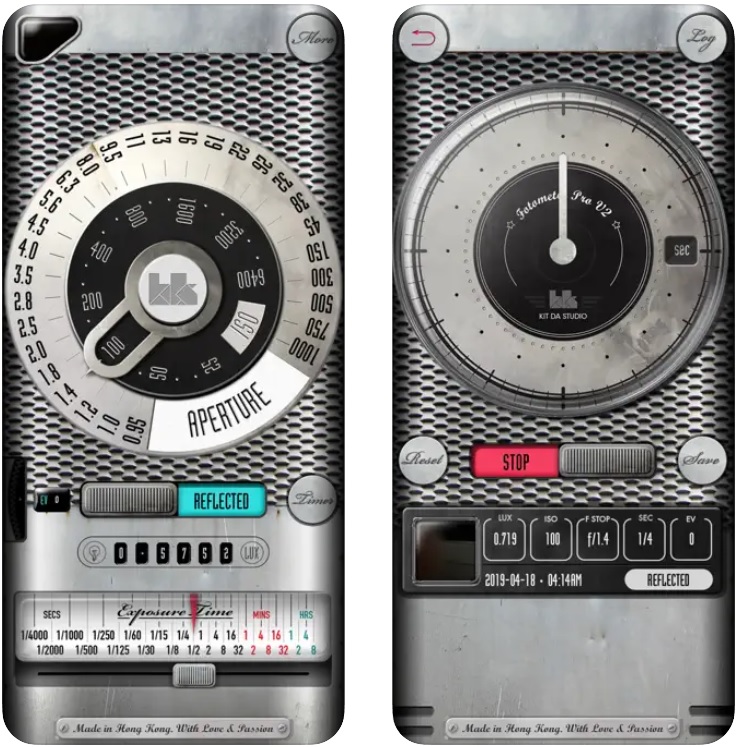 Light Meter (Scientific Lux Meter)
Scientific Lux Meter can immediately attract users with its simple design with vector drawings. All controls and measurements are as simple as possible – you just have to click on the Start button and the application will do it for you.
To accurately measure, you will need to bring your smartphone to the light source – exactly where you want to explore it.
Scientific Lux Meter measures everything accurately and does not require any additional devices. Only the built-in sensors that are already present in your smartphone will be used.
Scientific Lux Meter does not require anything to work – once you start, the application will do it all by itself. After all measurements, the results will be displayed on the screen. In addition to the numbers, there is also a dynamic color line that shows the light level clearly.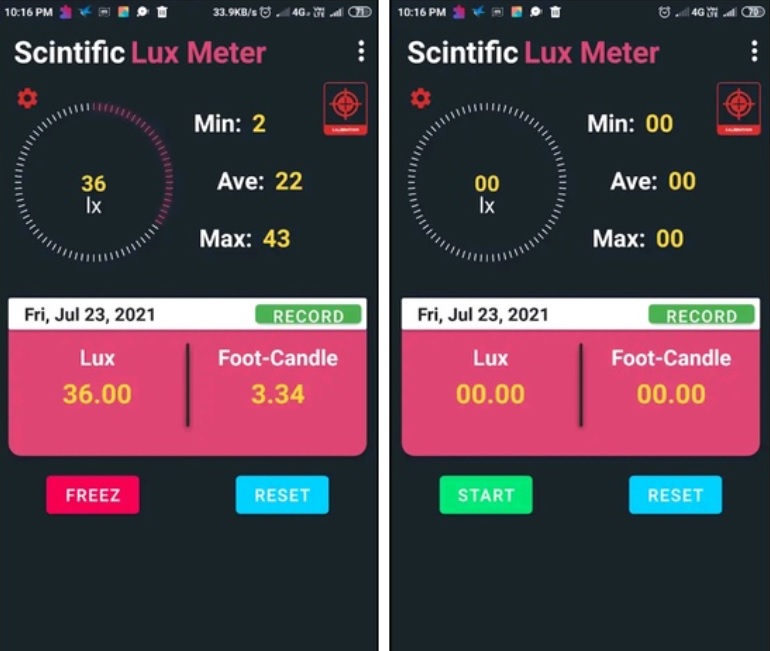 Light Meter For Eyes
As you know, poor lighting in classrooms or even the bedroom can make your eyes hurt. Some doctors also notice that your vision can be impaired by a constant lack of light.
If you feel that your eyes hurt, it is worth checking to see if your room is adequately lit. You can do this by using the Light Meter For Eyes app, which is simply installed on your smartphone.
You can use the app to make sure that your room has enough light sources. It is worth noting that each session requires its own lighting. So there will be different levels of comfort for your eyes for education, sports, or watching movies.
Light Meter For Eyes will also advise you on lighting standards for different activities, as well as will immediately pass a decision after all measurements.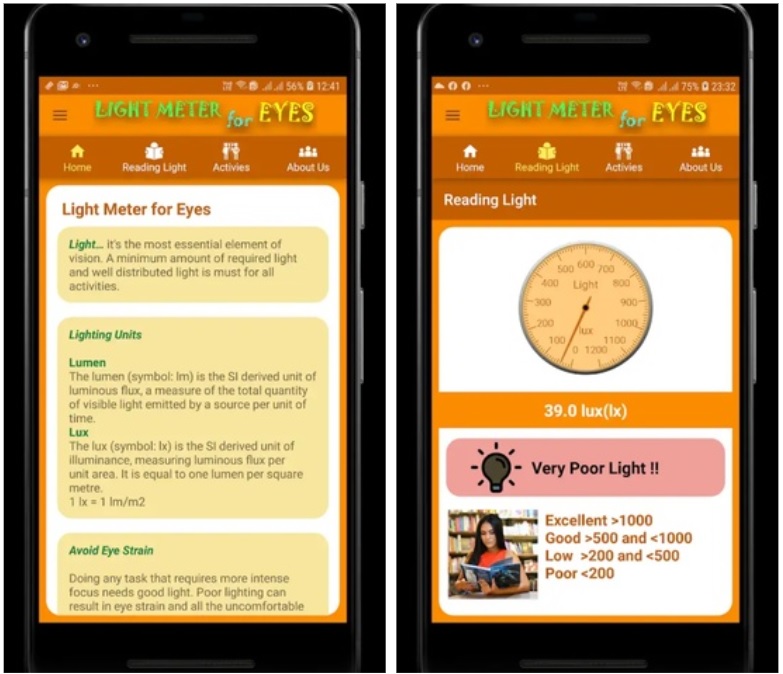 PPFD Meter
PPFD Meter app is a tool designed to measure light intensity in a given area
With this app, you can accurately measure the Photosynthetic Photon Flux Density (PPFD) of light emitted by artificial light sources.
The app provides you with real-time readings, allowing them to monitor and adjust indoor growing conditions to ensure plants receive the optimum amount of light they need for healthy growth.
The PPFD meter has a simple and easy to use interface with a digital display that shows PPFD values in µmol/m²s. The app also includes a calibration feature that helps users set up and calibrate their devices for accurate readings.
But some users have reported dissatisfaction with the app's accuracy, claiming that it gives inconsistent readings and doesn't work well with certain light sources.
All in all, the PPFD Meter app is a useful tool for growers using artificial light sources. However, it may have some limitations and inconsistencies in the testimony.
Features of this application:
Easy to use application
Helps you adjust the amount of light in your home
Application cons:
• Inaccuracies in application operation and measurements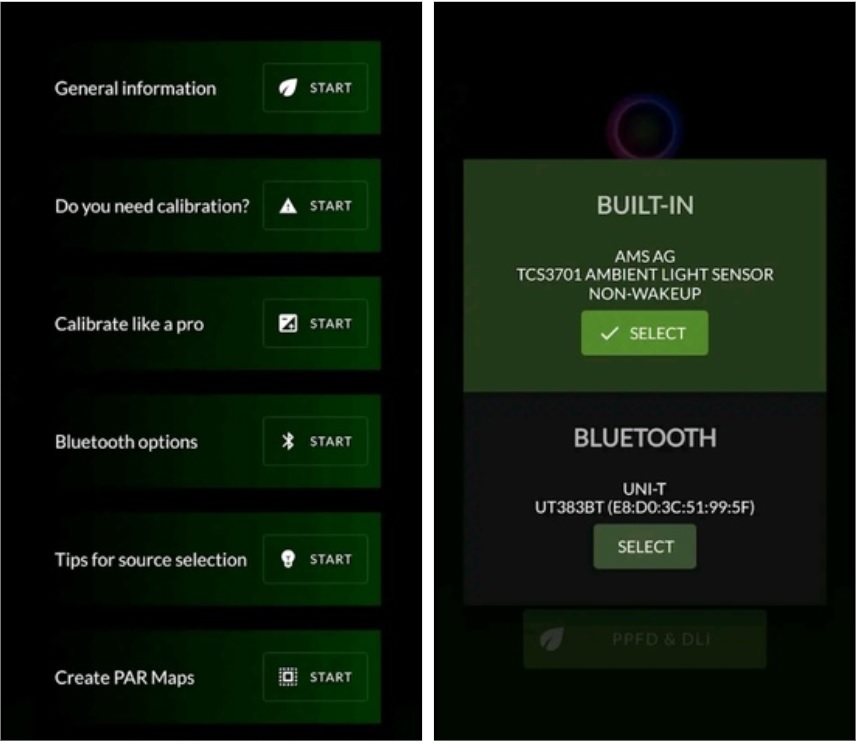 You may also like: 11 Best Apps to Measure Air Pollution (Android & iOS)
Lux Camera – Light Meter & Measurement
We have repeatedly said that most light meters for mobile phones are designed specifically for photographers. The Lux Camera application cannot be left out – it works with high precision and makes your work easier.
The application is easy to use and gives you the opportunity to adjust all important parameters at any time, measure lighting parameters, and so on.
With Lux Camera, you can save on the purchase of professional equipment but still get their full functionality. The application is easy to use and your smartphone will show you all the changes you make to your camera settings.
All measurements are made fairly quickly. All you need to do is open Lux Camera and start measuring light with your camera. All measurements will be immediately displayed on your smartphone screen.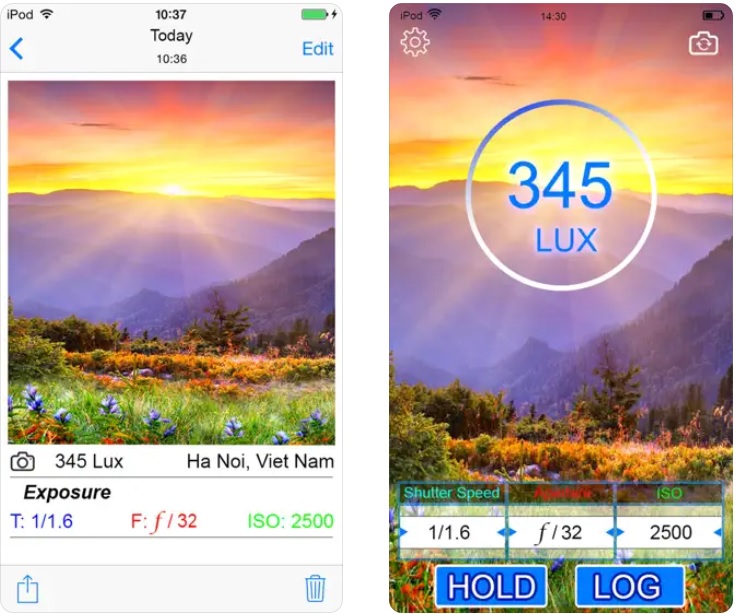 The applications that are used to measure the light are quite accurate. They give you exactly the same information as real lux meters. The application compares all the data it receives with the information available and gives you the most accurate result.
The light meters help you take pictures in darkness, take pictures in low light, and adjust the brightness level. Using your smartphone and a special light meter, you can take really beautiful and professional pictures.
It's worth remembering that the measurements work within your smartphone, and the performance in different corners of the room may vary slightly. We hope you can use the right light meters for your photos!