Checkers is one of the most popular board games ever – obvious fact. Millions of people all around the world play it daily. There is a lot of variations of this game and now it's also available in the digital version. Nowadays you can simply have checkers in your pocket by installing the app.
There are different checkers apps – some of them have a more intricate design, some of them include the multiplayer and online mode, some are more difficult, some are easier. Anyway, you can explore the list down below and choose the best checkers app for you personally.
Checkers (by English Checkers)
Who does not like simple logic games? For many, they are associated with warm memories from childhood. One of the most popular among such games is checkers. There are loads of modifications available now!
The app offers English, Russian, Brazilian, International, Spanish, Italian, Thai, Turkish, Czech, Ghanaian, Nigerian Checkers, and American Pool. You can play against bots or together with a friend, as well as unlock new levels. It is also possible to download chess.
The graphics and interface are simple and clear. Checkers are shown with a glint of light, very similar to real ones. The board looks more like 3D graphics than a normal two-dimensional one.
In addition to the classic brown, there are seven other types of playing boards. During the gameplay, the number of remaining pieces for each opponent is displayed. There are intelligent hints.
It is possible to delete the made move, which increases the chances of winning, but this can be done a certain number of times, no more. There are ads in the app, but you can purchase a premium subscription and get rid of it. It weighs little, only 3.5 MB, and we believe it's perfect for killing time during a long boring trip.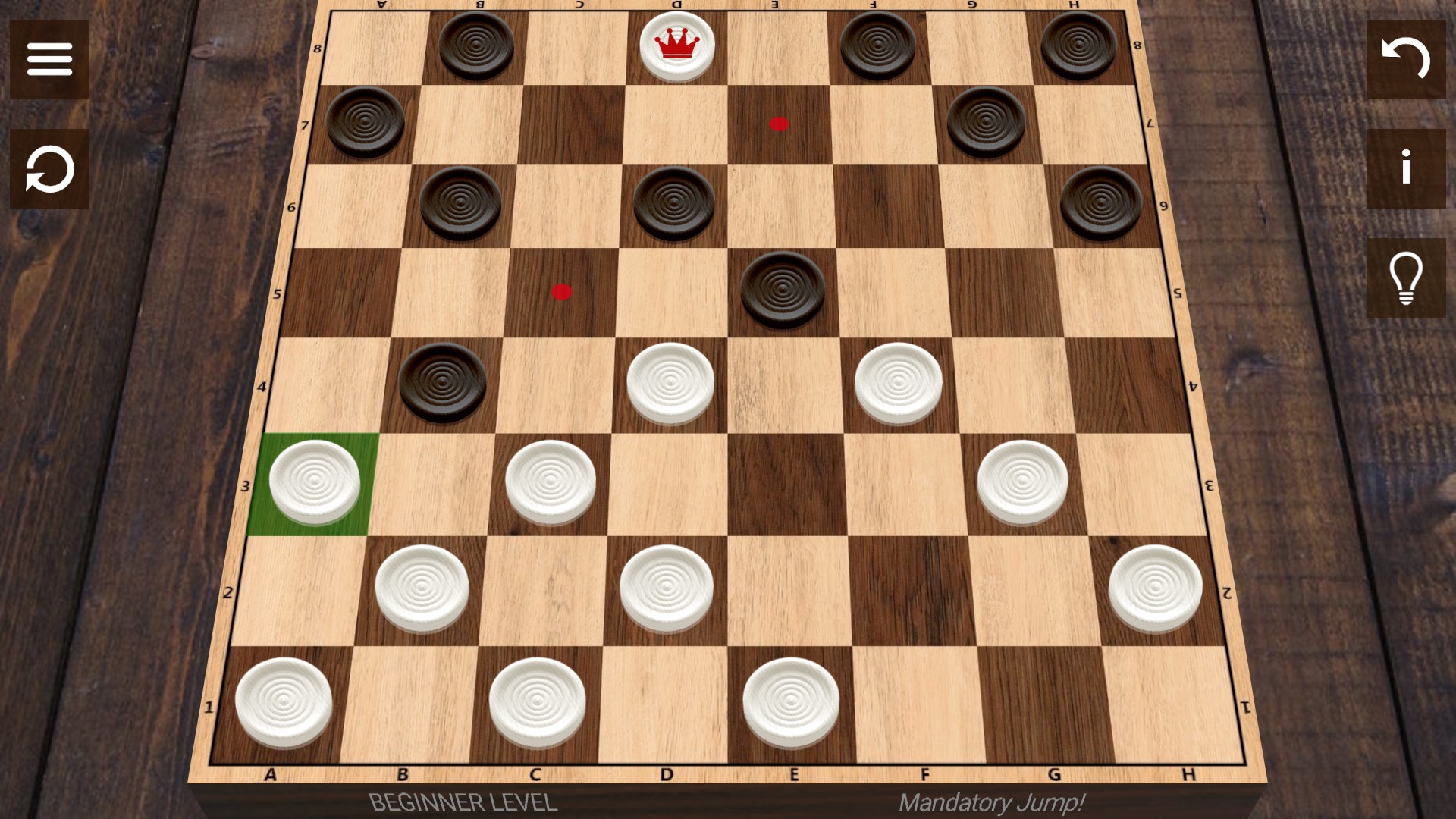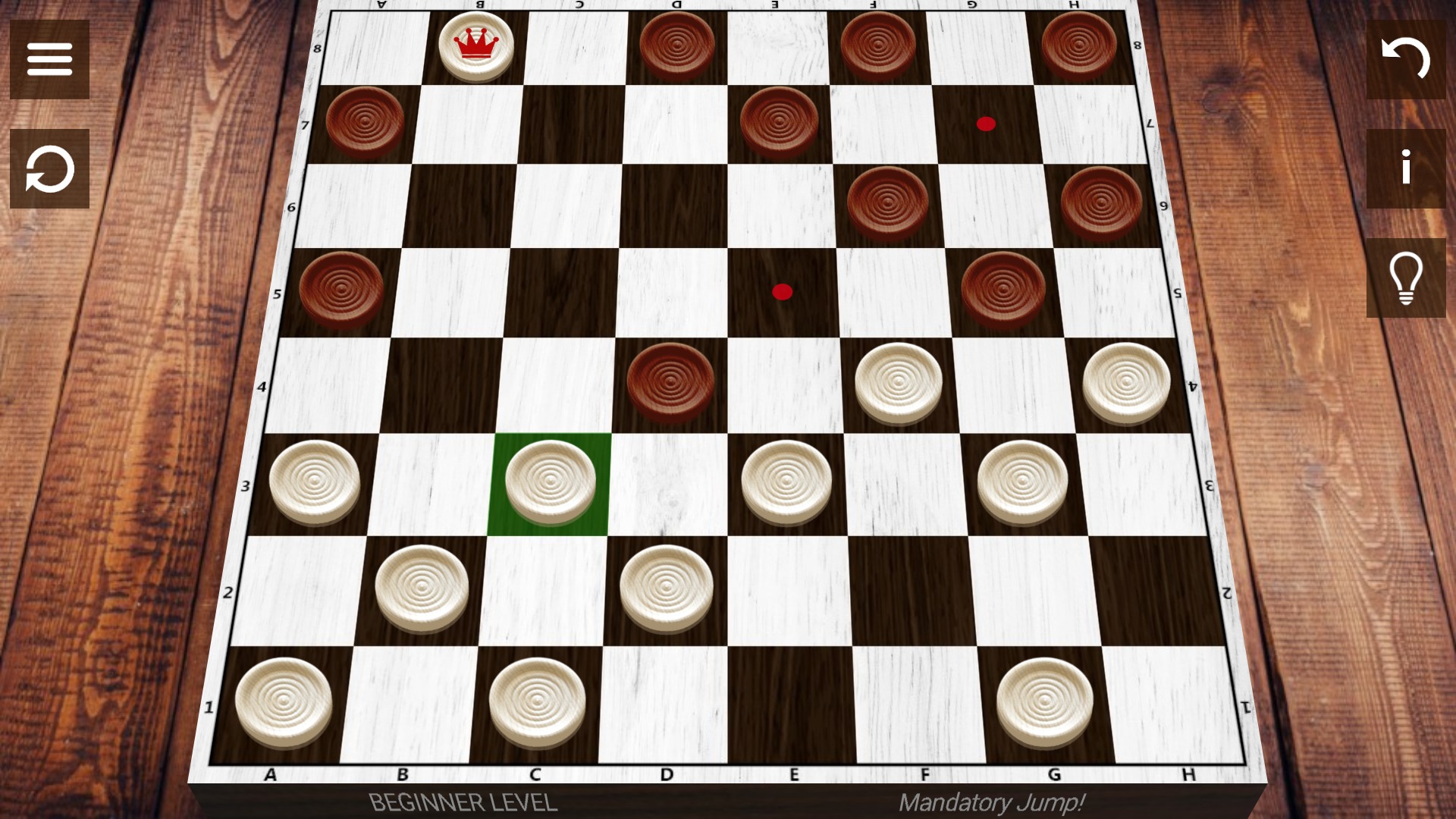 You may also like: 15 Best Free Chess Game Apps for iOS & Android
Checkers – Online & Offline
Checkers is a fascinating board game. Here you can play the popular game together with other online users or with virtual interlocutors. The app offers a variety of options for boards and chips that will help you create a cozy atmosphere for your game.
Thanks to the simple and clear interface here, you will easily learn all the necessary rules and functions. For this, you can choose different difficulty levels and board game modes. Here you also have the opportunity to play with real people and with bots, with whom you can pump up your skills.
Choose the single-player mode to test your skills against a virtual opponent of varying difficulty. Save your achievements and scores so you can track your progress and compete with other players.
You can even create your own profile so that all your data is saved even after uninstalling the app. Here you can also chat with other users during the game using emojis and stickers.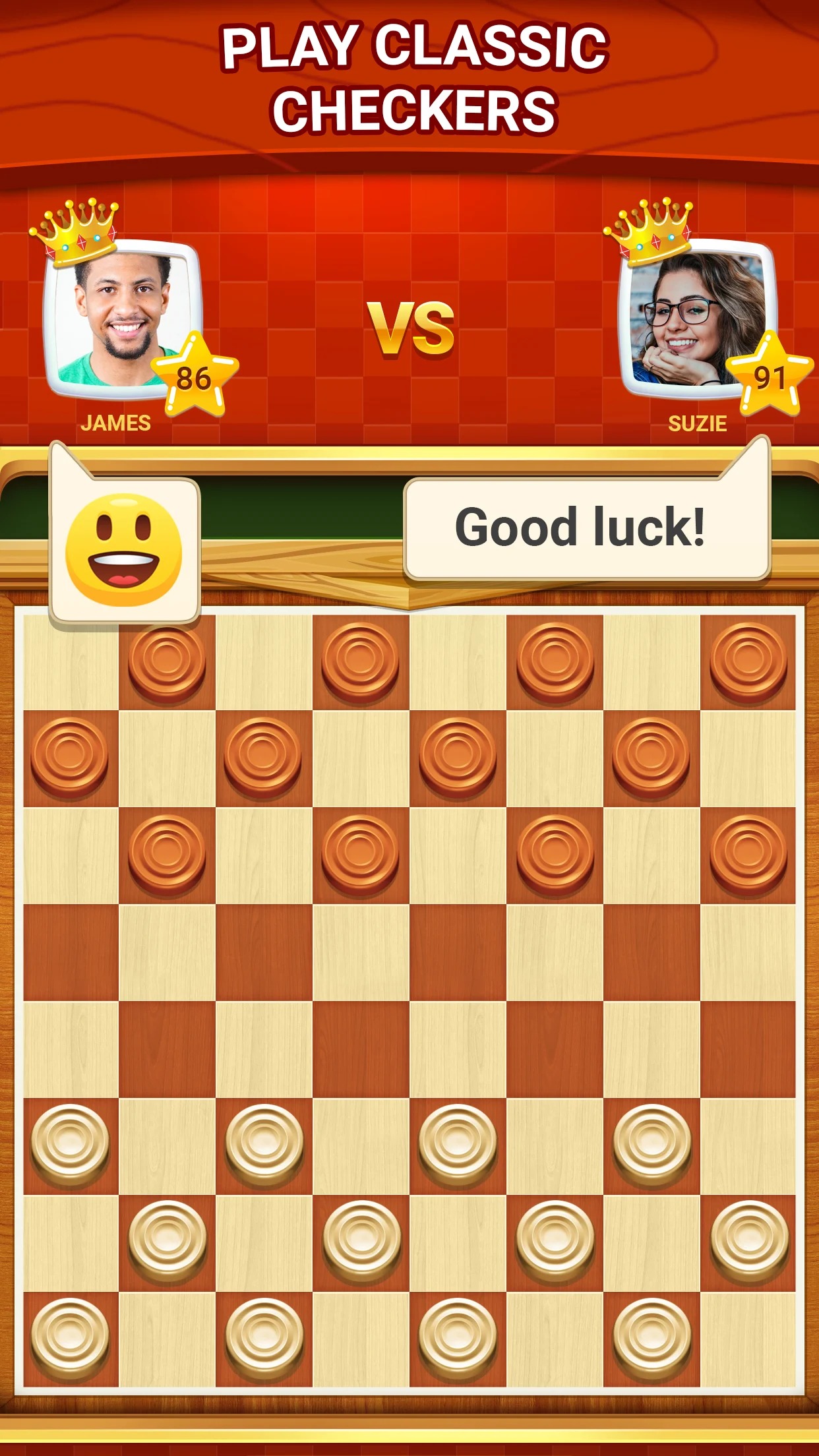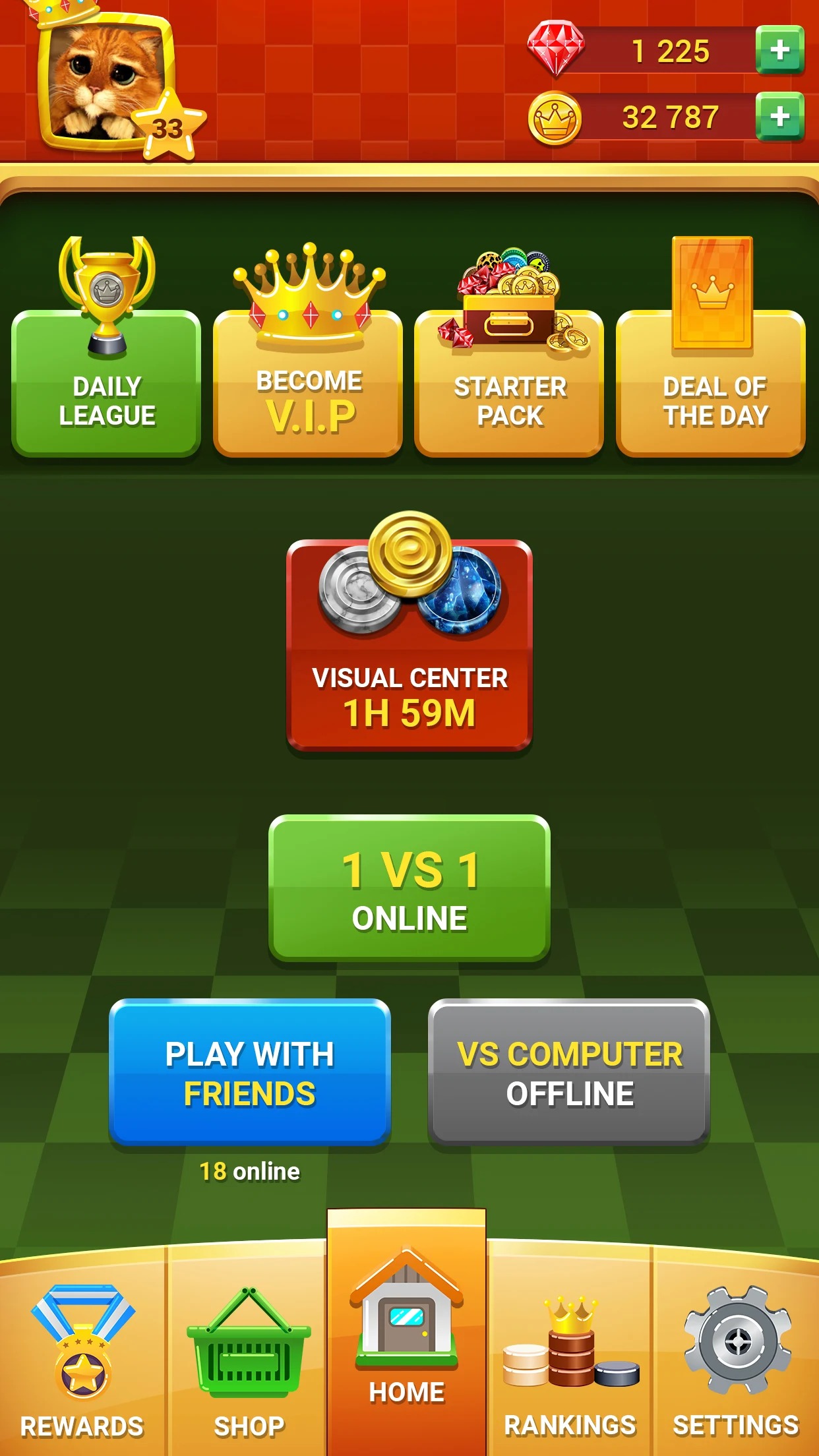 Checkers Clash: Online Game
Checkers Clash: Online Game is an app that allows you to plunge into the world of the popular strategy board game. This app replicates the famous game, including unique boards and checkers. You can quickly learn how to use all its features and start playing without any difficulties.
The game includes a tutorial mode where you can familiarize yourself with the instruction and step-by-step actions in checkers. Try different modes and difficulty levels. Easily pump your level of a beginner to an advanced professional.
You can choose to play against a bot to test your skills and strategies or play with friends and rivals in two-player mode over the internet. Different difficulty levels are also available in the app so that everyone can customize the game according to their own skill level and experience.
Besides, the app offers several board and chip designs so that users can choose and customize the playing field according to their taste and preferences.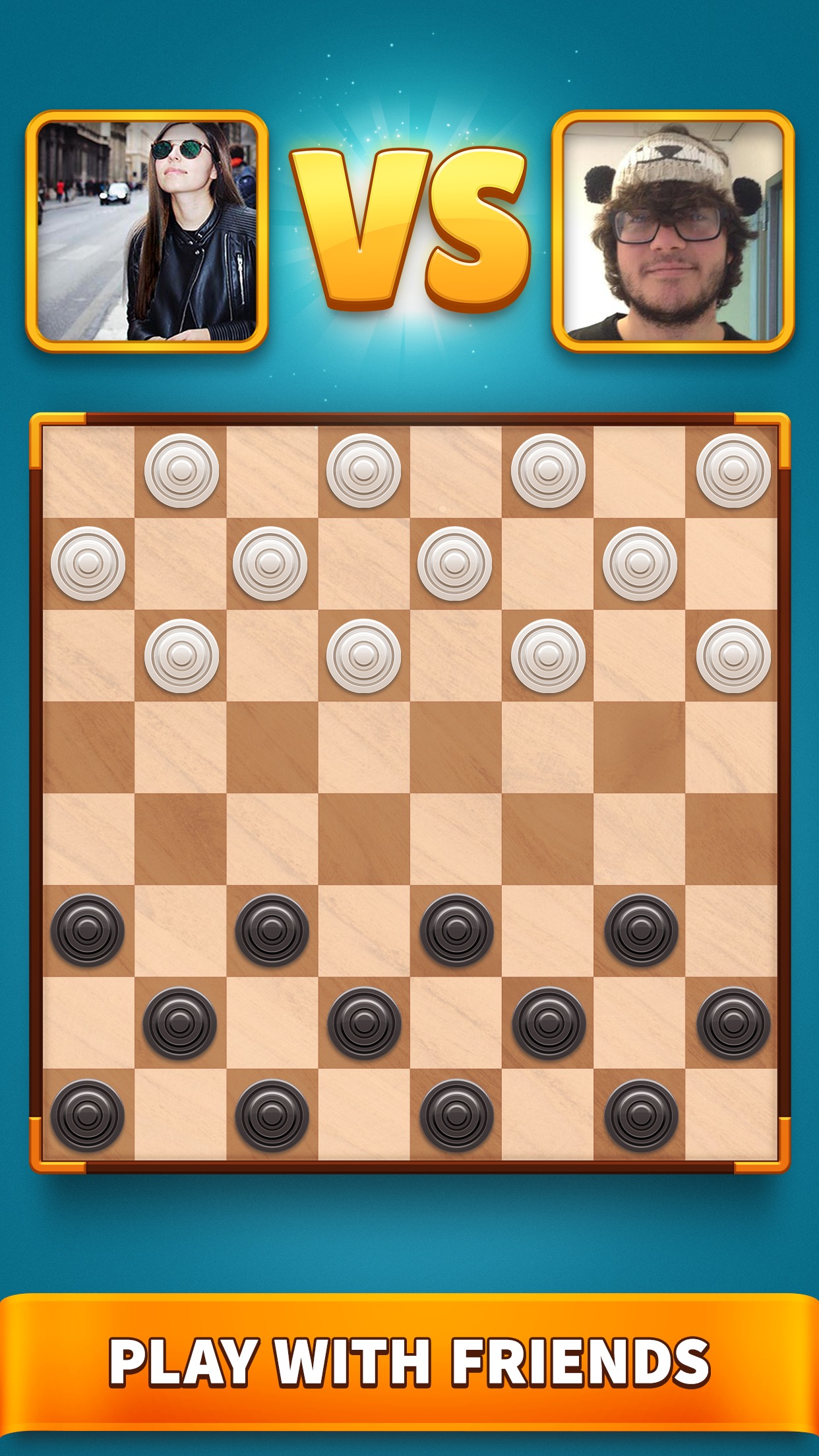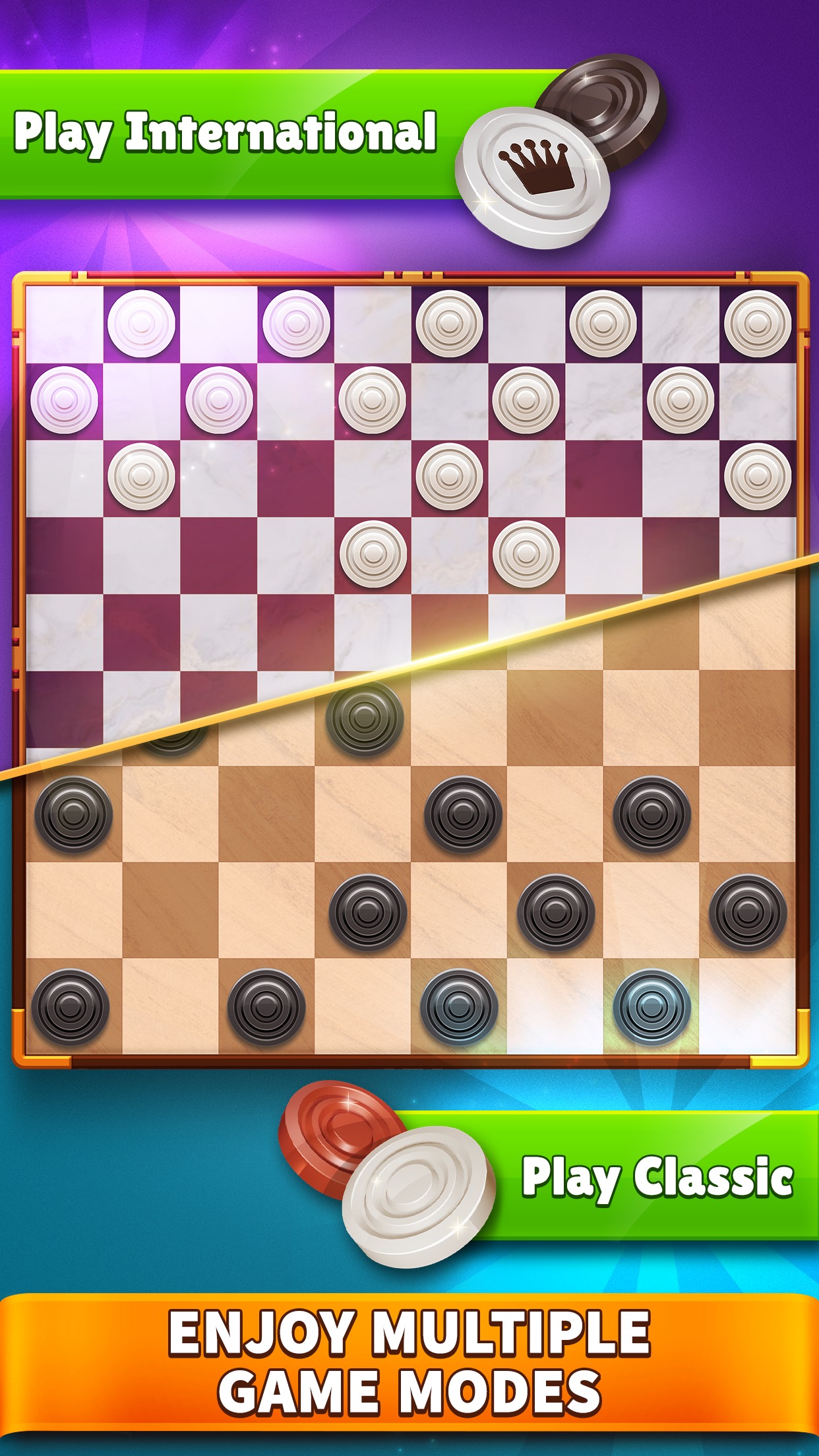 Checkers 2 Players: Online
Find and fight real opponents in this iOS app! You can configure parameters such as the mode, difficulty, rules, the color you want to play for, and the right of the first move.
The sound is a click, but quite audible. If desired, it can be disabled. It is possible to choose the color of the pieces. It is difficult to play when there are only two kings left on the field. The queen, by the way, is marked with a crown.
The checker can only go one diagonal space forward (towards their opponents), if the path is blocked by the opponent's checker, and there is an empty field behind it, then you can jump over it, thereby eating the enemy checker, which is removed from the board.
Depending on the type of the game, the king moves differently. The king can move in any direction diagonally for as many dark squares as you want, the main thing is that the stop field is free.
A cheerful smile congratulates you on your victory, and when you lose, a sad and crying one appears. It seems to be all modest, but at the same time pleasant. The only comment that we have is that the game is not suitable for training beginners, it will be more to the taste of experienced players. Although the application is rather heavy, 102MB, the battle is worth the blood.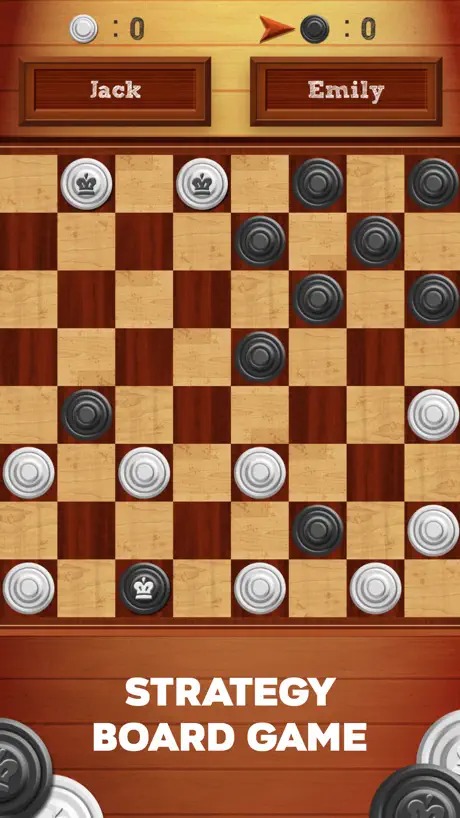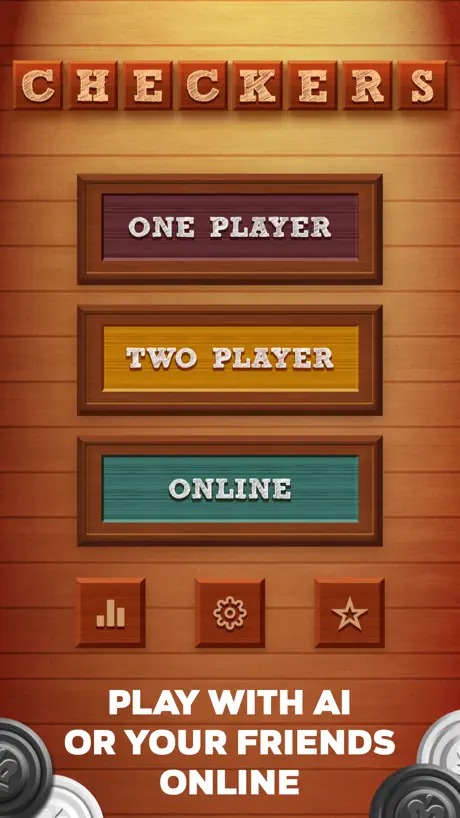 Checkers Royal
In case you are a true buff of checkers, we advise you to download Checkers Royal developed by Gamma Play Limited.
Checkers Royal supports 2 playing modes. So, you can play against AI or compete with your friends or relatives.
In this game, you will find the following checkers types:
International
English/ American
Russian
Turkish
Spanish
If you want, you can even fine-tune the rules according to your needs.
The application comes with 5 difficulty levels ranging from the simple up to the advanced ones. Additionally, you can even add a preferred board and type of tokens. The game contains 8 impressive designs to choose from.
In case you have done the wrong action, the app allows you to undo it or you can also start playing from the beginning. After winning, you will also receive stars.
One of the best parts of this tool, it does not ask for a constant internet connection. Therefore, you can play it anywhere you are.
There is also a special section developed for Stats. Here you can keep track of your performance.
All in all, Checkers Royal is a must-have tool for both novice players and seasoned ones.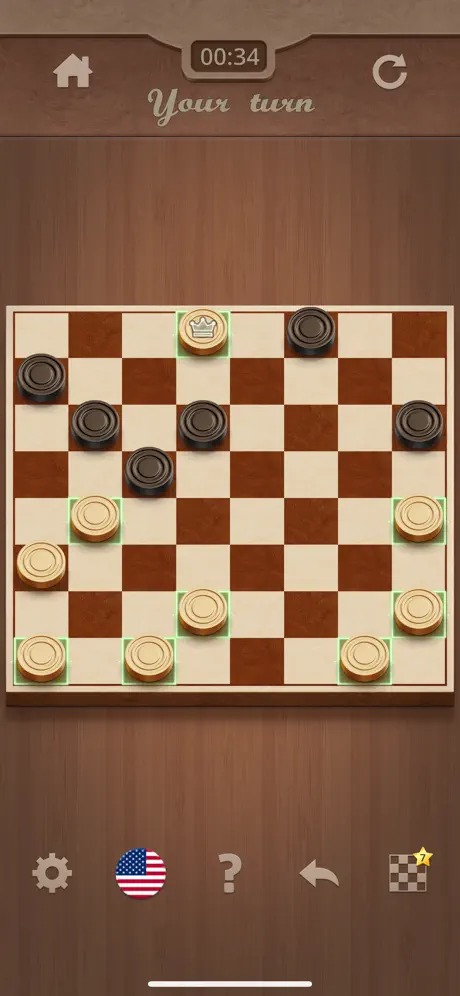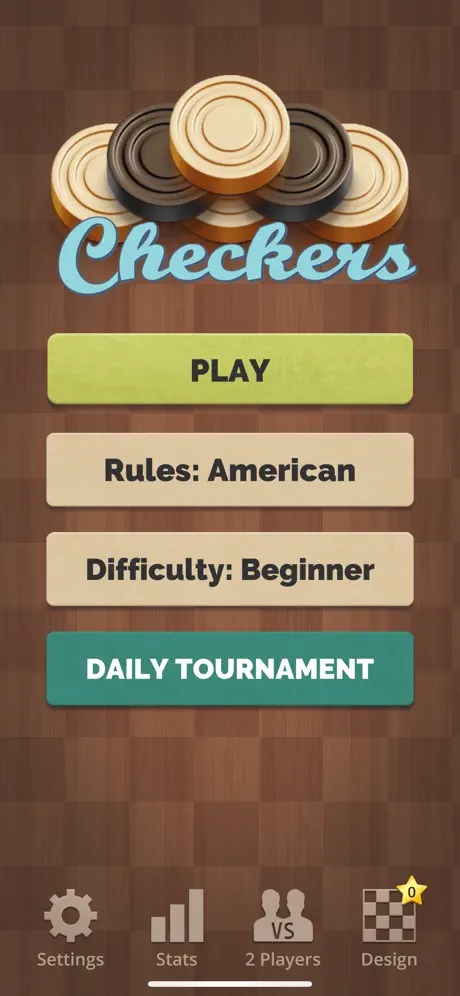 You may also like: 11 Best Online Board Game Apps
Checkers – Online Board Game
For those who are looking not just for another checkers game app with the common design and modes, this app is a way to try a classic game in a new twist. This online board game is a multiplayer game that allows you to play with people all around the world.
One great advantage of this app is that you don't even have to log in – you can just create a username and pick a checkers partner from any spot of the world. By entering the app, you can see the players who are currently online and can play or, you can use a search bar and type in the name of a specific player – may be your friend.
What is more, this is also a split-screen game app. Now you and your friend can compete against each other on the same device – how convenient is that! To elevate your competitive spirit, the app has leaderboards with the names of the most successful players of this online game.
You can select a cool avatar for you before you play. It adds fun and personality to a trivial game like checkers.

Russian Checkers
Today, there are more than twenty different variants of checkers. They vary, starting from the rules and ending with the size of the game board.
There are different types of checkers, which are played on boards of 8 by 8, 10 by 10, and 12 by 12 squares. There is an even more exotic option with a board size of 8 by 10. But Russian checkers is a classic option for connoisseurs of the traditional game.
The absence of unnecessary settings is a noticeable advantage of this application. No distracting sounds, buttons, graphics, the usual brown color of the board, and a minimum number of adjustable rules. It may seem boring to some, but considering statistics adds a competitive moment to the game.
Of course, it is more suitable for beginners, since the bots are not sophisticated, and there are no differences in the levels of difficulty. The best part is that when playing the game, the battery is consumed slightly faster than during a normal conversation, and the app takes up less than 50Mb.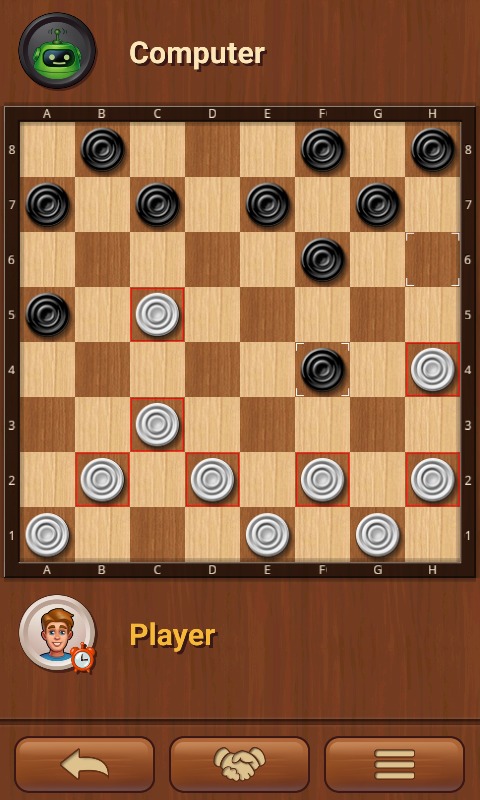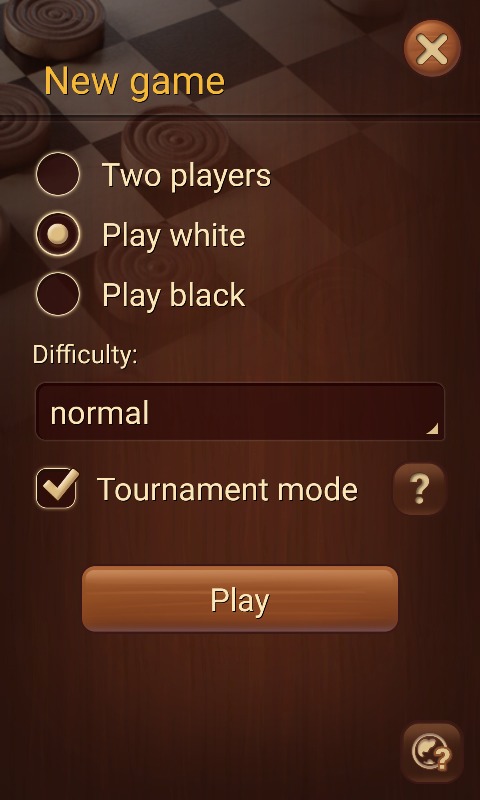 Checkers Online Elite
Checkers elite is a simple game, it does not take up much space, and has an excellent and intuitive user interface. In the free version, in addition to the standard ones, the following versions of checkers are available:
Blind, Sparse and Random Checkers. Among the many variations, "Giveaway Checkers" or the so-called "Suicide Checkers" stand out.
The meaning of the game is that to win, you need to lose all your pieces or not be able to move, that is, lose according to the rules of classical checkers. The game has four difficulty levels: profane, amateur, experienced and semi-professional.
There are in-app purchases and game currency, for which you can open new, more beautiful types of checkerboards and pieces. Tournaments are constantly held that help you earn this currency, but there is a minus – the new mode is expensive, but you can watch one video and all the modes will be open for several days.
There is the possibility of playing in 2D and 3D modes. If you want, there are many design options for checkers to choose from. You can play online or together on the same device or different devices, but in shared private rooms.
The game keeps your personal and general statistics for all users of the application, so you can choose an opponent of the desired level. Customization of the game deserves special attention: you can create your nickname and set your profile picture so that one view of your avatar terrifies your rivals.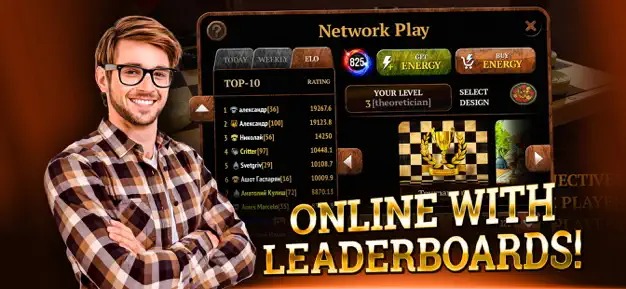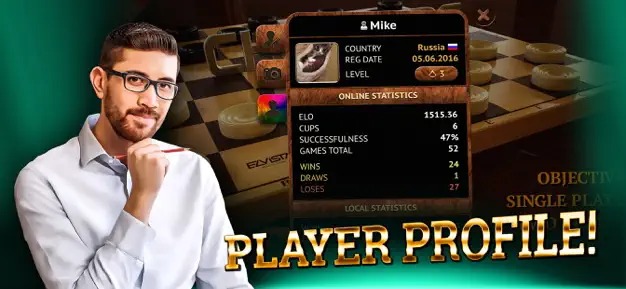 You may also like: 33 Best Board game apps for Android & iOS
Checkers by VM Mobile Team
This Checkers game is perfect for those people who are fond of board strategy games. Online checkers will allow its users to play on their mobile phones without the need to buy a real board. Moreover, in the online mode, users will be given the opportunity to compete with other players in chess skills.
In addition to playing online with real people, users will be able to fight with a computer and upgrade their checkers skills.
In addition, by winning against the computer, users will receive experience points. The number of experience points depends on the level that the user has chosen. There are several variations, such as:
easy – 1 point
medium – 3 points
high – 5 points
expert – 7 points.
One of the undeniable advantages of this game is that it occupies extremely little space on the user's device. Thus, users can have a great time without much expense in terms of the memory of their electronic device.
Another strength of this app is that the user can cancel his or her move if necessary. There is also a leaderboard in the game, which increases the level of excitement and competitiveness.