Today, all pet owners are affected by the problem of free time, because not everyone can afford a regular schedule to walk their dog or feed their cat.
Also for walking your dog in the wrong place you can get a hefty fine, which not everyone is happy about. In order to deprive you of all those problems, we collected free dog walking apps & websites which are available in the USA.
And to calm your dog during the walk you can use the anti-barking apps.
Rover
Rover is one of the leaders in the market for the dog-walking.
The features of the app will allow dog owners to instantly find dog sitters and dog walkers for their pets, and receive alerts when their dog goes to the bathroom and takes food.
The interface of this app and website is truly designed in such a way that you can find a walker for your dog in a few clicks! With its additional GPS tracking feature, you can also stay calm about the safety of your pet.
What is more, Rover not only allows the pet owners to find the walkers for their dogs, but all pet lovers can earn some pocket money using its services. In Rover, you will find the convenient job search, feedback with personalized messages for the client, payment, and receipt of funds right on the go.
One user lost their rating due to an unknown bug, but the app has impeccable reviews and ratings.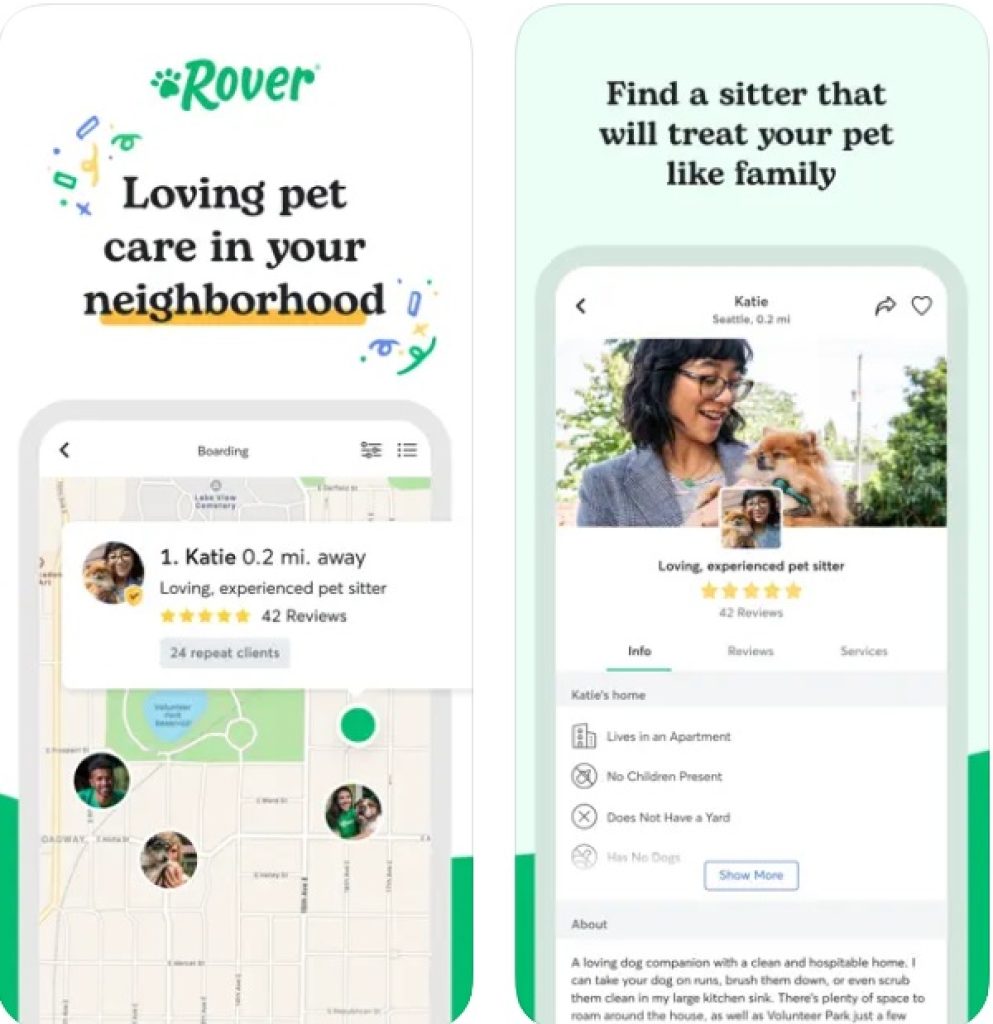 You may also like: 11 Best pet adoption apps in the USA for Android & iOS
Wag!
Wag is an app for iOS that helps the owner of a dog find someone who can walk it – if for some reason they themselves can't or don't want to do it.
That's why each employee of Wag! undergoes a full background check, as well as document and biography certification, which allows dog owners to better recognize the people who will be responsible for the life of the pet at a particular moment.
Here is the short list of serivecs that you can get through Wag!:
Veterinary consultations
Live vet care for your pet
GPS tracking
Making your own feeding and toileting schedules
Live communication with top vets
Excellent customer service
The owner can keep track of where his dog is with the app, and after he's done walking, he can find out the results – how long he's been walking, how much distance he's run, and so on. The program also allows you to leave feedback on those who have walked the dog.
Despite all the good reviews, some people still find flaws, but the app's moderators try to fix bugs and improve their creation every day.
Another advantage of Wag! is its cool interface design which is easy to handle even for not very tech-savvy people.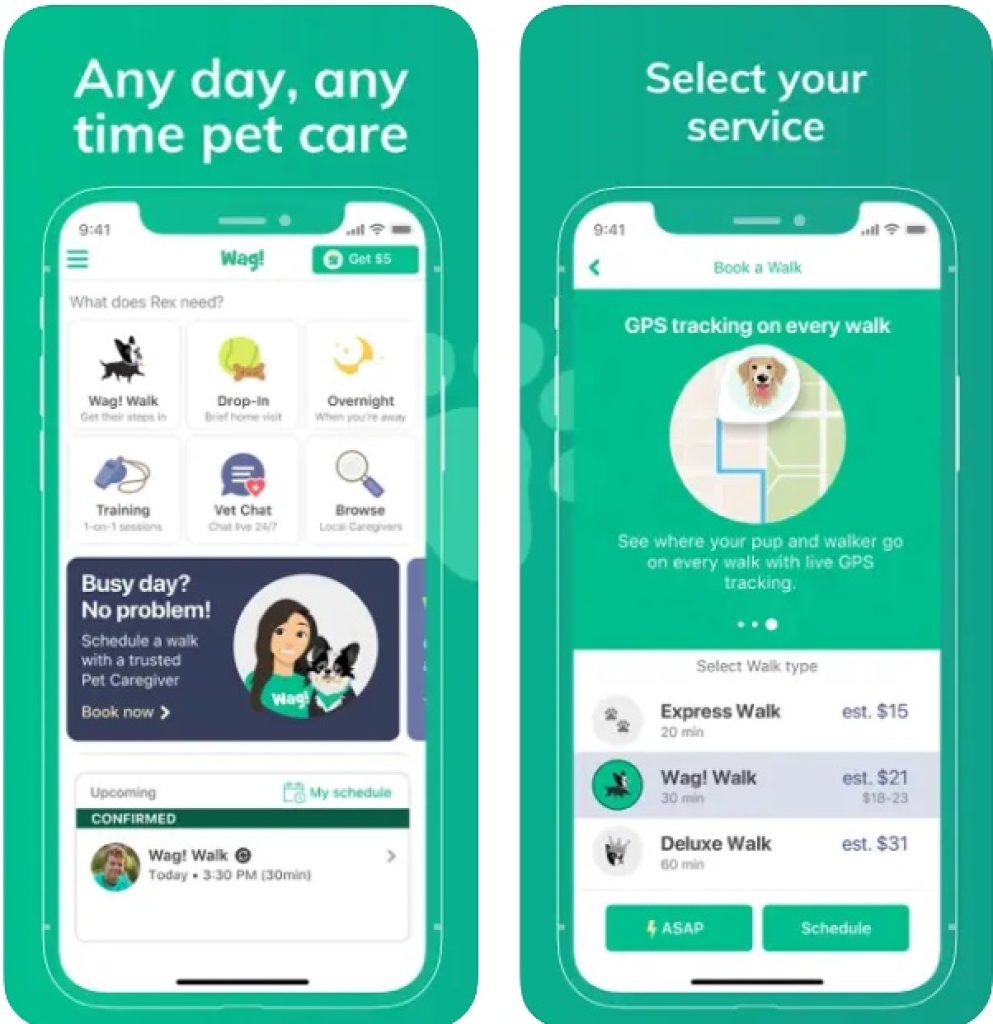 PetBacker
Another quite popular app for god walking, that you can use on the go.
A unique search engine allows you to find babysitters for your pets in an instant. In order to find a person to walk your dog, you need to fill out the form in the app and wait for a reply.
PetBacker takes your "Request" and sends it as a woof opportunity for all available dog walkers around.
Apart from the classic dog-walking services, you will find some additional ones, such as grooming, veterinarian services, and many more. However, we don't really recommend using those in PatBacker since their credibility is rather questionable.
Some users in the feedback had problems with the interface, we hope that in the future the interface will be a little clearer to new users because it is not very convenient, it is not clear how to extend the service with the same babysitter because it looks like a separate order.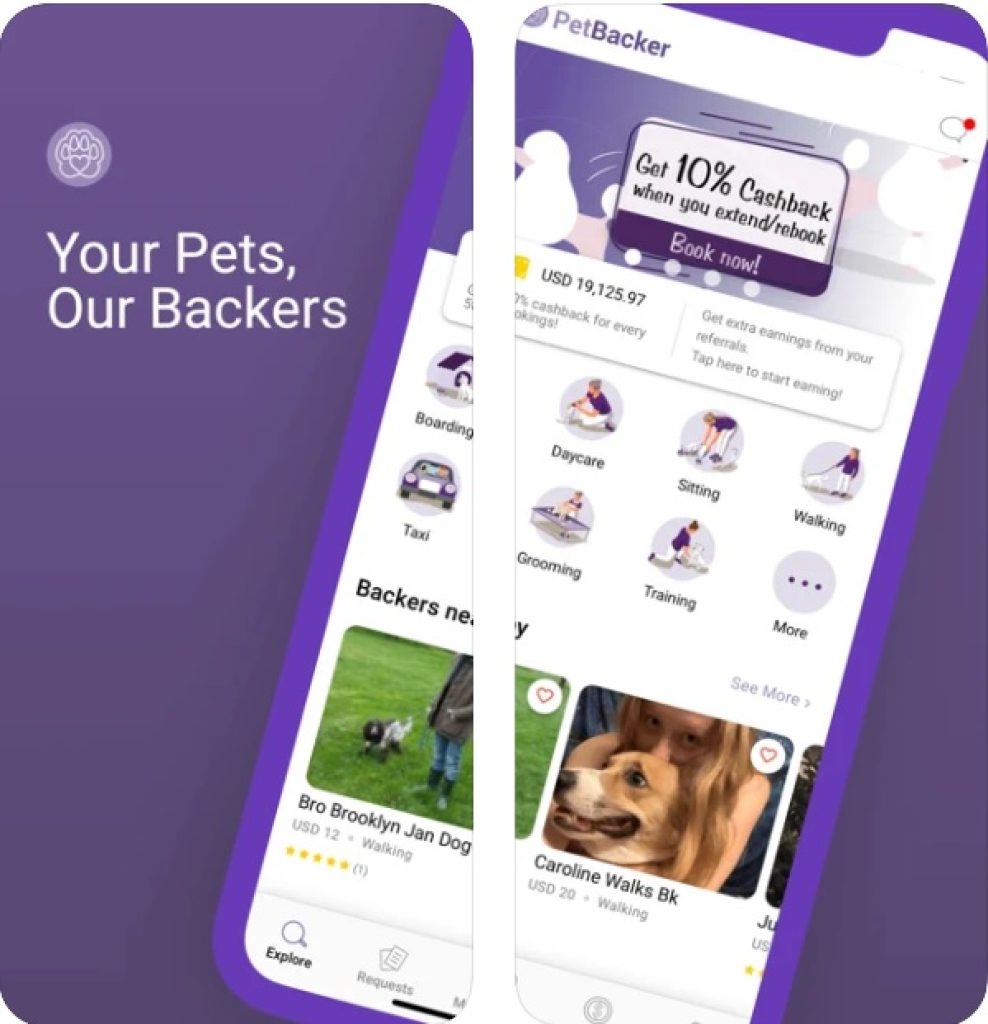 Dogiz
Dogiz is another classic dog walking app that has been on the market for many years already and that's why it's considerably credible. By the way, this is not only the app, but the website as well.
Dogiz introduces qualified dog walkers, each professional is thoroughly vetted and fills out the required form. Each dog walker here has their own profile where pet owners can leave their feedback about the job. Therefore, the app guarantees a transparent and honest system of functioning.
One of the unique features of this app is the low price for the service. If you compare the prices of all the previous apps you will see that Dogiz service really cost less.
Most users rate the app as great, despite the rather complicated interface compared to other apps, but Dogiz is a classic because it was one of the first on the dog-walking market.
From the reviews you can understand that users of the application are satisfied, beautiful and user-friendly interface attracts its modernity but what is hidden under this wrapper can only be found out by using the application as intended.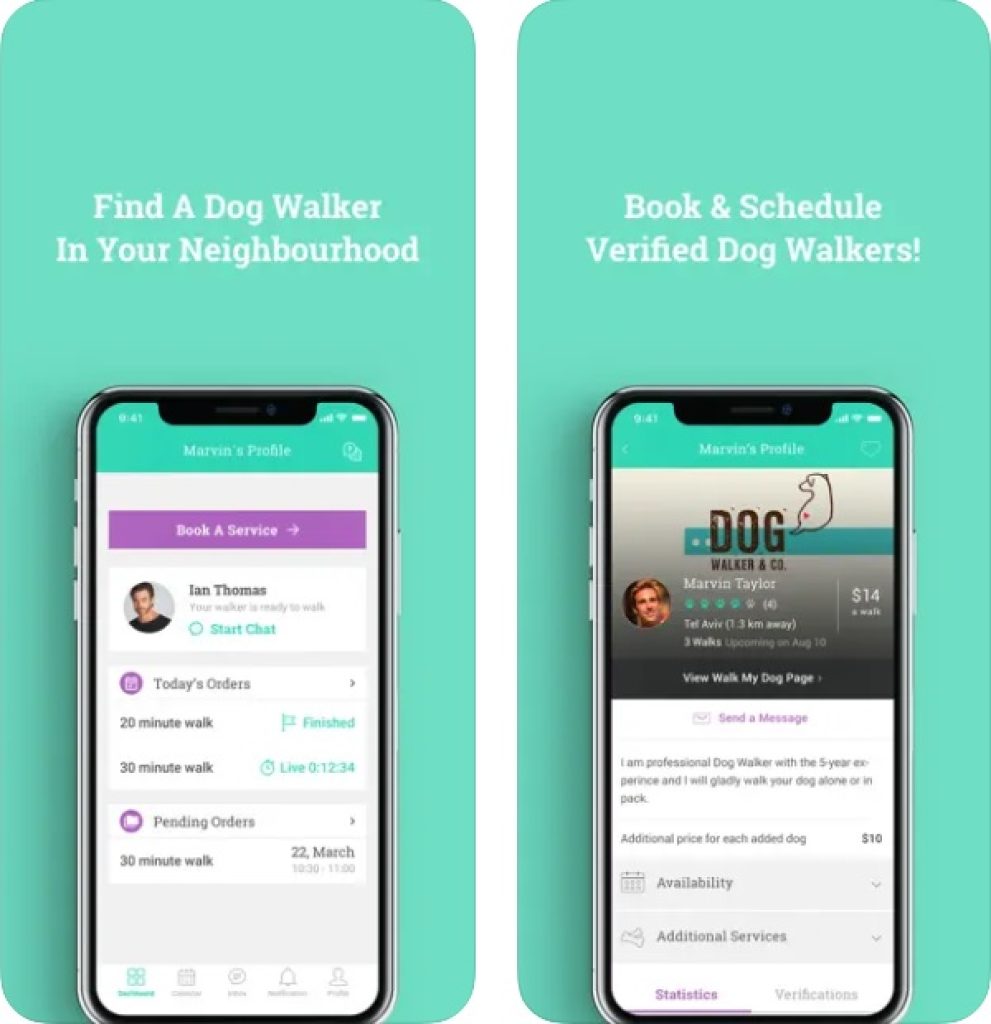 Fetch!
Fetch! – one of the classic representatives of its type of program, contains the standard range of dog walking services.
Just like in the previous app, Fetch has its own system of ranking the walkers, which should provide the new users with credible information about their skills.
Of course, everything is quite usual but this is the only service that provides refunds to the buyer if he is not satisfied with the walk perhaps the only unique thing in this application.
And just like any decent dog walking app, Fetch provides the feature of the GPS tracking of the dog, along with it you can request constant photo feedback from the walker, so you are 100 percent confident your dog is in a safe place.
Of course, the app is still quite raw, but bugs are actively being fixed, as you can see from the good reviews, all in all, not a bad replacement for more popular competitors.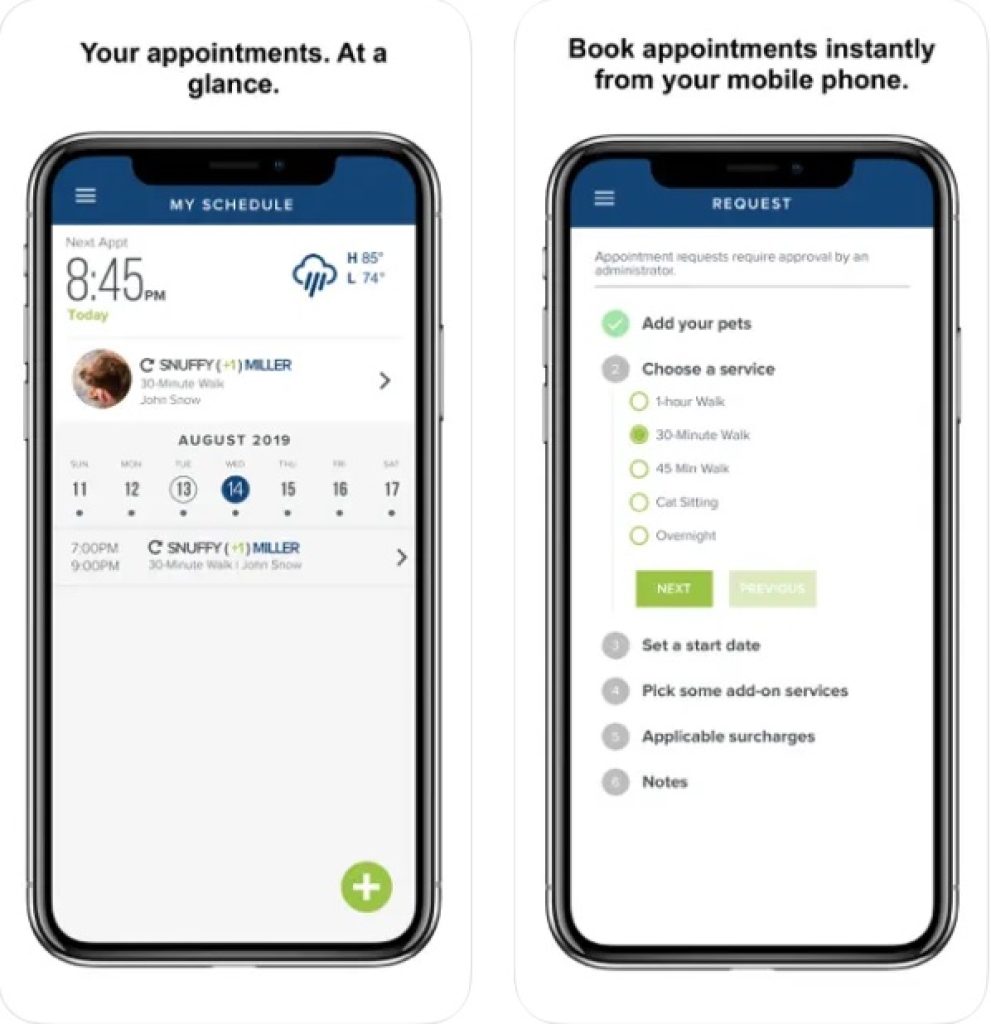 You may also like: 15 Free Apps for Pet Lovers (Android & iOS)
Barkly
Quite a standard app for finding a dog walker. The assortment of dog walkers available is not so wide here, but in case other apps didn't work out for you, you can try Barkly.
One interesting feature of Barkly is that here you can hire a person for constant walking services, not just for a single-time job. Because of that, this app allows you to freely meet with that person before you make your decision.
Another thing is you can create your schedule of walking in the app, other walkers will see it and will send you the requests if it fits their own.
Each walk will be accompanied by a photo of your dog. You can instantly contact your dog walker via the app and find out how it is doing.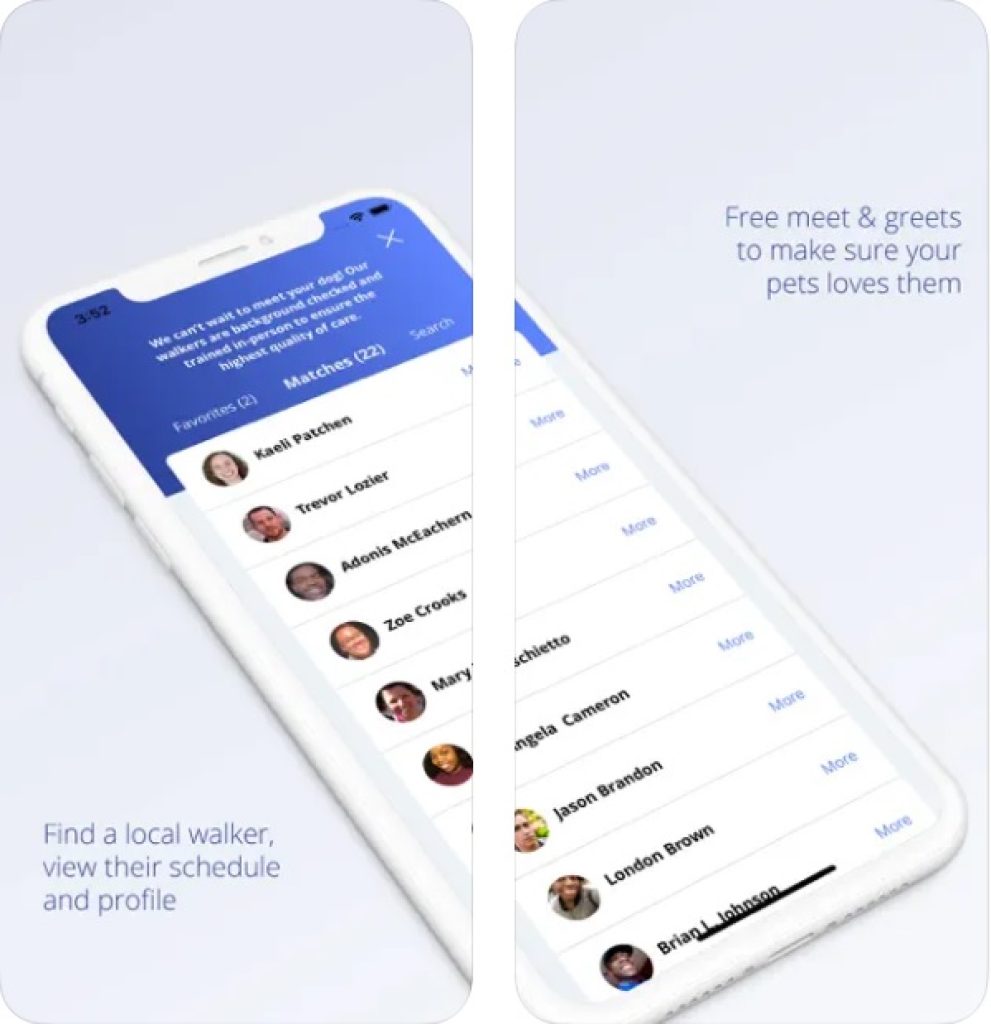 Care
Care has occurred not so long ago on the market, but has already gained a decent reputation among the pet owners.
One of the main advantages of this app is the security since here the job of the service doesn't end with you finding a dog walker. Care keeps an eye on all the further actions of the walker after they started the job and will send you a notification about any suspicious events.
The only negative thing about Care is that you will have to buy a premium account to be able to fully utilize its services.
On the other hand this is the payment for the total security of your dog, since all employees here are getting meticulously observed and are obliged to do their job in the best way.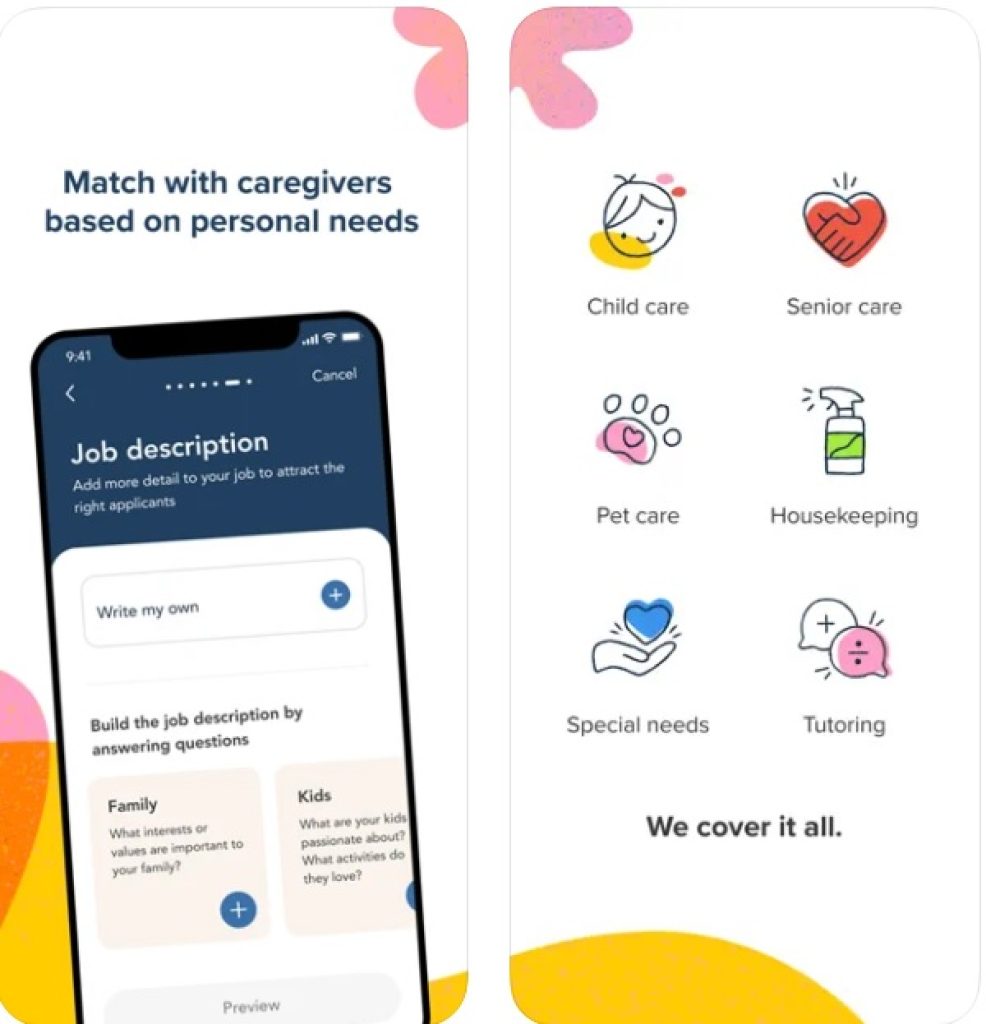 Scout
Scout is a fine app for all pet lovers out there and everyone who wants to work with pets. You can scroll through the profiles with pictures of the walkers and message anyone you want. If they are available for your dog, you agree on a salary, time, and date. That's it!
And in order for you not to get confused, Scout gives you a chance to create a walking schedule right in the app, so you would always have it in front o you.
The fast notification system in emergency cases also claims to be part of this app. However, as practice shows, it is much easier for the majority of users to change their phone numbers and later contact each other in private. Therefore, that feature is quite useless.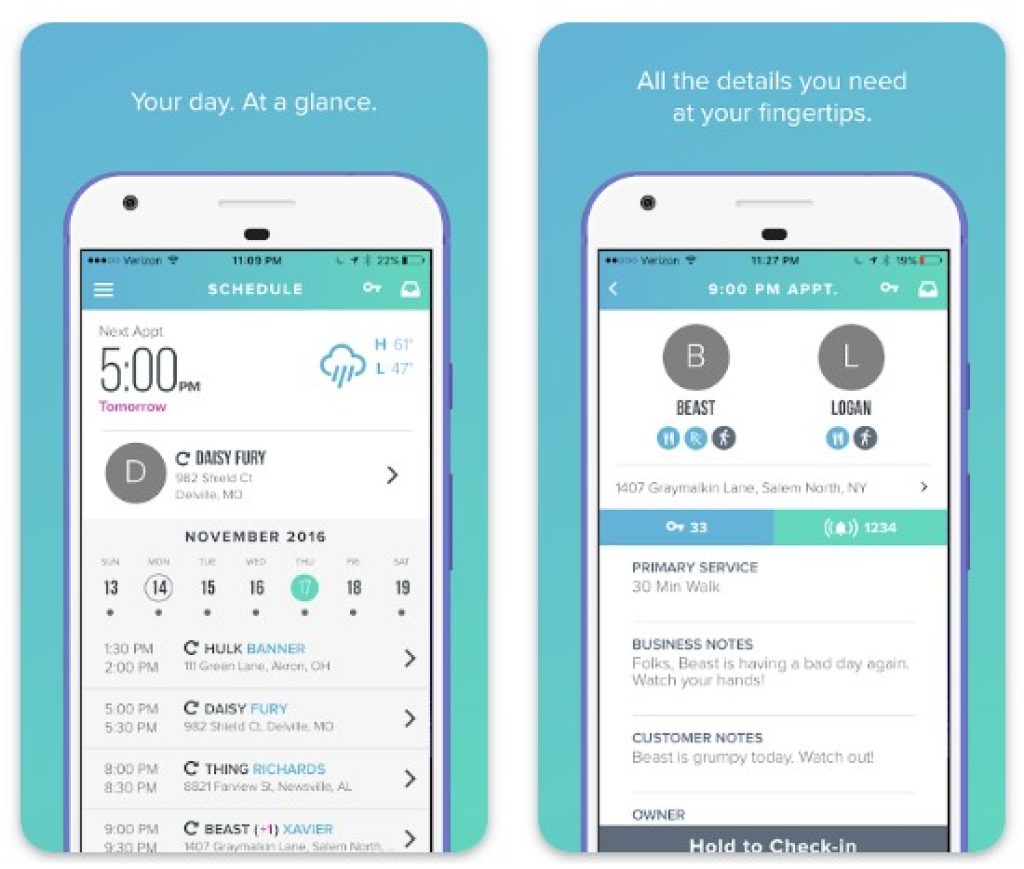 PetSitter
Petsitter is one of the oldest dog walking services. This means that it can be trusted, and it has great credibility and a good reputation among users.
Some employees have been walking dogs on this site for several years, which can't help but feel good, because there's only one person who will do it for so long who really enjoys it.
However, due to its age, Petsitter does not have its own app, which would not seem like such a big problem if their site interface was modern and user-friendly, but unfortunately, time takes its toll on customer trust, so this payment for Petsitter has been a poor site interface, which at first glance may seem to be made in the early 2000s.
Also, Petsitter doesn't vet pet walkers at all, so you'll only have to rely on the representative's time and your intuition. While this may help people who have made a mistake and want a second chance, it certainly affects the feeling and comfort of the service's customers.
We think it's worth considering Petsitter since it was one of the founders of the dog walking service market, but of course, you won't feel that your pet is completely safe.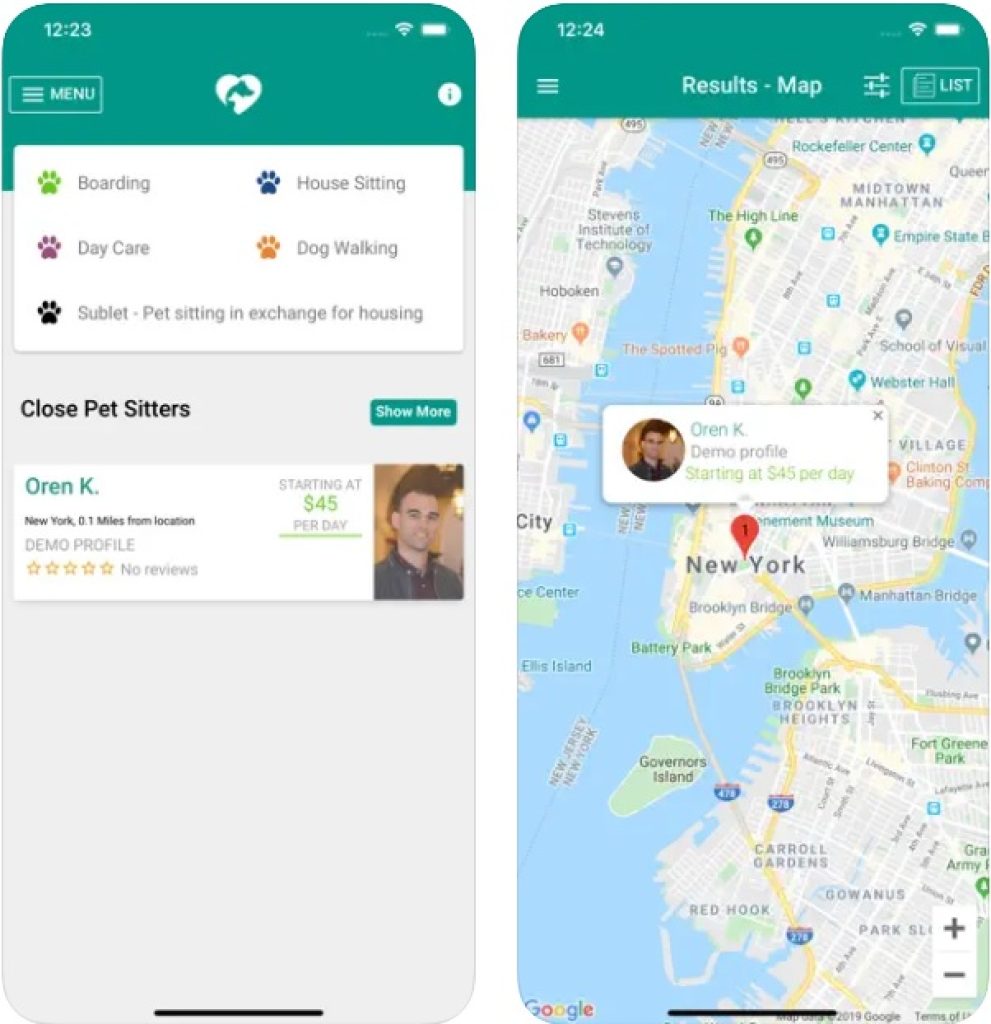 DogHero
As you can guess from its name, DogHero is a service that provides extra care for dogs. Its main idea was to provide some free time to the pet owners while other people who also adore dogs can walk them and earn some rewards for it. Profit!
DogHero has one of the most convenient interfaces designed among the apps of this type. All you have to do is to agree on the meeting with the dog walker – and the rest of the job will take place outside of the app.
Moreover, don't forget to leave feedback after a person has walked your dog – it is essential for other owners to get an idea about this employee. Usually, no problems occur with the work with walkers in the DogHero app.
You can turn on an animal filter and you can also leave your cat with a new temporary owner.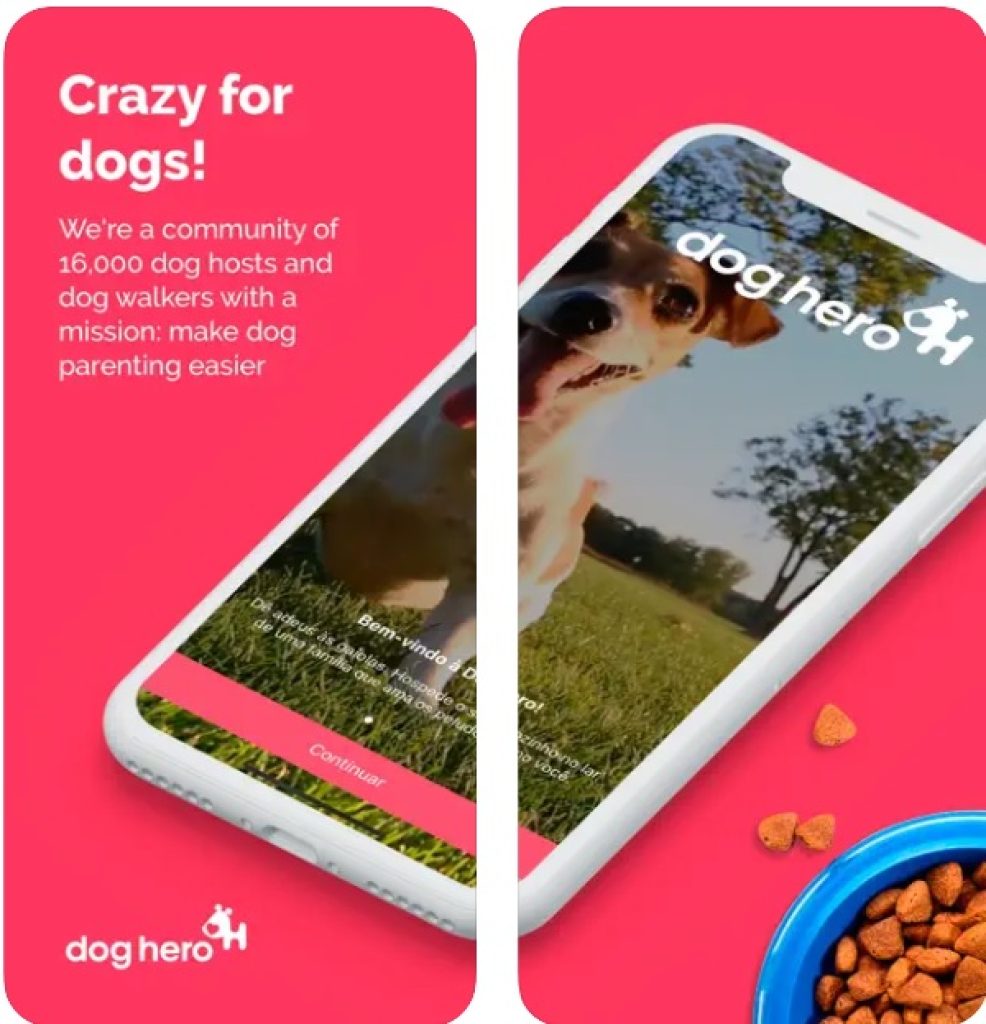 You may also like: 7 Best pet camera apps for Android & iOS
WoofTrax
Have you ever done charity work or maybe you'd like to? You can turn a simple walk with your dog into an opportunity to support local animal shelters or relief services
The part of the commission that you will pay to WoofTrax after you hire someone to walk your dog here will be transferred to the animal shelters in the USA. That's why the app will cost a little bit more than usual, but at least here you are donating your money to something good.
Overall, WoofTrax is quite safe to use – there is a feature that makes the dog walker send you the photo references after a short period of time, and there are also emergency buttons. The only downside of the app is that despite all those measures, the qualification of dog walkers here is still quite low.