The most convenient way to exchange large amounts of information is to compress the data into an archive and send it in any convenient way. Yet, we often have to open various files on mobile devices that do not have the function of reading and unpacking archives.
In such situations, we usually do not know what to do, because the file needs to be opened urgently and there is no computer at hand. In such situations, these best free apps to unzip compressed files on Android & iPhone are a great solution.
If you often need to open more file formats then try these best apps to view documents.
WinZip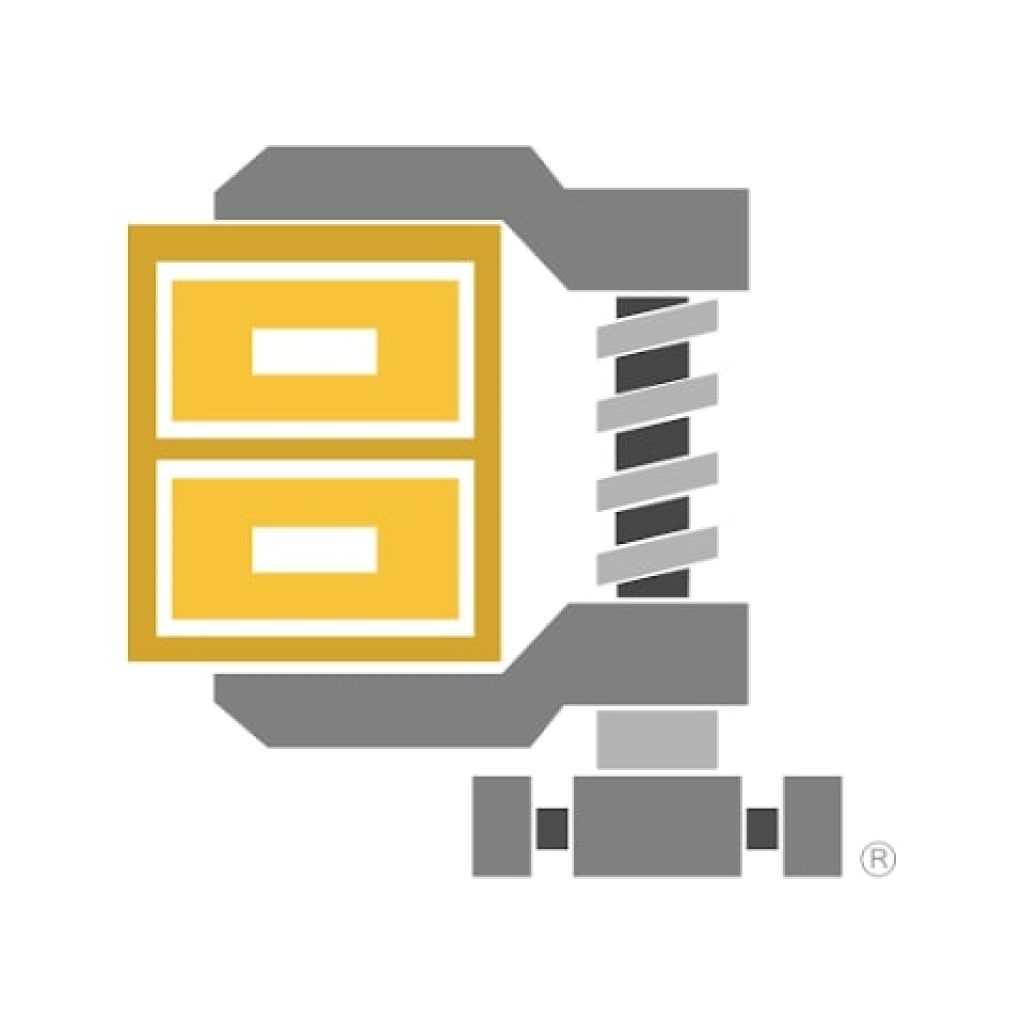 The WinZip app is designed to create and unpack archives. It allows you to view attached files before extraction.
Send archives by mail, and upload them to Dropbox and Google Drive with the possibility of encryption. Archives received as email attachments or downloaded from the Internet are available for use.
WinZip has a simple and concise interface. On the main screen, you can access the directory tree of the device to select files to archive or archives to decompress.
There is a function to sort folders and files by name, date of the change, size, or type. In the main menu, there is an option to select a category: files, storage, music, or images.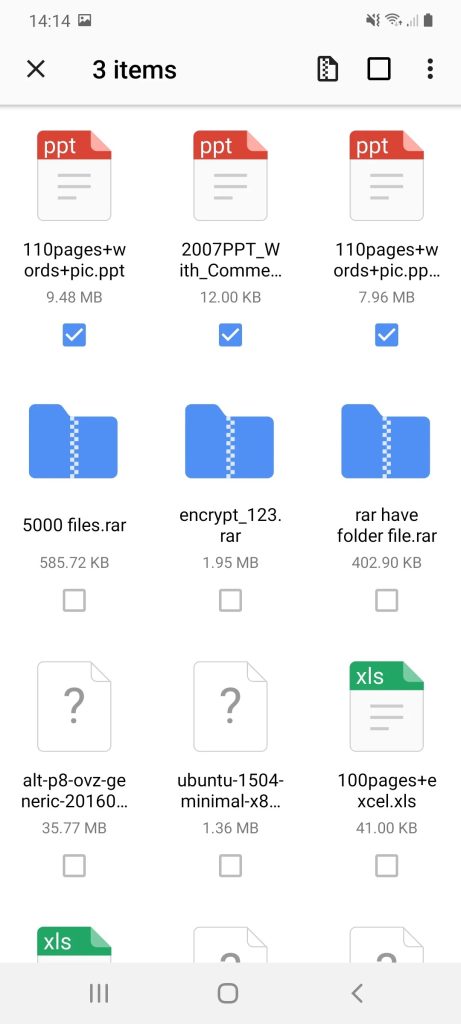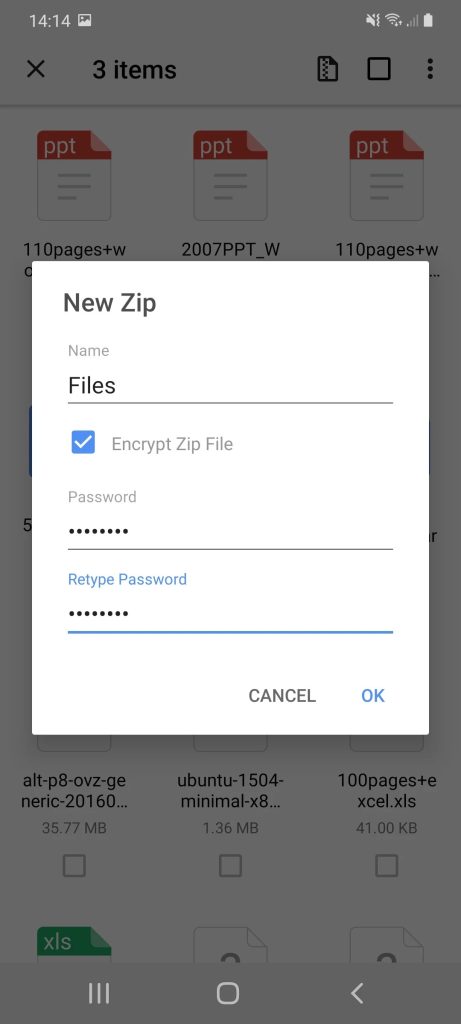 WinZip also has a separate section that will contain all files recently used in the app.


You may also like: 11 Free Fax Apps for Android and iPhone
RAR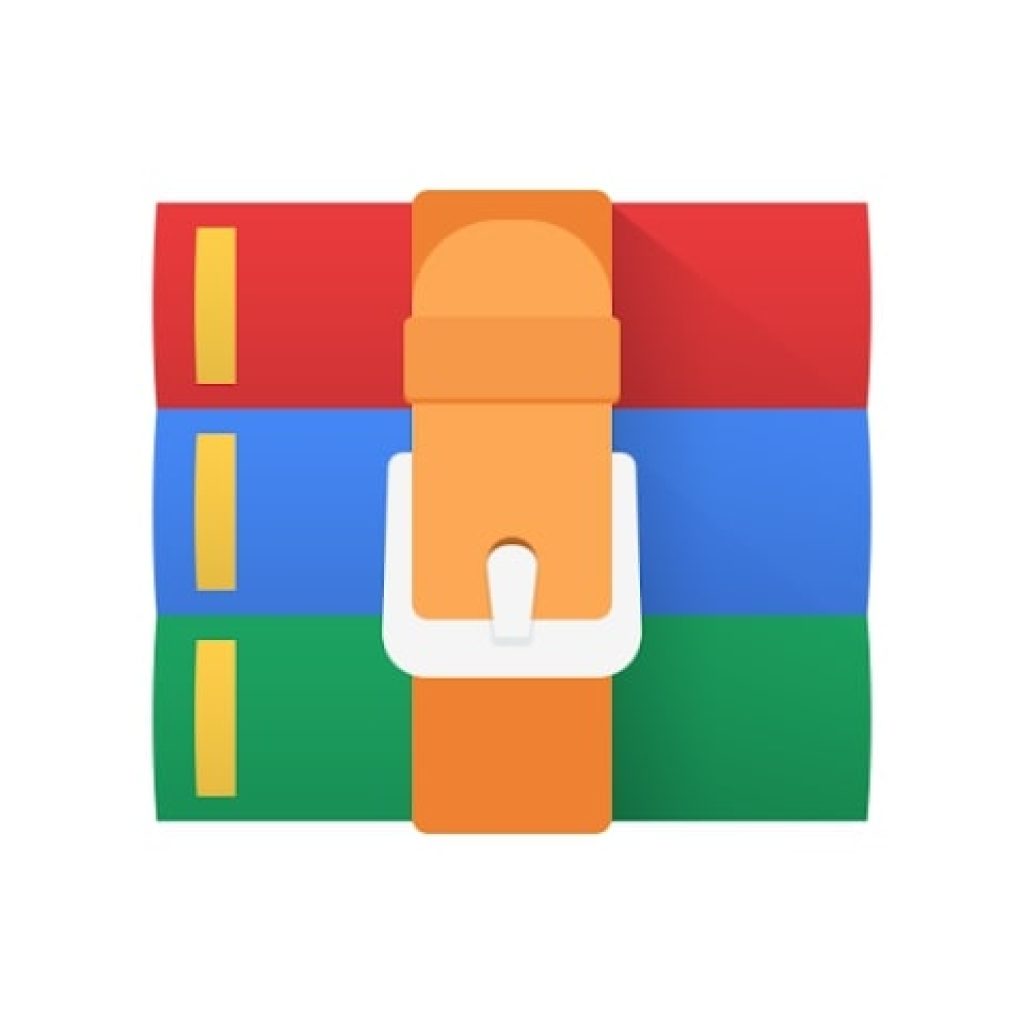 This utility is an archiver. It can be used to create an archive in RAR or ZIP format. It also supports decompression and integrity checks. It is possible to create a password-protected archive.
Using the utility, users can view the contents of the archive without unpacking it. To do this, it is necessary to allow access to the internal memory of the mobile device and select the desired file.
The app also allows you to use the search by name. Archives can be sorted by creation date and size. Besides, you can get extra information about the file.
To create an archive, you need to tick the necessary files and click the appropriate button on the control panel. After that, you should enter the name of the archive and select the format.
You can delete the original files after you have packed them. For the convenience of sending an archive via messenger or e-mail, it can be divided into several parts. Users can protect the file from unauthorized access by setting a password.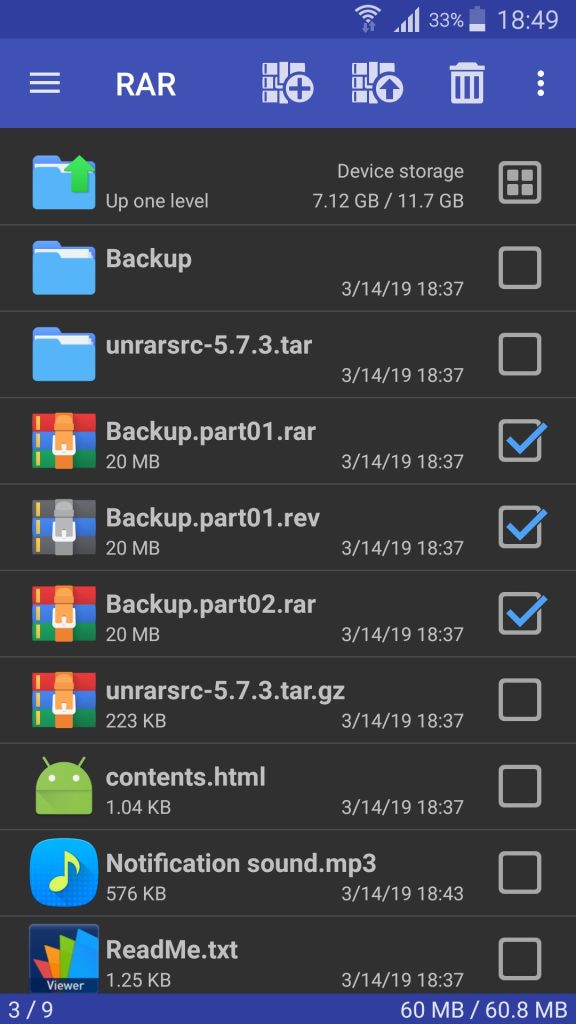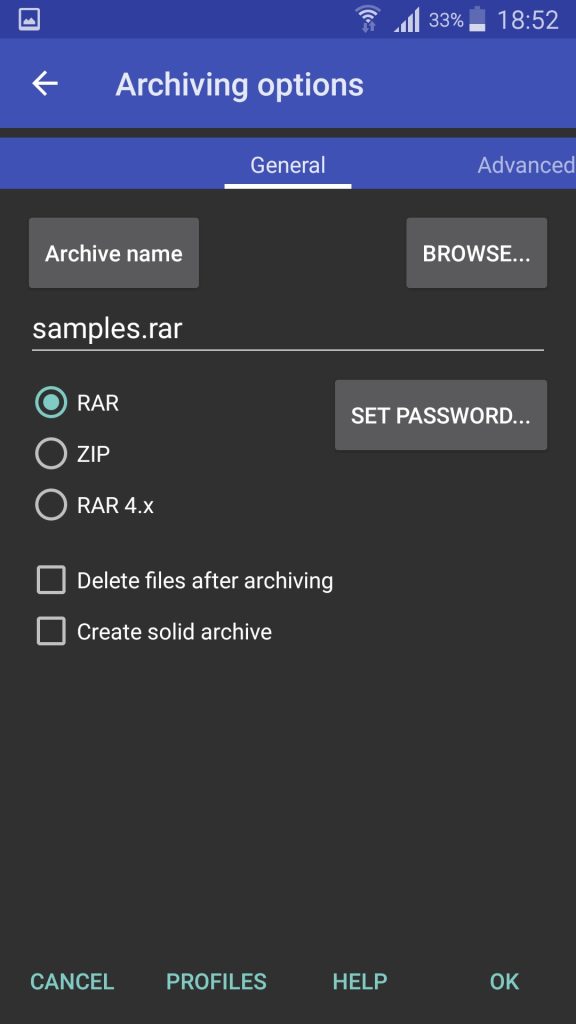 Additionally, the utility allows choosing the degree of compression. A checksum calculation function is also supported. It allows you to determine the integrity of the file. Before creating an archive it is possible to add a comment.

ZArchiver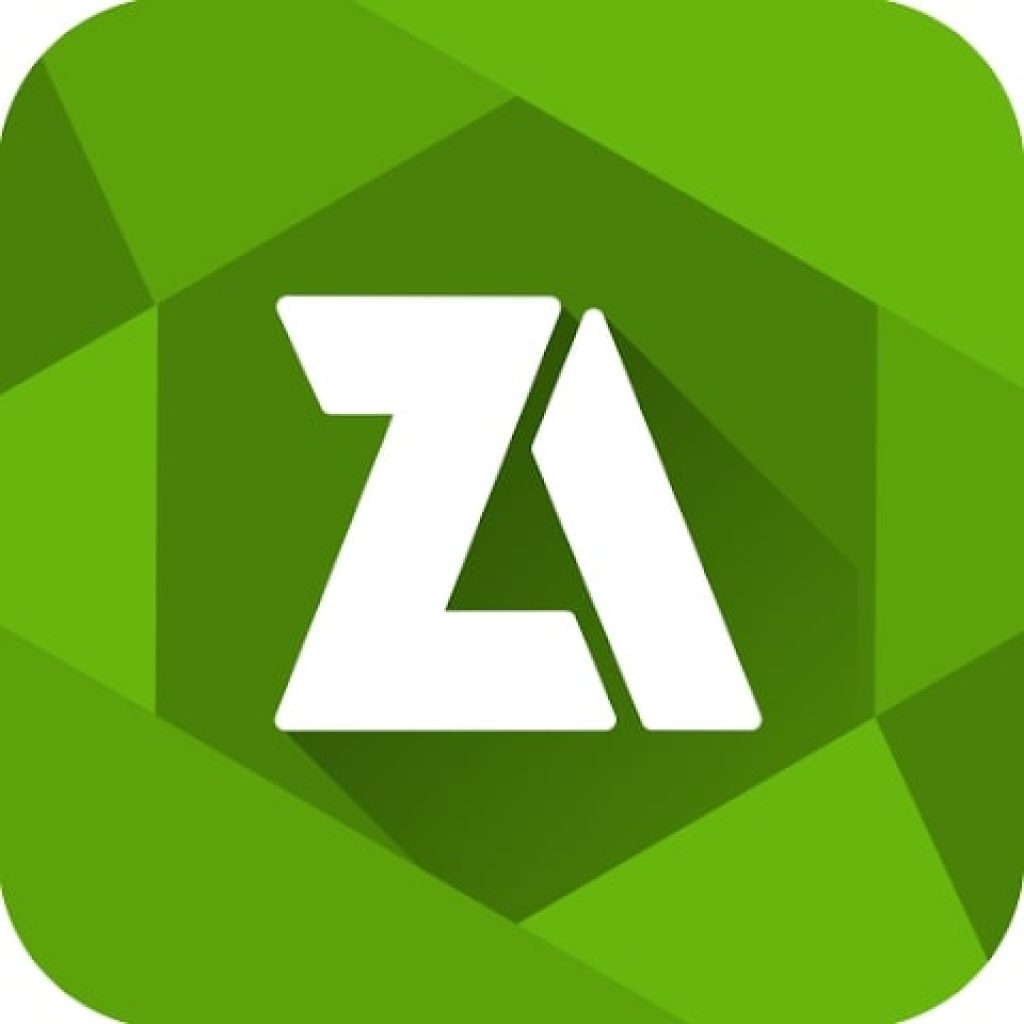 Zarchiver is an archive manager app. With its help, users can open different archive formats and create them on mobile devices.
The main task of ZArchiver is opening archives. Everyone often comes across emails with .rar and .zip archives attached. After installing this app you will have no problems working with archives.
This app allows you to open, create, and view the archives without extracting them from your device. You can also create and open archives with a password. Another feature of the app is support for multithreading.
With this functionality, the app will work faster. To unpack files, you need to click on the archive, select "unpack…" in the options menu, and wait for the unpacked archive to be created. Then a folder with the name of the archive will appear.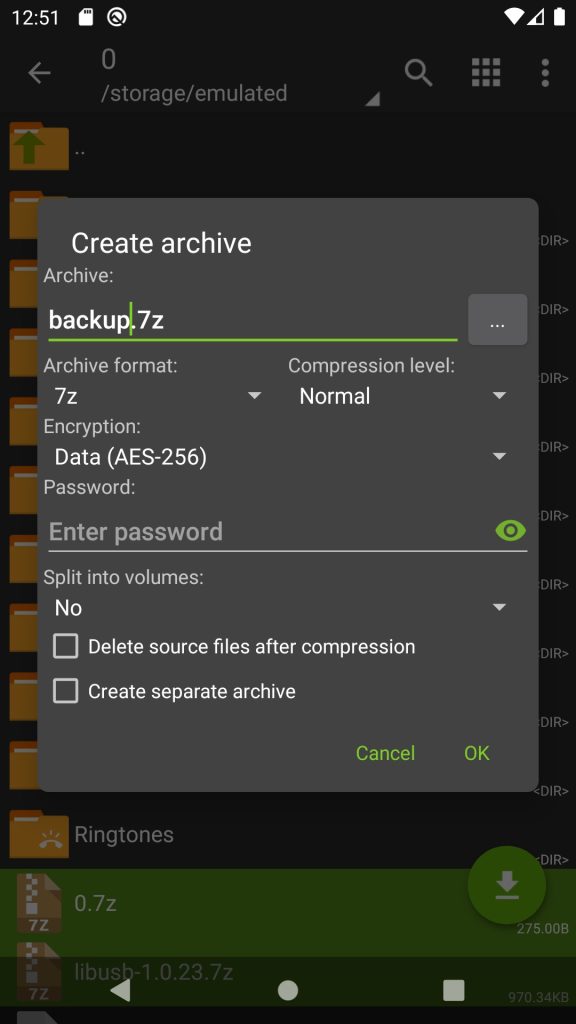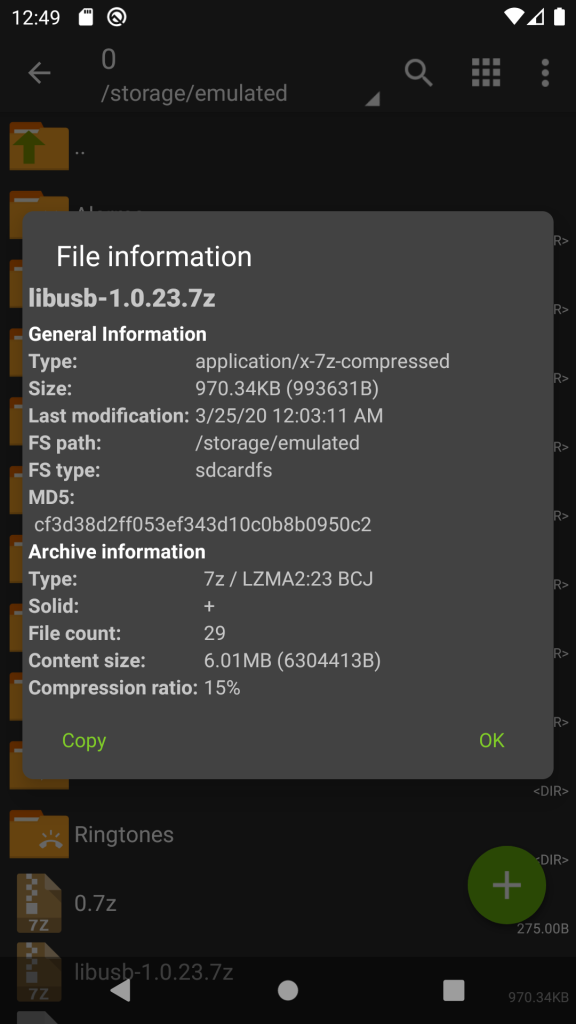 To make an archive, click on the file or folder and select "compress…" in the options. Then select the settings you are interested in and click OK.

Zip Extractor: Zip Unzip Files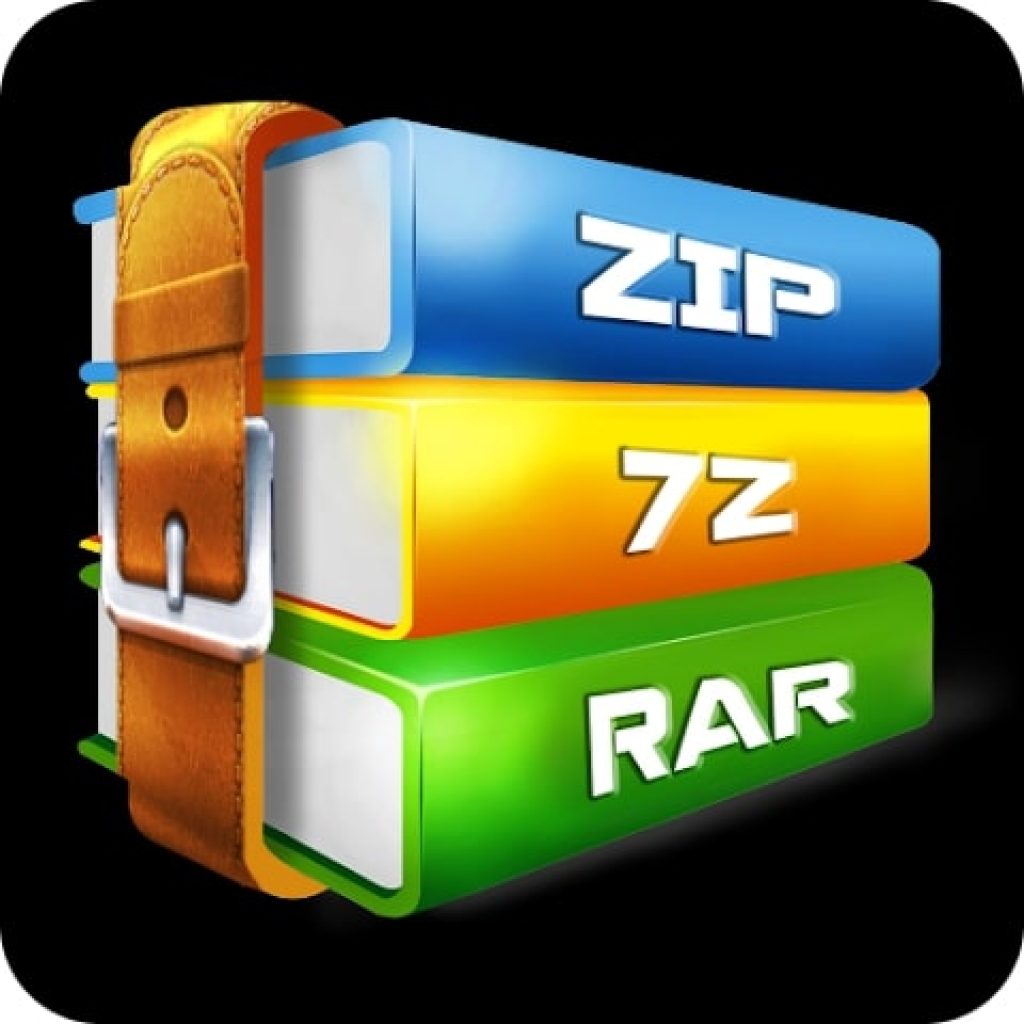 The Zip Extractor app is a great service for those who have long been suffering from a fast filling of the phone's space.
Documents stored in one file are not loaded immediately, somewhere does not load at all, or phone glitches due to lack of memory.
This app will help you compress large amounts of files and save space on your phone.
The whole process is quite simple. You come up with a file name, decide on the type of recording and get to the point of compressing the document.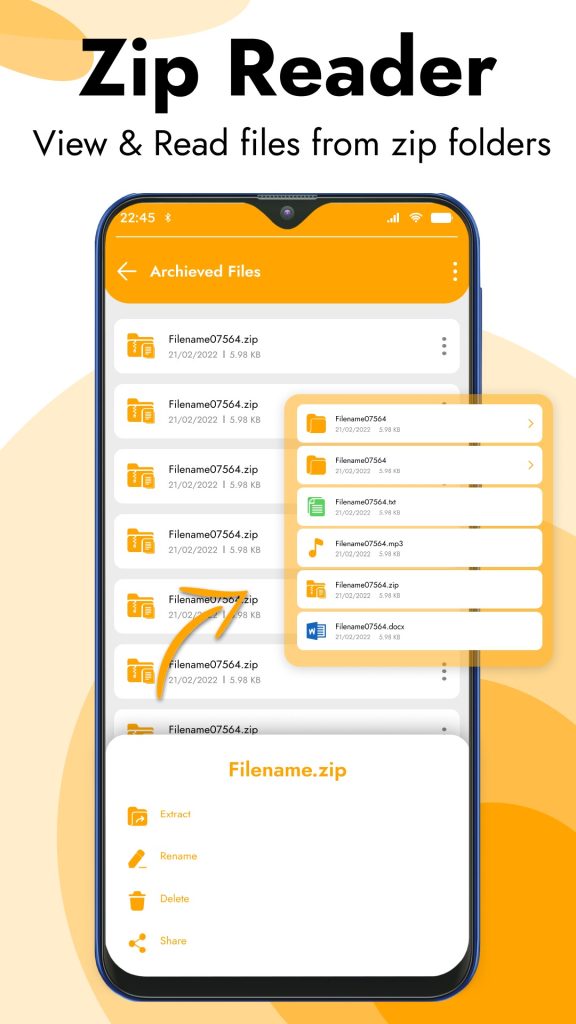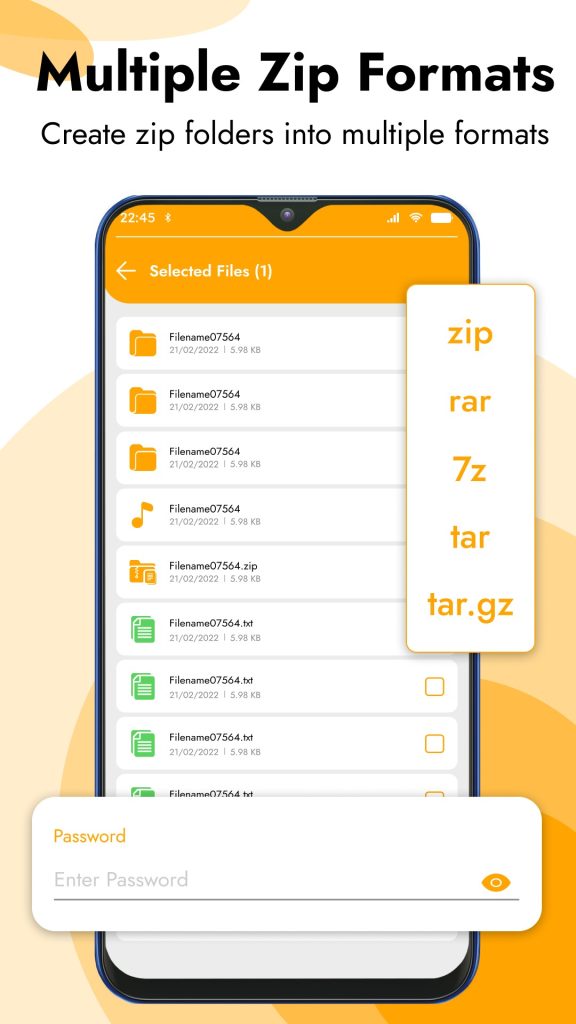 This program conquers two formats: compression and revitalization. The second format involves converting the uploaded image into a different view. This is a handy tool that will help you deal with compression and format changes.

Zip Extractor – 7Zip & Unzip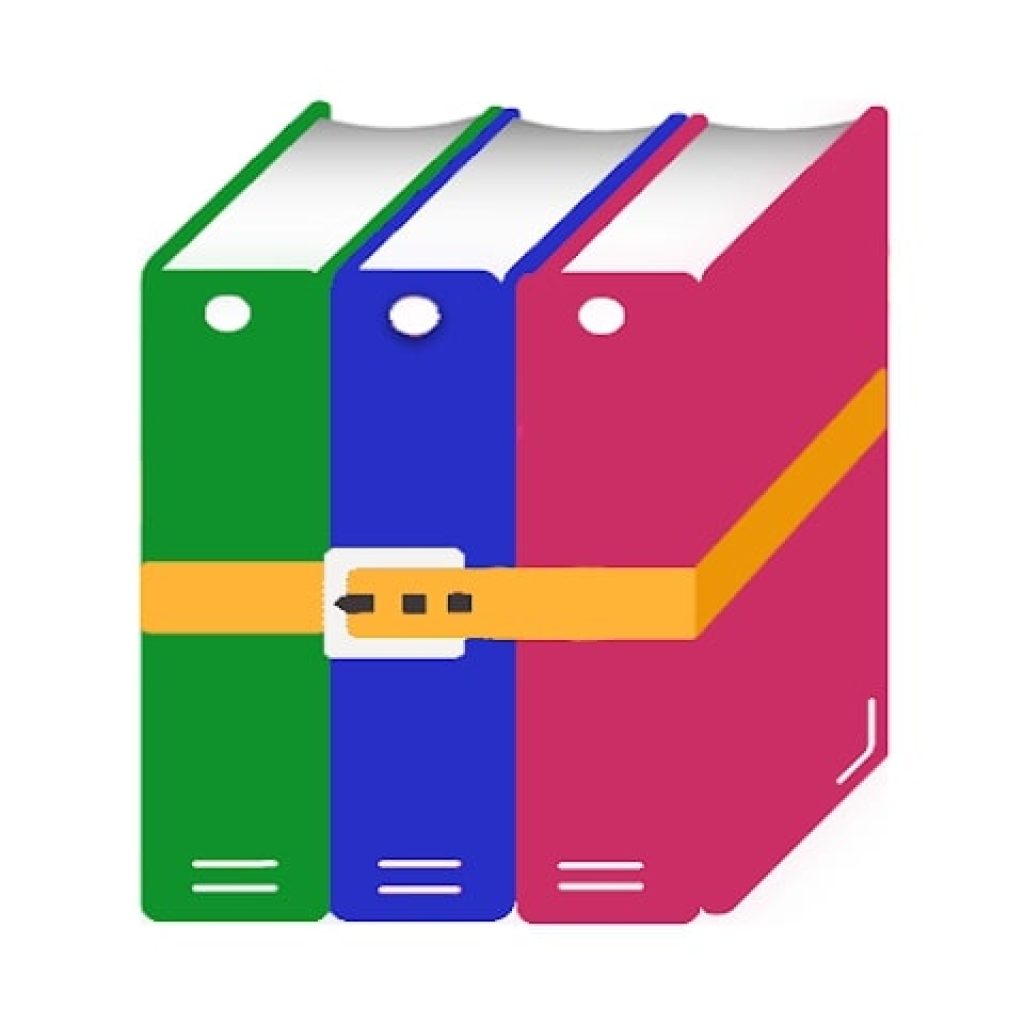 Zip Extractor is completely free and has a wide range of features. It is a great tool for compressing, extracting, converting, and editing files.
This program has a convenient distribution of materials into folders. This helps you not to lose important files, as well as quickly find them among downloads and formatting.
An improved compression system allows you to work with files much faster and get quality results. Easily view archives and their contents in a short period of time.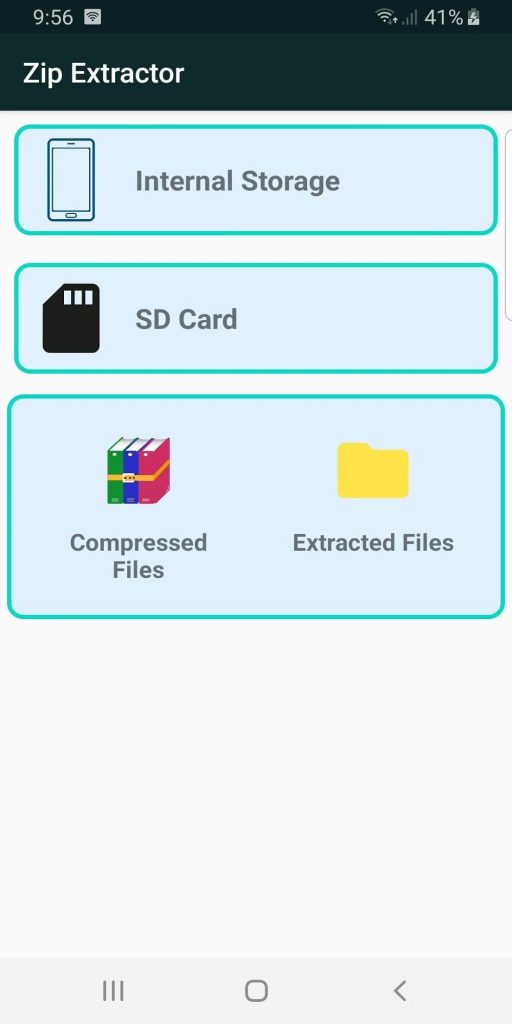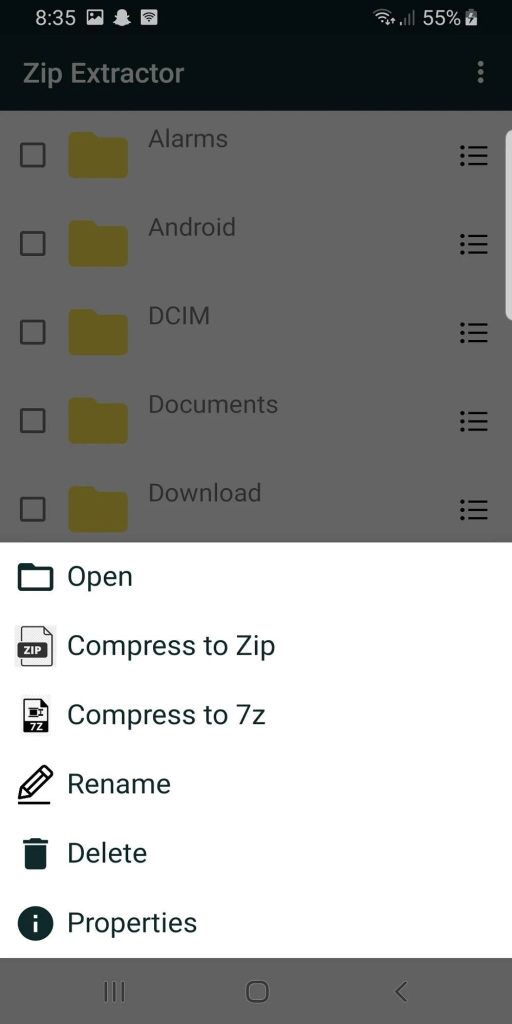 Fast and high quality, that's about this functionality that promotes fast compression downloads. It's a godsend among apps that will bail you out in an emergency. Download and use with pleasure.

Zip-Unzip-File Extractor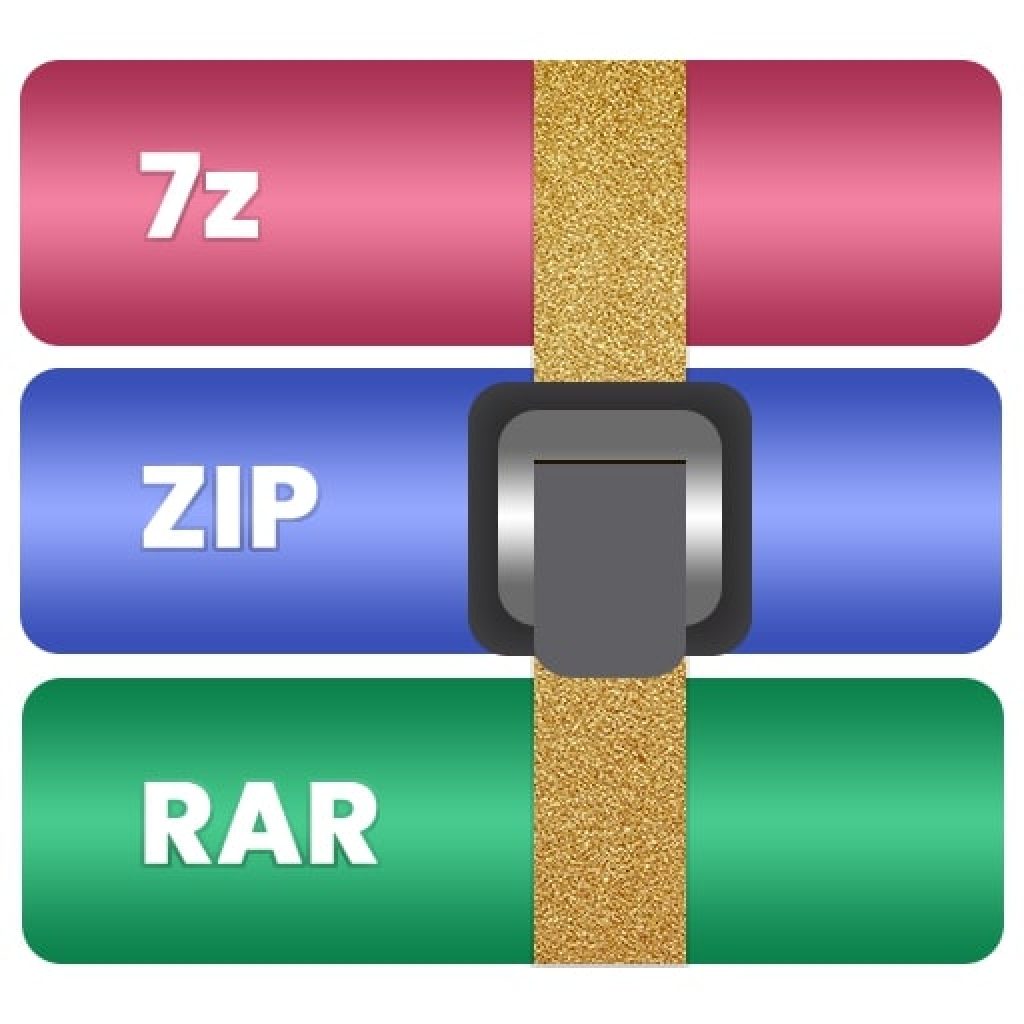 Zip-Unzip is an app with which you can save space on your phone and compress large files.
You definitely don't have to worry about security here, as each file is protected by the best encryption. You can reduce and compress files in convenient ways. Compress many files with a single click.
This program has a nice interface, easy to open files or decompress. It is a simple and fairly fast extractor for zip documents.
While you're agonizing over a quick memory fill, other users are freeing it up without even deleting anything. There is an interesting detail that allows you to view your album and share your image collections.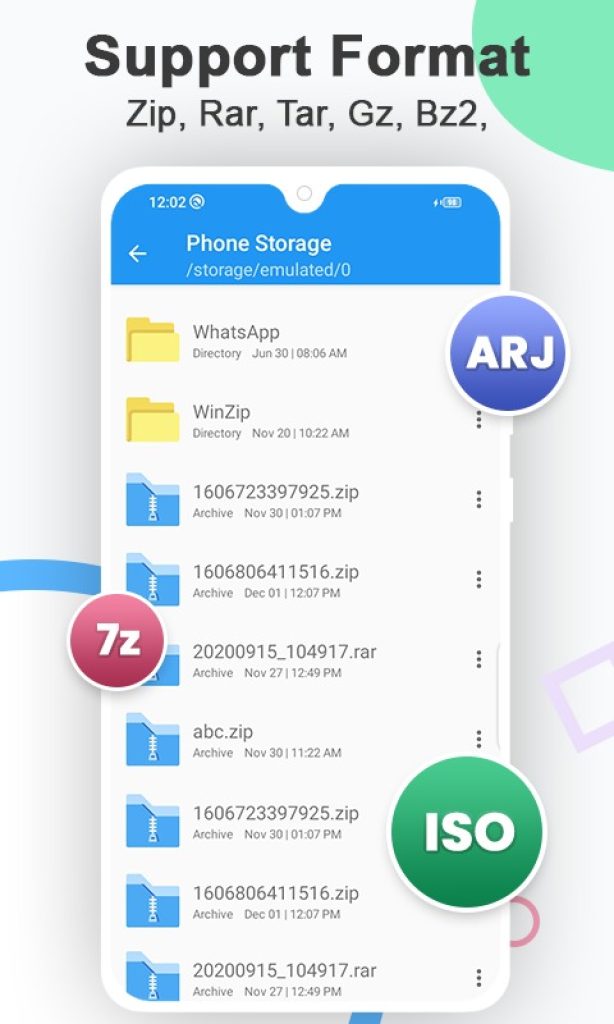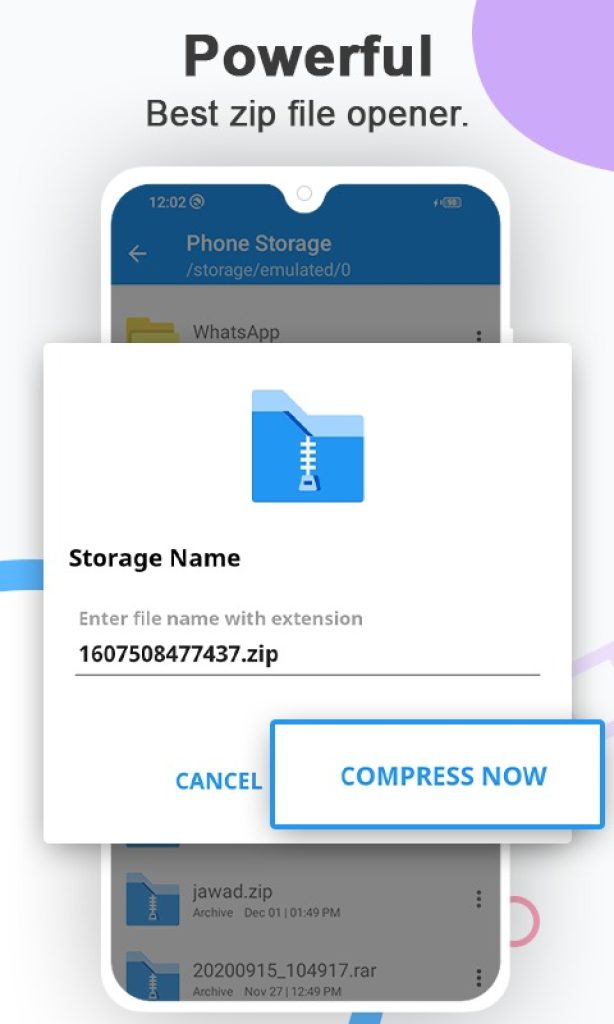 Using this app, you will not regret the time spent. You will be able to compress, save, and archive. You will also be able to share your files with friends.

You may also like: 9 Free Book Scanner Apps For Android & iOS
iZip – Zip Unzip Tool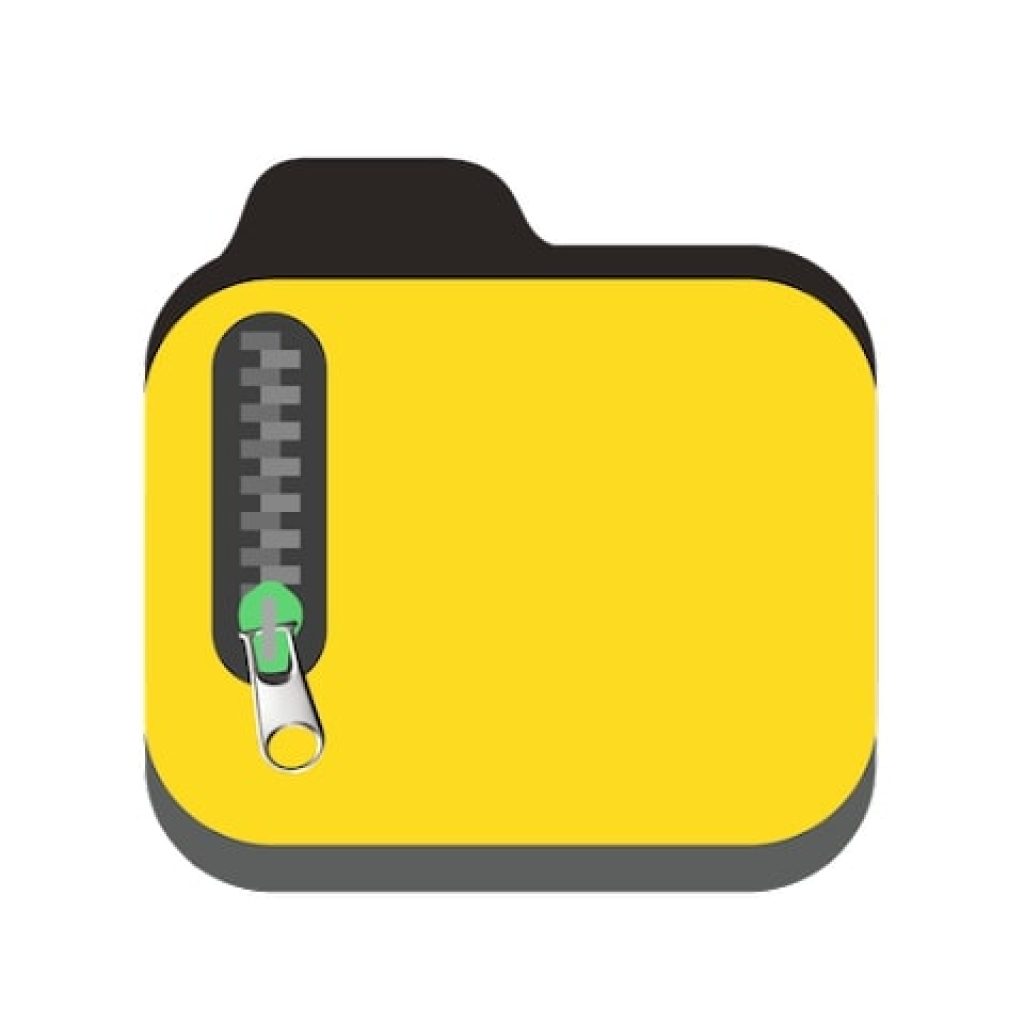 The iZip app will help you to compress files in a short time through a secure password or create encryption.
There is the ability to decompress large documents, change the name, create folders, move, and share them. Provides zip/unzip functionality on your devices. You will also be able to compress videos and photos.
For security, you should compress using a common password or encryption. You can download files from and to your Dropbox folder.
It's easy to use and a faithful assistant that's always at your fingertips. View, open, edit, and archive different kinds of documents. If there isn't a suitable place to send to, there's a handy email feature for that.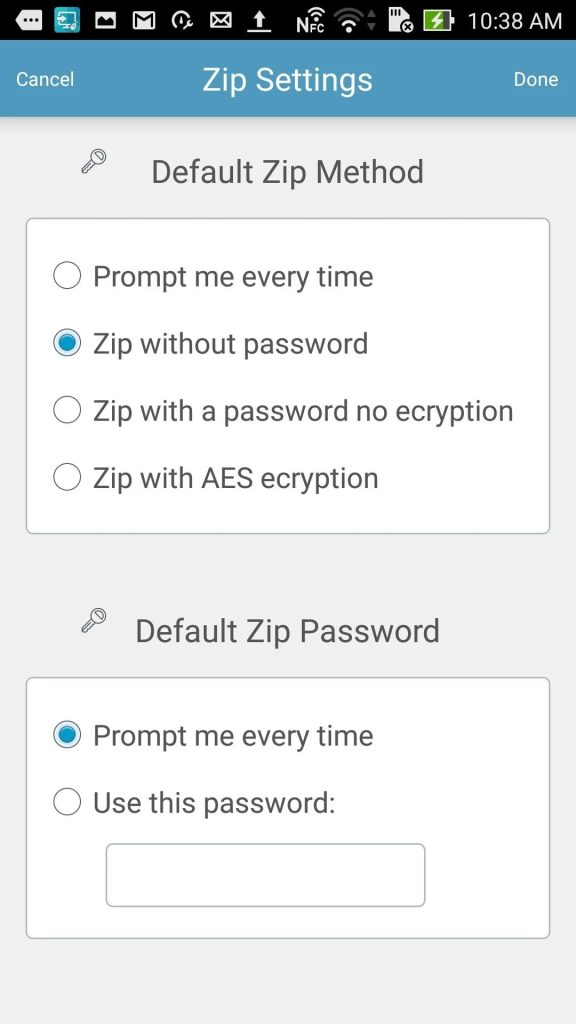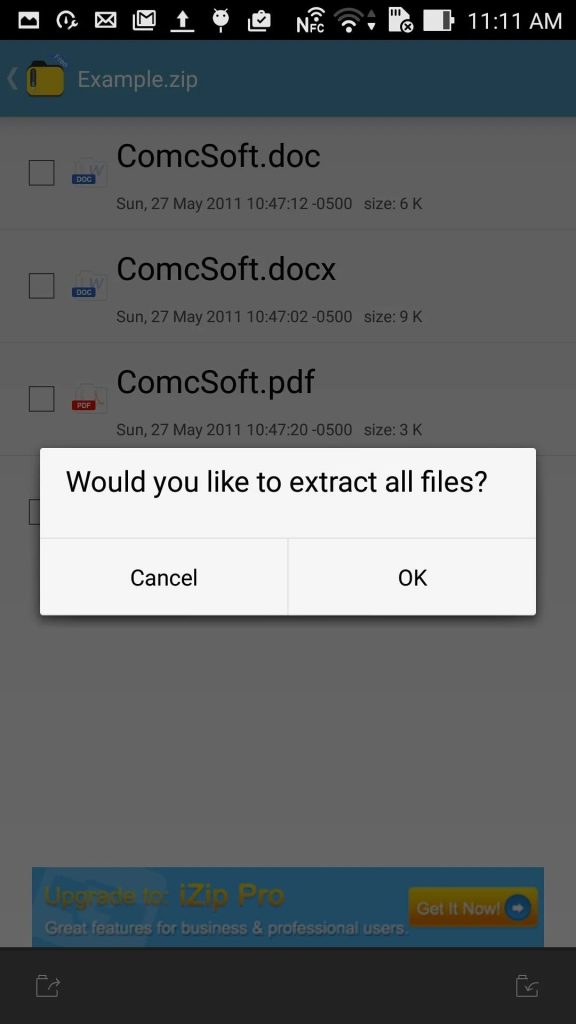 Opening a file will be accessible thanks to a convenient sorting and storage system. It will also not be difficult to create folders. Use the app for personal and professional purposes.


Zip File Reader – Zip & Unzip Files Manager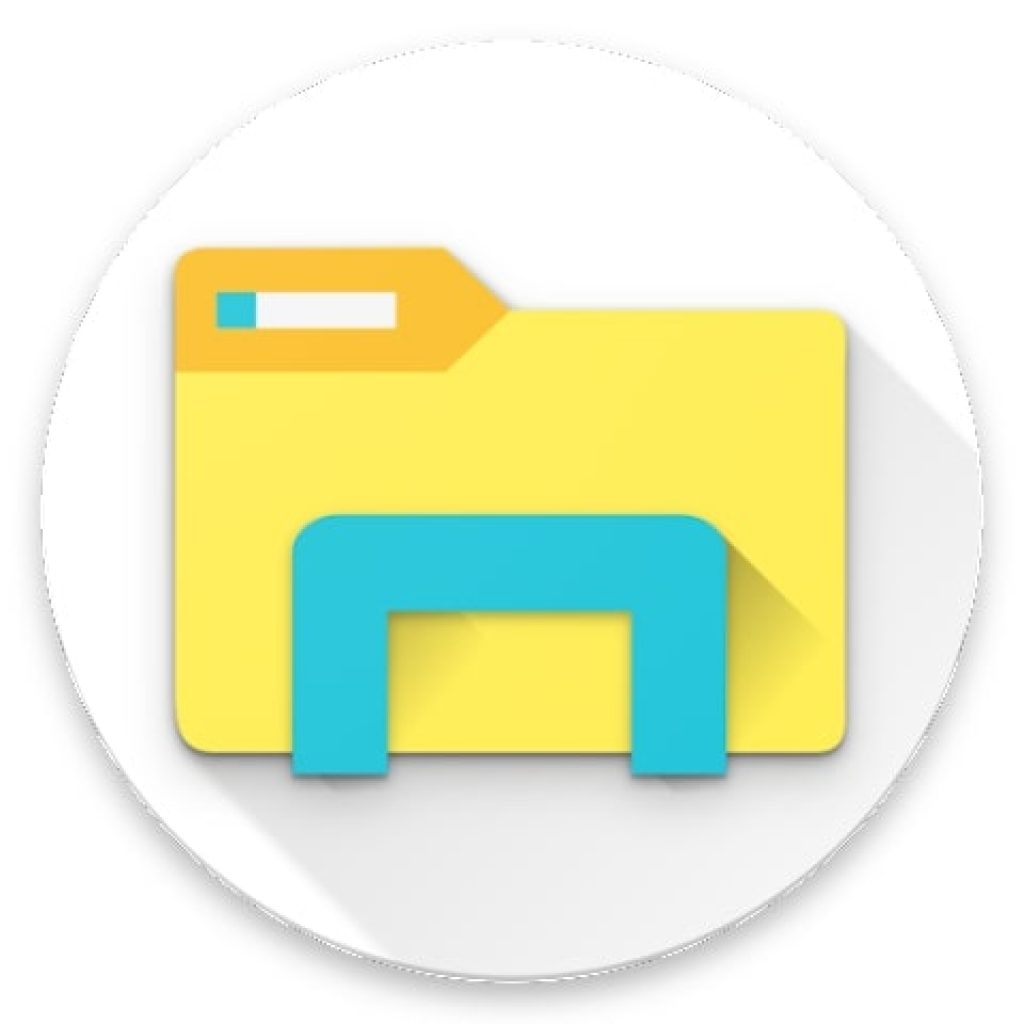 The Zip File Reader app makes it easy to decompress and edit files. View images that have been gathering dust in archives.
The app surprises you with its speed, features, and design. So you don't have to sit and wait while different kinds of documents are unpacked, load them into the app, and enjoy the download speed.
Extract and open unusually fast and efficiently all compressed files. It is an easy-to-use and faithful assistant that is always at your fingertips.
Archive photos, compress files, decompress and extract. The speed of the processes is so amazing that you won't have time to blink before a document is downloaded.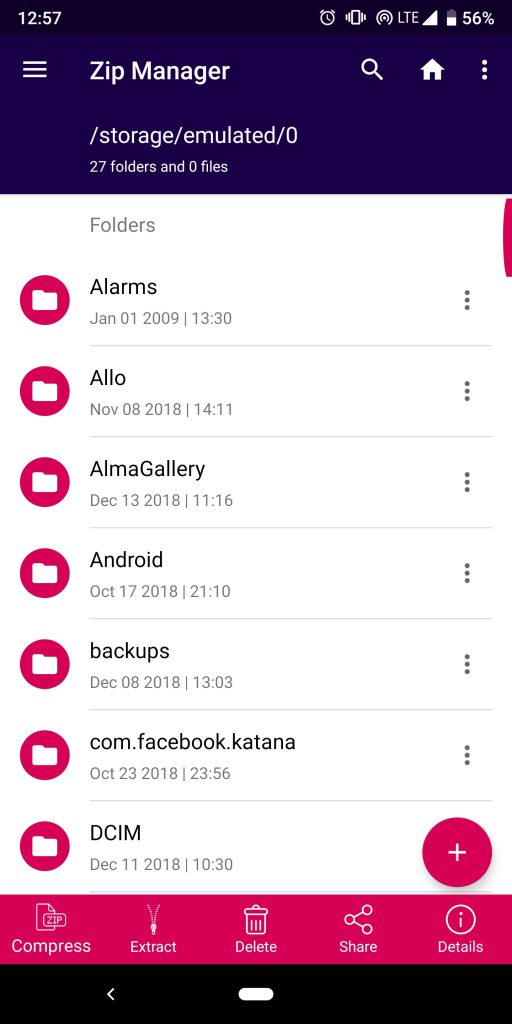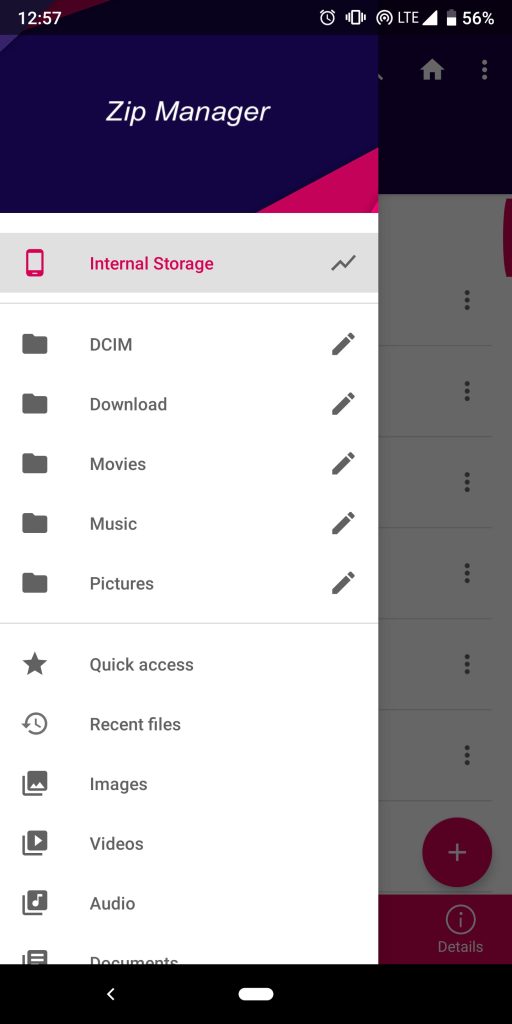 This magical app may seem simple, but once you work with it, you'll change your mind. Download, share, and enjoy using it.

ALZip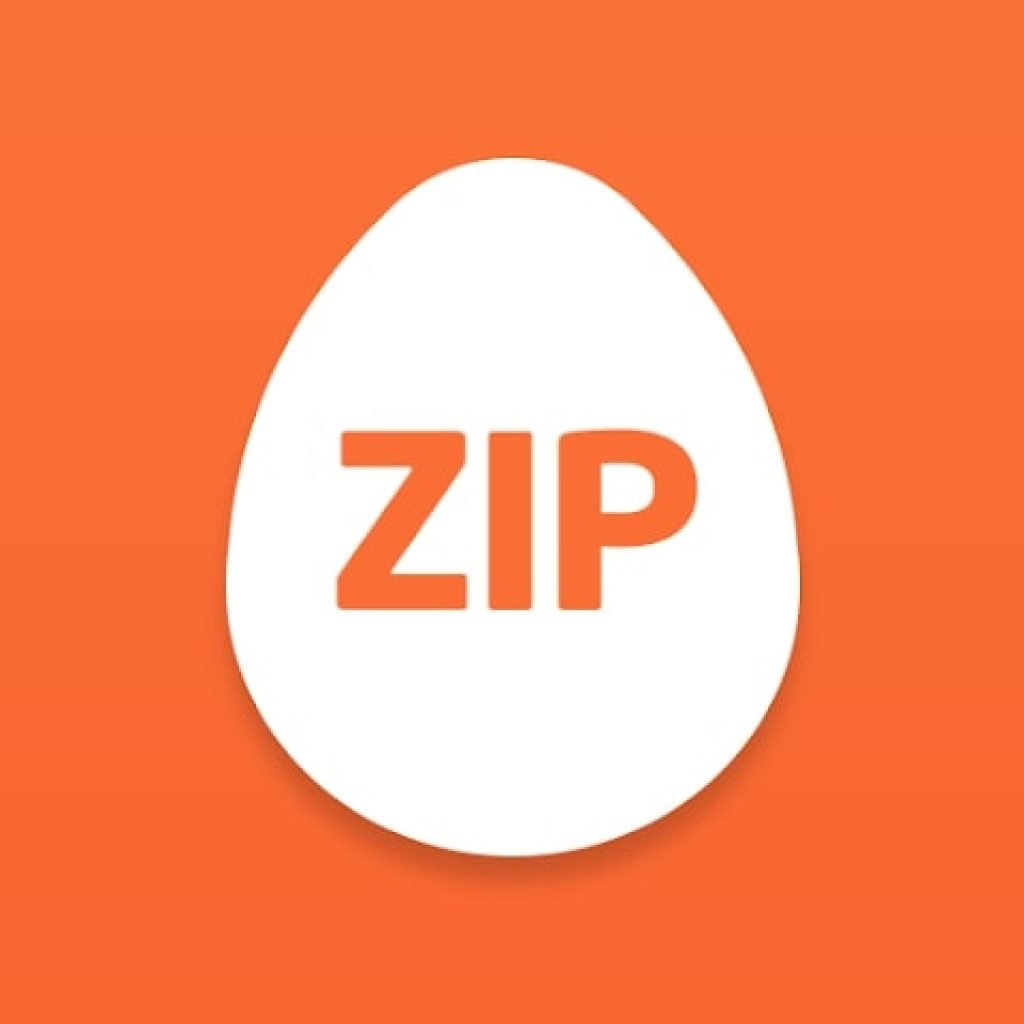 ALZip is a unique app that is a file manager and at the same time has file compressor and image viewer functions.
The program is constantly being updated according to user requests and suggestions. For example, users currently have the ability to decompress files larger than 4 GB.
The file manager feature allows you to create folders, move and rename them, as well as delete and copy files.
Besides, the app allows you to search for files. For this purpose, the app has an explorer function with a user-friendly interface. It allows you to quickly and easily find the local documents you need.
The file compressor feature is the ability to compress them into all common formats – zip, egg, and alz. Users will also be able to decompress archives of these formats.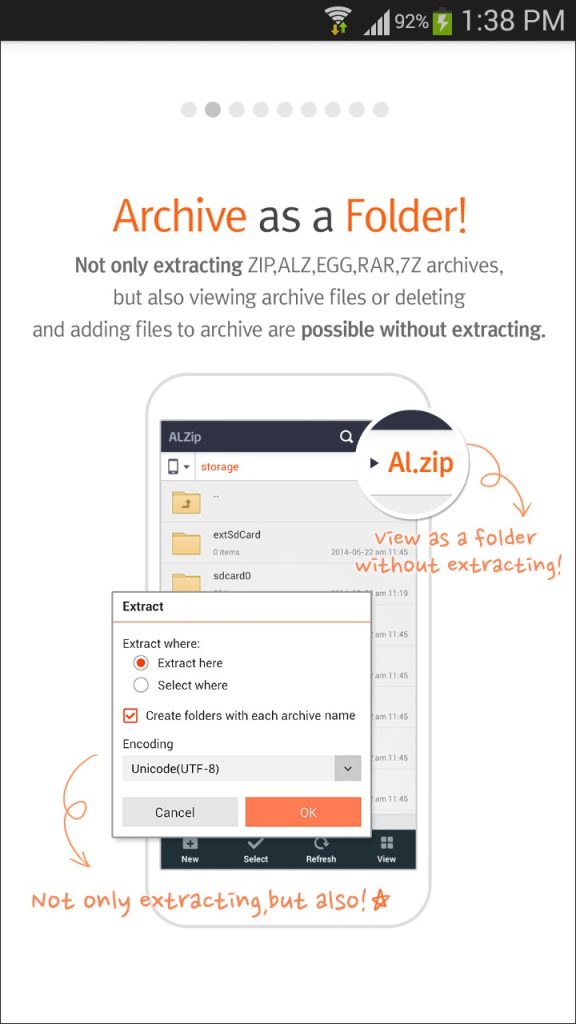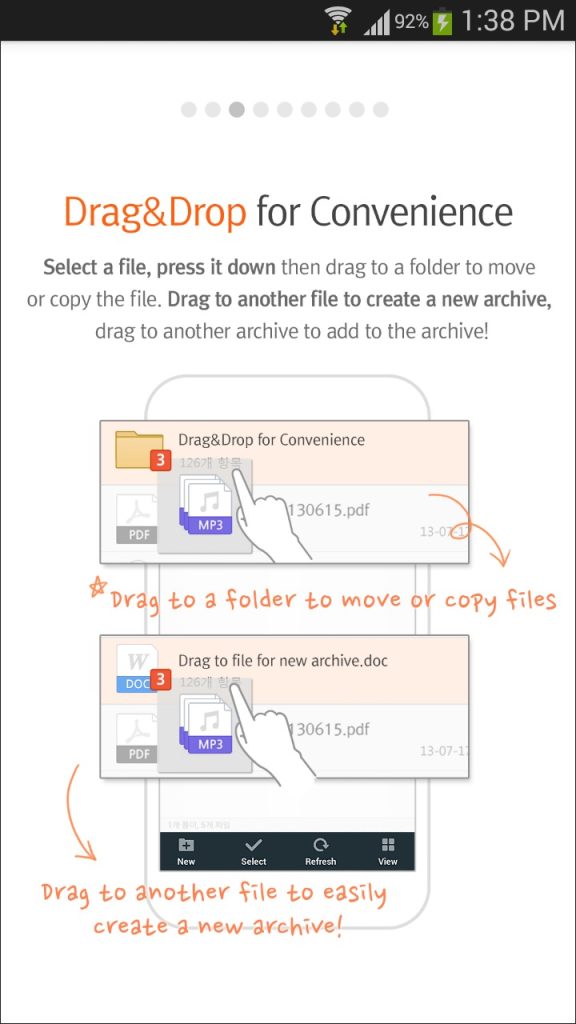 The archive image viewer function allows you to view images without extracting them from the archive, which saves the user a lot of time.

AZIP Master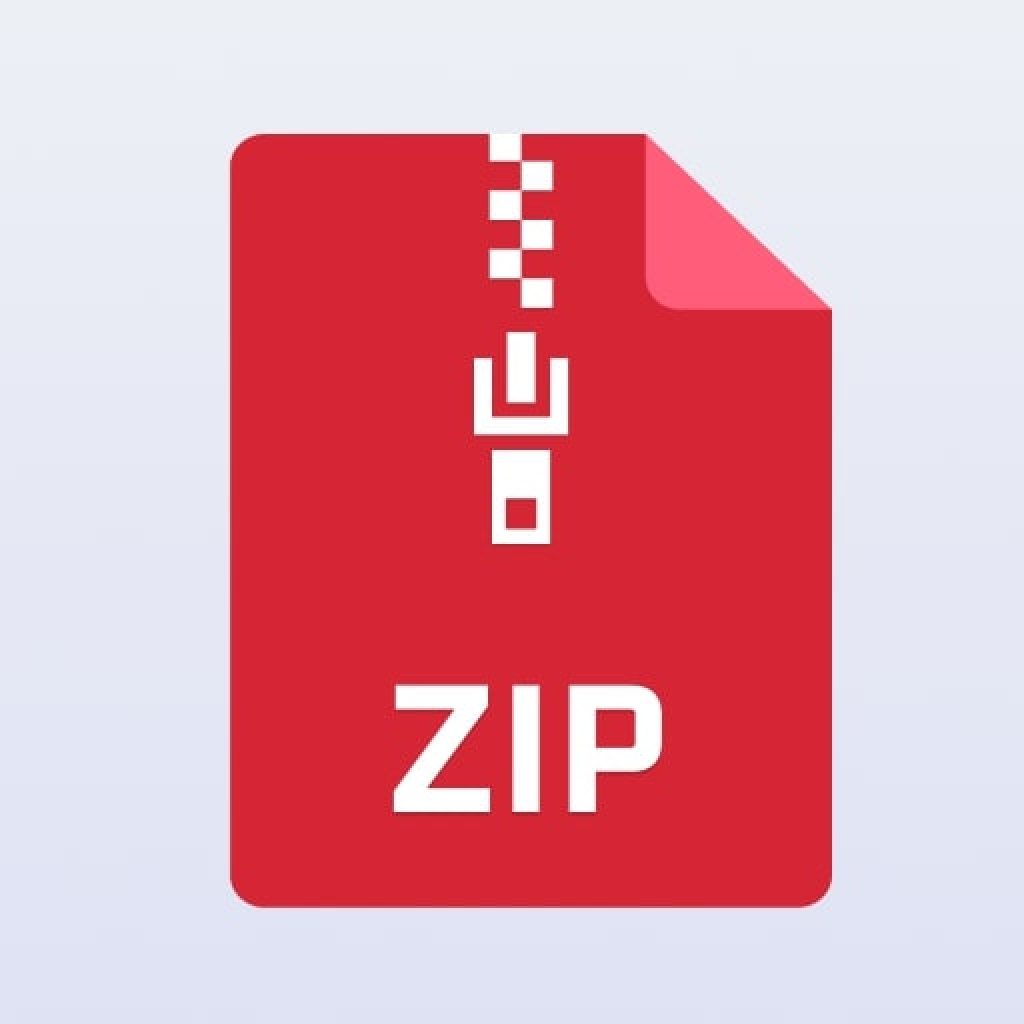 AZIP Master is a space-saving tool for your phone. Manage your files freely, move, copy, delete and decompress them. Here you will be able to create archives in different formats.
The app is tested by a large number of users and can safely be called the best. Create packed archives in ZIP and 7Z formats.
Fast document transfer via WIFI is available. Unpacking and compression of them are possible in the background.
Take care when sorting documents. It is possible to retrieve files from Google drive, for this you just need to connect to it.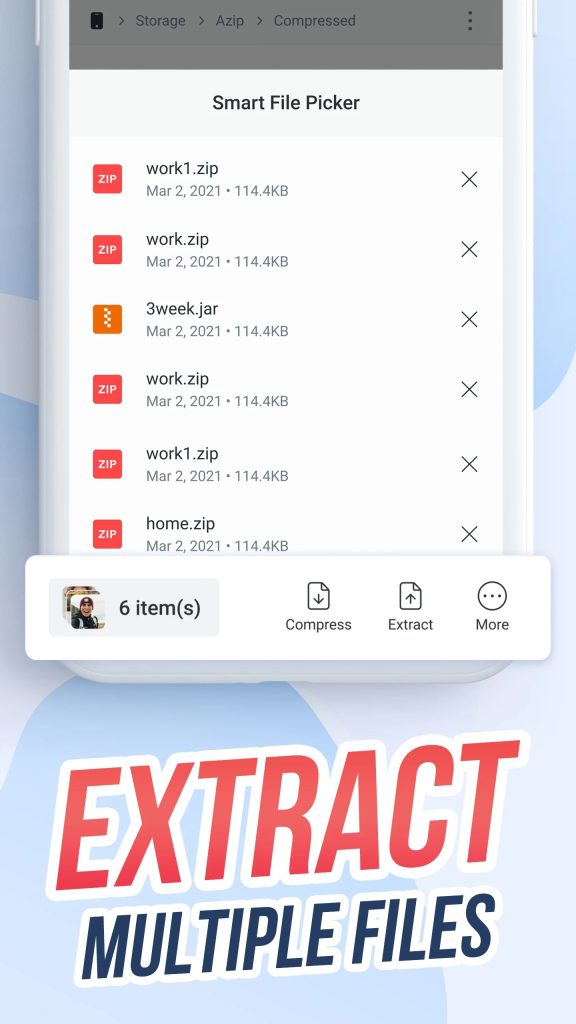 Enjoy fast unpacking of several archives at the same time, thereby saving you time. Multitasking, speed, trust, and stability are the benefits that will be available to you in this app.

You may also like: 11 Best Ticket Scanning Apps for Android & iOS
Zip RAR – File Compressor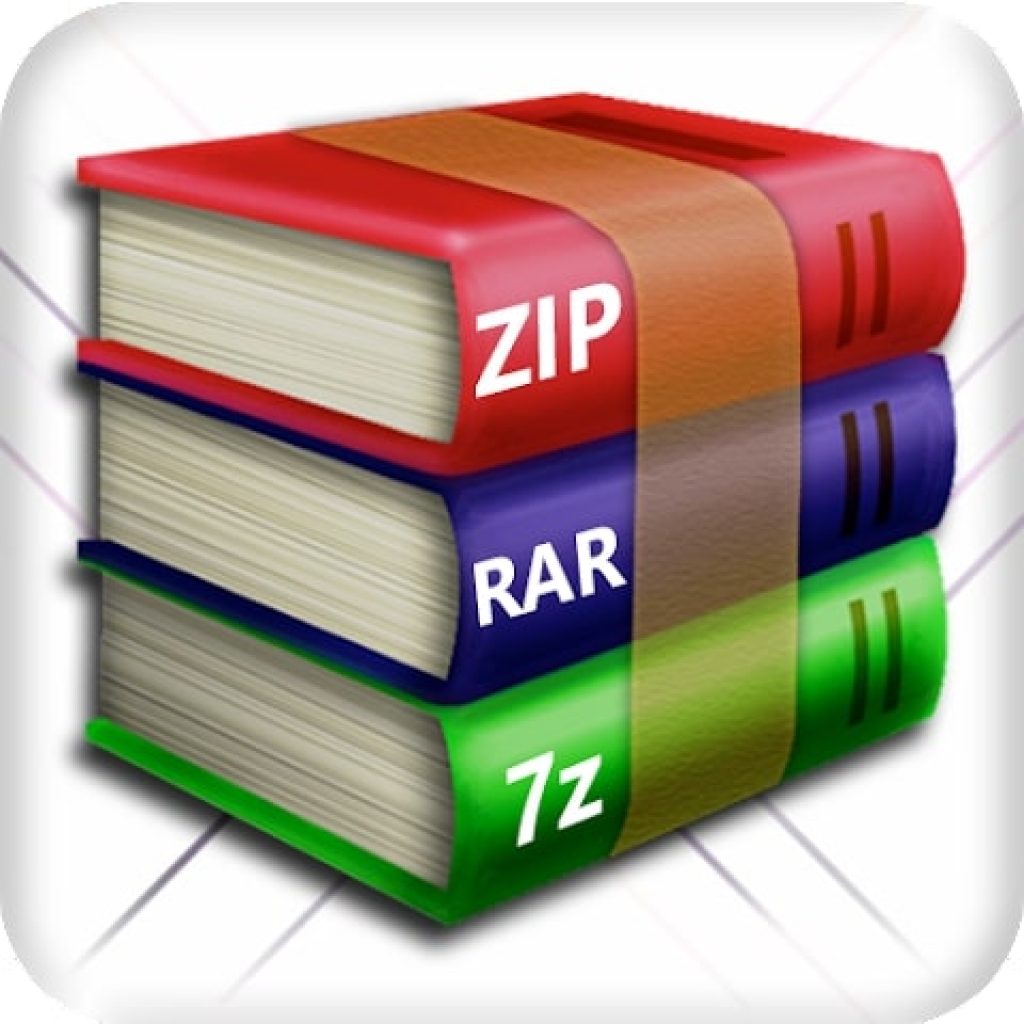 Zip RAR is a simple file manager for managing zip files. With it, you can simply and safely unzip archives, as well as extract, and manage them.
The app supports many formats, such as RAR, PDF, and TAR. This gives the user the ability to work with documents uninterruptedly in one program.
It is also possible to share ZIP files without limitation. The app has a simple editor for RAR format archives, which is a significant advantage for work.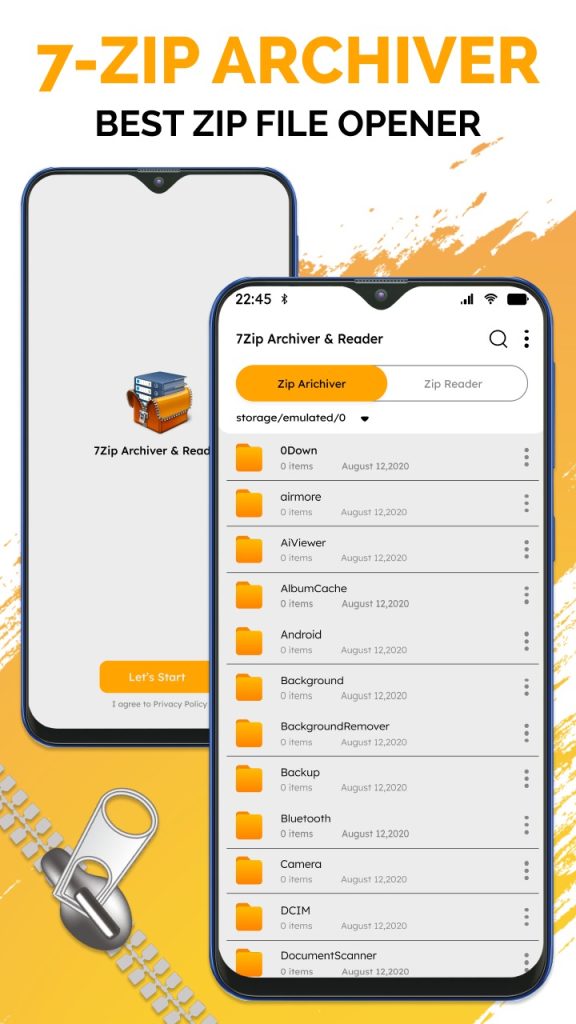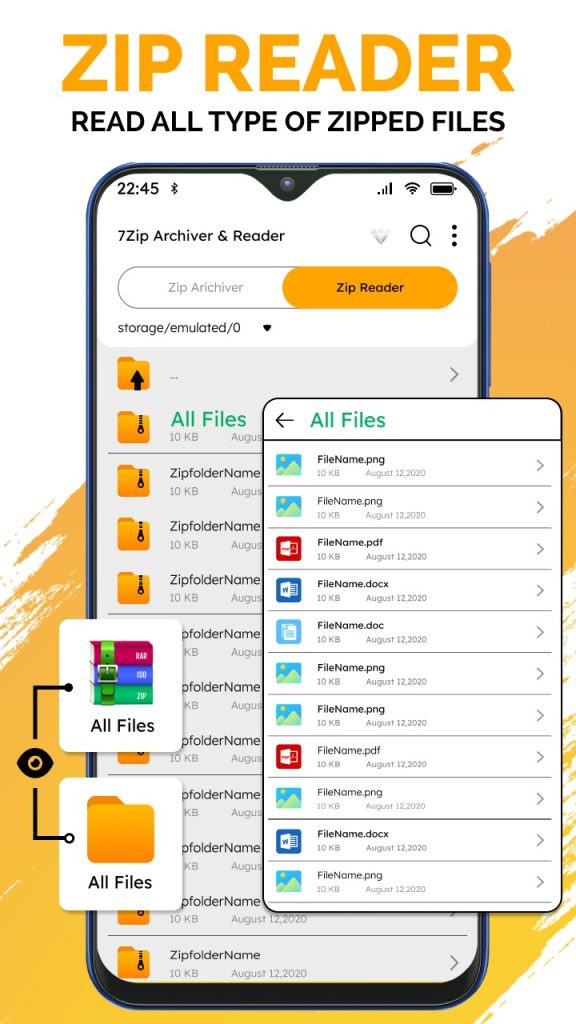 It has its own internet browser to upload the desired file immediately to a specific resource, or to upload the document directly to the archiver.