Sometimes you want to change your voice a little. Especially if you've heard it in a recording at least once and were terrified how unusual it sounds. Sometimes you need to change your voice for other purposes, too.
For example, you want to play a prank on someone, or you want to make a fake call to one of your friends. In this case, you will definitely need to resort to a special application.
In our selection, we have collected for you the best programs to change the voice from male to female. Also in them, you can change the tone of the sound, say phrases with the voice of celebrities or politicians, and perhaps even impose certain special effects on the recording.
Thus, you get an opportunity not only to play a prank on the person you are talking to but also to really surprise him, have a little fun during a standard dialogue with a friend. So, we present you 9 Best Male to Female Voice Changer Apps for Android & iOS.
You may also like: 12 Free prank calling apps for Android & iOS.
Voice Changer by AndroidRock
Voice Changer is one of the most popular and demanded applications among users. Its job is to apply sound effects to your voice or your friend's voice, which in the process turn the audio into something unusual.
It's worth noting at once that Voice Changer works exclusively with voice recordings – you won't be able to change your voice right during the dialogue.
The application has a very simple interface, in which you will do all the necessary actions. For example, you can record a phrase or conversation right away by going to the desired tab on the home screen.
It also shows you that you can view all your saved and modified files, open a certain entry, and much more. Next, you'll see a whole list of effects – for example, children's voice, male, female, choir, and others. You will just have to listen to the audio in different handsets and choose the appropriate one.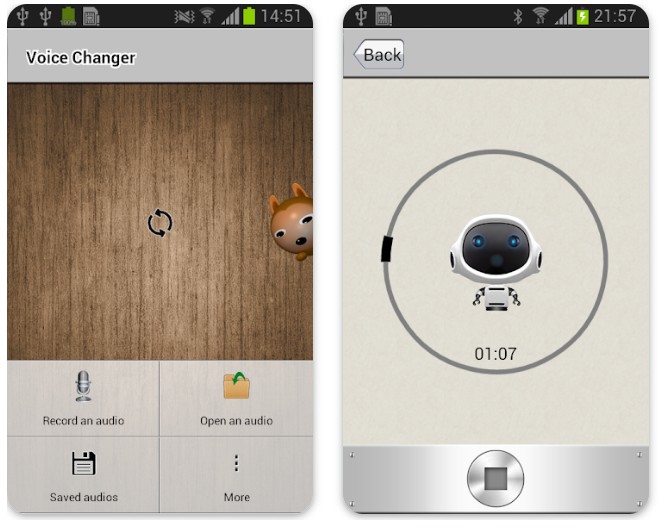 You may also like: 11 Free Voice Recognition Apps for Android & iOS
Super Voice Editor – Effect for Changer, Recorder
If you need to change your voice right during a call, the Voice Editor is what you need. This application will help you to become one of the amazing characters, choosing your sex and voice respectively.
Here you can find even the voices of superheroes and use them when editing audio recordings or in real-time. By the way, you can record your voice directly in the Voice Editor – and then already send it as a voice message to one of your friends.
In the application, you can also process audio files that are already in the memory of your smartphone. You can easily cut out the desired moment and paste it into the editor.
In addition to the fact that the Voice Editor offers the ability to change the voice from male to female, you can also talk as a certain character. For example, it is easy to become a Batman or a character from Marvel by simply selecting a certain option.
Voice Editor will even allow you to create your own melody or ringtone, using the recording of your voice.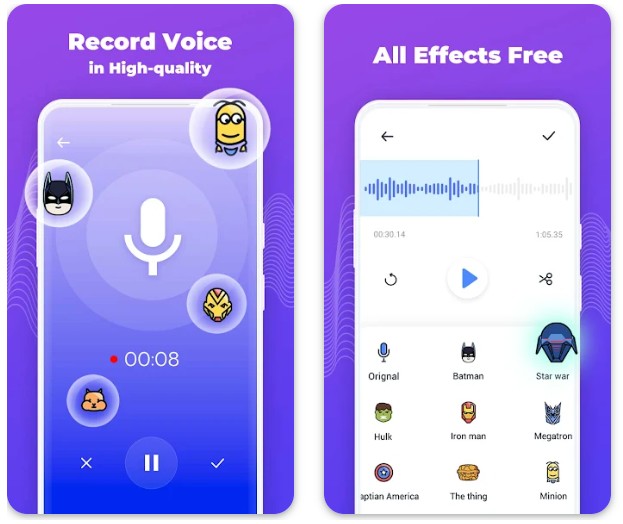 Voice changer with effects by Baviux
Voice changer with effects by the number of downloads and ratings from users is an undoubted favorite and leader among such applications. There are almost 50 effects with different functions that will change your voice beyond recognition.
You can become a man of mystery by talking to people with different voices. Will they be able to guess whether you are a man or a woman? Will your real voice be determined?
In order to start working with your voice, you will need to record it on the recorder. You can do it directly in the Voice changer with effects without making too much effort.
Recording in the future can be saved in the memory of the smartphone at the source, and then you will work with more precise settings. So you will be a robot, a monster, a man or a woman, a drunk person, and whatever you want!
Received record directly from the application, you can immediately send friends via WhatsApp and start the fun with them. You can even set it as a notification sound!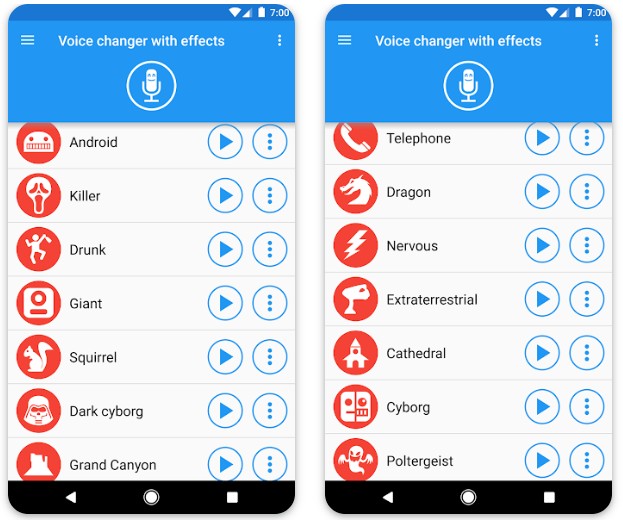 Voice Changer Plus by Arf Software Inc.
As you know, male and female voices have different heights, tones, and many other factors. With Voice Changer Plus, you're not asked to change your gender, but rather to adjust how much you change the tones or heights.
The application has many different effects, among which you can even find the background sounds. The most horrible and funny thing at the same time is the squeak of a mosquito. With this effect, a piercing and annoying squeak will be applied to the whole audio recording with your voice.
In order to choose from dozens of different effects, you will need to record your voice. To do this, simply press the record button and start talking, singing, or playing sounds.
If you want to add more sound effects, Voice Changer Plus offers a channel format conversion. There, you can control sounds at all levels and crop them if necessary. Most importantly, Voice Changer Plus requires no donation or subscription fees.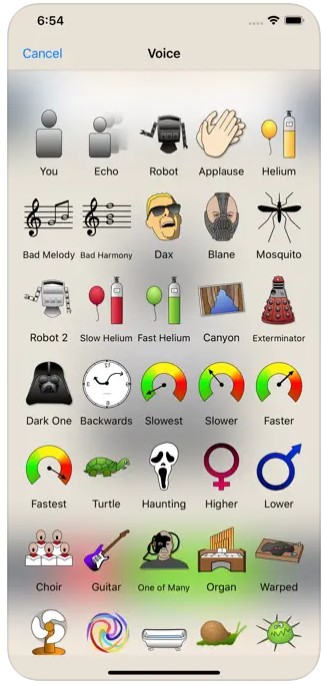 Voice changer sound effects by 9xgeneration
If your goal is to change the voice of your favorite singer or vocalist, as well as work on recording your voice, you may be interested in the application Voice changer sound effects. Here you are invited to work with pre-recorded sounds by simply downloading them from your smartphone.
Of course, this application will need access to the memory, and it will ask for this permission just before installing Voice changer sound effects on your smartphone.
There is no loss of quality in the processing of your voice or song – and this is very important if you want to play a plausible joke on someone. The Voice changer sound effects have amazing effects that turn your voice into a completely different person's voice.
In order to listen to the recording beforehand, you will simply run it directly in the application, trying different effects to complement and change the sound. Become a chipmunk, a girl, or even add a little squeal to your speech – just choose the appropriate options.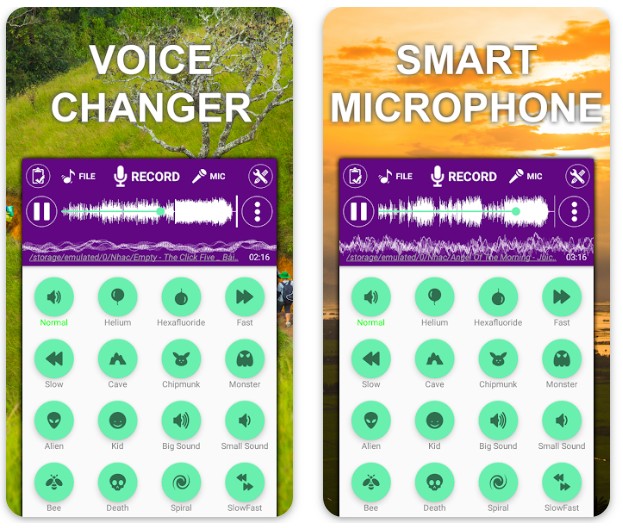 You may also like: 11 Best Soundboard Apps for Android & iOS
Voice Changer App by JINMIN ZHOU
Your voice messages to your friends can become very unusual. All innovations you can add to the Voice Changer App, which gives users the opportunity to fundamentally change their voice.
It is worth noting that the application has a cool and user-friendly interface, which is optimized for all smartphones. You will also be pleased with the number of proposed effects, which you can immediately try out in practice.
Voice Changer App will allow you to change your rough voice to a more melodic and even similar to a woman's. If you can't make all the changes at once, just save the recording. You can continue the editing process later, at a more convenient time for you.
Voice Changer App allows you to send audio to your social networks, offering you a choice of one of the applications installed on your smartphone.
Your limit in the process of change will be only your imagination and desire to surprise your friends. We recommend you to try all possible effects first, and then make a decision about changes.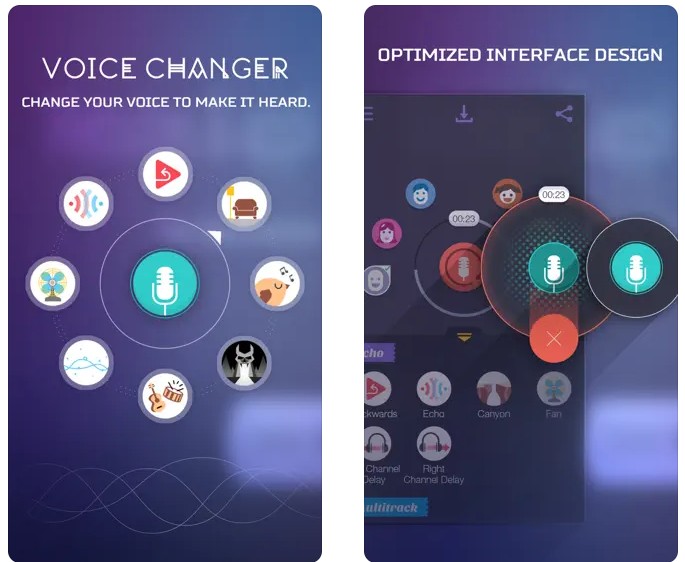 VoiceFX – Voice Changer with voice effects
VoiceFX is both a handy mobile voice recorder and a voice editing application. You will be able to change your recordings from the voice recorder or songs from your smartphone in just a few clicks and get great results.
As you work on your sound, you will always be able to listen to the intermediate variant and change something immediately, without waiting for the complete editing.
Your own modified voice with VoiceFX can be streamed to a browser or media player. This gives you the chance to use your modified voice in real-time, impressing your friends and subscribers with the way you're currently talking.
VoiceFX allows you to choose whether your voice is female or male, childish or old, drunk, or slow. You can record your voice directly with effects, listening only to the result you get. Of course, when you're done, send the recording immediately to your friends and try to play them out.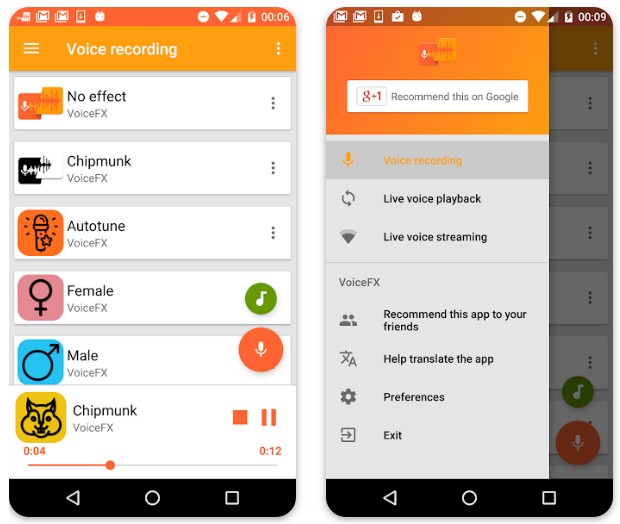 MagicCall – Voice Changer App
Do you want to try on someone else's voice right during the call? Perhaps you want to impersonate someone else by playing a trick on your parents or friends. MagicCall can help you do this by making calls as you've never made before.
The application works with your voice in real-time, and the person you're calling hears only the final result of the processing. Believe me, your friends will be shocked when you call them and speak with a female voice.
MagicCall offers you to become a man, a child, a woman, or a cartoon character. You choose how your voice will change and what the interlocutor will hear. Also, MagicCall can sound smileys – for example, a kiss, a punch in the palms, and much more.
All playback takes place during the conversation, so you can improvise in the process. With each update, new voices are added, which you can use every time you talk to your friends.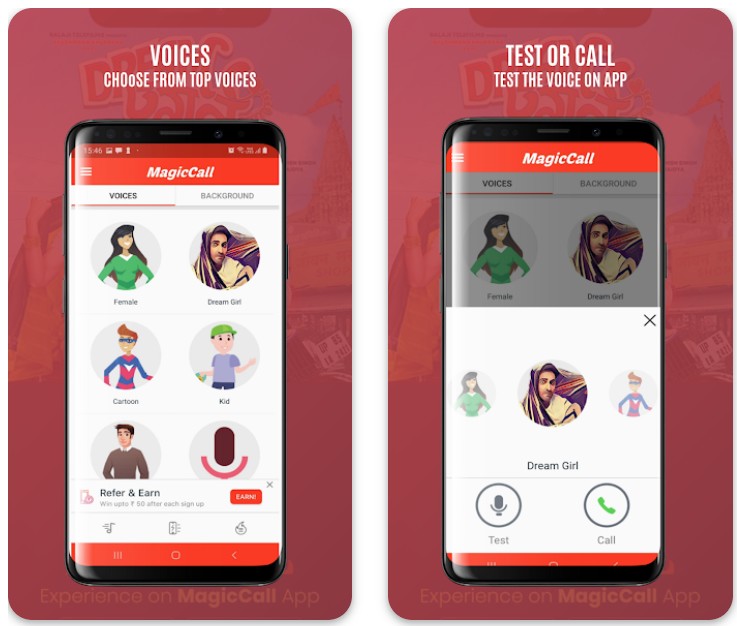 Voice Changer Voice Recorder – Editor & Effect
Sometimes your singing abilities can be terrible. Perhaps you can change this with the Voice Changer Voice Recorder. If you're a man and can't sing, there's a chance that by changing your voice to a woman's, you'll become an incredible singer.
With a variety of effects, the Voice Changer Voice Recorder can help you change your voice or improve it in just a few clicks.
For phone calls or voice messages in messengers, Voice Changer Voice Recorder supports a variety of funny and unusual voice effects. You just need to select a specific voice from a list, during which to record a message in the messenger.
You can choose not only to change the sex but also to become a real Devil, robot, alien or great singer. Just try it and you will not be able to stop!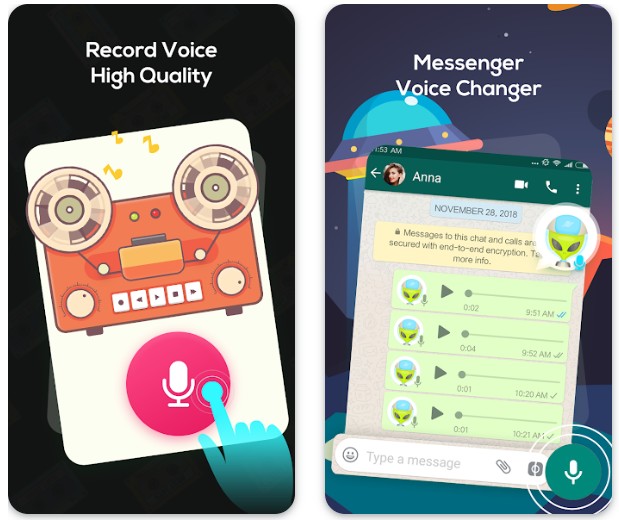 Voice Changer by Super Effect
Voice Changer by Super Effect is a fun app that allows you to change your voice in real-time. The app offers a wide range of voice effects that can be used to transform your voice into a different character or gender.
You can choose from a variety of voice filters including alien, robot, chipmunk and many more. The app also allows you to record your voice and save it to your device.
Funny app for fun and pranks
Large selection of voice editing
Convenient to use
We noticed that the app can sometimes run slowly and stutter, and some have complained that some voice filters don't work properly.
All in all, if you are looking for a fun app to spice up your voice recordings and share them with your friends, the Voice Changer app is definitely worth a try.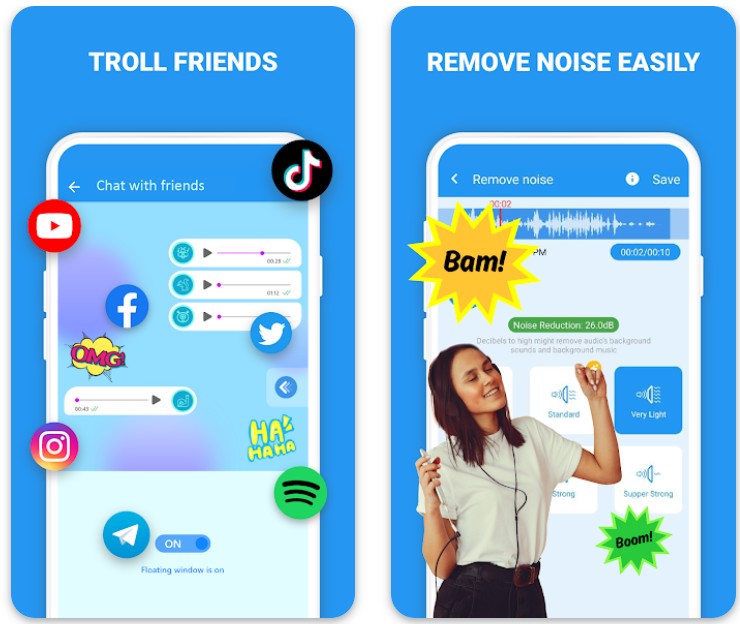 You may also like: 11 Free caller location tracking apps (Android & iOS)
Voice changer for girls
Voice changer for girls is a fun and entertaining app. As the name suggests, it allows users to change their voice to a female one. The application is easy to use, with a simple interface that even children can understand.
The app has several features that allow users to change the pitch, tone, and even add background effects to their audio recordings. Users can record their voice, apply desired effects, and save or share their recordings with friends.
Funny app for fun and pranks
Large selection of voice editing
Convenient to use
One of the downsides of the app is that it requires an internet connection to work properly. This can be a significant disadvantage for users living in areas with poor connectivity.
Some negative comments in the app store suggest that the app may not work correctly on some devices. Users also complain that the app often crashes, making it difficult to use.
Voice changer for girls is a funny app that allows users to have a good laugh and prank their friends. However, it has its drawbacks, including the need to connect to the Internet and technical issues reported by some users.
All in all, if you're looking for a funny voice changer app, then you should try Voice Changer for Girls, but don't expect it to be perfect!