Some board games have a deeper meaning, which was originally embedded in it. You may not even know about it, just enjoying the game or making strategic decisions. Snakes & Ladders is an Indian religious game, which had a deep religious meaning.
It was played during a regular fast in temples, spending nights there playing and in the company of like-minded people. The idea, which is reflected in the game, is simple – it is the spiritual growth of a person. Stairs symbolize good behavior, and snakes – bad actions and bad thoughts.
If we talk about the modern version of the game, then everything is quite simple. According to the rules you initially put the chips in front of the game board and together with other players determine the turn of your moves. If you are into board games you can check our list of 11 Best Online Board Game Apps (Android & iOS).
After that everything will be solved by luck – you will throw the game dice one by one and move your chips in accordance with it. If you are interested in this game and you would like to try it, then here are 11 Best Snakes & Ladders Game Apps for Android & iOS.
Snakes & Ladders King by mobirix
A classic version of Snakes & Ladders is available in the Snakes & Ladders King app, which you can play for free.
The rules here are as simple as in the traditional board game – you have to get to the last square as soon as possible while getting ahead of all opponents. Since the same goal is pursued by those people who play with you, you need to be smart and fast.
To advance in Snakes & Ladders King only forward, you should avoid meeting with snakes. Each such meeting can bring you back to the very beginning – and this is unpleasant, especially in the vicinity of victory.
In Snakes & Ladders King there are 3 different game modes, among which you will definitely find one you like. In "Survival Game" you will meet with ghosts that appear suddenly and at the most unexpected moment.
In multiplayer mode, you will be able to play with friends or with real players from all over the world. You can also practice your skills on the computer.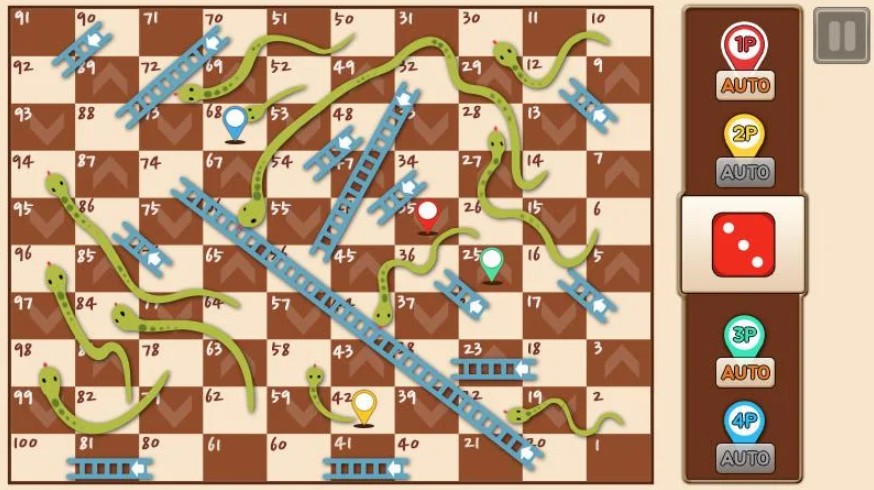 You may also like: 33 Best Board game apps for Android & iOS
Snakes and Ladders – Free Board Games by IDZ Digital Private Limited
Minimalistic graphics and at the same time high-quality interface is one of the favorite tricks of developers. Such games undoubtedly become a favorite among users, because they get exactly what they wanted.
Snakes and Ladders is distinguished by this very graphics – simple design in an unusual representation for a classic board game. This application can change your idea of Snakes and Ladders and even improve it.
The ancient Indian game here is presented in a modernized and modern version. In fact, you become a member of races, where each of the players is trying to reach the finish line as soon as possible.
The person who reaches the top becomes King or Master. It all depends on your luck and the luck of your opponents! In Snakes and Ladders, you can play with your family or friends – for this purpose, the application has separate modes. A total of 2 to 4 people can participate, depending on your choice of mode.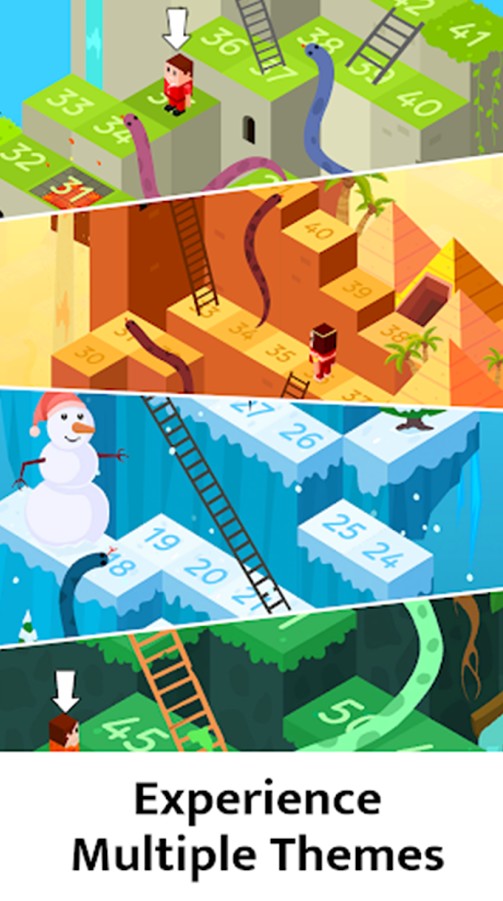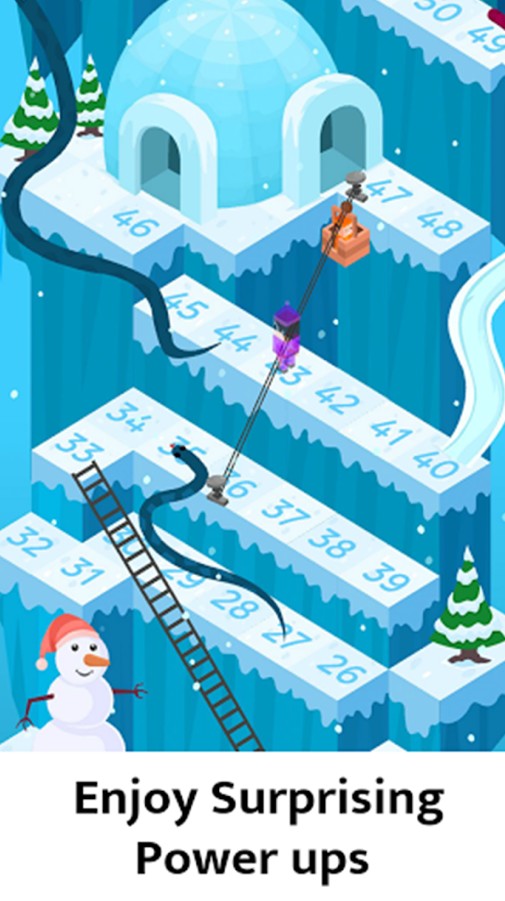 Snakes and Ladders Free by Sudhakar Kanakaraj
Are you in the same room as the people you would like to play with? If you do not have a board version of the game, the application Snakes and Ladders Free will help your company.
In the application, you can arrange not only online games, but also using Bluetooth connection. In this case, all the functionality is completely free and convenient, and you get a full version of the board game for your smartphone.
In Snakes and Ladders Free there are various sets of maps, among which you will find something interesting. For example, there is a map of the Forest, Beach, classic wooden board, and others.
You can also create online rooms, in which anyone can go and play with you. Snakes and Ladders Free is designed for companies up to 4 players, and you can invite your friends through your Google account.
It is also worth noting one interesting detail: when you throw dice in the game, everything looks quite realistic – both in terms of throw time and its results.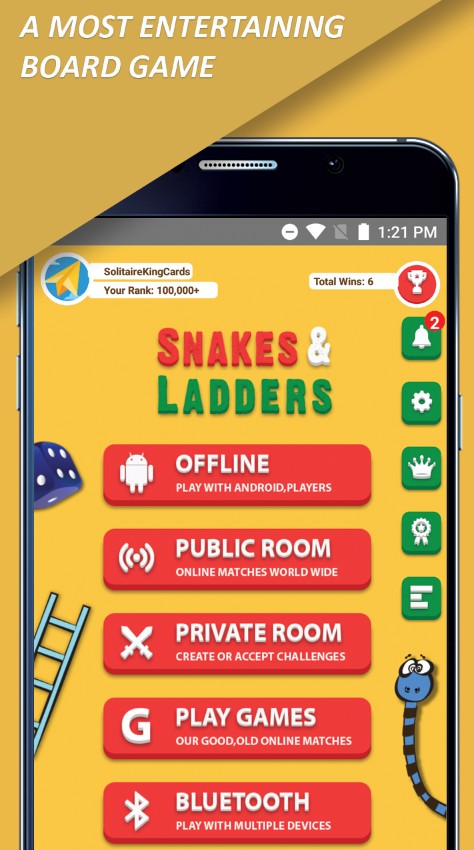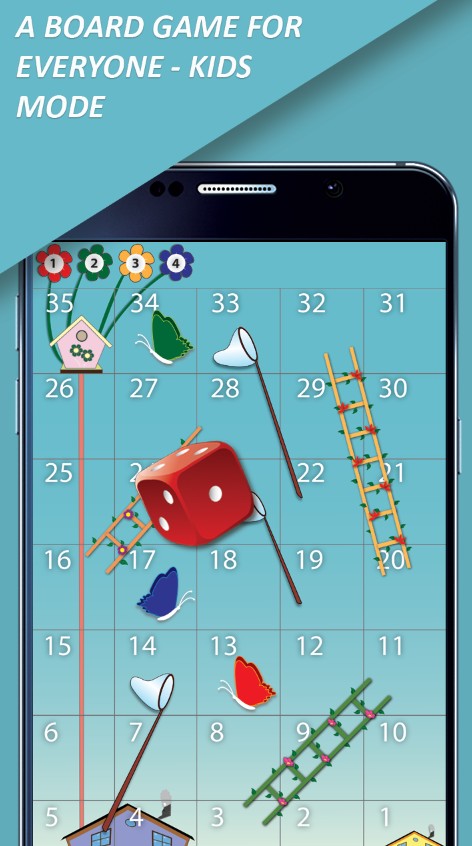 Snakes and Ladders by Hadiware
Snakes and Ladders is one of the most classic versions of the Indian game for smartphones. This is due to the fact that the playing field with which you will interact is as similar to a real board game.
You will also be able to customize and change it yourself, using the map directory in Snakes and Ladders. Among them you will find colored variants in different shades, wooden board and others – in any case, the style will be the same – these are numbered squares.
The game starts in the lower square, and each of the players tends to the top. You become a member of a simple racing game, where the fate of the player decides the luck and the playing cube.
You can play the game from 1 to 4 people – in the case of a single game, your smartphone will be your opponent. The developers offer you to configure this option in a separate tab – thanks to this, you can play together with your friends and artificial intelligence at the same time.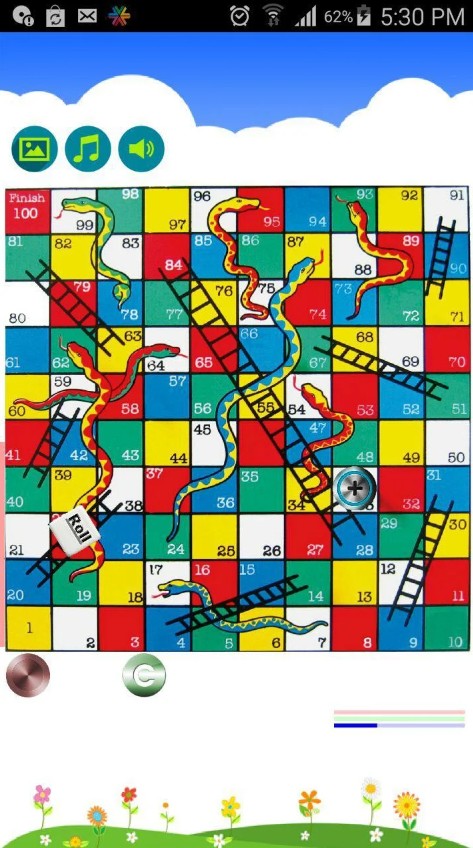 Snakes and Ladders 3D Multiplayer
Not only little children love this game. Even among adults, you can easily find those who do not mind playing Snakes and Ladders.
In Snakes and Ladders 3D application you will get everything you need to play with your friends, colleagues, or random people on the Internet. So if you really love old board games or just want to get acquainted with Snakes and Ladders, then feel free to install this application.
Here the developers embodied even arcade mode, where you will play on a 3D board with computer devices. You can also play in the standard version, quietly competing with other players.
Each of the players in Snakes and Ladders 3D can start with any number of cubes, but the main rule is to follow the turn of moves. Rely on your luck and test it in the game with your friends. Each one of you may happen to turn up at the very beginning while being close to winning a few moments ago.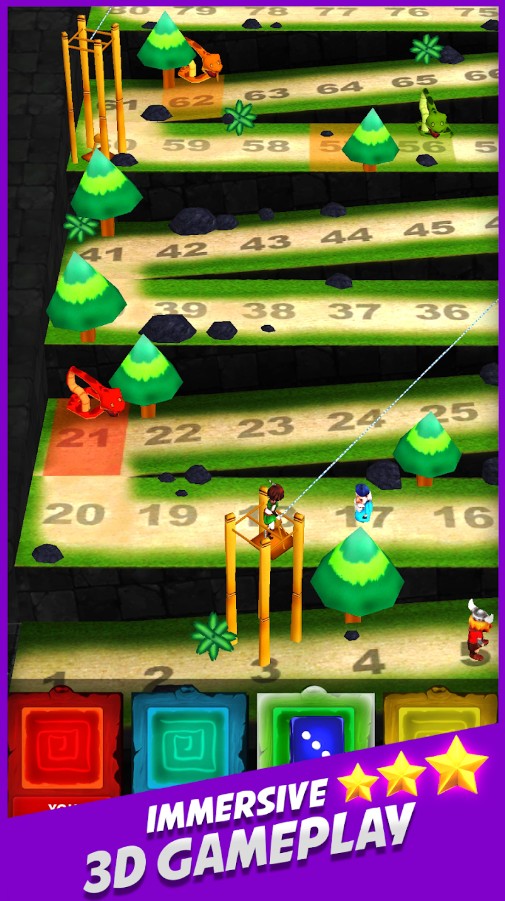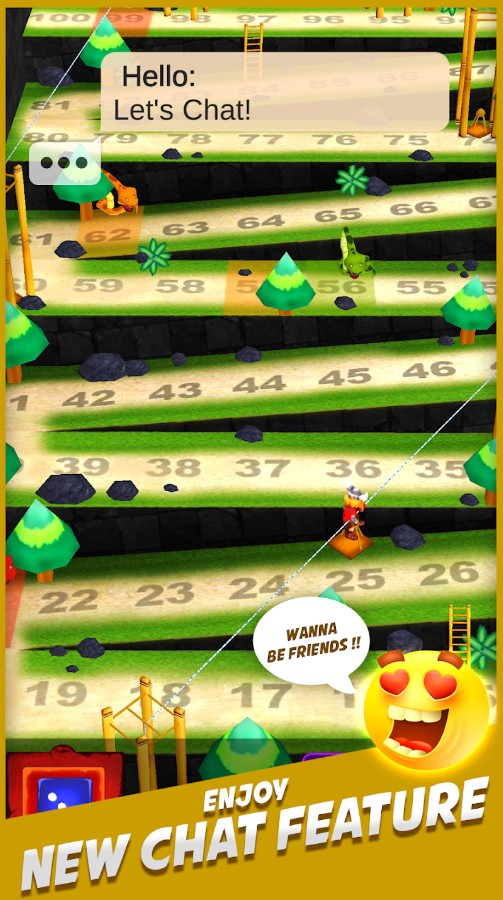 You may also like: 21 Best Multiplayer Strategy Games for Android
Snakes and Ladders – Play Snake and Ladder game
If you want to play something simple but fun, we can offer you Snakes and Ladders. This is another interpretation of a board game for smartphones that will fascinate you for a while.
This is not a simple clicker or game to kill time – here you rely on your luck and thanks to it you move to different parts of the map. Rules here are absolutely the same as in all other variants – you will pass from one square to another by means of either ladders or snakes.
The goal of your game is to reach the end – the square with the number 100. If you do it first, you become the winner. It will not be so easy, because Snakes and Ladders scatters stairs and snakes all over the map in a chaotic order.
So you can move to a completely unexpected area. It is also worth noting that the graphics in this application is quite good and will not cause you any inconvenience in the game.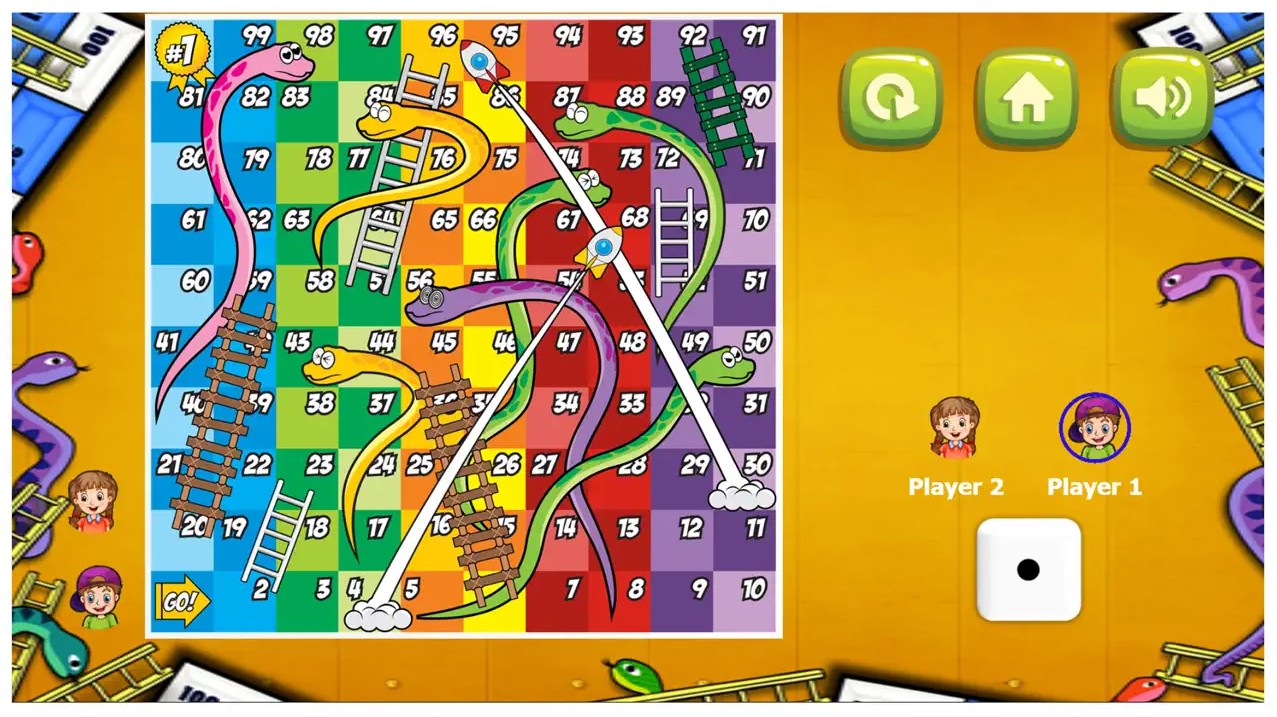 Snakes and Ladders – Ludo Game
You can spend a pleasant evening with friends, family, or children in the game Snakes and Ladders. Here you will roll the dice and move around the playing field, encountering either insidious snakes that throw you off the path or the stairs to the top.
The game is based on luck, so don't be upset if another participant wins. Especially Snakes and Ladders has gained popularity among children and teenagers who are not too keen to delve into the complex rules and tricks of board games.
Snakes and Ladders offers you to play with your computer, with friends on your local network, or with people around the world. You choose this option – but if you want to play with friends, they will also need to install the application on your smartphone.
By the way, you will choose this option on the home screen, right after you start Snakes and Ladders. As you could understand from the name, you are also offered to play in Ludo Game – its rules are also simple and clear.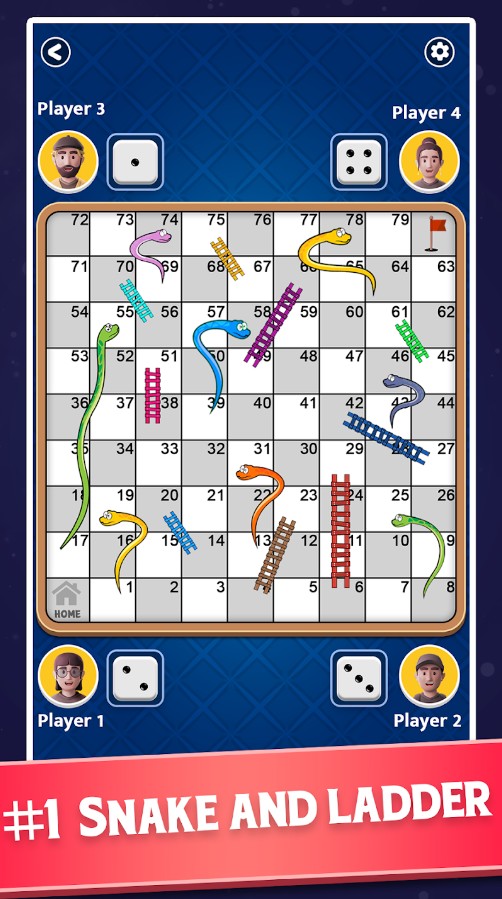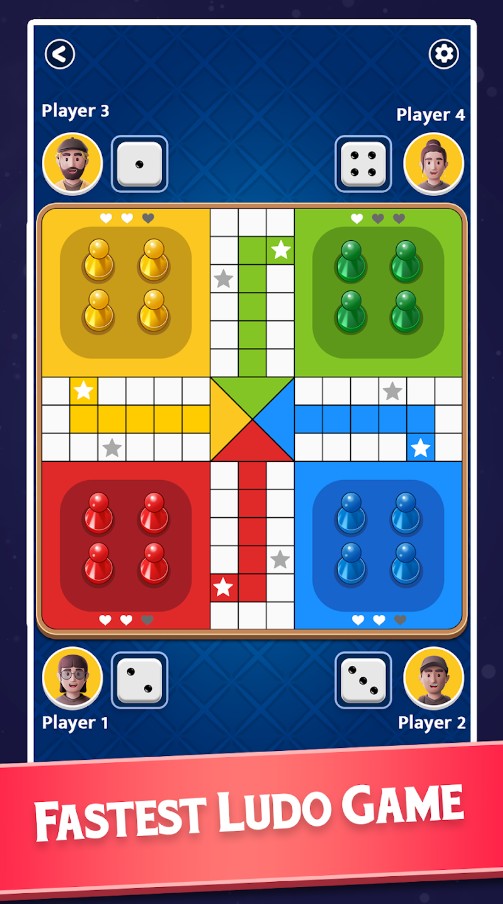 Snakes and Ladders Board Games by IDZ Digital Private Limited
Classic games can also be represented in unusual formats. A vivid example can be Snakes and Ladders Board Games, where the old game is presented as a new interface in 2D format.
You can enjoy the game in 2 different worlds while facing unique creatures. The game has turned from your childhood into a full-fledged game for smartphones, where you will go on a fascinating journey with snakes.
Snakes and Ladders Board Games is a simple competition on speed, where you will strive to reach the top first. Everything on the screen looks like a classic platformer, but in reality, it is not.
It is also worth noting that Snakes and Ladders Board Games has paid content, which you can not use – for example, users are offered to change the main theme of the playing field.
But you can also play for free on the default field! Otherwise, Snakes and Ladders Board Games is absolutely free and available even without an internet connection.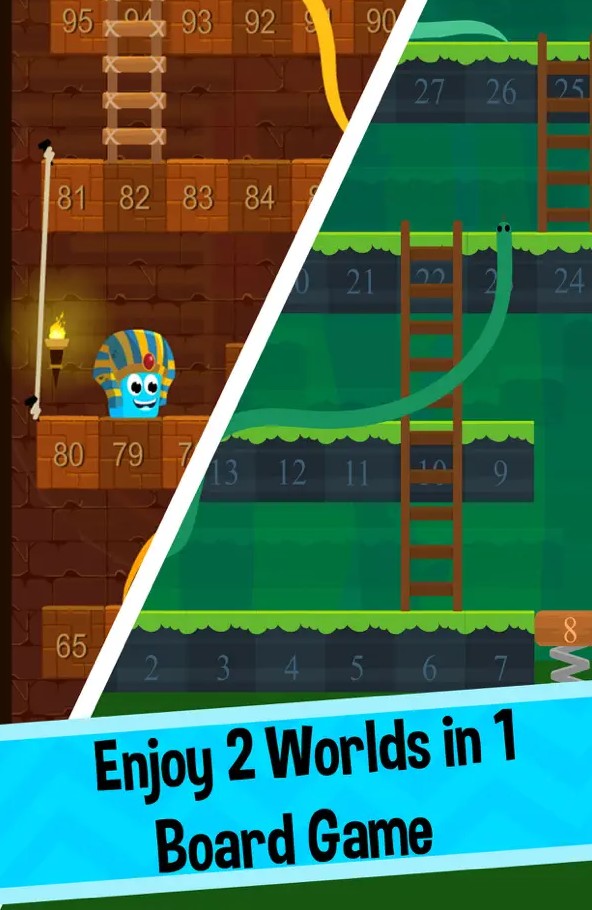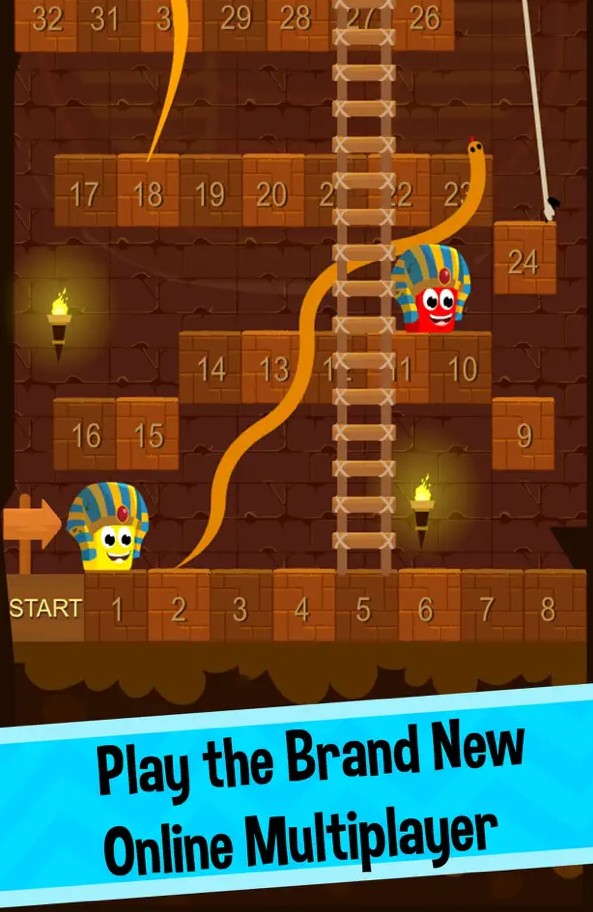 Snakes and Ladders King
Snakes and Ladders King is a modern take on the classic board game that has been enjoyed by generations. This app brings the game to life on your device, allowing you to experience the thrill of climbing ladders and avoiding snakes in a digital format.
You can select from various difficulty levels, making it suitable for players of all ages and skill levels. Whether you're a beginner or a seasoned pro, there's a level that's just right for you.
If you want to have some fun, it's possible to challenge your buddies to a game and see who can reach the top first. Also, you can enjoy a solo game whenever you want to pass the time or practice your strategy.
In general, Snakes and Ladders King is a decent app to play the old but awesome game.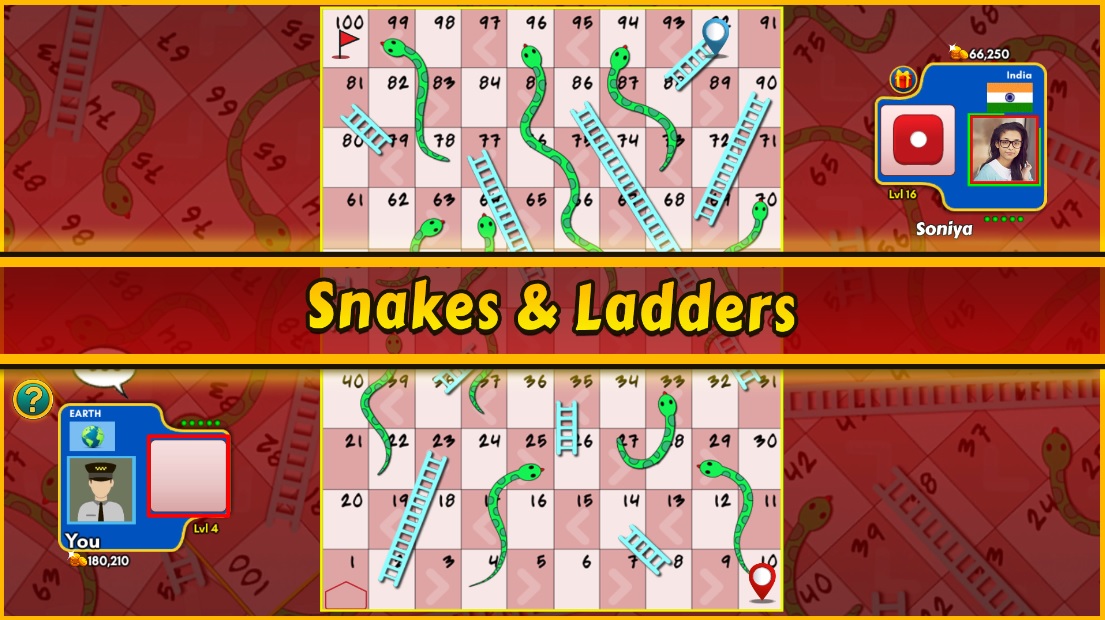 Snake and Ladder by Yarsa Games
Snake and Ladder is a game with an excellent user interface, where everything is presented in the clearest and simple way.
In the beginning, you will be offered to choose your opponent – you can fight with an automatic opponent, as well as with your friends online. Snake and Ladder also gives you a choice in the number of players – from 2 to 4. You can configure the game the way you want it to be at the moment.
You can play both together and on your own. In Snake and Ladder you will find a classic wooden map of the game, where the stairs and snakes are randomly placed.
If you do not know the basic rules of the game, then in the application you can use hints or look at the answers to the main questions – they provide all the information.
Also, the rules are described by the developers in the description of the game itself, so you will always find the answer in a difficult game situation.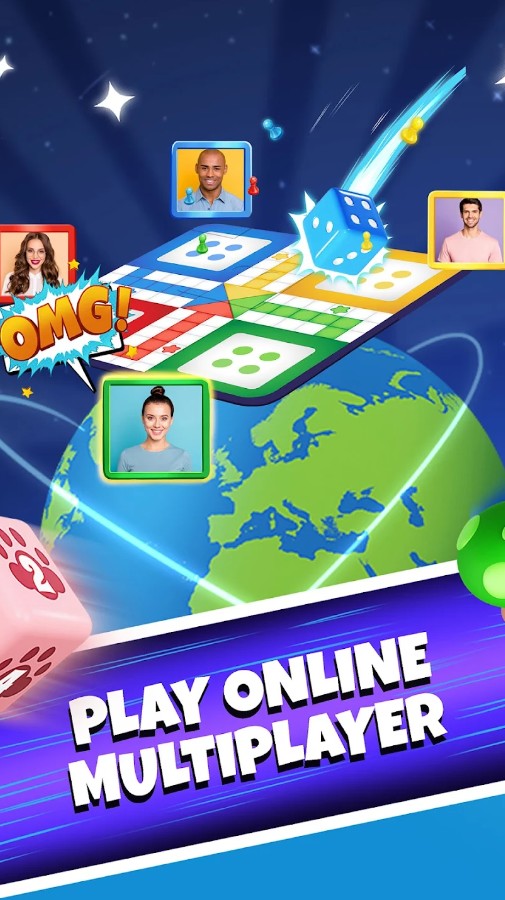 Snakes & Ladders: Online Dice!
Snakes & Ladders: Online Dice – a digital adaptation of the classic board game loved by millions. This app lets you enjoy the timeless thrill of Snakes and Ladders on your device, providing both nostalgia and entertainment.
The game offers the perfect solution for those who cherish the nostalgia of the board game but may not always have a physical board on hand. You can carry the game with you wherever you go, making it ideal for long trips, waiting rooms, or just some quick fun.
Moreover, you can challenge your friends or family members to a game no matter where they are. Alternatively, if you're looking for some solo entertainment, the app offers a single-player mode as well.
All in all, you will appreciate this game if you're reliving your childhood memories or introducing the game to a new generation.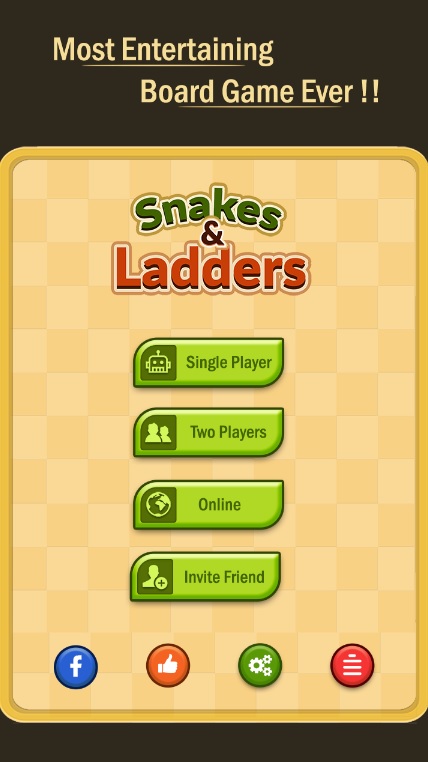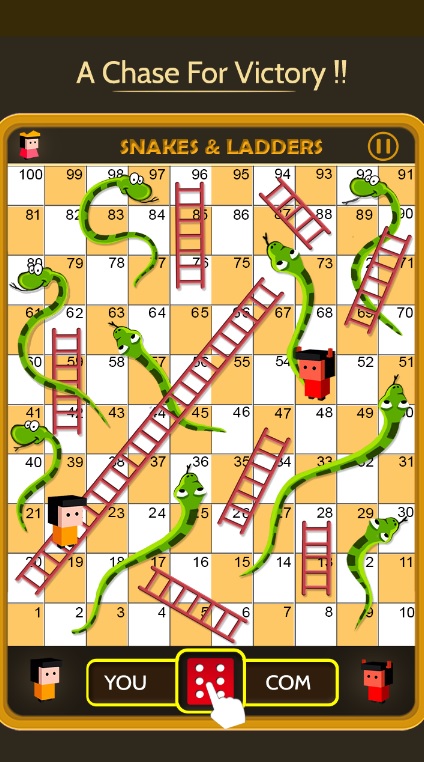 You may also like: 15 Best Sudoku Apps for Android & iOS
Snakes and Ladders in Aquarium FREE
A classic for all times – this is how they say about board games. Nowadays, almost all of them have moved to a more modern format – namely, computers and smartphones.
Snakes and Ladders in Aquarium is a digital version of the game, which has long been known throughout the world. The rules remain the same, changing only the format of the game and the interaction of players with the board.
Snakes and Ladders in Aquarium is very colorful, which may appeal to your children and other family members. In addition to snakes, here you will also meet other creatures – they can become your avatars in the game.
Snakes look very stupid and funny, so you should admit that Snakes and Ladders in Aquarium is a family game or a children's game.
The developers have also tried to overhaul the graphics – as all the actions take place underwater in the aquarium, and the animation will be appropriate. When you buy the full version, you will be able to access many different boards and other small details of the game interface.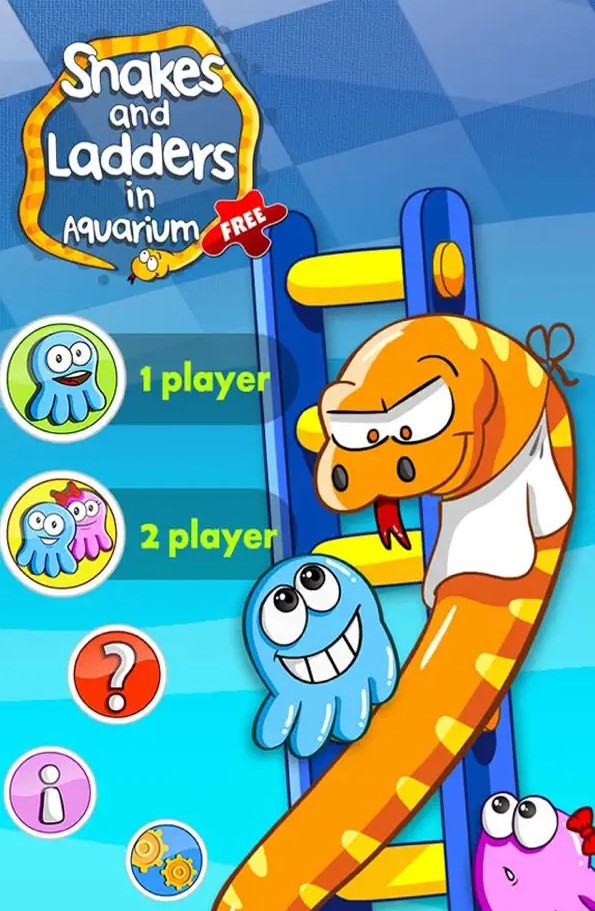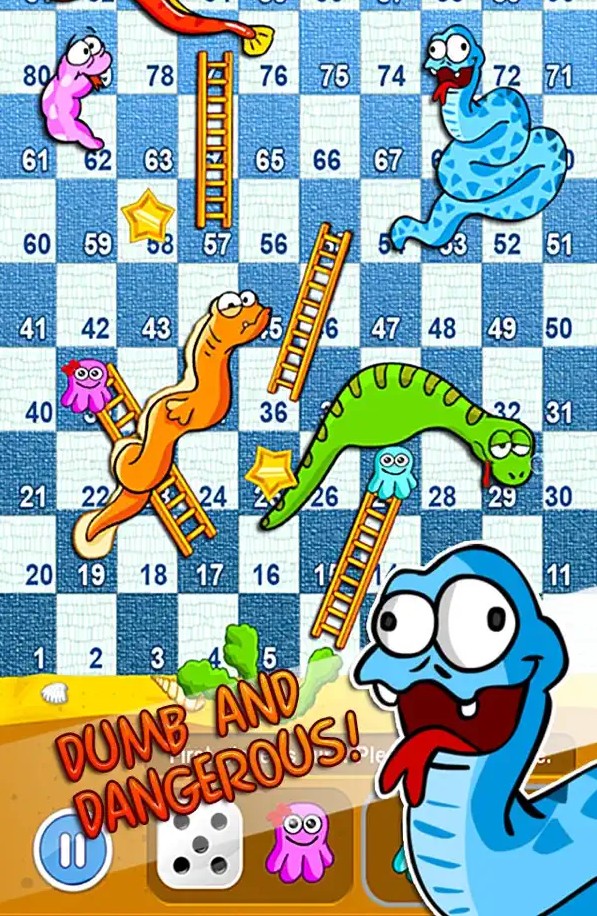 Of course, nowadays it is quite difficult to link Snakes and Ladders with a religion or religious values. Many gaming companies and board game lovers continue to produce and play Snakes and Ladders only because of the simple rules, beautiful board, and interesting game process.
You can spend the whole evening with your friends while playing – and with the help of applications, it will be possible to do even from a distance. In multiplayer versions of Snakes and Ladders, it is possible to gather the whole virtual companies, and in more standard and simple applications you are offered to play with the computer.
In any case, Snakes and Ladders will give you a pleasant time in the evening or on the road. We hope that we were able to help you in your search for the right game!