Do you want to try a multifunctional text editor? If your answer is "yes", we have to present to you the Notebooks app. This tool is full of magnificent features, so let's have a look!
First of all, we have to admit that Notebooks installs in a few seconds, as it is pretty lightweight.
For those who like to keep their life organized, there are great reminder apps, that will help you not to forget about any important task.
So, what tasks can we carry out in this tool?
Edit texts
Write articles, notes, scripts, or even books
Create formatted documents
Add images, tables, styles, etc.
Import files and documents
Scan documents and extract the text using OCR
Keep and organize files or tasks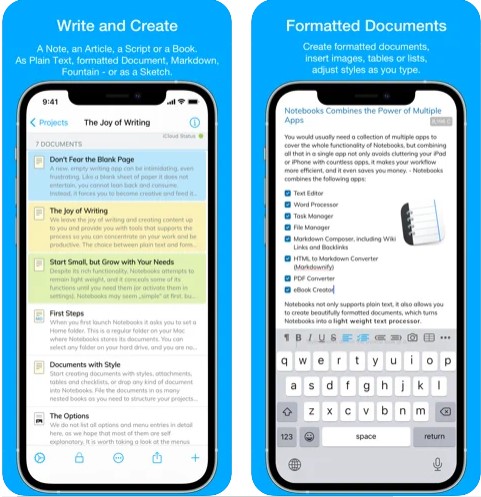 In addition to the aforesaid, Notebooks allows you to save all the types of files in one place without limits. Moreover, the app allows you to compile all the selected documents or the contents of the book in an eBook or PDF document.
By the way, you can import ALL documents regardless its type – PDF, email, MS Office, photos, videos, music, etc.
Despite a great number of functions, Notebooks boasts a user-friendly interface that is very simple to navigate. There is no need to be very tech-savvy to understand how this tool works. Besides, the app's version is constantly updated. No doubt, this is a great bonus!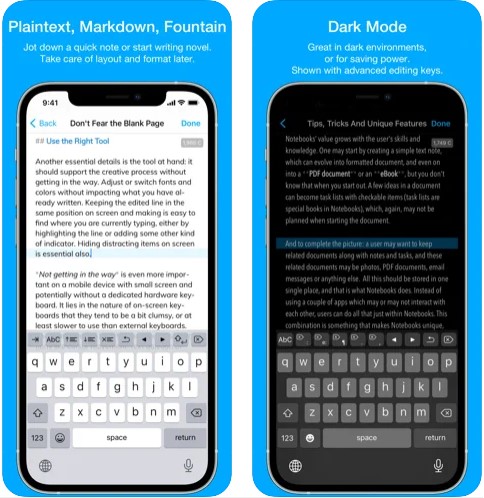 Another useful feature that many users will certainly like – the app supports sync between iPad, iPhone, Mac, and PC. Thus, you can use this tool on any electronic device you want!
As for other interesting options of this app, you can also add flowcharts, handle lists, highlight or center a line on the screen, and so many others!
All the users have positive impressions of this app. So, we believe it will fully suit you as well!
And if you want carefully plan all your events, you can also check these event planner apps – and you will be doing that in a convenient and fast way.
To sum up, we can surely say that Notebooks is a must-have tool for all writers and editors. We have not found any significant disadvantages there. So, hurry up to download it – you will not regret!