Do you want to try a new entertaining puzzle game? In this case, we have found an excellent solution for you – Paper Train: Railway Traffic app. So, let's get a glimpse at its features!
First of all, we would like to mention that Paper Train operates fast and stable. We have not faced any hangs while using this tool. This game is not very popular in the market, but we believe it is truly worth downloading!
The game consists of 300 levels with varying complexity. The major task of this game is to choose an appropriate moment to stop the train or speed it up to prevent crushing. Try yourself as a conductor and control railway traffic!
More train game apps can be found here.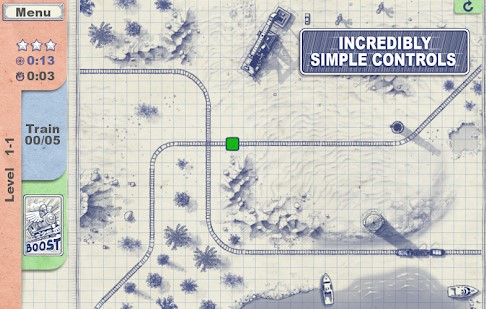 When you first open the app, you will find the following buttons:
Start Game
Instructions
More games
At the top of the screen, you can also adjust settings.
While playing, you will face a great range of magnificent locations. For example, you will have to pass through rocky canyons, parks, holiday resorts, and so many other interesting places!
By the way, after completing each level, you will receive various awards. Additionally, you can pause the game at any time you want and continue playing where you have stoped.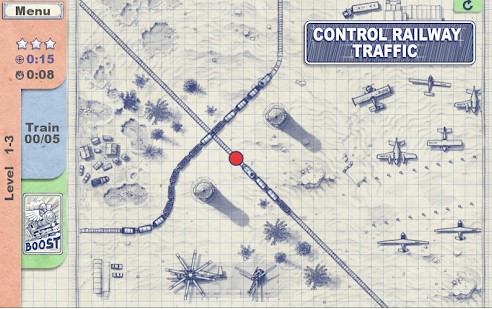 What is more, Paper Train app comes with online leaderboards. Thus, you can easily monitor the players' scores all over the world!
The next interesting feature that many users will certainly like – the developer constantly updates the app's version. This is certainly a great bonus out there!
We were pleasantly surprised by the app's hand-drawn design that makes its interface quite simple to manage. Plus, the control system is very convenient. That's why there is no need to be very tech-savvy to understand how to use it!
And if you like this paper game, maybe you will like digital board games? You can find the best of them here. 
Summarizing all the points mentioned above, Paper Train: Railway Traffic is very addictive. We have played it for days and still can get enough!