Saving homeless pets might not be a problem number one in the modern world but still, it is a problem. It's good that apps made the process of adoption from shelters easier and faster. Now you don't even have to leave your house to adopt a pet (even of a certain breed!), you just chose a new friend you would like to get in the app.
The same applies for those who always wanted to help animals in crisis but never had any useful information about the shelter or simply had no time because of work.
You may also like: Pets Adoption: Adopt Dog, Cat or Post for Adoption app review
Now all the excuses are not applicable anymore since you have access 24\7 to animal shelters. With pleasure, they would cooperate with anyone willing to help or get a pet. All you need to do is to find a pet on which your heart responds to!
WeRescue – Adopt a Pet
You can find a lot of variants for pet adoption in this app. Any kind of a furry friend that you would like to adopt – includes rescue dogs, cats, barnyard animals, birds, horses, rabbits, reptiles, and small and furry pets!
Technology copes with the goodwill here and you got more than 70 filters to apply and to find a pet you are looking for. Moreover, by adopting an animal via this app you get a unique opportunity to get a special breed of a dog – for example, Labradoodle, Goldendoodle, or Doxiepoo.
All you have to do is to type the breed you would like to find in the search bar. Filter out everything you aren't looking to find the better variant. On each pet that you will find there are a lot of details in this app. More than any other app on the market can suggest. And of course, you will find amazing pictures which are convenient to view.
It connects rescued pets all over the US and Canada. The app shows you the results based on location and the are you are currently at. Enter zip codes for different areas and even save multiple searches to go back and forth easily. By its searching bar, you can specify gender, age, size, breed, and so many more.
Share about a pet looking for a home via social network – SMS text, Pinterest, Facebook, Twitter, Whatsapp and many more. Even if you are not looking for a new friend – maybe some of your friends do. All the info about pets is constantly being updated. The app uses innovative tools to save animals' lives.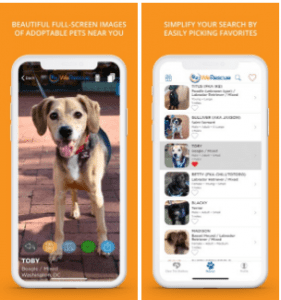 You may also like: 15 Free apps for pet lovers (Android & iOS)
Animal Shelters USA
Here you got a chance to examine a number of US animal shelters in order to find a perfect friend. The app includes such shelters, as Animal Sheltering, Scituate Animal Shelter, Evanston Animal Shelter, TCRAS Colorado, Metro Detroit Animal. There many of them post pictures of pets they currently have.
What is more, you can donate to a certain shelter if you want. There a separate option for it. In the USA animal sheltering online is provided through the help of The Humane Society of the United States. You can share the info about the app via social networks so more people could see it.
With mutual effort as many pets as possible could be required. If you want to find out about a certain pet – there is an option to contact the certain shelter.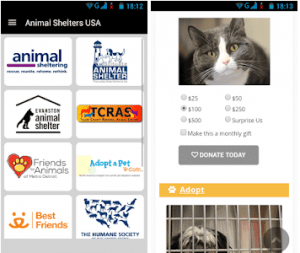 Miwuki Pet Shelter
As you have already understood from the name of the app, this is an app of the animal shelter where you can find yourself a new furry friend. This is one of the best apps in this category because all the information about animals is well structured and presented in a very coherent way.
You can view the profile literally of each animal that the shelter has. You will be able to see the name of a pet, the age, and their story. The whole procedure of adoption is very serious and includes multiple steps. The owners of the shelter want to be sure that they give away a pet to the right person.
You will need to fill out the questionary form first and then the app will recommend you the best-matching pet based on your answers. Miwuki is an international network of shelters and you can find them basically in any country.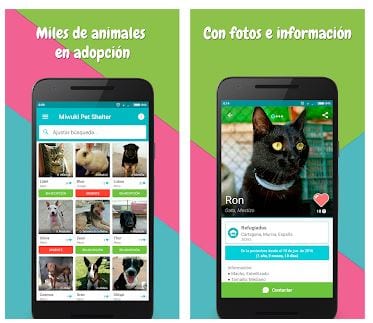 Pet Adopter – Adopt pets direct from people nearby
One of the most popular pet adopters on the market, Pet Adopter will help you to find a special pet. This app allows peer-to-peer adoption rather than adoption from the animal shelter.
If you are putting up a pet for adoption, find the next owner for your pet directly rather than giving your pet to an animal shelter. Sometimes it is just safer to connect directly with the previous owner of a pet in order to save it from possible death.
Besides, animal shelters are frequently full and cannot accepts more pets. In this case, a pet can be put down or euthanized. This app reduces the strain on shelters and reduces costs for pet owners and adopters.
It is beneficial for the previous owners as well. There are different situations in life when you have to stay away from your pet, for example, if you are moving to another country or your child suddenly got allergic.
People can post photos of pets that they got and fill in their profiles. The fuller the profile, the higher the chance to find a new owner. You will be surprised at how many cute animals are being given away.
It happens sometimes that you are walking on the street and find a crying animal in a poor condition. However, you can't adopt it, but you don't want to leave it like that either. Then this app would be a good compromise for you – to help this creature to find a new home. Everyone benefits!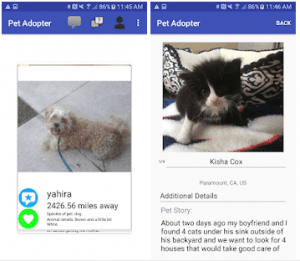 Pets Adoption: Adopt Dog and Cat
We all got a stereotype that if you want to have a certain breed of a dog you will have to buy it for lots of money. Well, maybe it would take place in the past but did you actually know that nowadays there is a countless number of homeless dogs of diverse breeds which were abandoned?
This app will help you to get one. It includes various breeds of dogs that you can get right from the previous owners or from shelters. In the description tab, you will find all the necessary information to contact the owner. Usually, you will find the address or phone number.
The app also shows the place where the dog or cat is located so you would have a clue how long the road will take you and then how much time a pet will have to spend in the car.
As the main option, you will be able to choose a dog's breed, age, size, and gender. Each pet has a detailed description, so you would know in advance if it requires special treatment or not (because many types of dogs od different breeds, for example, require special medical care. Same works for cats).
In addition, you can bookmark the dogs you liked and share their pages via Facebook, email, WhatsUp, and other social media. By the way, adopting cats is the new option here but it will become more developed in the future for sure.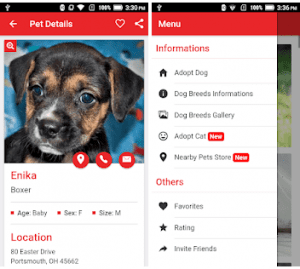 PetView360
Do you remember the movie 102 dalmatians where the main characters had to take phone calls in the shelter to give away a dog? Well, 10 years ago this might have been an effective way to get info, but now the world has totally changed and everything, even adopting a pet, is done through the screen of a smartphone.
Adopters present a completely new adoption process where you can find a new friend in one click. By using this app, you will be able to adopt the prettiest pets and dogs in the nearest shelter. The app unites the network of animal shelters all across the US.
What you need to do in order to find a new friend is to switch on your GPS location and then the app will start showing you the pets for adoption that you can find in your city (or at least in your state). You are choosing an animal by swiping through the cards.
But if you want, you can make up settings in the way that you will also be able to see the pets on the other side of the country (if you have a possibility to take them from there why not?).
The extensive list of options allows you to find a very specific pet, the one you have been dreaming about. Of course, remember that pets are not toys, so also be prepared to take care after your new family member.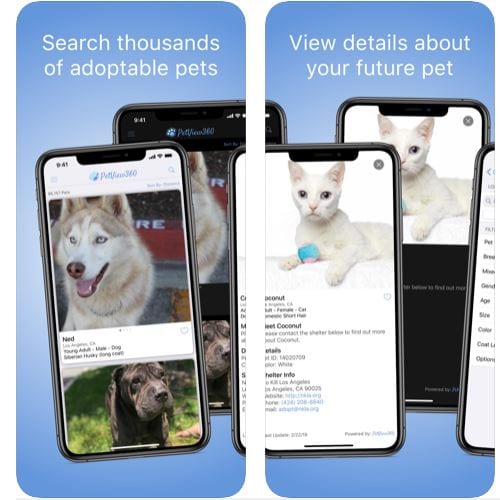 Appets – Adopt a pet
Almost all people love animals, but, unfortunately, not all of us understand the level of responsibility that comes along with getting a pet. The first weeks of excitement and fun can change into a challenge afterward. And not everyone expects this, therefore, they decide to solve a problem quickly.
However, there are people who are eager to help these poor creatures and with this app is a great help for them and for those who want to adopt a pet.
Everything here is made for you to be comfortable looking for pets. Apply filters for better search results to find the pet that best suits your needs or requirements and find pets in adoption near you.
In case you have pets to give for adoption (for example, your cat recently gave birth to kittens) you can create a post here. Or, if you are a representative of a shelter, you can also make a post here and make the claim about your organization.
If you found a lost pet on the street you don't need to walk around sticking the papers – just text in the app about it. Moreover, it is not a secret that many animals found on the street, especially, if they were homeless from the beginning, require medical help. In the app, you will find contacts of vets and other specialists who can help you with that.
It is essential to mention that here the interface of an app is really well-designed. All the bars, buttons, and graphics are nicely placed and don't look messy as in the case with some other apps. The information is easy to real and the whole system seems easy to be manipulated.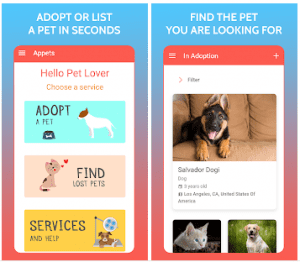 You may also like: 7 Best Pet Camera Apps for Android & iOS
Simply Adopt
Honestly, the first thing why this app would catch your eye could be its adorable logo. But that's what you do when you want to draw attention to your creation.
Being an app of goodwill is honorable, but no one should forget that, first of all, they present their apps to the wide market and everyone needs to stand out in order not to dissimilate in this ocean of brands.
However, comparing the interface of this app with previous ones, it would be, probably, the weakest. Yes, there are no ads, but it is probably why the developers had to cut the budgeting. On the other hand, if you came for a pet adoption you don't need many tools to make a choice.
You still have the basic information – you can scroll through the pictures of pets, and if you like some of them – just scroll down to see the profile of it.
There are several shelters represented in the app. If you are looking through the list and you notice a pet that you like, just press the heart button to save it. If you want to get a pet, then message the shelter via the app and wait for their reply. Then, discuss the details about the pet, care, and the place where you need to go to get it.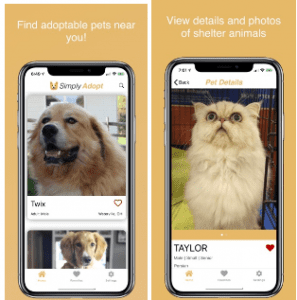 Pets Adoption
Now everyone can participate in helping homeless pets. It is literally super easy – just a few clicks. In this particular app, it is extremely convenient to look for an animal using the map tags.
Thus, you can view homeless pets not only in your country but all over the world. By the way, there are stories when pets, given to the vet clinic to be euthanized, but volunteers were spreading information about them and these pets ended up no dying but moving to another country to new owners!
A great variety of pets are represented in this app. You can adopt a dog, cat, bird, a rabbit – anything. In case you feel like your home is missing something or someone – you can take a pet from the shelter!
It is very convenient that the app shows you the variants which are the closest to your location. Just choose a pet and then connect a person who's currently housing it.
You can save a poor animal from the streets or your dog had puppies – just use this app to give them away to a good home. Don't forget to create a nice profile with a cute picture of a pet, filling all the essential information. For sure there are lots of users around who are looking for a furry friend and they will immediately get in touch with you.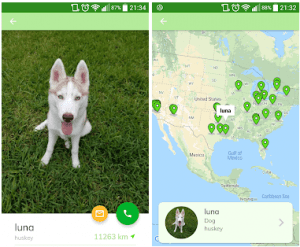 Petfinder Mobile
Honestly, it is unlikely that many people expect that Nestlé company also develops the software for animal rescue. And, we have to say, they do it quite decently.
Their database count more than 370 thousand animals from 14000 adoption groups. You can share the pages of the pets you found via Facebook, WhatsUp, Instagram, Twitter, or email.
You can flag your favorite pets for future review. Another part that is also interesting to know is adoption stories. There are a lot of them in this app and you can share your story as well.
Check out if there are any pets available for adoption in your area or explore it nationwide. Use filters for more precise results – what breed you are looking for? Age? Gender? Size? Swipe and select pet photos to view in more detail.
The owners of the pets try to publish as much information about them as possible in order to help you to find a better match. Here you can also add comments under the pets' profiles.
When you have chosen a pet you want to adopt, you will receive contacts of an owner or a shelter where the pet is currently at. Call them and get directions.
Search for shelters and rescue groups near you and see each group's adoptable pets and learn more about your next pet with our dog and cat breed guides – it is a significantly convenient function that the app has. The adaption stories you will find at the Happy Tell section.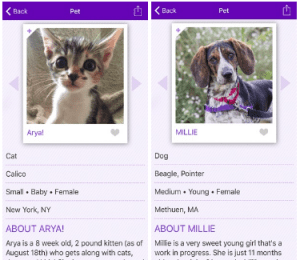 You may also like: 9 Best Animal Breeding Apps for Android & iOS
Let's Adopt
Homeless pets are still a great problem for many countries, including the USA  where the shelters are often overfilled with rescued pets.
Cooperation and mutual efforts in this question are crucial and only this way we could make the welfare of the pets better than it is now. Just imagine how many lives could be saved if everyone would contribute something from them.
This app is aimed to help the animals in extreme living conditions. Be ready that this app is not for the sensitive people since sometimes you may find the truly cruel stories of the animals and their terrible pictures. Here you can not only adopt a pet but also donate the money to help the poor pet.
What is more, you can not only view the pictures of the animals but watch the videos of them. But usually, those videos just display the daily life of those poor pets in this shelter. The app was initially developed in Mexico, but then it soaked to the American market and now you can also find pets who need help on the US territory.
The app is only developing now, but it is already quite popular. What is more, you can make your small contribution to make the pets' life better if not by taking a pet to your home, but for donating your money.