It is obvious that we want the best for our children, especially when it comes to education. Most of the parents are ready to spend long hours teaching their kids to read, play musical instruments, or speaking a foreign language.
Loving parents don't try to save money when it comes to their kids' comfort and joy. They will pay to get to the best school in the area they live, or the best kindergarten. Still, sometimes you might feel a bit tired and need some rest. In this case, you should turn to the best phonics apps.
Fortunately, we have a list of great phonics apps. Most of them are free of charge and available for Android, as well as iOS.
You may also like: 11 Free Alphabet Apps for Kids (Android & iOS)
Wonster Words
Do you want your kid to learn the alphabet as soon as possible? You want to get him/her an educative app but don't want the process would be too boring? You should definitely check out the Wonster Words app – the coolest animation here combines with the well-explained materials and teaching methods.
The app allows the kids to learn the spelling of a word, the right pronunciation, new groups of words, get familiar with the grammar rules, and many more. In other words, you can give the learning of the language to Wonster Words. By the way, if English is not the first language, this app will also be an excellent tool for your kid to learn it.
There is a lot of mini-games that kids can enjoy playing while learning. Let your child explore and put all the puzzles together – you will see how the process will seem effortless to them! Plus, Wonster Words is also a great tool to get prepared for school. The background music and soundtracks are amazing as well. Highly recommended!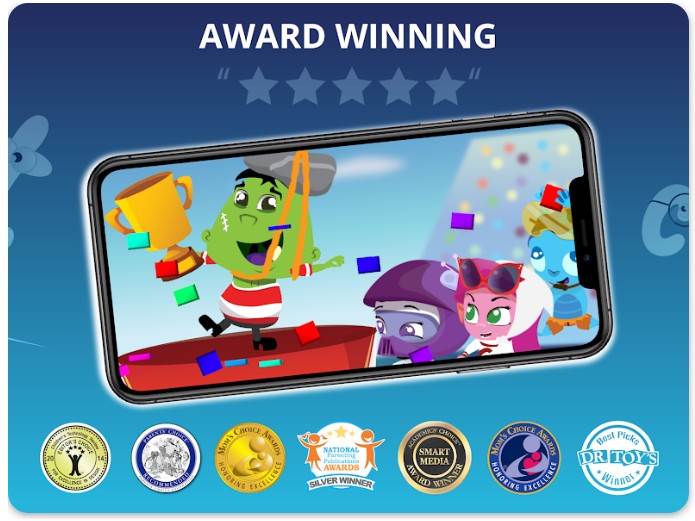 You may also like:12 Best letter tracing apps for Android & iOS
Reading eggs – Learn to read
If your child struggles to read, there is no need to worry – with reading eggs the progress will occur very soon. The main feature of the app is that it is not boring. It keeps the educational process interesting.
The interface of Reading eggs is very simple, which makes it a perfect tool for teaching every child, regardless of his abilities and talents. You can be sure that this app will be good for any kid (even the one who doesn't seem motivated).
What is more, this app has different levels or modes. You choose the one, according to the age of your kid:
Junior (2-4 years). It is based on the most basic pre0reading skills. It's perfect for a child who has just started its reading journey.
Reading Eggs (3-7 years). It is aimed at making the first steps of learning to read.
Reading Eggspress (7-13). This mode is created for kids who want to improve their reading skills.
If you are a teacher, this app will also come in handy for you due to a huge number of printable worksheets that can be used in class.
This app is available in App Store, as well as Google Play for free.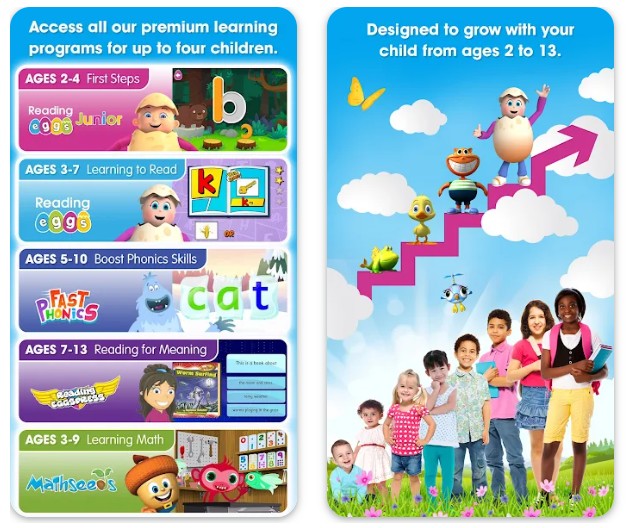 Read with Phonics
This is a game that helps to practice reading skills. Created for 3+ aged children, it is not a typical educational app with rules and tasks, but an amazing game that also entertains.
There are more than 1200 various images and songs that are supposed to make the educational process simple and joyful.
Read with phonics was created by professional teachers with a huge experience in working with children. They use the most effective educational tools to reach the result fast.
The instructions of the game are very simple, so you don't have to help your kid, he will play without any assistance giving you the precious time to work or to have a rest after a hard day.
Great educational games (there are more than 100 inside the app) are supported by nice music and colorful graphics and animations.
By the way, this app is the most reliable. For example, it is rated 5.0 out of 5 in the App Store. And another nice feature of this app is that you will never see any single add popping out of nowhere, even though the app is free of charge.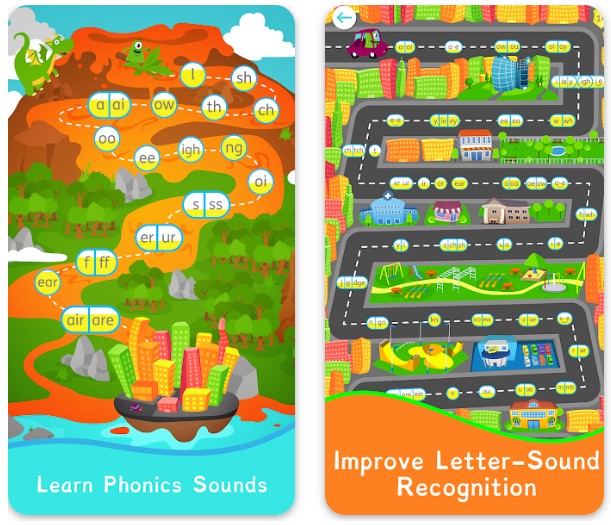 You may also like: 11 Best reading apps for kids (Android & iOS)
Endless Alphabet
This is one of the best apps in this category. In 2013 in received "App of the year" award, which tells a lot about the quality of the app. It is also one of the Editor's Choice in App Store.
The first feature is the cartoon-like graphics. This detail is a key factor to the app's success. The games that can be explored by a child are just like cartoons or comics so that he or she is learning and having fun at the same time.
One of the most original details of Endless Alphabet are 3D letters. This function is available on the iPad and iPhone 6 or later. When you touch a letter of a word, it reacts, turning around. You can zoom and move the letters.
The app is free. Still, there are some adds that keep it free. You can always remove them if they get too irritating.
You can discover some additional games if you run out of the basic ones. You can find them in the in-app purchases.
Endless Alphabet is rated 4.6 out 5 in App Store and 4.5 in Google Play. The app gets mostly positive feedback in the comment section.
Endless Alphabet is available in App Store, as well as in Google Play.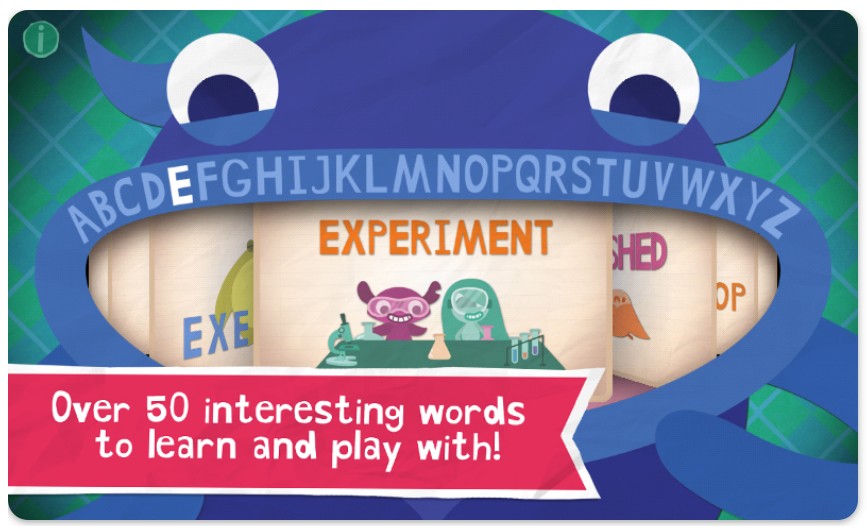 Teach your Monster to Read
You might think that the name of the app is sarcastic, referring to your child as a monster. However, it is not true, even though every parent can come across this idea, especially in stressful situations.
The real idea of this game is that your child will have to try the teacher's role and help a monster to improve his reading. Even though it sounds strange, such a method proves to be very effective and funny.
Another well-done aspect of the game is its graphics, which is supported by music that makes the process of education easy and less stressful for a child.
The app analyzes your kid's success to come up with the right difficulty of the tasks.
This is the only app in this list that is not free. It costs 2.99$. Still, it is worth buying because of the variety of functions and almost limitless tasks.
Teach your Monster can be downloaded from Google Play and App Store.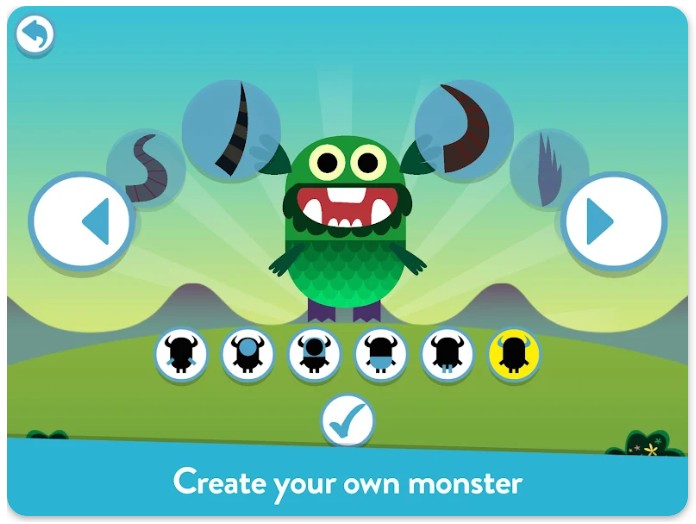 ABC Phonics
Another nice phonics app. It has no special features that would make it different from the other app, mentioned in the list. Still, the games that are available there are the most interactive and interesting.
Not only do they develop reading skills (which is their primary function), but they also teach children to rhyme and react fast.
This app is best for the kids aged 5-8. We wouldn't recommend ABC Phonics to very little children, as it is highly likely to be too complicated and advanced for them, which will be a source of demotivation.
ABC Phonics is free of charge, but in this case, you have to put up with various adds. The number of functions that are available for free is strictly limited. However, you can always try in-app purchases.
Unfortunately, only Android users can enjoy ABC Phonics.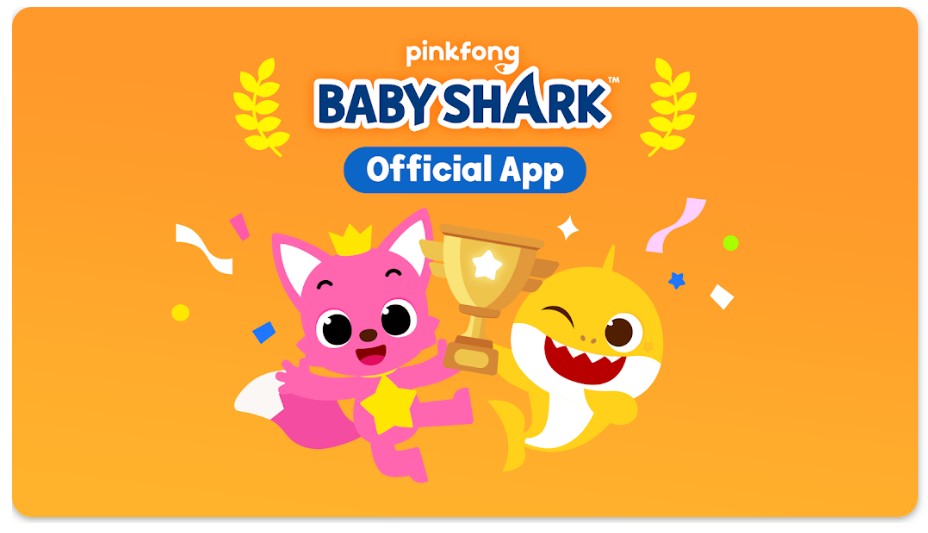 You can also check: 12 Best sight words apps for Android & iOS
Baby Joy Joy ABC Game
If you need to find a funny, interesting, and easy educational app, Baby Joy Joy is a must. This app was created for the kids, who want to learn how to read fast. It is recommended for the children aged 3-5.
Baby Joy has a special set of tasks that can help a kid to prepare for a kindergarten. That's a great option for parents who can not spend enough time teaching their children to read.
The first step of learning is recognizing the letters. Baby Joy has a big number of interesting tasks aimed at reaching this purpose. Then comes the second and most important step – reading parts of the words and then putting it together to create a word.
All of these steps are easy-to-learn because the app analyzes the way your child performs the tasks.
Baby Joy Joy ABC Game is available in Google Play Market for free.