Are you searching for an app where you can present your photographs and join contests? Do you want to have an assessment and feedback on your photos? Probably you want to win the prize or become popular as a professional photographer.
By the way, if you also want to make some money on your talent, I offer you to check out the best apps to sell photos online for the money.
We have collected a few apps that offer different photo contests that any user can join for free. These apps are available for Android and iOS devices. Have a look at the short descriptions below and find the one that will suit your needs.
GuruShots
Guru Shot is one of the most popular and highly ranked apps for those who are fond of photography. Join a big community of photo artists like you and participate in competitions and exhibitions. Fortunately, the app is available for both Android and iOS platforms, weights very few, and absolutely free.
This app offers a lot of features that make people all over the world get attracted to it. Besides many photographers commented on a big number of very inspiring and affirmative review on their photographs that affects their creativity and progress. This way you can constantly try out new ideas that come from people or your own head and improve your skills in photography.
Main features you can find useful:
Participating in a Daily themes photo contests competitions. Being voted by a huge number of users, you can grow your rank up from a Newbie to Guru in such a daily contest. Moreover, it doesn't matter either you use a Digital single-lens professional camera or camera on your mobile phone.

Participating in competitions gives a chance to win worthing prizes. As long as the app has in in-app purchases you have a chance to get them for free by winning contests. There also photography gears provided.

Another very interesting moment in such competitions is a chance to participate in international exhibitions and become worldwide recognizable worldwide.
The app has been downloaded over 1 million times and constantly extends its community. You won't ever get bored or feel lonely here. Show off your masterpieces in daily contests.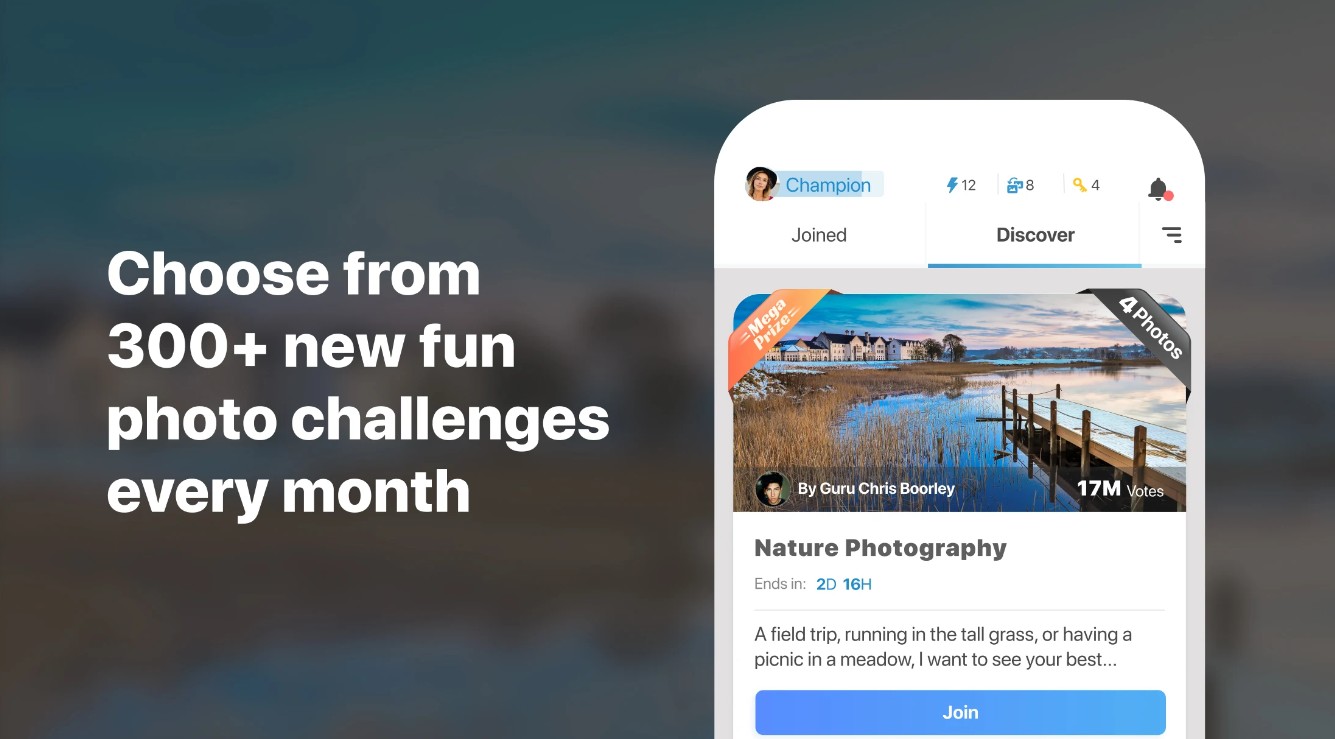 You may also like: 11 Best Panoramic Camera Apps for Android & iOS
ViewBug
If you don't just want to share photographs that you`ve made but also to participate in contests and get some popularity the View Bug app is a good platform to perform all mentioned. Here you can post your photos, get comments, and be inspired with other creatives.
A good photographer is an artist that always has to enhance his or her skills, get inspired, and be up-to-date with recent trends in the world of photography. Its also crucial to participate in contests, evaluations, and exhibitions. All that is available in the ViewBug app with the addition of extra tools helpful for creators.
There are around 20 different contests held in the app where photographers can take participate. You can showcase your art, get awarded, and discovered.
Who knows maybe you can become famous with the help of the ViewBUg community. Each contest has its own theme, for example, love, weather, faces. The winner can have a good and valuable prize.
Furthermore, the app offers a vast amount of tips for photographers to load them with new knowledge helping in the development.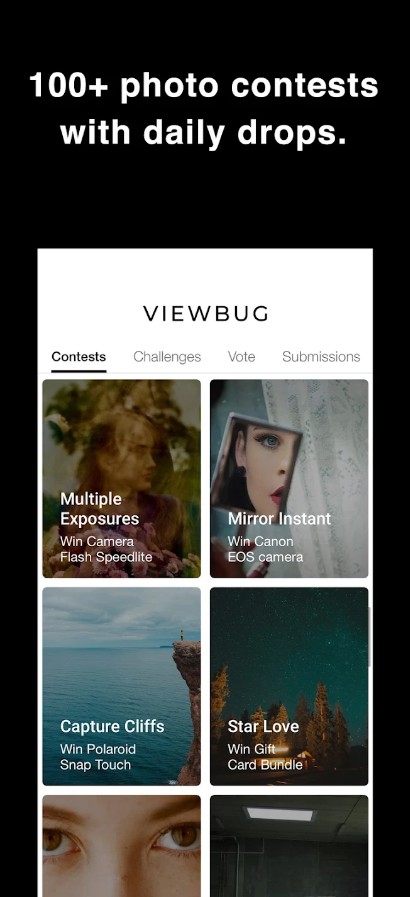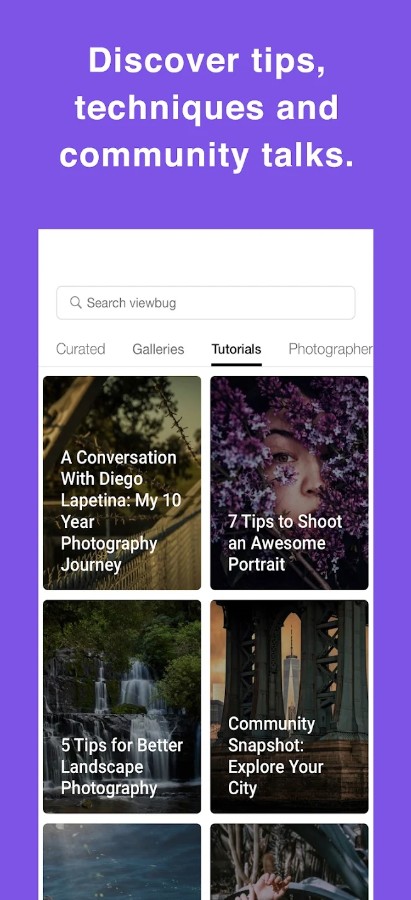 ClickChack
ClickChak is yet another nice application that gives prizes away, holds competitions, and gathers professional photographers on its platform. It's available for iOS and Android and won't cost you anything for downloading.
The appealing app has a numerous number of great images uploaded by photographers all over the world. Join this app`s community, if you want to get inspiration and discover how others see the world through the lenses of their cams.
Upload your photos as well and get followers who will like you an give you even more inspiration and desire to continue your hobby. You also can encourage others by liking their masterpieces.
One of the important features of this app is the chance to participate in a contest-winning it can bring you a nice prize and popularity. You can become popular through this app. The app won't let to upload artificial photos created on a computer. It accepts only real photographs made by the camera.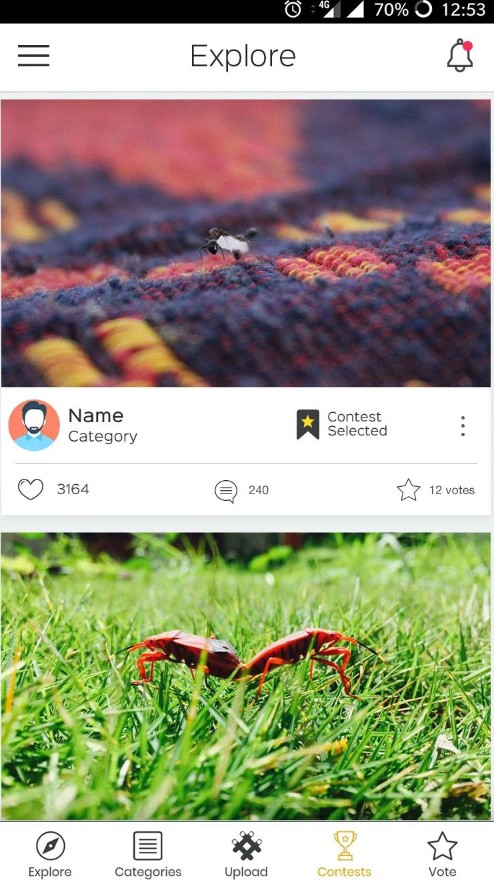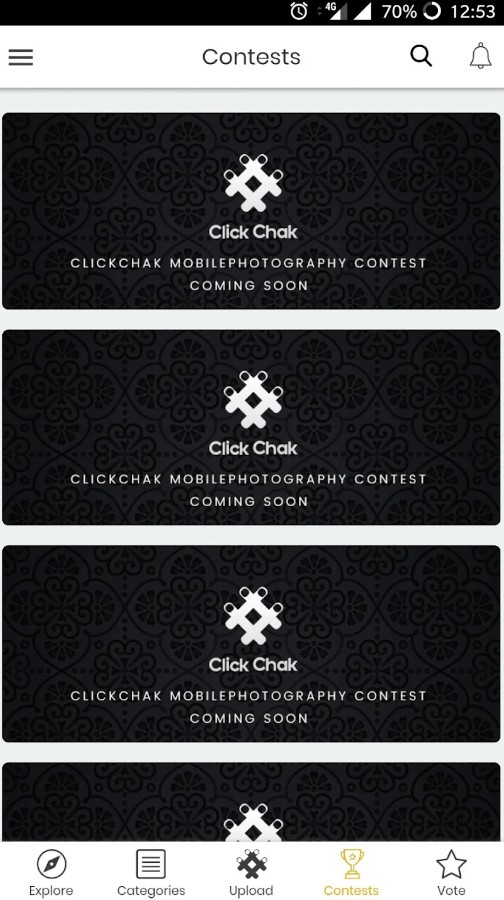 Check also: 11 Best apps to create vintage videos on Android & iOS
C41 Photo Competition
C41 Photo Competition is another app that revolves around photography. The point is to submit your own photos, compare them to others' submissions, and judge the others – while they can judge you in turn.
Popularity-wise, the app may not be the top pick for photography e­nthusiasts. When it comes to reliability and stability, the user experience can be a bit inconsistent, with occasional glitches. As for the interface­, it's pretty basic at best although well-organize­d, allowing users to upload their photos and browse through other people's work without thinking too much.
The platform is not particularly focused on social inte­raction. While you can engage with oth
er users by voting on photos and leaving comments, it lacks traditional chat or messaging features.
Talking about perks, this contest app offers some cash prizes that you can win – both by submitting your own photos and by leaving comments on the others' work.
Also, there are ads – and to get rid of them, you may consider paying for premium features.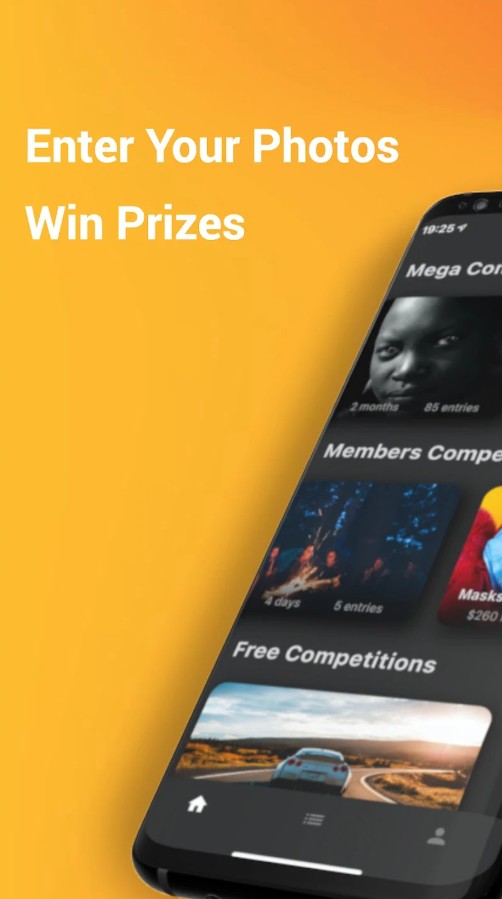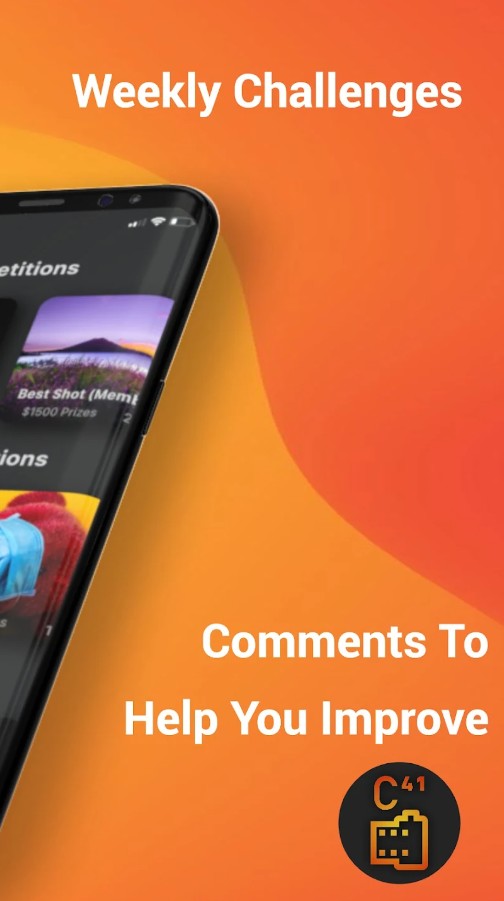 AGORA
Agora app presents the biggest photo contests all over the world with thousands of users who can estimate your art. The app has been downloaded more than 1 million times and gained a high rate with thousands of reviews left on Google Market.
Thousands of professional photographers hang out there, participating in contests, growing their popularity and developing inspired by other professional artists` works. Most important point is that all photos are protected with watermark so they can be misused by someone else.
What can you perform through the app:
Upload photos made by you at any time after free registration:

Get votes from other users for great pictures and get followers. This way you can increase your popularity here in the app. Votes are presented in stars that you can collect growing you level up in the app.

Participate in different contest producing your photos. Thereby you can win prizes. Lots of photographers like to participate in competitions as big money is to be given for a winner. Compete with others by presenting your best photos.

Discover the most amazing and incomparable pictures that were upload by most of the great photographers.
All that you need is a camera and a vision to photoshoot the best photos and participate in the contests. The app is available for Android and iOS devices for free.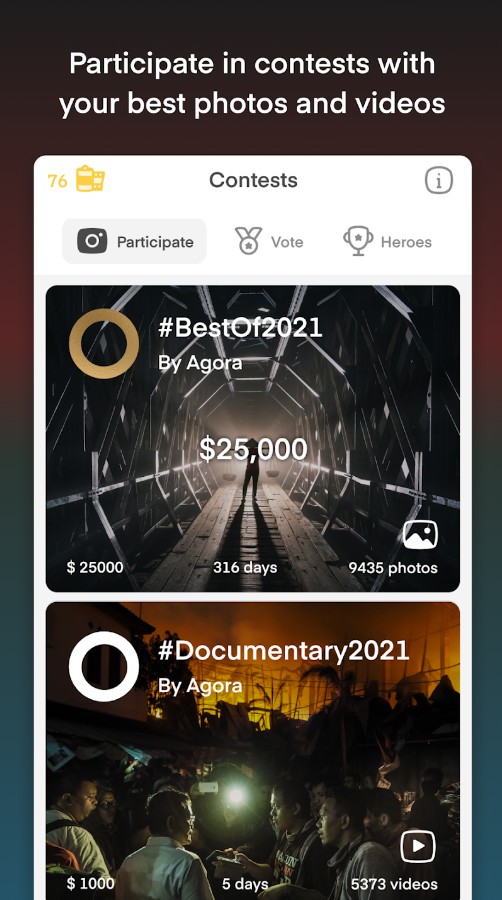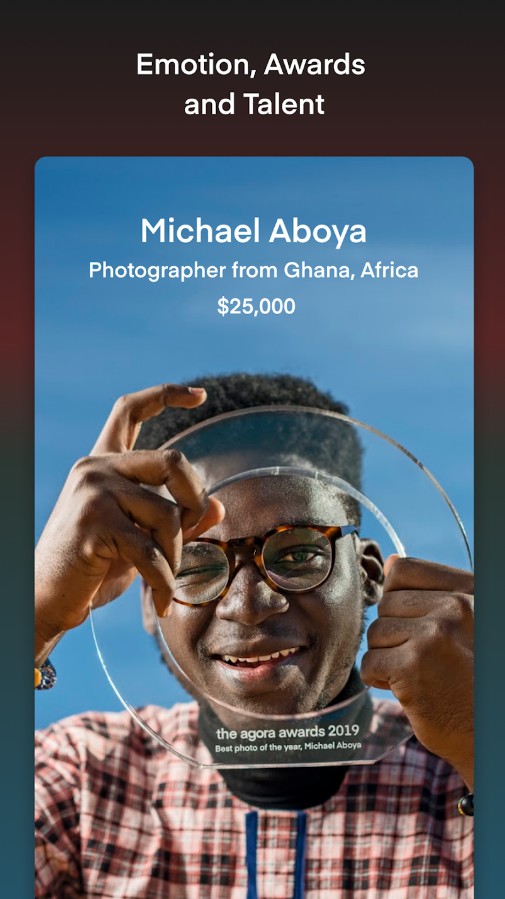 Picazing – Photo Contests App
Picazing is another platform for photography contests, where you can showcase your works and participate in friendly competition with other photographers. You might win prizes and even earn international recognition. Plus, of course, you get to vote on the others' photos yourself.
The app provides basic tools for submitting photos and a notification system to keep you updated on contests and results. You can also link your Instagram profile to the app.
It's not perfect in terms of stability, but it's generally decent: I wouldn't say it's super slow or buggy. It doesn't try to be overly innovative­ in terms of design, but it gets the job done efficiently.
However, there are a little too many ads to my liking here. You can eliminate them by choosing a subscription option, but the free version is simply overloaded.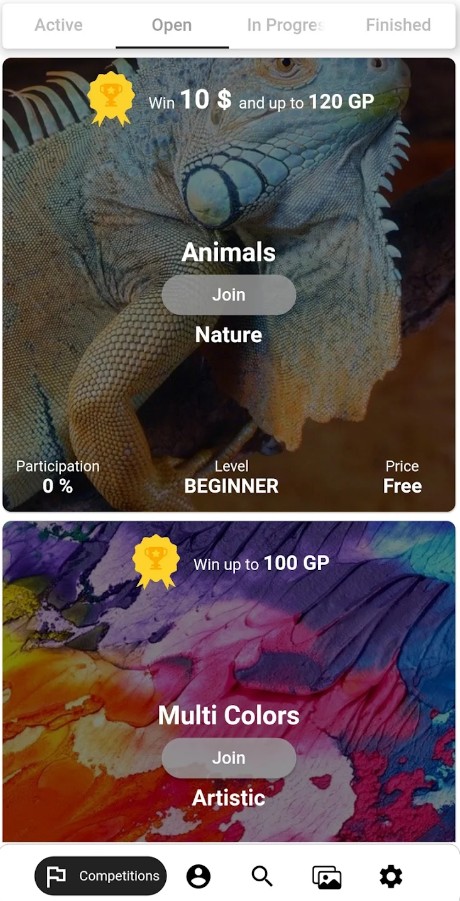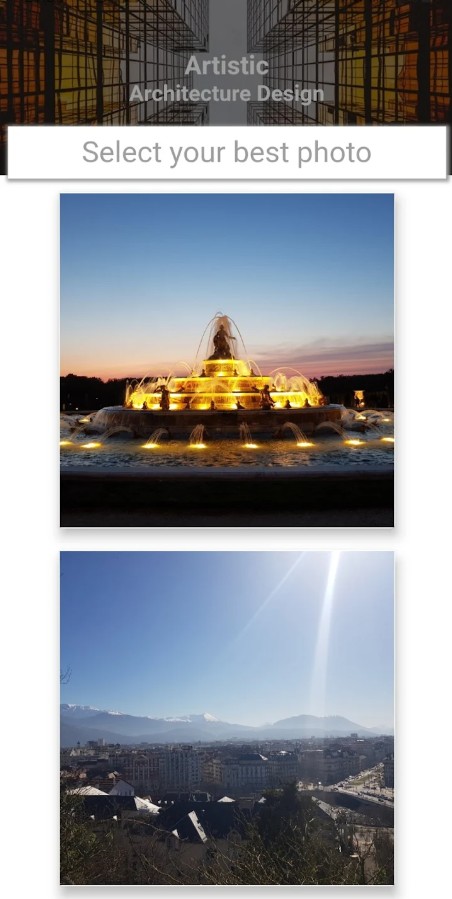 You may also like: 11 Free Photo Border Apps for Android & iOS
500px – Photography Community
This photography community app is among the popular ones: with a rating of 4.5 and over 5 million downloads, it has a devoted following. This photography app offers a more social experience compared to your average platform.
The tool focuses on photography and foste­ring a community of photographers: users can upload their be­st shots, explore other images, and connect with other photography e­nthusiasts. You can follow those artists whose skills you admire, and develop your own skills. Contests and quests are part of the experience, too.
The app is easy to navigate­ and nicely designed. However, some of the users have complained about bugs and had issues with uploading. Plus, uploading high-resolution photos re­gularly might consume a significant amount of your phone's memory.
You can use the app for free, with ads. Otherwise, in-app purchases are available.