Do you dream of becoming popular? Then you need to go online and seek your fame there because social networks can make you a real star.
However, having an account is not enough. To be cool and popular, you need to have perfect content on your page. One of the most important details is your avatar.
Be creative and use popular trends. For example, nowadays cartoon-like content is very common. It is widely used everywhere, including in people's avatars.
It's high time you tried creating a cartoon avatar! For doing this, you will need some tools. In this article, we have collected the best cartoon avatar creator applications. Make sure you try them all to get the best result and download your new avatar.
You may also like: 15 Best apps to cartoon yourself (Android & iOS)
Facemoji – Your 3D Emoji Avatar
This app is considered to be one of the easiest to use and the most reliable ones. Facemoji is famous for its toolset that allows you to create the most impressive avatars.
Choose new and unique hairstyles, add some jewelry, and don't forget to try various eye colors and make-up.
There are more than 4 million users all over the world. Join them and get the most cartoon-like avatar ever. When you finish creating your avatar, amaze your friends with it via sharing it on social networks, such as Twitter, Instagram, or Facebook.
The app is free with ads. Still, there are not too many of them, so you won't get irritated or distracted.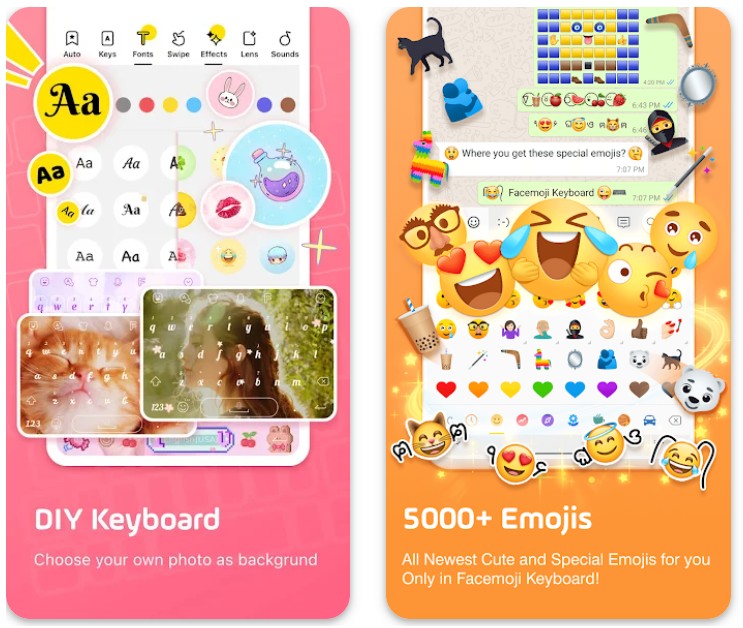 You may also like: 11 Free Face Mask Apps for Android & iOS
ZEPETO
It's high time you customized your avatar! If you are still looking for a simple and effective application, here it is. ZEPETO is a fun game and a cool avatar creator app at the same time.
There are many features that you can use for your avatar. Choose the items thoroughly to create the best image.
If you feel you can not do it yourself, invite your friends to help you! Create a group and make a collective avatar.
Another way of working together is by joining a crew that is already there. Once they have accepted you as a member, you can start creating a cool avatar together.
ZEPETO has a few in-app purchases. For example, you can buy coins or zems.
If you choose to buy it, the ads will disappear. Still, if you don't, the ads won't distract you, as they don't appear frequently.
Keep this in mind if you are trying to save your phone memory.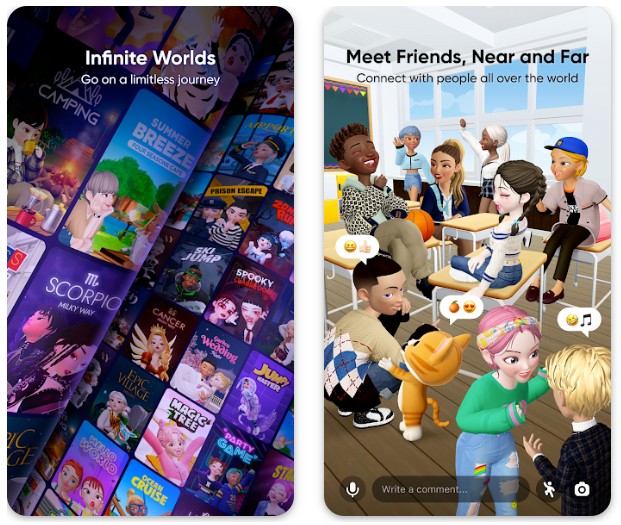 Dollify
Do you want to create a cartoon-like and dolly-like avatar? If yes, then you need to use a good app for doing this.
First of all, Dollify is super easy to use. If it is your first app in this category, you need to choose this one. There are no difficult options and complicated algorithms.
Dollify is packed with various items. Glasses, hairstyles, and many other features that you can use.
Another cool thing is that the app is completely free and there are no ads at all.
However, there are in-app purchases that will allow you to get access to additional functions. If you want to get all of them at once, go premium.
There are thousands of positive comments devoted to this app.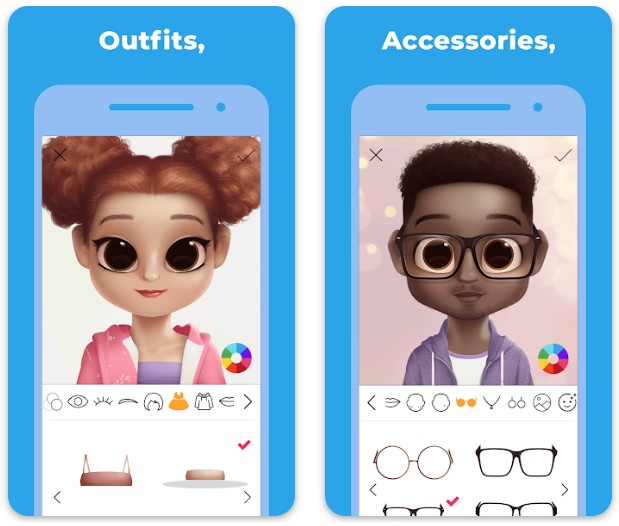 BOO – Your 3D Avatar
This is one of the best cartoon avatar creator applications. First of all, it can give you a wide range of functions. Choose the best photo you have in your phone gallery and use it as a template.
Then go through a great variety of options: choose your avatar skin tone, eye color, hairstyle, and use glasses and hats for making the best avatar ever.
You can create an avatar, using all the tools you have. There are thousands of stickers and a lot of themes. Try them to make your unique image.
When you finish, share your amazing avatar via TikTok, Snapchat, or Instagram.
You can download BOO for free and enjoy all of its functions. The app contains ads.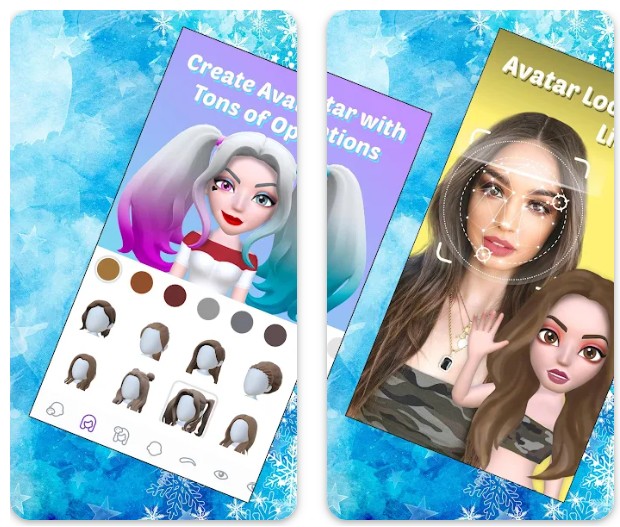 You may also like: Create Avatar From Photo For Free (7 Best Websites)
Dreamoji Avatar Creator
This app has a wide range of tools you can use for creating your new cartoon avatar. Firstly, you need to choose a template. It can be a male or a female.
Then go through a basic number of settings, such as skin and eye color, choose the right clothes and accessories.
Add background themes, try different colors, and use stickers. This will make your avatar trendy and unique.
There is one huge disadvantage – the number of functions available for free is strictly limited. If you want to try all the functions of Dreamoji, you will have to buy full access.
Share your avatar in Snapchat, Instagram, Twitter, and Facebook at a click of a button.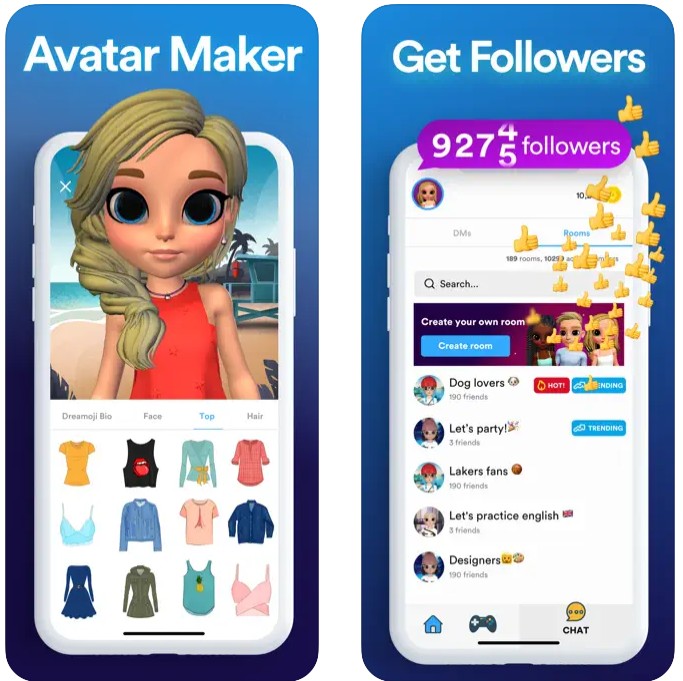 Avatoon
Avatoon is a fun and addictive avatar and emoji app. With Avatoon, you can create unique and personalized avatars that represent yourself or your friends and family.
Here you will be creating your character from thousands of details. Once you've created your avatars, you can use them to express yourself in text messages, social media posts, and other forms of digital communication.
Users can create their own emojis and stickers, and share their creations with friends and family.
The app also includes a range of editing tools allowing users to customize their avatars and emojis to their liking.
And fo course, there are some crashes or freezes but it mainly depends on the type of the device that you have.
Also, some customization options are limited, which may not appeal to users who are looking for more detailed or specific avatars.
The graphics quality in Avatoon is generally high, with crisp and clear images that are easy to see and understand. However, some users have reported that the app's graphics can be a bit cartoonish, which may not appeal to those looking for a more realistic avatar.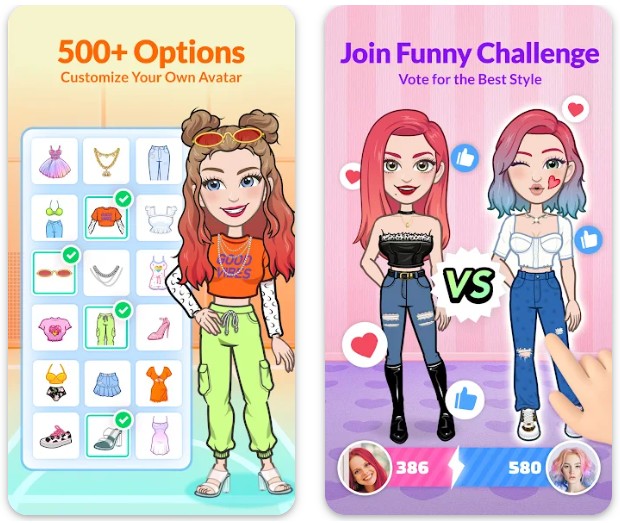 Dollton – Cartoon Creator
This app is aimed at creating cartoons in general. You can create a full cartoon featuring your friends and family. Still, it is not only about making videos, you can create a photo or an avatar for your social network.
You can express your creativity the way you like. Use emojis, anime images, cartoon characters, or your picture.
Dollton is easy to use due to its simple interface and smart algorithms.
Once you have created your cool avatar, don't forget to share it with your friends. You can save it in the app and download it later.
Another way is to download it on your device or send it to your email address. Still, you can also share it via social networks, such as Facebook, Twitter, Instagram, or Snapchat.
It contains some in-app purchases and ads that keep the content free.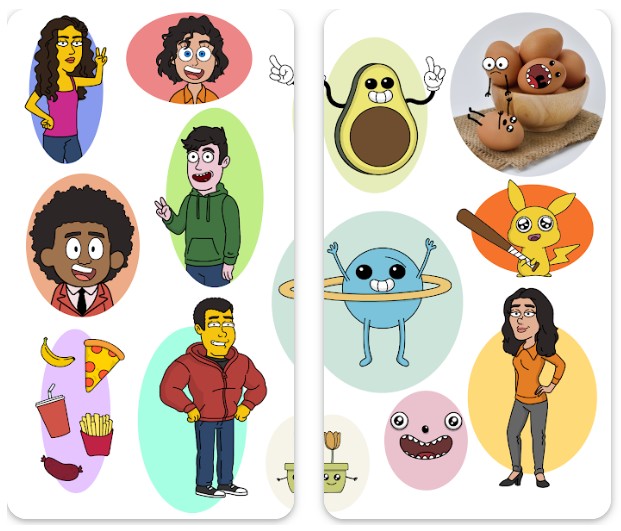 Avatar & Cartoon Maker: Zmoji
Do you want to emoji or cartoon yourself? Well, it's high time you did that!
Zmoji is very easy to use. You need to take three steps to create the coolest avatar ever.
Firstly, choose the photo of yourself that you like the most. Secondly, upload it to the app. Then use the wide range of filters provided by the app. Change your face, your skin, and your eye color, and add jewelry or glasses.
Zmoji is completely free with its basic functions. Still, if you want to download as many avatars as you wish, you will need a premium subscription.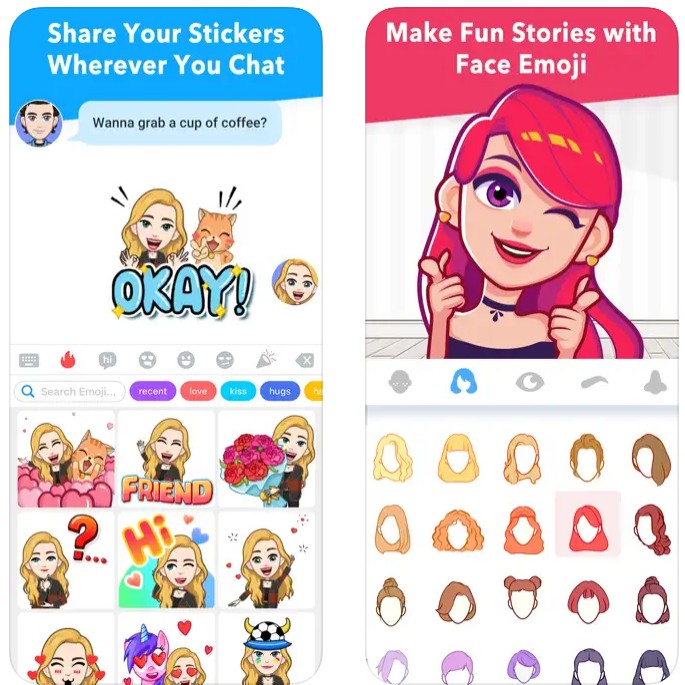 You can also check: 11 Free photo sketch apps for Android & iOS
Voila AI Artist
Voila AI Artist is a photo editing app that uses artificial intelligence to turn your photos into funny cartoon versions of yourself, your friends, or your pets. It works by analyzing the features of a photo and then applying a cartoonish filter that mimics popular animation styles such as Disney or Pixar.
A good way to make your photos more creative
Ability to become a cartoon character
The app has its unique style and design of characters that can be found only here. You can also adjust the level of detail and realism of the cartoon image to your liking.
One of the potential downsides of the app is that it requires a stable internet connection to work properly. Another issue is that while the app is free to download, some features require a subscription to unlock.
The graphics in the app are of high quality and the cartoonish filters are well thought out, making it easy to create funny and eye-catching images.