If you are a fan of online survival games with real-time building elements, then PlanetCraft will definitely appeal to you. This pixel world with huge possibilities will open up different game modes for you. If you are a born architect, then turn on the creative mode and show other players what you can do. For connoisseurs of a hectic life, there is a survival mode.
When you first start PlantCraft, you immediately find yourself in the real world where you have to fight with other players, extract resources and improve your skills.
This game really reminds us of Minecraft. You can find more similar games in this article "best game apps like Minecraft".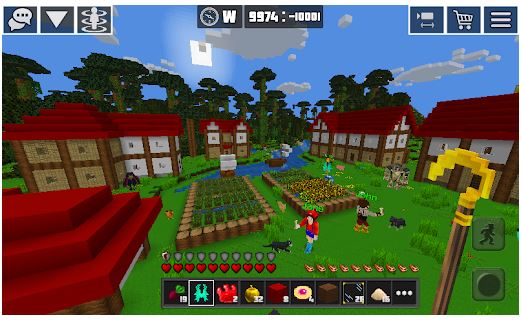 The game interface includes a whole panel of functions for convenient gameplay. On the left is the chat of common players in one location. Above the chat, there is a message button, followed by a multi-profile button when you click on which you can see the sections "Friends", "Hide chat", "Clear chat" and "Filter chat".
To see information about all nearby players, click on the last button in the upper left panel. At the bottom, various details related to the player's life and control are displayed. In the lower-left corner, you can see the control joystick.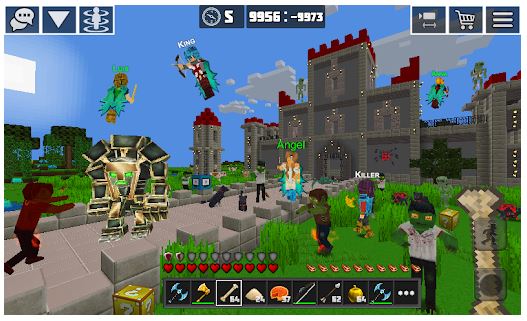 In the upper right corner, there are 3 icons with which you can change the scale of the game, buy additional items and call the menu bar. You can ask your question in the support service. Experts always promptly answer the question. Compose your question and send it to the support specialists and they will definitely answer you.
Build a huge pixel world with your friends. Compete with others and get dredging resources. The game has unique bright pixel graphics that will appeal to many players. Moreover, PlanetCraft has many game servers and modes.
If you feel this game is not enough we can offer you a similar collection that definitely brings a similar vibe. Games apps like snakes and ladders will give you an amazing time!
Overall, PlanetCraft is the best pixel art game where you can create an entire world with limitless possibilities. Moreover, the game supports the offline adventure world.