Feeling sick of annoying pop-up ads, distracting you from the content? This article has you covered!
There are plenty of pop-up blocker apps in 2023 for Android & iOS that will help you get stay away from adverts once and for all. More to say, these apps let you hide all kinds of commercials, so you're safe from banners and video commercials as well. Some of these apps also work as virus cleansers, but you'd better get a special app for that.
We've gathered together the 7 best apps in that category you may try. Have a look!
AdGuard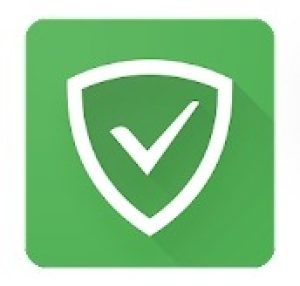 Let's start with AdGuard — an ultimate ad blocking app that will help get rid of pop-ups.
The main goal of this app is to shut off all kinds of commercials in mobile browsers without any root permissions. Herewith, you need to consider that the list of supported browsers is limited, so make sure to check the one you're using. The mechanics of this app is quite simple so no concerns about that.
For illustration, you may use custom filters to only block specific kinds of ads such as banner commercials, video ads, pop-ups, and so on. Besides, the app lets you make up to 20 free blocklists with individual websites you'd like to prevent. In case you don't want to add all the sites one by one, you may also use ready-made lists.
Along with that, the app also lets you support your fave webs by adding them to white lists. Thus, even if there are commercials on the page, the app won't hide them. Further, the app saves your power and gets rid of all the unneeded cookies. The app is entirely free with no in-app purchases or ads.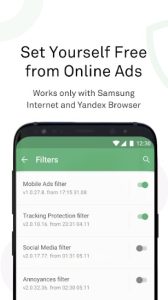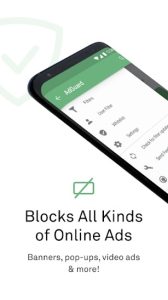 You may also like: 9 Best Porn Blocker Apps for Android & iOS
1Blocker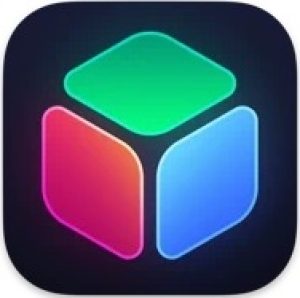 Next, we have an iOS ad blocker that will make sure you're safe and nothing distracts you from the content.
The app is incredibly easy to use — you just need to set up custom filters, and the app will stop blocking unneeded content. Herewith, the app covers several kinds of promotions you can pervent — popups, banners, context promotion, and so on. You can also prevent web tracking.
Beyond that, the app lets you shut off potentially annoying components on web pages such as notifications about cookies, permissions for popups, widgets, comments, and all that. The cool thing here is you don't even have to open the app each time you wanna hide an element — a tap will be enough.
You may also make a custom list of sites to block — just copy a URL and paste it into the app. The good news is the app not only works for browsers — but you can also block the tracking. Likewise, the app pis battery-optimized, so it won't discharge your mobile too fast. The app has a pro version, but the free one is quite powerful as well.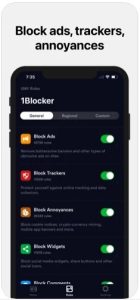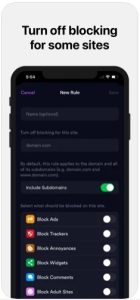 Adblock Browser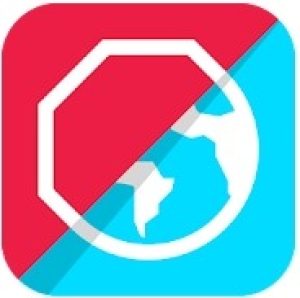 This app will let you browse the web without all the annoying commercials.
In the first place, this app is not a regular commercial blocker — it's a full-on browser like Chrome and all that. More to that, the app is based on Chromium, so don't worry about the functionality — it has everything you may need. The interface is quite decent as well, and the chances are high you won't see any difference from your standard browser.
The unique thing about this browser is that it automatically shuts off all kinds of commercials — from popups to vids, so you're all the way covered. Herewith, there are no exceptions for any popular shopping platforms, streaming services, and all that — it will make your internet life ad-free.
The app may also hide cookie notifications and other annoying stuff. However, if you want to support specific websites, you may turn on the exceptions list. The app also covers battery optimizing tools, so it may extend your battery life. As for privacy, the app doesn't save any of your personal data or the list of websites you've opened, so no concerns about that.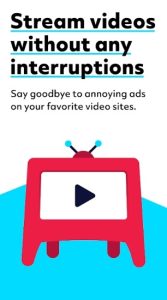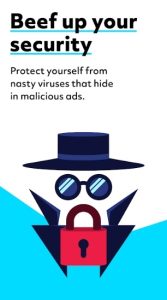 Check also: 11 Free Malware Removal Apps for Android & iOS
Firefox Focus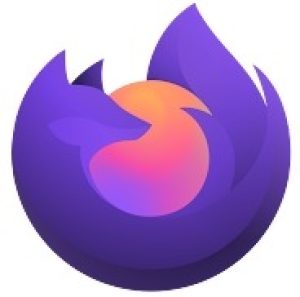 As you may see by the name, it's a browser from a Firefox family.
The purpose of this app is to make your web browsing free of any annoying distractions like ads, notifications, and all that. The first thing that works on the goal is the design — as you open this app you only see the bat and a keyboard. That's right — no history, no tabs, and, more importantly — no ads.
Of course, the app records the history of your web searches and the sites you've visited, but you can clean it out with one tap. Along with that, it will take one tap to erase the list of all your passwords, all cookies, and so on. Speaking of commercials, the browser comes with an automatic adverts shutter that you can adjust as needed.
The app blocks various kinds of commercials by default — from popups to video ads, and more. Plus, you may block the tracking from all the webs with just one tap. Because of that, you get away faster search which is great. The app claims to not use your data for personal benefits, so no concerns about that.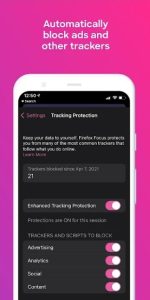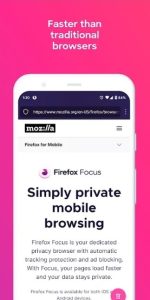 AdBlock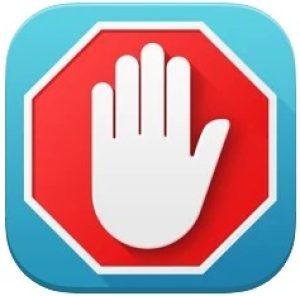 If you need a simple app to stop seeing any ads on the web — this one is the one.
It's one of the most-used commercial-blocking services for iOS with over 50 million users already. The functionality of this app is wide and can cover all your needs — from preventing ads by their type to custom blocklists and battery saving. As for the types of promotions, this app lets you shut off popups, vids, and all that.
Farther that, the app lets you make editable blocklists with individual web pages. Herewith, adding a web page is simple — just copy a URL, and that's it. In case you want to support some of your fave web pages you may also create a whitelist with exceptions, and the app won't hide the commercials there.
Thereby, the app also lets you shut off all kinds of distracting pop-ups, and not just commercials Thus, you may hide cookie notifications, requests to open a new window, and more. All these actions help you save mobile data, and make the research process way faster. The app itself is free with no extra purchases.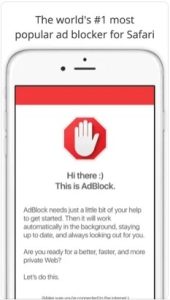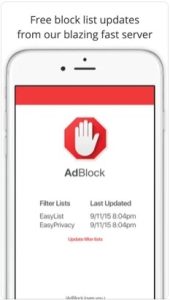 Adblocker Browser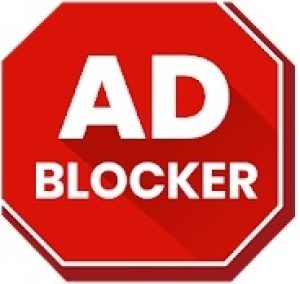 Here's another commercials-free browser that helps you surf the web safely.
The cent notion of this browser is to let you use the web and only see the content that matters to you. In order to do that, it blocks all kinds of commercials from popups to banners. The same goes for video commercials — you'll be able to watch YT vids and movies without any interruptions at all.
Herewith, you get to pick the type of ads you'd like to shut off if needed. You also get to create a custom blocklist to hide some pages from the search, and all that. To do that, you'll just need to paste ins link into the list, and it's done. Further, the app lets you prevent the tracking and cookies, so nothing would distract you.
The app comes with malware protection as well, and you'll be warned if there are any threats to your data. As for the battery, the app is optimized to save your power, do no concerns about that. You may also set data usage limits if needed.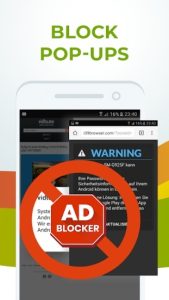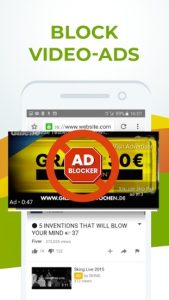 You may also check: 11 Free parental control apps for Android & iOS
Clario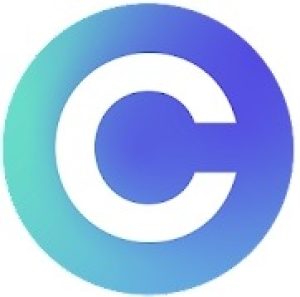 And lastly, we have a security app that will help you get rid of ads.
The app is not fully focused on promotion blocking — it also gives you defense and all that. It comes with a built-in spyware scanner that instantly scans your device to find and remove any spyware apps and files.
Additionally, the app keeps track of all your passwords and other personal info and alerts you if they might be leaked. There's also an IG protection tool that lets you add an extra security code for Instagram. It also lets you hide your status in DMs which is quite helpful.
As for the avert hiding, the app lets you hide all kinds of promotion like banners, popups, and video commercials. Herewith, you get to decide what types to block, and you can also make an exception list if needed. The app also has a free VPN you can use to encrypt your data and stay safe while surfing the web.