A pregnancy diet includes lots of aspects and crucial nuances that can be even difficult to memorize. All pregnant women know that they are supposed to eat healthy during this period, but what exactly does it mean?
Moreover, in which proportions do you need to eat? The answers to all those questions lie in the article down below.
Overall, this is a special time for all future parents. The moments of the announcement of the pregnancy and the baby's birthday are forever perpetuated in the memory – that's why it's important to organize everything in a perfect way.
By exploring the article Best Pregnancy & Baby Birthday Announcement apps you'll discover lots of great ideas and will make that day special.
OptimHub Alimentation Grossesse
OptimHub Alimentation Grossesse is a nutrition guide for pregnant women. It is intended to provide pregnant women with information and advice on a healthy and balanced diet during pregnancy.
The app offers many features, including meal plans and recipes tailored for each trimester of pregnancy. You can track your daily water intake and receive reminders to stay hydrated.
Help you eat right during pregnancy and after childbirth
With it, it will become much easier to follow the figure
Narrow profile settings without additional features
There are malfunctions
It also provides information on key nutrients needed during pregnancy and offers tips on how to manage pregnancy-related food cravings.
The app has been criticized for its limited selection of recipes and meal plans that may not meet certain dietary restrictions. Some users also found the app too simplistic and lacking in detail about nutrition.
The OptimHub Alimentation Grossesse is a useful tool for pregnant women seeking a healthy and balanced diet.
However, its limited features and lack of customization options may not suit everyone's needs. However, the app's user-friendly interface and multilingual support make it a good choice for those looking for basic pregnancy nutrition advice.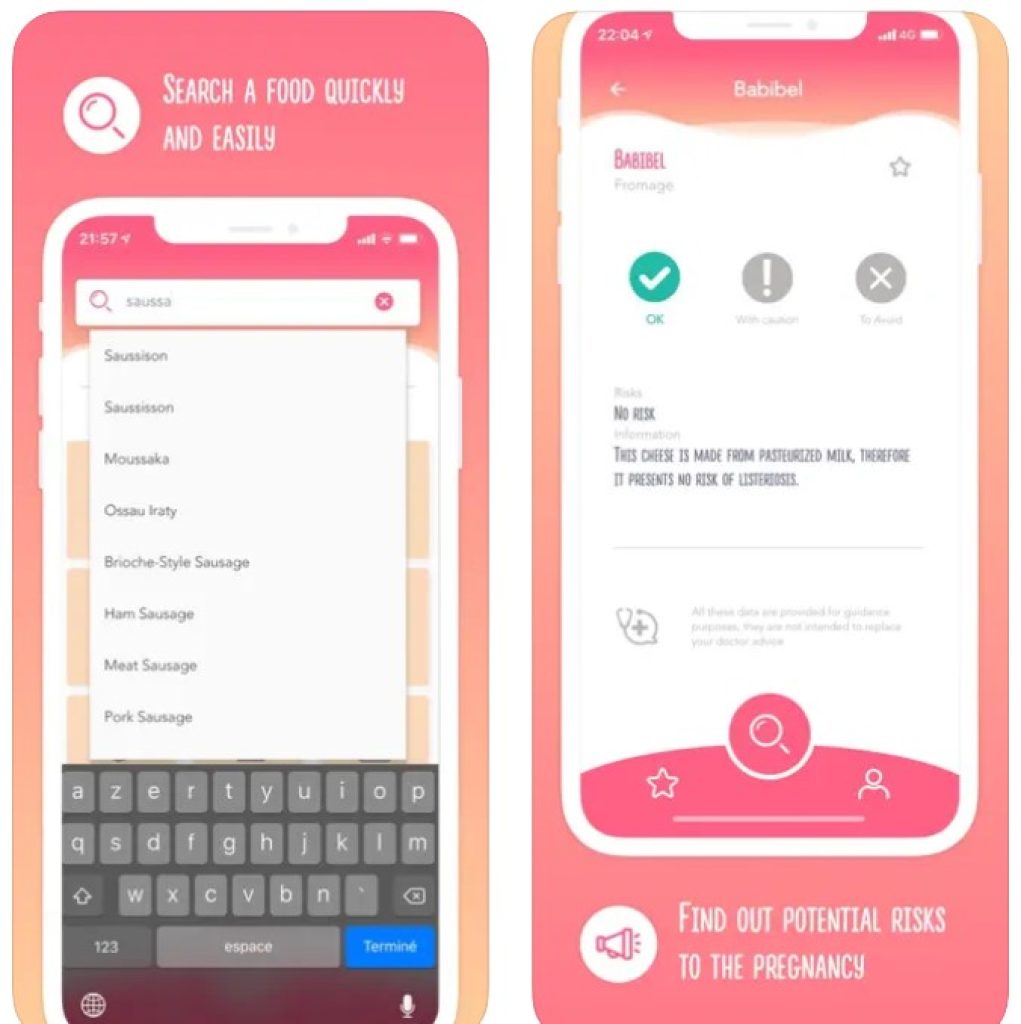 You may also like: 9 Best Diet Diary Apps for Android & iOS
Healthy Pregnancy: Doctor Nutrition and Diet Plan
It's a well-known fact that healthy nutrition is vital for pregnant women. Healthy Pregnancy is developed together with dietitians and specialist doctors.
The concept of this app is pretty simple – it enables future mothers to monitor daily food intake and acquire pregnancy recommendations.When you first open the application, you will get to the menu page with plenty of sections depending on your needs. Below, let's have a look at them:
Pre-Pregnancy Diet
Diet During Pregnancy
Foods to Avoid During Pregnancy
Pregnancy Diet Week By Week
What To Eat After Pregnancy
Diet Plan After Pregnancy
Exercises During Pregnancy
Baby Development
Child Health
Infertility
Moving on, Healthy Pregnancy also provides you with healthy recipes for diverse mealtimes. Moreover, you can check the nutrition tips depending on your gestation term – covering the first week of pregnancy up to the latest one. All the parents can also use this tool after childbirth.
Apart from the nutrition guides, the app demonstrates effective postpartum sport exercises with advanced descriptions. The app is loaded with profound data about baby development and child health as well.
For instance, you can scrutinize every period of a newborn or read how to swaddle or handle a child. The entire content is explicitly stated without complex terms or ambiguous phrases.
One significant difference that you will notice after the previous app – the interface is plainer and the app is in general more simple, so it's hard to be called a worthy alternative. Moreover, some users face phone errors when trying to shut down this app.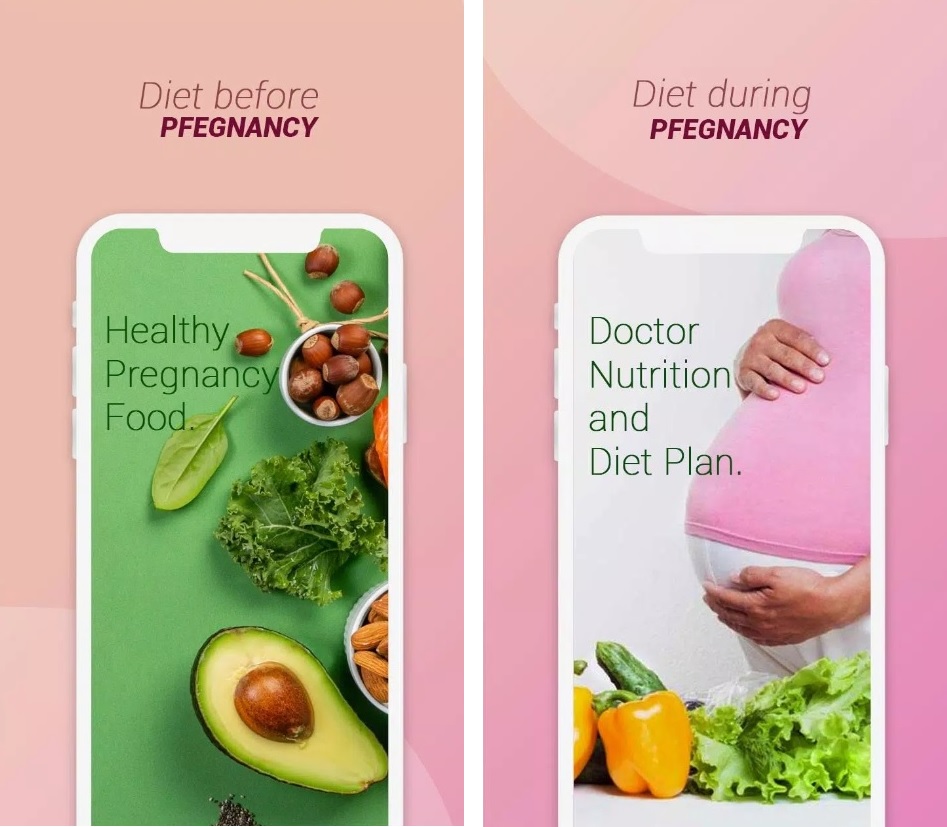 Post Pregnancy diet
Post Pregnancy diet – it is intended for young mothers who want to lose weight after pregnancy. The app's features include personalized meal plans, exercise and a calorie counter, as well as advice and support from other users.
You can enter your current weight, target weight, and dietary preferences, and the app creates a personalized meal plan that includes three meals and two snacks per day.
Helps to eat right and varied
Will bring you in order after pregnancy
Helps to lose weight without harm to health
In addition, it provides users with workout programs with workout options both at home and in the gym. The app also has a calorie counter that keeps track of the user's daily calorie intake and expenditure.
The downsides of the app include limited customization options and a lack of variety in its exercise programs. Some users have also complained about technical glitches and login difficulties.
Some dissatisfied reviews note that the in-app meal plans are not always nutritionally balanced and the app's user interface is not very user-friendly.
The benefits of this app include a focus on post-pregnancy weight loss, personalized meal and workout plans, and a community-based support system. In addition, the app is free to download and use without any in-app purchases.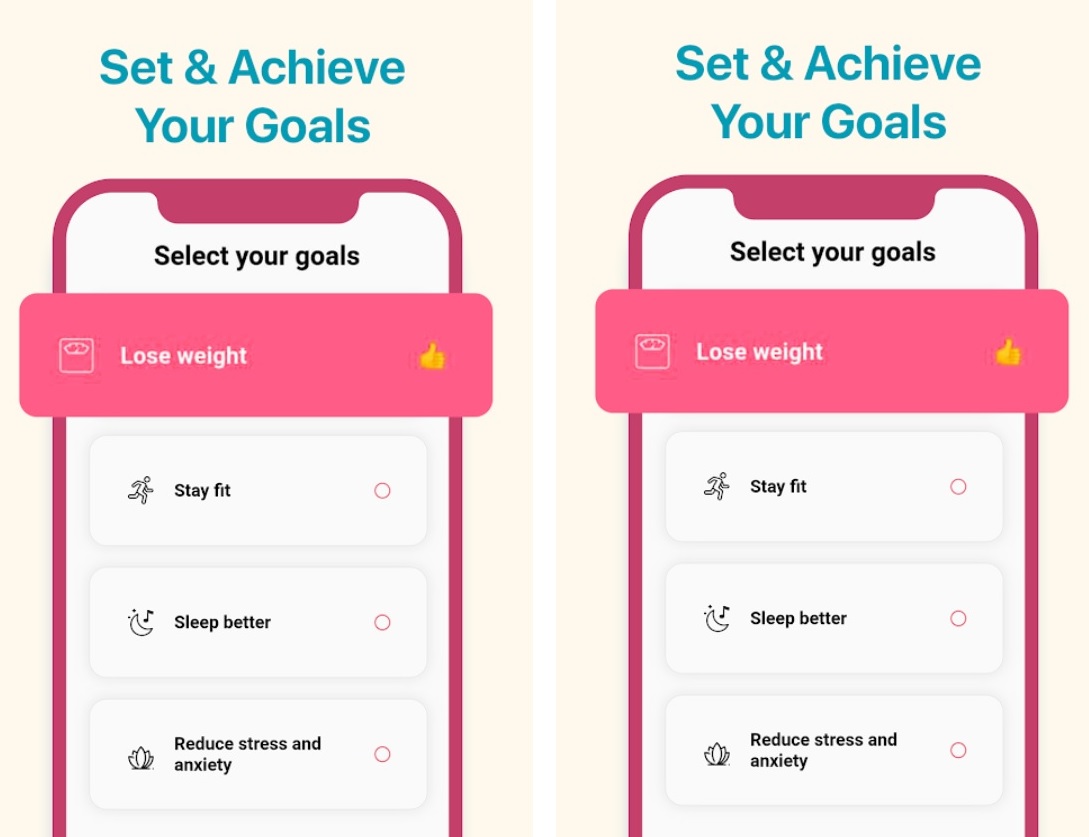 Pregnancy Diet & Food Guide
Let's start our article with Pregnancy Diet & Food Guide – a user-friendly guide that stimulates pregnant women to follow the diet. First of all, we have to mention that this app submits over 100,000 recipes for proper nutrition.
All the recipes are divided into several meal times – Breakfast, Lunch, Snack, etc. Users can customize individual meal plans during the day. For this, they just need to add desired recipes to the favorites.
Besides, the app displays you such data as the number of calories, the used ingredients, cooking time, etc. If you want, you can also set up the number of servings or browse the detailed tips for permitted and prohibited products.
The app boasts a very straightforward interface. There is nothing superfluous, all the options are developed in detail. For example, the top of the screen consists of a search bar and an adjustable settings section.
We have to warn you that Pregnancy Diet & Food Guide contains a 3-day trial. When the free trial period ends, you can also purchase a PRO-version at a quite accessible price. At the moment the app is available at App Store only. What is more, the tech support of this app is not the best in term of the speed of replying.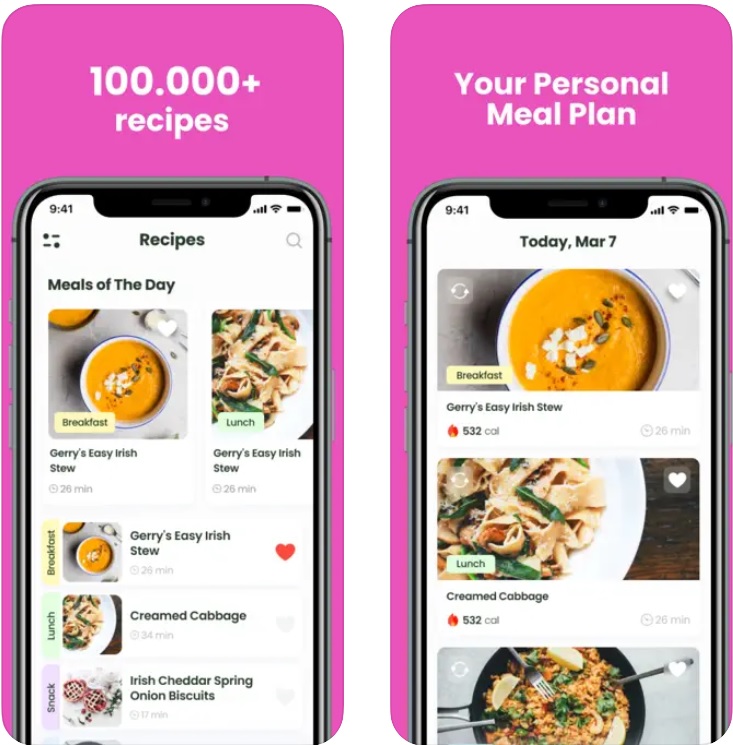 Healthy Nutrition Pregnancy
Monitoring the food nutrients is an integral part while following the diet. Thus, Healthy Nutrition Pregnancy will certainly help you to carry out this task!
In this app, all the functions are properly introduced, therefore even novice users will handle them in a few seconds. So, after passing a quick installation, you will get to the menu page containing the following options:
Variety of foods
Food safety
Pro and Cons
Calories
If you want to obtain an extensive description of all dish types, click on the first section and pick a pertinent food category – e.g. bread and cereals, milk products, etc.
Finally, the app will provide you with accurate recommendations for the selected products. With this tool, you can also control the weight during the pregnancy period, as it has an integrated Calories Calculator.
The calculator will instantly estimate the number of calories you have to consume per day. The only thing you need to do-just insert such data as age, trimester, weight, height, and exercise level.
In addition to the overview of the diversity of food, users can also read about the most beneficial nutrients for their baby or limitations while being pregnant.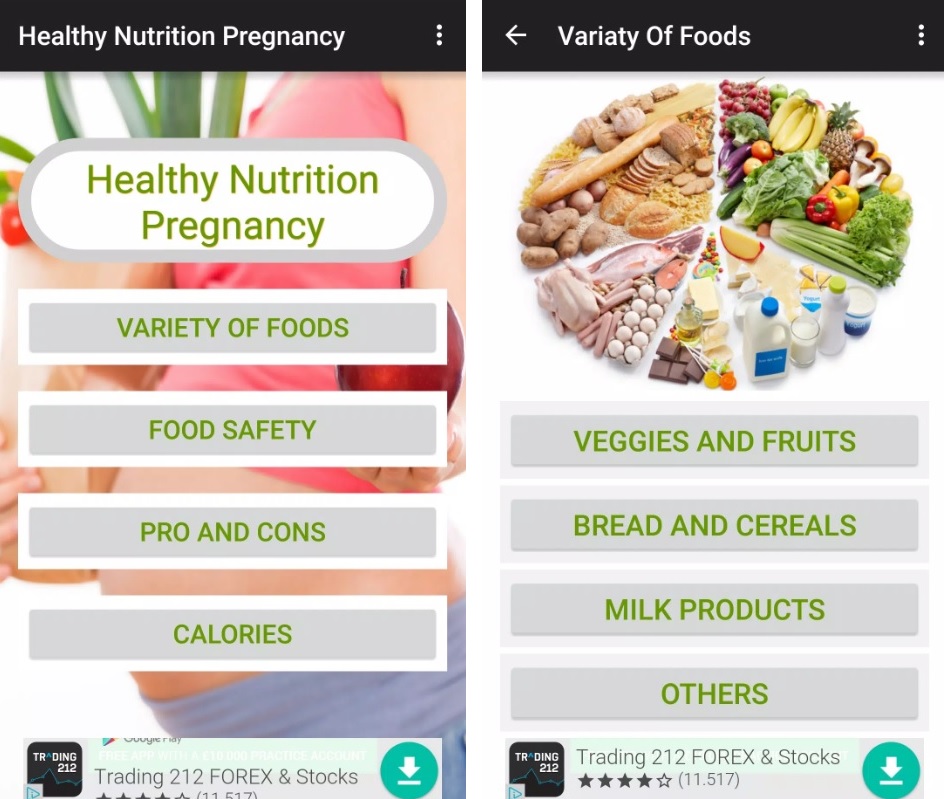 Pregnancy Diet: Food & Recipes
Pregnancy Diet: Food & Recipes is another top-grade tool that will help all future moms to examine healthy alternatives for junk food.
After downloading, users can look through a complete description of the permissible foods and products they should eat no way in pregnancy. The overall recommendations are developed by professional nutritionists.
Despite a great variety of options, this application does not take up much storage space, so you will install it in a couple of seconds.
Once you have opened this tool, you will find several sections on the bottom of the screen: Home, Recipes, Food List, Me. So, in the Recipes section, you can customize all the contents in line with your food preferences.
Moreover, all the recipes are divided into several subsections – Dinner, Snacks, Breakfast, etc. Moving on, in the Food List section, users can easily discover an appropriate product and read the overall description and even detect possible risks for health.
By the way, the app allows you to generate a grocery list or add favored recipes and keep them all together in one place!
The app's interface is developed in soft nude tones, that's why pregnant women will not have to strain their eyes. However, we have to note that this application contains a few subscription options. For instance, you can purchase it for 1-week with a 3-day trial or 1-month.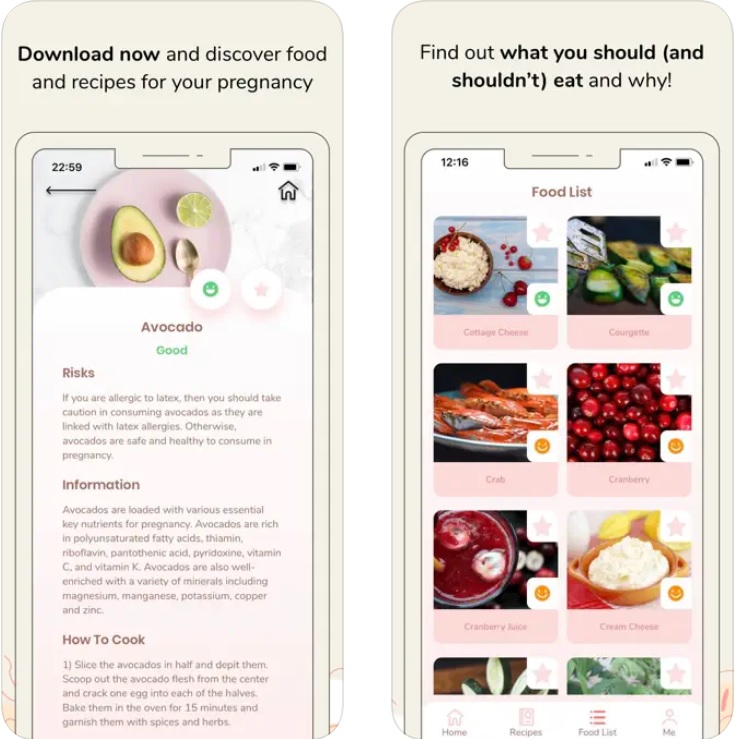 You may also like: 7 Best DASH Diet Apps for Android & iOS
Pregnancy Diet
Pregnancy Diet developed by Riafy Technologies is our next application that will help future moms to follow a wholesome and balanced diet in pregnancy.
So, when you first open this tool, you will have to pass a basic identification procedure. The application will ask you to indicate your level of knowledge in dieting and workouts. There are 3 levels – Beginner, Intermediate, and Advanced.
The next step -select the desired goals to achieve. After getting to the home page, you will find the following sections on the bottom bar: Diary, Food, Discover, and Videos.
In Pregnancy Diet, users will receive access to the nutritious diet program for breakfast, lunch, dinner, and snacks. The personalized pregnancy diet plan comes with a weekly planner and a shopping list. In the first section, you can keep track of all your food intakes per day.
Once you have added your meals, the app will automatically estimate the number of consumed calories, carbs, fats, and proteins. Plus, you can check how much is left. The next section is focused on providing healthy recipes and workout programs to keep fit.
Once you have selected the suitable recipe, you will obtain nutrient data, step-by-step guides, and cooking time. Another useful feature, the app supports video formats, so you can view the most-liked recipes. For this, you should tap on the Video section.
Pregnancy Diet will help you to monitor your nutrition during all pregnancy trimesters. Additionally, the app contains a built-in nutrition table for pregnant women and offers valuable tips to achieve effortless childbirth.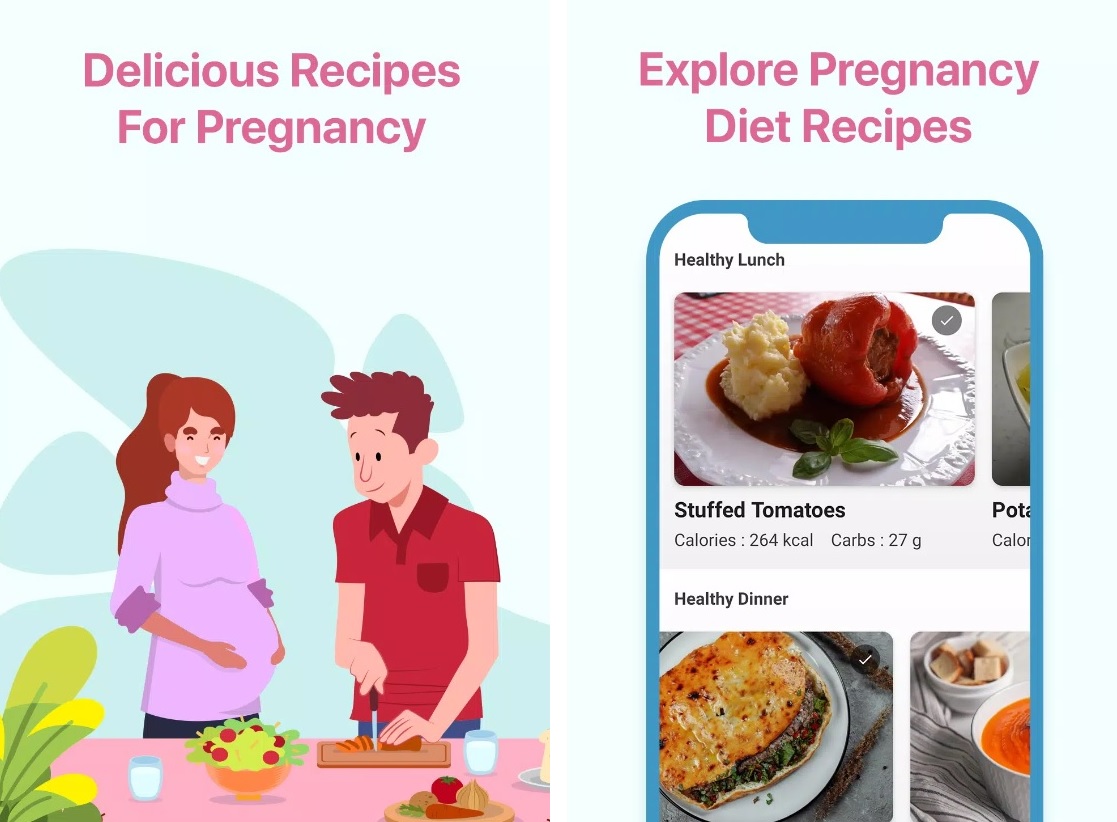 Pregnancy Tips Diet Nutrition
Feel puzzled about the proper nutrition while being pregnant? Never mind! Pregnancy Tips Diet Nutrition will provide users with detailed recommendations for healthy food.
The first step you need to do when the app is downloaded – click on the "Start" button to launch the application. After that, you will have access to the extended library of inclusive content.
So, in Pregnancy Tips Diet Nutrition, users can monitor the entire pregnancy progress week by week. Thereafter, they can proceed to read profound diet recommendations for the particular trimesters from the first to the latest one.
We have to note that all the content is extensively presented and you will not have to face any technical terms, abbreviations, or anything else.
In case you want to receive a personalized diet chart under your body index parameters, then you can directly contact a dietitian.
After selecting a relevant topic on the homepage, click on the "Order diet chart" button. Besides the nutrition tips, you can also delve into the process of your baby's development, read lots of content on how to cope with various health issues, or check beauty tips in pregnancy.
Among all the apps on this list, this one, probably, is the worst-looking one. This is an ordinary Android design with low-resolution images. If you came for the information only, then you can just ignore this fact, but among competitors, Pregnancy Tips is obviously losing.
To sum up, Pregnancy Tips Diet Nutrition comes with free access, but it has a paid version as well. In the Pro-version, there will be available such contents as a 7-days diet plan, the list of permitted and banned products, pregnancy workout programs, etc.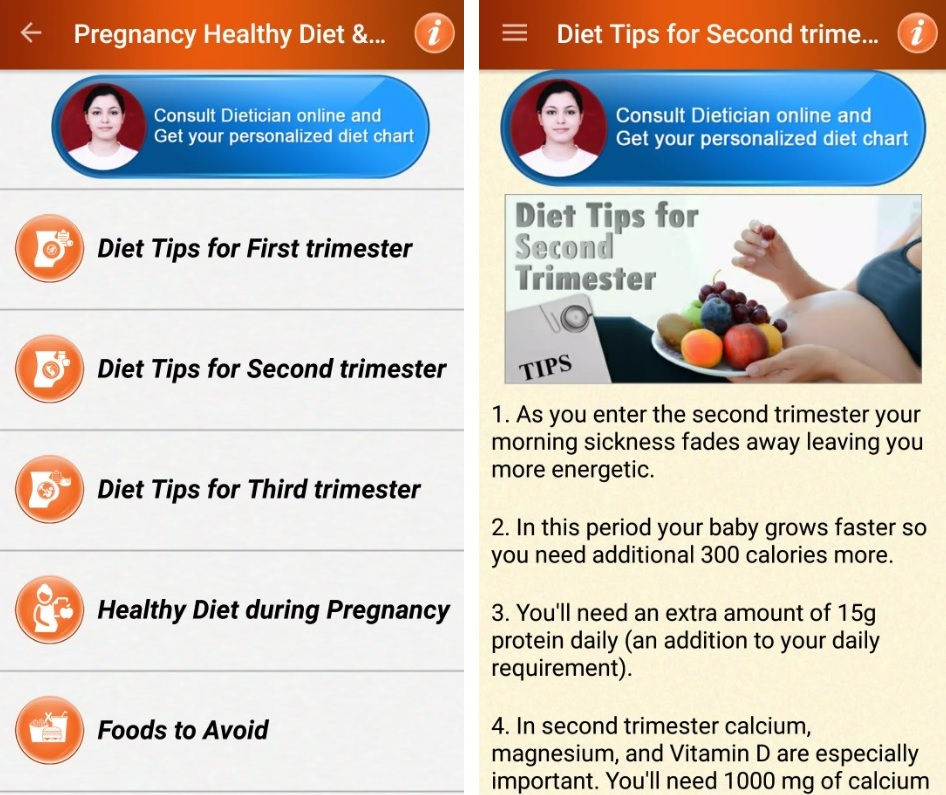 Pregnancy Diet
Now our article comes to an end and we would like to bring your attention to our last application – Pregnancy Diet developed by High Soft App.
First of all, we would like to mention that Pregnancy Diet is targeted at providing obligatory data for the pregnancy diet. One of the best parts of this tool – it is incredibly lightweight. So, the installation will not take up too much time!
Pregnancy Diet comprises a wide range of pregnancy recommendations for each month. After downloading, you can get straight to the subject, as you will be instantly transferred to a list of options. Each section is dedicated to the particular pregnancy month.
As soon as you have selected the desired one, you will get extended data about the food rich in valuable vitamins or the food you should evade.
In addition to the nutrition recommendations, mommies-to-be can also investigate the baby's development at every pregnancy stage. Some topics explicitly depict each pregnancy trimester, so users can keep abreast of everything that happens with their baby!
As with the prior applications, Pregnancy Diet guarantees comprehensive contents written in plain language.
Moving on, the application features a very user-friendly interface, as there are not any redundant functions. To conclude, we have to admit that this app contains some drawbacks – irritating ads and in-app purchases.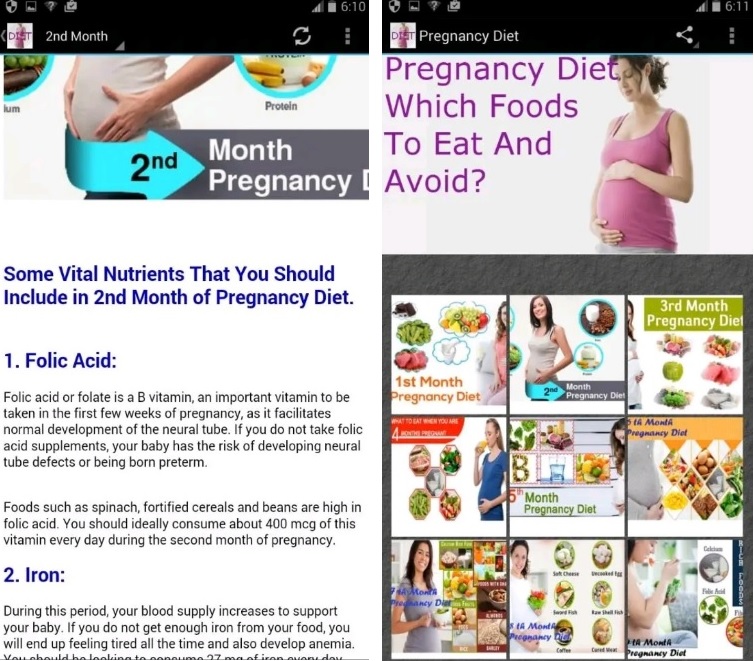 Pregnancy Diet Plan
Pregnant Diet Recipes This app is a detailed guide for expectant mothers on healthy eating during pregnancy. It provides a wide range of recipes, meal plans and nutritional advice that take into account the special dietary needs of pregnant women.
On the plus side, the app has a library of recipes that includes over 200 healthy and tasty dishes that are easy to prepare and customize according to individual preferences.
You can make your own nutrition plan
Improving your health and your baby's health
There are malfunctions
Technical shortcomings
Not easy to navigate
It also offers a personalized meal planner that creates a balanced diet plan based on the user's food preferences and nutritional requirements.
Plus, it provides detailed nutritional information for each recipe, including calories, fats, proteins, and carbohydrates, as well as key vitamins and minerals that are critical for a healthy pregnancy.
It also offers advice on what foods to avoid during pregnancy and provides helpful tips for managing common pregnancy symptoms.
Those who have used it have been known to report problems with the app's user interface and navigation, stating that it can be difficult to find certain recipes or access certain features.
In addition, some users expressed dissatisfaction with the limited variety of recipes and reported crashes and errors.
However, the benefits of this app are numerous as it offers a wide variety of healthy recipes and nutritional information for expectant mothers.
 A personalized meal planner is also a valuable tool to ensure that pregnant women get the nutrients they need to maintain a healthy pregnancy.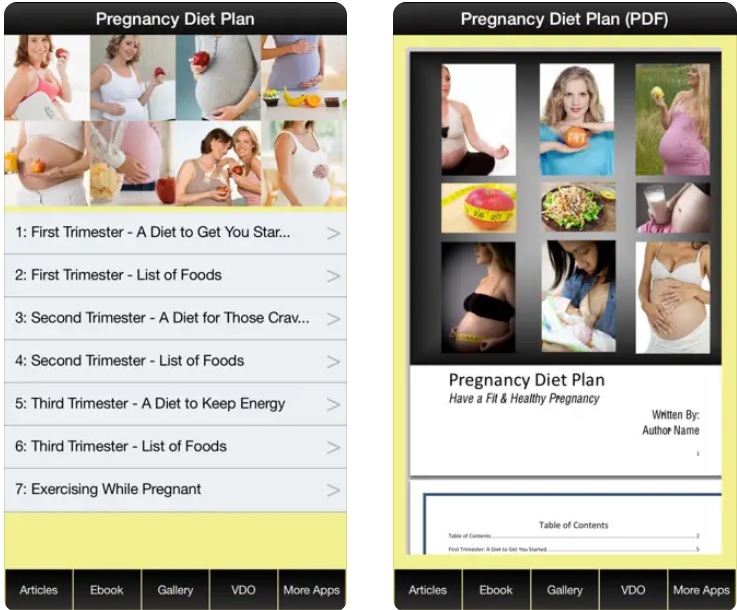 You may also like: 17 Best Nutrition and Diet Apps for Android & iOS
Pregnancy Food Tracker Fittur
Pregnancy Food Tracker Fittur is an app designed to help mothers-to-be track their nutrition during pregnancy. The app developed by Fittur LLC offers a range of features to ensure a healthy pregnancy.
Some of the features of Pregnancy Food Tracker Fittur include a customizable meal planner, a food diary to track daily consumption, a database of over 100,000 foods, and personalized nutritional recommendations based on the user's age, weight, height, and stage of pregnancy.
You can make your own nutrition plan
Improving your health and your baby's health
There are malfunctions
Technical shortcomings
Not easy to navigate
In addition, it provides you with useful information about pregnancy nutrition and offers tips for healthy eating in each trimester. It also allows you to set reminders to make sure they eat regularly and don't get dehydrated.
While it has many useful features, it does have some disadvantages. Some users have reported issues with the app's user interface and difficulty navigating. Also, the app is currently only available in English, which may be a hindrance for some users.
The benefits of this app cannot be ignored. It provides users with a comprehensive and personalized approach to tracking nutrition during pregnancy, which can be important for the health of both mother and baby.
 It is also relatively affordable compared to other pregnancy related apps on the market.