RoboClock Maze is an addicting game designed specifically for watches. The essence of the game is to fix light bulbs. Four Roboclocks have broken in the game. Each Roboclock has 36 light bulbs burned out. You need to use all your visual memory and tune in to the game. We'll have to repair in the dark, from memory, with the help of a little robot.
RoboClock Maze is a lively and intelligent robot in your watch. The animated RoboClock face displays the time, date, day of the week, battery charge, AM / PM, the number of steps taken, which you can turn off as you wish, and the distance.
What's more, the RoboClock Maze app has a nice extra feature that response to movement and touch. RoboClock Maze is perfect for those who love puzzles and have fun.
For kids, we can also recommend word games with pictures.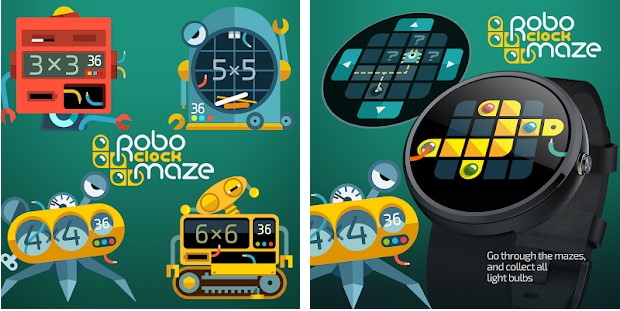 The principle of the game is that you need to look at the diagram that will be displayed on the screen of your watch face, after which you must remember the location of the lights and the red wire.
Next, you must go along with the robot through the cells on the screen where the lights were. You will get out of the maze only if you reach the red wire with the robot. Try to memorize as many bulbs as possible to save steps.
To get moves during the game, touch the move counter and press the "Convert" button. Remember that in total you need to collect 36 bulbs.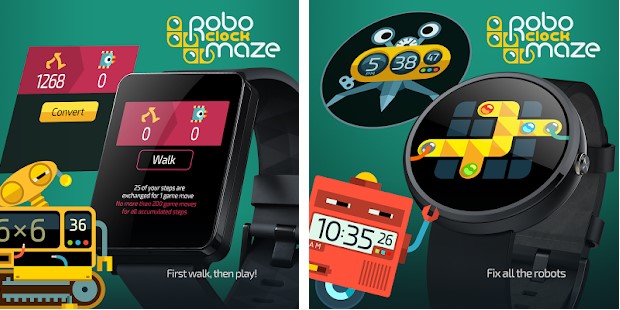 If you have questions or problems when using the application RoboClock Maze, you can always contact the support service. The reply from the support services always comes fast, so you don't have to worry.
Overall, RoboClock Maze is an interesting addicting game with simple controls in which you have to choose from a maze thanks to your visual memory.
What is more, there are cool connect 4 multiplayer game apps that you will probably like, if you like RoboClock.
If you have a faulty memory, the game will help you practice and improve it. The in-game content of the game, together with the pleasant soundtrack, will keep the tension throughout the entire game.