Some people say that screensavers are not useful anymore as modern devices don't need them, and they are right. But we say that we like screensavers, we want to use them just because they are cool!
Screensaver apps are perfect for those who want to personalize their devices. You can find a large variety of live wallpapers, thousands of images, and animations you can use as a screensaver, as well as some useful screensaver widgets for your smartphone or tablet.
You may also like: 15 Free Background and Wallpaper Maker Apps (Android & iOS)
There are so many ways for your personalization! We have chosen the best screensaver apps for Android and iOS and found out their pros and cons, so you can check and find your best one.
Bedside Clock – Digital / Analog
A very simple screensaver application that turns your iPhone or iPad into a night clock. It provides abilities to change the brightness of the screen in order not to interrupt your sleep. The app is very convenient if you don't have a bedside clock.
Advantages:
It is a perfect screensaver: the black background is not irritating at all;
You can choose your favorite color and format of the clock;
It's completely free, doesn't contain any ads or in-app purchases.
Disadvantages:
Not many things you can change in design;
In my opinion, it lacks an alarm function.
Verdict: It's a perfect clock-replacing screensaver mode if you don't expect any other functions.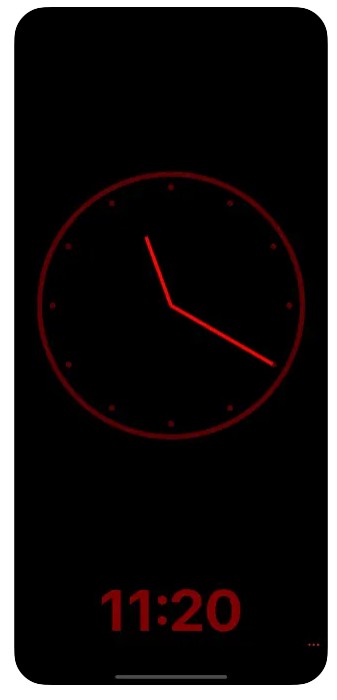 You may also like: 15 Free lock screen apps for Android & iOS (widgets & wallpapers)
Wallpapers HD for iPhone, iPod, and iPad
This application is not exactly a screensaver app, it's a kind of a library of thousands of HD pictures you can use as a wallpaper or as a screensaver. It is probably the best free wallpaper search system. It definitely simplifies the process of finding a necessary picture: all the wallpapers are categorized.
Advantages:
Thousands of high-quality pictures;
The ability to download the picture you liked or use it without downloading;
You can find a picture fitting your device or cut it so it perfectly fits;
The app is absolutely free.
Disadvantages:
Not exactly a screensaver app;
All the pictures are static.
Verdict: You can find a perfect static screensaver image using this app.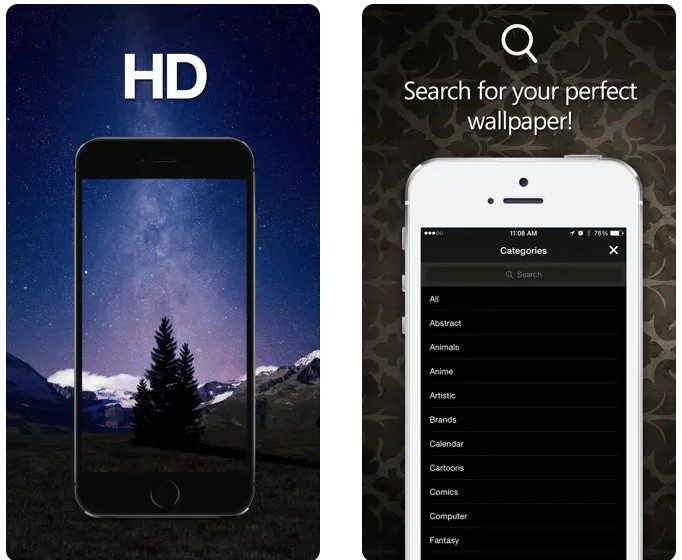 Wallshow
Wallshow is an application that allows you to create dynamic wallpapers by selecting and rotating multiple images from your gallery. You can adjust the slideshow duration and transition effect and then set it as your device's wallpaper.
Among the advantages of the application stands out its simplicity and ease of use, which makes it accessible to users of all ages.
Another benefit is the ability to create personalized and ever-changing wallpapers that can bring your device's home screen to life.
Despite this, some users report technical issues such as crashes and slow downloads.
Some reviewers also complained about the limited slideshow customization options, such as the inability to adjust slideshow orientation or add music.
This app is perfect for you if you want to bring some new color to your smartphone screen, or if you are looking for a simple and easy to use dynamic wallpaper app.
But if you're looking for more advanced customization options, you might want to look elsewhere.
Wallshow app features:
Suitable for users of all ages
A good way to decorate your smartphone desktop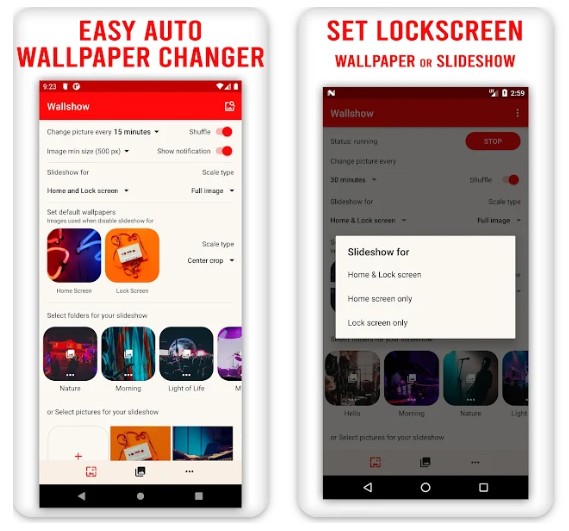 XScreenSaver
This is the app for those who miss the old-times Linux screensavers. The author recreated the images in details, so you will have those nostalgic feelings.
Advantages:
Very simple design and interface;
Causes nostalgia.
Disadvantages:
It can't be used as a real screensaver, it's more like a game.
Verdict: Perfect for those who remember what the old-school screensavers can be like.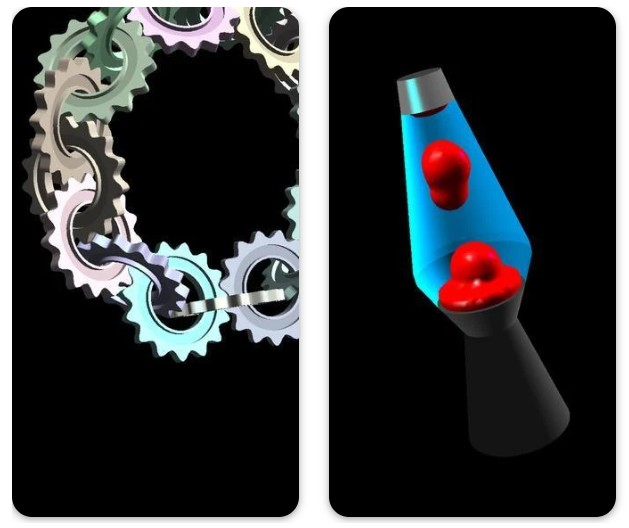 Aquarium Live HD +
This is a version of the popular mac app for iPhones and iPads. You can turn your device's screen into a beautiful aquarium with wonderful sea creatures. The app provides 4 long videos running in full screen, which is quite calming and beautiful.
Advantages:
High-quality videos used as a screensaver;
You can also add sounds of sea and waves and mix them;
The app has a sleep timer option.
Disadvantages:
Verdict: Beautiful screensaver app you will find relaxing.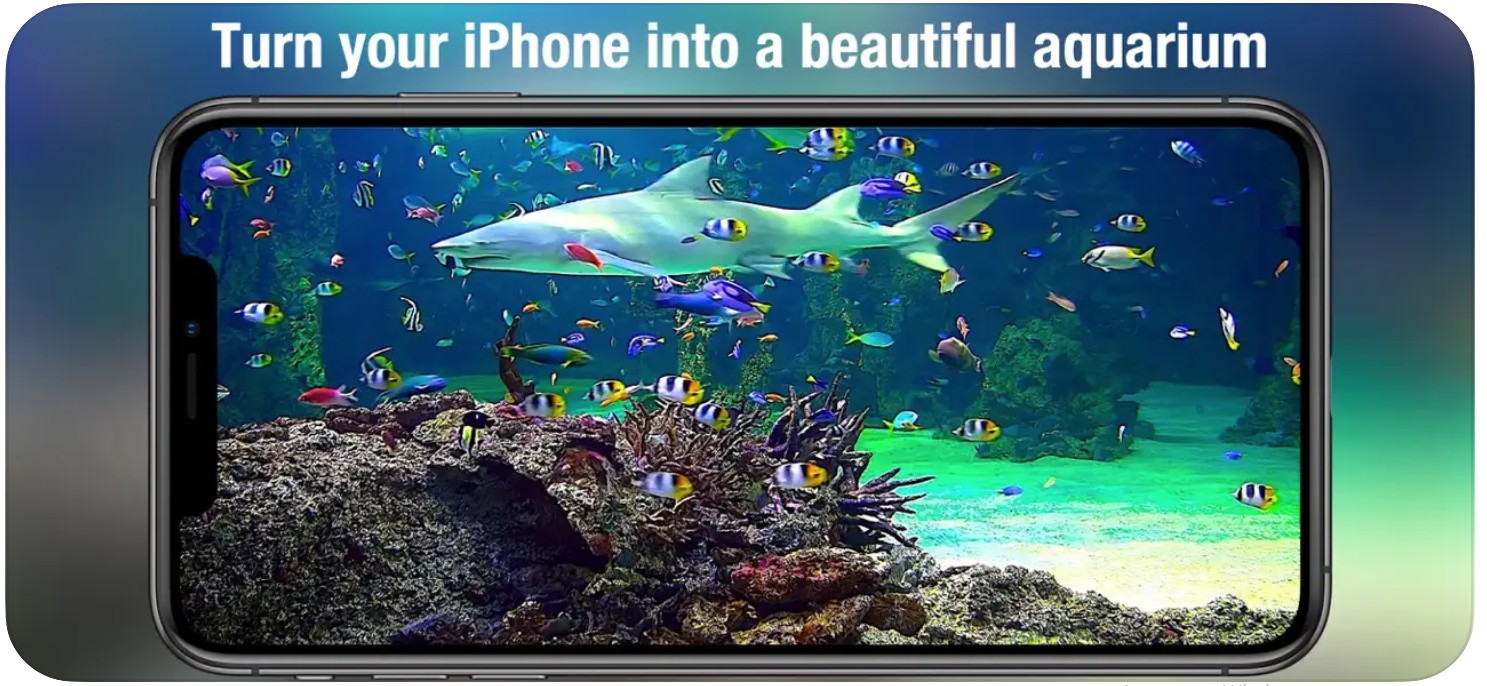 iQuarium
Another aquarium app you can get for your iPhone or iPad. It is more like a game: you can not only watch the screensaver mode but also interact with your fish.
Advantages:
Great full-screen interactive screensaver;
Beautiful interface;
You can add sounds;
The app is free.
Disadvantages:
Contains ads, which can be removed using in-app purchases.
Verdict: A nice game you should try, even if ads can be irritating.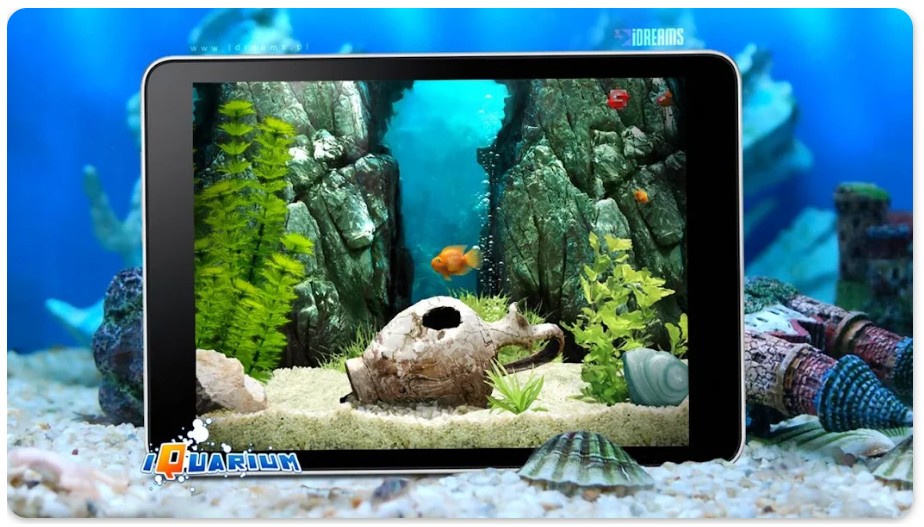 Kappboom
This app is also a library for thousands of wallpaper images. You can find the picture you like easily as they are divided into categories. So you can choose your favorite screensaver using this wallpaper search engine.
Advantages:
Really great choice;
Easy to find;
You can change images: add stickers, make collages and so on;
No ads, free of charge.
Disadvantages:
Doesn't provide any screensaver mode and doesn't hide the interface.
Verdict: Perfect wallpaper app, can be good if you want a screensaver, but it depends on your requests.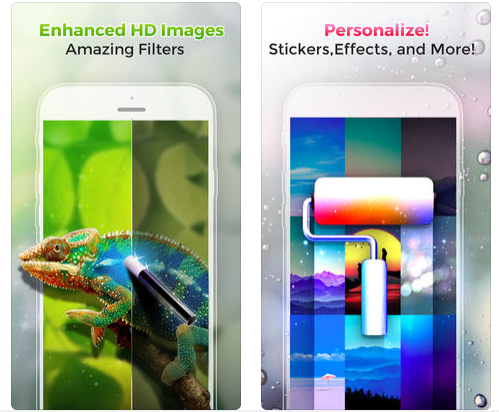 You may also like: 15 Free Wallpaper Apps for iPhone & iPad
Lucid – DayDream Screensaver
A great screensaver app for your Android device. It automatically turns on when your smartphone or tablet is charged. The screen shows all the information needed, from clocks to battery level. You can choose any background you want.
Advantages:
A very informative app, all the data about your device on your screen;
An easy and beautiful interface.
Disadvantages:
Many functions are not free.
Verdict: A very good screensaver app, not only beautiful but also useful.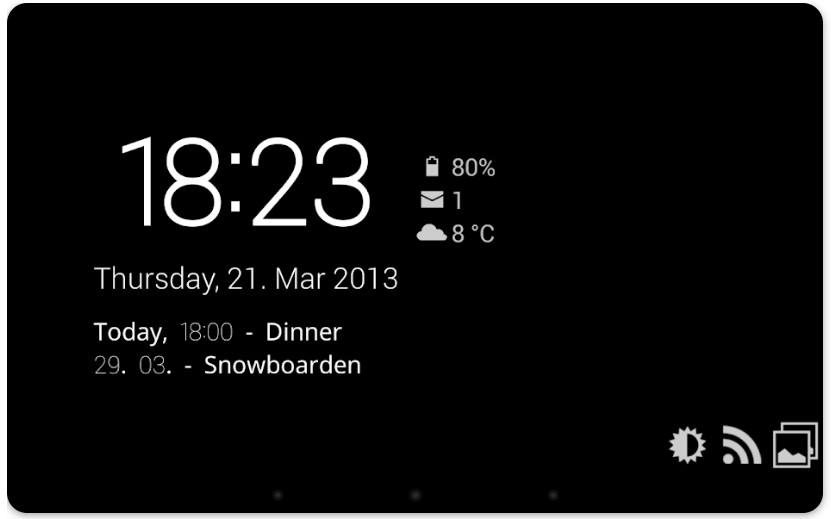 α CLOCK
This is a standard app by Sony and it has an interesting name "Alpha Clock". It is quite a nice screensaver app with images of European sceneries, such as Mont Saint-Michel or Bavarian Forest. This will be a perfect choice for those who like minimalistic design and not an overwhelming background.
What is more, the background will be changing depending on the daytime. When it's early morning, there will be a picture of a castle at the dawn, when it is evening, the picture will reflect the twilight. Pictures do change in the real-time mode as if you were watching it in real life.
Pros:
Animated changing of the daylight
Minimalistic design
Cons:
Only 2 variants of wallpapers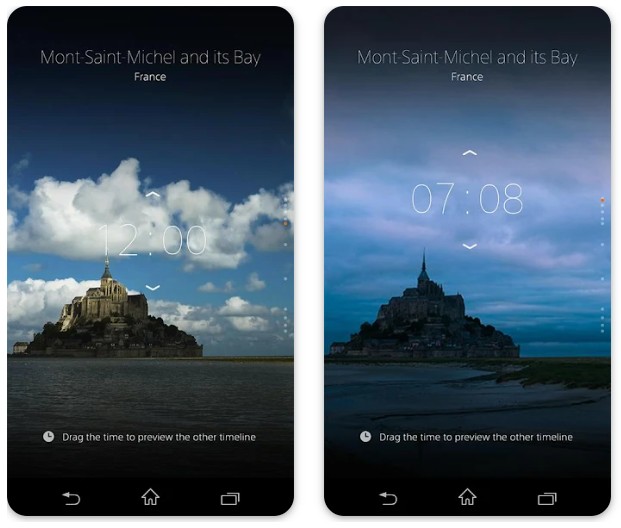 Wallrox Wallpapers
This is a Wallpaper app where you can find many pictures and use them both for your main screen and lock screen. It works as a search engine for wallpapers. All images are uploaded to the cloud and updated regularly.
Advantages:
Reach choice;
Easy to find new pictures;
Compatible with any Android device.
Disadvantages:
Contains ads;
No full-screen mode.
Verdict: good for finding pictures.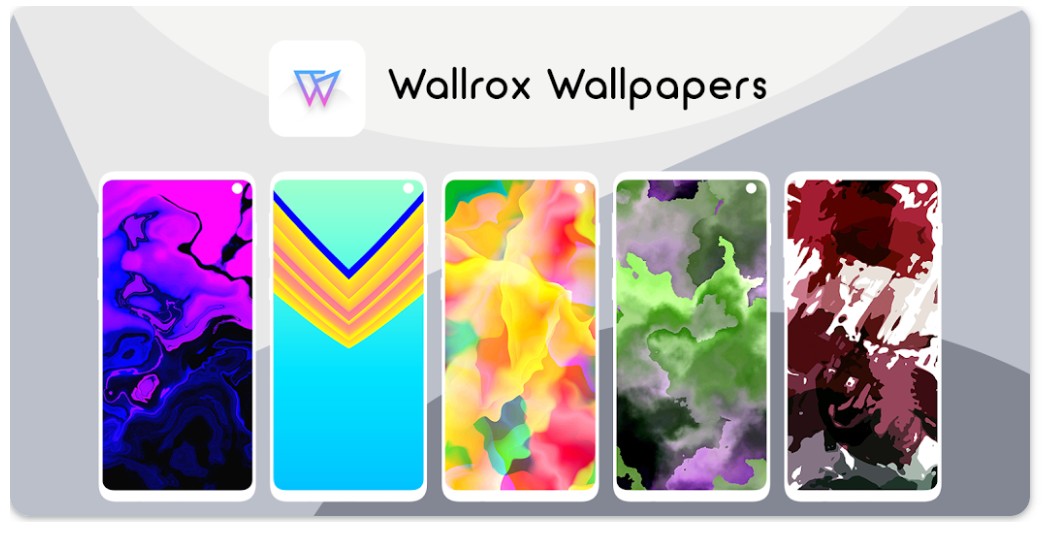 Sea Landscapes Live Wallpaper
This app provides animated wallpaper images giving an effect of a real screensaver. You can choose any sea landscape animation you want, the image is quite realistic.
Advantages:
Beautiful and relaxing animation;
Very realistic seascapes;
Good both for smartphones and tablets.
Disadvantages:
Lacks full-screen mode;
As with any animated wallpaper, bad for your battery.
Verdict: If you love the sea, you will love this app.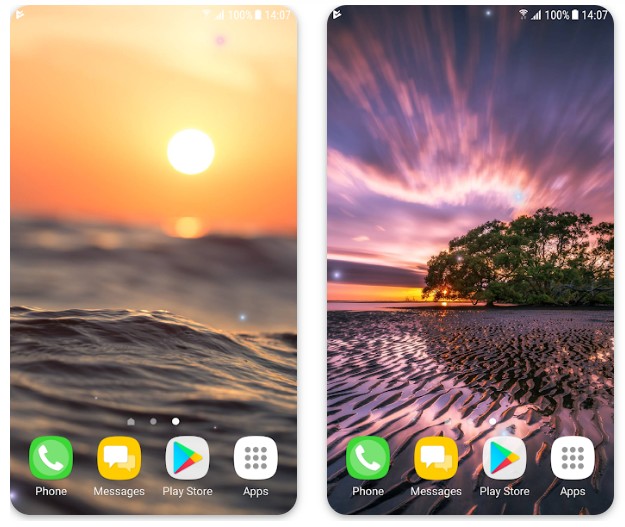 Earth & Moon in HD Gyro 3D Parallax Live Wallpaper
Do you want a small piece of the Earth in your device? This application is for you! It sets a realistic 3D motion-sensitive picture of our planet as your wallpaper. This is one of the best screensavers you can find!
Advantages:
Very realistic and interactive;
Details are done perfectly;
It is space thematics, come on.
Disadvantages:
Like many apps, lacks a full-screen option.
Verdict: If you love the space, try it and you will never regret it! Especially good for tablets.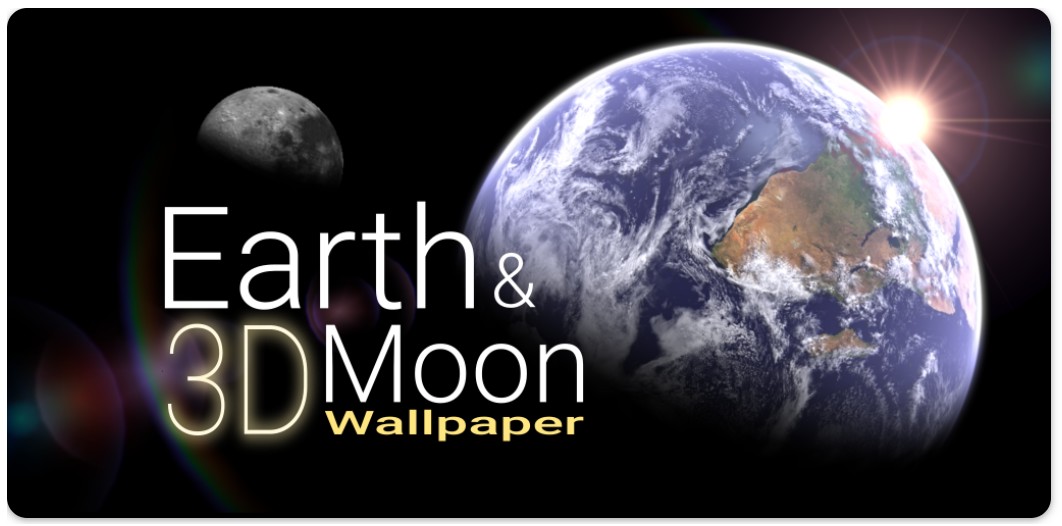 Vellum Wallpapers
Vellum Wallpapers is an application that offers you a huge collection of amazing wallpapers for your iPhone or iPad. With Vellum you can easily find and install beautiful high quality wallpapers that match your style and personality.
Perhaps the main advantage of Vellum is its extensive collection of wallpapers, which is updated regularly.
The app's user interface is also sleek and user-friendly, making it easy to view and set wallpapers. Plus, Vellum lets you save your favorite wallpapers for easy access later.
But despite this, there are complaints about the limited selection of free wallpapers and the subscription model in the application. Some also find ads intrusive.
This app is a great way to give your device a fresh look and you will find tons of beautiful wallpapers to choose from.
Vellum Wallpapers App Features:
Wide selection of pictures
Convenient and easy to use application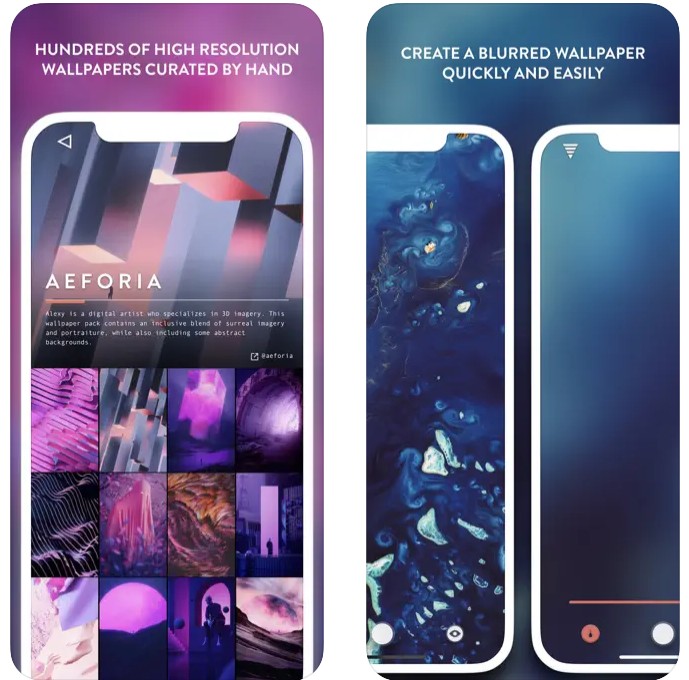 Photo Gallery and Screensaver
This app allows you to set your photo gallery as a background for your screen saver. You can put them in order and set the time between them, so it can be a good opportunity for personalization.
You can put some information you need on the screen. You can use this app as a daydream default.
Pros:
Unlike most others, this app really resembles a screensaver;
Good opportunity for personalization;
Use your gallery and search pictures online.
You can sync it with your Android TV.
Verdict: Very good screensaver app, quite a default one, but it is not very popular among users.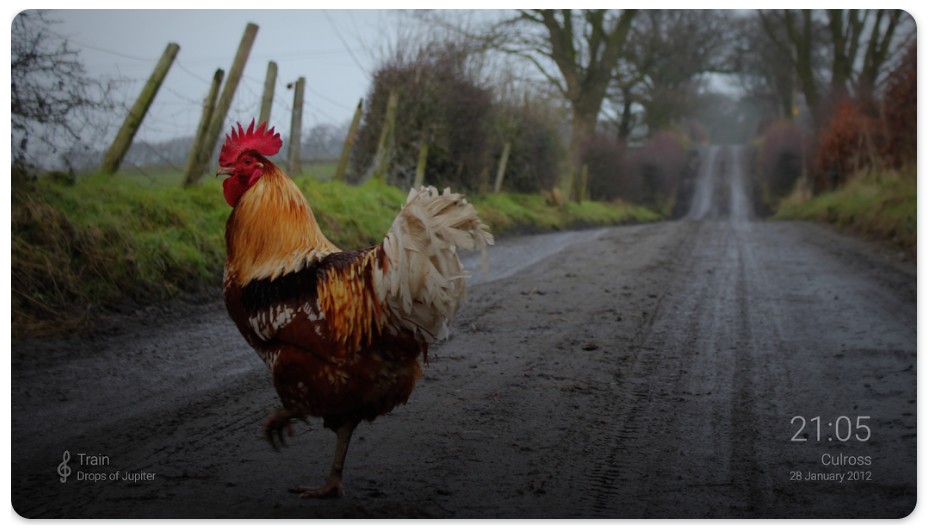 Rain Live Wallpaper
Rain Live Wallpaper is a nice old-school screensaver app that contains a classic scenery of a butterfly sitting in the grass. It might seem a little cheesy, however, the statistics of downloads proves that even images like these are still extremely popular among users.
By the way, there is not only the butterfly, but also a snail, flowers, and so on. Each image is accompanied by the rain-wet effect on the screen of your phone. In total, there are around 20 different pictures. The effect of misted glass gives you a possibility to "draw" on it with your finger (nice stress-release).
Pros:
A nice effect of a misted glass
Animated wallpapers
Cons: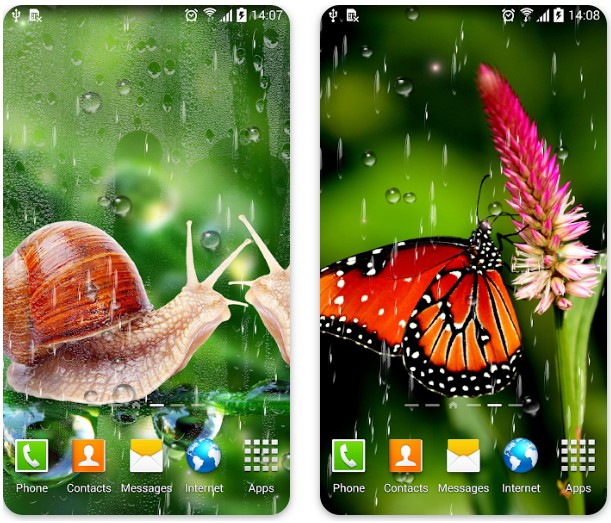 Backdrops
If you are more into abstract style of the wallpapers for the screensaver and you like eye-popping colors. then you will find the options here are just perfect. Almost all the images presented here look very aesthetical and remains of Vahn Gogh's paintings.
What is more, those backgrounds have a 3D effect and animations, which makes them even more captivating. It is a perfect choice for the screensaver since they are not too bright and overwhelming, thus, you're not going to get annoyed in a week after you downloaded them.
Pros:
The unique style of wallpapers
Bright, yet not overwhelming design
Cons:
Monotone style of all the wallpapers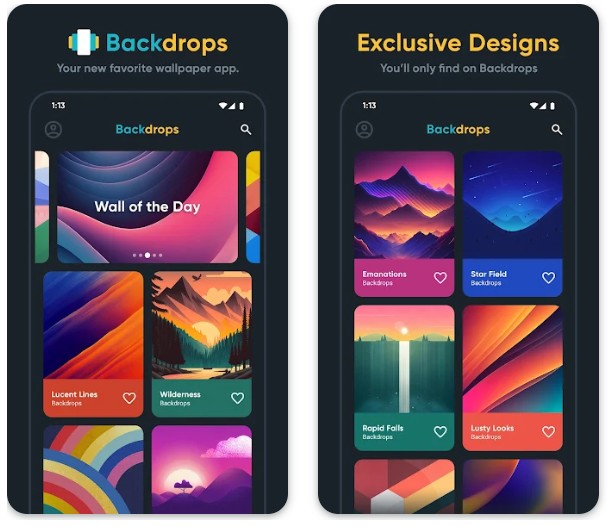 You may also like: 17 Best Clock Widgets for Android
3D Wallpapers
If you are the type of person that likes to change wallpapers almost every week (or even more frequently) then this is a perfect app for you since new wallpapers are uploaded on the daily basis here. There are also screensaver wallpapers which have the diverse styles – so everyone will find something that he/she likes.
Before downloading a wallpaper you can preview it in a full-screen mode to be sure if it is going to fin your phone. 3D Wallpapers is one of the most popular app in this category on Google Play. An interesting feature of this app is that you can share the wallpapers with your friends.
Pros:
Wide range of wallpapers
HD quality
Editing of wallpapers right in the app
Possibility to share wallpapers with the friends
Cons:
Occupies lots of the phone's memory space