Have you ever faced difficulties while reading music? Well, we have good news for you – now you can forget about such problems. That is why we would like to pay your attention to the Sheet music scanner app. This tool will help you to scan and play in audio call sheet notes from a picture in a second. So, let's take a look at why this app is so special.
And for all those creative people and music and we picked up the coolest apps to add the music to video.
First of all, the Sheet music scanner app is quite simple and convenient. After downloading the app, there is no need to create an account, so you can use it straight away. On the menu page, you can find all the necessary functions – scan, import, and the sheet music list.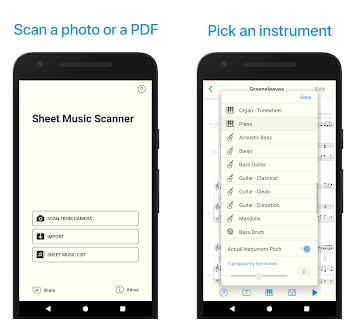 The app boasts a wide range of options. The app recognizes most types of musical notation symbols. After scanning the notes, you can listen to how this melody sounds.  Sheet music scanner app enables you to read sheet music separately, for example, right or left hand on the piano.
And probably if you like play musical instruments – you also like singing. Well, if your voice isn't perfect but you want to record a really cool song you can use the auto-tune apps.
You can also customize settings – adjust tone and pace, or add more pages. Plus, it allows you to play one voice or several voices. What is more, the app offers you an extended number of musical instruments to choose any from them – Strings, Keyboards, Guitars, Saxophones, Brass, Woodwinds, and others.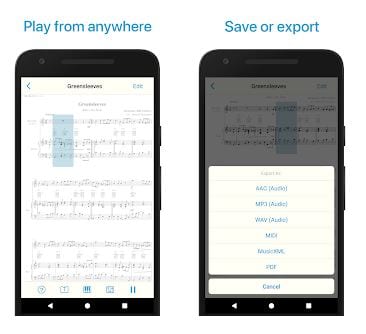 In addition to it, you can save and export your sheet notes as M4A, AAC, MP3, WAV MIDI, MusicXML, and PDF formats.  Sheet music scanner app features a modern stylish design, which fully complements the ideas of the app. The developers have created a user-friendly interface that guarantees you an enjoyable use.
You can also download tons of video tutorials from YouTube since there is a lot of useful stuff there. You can use these apps to download videos from there.
The app comes with a paid version, and we have to admit that it is quite difficult to find such a multifunctional app at such an appropriate price.  Summarizing all the points, the Sheet music scanner app is truly worth downloading. The app will be suitable for both professional musicians or just people who would like to learn the notes.