A neat little game that whisked me away into a charming, pixelated world of adventure and quests, Overworld feels like a delightful dose of nostalgia for lovers of old-school RPG games.
You may also like: 7 Best Sliding Block Puzzle Games for Android & iOS
Overworld offers the perfect gaming experience for those of us who adore RPGs but don't always have hours to spare for extended play. In just 10-minute sessions, you can dive into dungeons, explore an enchanting open world, and embark on quests that are short but oh-so-sweet.
The game presents a realm teeming with animals, monsters, and a host of other intriguing creatures. As an adventurer, you get to choose your character, whether it's a paladin, crusader, druid, mage, or thief and set out on your quest. The ability to switch characters adds a layer of versatility to the gameplay, ensuring that every session feels unique.
What I found impressive about Overworld is its simplicity. You can venture into this kingdom with ease, thanks to intuitive controls and gameplay that doesn't bog you down with complex mechanics. The game is all about quick and satisfying adventures, making it accessible and enjoyable for a wide range of players.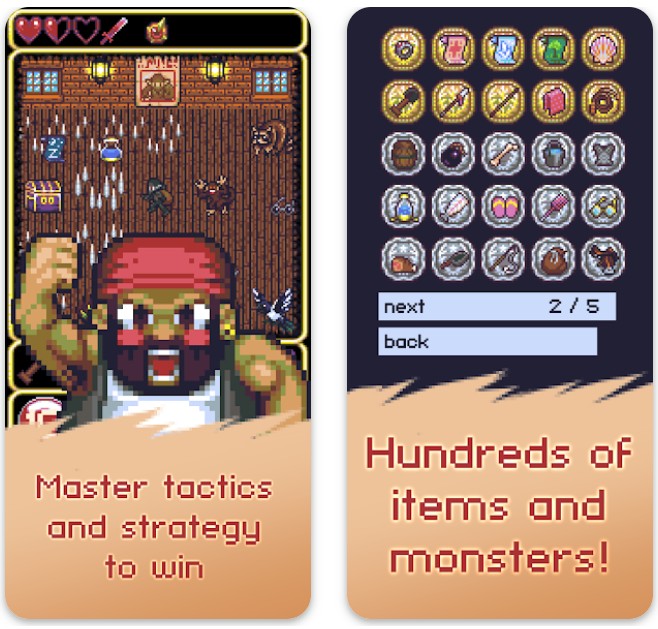 Moreover, Overworld doesn't inundate you with ads. It's free to play, which is fantastic, too.
The game's pixel art environment and cute characters create a visually appealing experience, reminiscent of classic RPGs. You'll also be able to fight monsters, tame animals, and collect items, keys, and loot as you complete your quests.
The continuous updates and new content keep the game fresh, ensuring that you won't run out of adventures anytime soon. There are hundreds of items, 35 fantasy heroes to choose from, and expansive worlds to explore. The compass and guides provided within the game ensure you never get lost.
You may also like: 15 Best Team Buidling Games for Android & iOS
Overworld is an exhilarating and action-packed game that immerses players in an epic fantasy world filled with adventure, combat, and strategy. If you're a fan of role-playing games and seeking a captivating mobile experience, Overworld is an exciting choice.
In Overworld, you embark on a journey as a powerful hero, facing various challenges, quests, and monsters in a sprawling and beautifully designed game world. The game offers stunning 3D graphics that bring the fantasy realm to life, making it visually impressive.
One of the standout features of Overworld is its tactical combat system. Players assemble a team of heroes with unique abilities, and battles are fought in a turn-based style. Strategy plays a vital role in determining victory as you choose the best tactics to overcome formidable foes.
The game's progression system allows you to level up your characters, acquire new gear, and unlock powerful skills to strengthen your team. Additionally, there are social features that let you team up with friends and take on challenging dungeons together.
While the game is free to play, it also offers in-app purchases for various in-game items and resources, which can enhance your gameplay experience.
Overworld provides a captivating RPG experience for mobile gamers, with its engaging storyline, impressive visuals, and strategic gameplay. If you're looking for an adventure that fits in your pocket, this game is worth exploring.
Overall, Overworld is a delightful gaming experience for adults and kids alike. Whether you're a seasoned RPG enthusiast or a casual gamer looking for some quick adventures, this app has something special to offer. I've thoroughly enjoyed my time in this pixelated kingdom and am excited to continue my journeys as a valiant adventurer.
You may also like: 7 Best Frogger Games for Android & iOS