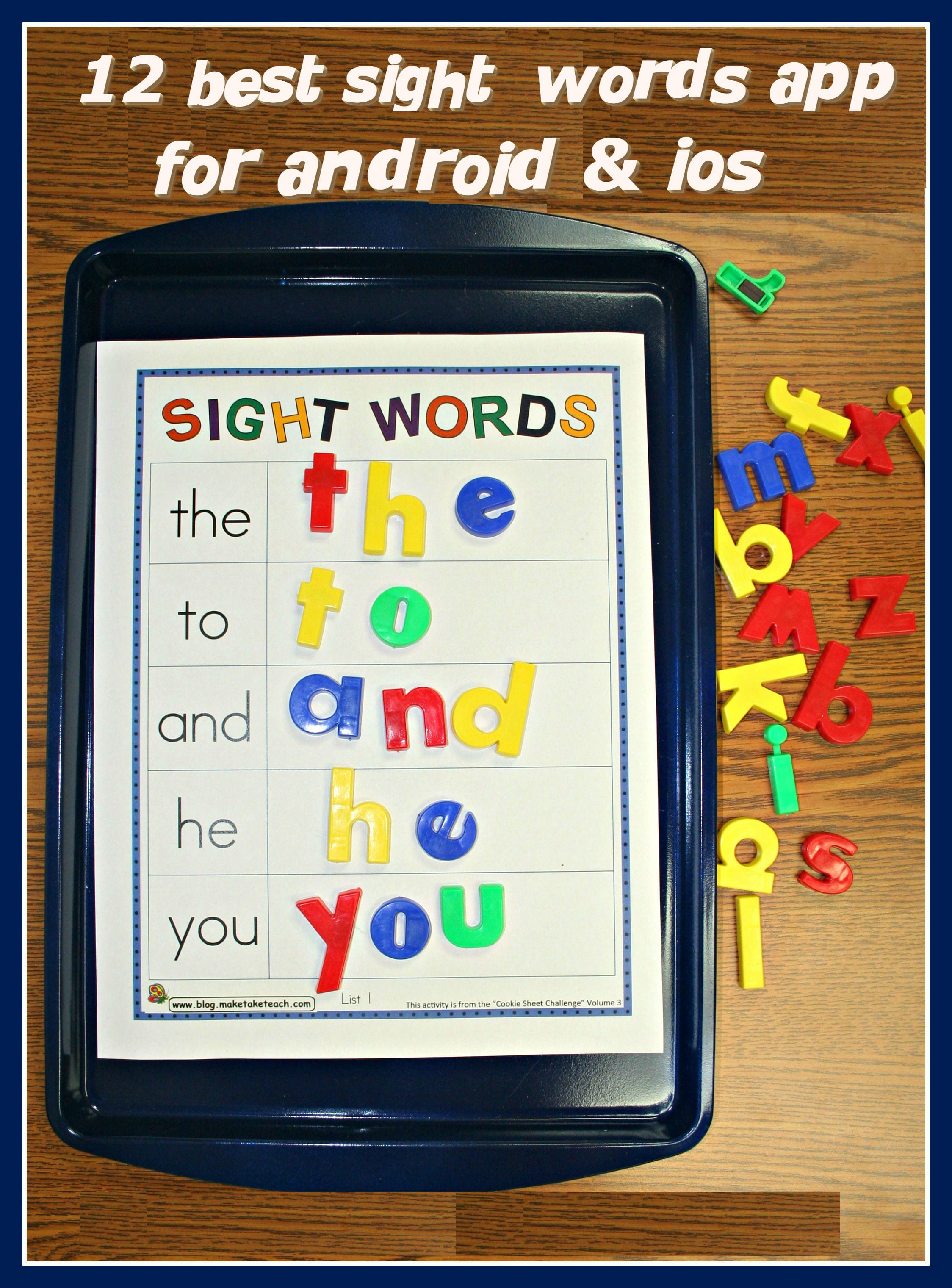 We've all heard the famous saying of Esther Selsdon: "If you want to grow a good child, spend on them half money and twice more attention." And it is true. Today we will talk about how to teach children to read, how to teach them the basic foundations of a language.
Catching up with the kid, we again come to know the world, again do some discoveries. Catching up on any matter with the child, we go back to the world of childhood.
Probably before each parent some questions arise. For instance, what is the first step in teaching the child to read? And the answer is simple – each baby should know the sight words to achieve good success in fluent reading. Sight words are the words which we see in our everyday life. We present to your attention 12 best sight words apps for android & ios. Check out these applications, download them, and help your child learn to read!
Sight Words List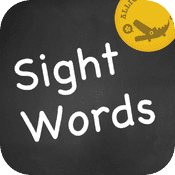 This application will teach your child to read! The application consists of 315 sight words, which, in turn, divided into certain age groups. To make sure your child has learned to read fluently and can instantly recognize the word, select a suitable group of words and forth to knowledge!
Application is different in that it is fun, affordable and, most importantly, educational.
Acceptable age from 1 to 4 years.
Features:
add cards with new sight words;
the ability to record your own voice;
group the cards in the list, which is perfect for your child's education;
funny voice application, which does not allow the child to be bored;
2 playback mode;
5 game modes with different levels of complexity;
font setting and spelling;
setting speed of viewing of flash cards;
multisensor tool.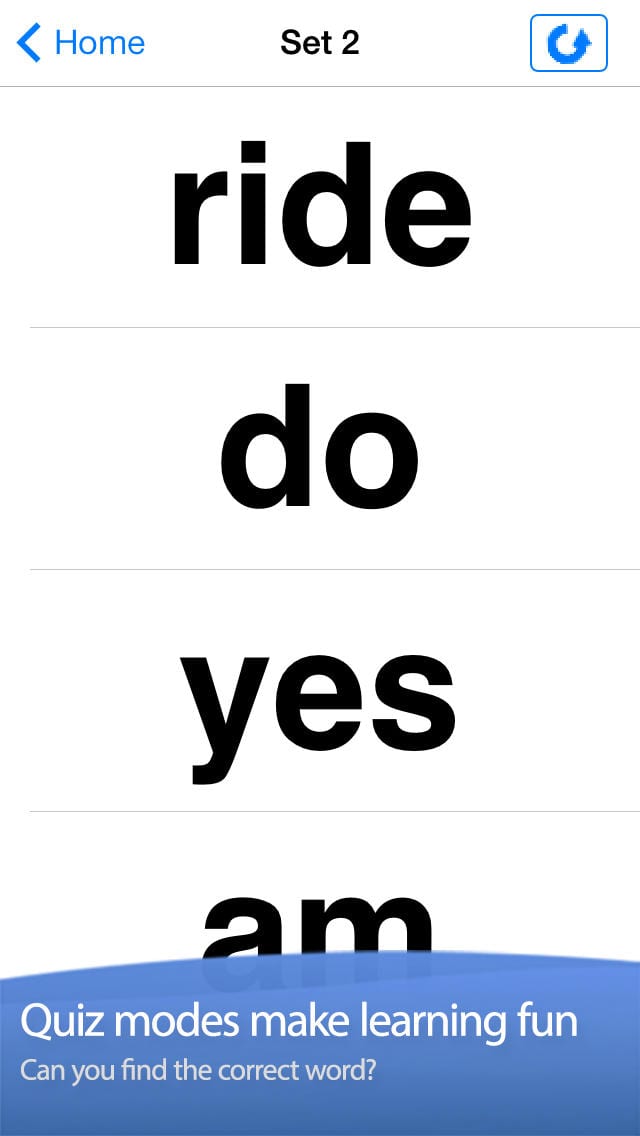 back to menu ↑
Sight Words Learning Games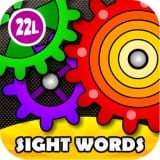 In order that the child has learned to read fluently and well, he needs to know all the sight words. This is the essence of learning to read. If a child will be able to recognize sight words quickly, in future he will learn to read fast too! This app is created for this purpose and it has a simple interface.
Features:
6 games of different categories (WORD MACHINE, SPELLING, SIGHT WORD BINGO WITH WORD ALIENS, MEMORY GAME, GEARS, FLASH CARDS);
train a single word in each category of the game;
selection of avatars;
selection of letter case;
ingress to the best estimates.
Download this app and you will see the progress of your child!
back to menu ↑
Kids Reading Sight Words Lite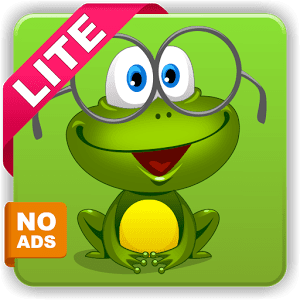 The first step on the path to reading for your child is to download this application. Go along with the little frog through interesting places and learn more than 220 sight words. In this game, there are 5 levels of vocabulary.
The child will be able to listen to the sight words and identify which word was sounded right; to recognize words in their reading level; to improve skills and reading fluency.
The whole training system is based on the entertainment game. The app will help your child to focus on learning new words and not be distracted by extraneous noise. Motivate your kids Correctly with this app!
back to menu ↑
Sight Words: Phonics Bug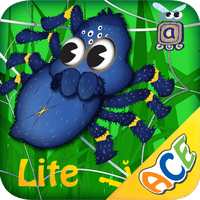 To learn to read, your child must recognize at least 300 different sight words. This app is developed to help your child learn the basics of reading ease. Together with funny flies and angry spider with dragonfly your baby will learn new words easily, practice their pronunciation and spelling.
Features:
the app developed by the best teachers;
for children from 5 years old;
30 levels of training with various bonuses;
learning the phonetic aspects;
online training, based on the full playback of words;
5 stages of training.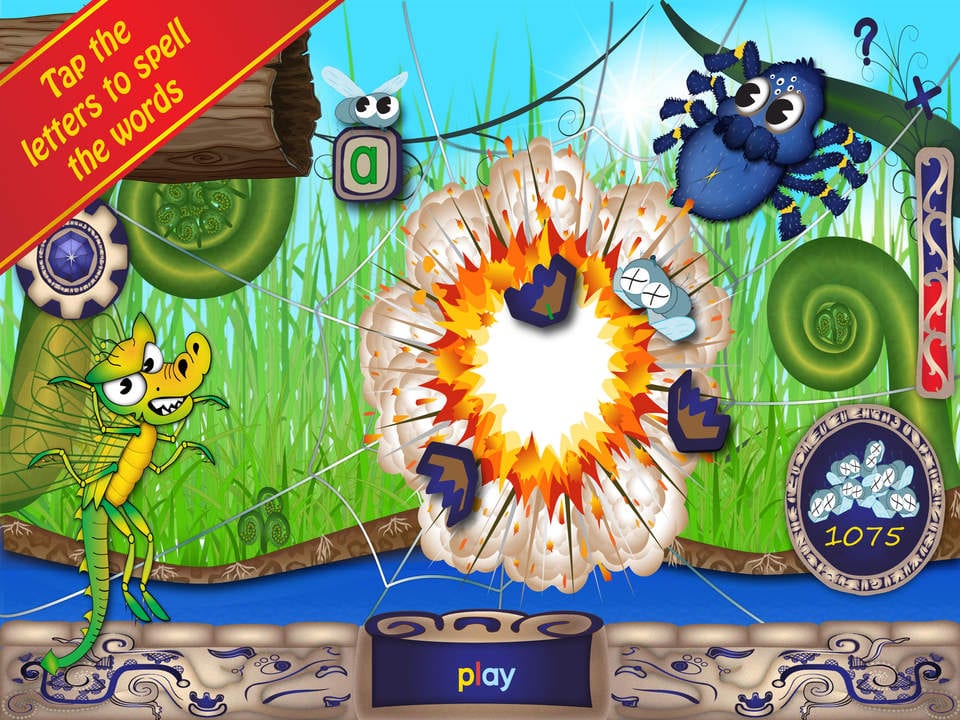 back to menu ↑
Dolch Sight Words Flashcards

The app will help your child to learn reading skills. Children will learn 315 words, along with a simple and intuitive application. They may not only see the right words, but also to listen to their correct pronunciation. There are 2 game modes – the standard game and quiz. In the first case, the child sees the sight words and listen to them, in the second case, the child sees the word, but its correct pronunciation the player must guess himself.
Features:
includes 315 sight words;
this version supports the app without adverts;
age category from 1 year.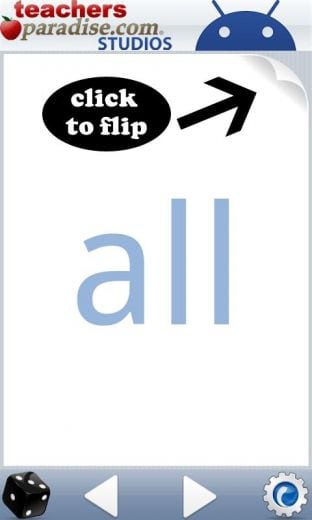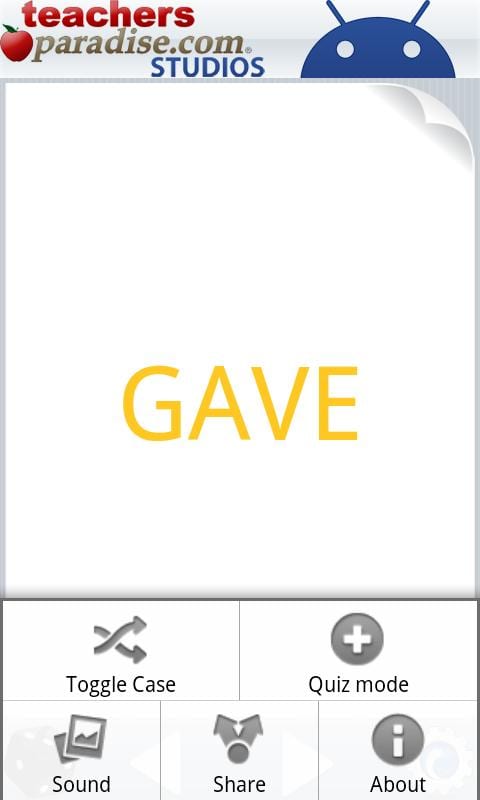 back to menu ↑
Phonics Spelling & Sight Words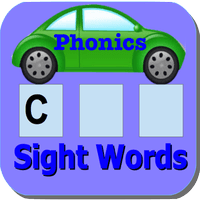 With this application, children will learn how to pronounce the sight words correctly as they are written and sounded, and remember all the sight words. The app is perfect for children of pre-school and kindergarten age.
Fundamentals of phonetics, spelling, pronunciation, all the sight words, their spelling, sentence formation – all these will know your child, if you download the app Phonics Spelling & Sight Words. There are more than 300 words to learn, which are divided into 2 levels of difficulty and interesting games on the combination and ratio.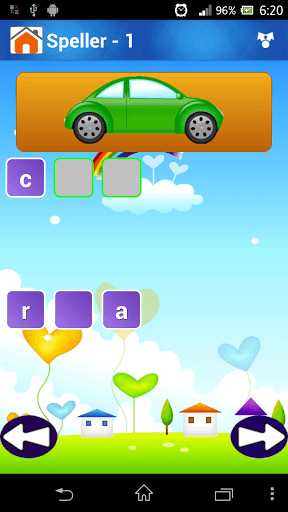 back to menu ↑
Sight Words 1-300: Kids Learn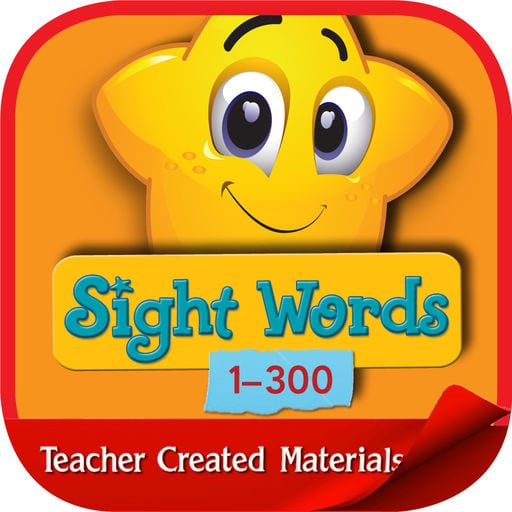 Give your child the joy of learning to read with this app. It combines the fun, easy games with the audio features that help children learn reading skills. With this application, you are given the opportunity to listen to the sight words, to practice their writing, to recognize letters, write words with their reverse playback, play with the words.
Develop fluency in reading child, expand vocabulary, learn the rules of spelling. Especially because with this application the training will be done easily as it has great graphics. Children will not be able to break away from the game and unconsciously will learn over 100 most frequently used sight words.
You will find different levels of the game, for example, Word Matching Game or Star Speller. All of them are aimed at learning to read in a playful way.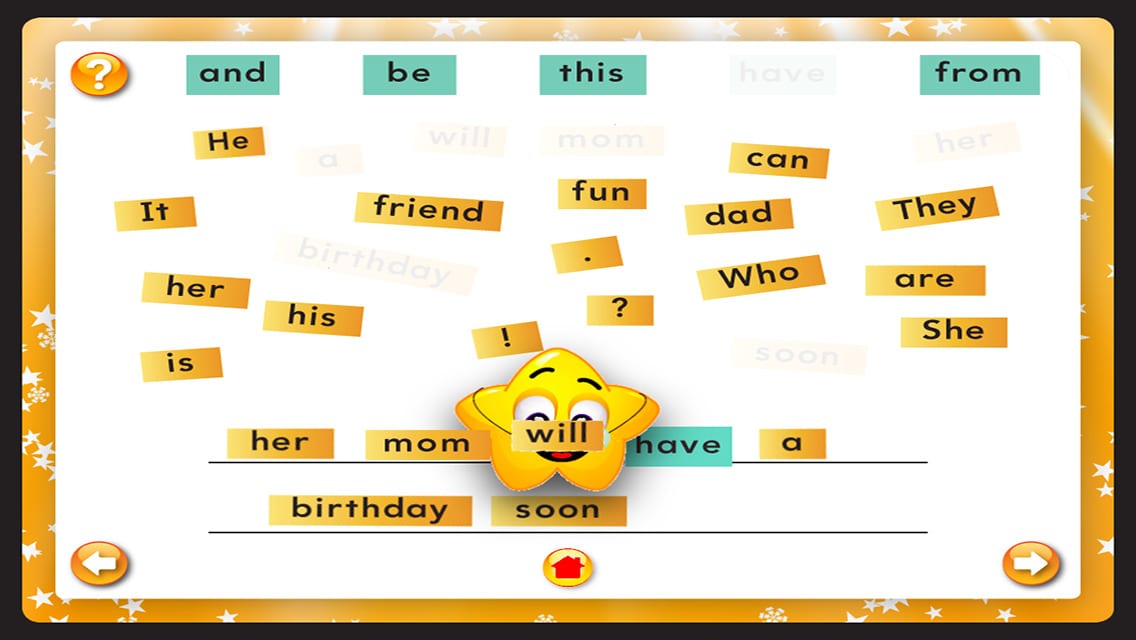 back to menu ↑
Sightwords Flashcards for Kids
What could be more beautiful when your child begins to read. It opens up new possibilities for knowledge. To help your child to learn better skills of reading, download this indispensable application. With it, children can easily recognize the sight words on the look and the sound.
You will find 4 levels of difficulty for children of different ages. Each level has a question-quiz to test the learned knowledge.
If some sight words is impossible to remember, just add them to the list of difficult words and come back to them again and again.
back to menu ↑
Sight Words Puppy Dash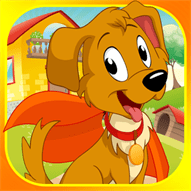 What do you think helps to develop a child's reading skills? The correct answer is remembering and recognizing sight words. The application promotes the study of such words, and then teach your child to read.
In the game Race against time the player must guess the word spoken as faster as possible. For each correct answer you are given by an asterisk. When a certain amount of bonuses is gained, the player receives a key to unlock the cage and rescue the animal. 16 different animals are waiting for their salvation! Hurry up!
Release the cute little animals, learn and remember sight words, learn to read with the application Sight Words Puppy Dash.
back to menu ↑
Words for Kids – Reading Games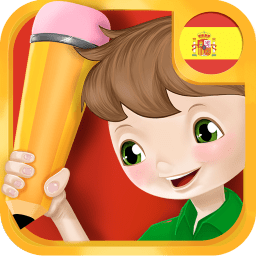 With this app, your children will play and learn sight words at the same time. The application is developed for children from 2 to 8 years. A special feature of this program is that all the words are grouped according to a specific location (kitchen, bath, for example). There are audio clues. Here you will find various types of incentives, to encourage children to further studying of words.
Education is based on the objects that the child sees in everyday life. This allows children to understand the importance of the subject quickly, to distinguish objects with each other, to get to know their origin. The app Words for Kids is the best way to educate children!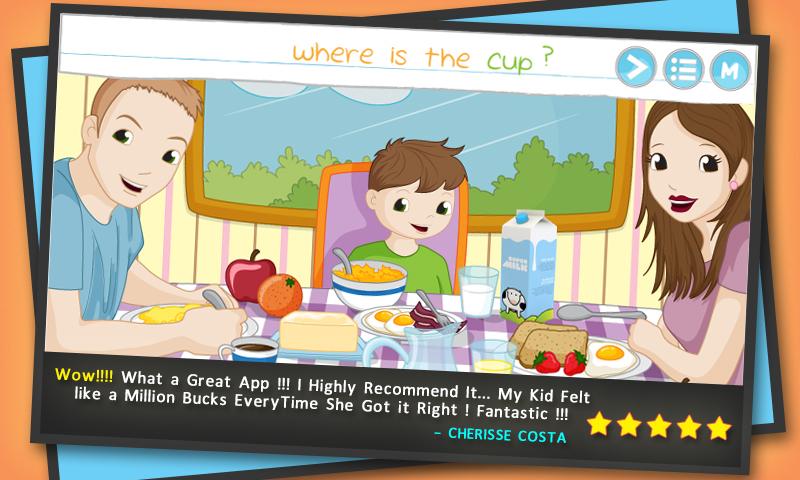 back to menu ↑
My sight words
Teach your children to read with pleasure! Develop the skills of the child with this fun game. For you there are granted intuitive navigation, reverse audio communication, Voice Recognition, 3 training mode. You can also create your own card with the sight words.
Features:
perfect for tablet displays, and for phones;
a list of words for readers with different levels of knowledge;
3 training modes;
compiling a list of your own words;
record the correct pronunciation of words by yourself;
speech recognition will help to determine whether your child pronounces words correctly;
display of statistics training;
random order of words and their color;
choose between lowercase or uppercase letters.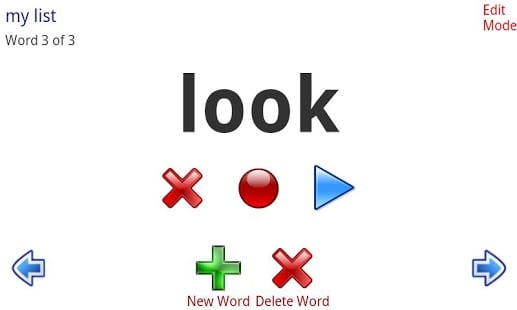 back to menu ↑
Dolch Sight Words Flashcards For Kids
The app will help your child to learn basic sight words. Prepare a good base for reading of your kid. All words in the application (there are at least 100 of them) are in alphabetical order.
Features:
very bright graphics and simple controls;
application affects the majority of the most frequently used words;
training takes place in the form of a game;
an excellent tool for preparing to read from preschoolers to Grade 1 pupils.