The major part of the job interview nowadays are held online – and it's definitely more time saving for both parties. And in the following article we would like to present to you the best video interviewing apps so you could easily conduct those interviews.
By the way, if you want to upgrade your HR game, we definitely recommend you to check our article about the best apps for recruiters.
BlueJeans Video Conferencing
BlueJeans Video Conferencing, a prominent player in the segment, has made its mark as a reliable app for conducting video interviews. Employers and recruiters find it convenient to connect with candidates and conduct interviews seamlessly, regardless of geographical boundaries.
With BlueJeans, companies can easily set up and conduct video interviews. The app offers a user-friendly interface, ensuring a hassle-free experience for both employers and candidates.
The main menu provides quick access to essential features, allowing interviewers to schedule and manage interviews effortlessly.
Main features:
High-quality video and audio for effective communication during video interviews
Screen sharing to present visuals, documents, or interview-related materials
Recording and playback that allow you to record interviews for later review or sharing with colleagues
BlueJeans offers additional features such as integration with calendar apps, real-time chat during interviews, and the ability to join interviews through web browsers.
Moreover, this service takes security seriously, offering encryption and other security measures to protect interview data. Candidates can feel confident knowing that their information remains secure throughout the video interview process.
As for limitations, BlueJeans imposes certain restrictions on the duration of video calls in its free version. However, premium subscription plans are available for extended meeting times.
In conclusion, I find BlueJeans Video Conferencing a reliable choice for conducting video interviews. While limitations exist in the free version, the benefits of using BlueJeans outweigh them, ensuring a seamless video interviewing experience for both companies and candidates alike.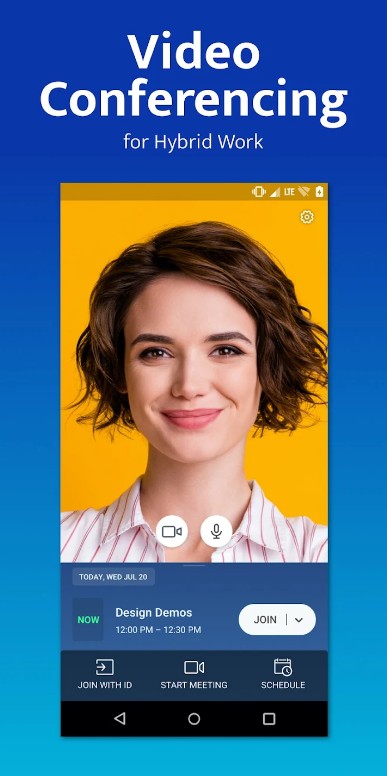 You may also like: 9 Best Private Call Apps (Android & iPhone)
Jitsi Meet
Jitsi Meet has a lot of useful features for online interviewing. It suggests you a comfortable way for finding new employees without personal meetings.
Main menu sections:
Start a meeting is where you can create a new video call and generate a unique meeting link
Join a meeting is where you can use a meeting code or link to join an existing video call
Settings are where you have the possibility to customize audio and video settings, including device selection and quality adjustments
Calendar integration to connect your calendar app to conveniently schedule and manage video interviews
Main features:
High-quality video and audio
Chat functionality
Meeting recording
One of the notable aspects of Jitsi Meet is that it is free and open-source, without any hidden costs or paid features.
However, this also means that the app does not offer premium options such as advanced security features or dedicated customer support. It may be more suitable for casual video interviews rather than high-security professional engagements.
To sum up, Jitsi Meet focuses on privacy, ease of use, and open-source nature makes it an appealing choice for individuals and organizations alike.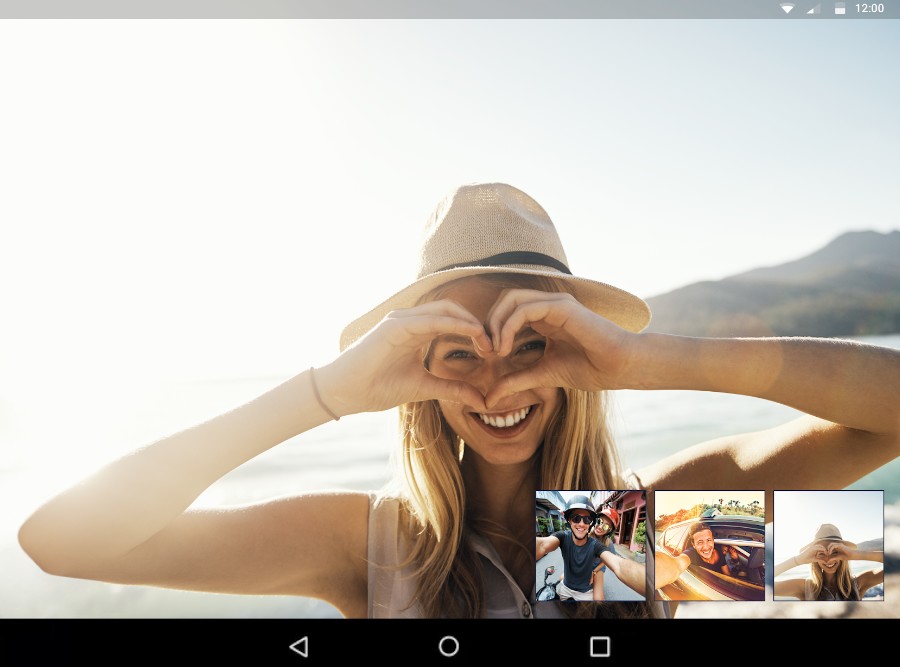 HireVue for Candidates
HireVue for Candidates stands as a reliable and feature-rich app for video interviews. Its user-friendly design and beginner-friendly features make it accessible to candidates of all levels of experience.
HireVue for Candidates caters to candidates of all experience levels. Even if you're new to video interviews, this app provides step-by-step guidance and tips to ensure a smooth and successful interview experience. It offers an excellent starting point for candidates seeking to make a strong impression.
Main features:
Convenience to participate in video interviews from the comfort of your own space, eliminating the need for travel and allowing for more flexibility in the interview process
Practice mode to build confidence and refine your responses before the actual interview
Interview recording to review and analyze your performance afterward
The app supports a variety of video interview formats, including one-on-one interviews, panel interviews, and pre-recorded interviews. This versatility caters to different hiring processes and ensures candidates are well-prepared for any interview style.
In addition to video interviews, HireVue for Candidates offers features such as AI-powered video analysis, interview question banks, and interview preparation resources. These features provide candidates with valuable tools to enhance their interview performance.
Personally, I can say that with its practice mode, interview recording, and support for various interview formats, the app equips candidates with the tools they need to excel in their video interviews, and this is very convenient for both managers and employees.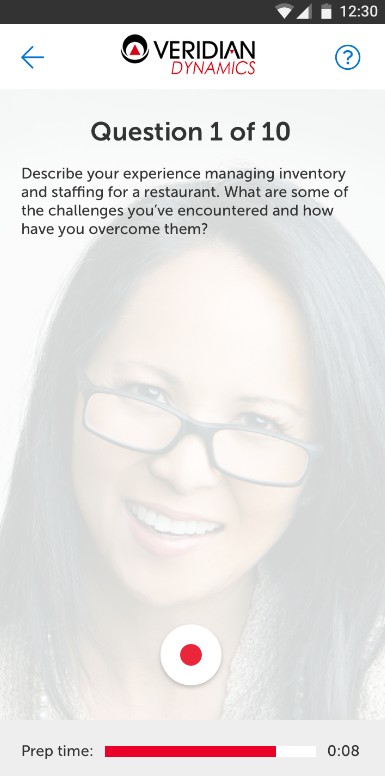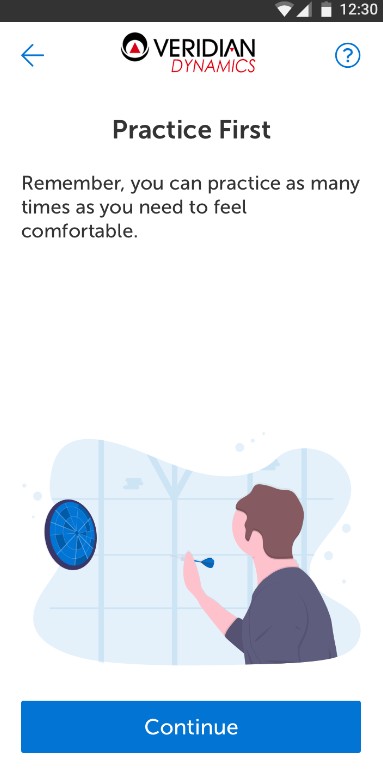 Interviewstream
Interviewstream aims to streamline the hiring process by offering a comprehensive video interviewing solution.
This app has established itself as a reliable app for video interviews, gaining recognition among both employers and candidates.
Employers can conduct video interviews effortlessly with Interviewstream. The app offers a user-friendly interface, allowing hiring managers to create interview templates, customize questions, and invite candidates to participate.
Interviewstream supports various types of video interviews, including live interviews, pre-recorded interviews, and panel interviews. This flexibility allows companies to choose the interview format that best suits their hiring needs.
Whether it's a one-on-one discussion or a collaborative panel session, Interviewstream has got it covered.
Main features:
Customizable interview templates that allow you to create personalized interview templates tailored to specific job roles and requirements, ensuring a structured and consistent interview process
Integrated interview scheduling that offers built-in scheduling features, allowing employers to easily coordinate interview times with candidates and streamline the logistics of the hiring process
Collaborative evaluation for efficient collaboration among hiring team members, ensuring comprehensive and objective candidate assessment
As with any app, occasional bugs or technical issues may arise, impacting the user experience. However, Interviewstream has a dedicated support team that promptly addresses such concerns, ensuring a smoother interview process.
Interviewstream offers additional functions such as interview question libraries, automated reminders, and integration with applicant tracking systems (ATS). These features provide employers with a comprehensive suite of tools to enhance the interview process and streamline candidate evaluation.
Finally, the app prioritizes candidate safety and data privacy, providing a secure environment for video interviews.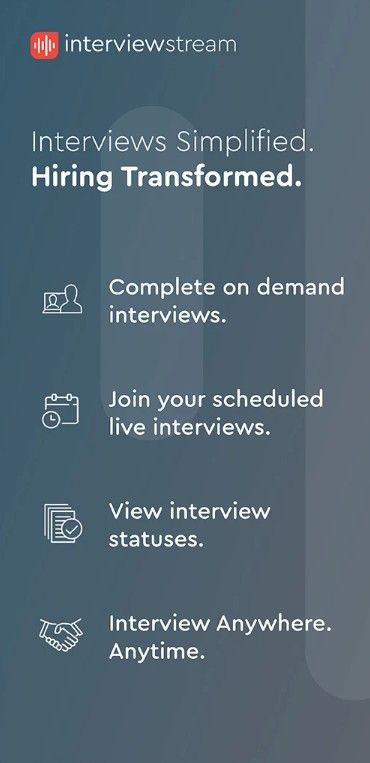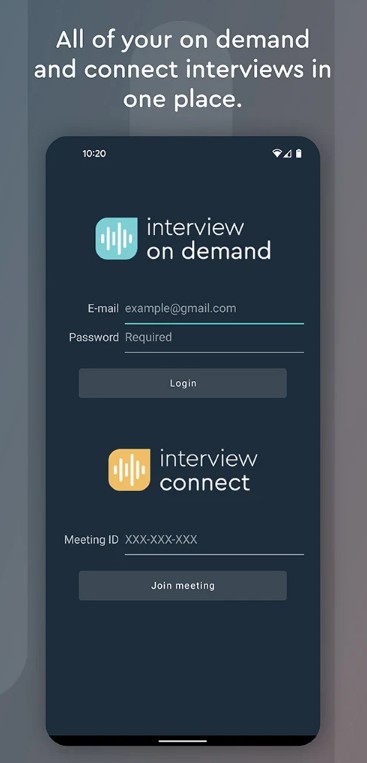 Zoom – One Platform to Connect
Zoom has emerged as a great tool, providing a comprehensive platform for video meetings and interviews.
This is a versatile app that caters to a broad range of users. Whether you're an individual professional, part of a small business, or a large enterprise, Zoom offers a scalable solution to meet your video meeting needs.
What is more, Zoom holds a prominent position in the video conferencing segment, competing with other industry leaders. Its comprehensive feature set, user-friendly interface, and reliable performance have established it as a preferred choice for organizations across various sectors.
Benefits:
Seamless video meetings for smooth and productive virtual meetings, replicating an in-person experience
Collaboration tools that offer screen sharing, whiteboarding, and chat features, promote interactive discussions and effective collaboration among participants
Meeting recordings and transcripts for easy review and reference of important discussions
Main features:
HD video and audio conferencing
Screen sharing and collaboration tools
Virtual backgrounds and filters
Meeting recording and transcription
To organize a video interview using Zoom, you'll need to share the meeting details, including the meeting link or ID, date, and time, with the participants. It's important to ensure that all attendees have the necessary meeting software installed or have access to the Zoom web client.
One drawback of Zoom is its reliance on stable internet connectivity. Poor network conditions can lead to audio or video disruptions, affecting the overall meeting experience.
In addition, the free version has limitations on meeting durations for more than two participants, making it less suitable for lengthy interviews.
In conclusion, I would recommend Zoom to you as a reliable and versatile platform for video meetings and interviews. With its seamless user experience and comprehensive features, Zoom continues to empower users with the ability to connect and collaborate effectively in a remote work environment.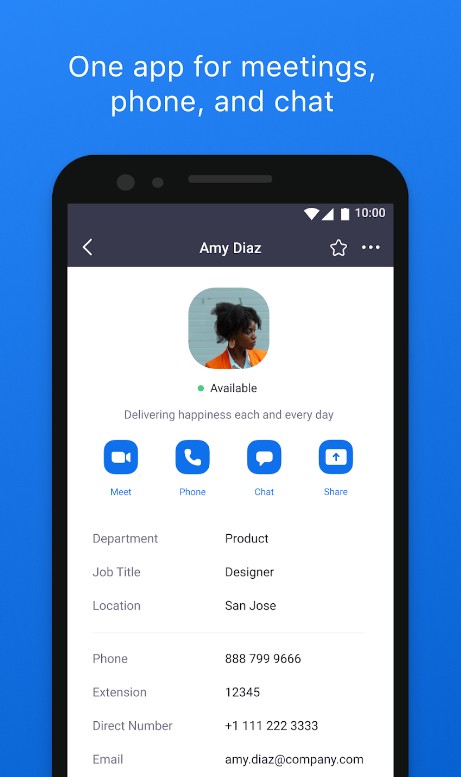 You may also like: 11 Free Calling Apps for Android & iOS
Google Meet
Google Meet has established itself as a reliable platform for video interviews, garnering a reputation for its stable performance and reliable connectivity. It has gained trust among users for its seamless video and audio quality, ensuring a professional and efficient interview experience.
As a product of the tech giant Google, Meet holds a significant position in the competitive landscape of video conferencing apps. With a wide user base and extensive features, it has become a popular choice for individuals, businesses, and educational institutions seeking a reliable solution for virtual meetings.
The user-friendly interface presents a simple and intuitive design, allowing users to schedule, join, or host meetings with ease. From managing participants to adjusting settings, the app provides a seamless experience for both novice and tech-savvy users.
Google Meet supports various types of conferences, ranging from one-on-one interviews to large-scale meetings and webinars. Whether you're conducting an intimate job interview or hosting a company-wide conference, the app caters to a wide range of virtual gathering needs.
Main features:
High-quality video and audio conferencing
Real-time captioning and translation features
Meeting recording and playback
Google Meet offers additional features and advanced capabilities through Google Workspace subscription plans.
These paid options include extended meeting durations, larger participant limits, and enhanced administrative controls, catering to the needs of businesses and organizations with more extensive requirements.
One limitation of Google Meet's free version is the 60-minute meeting duration, which may pose challenges for lengthy interviews or extended discussions. Additionally, some users have reported occasional audio or video glitches, although such issues are relatively rare and usually resolve quickly.
I am sure that Google Meet is a convenient choice for individuals and organizations alike because it has all the necessities for a comfortable work routine.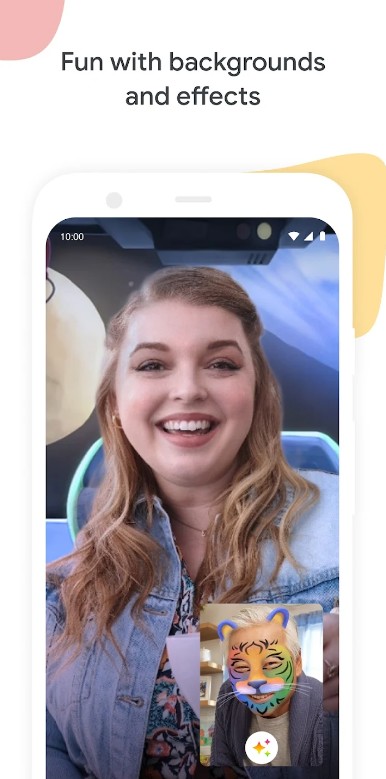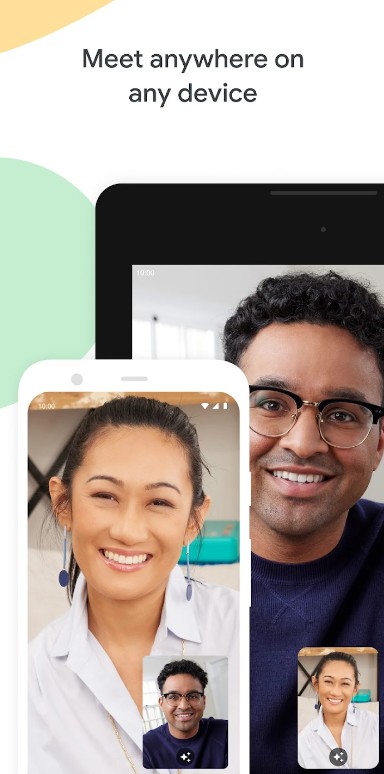 Lifesize Video Conferencing
Lifesize Video Conferencing holds a strong position in the competitive video conferencing market.
With its focus on delivering high-quality video and audio, along with a suite of collaboration tools, it has gained traction among businesses seeking a reliable solution for virtual interviews and remote meetings.
Lifesize sets itself apart from other video conferencing apps through its emphasis on simplicity and enterprise-grade performance. The app's focus on delivering reliable and crystal-clear video and audio, combined with advanced features, distinguishes it from the crowded market of similar apps.
Companies can seamlessly conduct video interviews using Lifesize Video Conferencing. The app provides easy-to-use controls for scheduling and hosting interviews, inviting participants, and managing meeting settings. The intuitive interface ensures that even beginners can navigate the app effortlessly.
Main features:
Schedule and join meetings
Invite participants via email or calendar integration
Screen sharing and presentation capabilities
Lifesize Video Conferencing imposes limitations on the duration of free video calls. However, these limitations can be overcome through subscription-based plans, which offer extended call durations, larger participant limits, and additional administrative controls to cater to diverse business needs.
All in all, Lifesize Video Conferencing can be useful for online interviewing but you will find a better app in this article anyway.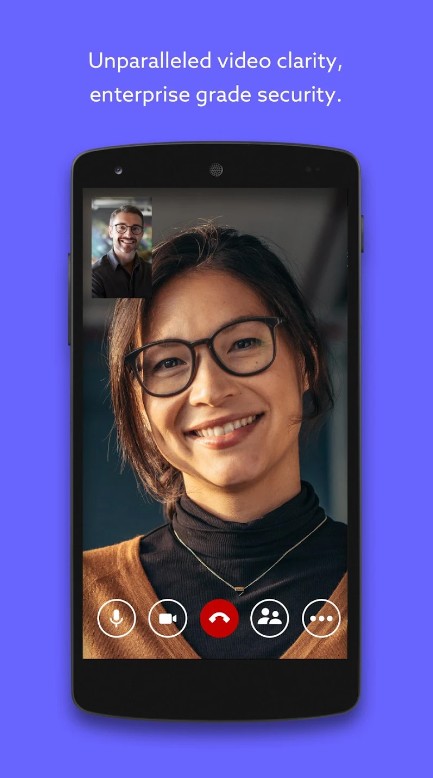 GoTo
GoTo is designed with user-friendliness in mind, making it accessible to both seasoned professionals and beginners alike.
Its intuitive interface and straightforward controls enable users to navigate the app effortlessly, ensuring a smooth video interview experience without the need for extensive technical expertise.
Benefits:
High-quality audio and video for clear communication
Screen sharing capabilities for seamless presentations
Recording functionality to capture and review interviews
Versatile participant management features, allowing interviewers to control participant access and engagement
GoTo prioritizes the safety and security of candidates. The app incorporates advanced encryption protocols, protecting confidential information shared during interviews.
Main features:
Video and audio conferencing capabilities
Screen sharing for presentations and demonstrations
Recording and playback options for reviewing interviews
As for me, GoTo is a decent tool for video interviews. With its array of features and dedication to seamless communication, GoTo can be really helpful but in fact, there are even more efficient apps.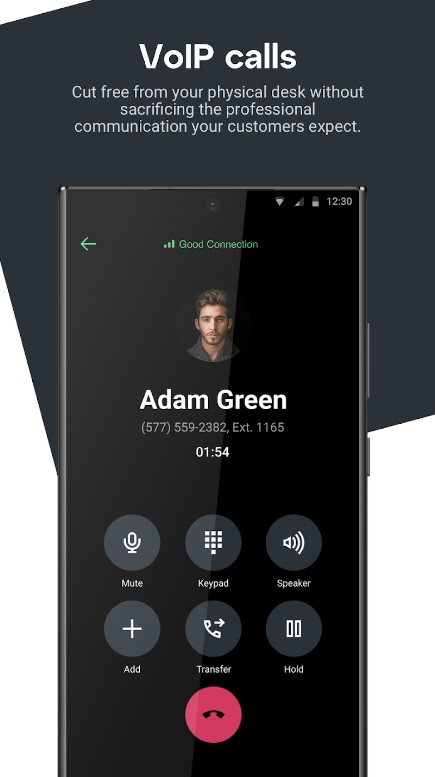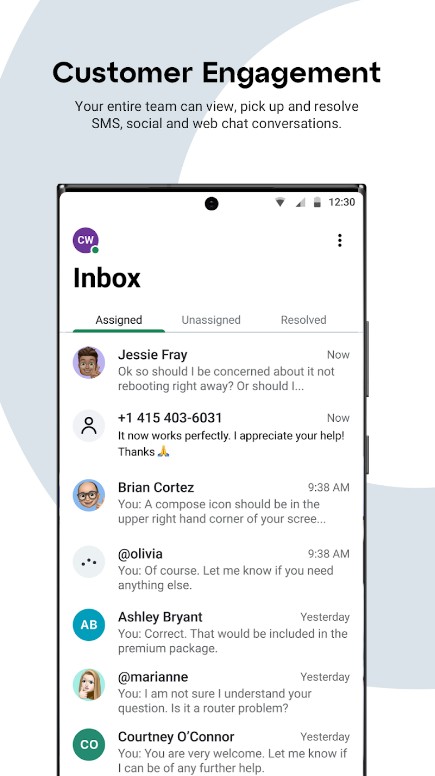 Microsoft Teams
When it comes to video interviews, Microsoft Teams is widely recognized for its reliability.
Microsoft Teams holds a dominant position in the video conferencing market segment, owing to its association with the reputable Microsoft brand.
Its extensive suite of collaboration tools, including video conferencing capabilities, elevates its standing as a go-to platform for businesses seeking a comprehensive communication and collaboration solution.
The versatility of Microsoft Teams makes it suitable for a wide range of users, from small businesses to large enterprises. Its capabilities cater to various industries, such as education, healthcare, and corporate sectors, making it a versatile tool for anyone seeking effective virtual communication and collaboration.
What sets Microsoft Teams apart from other similar apps is its tight integration with Microsoft's suite of productivity tools. Users can seamlessly transition from chats to video calls, collaborate on documents in real-time, and access shared resources within the same unified platform.
Main menu sections:
Activity feed that displays updates and notifications related to conversations, mentions, and shared content
Chat for one-on-one or group text-based conversations with colleagues and external contacts
Teams for group collaboration and communication
Main features:
High-quality video and audio conferencing capabilities
Screen sharing for presentations and demonstrations
Recording options to capture and review interviews
Before organizing a video interview on Microsoft Teams, users typically share details such as the meeting agenda, date, time, and participant list with the candidates. This information ensures a smooth and coordinated interview experience for all parties involved.
While Microsoft Teams offers a comprehensive set of features, some users may find the initial setup and configuration process slightly complex. Additionally, occasional connectivity issues or lags during video calls can hinder the smooth flow of interviews.
To sum up, Microsoft Teams has established itself as a reliable and versatile app for video interviews. I can recommend this software to you as it will provide you with plenty of essential features for online interviewing and calls with colleagues.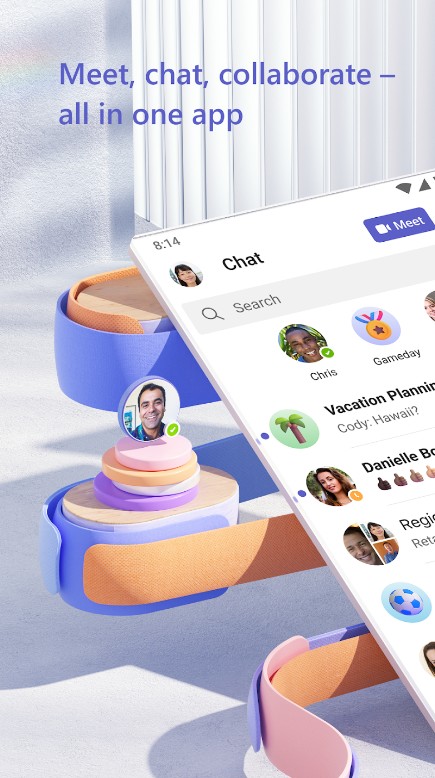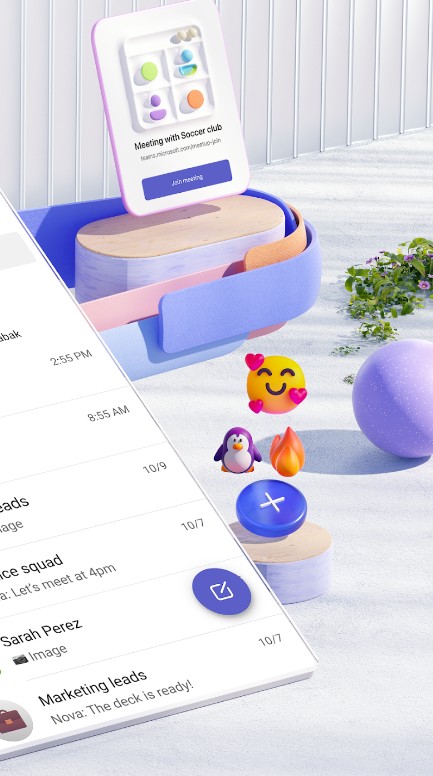 Webex Meetings
Webex Meetings has established itself as a reliable app for video interviews. The app offers a stable and dependable platform for conducting successful virtual interviews.
As a prominent player in the video conferencing market segment, Webex Meetings enjoys widespread adoption by businesses of all sizes. Its reputation as a reliable and feature-rich solution has positioned it as a top choice for companies seeking seamless and efficient virtual communication and collaboration.
To conduct video interviews using Webex Meetings, a company can follow a simple process. Firstly, the interviewer schedules a meeting and shares the meeting details with the interviewee, including the date, time, and unique meeting link.
On the scheduled day and time, both parties join the meeting using the provided link and proceed with the interview, utilizing the app's video and audio features, screen sharing capabilities, and chat functionalities.
Types of conferences:
One-on-one interviews
Group interviews
Virtual Panel Discussions
Training Sessions
Main Features:
High-quality video and audio conferencing for crystal-clear communication
Real-time chat for instant messaging and collaboration during the interview
Meeting recording capabilities to review and evaluate interviews
Webex Meetings offers generous limits on video call durations, allowing uninterrupted communication during video interviews. However, it's worth noting that call durations may be subject to the chosen subscription plan and the number of participants in the meeting.
Additional Features:
Breakout rooms
Polling and Q&A
AI-powered transcription and closed captioning
All in all, Webex Meetings has plenty of features that will help you with video interviews and virtual conferencing.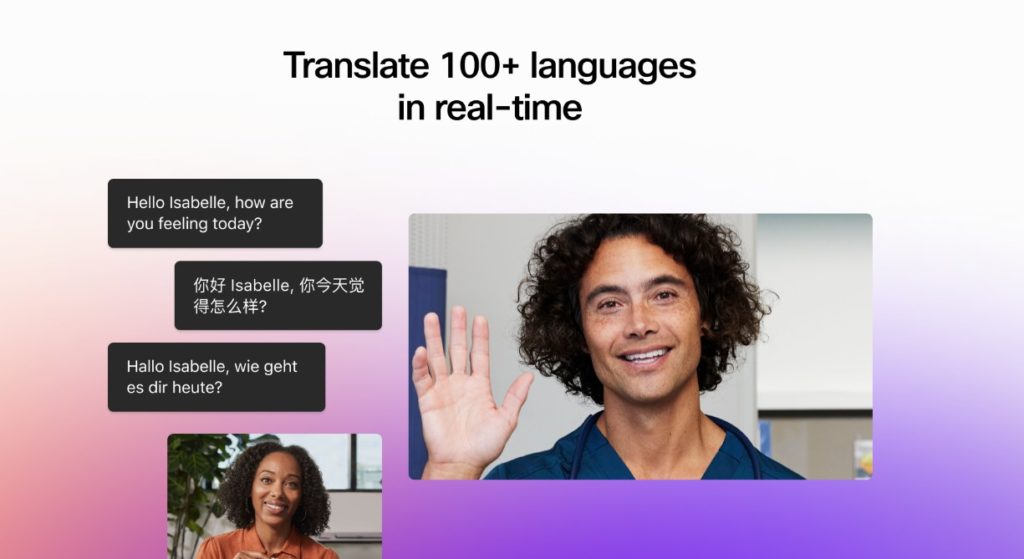 You may also like: 10 Free Video Call Recorder Apps for Android & iOS
TeamLink – Video Conference
TeamLink has garnered attention for its unique features and flexibility.
TeamLink is not limited to video interviews alone; it caters to a wide range of events and scenarios. Whether it's hosting virtual meetings, webinars, training sessions, or even social events, TeamLink provides the necessary tools to facilitate engaging and productive virtual interactions.
Main menu sections:
Join meeting
Start meeting
Schedule meeting
Contacts
Main Features:
High-quality video and audio transmission for clear and immersive virtual interactions
Screen sharing functionality for seamless collaboration and content sharing during meetings
Virtual background options to personalize the meeting environment and maintain privacy
Recording capabilities to capture and review important moments or interview sessions
To organize a video interview using TeamLink, one needs to share essential information with the interviewee. This typically includes the date, time, and unique meeting link.
Additionally, any specific instructions or interview details should be communicated beforehand for a smooth and successful interview experience.
In conclusion, TeamLink is a go-to app for video interviews and virtual events that has all chance to become your favorite one.