Here's a fun app I came across: it's called Sips: Drink with Friends. It's a game designed for those who enjoy socializing and sipping on their favorite beverages, making it perfect for gatherings with friends.
You may also like: 15 Best Drinking Game Apps for iOS & Android
Sips is the first of its kind – a drinking game that's adaptable for both in-person and virtual gatherings. It recognizes that having fun with friends should be possible regardless of where you are, and it delivers exactly that. All you need is the app and, of course, your favorite drinks.
To kick things off, you simply tap "New Game," which effectively shuffles the deck of challenges, dares, games, and trivia questions. What I appreciate most is the element of surprise. You never quite know what you'll get, which keeps the game fresh and exciting.
One of the great things about Sips is its flexibility. It's designed for both small gatherings and larger parties. You can play it with as few as three people or invite up to 16 friends to join in on the fun.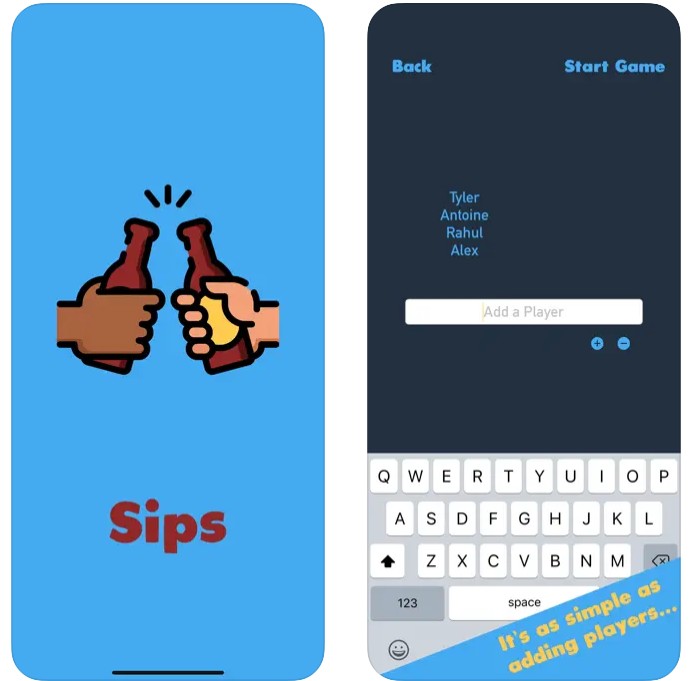 Whether it's daring a friend to do something silly, playing games that challenge your wits, or answering trivia questions, Sips is guaranteed to provide tons of laughs and memorable moments. It's not just about the drinking; it's about the shared experiences and bonding with friends, no matter how near or far they might be.
You may also like: 10 Free Apps to Stop Drinking Alcohol (Andoird & iOS)
From a technical perspective, the app runs smoothly and is easy to navigate. It's user-friendly, and I encountered no glitches or hiccups during my time with it.
Players can suggest improvements or new ideas directly from the main menu.
Overall, Sips: Drink with Friends is a brilliant concept executed flawlessly. It's the perfect addition to any social gathering, ensuring that everyone has a great time and some good laughs. Whether you're into in-person parties or virtual hangouts, Sips brings people together, and I couldn't recommend it more. So, grab your friends, download the app, and get ready for a night filled with fun – as well as a drink or two.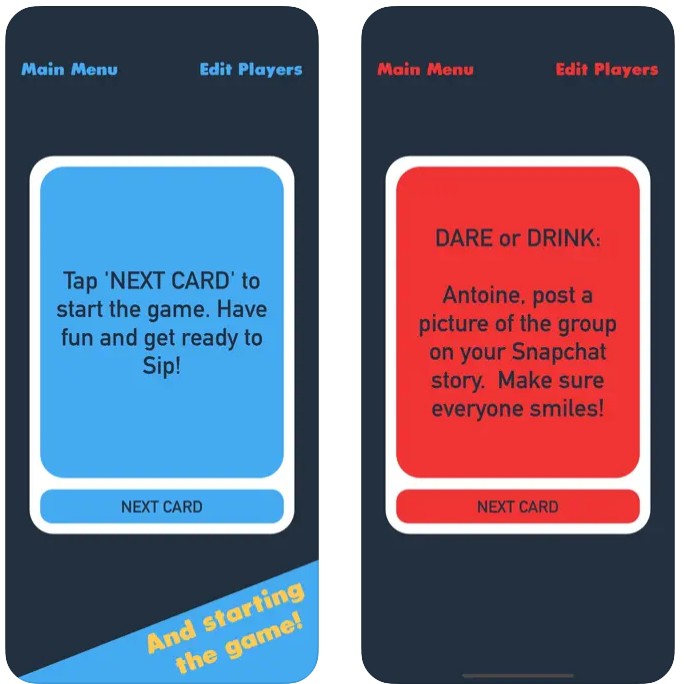 Sips: Drink with Friends is your ultimate virtual drinking companion and the life of the party. If you're missing those fun-filled nights out with friends or looking for a unique way to socialize, this app has got you covered.
The concept is simple and enjoyable. You can join virtual parties or create your own, and it's not just about a regular video call. Sips offers a variety of drinking games and challenges to keep the entertainment flowing.
The app provides a platform for you and your friends to enjoy classic drinking games like Never Have I Ever, Kings, and Most Likely To. It also introduces creative and hilarious challenges that guarantee lots of laughter and memorable moments.
The interface is user-friendly and colourful, setting the right mood for a vibrant and fun-filled virtual gathering. It's perfect for those looking to bond with friends near and far while enjoying some beverages and laughter together.
You may also like: 10 Best Mindful Drinking Apps for Android & iOS
With Sips, you can create a lively virtual party, make new friends, and experience the thrill of a night out from the comfort of your home. This app is a fantastic way to keep the spirit of socializing alive, even when you can't be physically present with your friends. So, grab your favourite drink, invite your pals, and let the fun begin!