Stealthy Free VPN where VPN stands for Virtual Private Network — a technology that allows you to provide one or more network connections "on top" of another network. When using the Stealthy Free VPN, a secure connection is created between your device and the Internet server in such a way that no one can intercept or change the data you transmit. Even an Internet service provider can't spy on you.
Stealthy Free VPN is the most simple and easy-to-use VPN app in which you just need to press one button to ensure your connection is secure on the Internet. It is also worth noting the additional function of blocking ads when using the Stealthy Free VPN.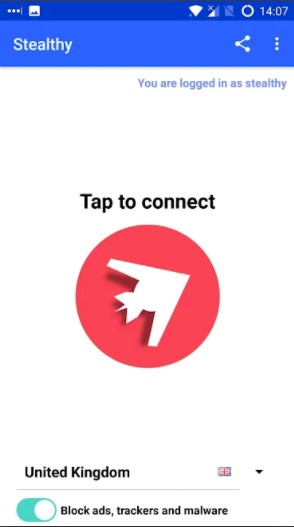 The program interface is a single "Tap to connect" button that connects you to a VPN. When using the application, it always connected to a server in the USA, which provided a stable connection at a speed of 17Mbps for downloading and 43Mbps for uploading, which is more than enough for comfortable surfing the Internet. In addition to providing security, the program allows you to access resources blocked in your country.
The screen of the smartphone will display the current connection status and server. When you activate a paid subscription, servers in other countries will be available at a higher speed.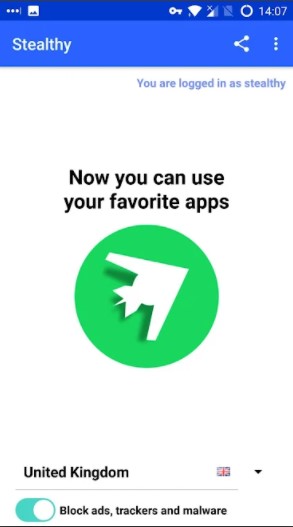 The design of the application is very concise, the user will not get lost in a lot of complex settings. Everything is done in blue and white colors, and the main connection button is green with an animation of an airplane. This conveys how the application works, the internet connection speed is very fast.
In a word, Stealthy FREE VPN will be not only convenient but also easy to use for those who have not previously had experience in using VPN services.