Are you seeking a land measurement app for Android or iPhone? Do you need to calculate an area fast and easily? You're in the right place! Here, you will find a land survey app for iPhone or Android which will meet all your requirements in 2023.
And after the surveillance of the land, in case you decide to do the landscape design, we recommend you use these apps for that.
GPS Fields Area Measure
If you need a simple, accurate, and convenient application that calculates distances, perimeters, and areas and marks the necessary points on the map, then GPS Fields Area Measure is created for you.
It includes various marking modes, such as the high-speed marking of distance, terrain, and smart marking with increased accuracy in the placement of points.
You can save, edit, collect in groups, assign names, and delete or exchange measured data with other users. If necessary, you can measure the data in motion. You can connect a GPS, which also improves the accuracy of the original information.
Convenient and beautiful design allows you to add thumbnails to existing dimensions, and paint over selected points or fields. And the most innovative feature of the program is the automatic generation of links with the limits of the selected area, route, or marked direction, which can be sent to friends.
GPS Fields Area Measure will be indispensable for calculating routes and distances when conducting various sporting events or planning trips.
And also for farmers, gardeners, construction companies, and pilots. With this program, agricultural, construction, and other work on measurement and planning will not take as much time as if it was done manually.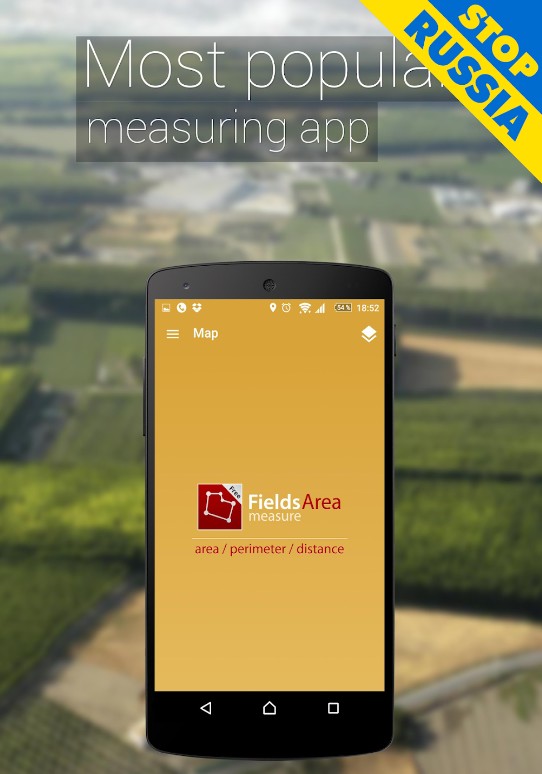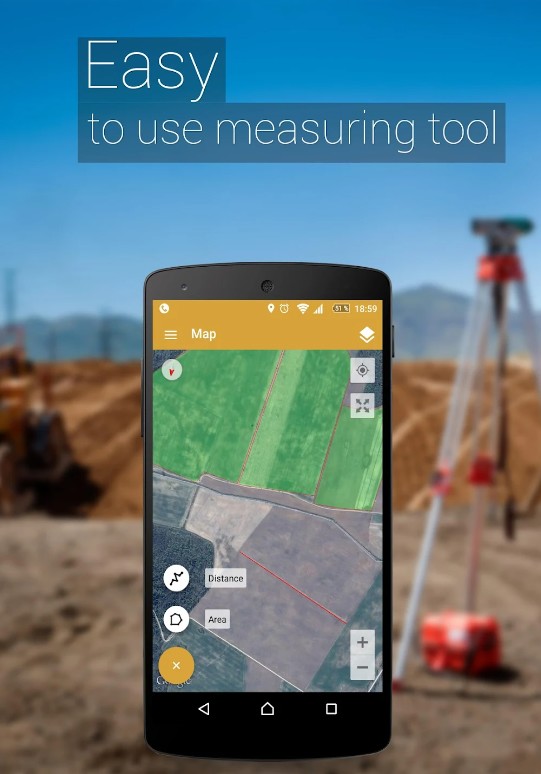 You can also check: 7 Fun Geo Challenge Apps for Android & iOS
GPS Field Area Measurement Tool – Land Surveying
GPS Field Area Measurement Tool allows users to measure fields by GPS area and distances.
The app runs extremely simply. Click on the + button and select the desired measurement type – Area, Distance, or Point. Then, the app asks you to choose a necessary mode – Manual or Walking (GPS).
Next, you should fine-tune the marker position, choose the area unit, and save the results.
The application is a must-have tool for land surveys, farm fencing, farm management, and building sites area.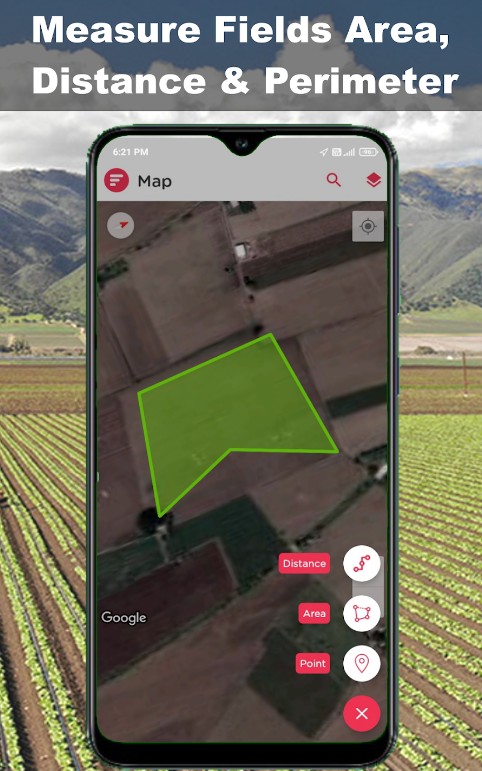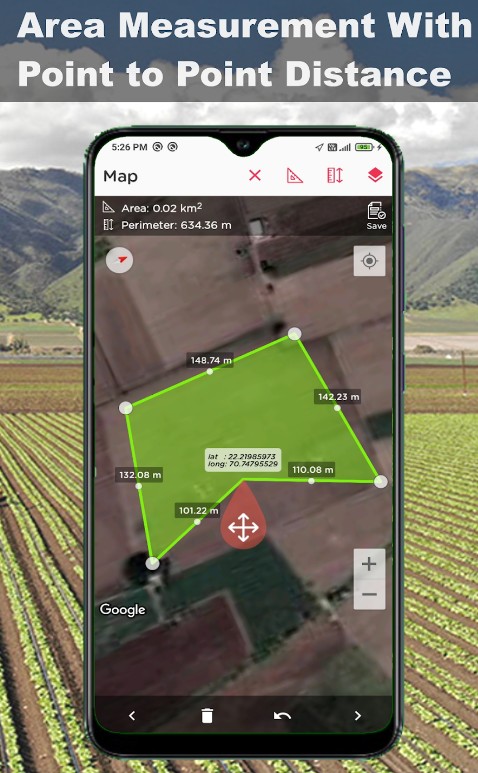 LandGlide
LandGlide offers a range of features to enhance your property exploration journey. You can swiftly navigate through interactive parcel maps, unveiling essential details like property boundaries, ownership information, and tax assessments. Moreover, LandGlide's offline accessibility feature ensures uninterrupted access to property data even in areas with limited connectivity.
One of its standout benefits is the ability to search for specific properties using various criteria such as addresses, owner names, or parcel ID numbers. The app also supports custom overlays, allowing you to annotate and mark points of interest directly on the map.
LandGlide provides an efficient way to delve into property histories, potentially revealing past sales and transactions. While it offers a wealth of information, it's important to remember that LandGlide is a supplementary tool and may not replace professional land surveying equipment for precise measurements.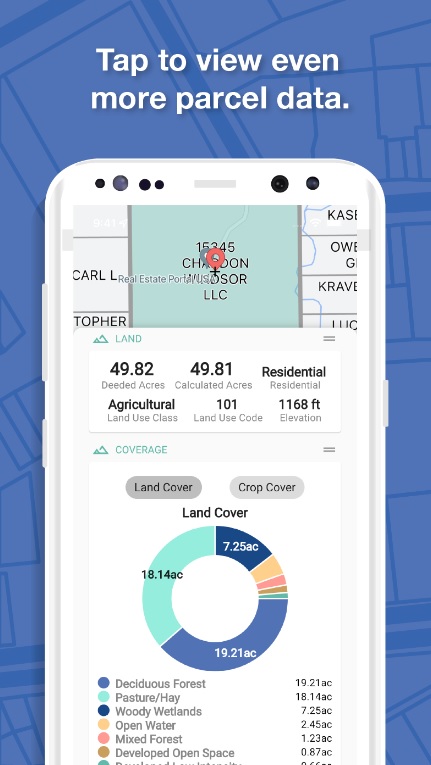 Geo Measure Area Calculator
Geo Measure Area Calculator is the most useful land surveying application for iPhone users. Are you going to buy some property and calculate its area? You've found a great tool! It calculates GPS areas with great accuracy.
There are two methods of measurement available: put markers manually on MAP or record your position using GPS service.
Geo Measure Area Calculator features:
You can add markers on Map, drag, and drop, and delete those placed by mistake;
Save your measurements;
Different types of Map views are available;
Sharing option.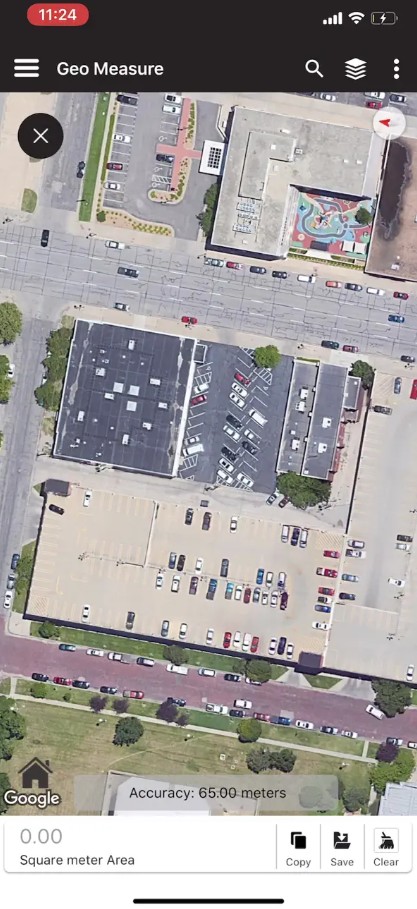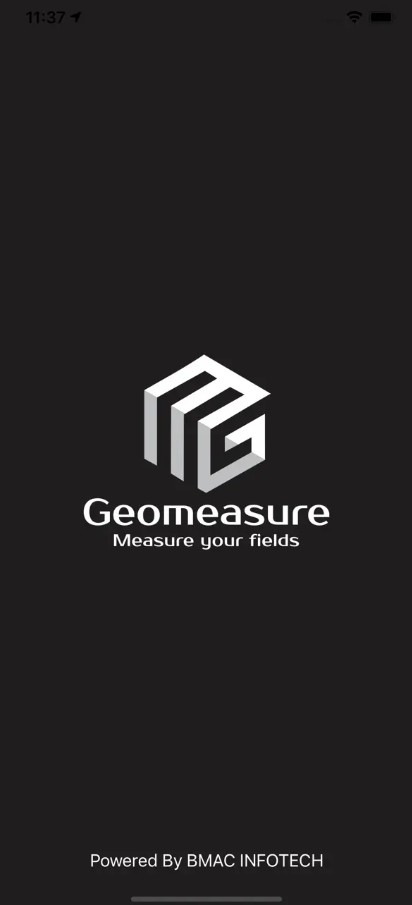 Land Area Calculator Converter
Not so interesting at the first sight, this app will be a nice option for those who mainly work in fields. Land Area Calculator Converter helps you to do a thorough check-up of the land.
By using this app you will be enabled to do a survey of the land using the GPS data, and usually, it is widely used by GIS students, field workers, and engineers. The simple design of the app helps users quickly navigate all its functions.
For calculating the area, this app suggests the following methods:
a) Triangle method
b) Magnetic compass for smaller lots
c) Latitude/ longitude data for bigger areas
Overall, it will be fair to say that the Land Area Calculator Converter app is not a beginner's app. If you have some knowledge in this area then it will be your reliable assistant.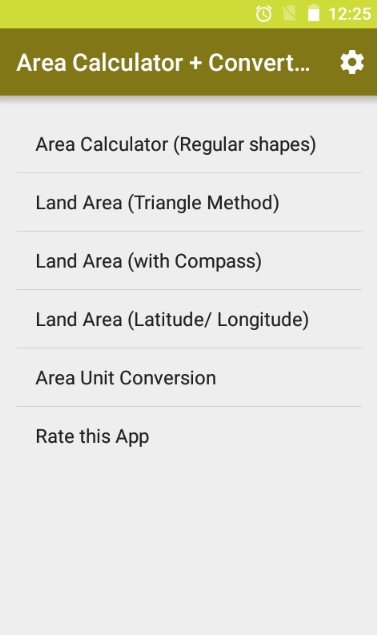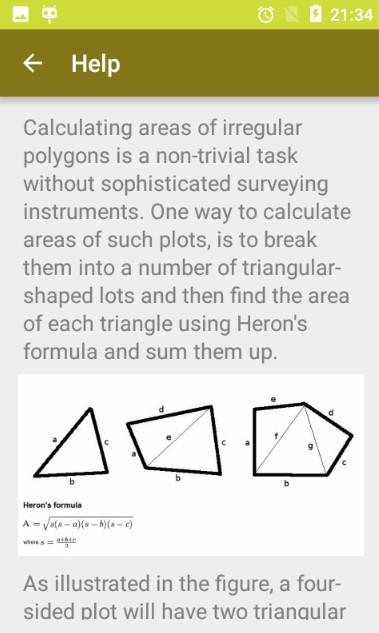 Apglos Survey Wizard – land survey
This app will be more suitable for professionals who might be willing to pay a little sum of money for their software and land surveying gear. We would highly recommend this app to experienced professionals since this one provides a number of advanced tools to make your work more productive.
However, one big advantage of this app is that it comes with a 30-day free trial and you can truly use its capabilities absolutely for free during this period. After that, you can decide whether you want to go for a paid version or not.
When working with the stop you can survey different aspects for example prolines and polygons. One of the best and most prominent advantages of this app in comparison to other ones is its ability to integrate with the AutoCAD program.
One of the disputable features of the app is its interface design which is a little bit obsolete but in this type of work, we would say it's not crucial. The fact that its interface is so straightforwardly designed gives you a chance to fully focus on your work without thinking about how to navigate here.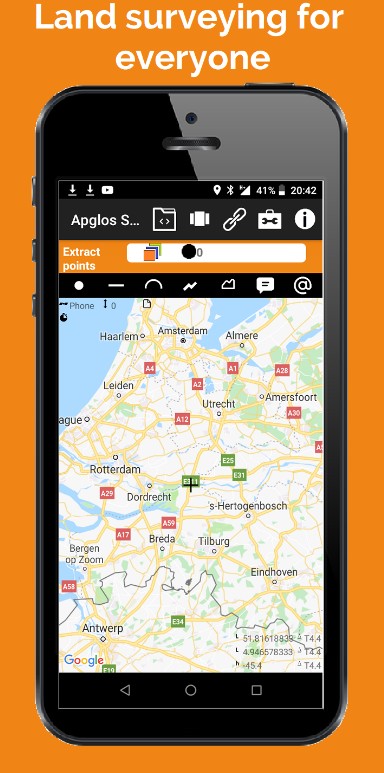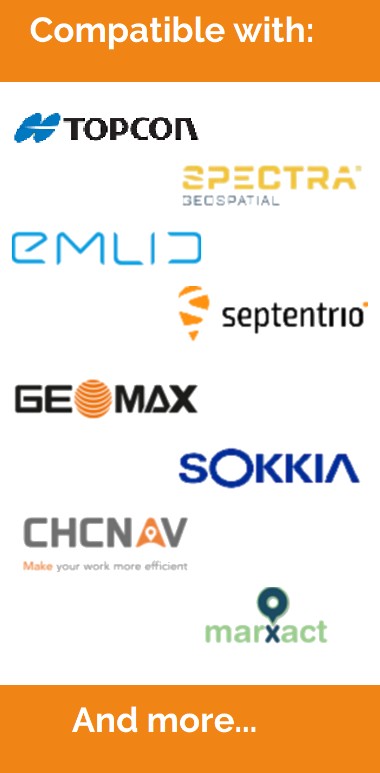 You may also like: 7 Best Dispersed Camping Apps (Android & iOS)
Surveying Calculator
Surveying Calculator is an open-source app that comes with various advanced tools for GIS and surveying.
Due to this application, users can carry out a great variety of tasks:
Measure the distance bearing/azimuth from two points
Generate and convert coordinates
Calculate decimal to a degree, minute, second
Determine latitude and longitude coordinates
So, when you first launch the app, it will ask you to enable a few permissions.
Thereafter, you will get to the menu page that contains the following options: Project Manager, Survey, Lat/Log Utm, UTM Map, Intersection Methods, and so many others.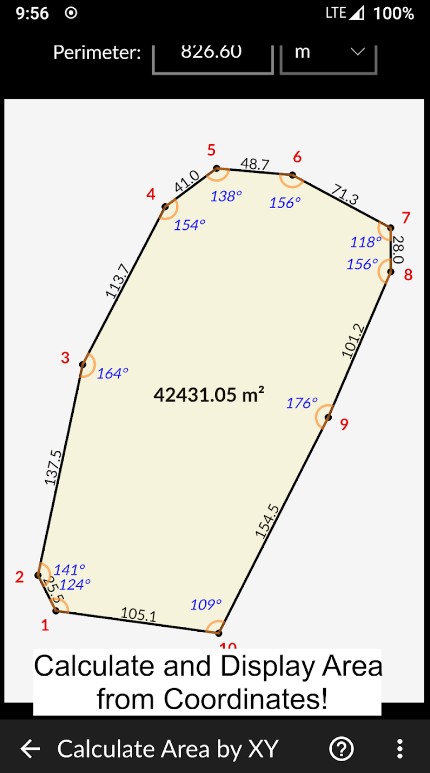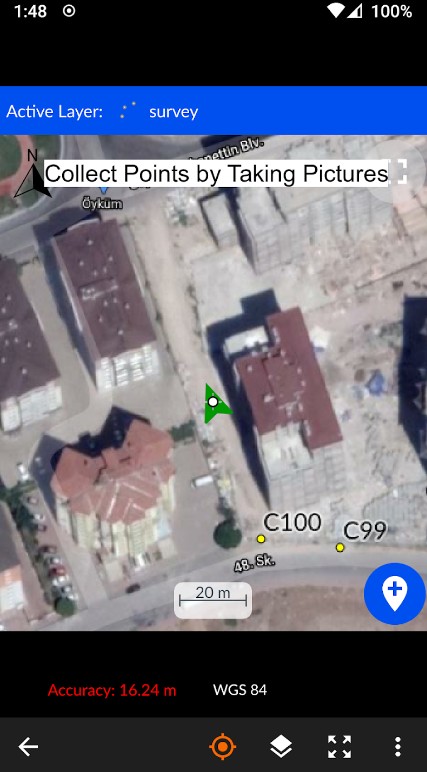 Map Pad GPS Land Surveys & Measurements
Map Pad GPS Land Surveys & Measurements is a convenient tool for Android devices which makes the calculation of areas, perimeters, and distances a fast and easy process. By downloading the application, you can save, export, and share your measurements.
It uses real-time GPS tracking. Use Google or Bing Map Satellite view to calculate any distance. Be sure, the measurements are very accurate. A number of metric and imperial units are available.
There are several methods of measurement: Tap on the map, GPS location, and Map cursor location.
Map Pad GPS Land Surveys & Measurements is useful as a mapping measurement tool, measuring field areas, planning garden and agricultural work, area accounting, construction, fencing of agricultural land, calculating the roof area for installing solar panels, and planning trips.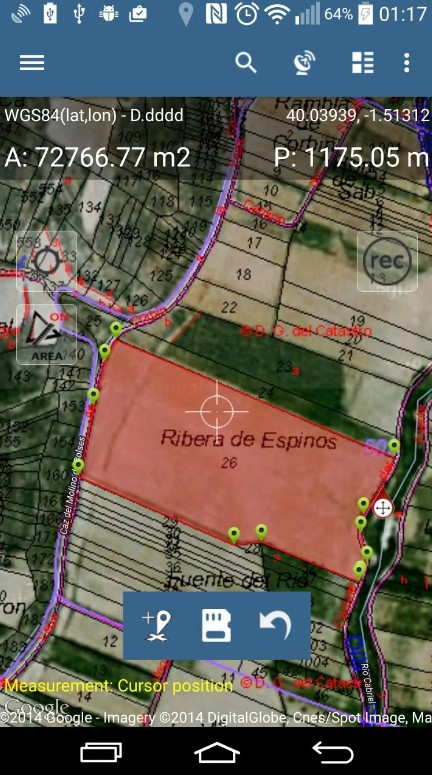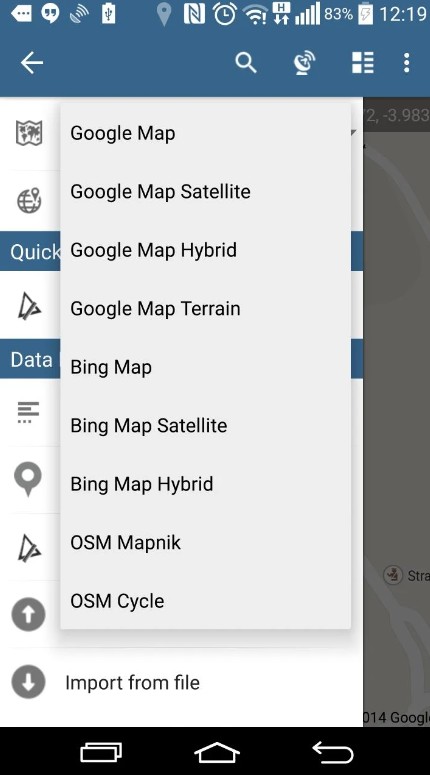 Theodolite
This is not your typical land surveying app as we used to percept it. Have you ever heard of this app called Theo delete? This app combines surveyors, adventures, and even more, and it always is useful for those who are working with land measurements.
One aspect of it that we have to mention right away is that it's not a free app like other ones on this list but for those who are ready to splurge a little bit for their tools you will never regret it. For instance, Theodolite comes with a compass tool.
This will help to measure an area and provide information about where are slopes mountains hills and other inclinations of the soil. The app has excellent reviews from users on the App Store, so it will become your best friend in navigation.
One of the best aspects of it is that it's capable of making calculations in real-time and so on. Thus, summarizing all the points, if you are looking for a multifunctional app that would combine all the land measuring tools and is capable of reading a location and doing calculations then you should go for the Theodolite app.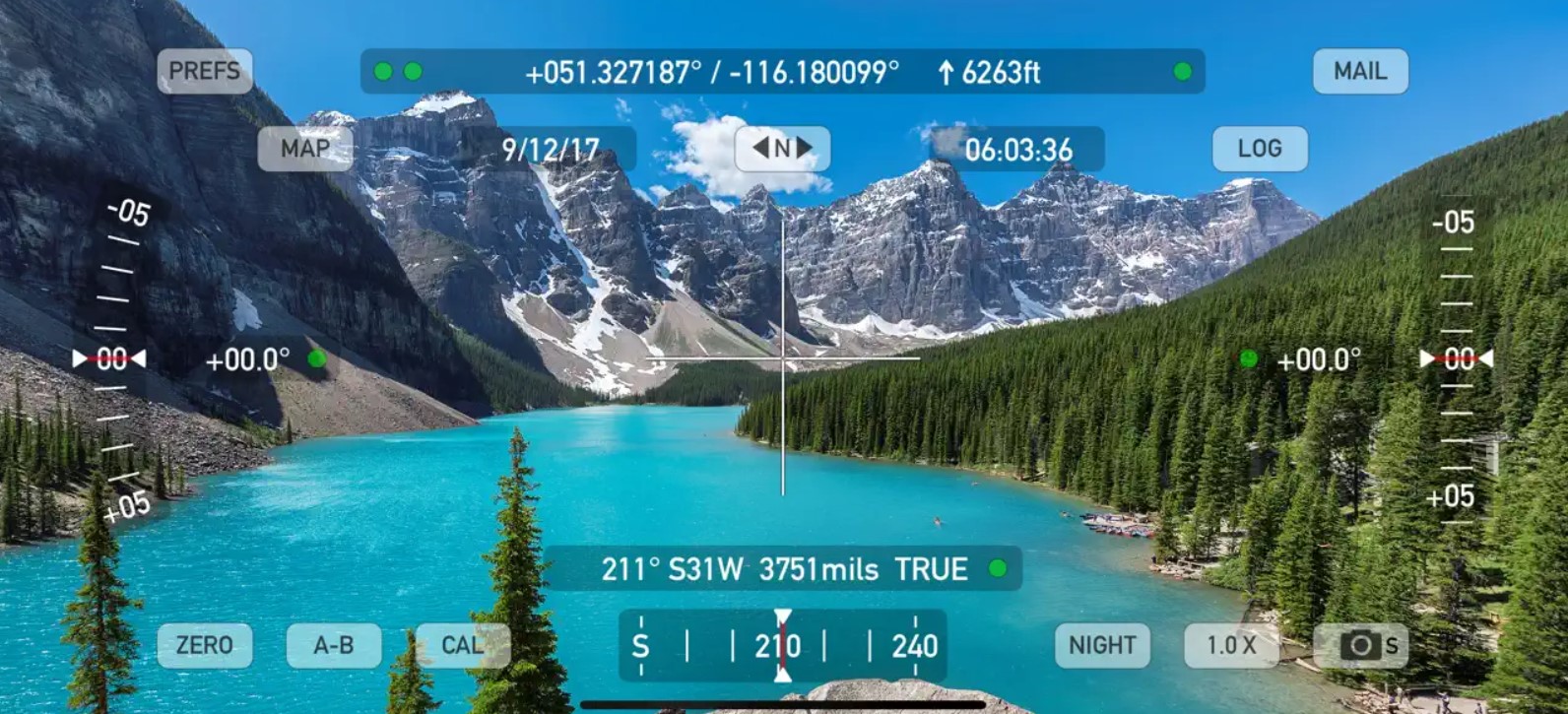 GPS Area Calculator
However, let's not forget that here mainly we concentrate on free apps. Therefore we would like to present to you a nice Simple app which is called GPS area calculator. It has quite a straightforward interface design and it will be easy to use for everyone no matter if you are a professional or a beginner.
In order to measure the land or an area you have to choose between the GPS walk and GPS point here. In case you are going for the first option you will need to walk from one point to another point. After that, the information about the measurement will be displayed on the screen of your smartphone.
This is pretty much it when we want to talk about the functioning of this app because, as we mentioned earlier, it is very simple. However, keep in mind that it seems like this app doesn't work well on all Android devices you can see many users have issues with it in the comment section on Google Play.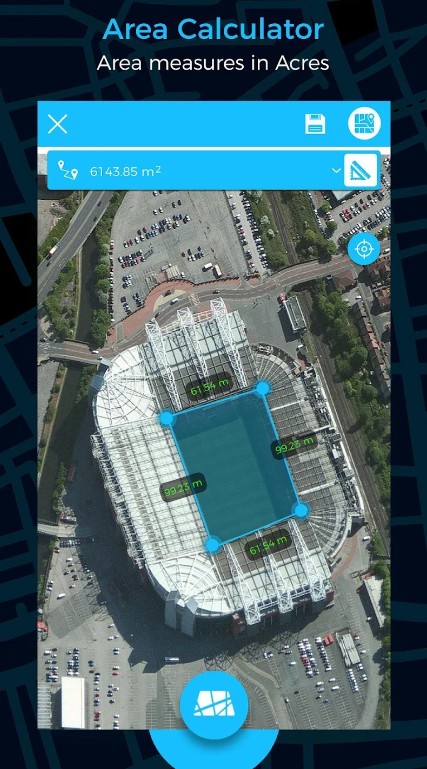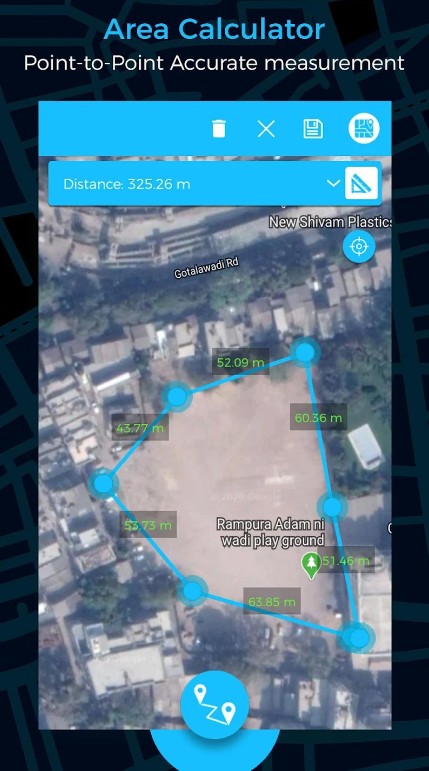 Measure area GPS GLandMeasure
Apparently, this app used to be available on both platforms however at the current moment it is available to Android users only. One of the best features of this app is its attractive interface design. However, despite this fact, the navigation inside the app is not difficult.
When you just open the app, you will get a quick guide on how to use it and how to navigate here. One of the cool features that we noticed while testing this app is that it allows you to place pins on the map.
Moreover, it is possible here to do measurements by walking from one point to another, and while doing that, don't forget to turn your GPS on so GLandMeasure is capable of doing the work.
Measure area has quite mixed reviews on Google Play but we would say that for those users who don't possess the necessary skills for land measurements it's better to go for another option.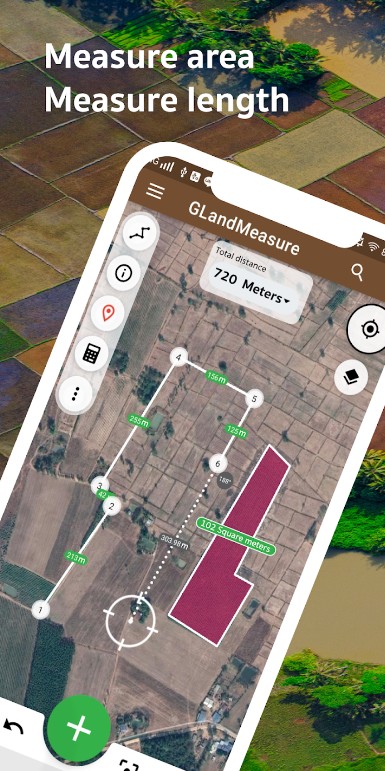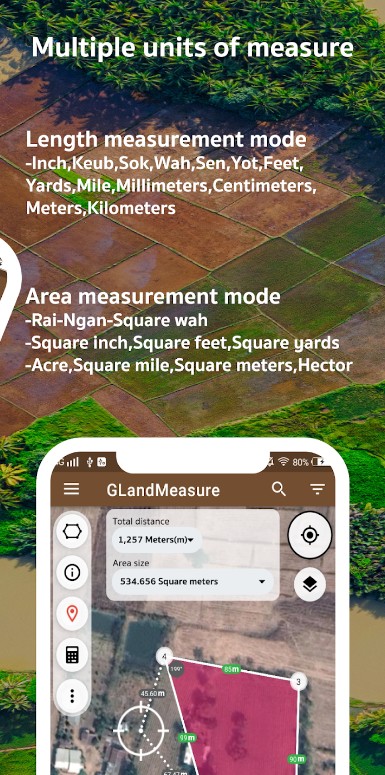 Area Calculator For Land
Well, the first thing that you see when you open this up is its simple user interface design but for older Android smartphones, this app will be an acceptable choice.
In general, it performs the same tasks as all other apps on this list which mean with Area Calculator for Land you can measure perimeter, distance, and other similar measurements. One of its advantages is that it can perform land surveys in real time.
And you can also do your measurements by dragging and dropping the point. This actually makes Area Calculator for Land one of the easiest and usage. But this also makes it one of the plainest apps on the list.
By reading the feedback of users and having explored the app ourselves we can say that it has some issues with its functionality and not always works precisely how it's supposed to be working. We would recommend using the stop only in case you have a really weak obsolete device.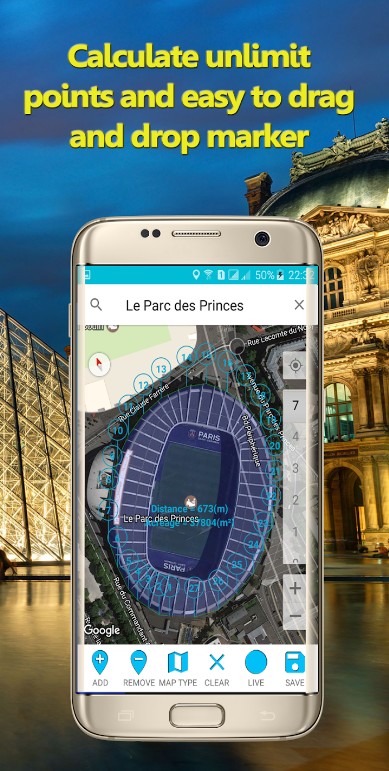 ArcGIS Survey123
ArcGIS Survey123 is a tool to streamline your data collection processes.
It allows you to create customized surveys and forms tailored to their specific needs. These forms can include a wide range of question types, including multiple-choice, text entry, and photo capture.
The interface is quite simple to understand, so you can quickly create structured data collection instruments.
Moreover, users can collect data in remote locations without an internet connection and synchronize it later when connectivity is available. This ensures that field data can be captured anytime, anywhere, without limitations.
Also, the app integrates seamlessly with ArcGIS Online, allowing users to leverage the full power of GIS technology for data analysis and spatial understanding.
In addition, ArcGIS Survey123 promotes collaboration among team members. Surveys can be shared with colleagues, enabling them to contribute to data collection efforts.
Finally, this app can become your most convenient instrument to keep track of data.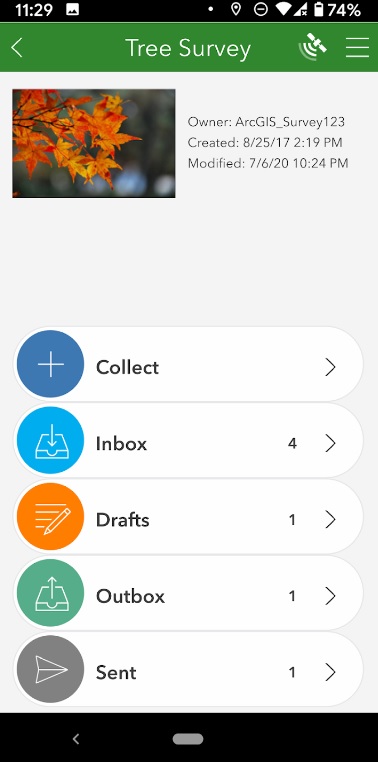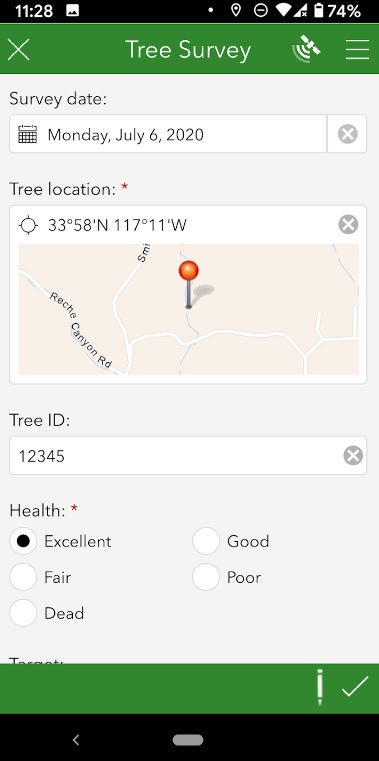 Map Pad GPS Land, Surveys, and Measurements
Well here we go again and it seems like here we have another app that is playing on the team of obsolete Android apps. When you open it you see a typical Android app-designed interface however the set of tools that you will find here is quite acceptable for a field measuring specialist.
The set of features is quite the same as in other apps so you can place pins on the map you can measure distances on the map control the map can even bring maps, satellites, and all that stuff.
One of the interesting features of Map Pad GPS Land, Surveys, and Measurements is that here you can actually export your data in various formats which are acceptable in the professional world.
Moreover, here you can store your information in the special cloud services and you can also integrate it with the project management software.
Therefore even though it has a simple interface design than the leaders of this list it's still quite a decent and reliable app for making land measurements. The feedback from users is mainly negative but it's just because the app is only presented in the English language.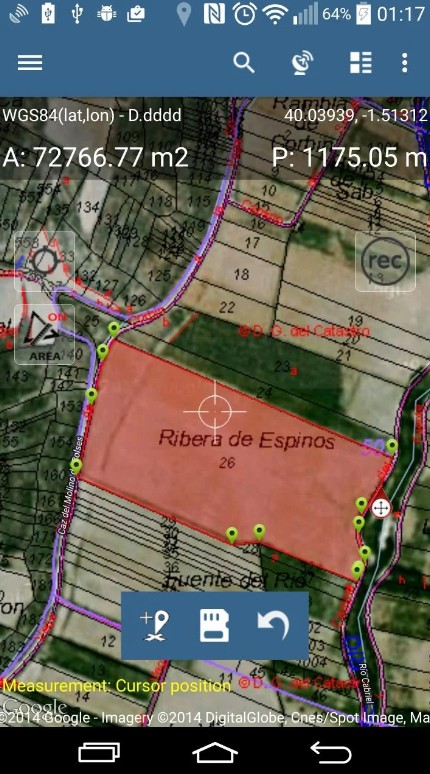 Land Surveyor
You can also calculate the land area with Land Surveyor for Android. It's a simple application with convenient control.
To survey the land, you need to divide the area into rectangles, triangles, or a combination of both. Then measure the sides of rectangles and triangles in meters. Select the New Survey button and add all rectangles and triangles to it. Then, save the survey by choosing the corresponding button.
You can also convert the area into different units with the Converter option. Just enter the area and select the current unit.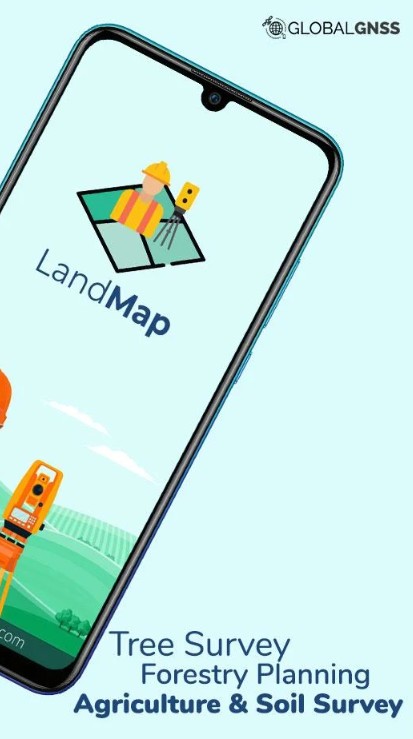 Mappt: GIS Data Collection
Mappt: GIS Data Collection provides a universal tool for capturing, managing, and analyzing spatial data on mobile devices.
Surveyors, environmental scientists, and field researchers can easily record data about land features, natural resources, and other geographical elements using this app. It is possible to collect data in remote locations or areas with limited internet connectivity without any hassle.
The app also supports the import and export of data in various formats, ensuring seamless integration with other GIS software and systems. Users can perform on-the-fly analysis, create thematic maps, and generate insightful reports directly within the app.
This facilitates data-driven decision-making and enhances the overall efficiency of GIS workflows.
Overall, Mappt: GIS Data Collection is a reliable app that empowers GIS professionals to collect, manage, and analyze spatial data in the field.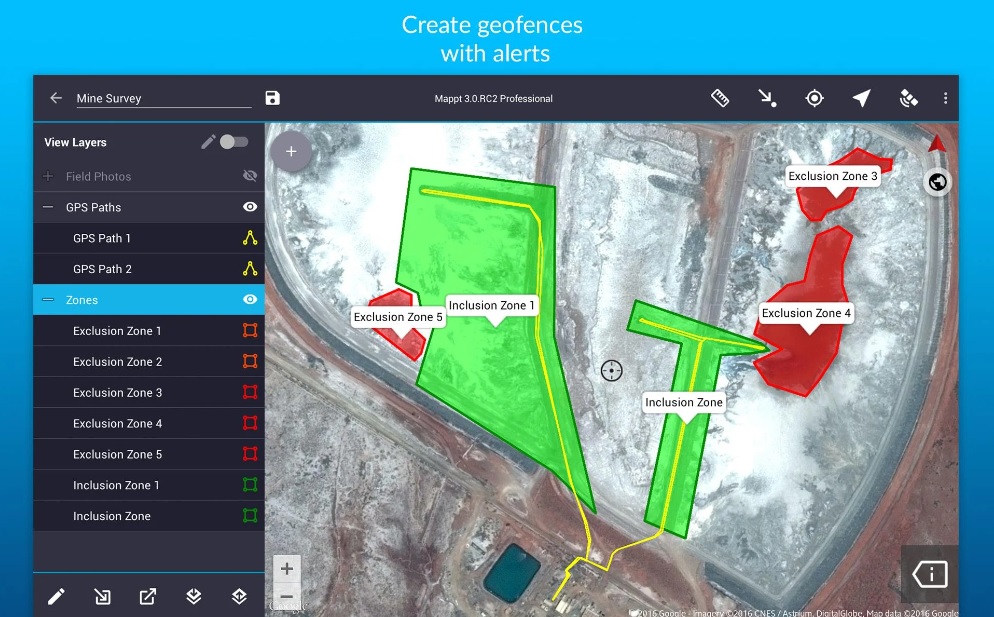 You may also like: 11 Best House Hunting Apps for the USA
Surveying In the Field
And here we have one of the most simple apps on our list. Yeah, can you imagine, it can even be more simple? In this app, when you open it, you need first select the fieldwork you can choose between Steakout and the Survey section, – then you need to select the instrument orientation.
And after that, you can put the measurements into a special table that you will find in the app. This set of functions might be quite enough if you want to just do simple measurements that you probably might want to export to a file later or maybe just have some notes for yourself and you don't want to waste too much memory space for a land measuring app.
The UI design is below all expectations, but there are no questions about the functionality of Surveying in the Field – quite a reliable app for the long run.