In case you can't find a multifunctional slideshow maker, we have to bring your attention to the VIMORY app. This tool is full of magnificent features, so let's read more about them!
First of all, we would like to mention that this app is quite popular in the market. Plus, the developer constantly updates the app's version.
More slideshow apps can be found here.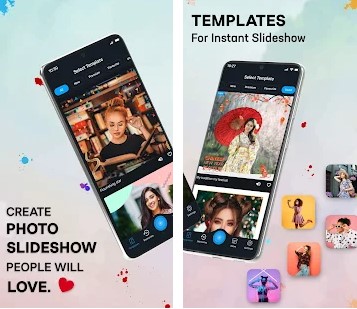 So, what are the key benefits of VIMORY?
Apart from slideshow maker, the app also provides a wide range of photo editing tools. For example, you can add frames, apply special effects or filters. Moreover, the app allows you to add texts and emojis to your pictures.
Besides, you can create slideshows on a template basis. Therefore, in VIMORY, you will find a great number of photo templates to choose from. No doubt, this is a great bonus!
Moving on, while creating slideshows, you can also add music of any genre – Pop, Jazz, Hip Hop, Rock, etc. Plus, you can even install your music from the media library.
The next useful option there – the app enables you to quickly share your videos or pictures on such social nets as Snapchat, WhatsApp, Viber, Skype, Zoom, and so many others.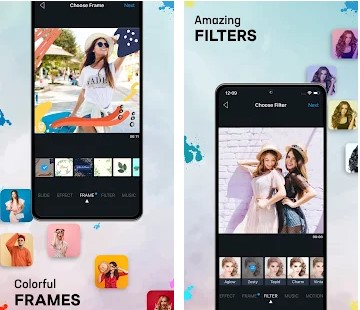 Moving on, VIMORY comes with an intuitive design that makes its interface very easy to navigate. After downloading the app, all you need to do – just click on the + button in the middle of the screen to download and edit the picture.
As for the additional functions there, the app also enables you to adjust video speed, enable or disable motion.
We have to admit that the majority of users truly like this app, as we have not found negative feedback.
For your iOS device, you can discover the best slideshow apps here.
To sum up, VIMORY is a must-have app if you want to single out your pictures, videos, and slideshows on the social nets. So, we advise you to download this app – we can surely say you will not regret!