7 Best Apps to sell your books
It's not been quite a long time since paper books were dominating over digital ones. That's why many among us have tons of dusty books that they are willing to get rid of. Indeed, it would bring more space to our houses.
Luckily, with our modern possibilities, we can sell everything in just a few clicks. There are plenty of apps at the market nowadays which offer different ways of yard sales and thrift goods shopping. You just need to choose which one is more preferable for you.
Also check: 7 Best apps to sell video games
eBay
This is, probably, one of the most famous apps to sell your stuff, so why not using it to sell your old books. Moreover, many students use this resource when they need to buy books for cheaper or sell them. On the outcome, it is a real bargain.
You can look through all the goods which are sold on eBay, compare prices, text a seller, and then make a deal. The app allows adding all the necessary details about a product in the description.
On the other hand, eBay is known as an auction source which makes it even more profitable when selling your books, since people who really need a certain good are ready to pay more than your claimed price in order to get a deal. You can limit the time of your auction and other buyers will get a notification.
eBay is suitable for any kind of stuff whether it's refreshingly new or unimaginably old. Every time the new customers view your goods you will get a notification. If you don't have enough time to descript your book details then you can add an audio-description. All selling process is quite easy and transparent.
You may also like: 20 Best Apps to Sell Stuff on Android & iPhone
letgo
Another app that can be worth your attention when you are willing to sell your books is let go. It is almost as famous as eBay though it has no auctions. Millions of people use it to sell their stuff from automobiles to plants. The whole process of posting an item online for sale is fast and easy and that's why this app is preferable among users.
The app orients by the price, location, type of the product in order to find better offers and buyers. It makes the wholesale convenient since the deal you get will probably not make you send your book to the other side of the world. Another beneficial feature of this app is that it allows you to get a more targeted audience while selling.
By the way, when you post a picture of the item you sell online the artificial intelligence recognizes it and tags it automatically so you don't have to. It is an extremely time-saving virtue that makes this app stand out.
OfferUp
This app is claimed to be the biggest marketplace for buyers and sellers. The core of it is simplicity – you just post a picture with a description of your item and then local buyers find you. The app also includes extended response and rating features so you can be sure you will stay safe with your sellings.
The market within the app is very vivid – thousands of new items are posted every day. At the same time, the competition come consumers who are looking for a bargain or specified things like rare books. All the chats between consumers and sellers stay hidden in the app and cannot be viewed by others.
After some time of selling, you will build your reputation and that will enhance the speed of your sales (if you want to). The app filter pieces according to categories or by a location so don't be surprised if you find a guitar sold along with a blender or something.
On the other hand, sometimes this kind of chaos gives your things a chance to be noticed by a larger number of people.
WeBuyBooks
As you can guess by the name of this app, it was specifically made for selling your old book. Actually, not only them, but here you can also sell your old CDs, DVDs, and videogames. It is important to note that this app is suitable for the UK only.
The principle of the work of this app is really similar to all reselling apps, which means you just need to make a post that you are selling a book, take a couple of o pics, also scan a barcode on the back of the book so the app could identify the nominal price and the publishing of it and then you are ready to sell.
There are several methods of payment, including one patent and payment by the bill. Overall, this is a very nice app with a convenient user interface without any extra features – just sell and buy old books. WeBuyBooks is getting more and more popular on the App Store and Google Play store.
You may also like: 12 Best apps to sell handmade items on Android & IOS
Carousell
This app was developed only recently in Singapore but now has expanded to the US. It allows you to sell anything you want, including books. With this app, you can create beautiful listings in 30 seconds to sell or shop from a massive online marketplace wherever, whenever.
Consumers here are using keywords in order to find the items they need so do not forget to mark them when selling your stuff. As always, you have a chance to chat with local and foreign customers in private chat.
There are a lot of opportunities to get a great deal since people all around the world can see your goods. Still, if you prefer more focused trade then you can use groups created according to specific features: local groups, international groups, low price groups, etc. The app also gives you a chance to post your offers on your Instagram.
You can upload up to 4 photos of your item. When you get feedback from your previous customers, you earn your reputation. You can also share beautiful promotional images with other users.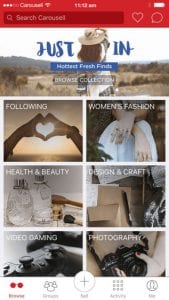 BookScouter
This is a very convenient app since it collects in its posts from all other web sites about the book's sales in order to help you to find the perfect books you're looking for. This is simple in use too, by the way. You can use the camera of your phone to find a book by its ISBN.
You can also compare more than 30 variants of prices for your old books before you tag your own. Then you can choose where you want to sell your books. Your goods will be packed and shipped for free.
Everything stays official, you will get a receipt or money deposited directly via PayPal. College students will find it extremely beneficial since it gives them a chance to compare the book prices before selling their own.
You may also like: 15 Best reseller apps to earn money online (Android & iOS)
Ziffit.com
This is an app version of a popular website where people can sell their books, CDs, DVDs, and more. Probably, each of us has a bunch of that stuff at home that we don't need anymore. You will be surprised how much space on your shells (in your house) you will clean after getting rid of everything you don't use anymore.
So in this app, if you want to sell your book, you need to first scan the barcode on the rear side of it and the app will determine the approximate price for it. It is also able to find the image of the book. If the image found is accurate you don't even need to take pictures, you can just use image from the Internet.
All the payments here are made via PayPal. In addition to that, Ziffit charges no commission payment and all the delivery is completely free.