7 Best Job Apps for Teens (13-17 Years Old)
Today more and more teens would like to obtain some working experience before they graduate from school. Sometimes it is hard to find a good job, especially if you are a teenager with no experience and education.
That's why we decided to create a list of good applications to find the best job offers. Many of them are free or at least have a free trial period.
If you are not a teen but you are overwhelmed by job search, we recommend you 11 Best Job Search Apps for Android & iOS.
There are nice options for iOS, as well as Android users.
Snagajob – Jobs Hiring Now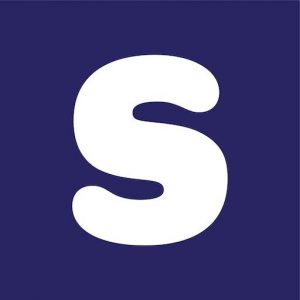 The first app was created for teenagers and those people who need flexible work schedules, such as mothers and students.
Not only does the app provide you with a huge library of work options, but it can also give you some important tips on how to find a good job. This advice will come in handy if this is your first job search.
Now let's take a look at the best features provided by Snagajob: 
Create your CV

 and upload it there. This is a vitally important step as the app will analyze it and form relevant recommendations. Include any experience you have, even if you believe it's insignificant. 

Use map search

. It will allow you to see who is hiring people in the area you live in. You can set some filters as well, it will send you time and energy. 

Apply for the jobs 

you find attractive. You can do it right in the app and wait for the job offer. 

Solve tests and quizzes to 

find out which sphere is right 

for you. 
Snagajob will ask for a big number of details about you. We recommend you give these permissions, as it will enable most of the listed functions. The app collects data about your location, purchases, browsing history, and many others. 
According to the reviews of the users, it usually takes from one week to one month to be hired. However, it depends on the job you are looking for.
What is especially cool, all the range of functions is available at no cost, meaning you can use all the options at once. There is no need to choose any subscription plan.
Both Android and iOS users can enjoy this powerful application for free.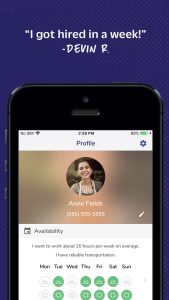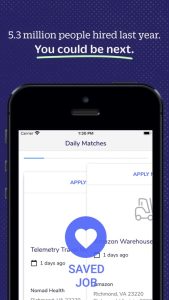 You may also like: 11 Free Apps for College Students (Android & iOS)
Care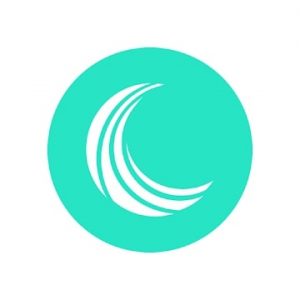 This app is a bit limited in terms of the types of jobs. In Care, you can apply for a job as a babysitter only. However, it is a popular job for a teenager.
The only limitation is that your minimum age to apply for a job is 14, not 13.
How to use this service? It's a bit different from the others listed here. Let's take a closer look at its functions.
Get access to

 a huge database of job opportunities

. There is a wide variety of jobs, you will find a good option that will allow you to keep studying and having some time to relax. 

Make sure you 

set keywords

 so that you can easily find what you need faster. You can also give the app access to your location if you want your work to be close to you. 

Chat with potential employers

 right in the app. You can also call them to find out more details about your upcoming work. 

In Care, you can 

block some of the job opportunities and employers 

if something goes seriously wrong. Should you face any inappropriate behavior, don't hesitate to report it, you will make the service better. 
If your family members and you are looking for a job as a babysitter, you can try a family subscription, it will cost you 39.99$ per month. 
By the way, it usually takes about two weeks to find a good option. However, there are cases when people managed to get a job in a few days, which is also possible. 
Here comes a pretty serious disadvantage – if you allow the app to use your GPS, your battery life will be decreased. 
Both Android and iOS users can download the app and try it for free.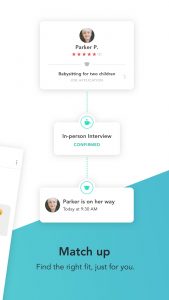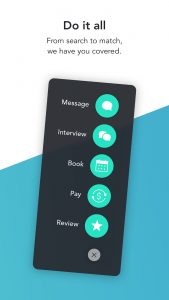 Indeed Job Search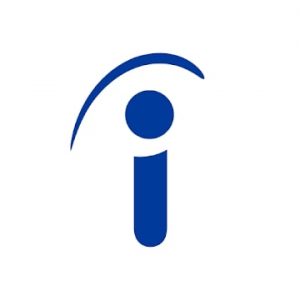 This is a great application to search for your dream job. indeed Job Search wasn't created for teens but it contains all types of job options including those that will be good for teenagers. 
This is a real job aggregation service – thousands of new jobs appear all the time. All of them are divided into categories, which helps applicants to find what they need faster. They don't need to browse through a great number of options – just set the category you like, and you will be given everything that matches these settings and filters. 
This is the most popular job application. More than 250 million people are looking for a job on this site. And their number is growing every day. 
Let's look at the best functions you will be able to use: 
The app 

covers up to 28 countries

. It doesn't matter where you are, you still can find a good job using Indeed Job Search. 

There are 

more than 15 million jobs 

available. They are very different, including internships, full-time and part-time jobs. Choose whatever you like. There are good options for freelancers and teens as well.

Use 

fast and flexible search

. You can search by location (if you don't want to spend time driving to work), by job title, category, or keywords. The system will analyze your browsing history in the app to provide you with the best job options.

Create your resume

. Use the tips provided by Indeed Job Search if you don't know what to do. Add a motivational letter to increase your chances to get a dream job. You can create a template letter and then just add some changes to it to personalize it for each company. 

Add your favorite jobs

 to your wishlist and apply later. You can even set a reminder not to forget about it.

You can 

categorize job offers

 when you get them. It can be your dream job or a second-choice option. Don't worry, other people won't see it. 

Research before you choose 

a company. There is a rating system, and each company has its rating, reviews, and comments. We recommend that you study it properly. 
Even though Indeed Job Search asks permission for your location, it doesn't link it to you. 
The app is 100% free with ads. You can download it on the App Store, as well as Google Play.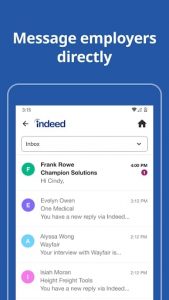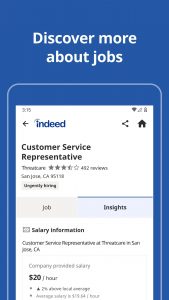 Handshake Jobs & Careers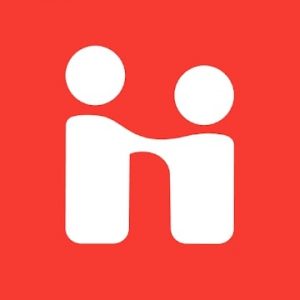 Here is a job application for students! It is a perfect service for teens and students who are searching for their first job.
The app can boast of a simple and friendly interface. It usually takes about ten minutes to get started – just download the app, create an impressive CV, and start looking for your dream job.
Handshake is precious for students thanks to its great tips on how to find a job. It can be a real challenge if you don't know what to look at when choosing an employer. Sometimes the lack of knowledge can lead to serious mistakes and poor experience. 
There is a great number of cool functions available at no cost: 
A wide variety of internships

. It is much easier to start a career as an intern. It gives you the opportunity to go to the best companies available in your country. Even if you don't become a worker, you will still have a good line in your CV. 

Apply easily

. Sometimes it takes time to apply for a job or internship. You have to find the official site of the company, look for a good option for you, study the pool of skills required for the place, and finally, apply for it. In Handshake, most of the steps are automized. You just need to study the job option and then apply if you like it. That's it! 

Monitor the response

. There is a chat in the app so you can communicate with your future employer or HR manager right there. 
The only disadvantage is that the search doesn't work perfectly. Most users complain that the results of the search are quite wide so they have to sort some options manually. 
You probably know that searching for a good job is about networking. This is why you might read 9 Best Networking Apps for Android & iOS.
What is especially cool is that the app is quite small – it needs at least 50 MB to be installed. 
You can get the app for free on the App Store or Google Play.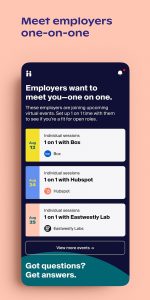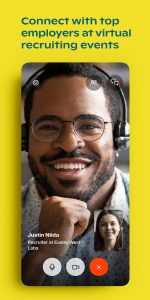 Glassdoor – Job Search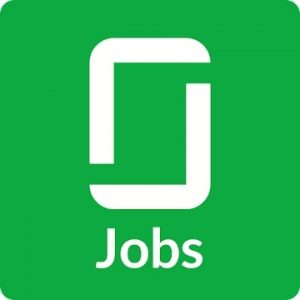 Here is another popular job searching application that is famous all around the world. According to the developers, the main function of Glassdoor is to help as many people as possible to get hired. 
It usually takes about two weeks to find a good job. Even though most options are addressed to grown-ups, there are also nice options for teenagers. Look for them in the part-time jobs category. 
Here are three great features of Glassdoor: 
Fast registration

. It is amazingly simple to start. To kick off your job search, just download the app and create a CV reflecting your experience. It will take you about 15 minutes. 

Enjoy 

a huge database of companies' ratings

. We highly recommend that you study it properly before you choose a company. Glassdoor collects all the reviews and comments about employers and then places them in the database. It will help you make the right decision and avoid making mistakes. 

Compare different options

. There is a perfect system that helps you to see which job is better. Compare salaries and benefits. The app will form a kind of a report for you to study. This is a unique feature, in many other services you will have to do it manually. 

Follow companies

 to get the news about new jobs and internships. This is a perfect feature for those who already know where they would like to work. 

Search

 part-time and full-time jobs 

on the go

. You can apply for a job wherever you are – the only thing you need to have is access to the Internet. 
The only downside that might frustrate you is that the app collects data about you. It will need your location, purchases, usage data, financial info, and browsing history. Not only does it collect data, but it also links it to you. 
Glassdoor can be installed for free. There are some in-app purchases that can help you boost your job search. You can highlight your CV for example. 
Both Android and iOS users can get it at no cost on the App Store and Google Play.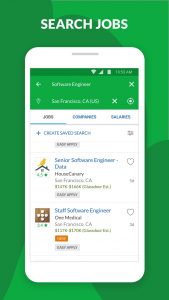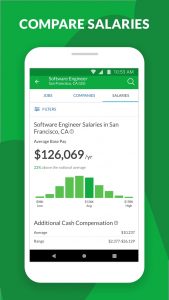 Feverr – Freelance Service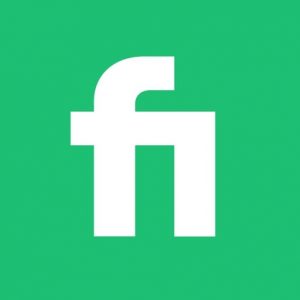 This app is for freelancers. However, teens often choose freelance as it gives them the opportunity to work when and where they want. 
Fiverr can boast of a great variety of job options. To find what you need, make sure you use all the tools provided by Fiverr: 
All the 

jobs are divided into groups

, such as design, computers & programming, marketing, music, and video. Everybody will find something good for them. 

Choose between various companies and partners

. Each of them has its rating so that you can make the right choice and not be disappointed in the future. 

Use chat for communication

. It will be much faster than sending letters via email. You can even get job offers there. 

Use your location

. This will help you to get the best options that are close to your place. 
The app will ask for a great number of permissions. This might be suspicious. However, we recommend that you give these permissions so that all the functions work correctly. The developer claims that people's data won't be sold to a third party.

Fiverr supports various foreign languages, such as Dutch, German, French, and Spanish. And other languages are about to be added soon.

The app requires 89 MB of phone space to be installed. The app is rated 4.9 on the App Store and 4.2 on Google Play.

You can download Fiverr on the App Store and Google Play.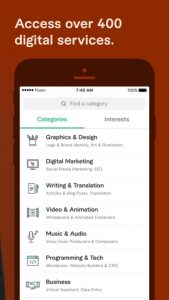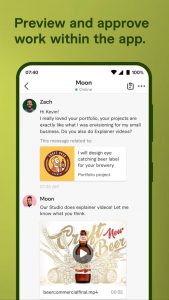 TeenJobFind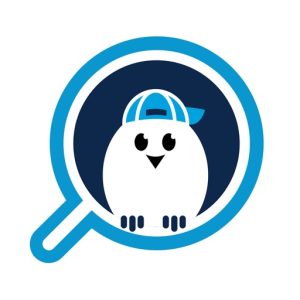 If you are a teenager, you might be worried about safety issues. Many people are afraid that they can be deceived or even get involved in a crime. And it can really happen if you aren't attentive enough. 
If it all relates to you, TeenJobFind is what you need. Let's look at the best functions you will explore: 
A great collection of part-time jobs

 with flexible schedules. It will allow you to choose the best option that will allow you to keep studying. 

Browse through the job opportunities

 and search for the best options. Make sure you use filters to save time. Set your preferable topics and don't waste time looking through the irrelevant options. 

Your 

parents will be involved

 in the process of your job search. Yes, you might dislike it. However, it is a secure practice that helps teenagers avoid problems in the future. The parents can monitor the full process of their children's recruiting. 

Give the app 

access to your location

. This will help you to find the nearest jobs. It might be very important as students and teenagers don't want to spend long hours traveling to a job. 

Compare salaries. This is especially important as you probably want to earn good money. TeenJobFind allows you to compare salaries. Don't neglect this function to find the best job.
You can start right after the download. To create a CV, you need the permission of your parents. This is about your security only. If you are older than 13, you will be able to be registered.
The app is very small, it requires 7 MB of free space. TeenJobFind works pretty fast thanks to its size. 
Unfortunately, only Android users can enjoy this application for free.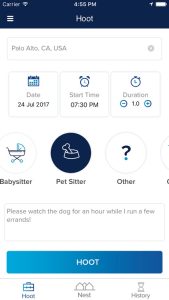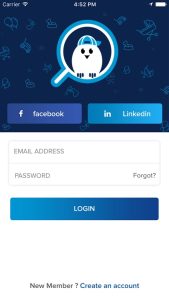 You can also check: 11 Best Exam Preparation Apps for Students (Android & iOS)