Who of us does not like to go out and have something delicious or try something new among different kinds of food instead of staying at home and spending hours in the kitchen preparing smth bored? Aren't these sound great, are they? It is good if you already know the place you're going to, but if not?
For example, if you're in Japan for a few days and have not so much money with you? Or you have tasted amazing Thai cuisine and want to find the restaurant with the same food in your city? It is no more matter, thanks to the special type of apps which allow you to find the local restaurants and cafes.
It becomes really easy if such an app is installed on your mobile phone! Using apps below will help you when traveling and if you want to head out in place in your town you've never been to before.
We decided to make out a list of 12 best and most useful apps that will point the right way to nice places to eat out where you will want to go back again.
You may also like: 15 Free Useful Apps for Restaurant Owners
Tripadvisor
When you are traveling to a new country and you want to explore local cool restaurants to which app do you go first? For most people nowadays it's Tripadvisor. It is a multi-functional app that helps you to get to know literally everything about the touristic area where you are going or currently at.
One of the most prominent features of the Tripadvisor is, of course, its restaurants and are block. Most people want to explore cuisine when they travel, thus it is very convenient that this app always has the list of the best restaurants nearby.
Moreover, it can be beneficial even for locals – thus way they can explore new amazing places which they couldn't discover earlier because of the lack of time (yes, this is the case when tourists help locals a lot). After you have visited a certain restaurant you can rank it and leave your feedback.
This way, restaurants with bad cuisine and rude personnel are filtered out naturally. It was a real nightmare before Tripadvisor, especially in the most popular touristic cities!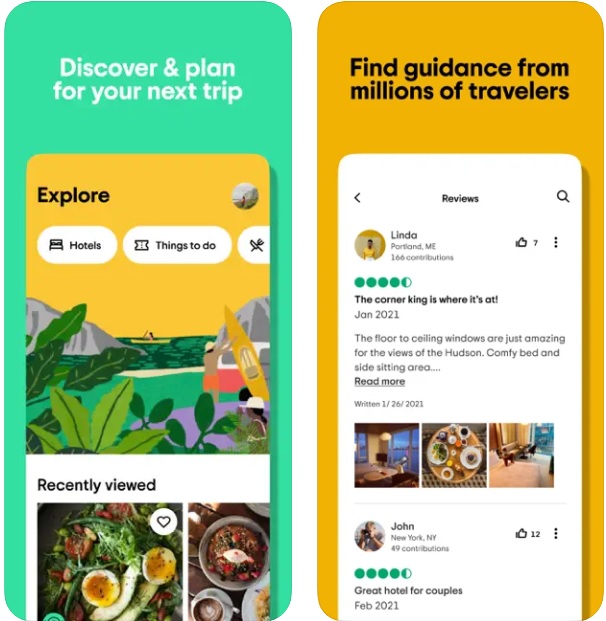 You may also like: 9 Best Food Scale Apps for Android & iOS
Yelp
Yelp is one of the most popular restaurants finder app. With its' help, you can easily find not only restaurants and cafes near you but also museums, beauty salons, barbershops, and even dental clinics!
Yelp is a universal app for iOs, Android, Blackberry, WP7 and WebOS to find the restaurants and places where you can go out to eat.
In this app, you can not only view the location of any place to eat near you but know what food is served and read the reviews of the previous visitors about it.
Moreover, besides the location and the opinions of people who were there before you, you can write you're on review and will always know the phone of the cafe or restaurant you are going to go, see the prices and photos with the link to the official site of every organization. With this app, you can even make reservations wherever you are.
This app is available for lots of countries around the world. To download, click the link below.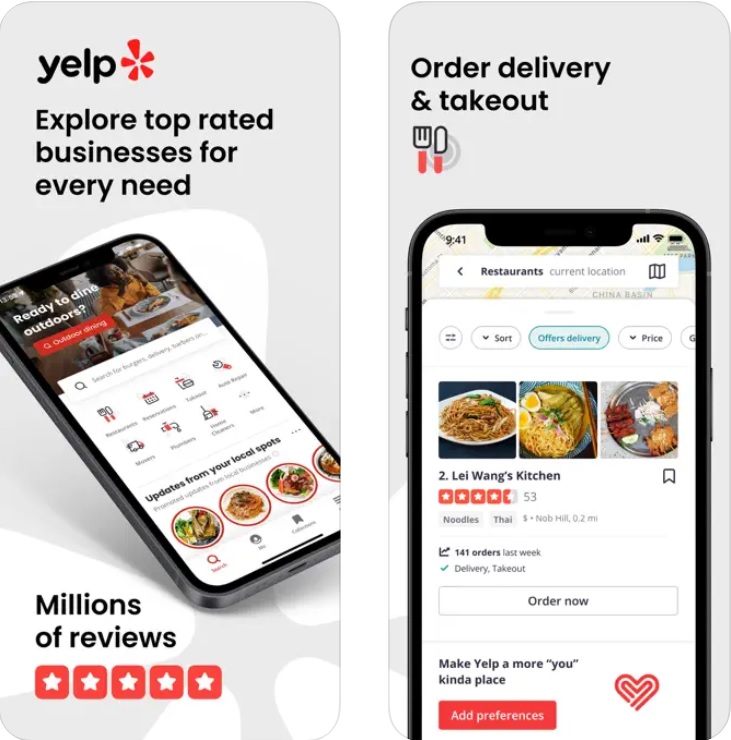 Urbanspoon Restaurant Reviews App
At first, Urbanspoon was a publishing house. Its main purpose was collecting reviews about restaurants and cafes and writing on this base its own opinion and its reviews.
Now the name is the same but Urbanspoon is not anymore a publishing house – it has become an app on your phone which fits in your palm hand.
Here you can find over 100 thousand reviews to find the place to eat which you will like! It becomes so easy thanks to the opportunity to filter by neighborhood, cuisine, and price for the greatest restaurant recommendations.
You can also leave your review about the place you were, but the voices or complain if you didn't like the service. At the same time, make a list of your favorites and wish lists.
This app gives you available information such as phone numbers and hours of operation, addresses, and driving directions. You can also book a table at any OpenTable (US), or Dimmi (Australia), or Bookatable (UK) restaurant. You can install the app by the links below.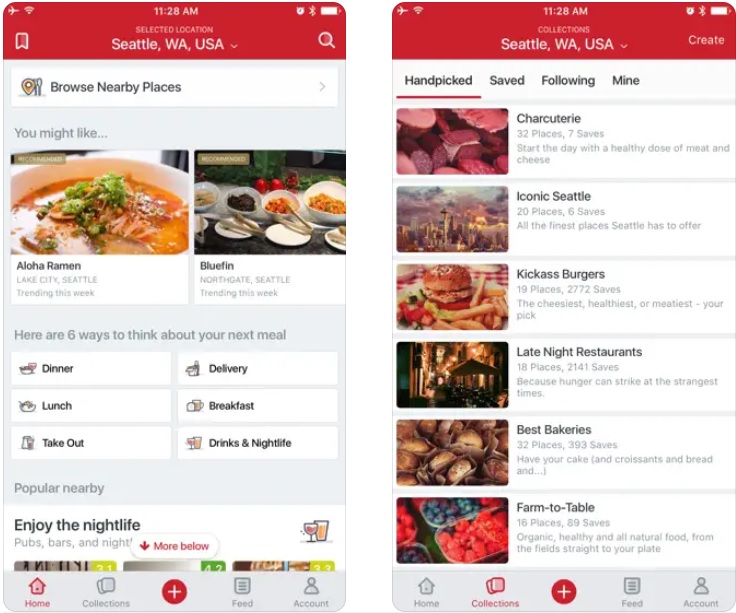 OpenTable: Restaurants Near Me
Another app that will help you in your situation is the OpenTable restaurant finder. Furthermore, it's not just a restaurant, it allows you to reserve the table where you want.
It's just enough to fire up the app to know all about the way to the place you're going to eat out, the prices, the time of the reservation, popular cafes and restaurants, the rating of each place, and even their dress code and nearest parking!
What is a fascinating feature? Besides the basic features like helping to explore new, browsing the menu, reading reviews and sharing photos with your friends, the silver lining of this app is giving you an exclusive opportunity to match points by making reservations and redeem them with free food in restaurants.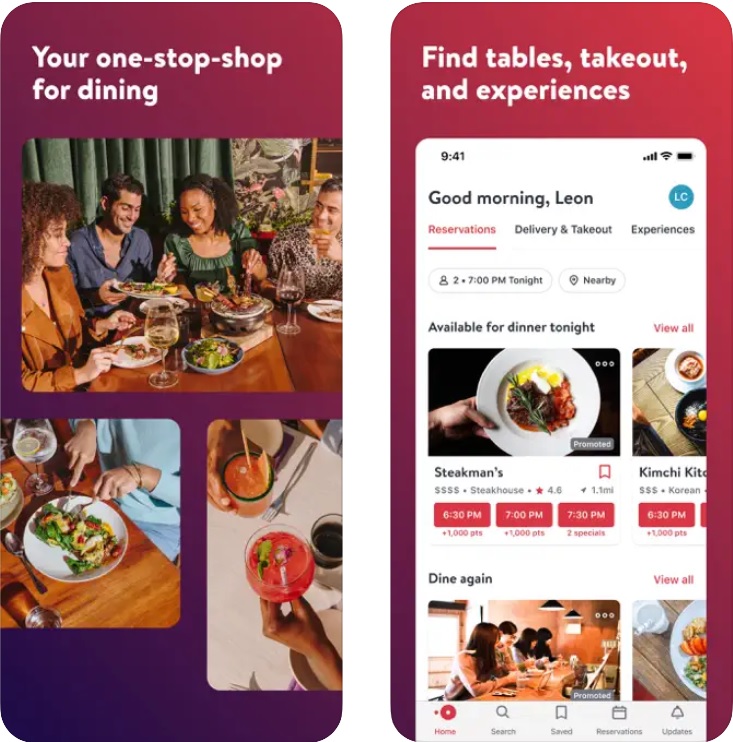 Zomato – Restaurant Finder
Still, searching out where to eat out tonight? Zomato is another guide app for you to make it easier. Whatever you want, pizza or sushi, lamb or roast beef, pancakes with honey or cookies with Ceylon tea, wherever you want to go, Zomato will view on the map the nearest bars, pubs, restaurants, and cafes which you can choose from.
All the useful information including menus, pictures, the type of cuisine, phone numbers, directions, user reviews is distributed by categories Dine Out, Food Delivery, Nightlife, and Takeaway. You can even order food online previously not especially installing any other apps but it's possible if you're in India, UAE, and the Philippines.
With this app, you have a great opportunity to explore every place to eat out in your city, including those near your current location. There are lots of tools to make your search more comfortable and faster. First, you can open the map and choose the area where you'd like to have foodie moments and just circle them on the screen by your finger.
Second, theme-based lists will help you too, offering the best new places to eat out in the city, perfect burgers, or high-rated restaurants. Besides, you can book a table in all partner restaurants using filters to find the most wonderful place as it was "specially made for you".
The app also allows you creating your collection of such places, writing reviews and share the photos of the food just in frames of the app.
To be aware of where your friends usually eat out, find them in the app and follow. You can also have your followers like on Instagram. Make the list of your favorites and mark the places you would like to visit in the future.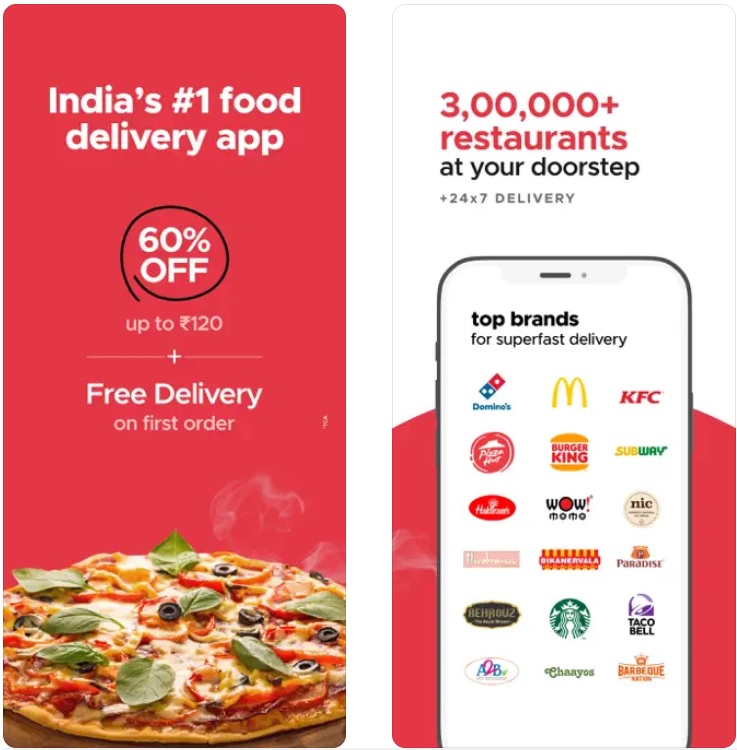 You may also like: 9 Best Restaurant Management Games for Android & iOS
Foursquare
What is the Foursquare app? It is the app for iPhone and Android which allows you to find great places to eat, drink and visit ever.
The special feature is that it's not only finding the place to head out like nightclubs, art museums, fairgrounds or attraction parks, but figuring out all the restaurants, pubs, and cafes near you that will match to your tastes. The app adapts to your tastes and considers when looking for a place to go.
For example, if you like ice cream, fish&chips, all you have to do is tap these things on the screen and wait for the best suitable variants of place where you can eat out all you chose at first.
As another restaurant&cafe finder apps, it views the map location, other users' reviews, contacts for reservations, makes theme lists for faster and more convenient search.
The app also shows how many users there have been before, the distance between the place with the food you're craving and has other amazing options. To try it, just click the suitable link below.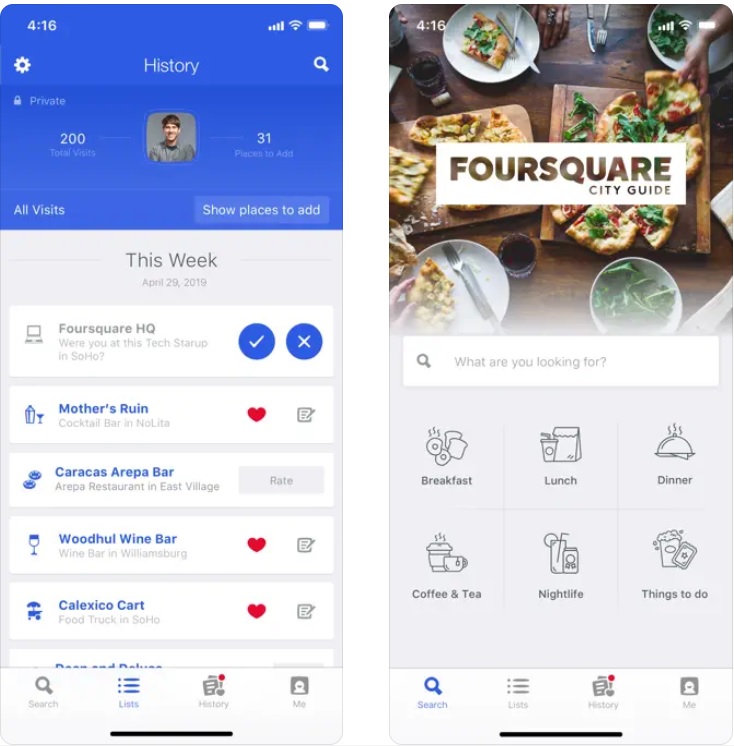 Eatigo
Eatigo is a free restaurant booking app that helps you find and book restaurants with up to 50% discount. With the app, you can explore different dining options, browse restaurants and make reservations at the right time.
Do you like to eat in cafes and restaurants rather than at home? Or maybe you just love to explore the gastronomic map of your region? No matter what goal you are pursuing – this application will help you!
Eatigo offers a unique booking system that offers discounted off-peak dining hours, allowing you to enjoy your favorite meals at discounted prices.
One of Eatigo's strengths is its wide range of restaurants, including five-star hotel restaurants, local eateries, and everything in between. In addition, the app offers great deals and promotions, thanks to which you can save on your favorite dishes.
Some users complain about app notifications, which they find too frequent and unnecessary. In addition, some users have complained about the limited availability of the app in some regions.
And so, what are you waiting for? Download Eatigo and embark on a culinary journey that won't break the bank!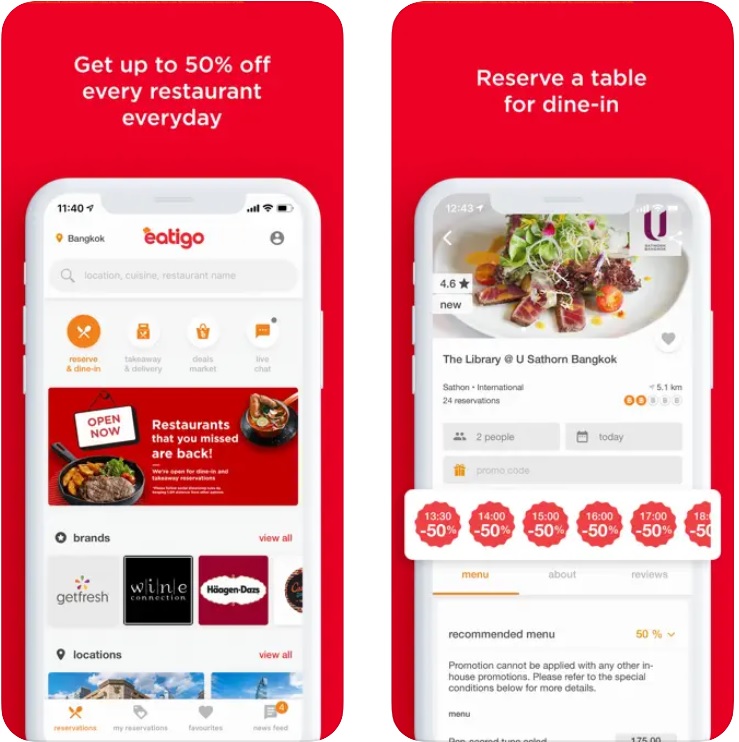 TheFork – Restaurants bookings
This app is another branch of Tripadvisor. So this is for those who like that app but would like to have something like this completely devoted to restaurants. And we have to face, Tripadvisor did well here! TheFork is one of the most popular apps on the market right now.
It is an incredibly convenient app for searching for the best restaurants. Moreover, it gives you a 10 percent discount for your first order! Make your 1st booking with the app TheFork with the code APP20 and receive 1000 Yums to use as a discount on your next meal.
The choice is wide – there are more than 55000 restaurants in the catalog. Moreover, TheFork will be showing you various exclusive offers all around the world which you won't find anywhere else. Lastly, you can always reserve a seat in a cafe or a restaurant via the app.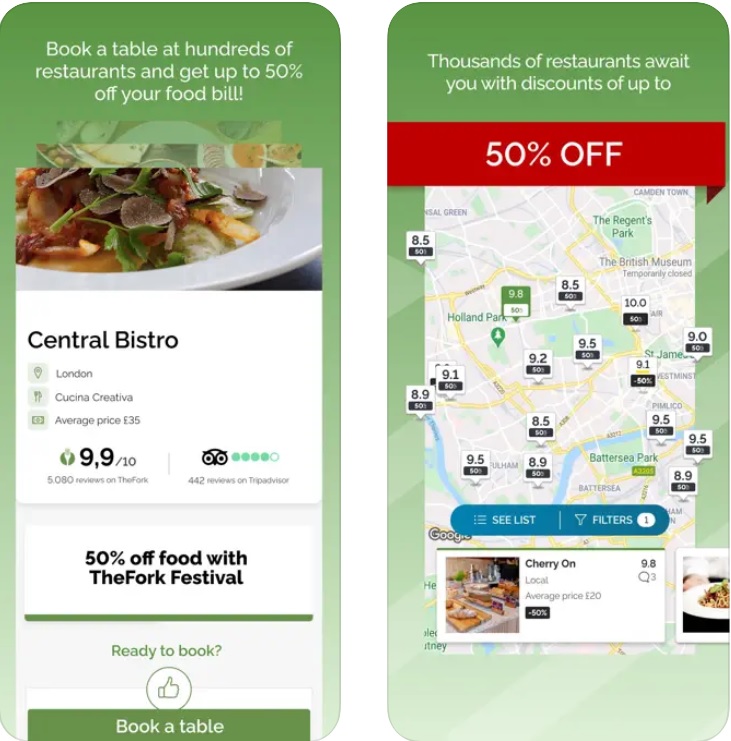 Restaurant Finder by Softweb Solutions Inc.
This Restaurant Finder for iPhone would be the great app if you're already tired of Yelp or OpenTable and don't still know where to go out for dinner or lunch.
It is perhaps the only Restaurant Finder app that will provide you info about the forecast. You'll always be aware not only of where to go, what to eat, which number to dial to reserve the table but even what to bring with it! For example, if the app predicts the rain you'll bring an umbrella with you.
You don't need to download apps for weather forecast no more – the Restaraunt Finder by Softweb Solutions Inc. is like the Shampoo and the conditioner- 2 in 1 and makes the app more original and useful.
Click the link below to install.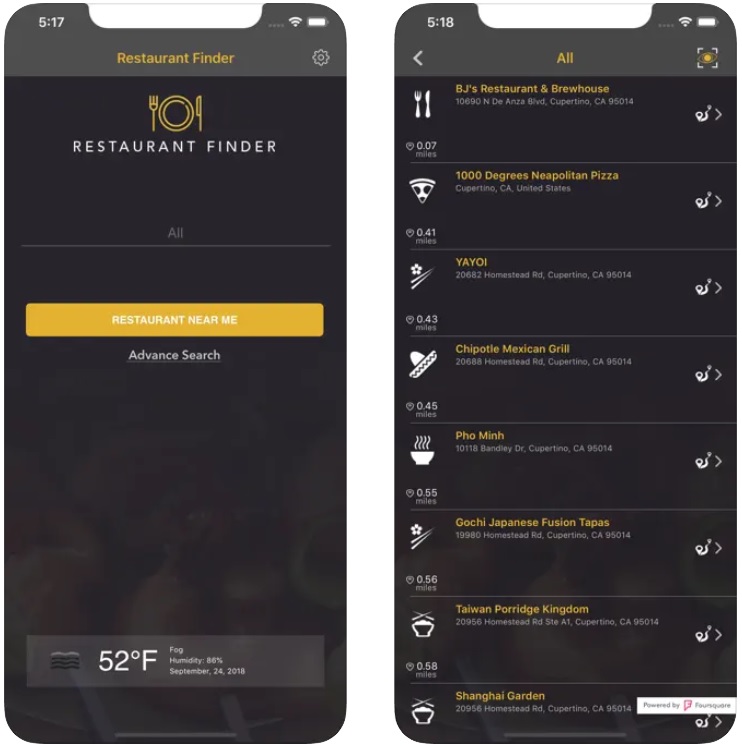 Uber Eats
Yep, this app is going to be a little outsider on this list, but wait, don't you sometimes feel lazy to leave your house but you're creating something delicious from a local restaurant? Or maybe you're sick and you can't go out, but you planned to go to a new place this week?
This issue can be relevant even for tourists who travel. For example, when you've been running around Paris the whole day, you don't feel any power to get fancy and go to their famous restaurants. But will you let your tiredness to deprive you of culinary experience? No way!
That's what Uber Eats was created for. It can deliver any food form any restaurant for you. Millions of people already use this app and you can join as well! The only disadvantage is that it is available mainly in bigger cities.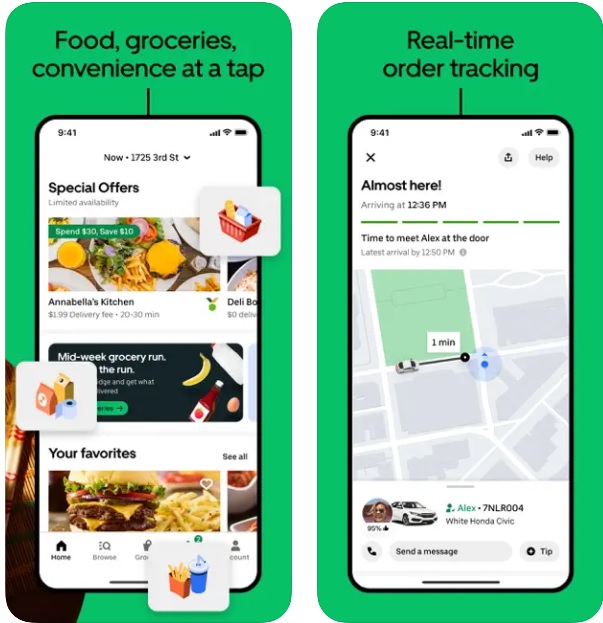 You may also like: 10 Best bartender apps for Android & iOS
Restaurant Guru
The name of this app allows you to understand immediately that you can rely on it when it comes to the choice of the restaurant.
Unlike all other apps mentioned before, this one works in a little different way – it doesn't provide another list compiled by the app, but it compares all the offers collected form all the most famous restaurant apps (like Tripadvisor, Urban SpoonYelp and so on) and shows you the best objective results).
The first thing that you need to do to find the best offer is to note the type of cuisine that you would like to try. Also, you need to write the type of place that you want to visit (is it a restaurant, a cafe, a bar, a beach bar and so on).
You can write the most exotic type of cuisine that you want to try. and the app will surely find something! You can also mark the price range of a restaurant or a cafe. It doesn't matter if you're a student on a budget or a famous businessman – you will find something that will suit your pocket.
Another feature of this app is the possibility to leave your reviews about the place you visited. By the way, if you're interested in any specific feature of cuisine then you can type a certain word in the search bar, for instance, "juicy fish". The app will find reviews that contain this phrase and will show you the place.