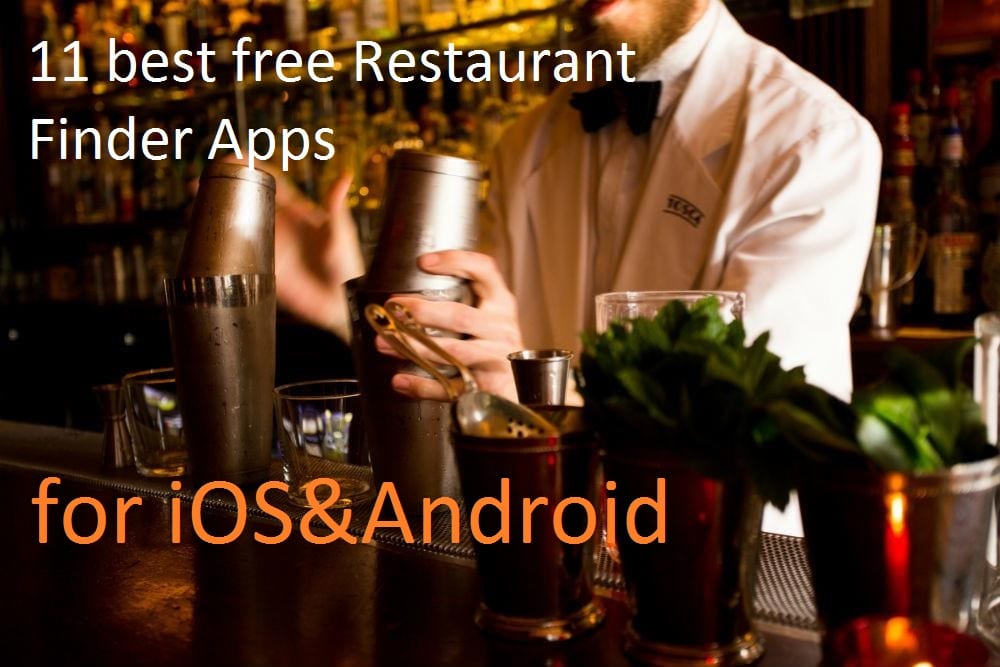 Who of us does not like to go out and have something delicious or try something new among defferent kinds of food instead of staying at home and spending hours in the kitchen preparing smth bored? Aren't these sounds great, are they? It is good if you already know the place you're going to, but if not?
For example, if you're in Japan for a few days and have not so much money with you? Or you have tasted amazing Thai cuisine and want to find the restaurant with the same food in your city? It is no more matter, thanks to the special type of apps which allow you to find the local restaurants and cafes.
It becomes really easy if such app is installed on your mobile phone! Using apps below will help you when traveling and if you want to head out in place in your town you've never been before.
We decided to make out a list of 12 best and most useful apps that will point the right way to nice places to eat out where you will want to go back again.
Yelp
Yelp is one of the most popular restaurant's finder app. With its' help, you can easily find not only restaurants and cafes near you but also museums, beauty salons, barbershops and even dental clinics! Yelp is a really universal app for iOs, Android, Blackberry, WP7 and WebOS to find the restaurants and places where you can go out to eat.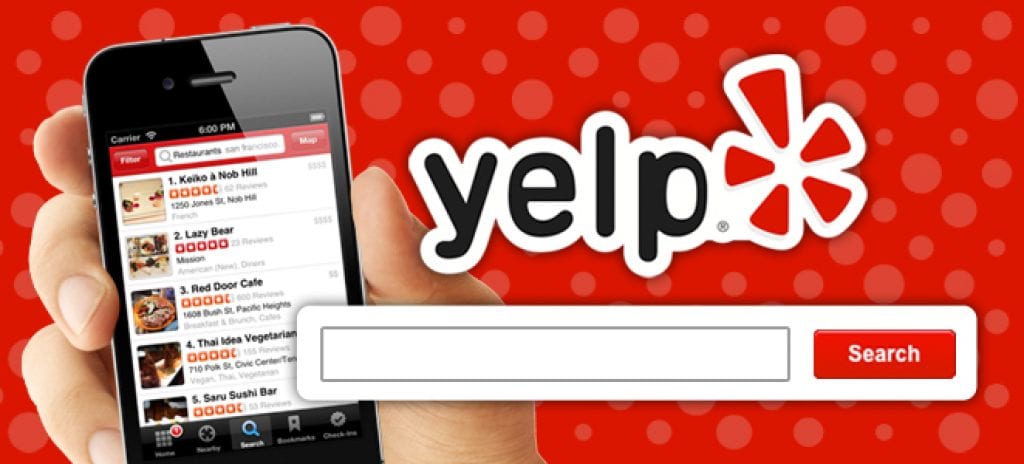 In this app, you can not only view the location of any place to eat near you but know what food is served and read the reviews of the previous visitors about it.
Moreover, besides the location and the opinions of people who were there before you, you can write your on review and will always know the phone of the cafe or restaurant you are going to go, see the prices and photos with the link to the official site of every organization.With this app, you can even make reservations wherever you are.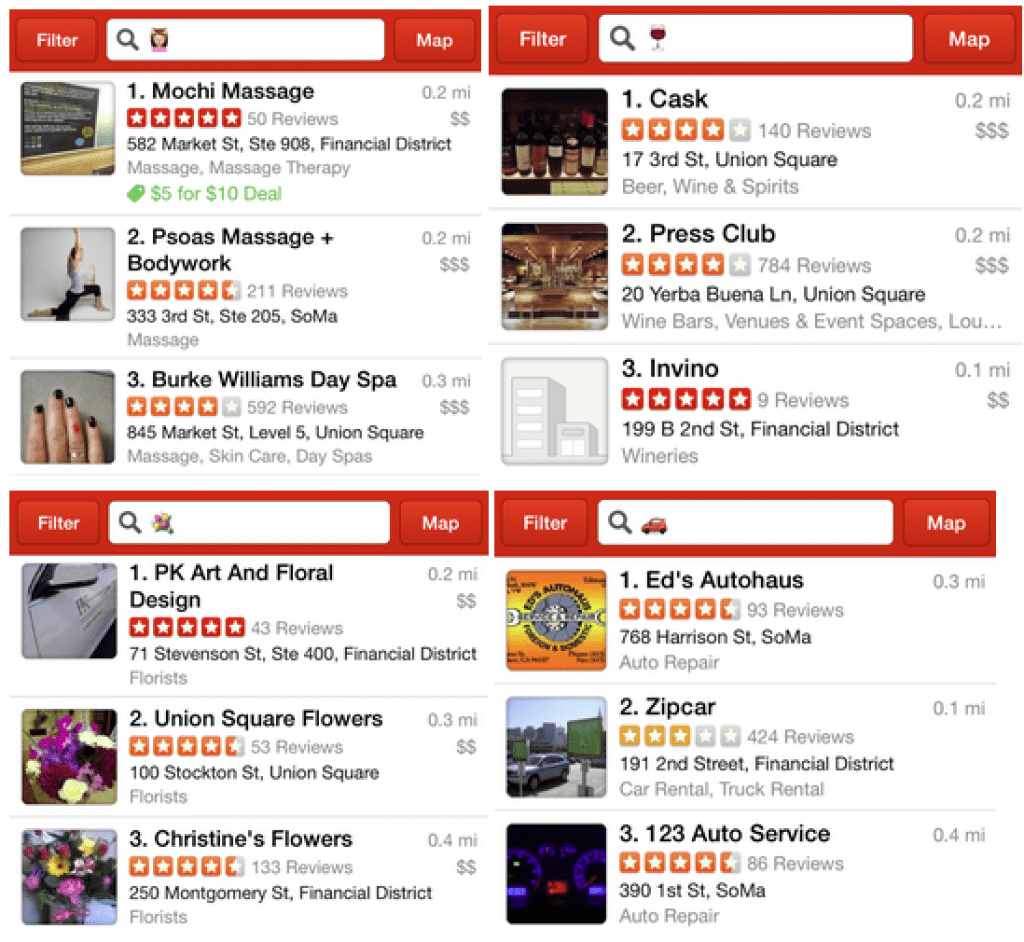 This app is available for lots of countries around the world. To download, click the link below.
Urbanspoon Restaurant Reviews App
At first, Urbanspoon was a publishing house. Its main purpose was collecting reviews about restaurants and cafes and writing on this base its own opinion and its own reviews.
Now the name is the same but Urbanspoon is not anymore a publishing house – it has become an app on your phone which fits in your palm hand.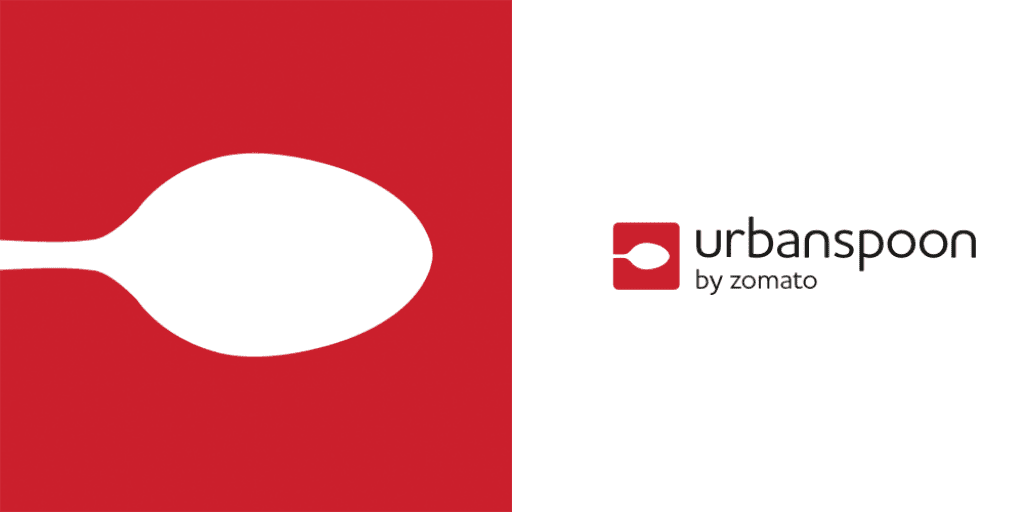 Here you can find over 100 thousand reviews to find the place to eat which you will really like! It becomes so easy thanks to the opportunity to filter by neighborhood, cuisine, and price for the greatest restaurant recommendations. You can also leave your own review about the place you were, put the voices or complain if you didn't like the service. At the same time, make a list of your favorites and wish lists.
This app gives your available information such as phone numbers and hours of operation, addresses, and driving directions. You can also book a table at any OpenTable (US), or Dimmi (Australia), or Bookatable (UK) restaurant. You can install the app by the links below.
Google Play
OpenTable: Restaurants Near Me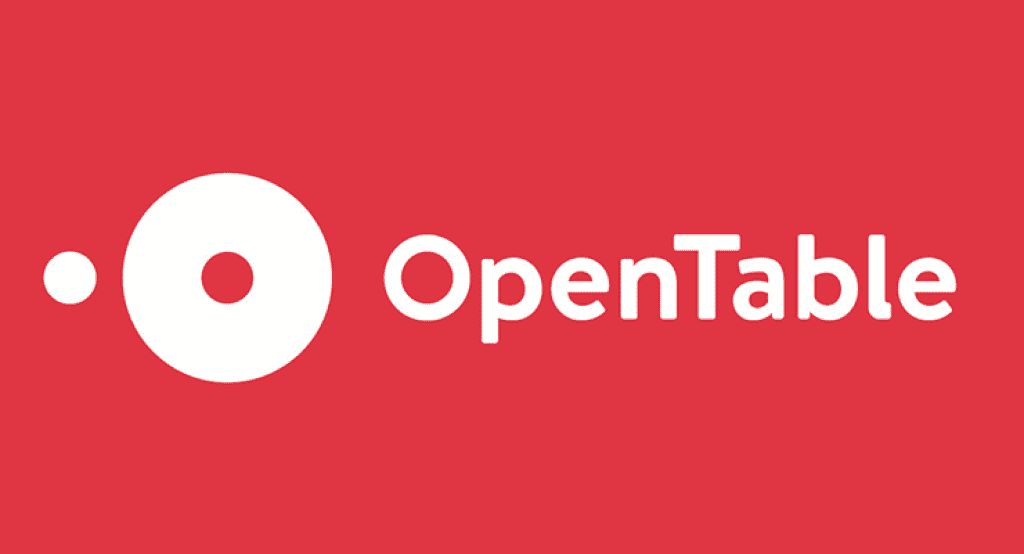 The another one app that will help you in your situation is OpenTable restaurant finder. Furthermore, it's not just a restaurant, it allows you to reserve the table where you want. It's just enough to fire up the app to know all about the way to the place you're going to eat out, the prices, the time of the reservation, popular cafes and restaurants, the rating of each place, and even their dress code and nearest parking!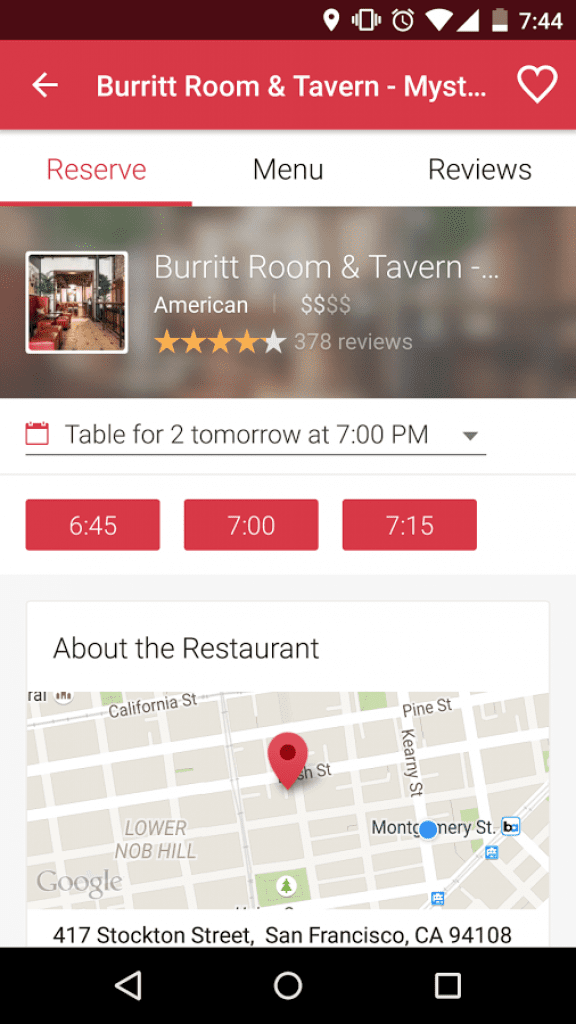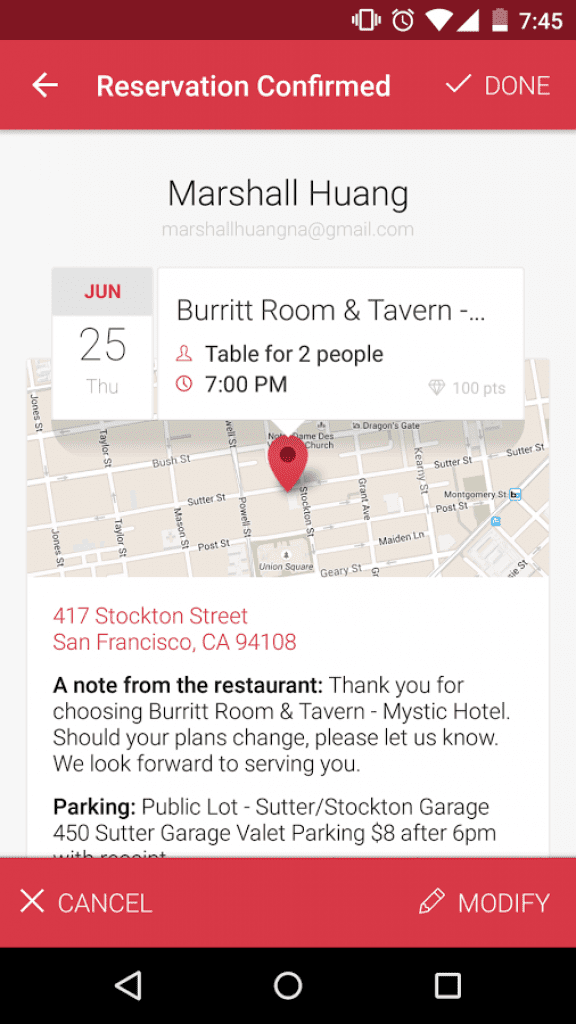 What is a fascinating feature? Besides the basic features like helping to explore new, browsing the menu, reading reviews and sharing photos with your friends, the silver lining of this app is giving you an exclusive opportunity to match points by making reservations and redeem them with free food in restaurants.
Zomato – Restaurant Finder
Still searching out where to eat out tonight? Zomato is another one guide app for you to make it easier. Whatever you want, pizza or sushi, lamb or roast beef, pancakes with honey or cookies with Ceylon tea, wherever you want to go, Zomato will view on the map the nearest bars, pubs, restaurants, and cafes which you can choose from.
All the useful information including menus, pictures, the type of cuisine, phone numbers, directions, user reviews is distributed by categories Dine Out, Food Delivery, Nightlife, and Takeaway. You can even order food online previously not especially installing any other apps but it's possible if you're in India, UAE, and the Philippines.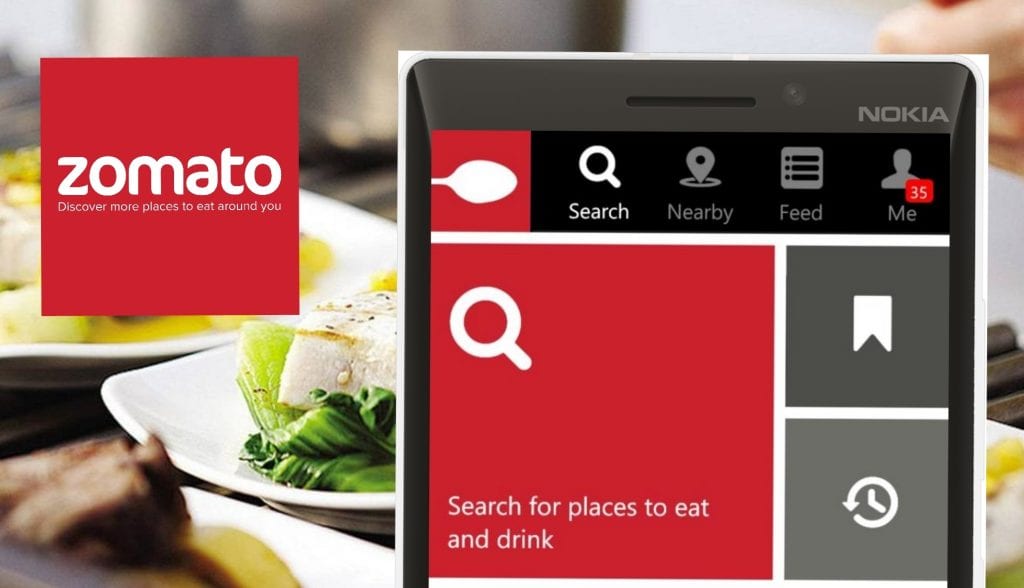 With this app, you have a great opportunity to explore every place to eat out in your city, including those that near your current location. There are lots of tools to make your search more comfortable and faster. First, you can open the map and choose the area where you'd like to have foodie moments and just circle them on the screen by your finger.
Second, theme-based lists will help you too, offering  the best new places to eat out in the city, perfect burgers , or the high-rated restaurants. In addition, you can book a table in all partner restaurant using filters to find the most wonderful place as it was "specially made for you".
The app also allows you creating your own collection of such places, writing reviews and share the photos of the food just in frames of the app. To be aware of where you friends usually eat out, find them in the app and follow. You can also have your own followers like in the Instagram. Make the list of your favorites and mark the places you would like to visit in the future.
Foursquare
What is the Foursquare app? It is the app for IPhone and Android which allows you find great places to eat, drink and visit ever. The special feature is that it's not only finding the place to head out like nightclubs, art museums, fairgrounds or attraction parks, but figuring out all the restaurants, pubs, and cafes near you that will match to your tastes. The app adapts to your tastes and considers when looking for a place to go.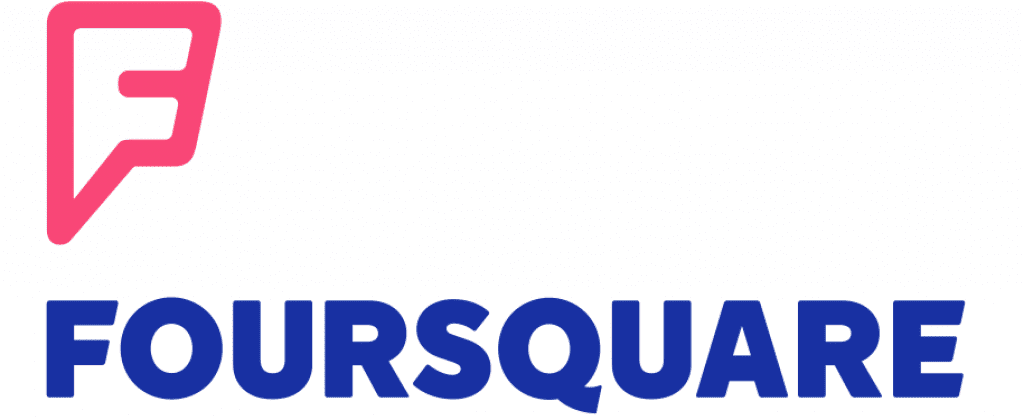 For example, if you like ice cream, fish&chips, all you have to do is tap these things on the screen and wait for the best suitable variants of place where you can eat out all you chose at first. As another restaurant&cafe finder apps, it views the map location, another users' reviews, contacts for reservations, makes theme lists for faster and more convenient search.
The app also shows how many users there have been before, the distance between the place with food you're craving and has other amazing options. To try it, just click the suitable link below.
muc
Zagat
Zagat app is your guide to interesting places including pubs, restaurants, and cafes across the USA and other countries. According to users who have already installed the app, Zagat is the more selective app for iPhone and Android than others. It has clearer design and, thereby you will save energy and time not looking for variants of places that you may not like. Thanks to the faster search and awesome lists, you will enjoy using this app.
The reviews of the previous visitors of the eatery are trustworthy, the menus are scanned so you can see the photos of food you're going to eat, and you can also choose sorting criteria by yourself. You will actually like app's efficient design and ease of use. Just spare a minute to download Zagat app Restaurant Finder to save hours for searching the nice delicious establishment.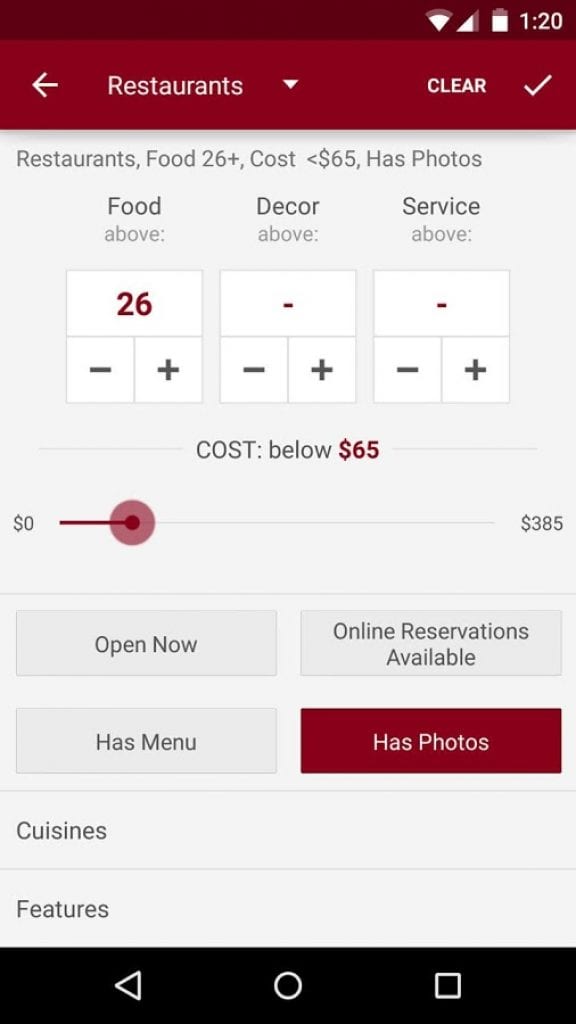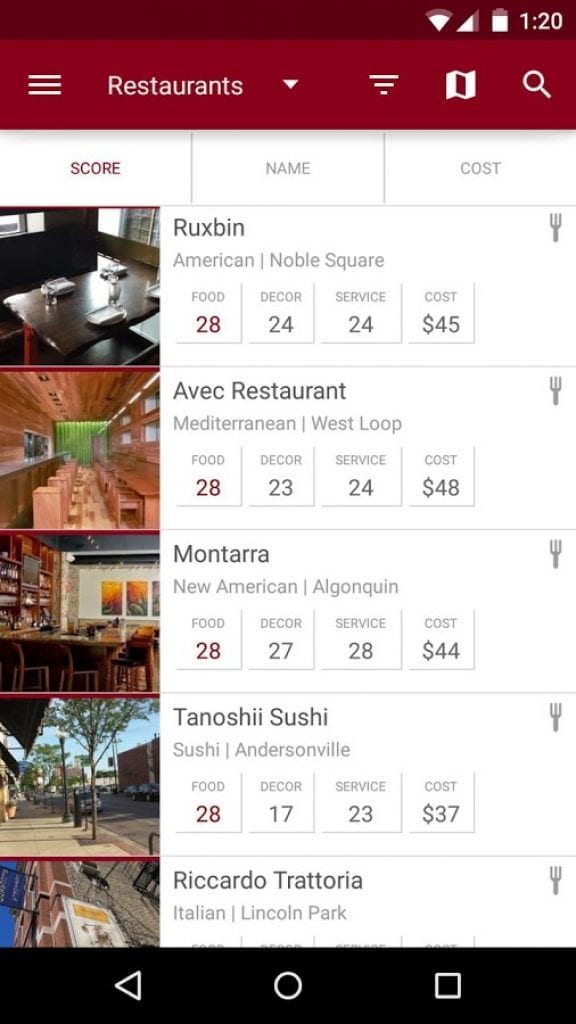 EatBingo – Restaurant Finder
EatBingo for android and iOS is another one alternative within the restaurant finder apps. EatBingo – if you still searching for something new, yummy and delicious. Explore it with the lists Buffet restaurants, Special Thali restaurants and, of course, Top Restaurants and etc. around you or use customized location if you want.
With this app, you will not miss any exclusive offers, launches or deals at any time wherever you go. You don't even fire up the app to get a notification if something important is happening in the eateries near your current location.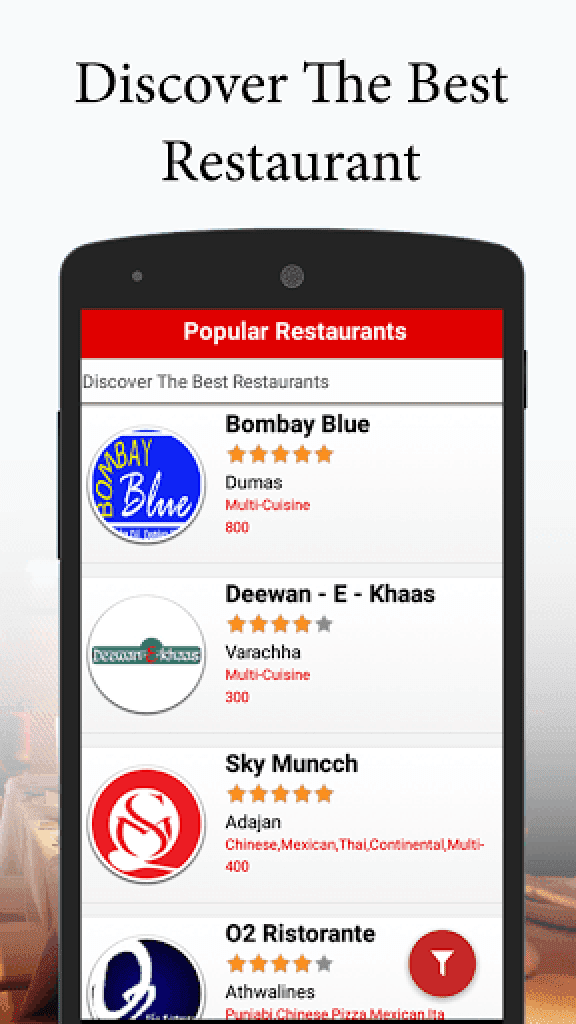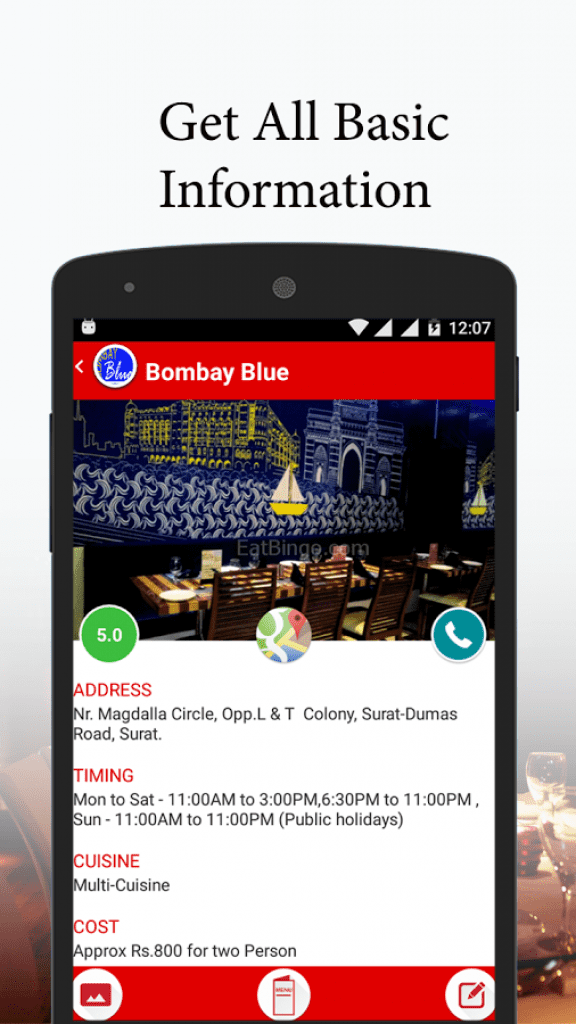 Restaurant Finder by Softweb Solutions Inc.
This Restaurant Finder for iPhone would be the great app if you're already tired of Yelp or OpenTable and don't still know where to go out for dinner or lunch.
It is perhaps the only Restaurant Finder app which will provide you info about the forecast. You'll always be aware not only of where to go, what to eat, which number to dial to reserve the table but even what to bring with! For example, if the app predicts the rain you'll bring an umbrella with you.
You don't need to download apps for weather forecast no more – the Restaraunt Finder by Softweb Solutions Inc. is like the Shampoo and the conditioner- 2 in 1 and makes the app more original and useful.

Click the link below to install.
GoMeals Application Restaraunt Locator
Trying to keep fit and find something healthy and yummy to eat? Go Meals is an app for those who love not just food. It is for those who eat properly. The app's database has over 200 000 locations of the healthy restaurants and it maps you the way how to get there, how to contact the place you decided to go, views the menu of each restaurant.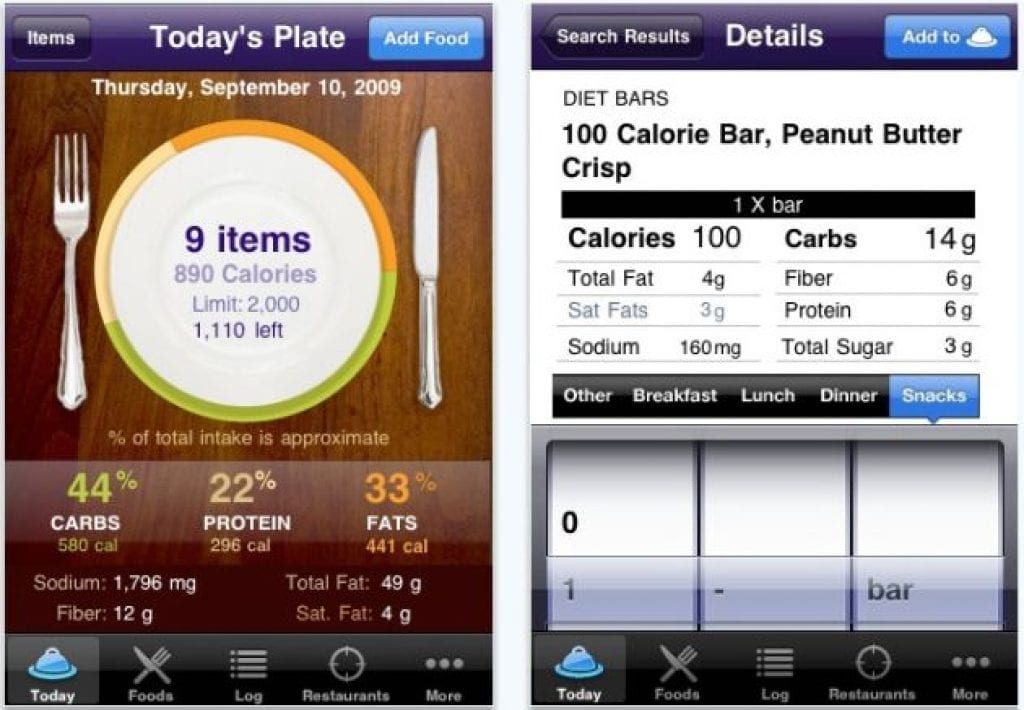 Find Dining Restaurant Finder
This eatery finder will be loved for its voice search and it's faster speed! Besides the basic features like finding food by its categories, location, and price, viewing info details, doing the takeaway, delivering food, and making reservations, it will be more convenient with an opportunity to find the eateries not typing anything.
This app will show you the smart suggestions of restaurants if there any. All you should do for this is just tap the star to pin to top. With this app, you will also be aware of all the popular fast foods and hold your device the way you want – it adapts to all screen sizes. The new material design is the thing that makes finishing touch. Just don't forget to turn on your JPS-system and it will be OK!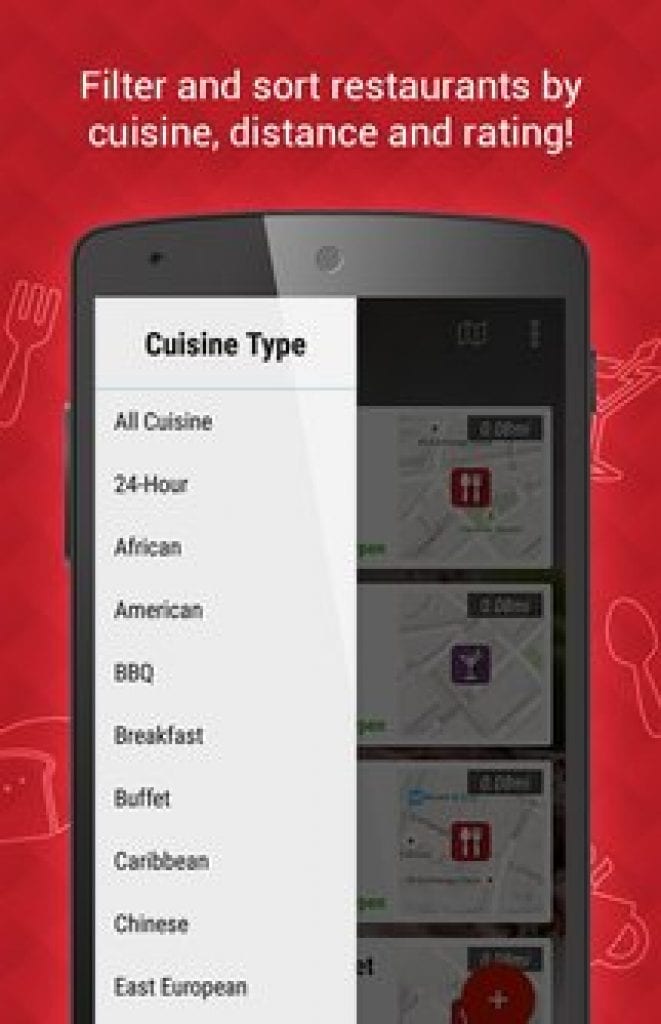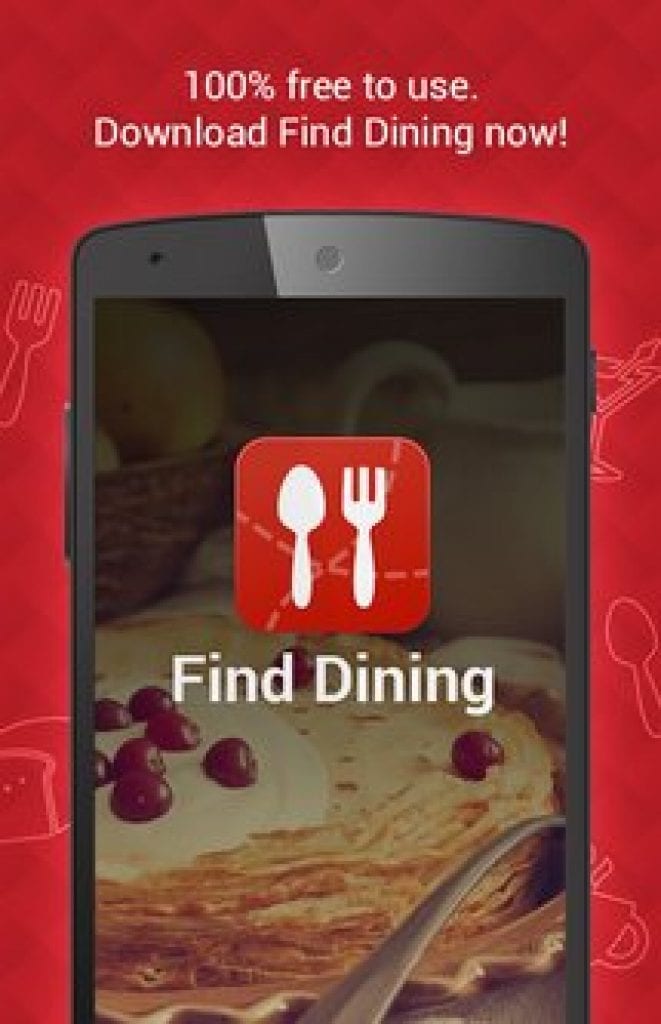 Find. Eat. Drink. Eating + Drinking City Guides by Chefs & Bartenders
Find. Eat. Drink. The name of the app speaks for itself. It's not only typical restaurant and eateries finder, it's much more impressive thing.  The silver lining of Find. Eat. Drink. is that it has been made with help of the masters of their craft – exactly chefs, bartenders, food artisans, chefs, bartenders, and sommeliers. When you fire up the app, search the database, choose throughout the variants, it seems like these people give you advice and share their opinion about where there are the best food and drinks and also the best food shops around you and view it on the map.You will never make a mistake in your choice with this app. Add to your favorites the places you liked the much and leave your own comments.

You can find lots of descriptions written by great critics and reviews in the newspapers about this the "Find. Eat. Drink." for iPhone. Be sure you will not ba disappointed if just try "Find. Eat. Drink." by clicking the link below.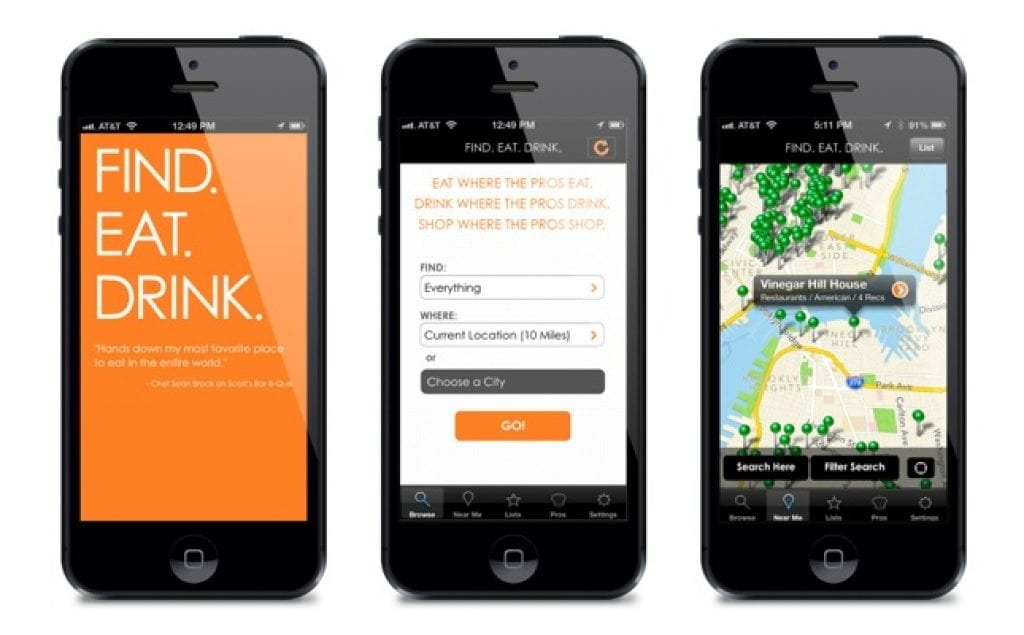 Moreover, after you've already chosen the meal on the menu you do not have to count calories anymore – GoMeals app will make it for you. It will also show the amount of carbs, total fat, protein and total nutrition which makes it much convenient.

If you're one of those who is used to take care of their health, GoMeals app is the app that you need indeed! By the way, it is just a little part of the project for a healthy life – you can install Activity Tracker, Blood Glucose Tracker, Food Tracker by the GoMeals developers. To try Restaurant Locator, click the link below.