Who wasn't mesmerized by the starry sky? Sometimes you see this scenery, you pull out the phone from your pocket wishing to take a picture and… see nothing. The problem is even the most innovative cameras are still unable to fully transfer the whole picture the human eye can detect. However, there are special astrophotography apps that you can use and get a detailed photo of a night sky!
What is more, all the astrophotography enthusiasts can discover more useful apps in this field which are free, by the way! Explore the article 9 Free astrophotography apps for Android & iOS and enjoy!
Sky View
This is the leader among the apps in the Astro-apps category. It allows you not only to take pictures of stars but also to research information about almost every star in the sky.
Moreover, you can use the camera on your phone to detect the star maps. You need to point your phone's camera at the star that the app creates in 3D projection. By tapping on a certain star you will be able to receive the full information about it.
Sky View is ready to create constellations from the stars you want to see. The planets are included as well.
You can get the information thanks to many websites, databases, and other sources. Therefore, there is no need to worry about the reliability of stars, planets, and asteroids that are presented here – all the data is verified. Additionally, it's extremely convenient to make research in Sky View since all the information is nicely structured and divided into categories – even newbies will be able to understand the key positions.
You can always upgrade to a premium subscription in case you want to not just take pictures of a starry sky but actually research more info about the galaxy.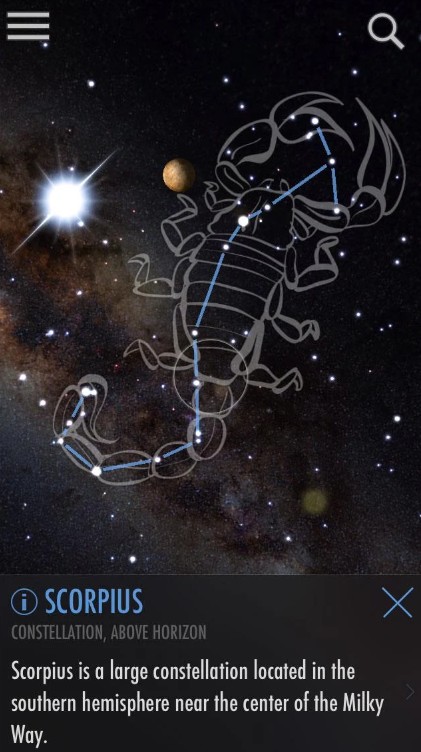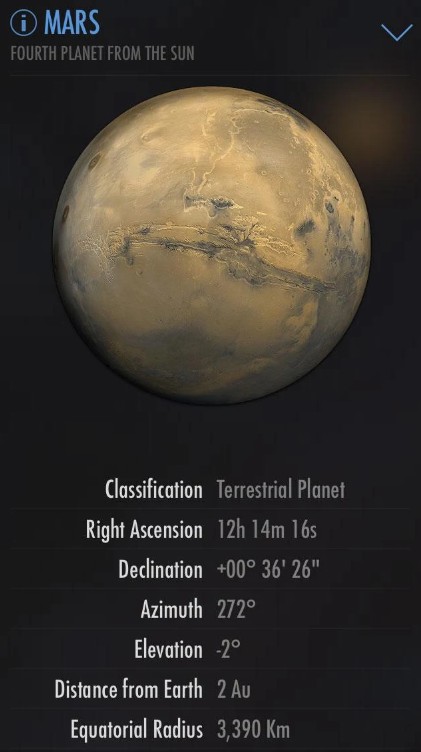 You can also like: 11 Free Live Photo Filters Apps for Android & iOS
Light Pollution Map – Dark sky
This is a more universal app and you can see from its name it's not only about astrophotography.
Here you can see a map of light pollution in high resolution with the ability to configure it and select the location of a separate section on the map. Light Pollution Map involves the ability to demonstrate the phases of the Moon, photos of the Sun, and the schedule of night events so much more than just a photo app.
You can also view a daily selection of photos for the day in this application. And even despite the fact this app has a quite plain interface design, it does allow you to view the lighting of any spot of the world. You can take screenshots or it and you can also take astrophotos and the app will analyze them according to the lighting level.
Even in its free version, Dark Sky contains loads of info about various planets, constellations, and other stars. The graphics are also provided at a decent level which is quite remarkable for such a small app. Considering astrophotography – you can take a picture and then research interesting stars on it, however, Dark Sky doesn't provide any filters or anything.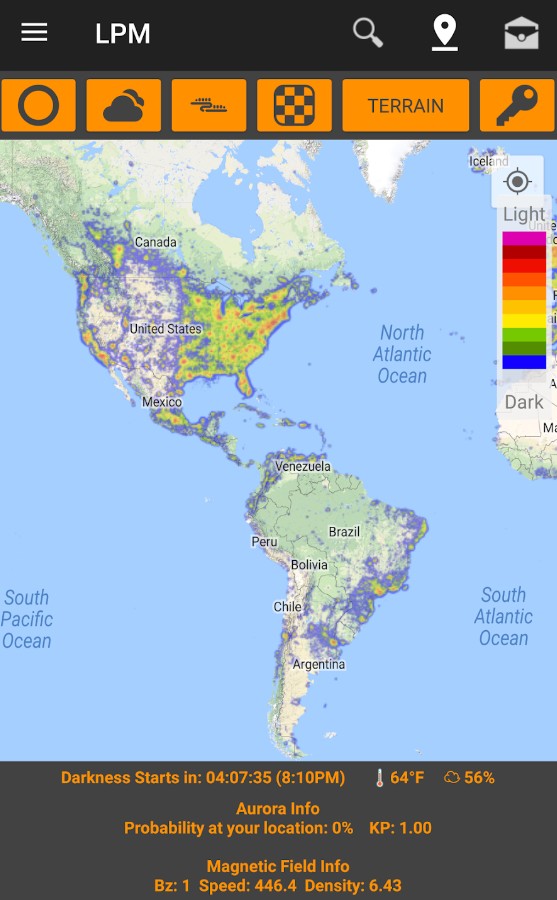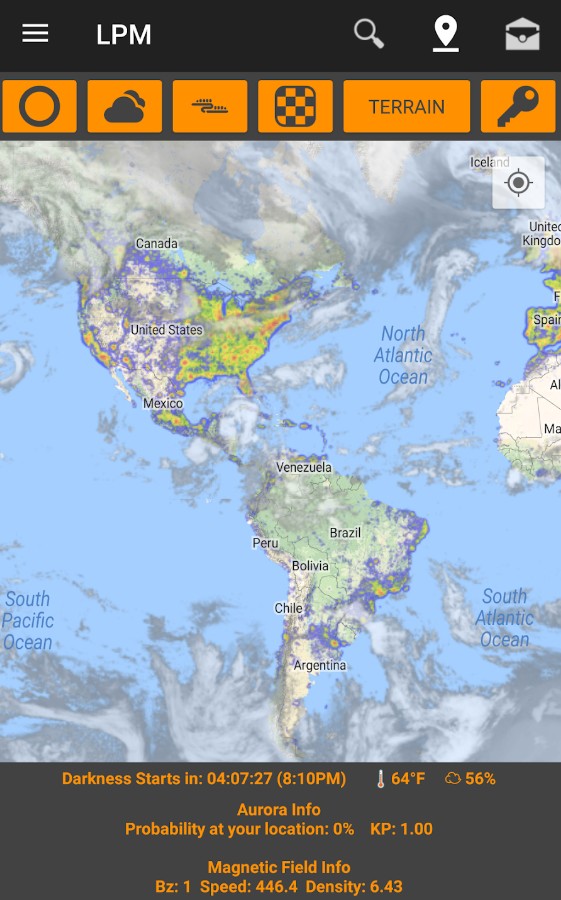 Sky Portal
Unlike the apps listed above, it cannot open a map of the starry sky when you point your camera at the sky. Therefore, if you want to take pictures of a night sky only this is your first choice.
The interface design is a little obsolete, however, it doesn't affect the app's functionality. Sky Portal also embeds a well-designed 2D map. There is, however, the possibility to do research on the constellations in the app and each star will be marked by a small icon. By clicking on it, you will open the info block about it.
You can get it in both text and audio formats. We also would like to highlight that this app won't be the best choice for those who are new to the subject.
The app also involves a feature of a telescope, compass, or focus. Another curious feature here is that you can type in the name of the location where you live and Sky Portal will show you the info about the most exciting stars that you can see from your angle. Summarizing everything mentioned before, Sky Portal is a real gem for all astronomy enthusiasts.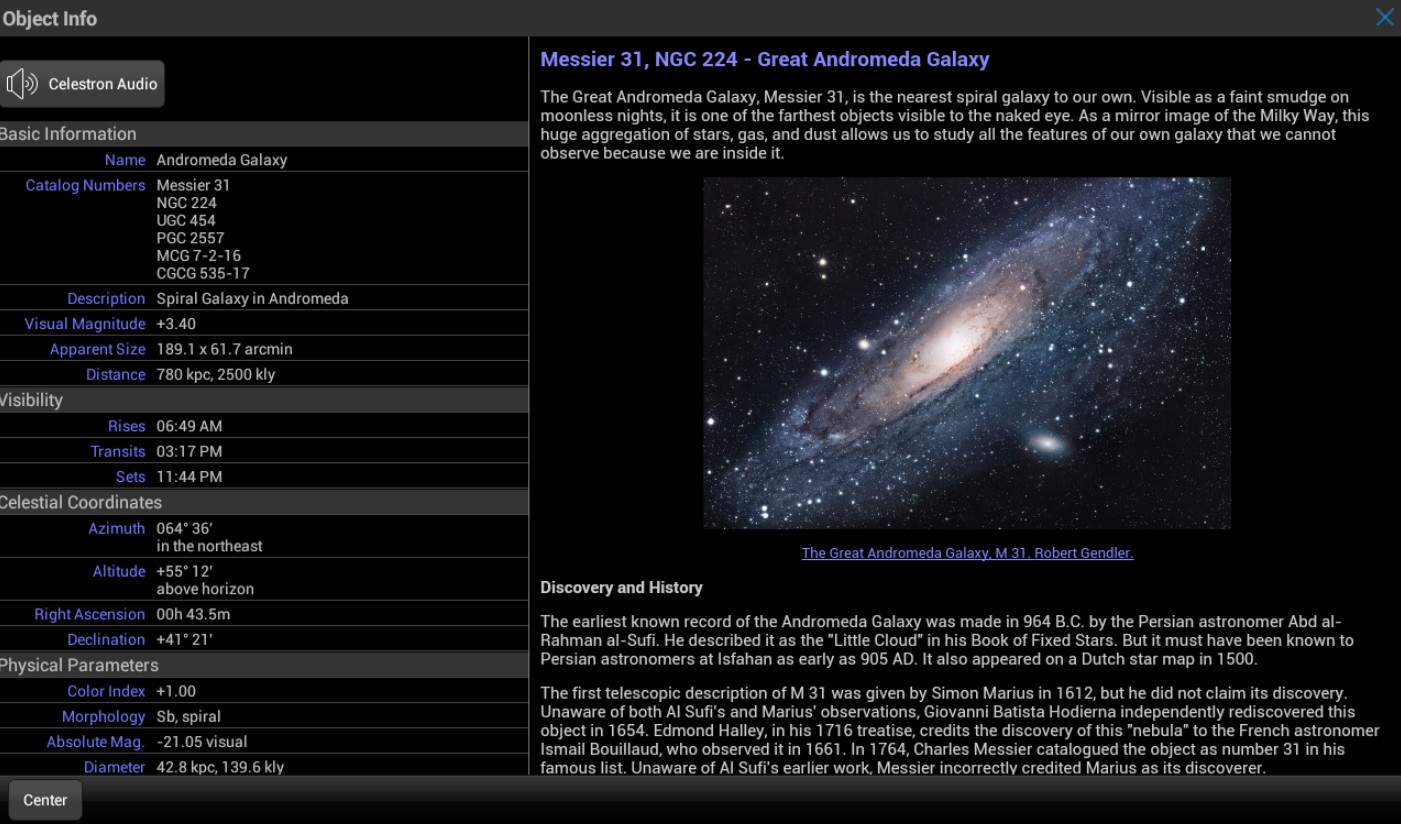 Snapseed
You've definitely heard of this photo editing app before – and it can help to take Astro pics. Creating atmospheric, realistic pictures of the starry sky or astronomical phenomena can be possible if you adjust filters in the app.
A convenient and straightforward interface, various tools, and modifiers allow you to edit your photo so it can be turned into a real starry map. For example, you can highlight stars in the sky, change the color of the constellation, sharpen photos, and much more.
Snapseed is an app not for beginners and will be nice for those who already have some skills in light correction in pictures. But if you manage to cope with this, your photos will be as saturated and contrasting as possible.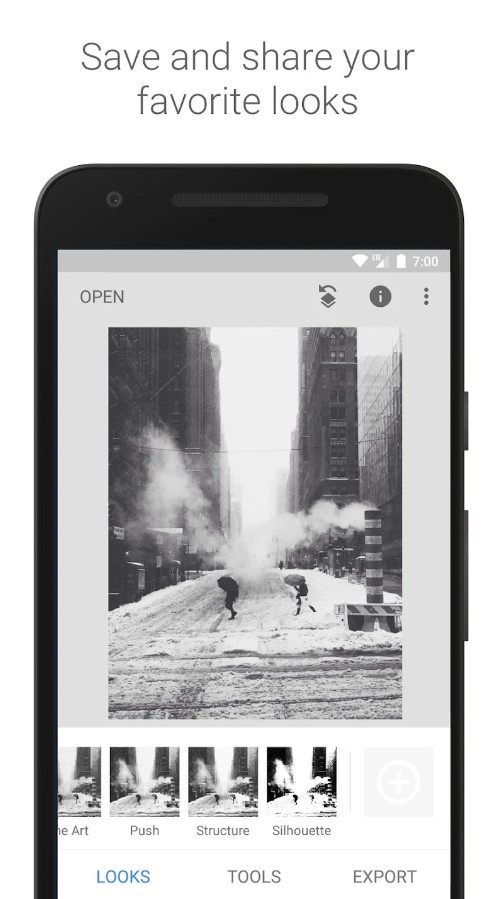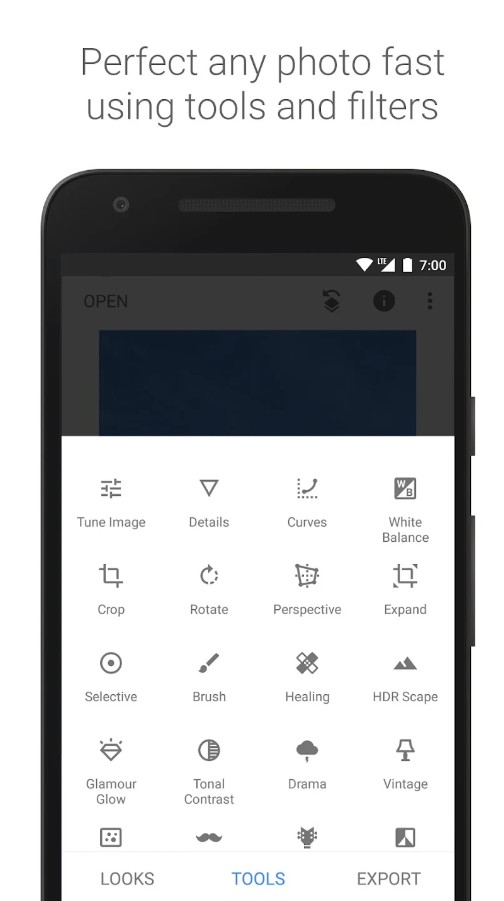 Stellarium Mobile
Stellarium Mobile is an impressive stargazing app that transforms your smartphone into a portable planetarium. You can explore the night sky, identify stars, planets, and constellations, and learn about the celestial wonders above.
It has a vast databases of stars and constellations. It offers access to over 600,000 stars, ensuring that you can spot and learn about countless celestial objects. Moreover, it includes detailed information about 88 constellations, helping you navigate the night sky with ease.
Stellarium Mobile also offers various customization options, allowing you to adjust the time and date to view the sky as it appears at different moments. This feature is particularly useful for planning stargazing sessions or observing astronomical events.
In general, I find this app quite useful because with its extensive database, easy-to-use interface, and real-time tracking capabilities, Stellarium Mobile gives you a lot of unique opportunities to explore space.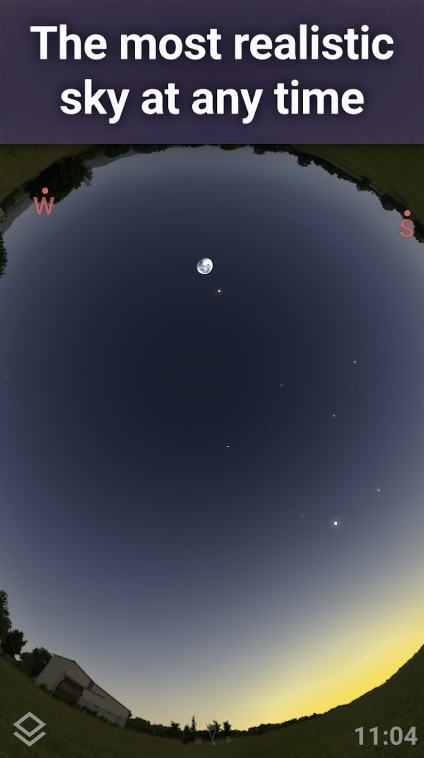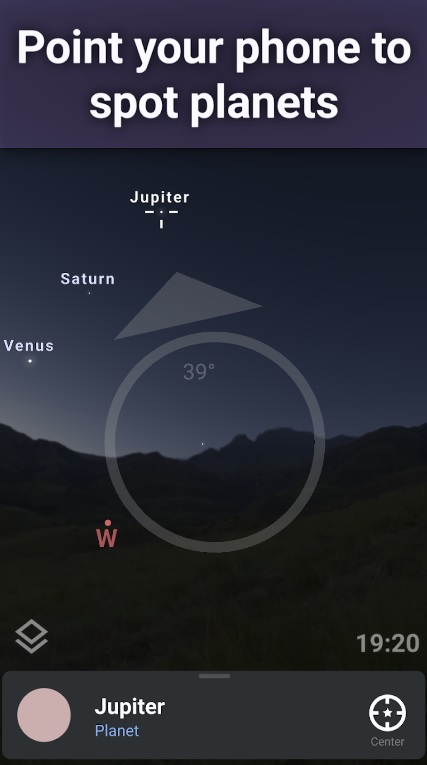 Night Mode Camera (Photo and Video)
Speaking of applications that are ready to take beautiful and clear pictures of stars in the night sky, we think we could mention this one. Night Mode Camera is not the most promoted photo app but you can give it a try.
Even if you have a weak camera on your phone, you can open Night Camera Mode and try to take a picture at twilight (but try not to shake the camera when you take pics). The results should be better than the regular ones, but be careful: in cases, with some obsolete cameras, this app won't work.
In addition, the application has a variety of filters, modes, and even lighting settings. You can edit the final result in several seconds. There is nothing to highlight about the interface since it is pretty mediocre and has no frills in the form of a considerable number of incomprehensible inscriptions and buttons.
The program settings are extensive so that you can customize the applications for your needs as you like, which is very useful for taking photos at night in the sky. It would be best if you had a tripod or put your phone on something for this application to work correctly. Overall, this is an app for average-priced smartphones to take pics of a night sky.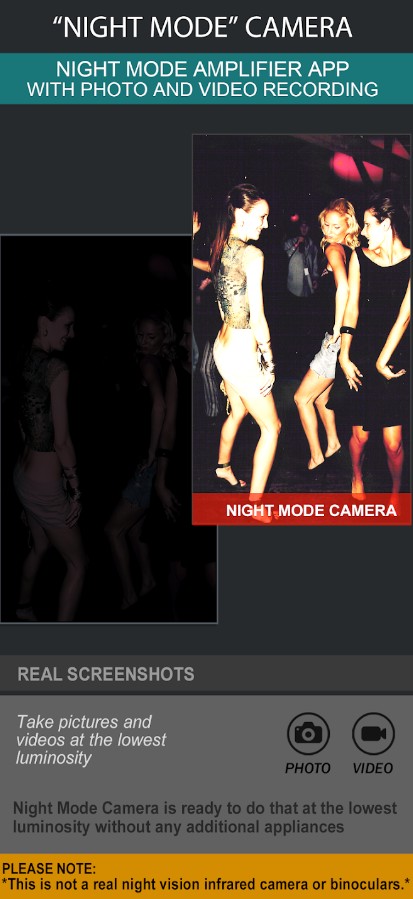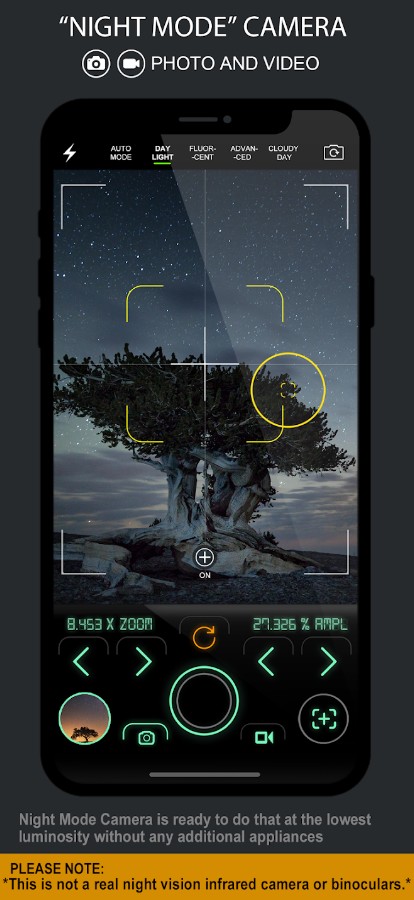 You can also like: 9 Astrology Apps To Read Your Birth Chart on Android & iOS
Sky Safari – Astronomy App
Just like in a number of previous examples, you can open a starry sky map with constellations. Sky Safari, indeed, is one of the most popular Astro apps on the market, with information about stars, planets, asteroids, and so on.
You can point the camera at the night sky and try to scan it – and receive the info about the stars. We have to claim it will work only if your gadget's camera is quite advanced initially.
Sky Safari involves a search engine, a dimming function of the interface, which is convenient at night since the eyes strain less, as well, as a "Compass" mode, with which you can aim at the stars and constellations by rotating your phone.
All in all, the app can brag about the cool collection of posts about planets and stars, but its ability to take pictures in the dark is quite controversial. You can download it and see how it works with your phone.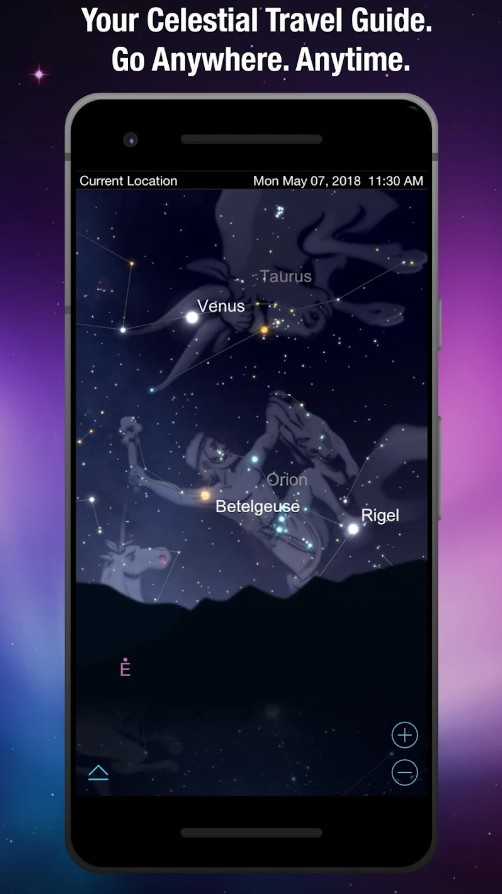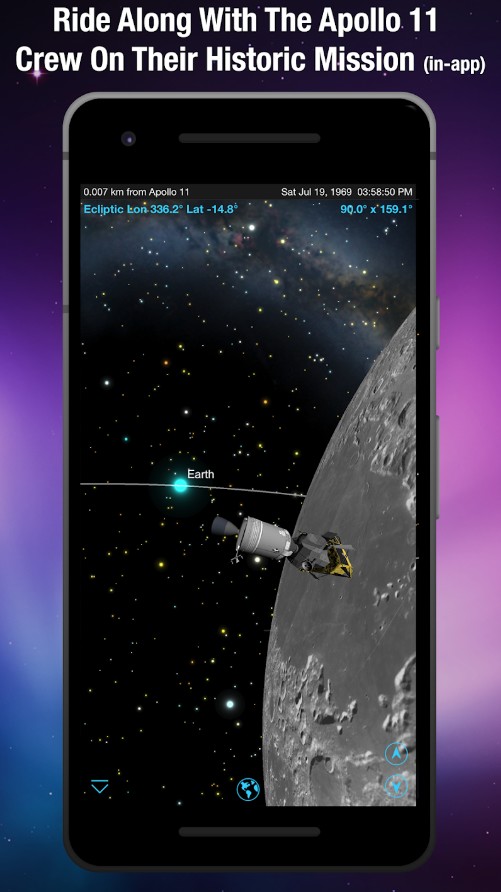 Sky Guide
One of the most beautiful applications for astrophotography. It has excellent visualization of stars and constellations, which is suitable for a beginner in the subject of astronomical phenomena. The app is ready to show you almost all the information about the star you choose. Moreover, you can enter the lead's name in the application, and it will show you its location on the map.
There is also a selection of exciting events and phenomena that occur or have occurred in the starry sky to date. This selection is updated daily. In the application, you have the opportunity to see all the upcoming events that will take place in the starry sky soon. The application generates all upcoming events, thanks to enthusiasts who enter this information into an extensive database.
Excellent addition to a good visualization of the application the interface is atmospheric music which is quite rare for apps of this type. Despite all that, you can scan the night sky with your phone's camera and this app, but not take pictures of it.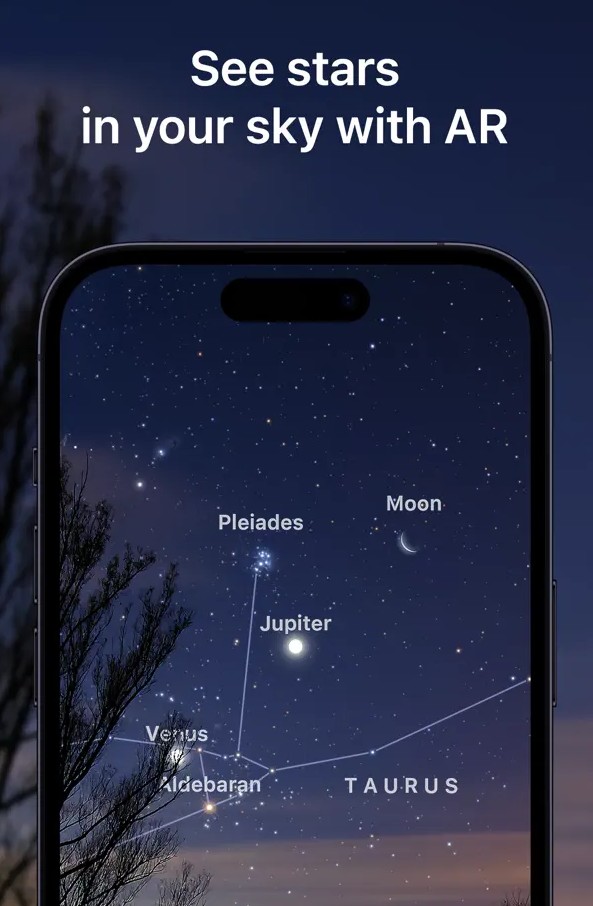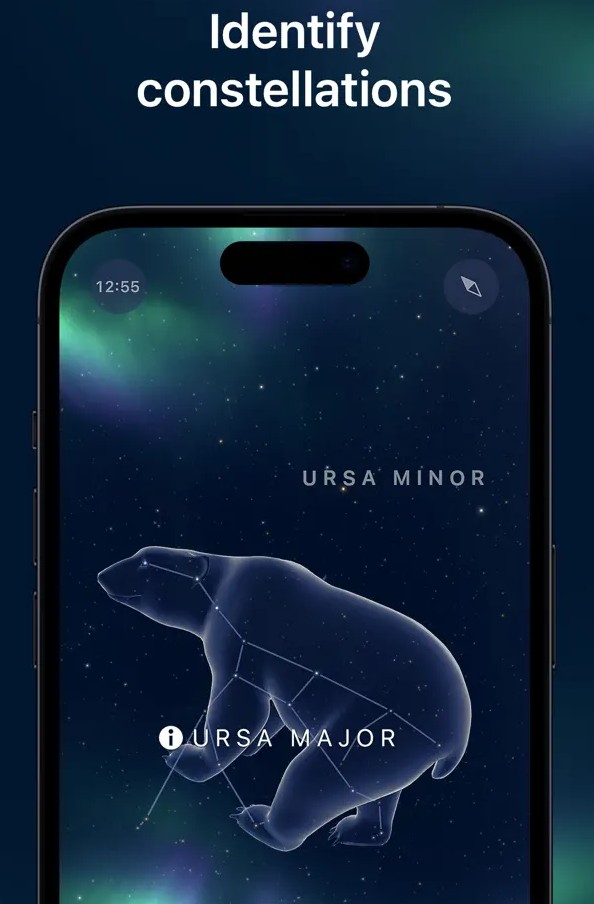 SkEye
With this app, you can embark on a celestial journey right from your smartphone or tablet. The main menu of SkEye offers several essential sections that make it easy to explore the night sky.
It includes features like the Search and Identify function, which helps you locate stars, planets, and constellations by simply pointing your device at the sky.
The app also has an extensive database of celestial objects, with details on over 15,000 stars and 88 constellations. This makes it a valuable tool for anyone interested in stargazing or astronomy.
You can even try Augmented Reality (AR) mode, which overlays information about celestial objects onto your device's camera view. This means you can see stars and constellations in real-time as you scan the night sky.
The app also includes a Time Travel feature, allowing you to view the night sky as it appeared in the past or will appear in the future. This is handy for observing historical events or planning future stargazing sessions.
Finally, with the help of this app, you can also be aware of the stars' location for scientific or esoteric purposes.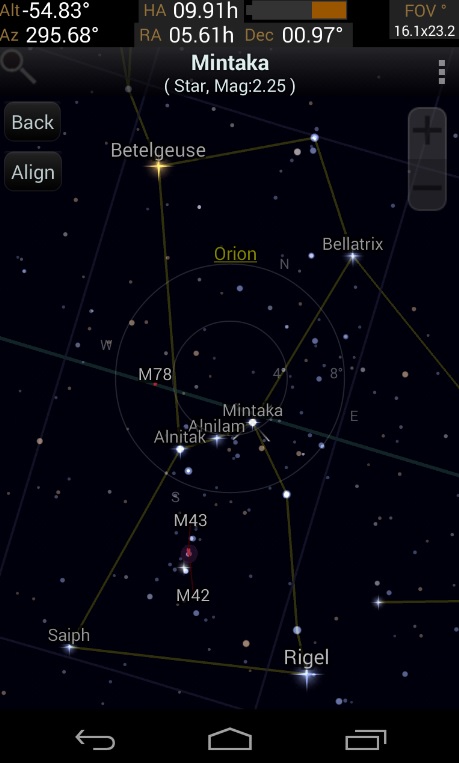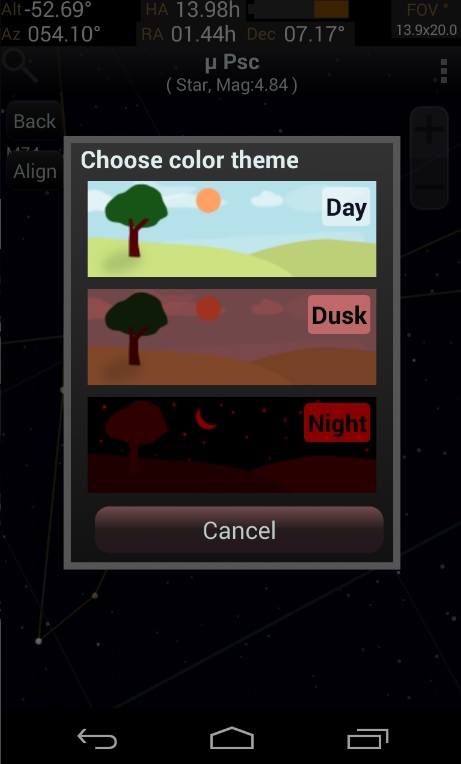 Sky Tonight
The app provides a comprehensive map of the night sky, allowing you to identify and learn about stars, planets, and constellations.
Sky Tonight has an extensive database, featuring information on over 100,000 stars and 88 constellations. This wealth of knowledge enables you to pinpoint and understand celestial objects with ease.
One of the standout features of the app is its real-time sky map, which adjusts as you move your device. This means you can simply point your phone at the sky, and Sky Tonight will guide you to the stars and planets visible in your location.
In addtion, the app offers a Time Machine feature, allowing you to glimpse into the past or future night skies, a handy tool for historical research or planning future stargazing adventures.
To sum up, with its wealth of information, interactive features, and captivating visuals, Sky Tonight is a fantastic companion for anyone eager to explore the cosmos and unravel the mysteries of the night sky.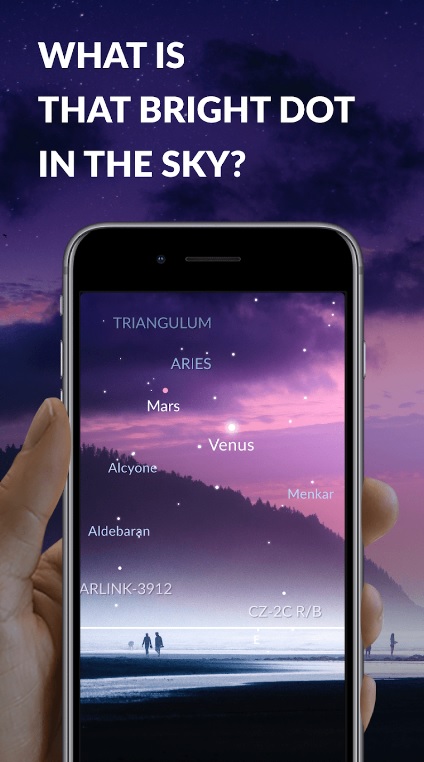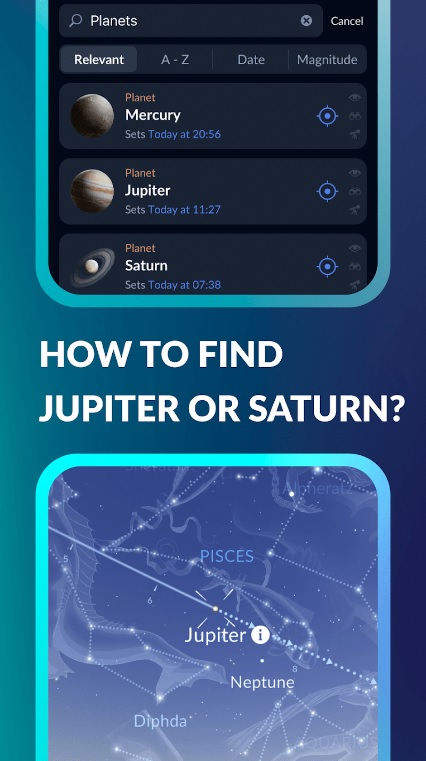 Redshift Sky Pro
One of the best apps for aster photographers at the moment. It hasn't gained that much popularity yet, but it definitely has the ability to take astro photos.
Explore the space maps that you will find in the app, read about objects in space, their position, and visibility. Moreover, in here, you can get information about the movement of satellites, asteroids, and comets.
One curious feature that helps Redshift to stand out from others is the eclipse calendar app. It will help you plan observations of these most interesting celestial phenomena. The app uses a huge database consisting of more than 2500,000 stars and 70,000 deep space objects.
The design of the interface could be executed better, though some apps on this list have it in a worse condition. As for taking pictures of a night sky with this app, you can try it, but it won't work with every single device. What is more, many cool options of Redshift are only available in the paid subscription.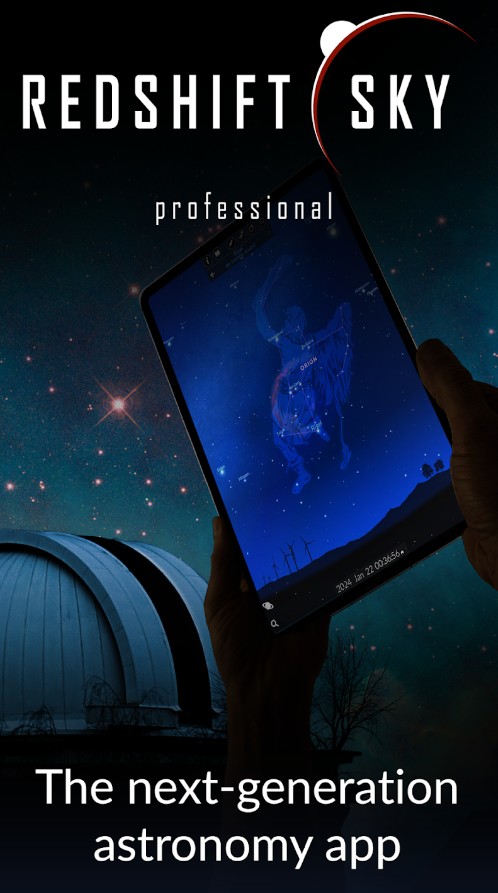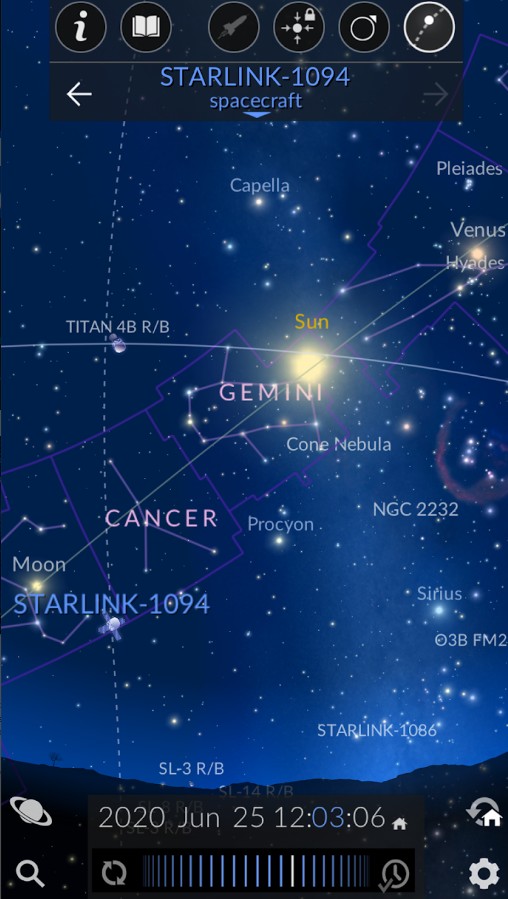 You can also like: 11 Best Panoramic Camera Apps for Android & iOS
The Photographer's Ephemeris
This app has been on the market for a while and has proven itself as a nice Astro app. It allows you to see the position of the stars in the sky, visualize the movement of the stars, the Sun, and the Milky Way.
Highlighting light pollution on the map is also no exception for this program. It will ideally, help you find the perfect place to create your photos at night. In addition, The Photographer's Ephemeris has an augmented reality function that will help you find the desired star in the sky, more conveniently.
Another advantage here is that the app is available in both modes – online and offline. There are some details that are only available in the paid subscription plan. The users' feedback is great and the functionality of the app doesn't cause any issues.