Most people are used to the existence of electronic devices, not only smartphones but eavesdropping and hidden camera devices. They are able to listen to people's conversations in the zone of visibility and hearing.
Everybody merits their personal space where they can talk about everything without worrying about eavesdropping. The article will consider the best listening device detector apps. In addition, the hidden camera detection apps can be discovered in this article.
Hidden Devices Detector
A secret app comprises the discovery of such devices as hidden cameras and microphones. The app has several variants where spy appliances can be.
There is a bedroom, bathroom, changing room and outside. It contains a convenient interface with the electromagnetic meter. Hidden Devices Detector is the best app according to the reviews. Which characteristic does the app contain?
Comfortable interface
Fast work of the meter
Detection camera devices
Detection of hidden listening devices
The presence of an infrared detector. It is suitable for those phones that do not have magnetic sensors.
Therefore, if users are eager to travel around the world, the app is required for their security and confidentiality.
The radiations from hidden devices are harmful to a person, the magnetic sensor does not cause damage, so if it finds any radiation, it will alarm. To my mind, this app is the most valuable and good-working, everything is provided.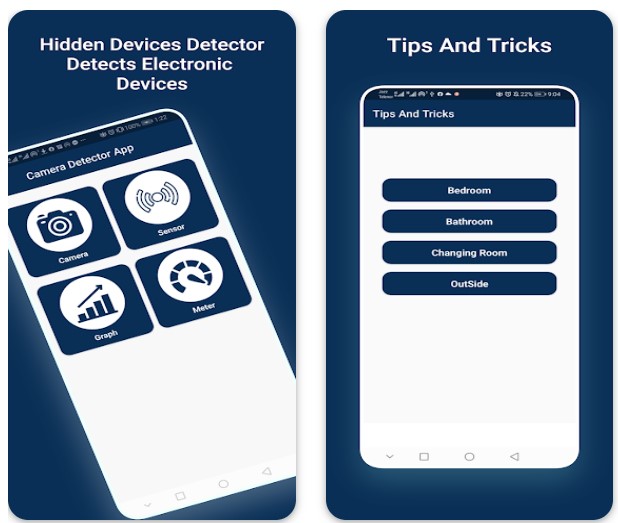 You may also like: 5 Best Camera Block Apps for Android
Hidden camera device detector
This app includes such features as checking nearby devices on your network, detecting devices, and checking mail for hacking. With the help of the Hidden camera device detector, many people will have peace of mind when they are talking to someone.
The app distinguishes itself with a convenient interface; there is a scanner, which helps to detect hidden listening and camera devices that are built-in furniture and interior items.
The application is affordable for download, but in order to unblock premium features, people have to make a payment.
iTunes Account will be attracted for proof of payment
When people purchase a subscription, untapped information given in the free-trial period will disappear.
Features of premium subscription will be accessible within 24 hours from payment confirmation
Moreover, a Hidden camera device detector allows people to measure the magnetic field and detect listening hidden devices. The app is suitable for not only everyday life but in people's journeys.
They have to be prudent because there are usually hidden listening and camera devices in hotels and motels. The application will help to prevent eavesdropping.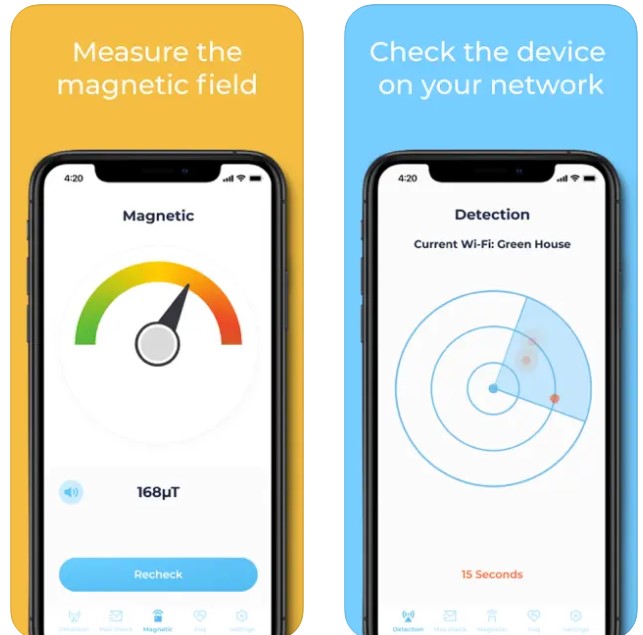 Detectify – Device Detector
Detectify allows people to protect their privacy and stay safe wherever they go. With the magnetometer sensor, the app easily detects listening devices. When the magnetometer's indicators are higher than usual, the scanner tries to find hidden appliances nearby.
Advantages:
It's very simple to use
Convenient interface
Detection spy devices
Graphical illustration of the magnetometer sensor
Free to download
Presence of tips for manual detection of spy devices
In order to find applications, people have to open the app and move their phones around the area. If there is something distrustful, the magnetometer will send a message.
Then they have to check the same area thoroughly, usually, toys, bedside tables, ceilings, or drawer locks are the places where spy devices can be hidden easily.
However, the magnetometer can be mistaken, so people need to rely not only on the app but on their own feelings and suspicion.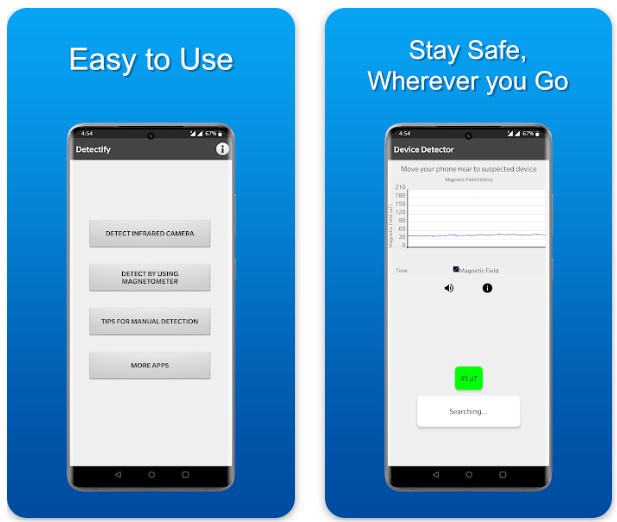 You may also like: 11 Best Infrared Camera Apps for Android & iOS
Bug Detector Scanner
Bug Detector Scanner resembles the previous app. They both are able to detect tiny hidden devices with magnetometer sensors.
In addition, same when the app figures out that something is going on, it will send an alert to the user. The same use, people have to move the smartphone around the place and, when it detects a hidden spy bug, it will give a beep.
Functions:
Detection devices in public places
Detection devices with the magnetometer
It happens that the sensor shows high indicators without any suspicion; in that case, the magnetometer can be recalibrated by shaking the phone 4 to 5 times.
In contrast to the previous apps, this is more trustworthy because of its many positive reviews. Bug Detector Scanner is the best app here based on technical requirements.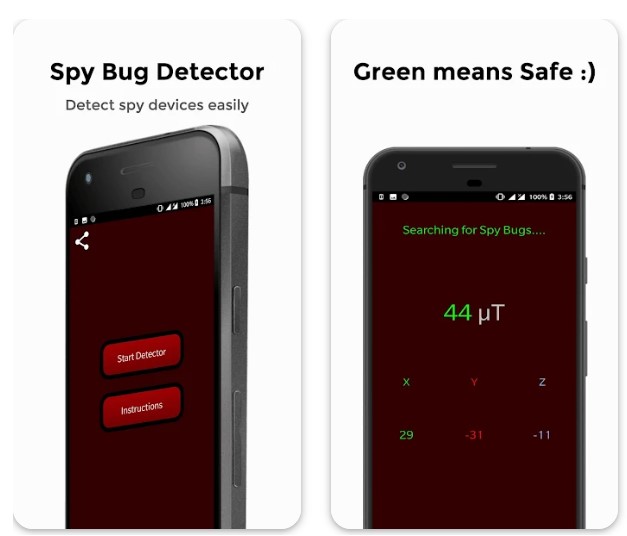 Spy Detector – Bug and Telephone Detector
The detector app proposes the discovery of hidden devices with the help of the magnetometer. It detects spy listening and camera applications through the electromagnetic field surrounding the device.
The most important difference is detailed instructions that appear when the app discovers bugs, hidden cameras, microphones, mobile phones, and other electronic devices. These instructions can help people to operate quietly and wisely.
Moreover, even if the phone and the app are switched on, the magnetometer is able to work.
The application has a simple interface and a pleasing color combination. Spy Detector – Bug and Telephone Detector are chargeable. According to its reviews, the app does not possess enough functions and does not work correctly.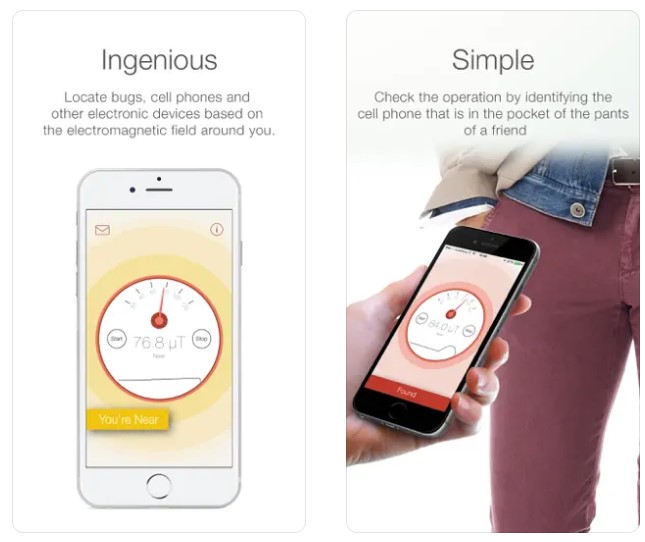 Detect Bug – Camera Microphone
Another best app for detecting listening devices. It works the same way as the previous apps. Users have to open the section of the app, and then move their smartphone around the area where listening devices can be installed.
The app will let users know if the radiations are higher than usual. It will inform them with the beep signal when it finds a spy bug.
If users observe that the magnetometer is stuck very high without any magnetic distortion nearby, they just need to shake the phone thoroughly four or five times.
Features:
Detection listening appliances
Detection camera appliances
Fast work of the meter
Numerous positive reviews
Suitable for everyday life and travels
Detect Bug – Camera Microphone is the best app for those who usually spend time in public places. It will prevent people from being embarrassed and prevent disclosure of the secrets that they have.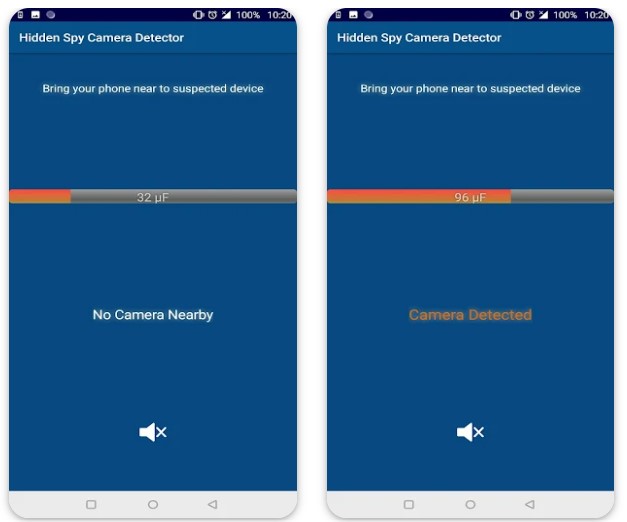 Microphone Detector – Listening
The app is the best for finding listening devices. Microphone detector exploits a magnetic sensor to detect hidden listening devices and makes users' phones a real hidden microphone detector. How does it work?
Everything is simple, people need to open the app and walk around the room with it. That is all. If there is any hidden camera or listening devices, the magnetic sensor's indicators will arise.
Features:
Bug detector
Simple in usage
Detection of hidden listening devices
Detection of hidden camera devices
Free to download
Numerous positive reviews and marks
However, it happens that the sensor can work inaccurately; in that case, there is no magnetic sensor on the user's phone. When the indicators stay higher than usual, users have to shake the phone gently by rotating it.
The app is valuable when you are in a public area where everything is bugged, or even in everyday life if someone wants to know everything about users' conversations.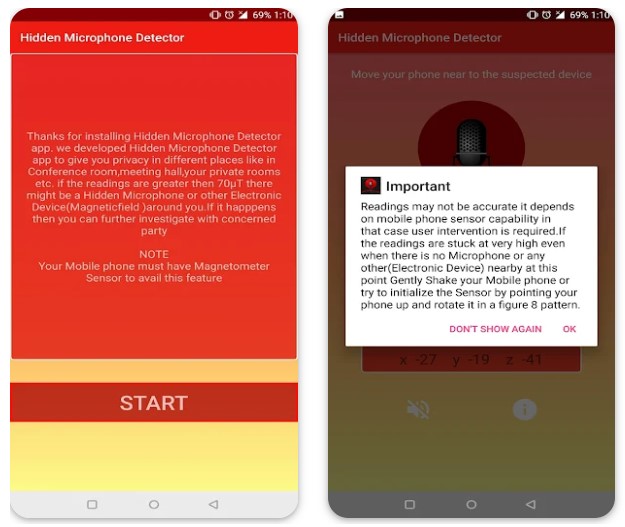 Hidden Spy Camera Finder Pro
If users are eager to have private space, the app is for them. It has a lot of valuable features that will help people in different situations of everyday life – hotels, meetings, travels, and so on. It is very popular among users, let's consider its functions.
Features:
Scanning the network
Bluetooth scanner
WiFi Scanner
The map with the position of listening, camera, and network devices
The presence of a history of the scanning
Support
Different instructions and recommendations
Camera scanner with filters
The app is very easy to use, and it proposes to the users all facilities for convenient usage. They can scan the place even with the Bluetooth scanner.
In order to get more functions, users have to purchase a subscription. It has four plans: weekly, monthly, half-annual and annual. The subscription will be connected to iTunes account after paying for it. There is a feature of renewing that allows paying automatically before the end of the current period.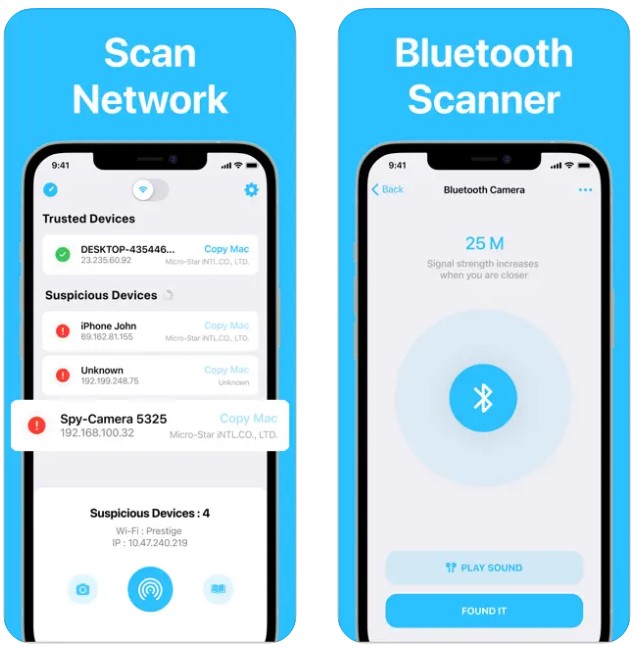 You may also like: 9 Best WiFi Analyzer Apps for Android & iOS
Hidden Camera Finder
A distinctive app can easily detect and find listening devices and camera appliances. Moreover, after detecting suspicious devices, the app proposes a detailed report for each device. It can also find hazardous Wi-Fi networks. Let's consider its advantages and disadvantages.
Advantages:
Detection listening and other devices
Detailed report for each detected device
Free-trial period
Many positive reviews. With this help of them, users can rely on the app
Disadvantages:
Required purchasing the subscription
Able only for iPhone
When the spy appliance is detected, the app will send users detailed information about the app and instructions for further actions.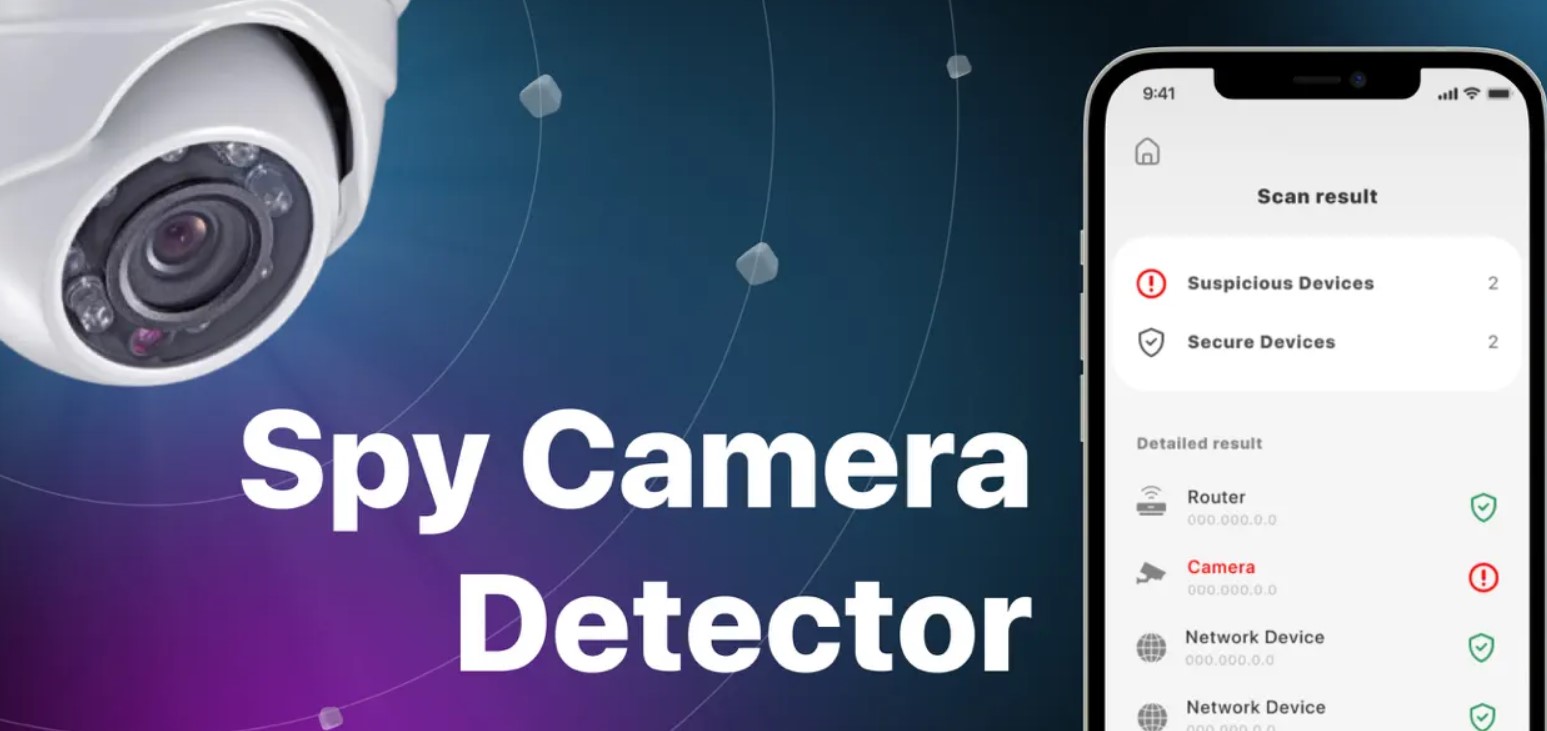 All Devices Detector Finder
This app claims to be an effective detector of spying devices, but does it really says the truth? At the first sight, it seems like another prank app with limited functionality.
First of all, All Devices Detector works by using your phone's built-in sensors such as magnetometer and infrared sensors to detect any electromagnetic signals or heat signatures that may be emitted by hidden spy devices.
Simple interface and layout
Limited functionality
Uses the magnetometer of your device
Moreover, it uses sound detection to identify any suspicious sounds that may be coming from a hidden microphone.
Simply launch it and point your phone toward the area you suspect may have a hidden spy device. The app will display any suspicious signals it detects on your phone's screen. If there is a hidden device, it will make a sound.
It is important to note that even though the app claims to be a hidden device detector, it's not a professional tool and rather a game, than a real help. But you can give it a try anyway.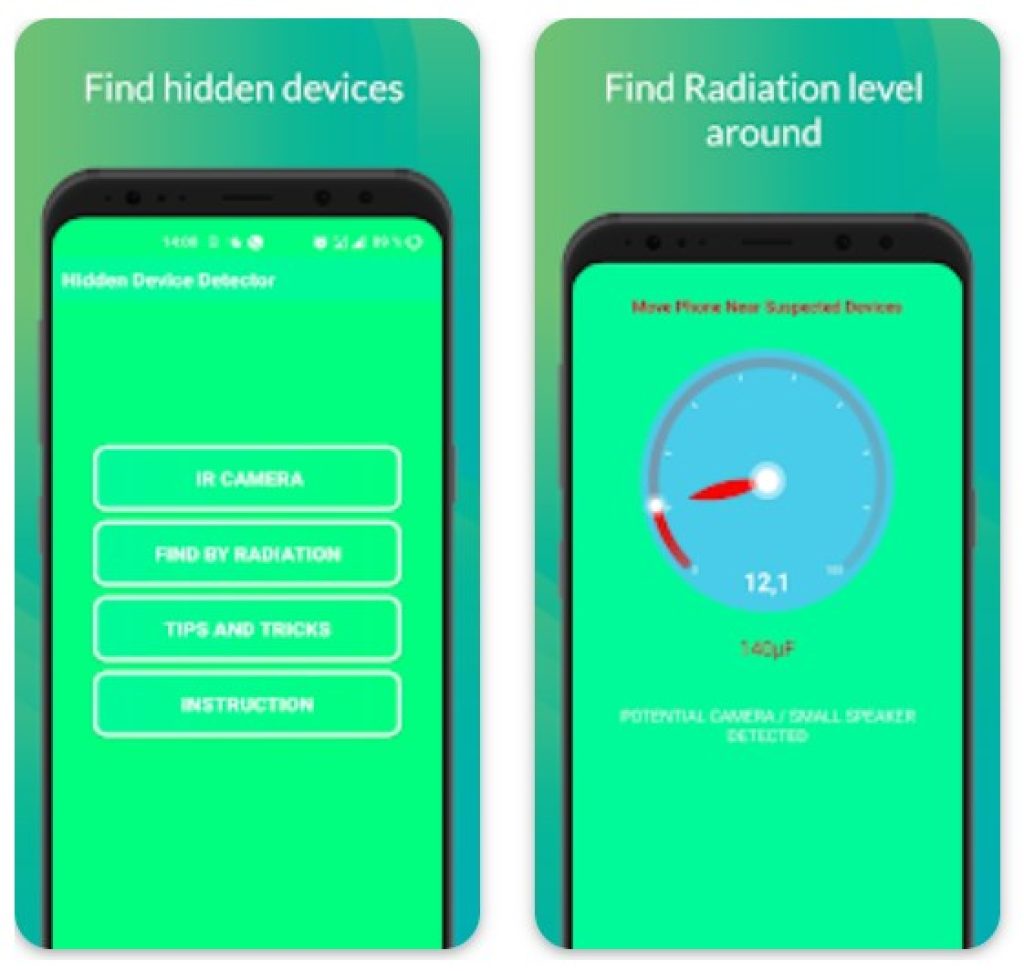 Hidden devices detector
Hidden Devices Detector app is extremely popular on the market, but does it really reliable to find anything? Let's see together.
You will need to scan the space around you with your phone's camera with this app. It then analyzes the information and identifies any anomalies that may be caused by a hidden device presence.
Interesting interface design
Can detect different hidden devices
Doesn't have much of ads
In addition to that, the app uses your phone's microphone to detect any suspicious sounds that may be coming from a hidden listening device.
The algorithm of its functioning is quite the same as in other apps of this type – just open the app and point the phone to the area you think has the hidden device.
The app will display any suspicious reflection patterns it detects on your phone's screen and will send you a notification. If the app detects any suspicious sounds, it will also notify you.
And just like always, remember that there is no professional expertise on this app to prove that it can really detect anything serious. But it is a nice choice just to play around.