Learning takes up a significant part of our lives. Until you choose the profession or business you want to study, you have to study all subjects equally.
Regardless of your knowledge, skills, predisposition or interest, you must learn a certain amount of general information. And as with any training, there is homework in these situations.
Homework is assigned by the teachers to ensure that you consolidate the material you have learnt, understand it better, and try your hand at independent work. What if you are not interested in the subject? Or do you not understand it so much that you perceive any text as a set of incoherent symbols?
You can also improve some of your knowledge to solve homework on your own without difficulty. To do so, take the help of these best math game apps for adults.
Especially since sometimes even the most diligent students and students miss classes because of illness or urgent departure. So, how do you get out of this situation? What is the solution when you do not even know what your homework is about?
A smartphone will come to your rescue! You can easily use your device to solve problems with examples or essays. Simply install special applications on your iOS or Android device and get started. And we have collected 9 Best apps to help you with homework for you.
Yup Homework Help
Many people have problems with mathematics, both in the school curriculum and in further education at colleges and universities. Not all people are given a mathematical mind and the ability to perceive technical information. However, not many people want to get a bad grade report only on subjects related to mathematics.
If you want to improve your knowledge in this technical subject or just simplify the solution of the examples yourself, try Yup Homework Help.
Yup Homework Help offers its users highly qualified mathematical help. All experts have more than 5 years of experience working with students, higher education in mathematics and are selected for employment. Each lesson is supervised by a supervisory agency and a committee monitors the quality of the knowledge you receive.
Teachers are available 24 hours a day, 7 days a week, and you can ask them for help. Even if you have been sitting with an example until 4 a.m. and have already given up and have only now decided to seek advice, you will be helped.
The convenience of the service is that you have a fixed rate per hour with your teacher. It is not important if you have studied for 3 hours or 15 minutes – the rate is the same. And, of course, Yup is more economical than tutoring in real life.
You save more than 70% when you study online through the service – this is very profitable. Moreover, all classes are conducted directly in your smartphone – that is, you do not even need to go out of the house to get knowledge from an experienced teacher.
Teaching methods have been developed by commissions from the world's leading universities, so you can be sure that the information is up to date. You have personal tutors who can help you with any matter instantly.
You can even try Yup for 2 weeks free of charge – so you will know if this is the right format for you. If that's the case, then any homework in geometry, probability theory, algebra or any other math subject will not be a problem for you anymore!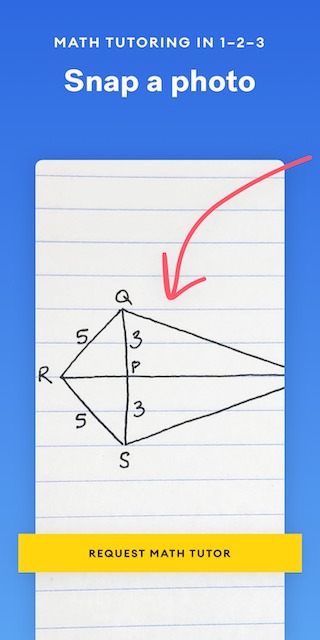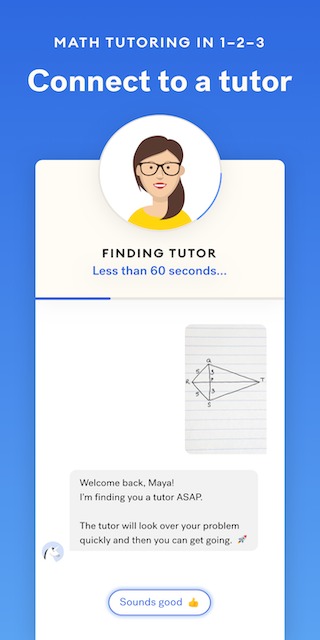 You may also like: 14 Best multiplication apps for kids (Android & iOS)
MyHomework
An app that will not become your teacher, but will be a great help in self-organizing and planning the learning process. MyHomework has been in existence for over 10 years and has established itself as one of the best applications for students, schoolchildren and Masters.
What does it do? In fact, it is a functional assistant-secretary who is always with you in your smartphone. The main thing that the application offers is to record your homework and monitor its performance.
It also helps you to keep track of your schedule – there is even a block type for high school students. The application easily syncs with your Facebook account and can also be used by your school administration and teachers. In this case, you will receive tasks in your planner directly from them!
The application has a simple and organic interface, which is intuitively controlled. MyHomework is not connected to the Internet, so that even out of reach you can do school work and assignments.
The service provides a paid version and free of charge. In the free you get a limited, but full functionality: recording and tracking of homework, support for schedules and a training calendar.
Premium version is more advanced and customized for users: there are no ads, you can easily share your schedule or planners in social networks, as well as get full access to the settings of the application's appearance. Themes, colors, fonts, etc. – all so you can enjoy MyHomework.
You can automatically receive reminders about your homework and progress, and your teacher can join your account. Synchronization is supported on all devices – personal computers, iOS and Android smartphones. Now your homework will be done by you, not just forgotten!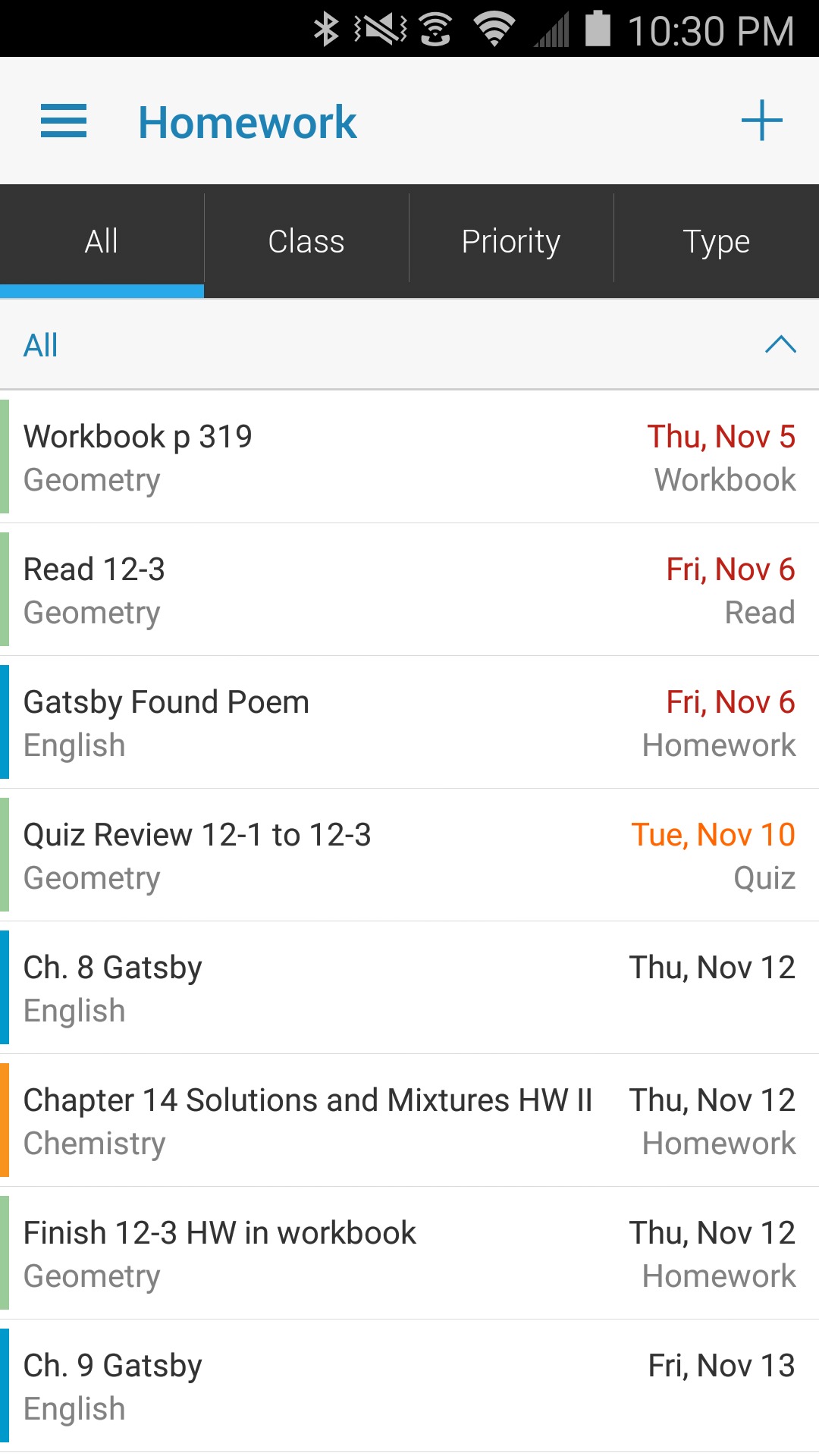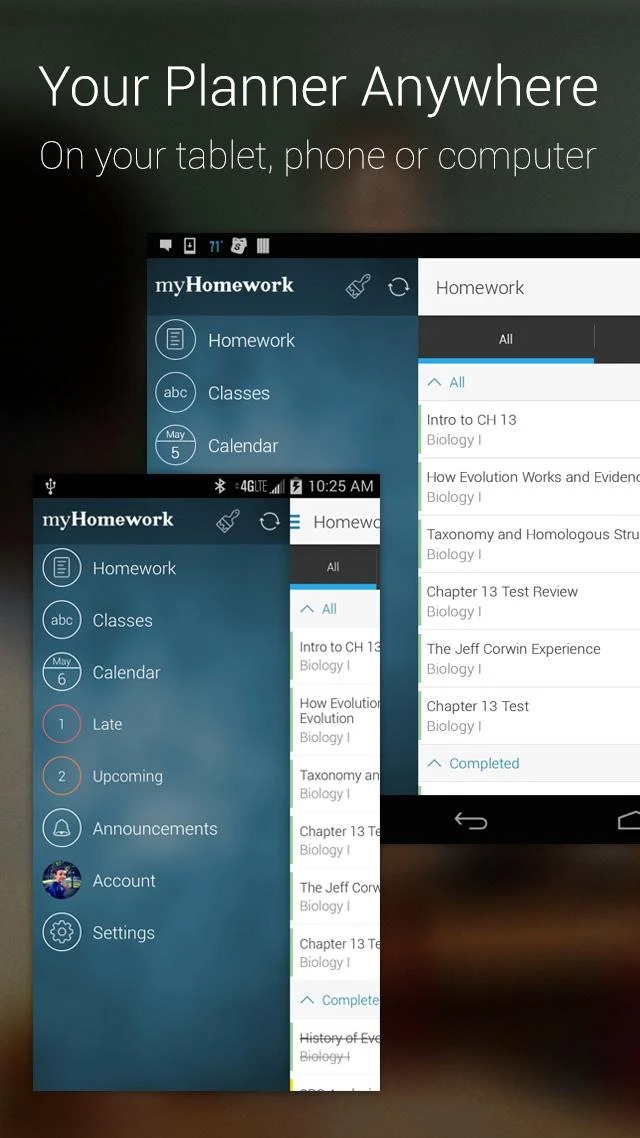 StudySmarter: Flashcards, Notes, Quiz & Planner
Study Smarter for school and university is an app that helps students to get better grades and understand the material.
You can rapidly register and immediately start studying. There are several programs for college students. The interface is minimalistic and does not distract the user.
There are many lessons for different subjects. There are quizzes and practice exercises, by which the app motivates the users to study every day (it also has weekly goals, daily recommendations, and study statistics).
The additions allow you to see how many hours and days you've spent on revising the given material, how many slides of work and flashcards you have understood, and the progress you've had (compared to the first times using this app and so on).
You can create your study set and ask knowledgeable people questions about any subject or create your study plan.
There are more than 100 branches of studies, each of which has its flashcards and likes. You can create a study set: add the favorite program to featured, and easily find it next time.
People from all over the world create study sets in different languages, for example, English-French vocabulary study set. You can apply personalized filters to see only the things you are interested in. You surely will find what you want because there are more than 400 000 sets.
Study Smarter shows you the personalized programs that you can be interested in. It is often about the universities and colleges. In the app, there are no ads; this allows you to stay concentrated. Study Smart premium users can use this app's functions without limits, even offline.
You will get 1 free premium week every time you invite a friend. The interface and the design are appealing for the eyes and the colors are rather calm. The app is multifunctional and adapts to the user.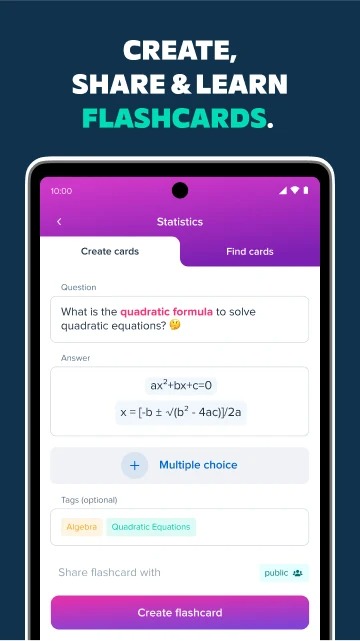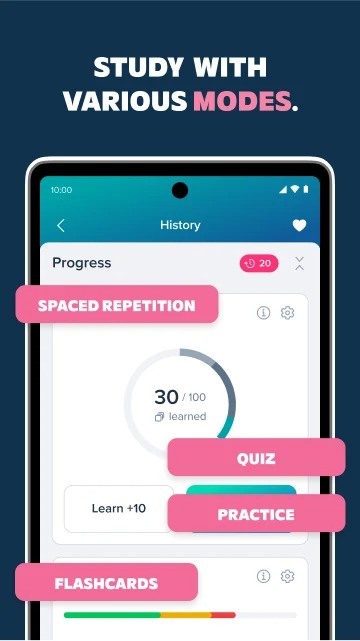 Photomath
If your math skills are far from perfect, and good grades are given with incredible difficulty, then the Photomath application has been developed for you. From now on, the problems with solving complex and massive examples will be in the past, and you will have new features and improved performance!
Photomath is a technological calculator that can easily solve even the most complex problems. If you want to help your child with their homework, but do not know how, because you are weak in calculations – just take a picture of the example, upload it to Photomath and you will see a step-by-step solution.
The same can be done by the student himself or herself: just take a picture of the task that is difficult for you. A smart app will scan your writing, solve it and show you the whole process of your solution and actions.
So you can not only write off the answer, but also understand how it turned out. Logarithmic expressions, trigonometry, usual bulky problems and fractions are just a small part of the possibilities provided by Photomath. You can improve your level of mathematical knowledge by simply installing the application!
Photomath works without a network connection and is absolutely free. Since the application shows you the progress of your work, it immediately breaks down expressions and tasks into logical steps.
Applying this technique in the future, you will find it easier to solve similar tasks. Also, if a task has several variants of solution, the utility will show you all of them with explanations of everyone.
Interactive charts will help you to better understand some of the tasks. There is also a version of Photomath Plus with advanced features and accelerated learning.
This way, you'll be able to quickly learn the necessary level of math and get started on new, more complex tasks. Even though even the free version of the app fully meets the needs of ordinary students.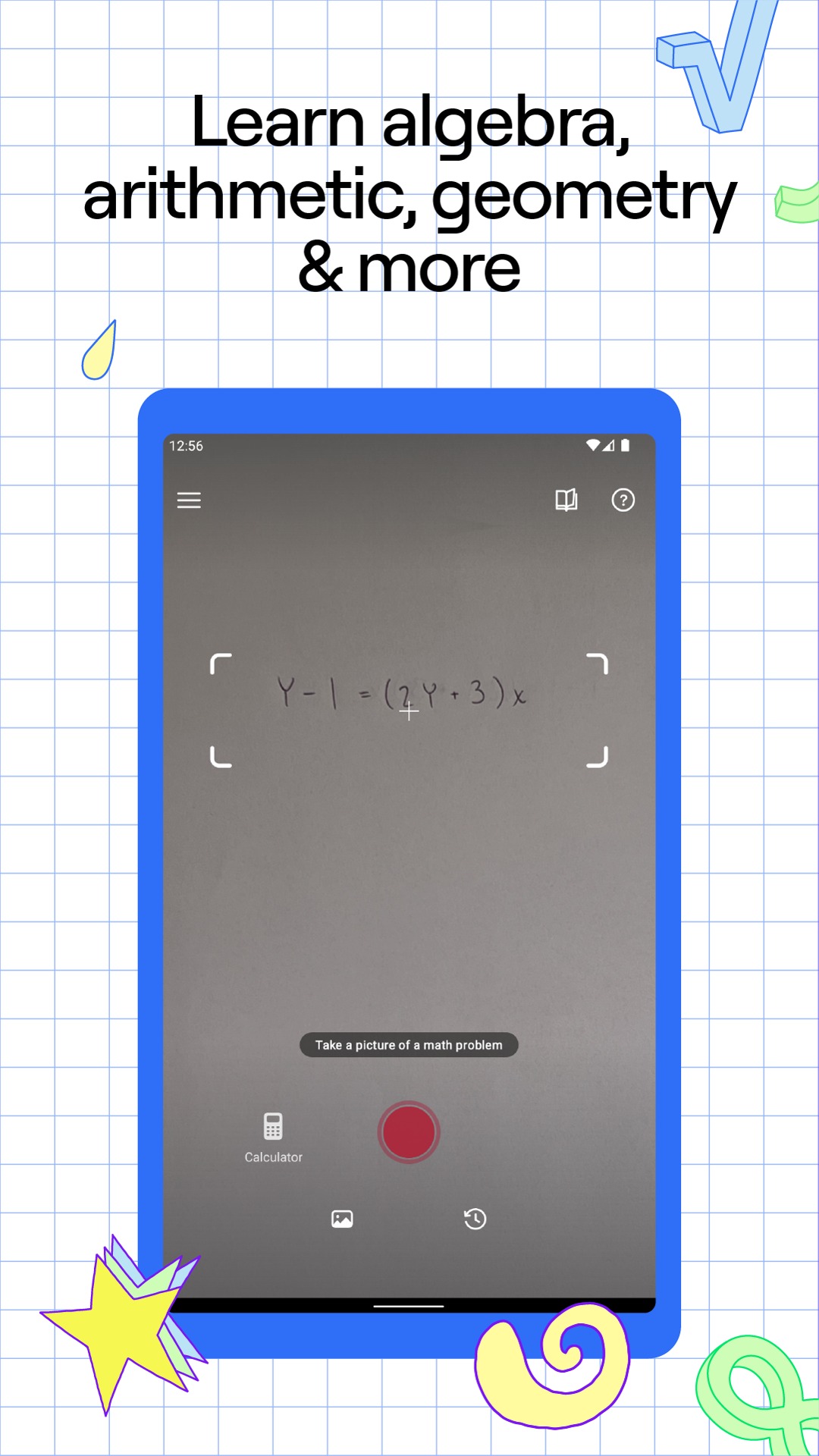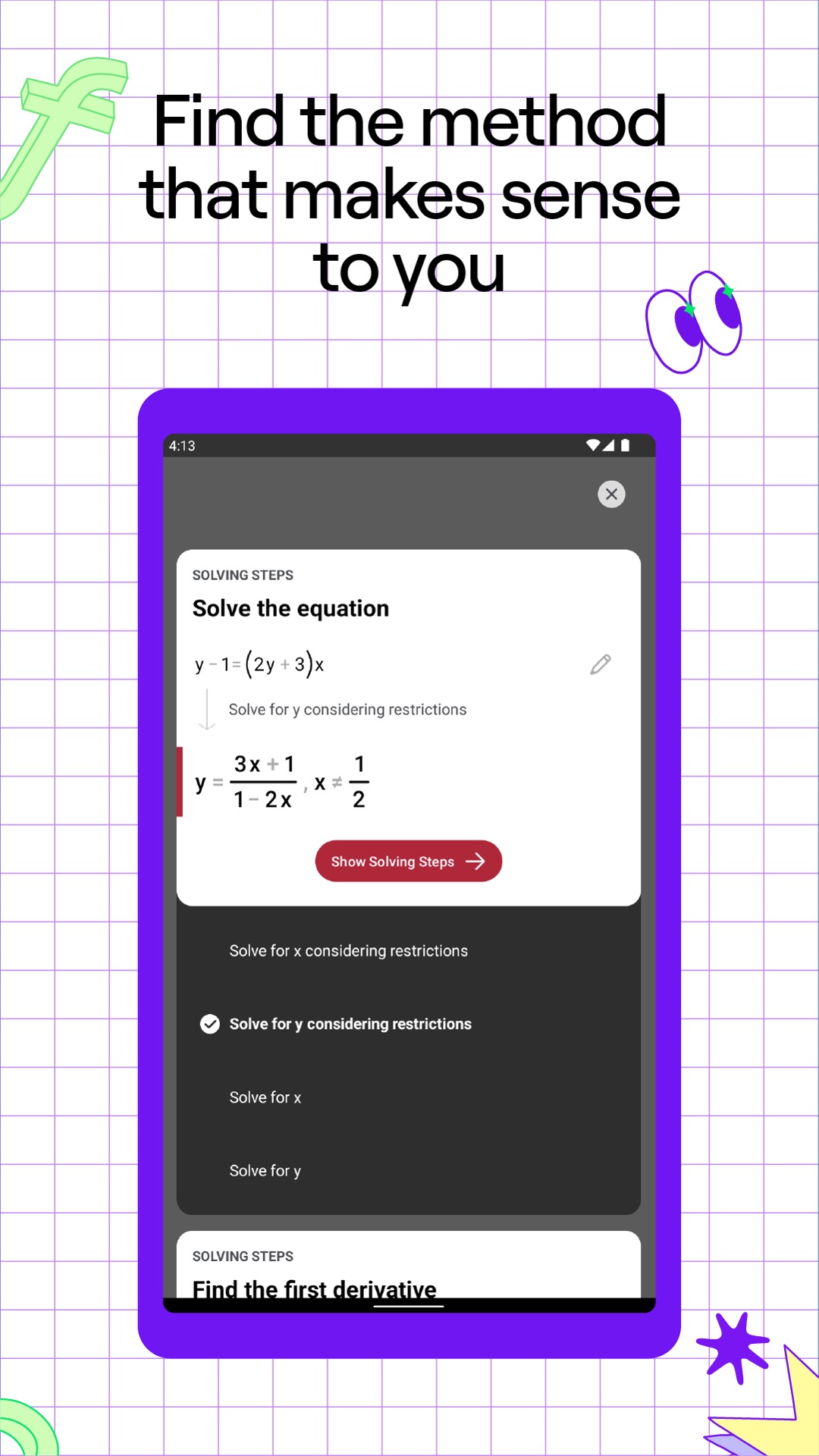 Homework.ai
Homework.ai helps you with difficult tasks. It is based on the work of artificial intelligence, which unmistakably finds answers to any questions.
You will get simple and clear explanations on any topic. Ask a question using speech recognition technology. Thanks to OCR, this app will be able to recognize the text on any document. So, you don't need to enter all the data yourself.
Check your problem-solving, learn new information, translate texts – all this and much more is available to Homework.ai users.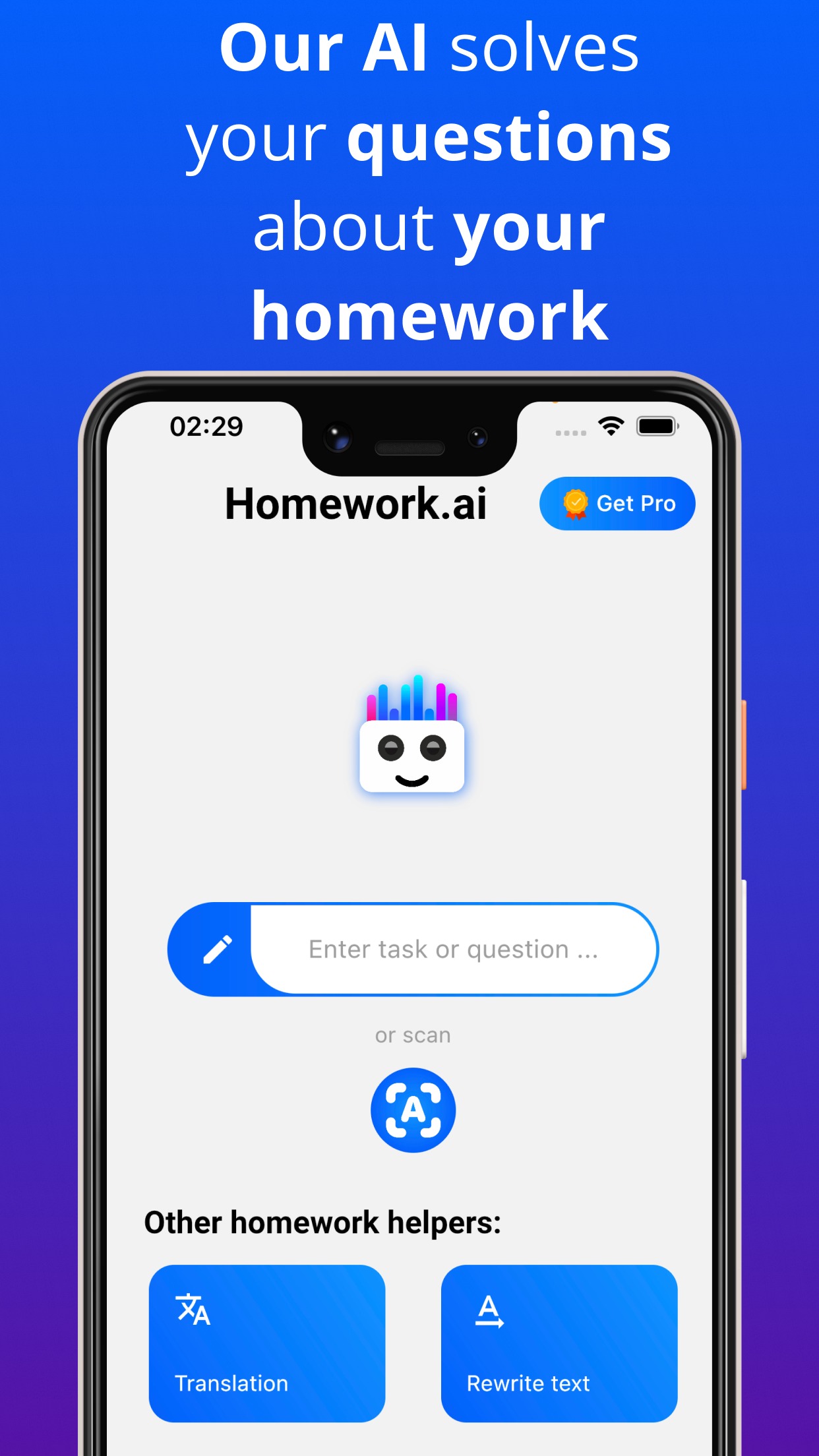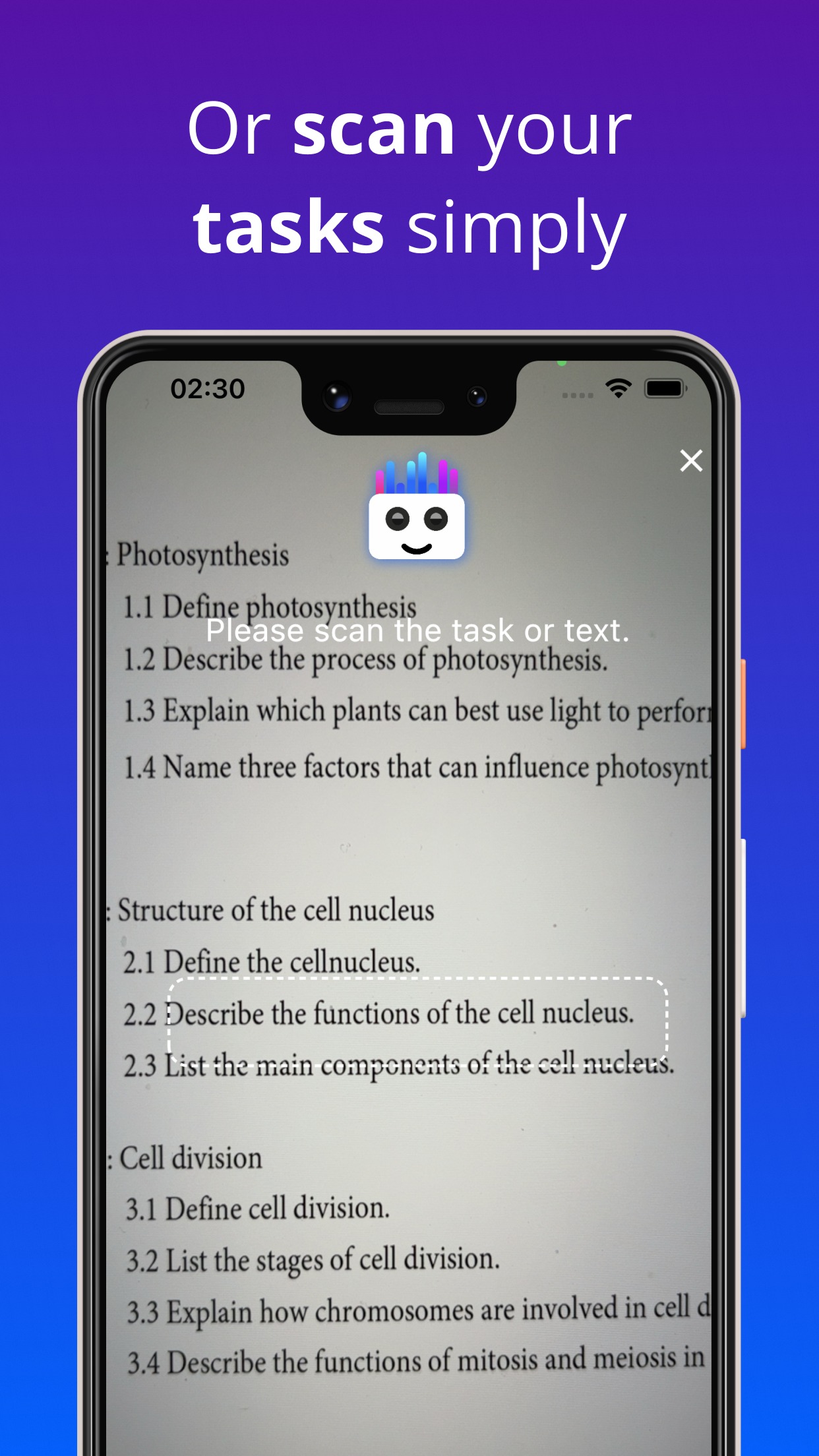 You may also like: 13 Best exam preparation apps for students (Android & iOS)
Socratic – Math Answers & Homework Help
An app designed to help you not only solve a task, but also to better understand it or identify your weaknesses in the subject. The service is recognized as one of the best in the field of self-education for students.
The very first thing you need to know about Socratic is that the entire application is built on artificial intelligence. That is, all your problems are taken care of by the perfect machine.
The application supports many subjects, including mathematics and its components, chemistry, history, English and other subjects with which students experience most difficulties.
Working with Socratic is very simple: for example, you take a photo of a mathematical example and upload an image. Artificial Intelligence determines which sections you need to study to solve this example, showing you this list along with the progress of the solution.
And so not only in mathematics! A smart application does indeed define the scope of knowledge needed to solve a specific task.
The artificial intelligence system itself in Socratic is based on the analysis of thousands of homework questions. Scanning uses computer vision technologies to determine the type of task. A team of trainers also works with the development team. They create video content with explanations and additional information and visualize it.
Now you can get guaranteed quality assistance with your homework without worrying about the reliability of the information. Just take a picture of the challenging assignments and Socratic will help you to understand the issue.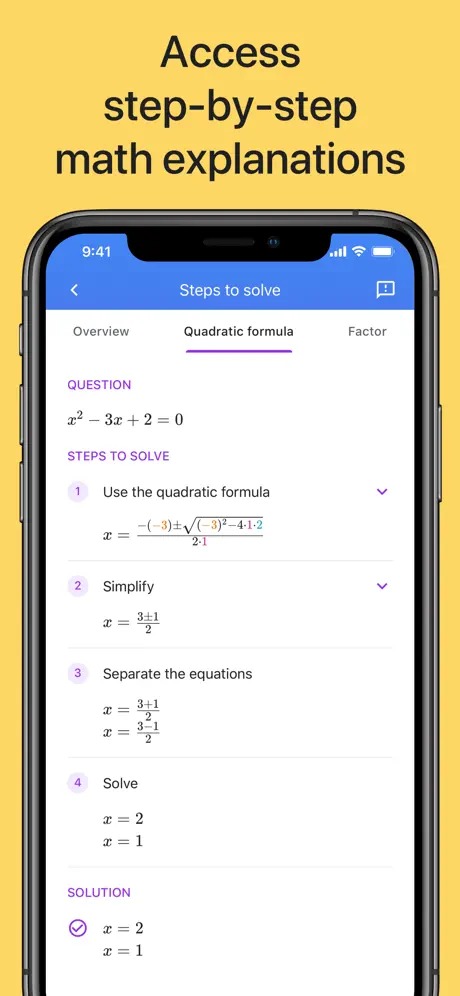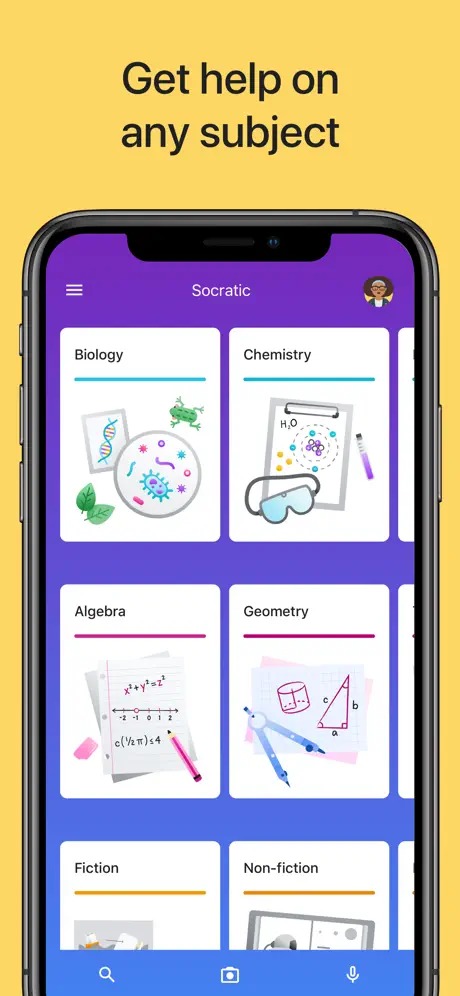 Geometry solver ² – calculator
Geometry Maths Calculator- this is an extremely multifunctional calculator of geometric quantities and shapes in the format of a mobile app for your device. Geometry Solver has been awarded many awards, as it is one of the best in its field.
The most convenient thing in this app is the fact that after you enter the necessary parameters of the problem to solve in the search bar, Geometry maths Calculator will provide you not only the correct answer, but also a step-by-step solution with an explanation of each geometric transformation separately.
Geometry math calculator is indispensable in a variety of uses, starting with the school geometry curriculum (this app will be useful for doing any geometry homework) ending with everyday life, for example, if you have repairs, then it is in this app that you can calculate all measurements, find out the desired area of any furniture, and also make measurements of any desired shape.
The perimeter and area calculator can calculate 2D shapes (circles, squares, trapezoids, triangles, etc.), and three-dimensional shapes, such as prisms, symmetries, sections, and much more.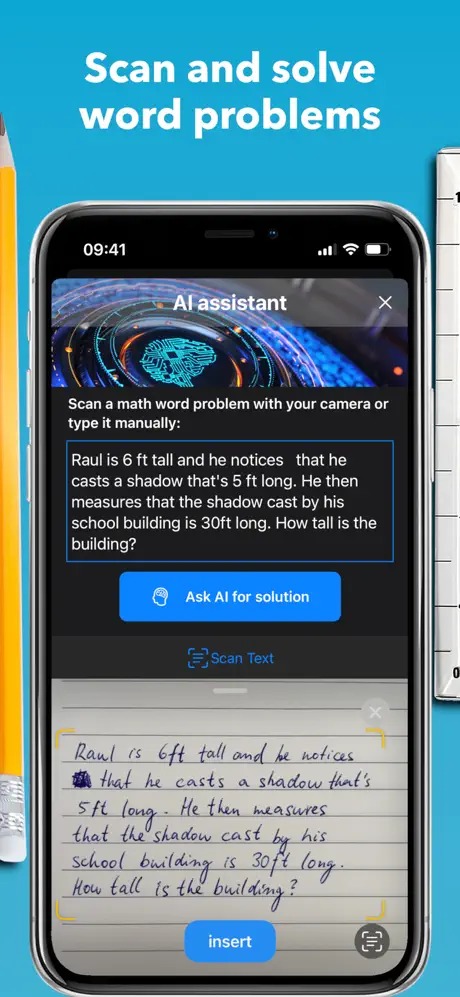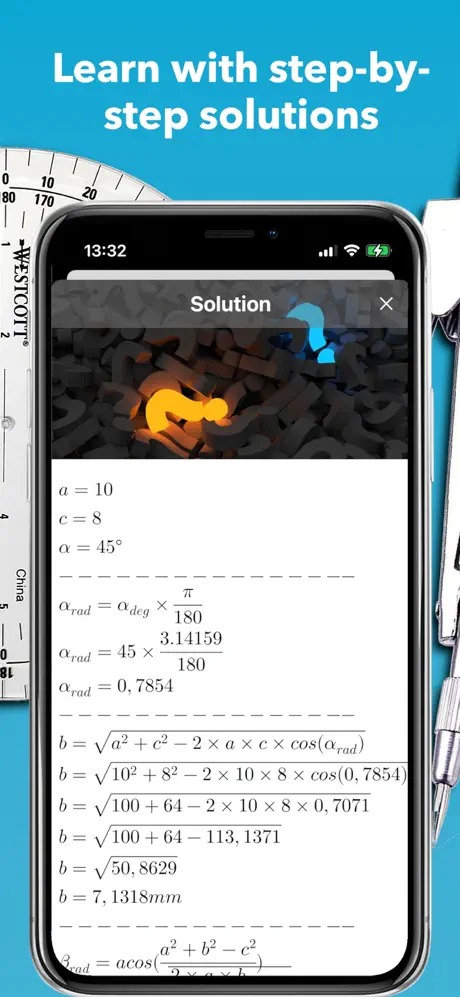 Quizlet
Quizlet is designed to help both students and school kids memorize material, learn new topics or improve their knowledge in a particular field. The app gives you the material to learn and remember in a short format. This way, you can repeat basic information before an exam or test or prepare from scratch for testing.
Quizlet is a set of cards that give you knowledge in the form of short abstracts. There are card blocks separated from each other by themes and subjects.
You can create your own cards or modules, or you can use the ready-made ones created by other users. This block learning technique is extremely effective in learning languages, humanities – such as history, vocabulary and natural sciences.
Block-by-cluster training on specific topics helps the human brain to grasp information and leave it in long-term memory. You can learn more than 18 languages at Quizlet using this technique.
The application allows you to learn the vocabulary of the language, to replenish your vocabulary, to remember the rules of grammar and punctuation – in general, all that you usually do with a tutor in the classroom.
Quizlet has several types of accounts: Quizlet, Quizlet Go and Quizlet Plus. The Go version is available offline, has night mode and removes all ads. The Plus version also gives you unlimited training courses, enhanced website usage and downloads of your materials.
Quizlet helps you prepare for exams in Quick Test Mode, test yourself in writing and check your learning in game form. Share your results with your friends and compete in learning progress so you can learn more effectively.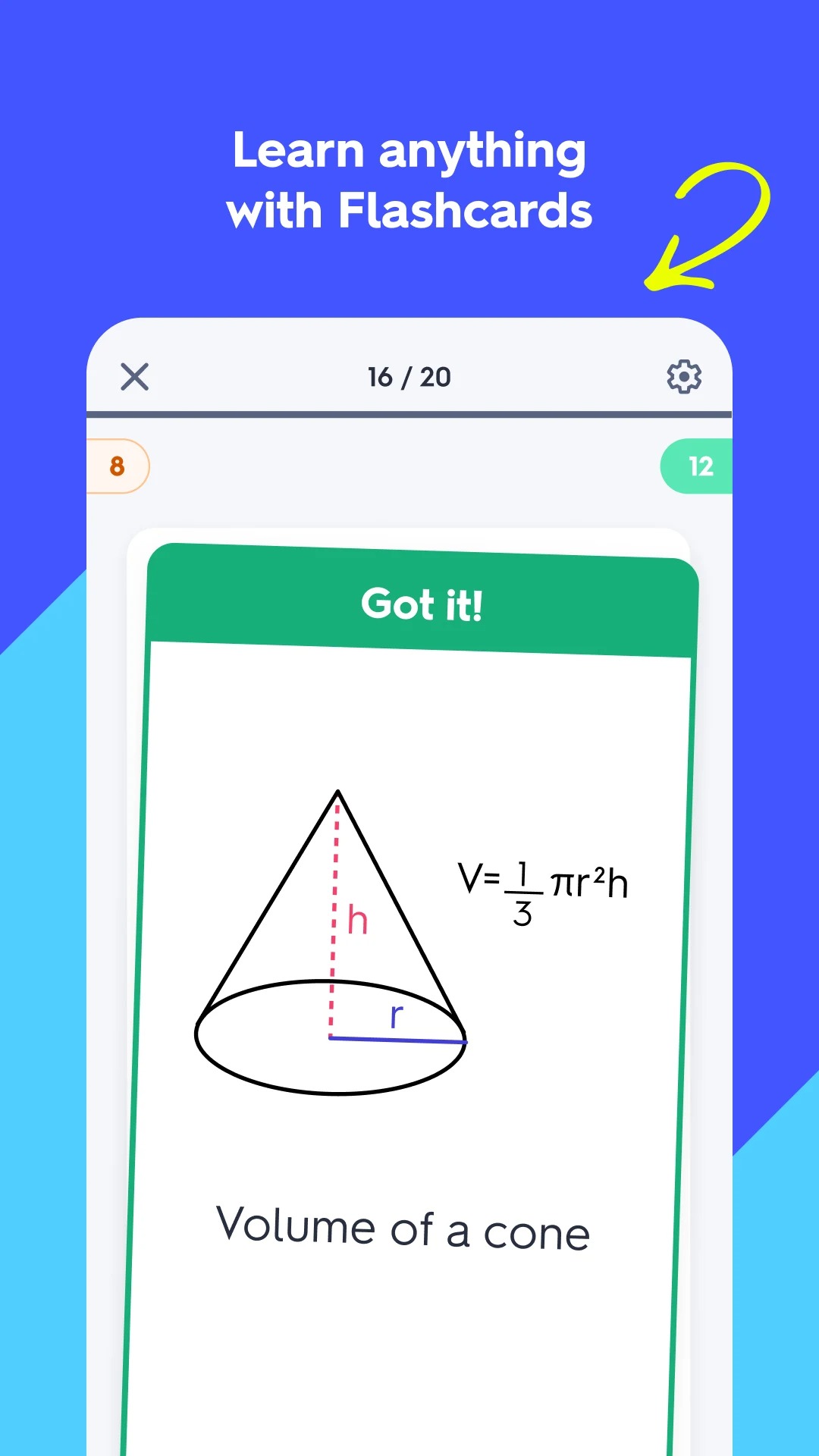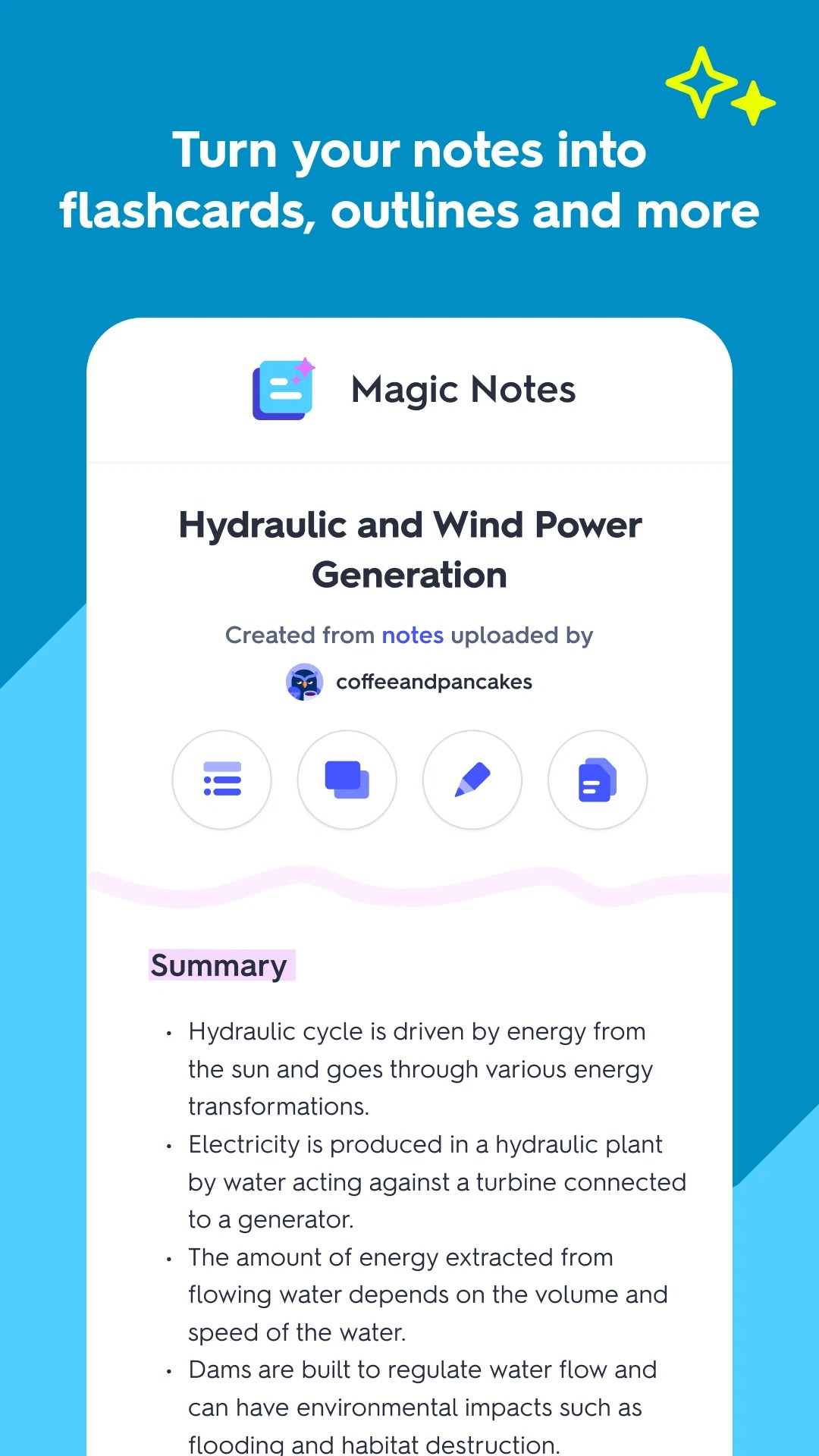 Khan Academy
Khan Academy is indeed a whole academy built in a network of enthusiastic developers. They provide full access to training materials and encourage all employees and students to use their services and developments.
Statistically, more than 90% of the teachers and professionals who used Khan Academy to teach their students were completely satisfied with it. The service's training library is completely free of charge, so anyone can get the material they need in seconds.
You can either study the material you have already completed or immerse yourself in a new subject. Geometry, science, finance, probability theory and even geography are huge choices. Learning is based on several methods: testing, quizzes and practical exercises.
To any of them there are answers and step-by-step solution – so if you find it difficult to solve any task on your own, after passing the training or the test you will already know the algorithm.
Create a Khan Academy account and you will always be synchronized with the developers' website. This will help you to continue learning from different devices from where you left off.
Khan Academy is designed to provide all people with a quality, free education. This is a not-for-profit organization, so you will not be charged for any services.
You can also study without a network connection. Download an unlimited number of videos, text files, or books directly in the app and don't interrupt the learning process, even on trips without Internet access.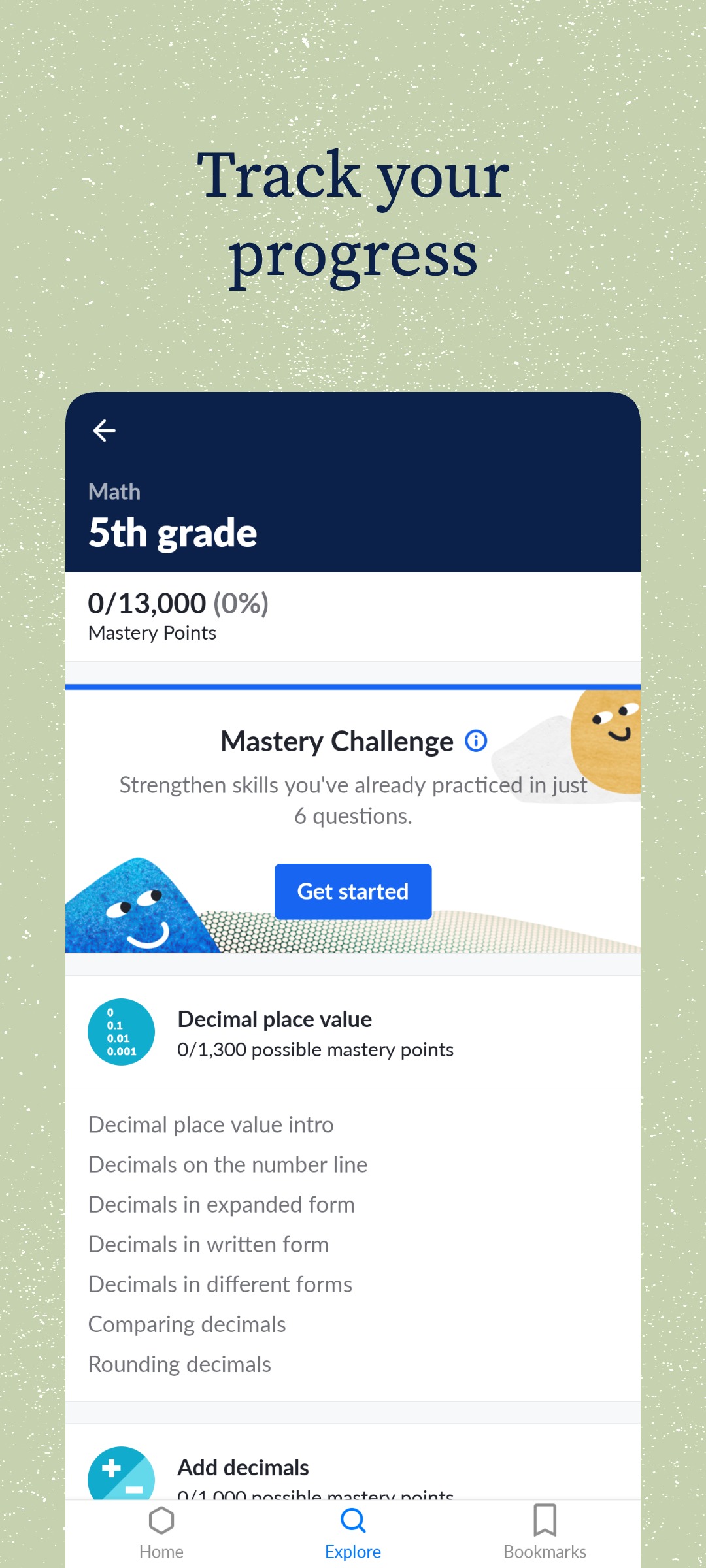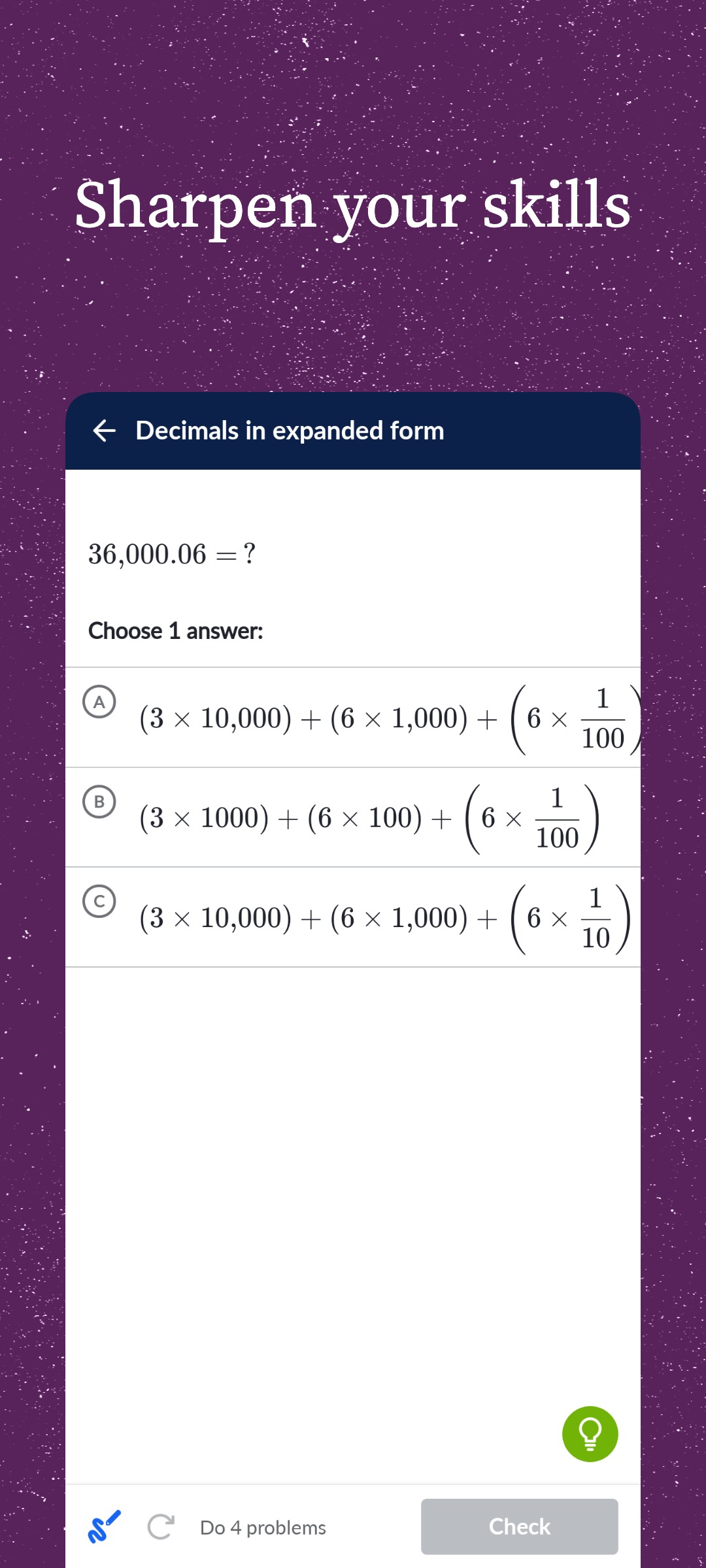 You may also like: Top 10 scientific calculator apps for Android & iOS
Wyzant – Find a tutor
Wyzant is designed to help you if you think you cannot learn on your own and you definitely need a mentor who can be asked a lot of questions. The service helps you to find the best tutor from the whole base of qualified teachers. That is, it gives you the opportunity to get the exact knowledge from the comfort of your home and from a single smartphone.
No matter what subject you are having difficulty in, Wyzant offers services in dozens of subjects and disciplines. Neither does your age.
The service has a special category for children from the junior grades of the school – they help children to orientate themselves in the school curriculum, learn the basics of writing and arithmetic, as well as use advanced technology Common Core.
For high school children, we offer courses in history, computer science, mathematics and other basic subjects. For any discipline, a specialist will be selected to help the teenager prepare for the final exams.
College students can also use Wyzant: it is a simple opportunity to repeat the material before the tests and prepare for the exams. Even if you have very little time left, the service will adjust the schedule.
Regarding timetables: you see free dates for teachers. Everything is open, and you can choose a convenient time and date for you from certain experts. Later they can be dynamically changed, cancelled or added – the service allows you to choose the time of classes that will suit you.
If you want, Wyzant will help you find a tutor in real life. You will be able to unsubscribe from the tutor and discuss all the details in more depth.
All you need to do to get started is answer a few questions and add payment information. Next, you can choose the time you want to study right away and stick it to the new material. Finding a tutor has never been easier.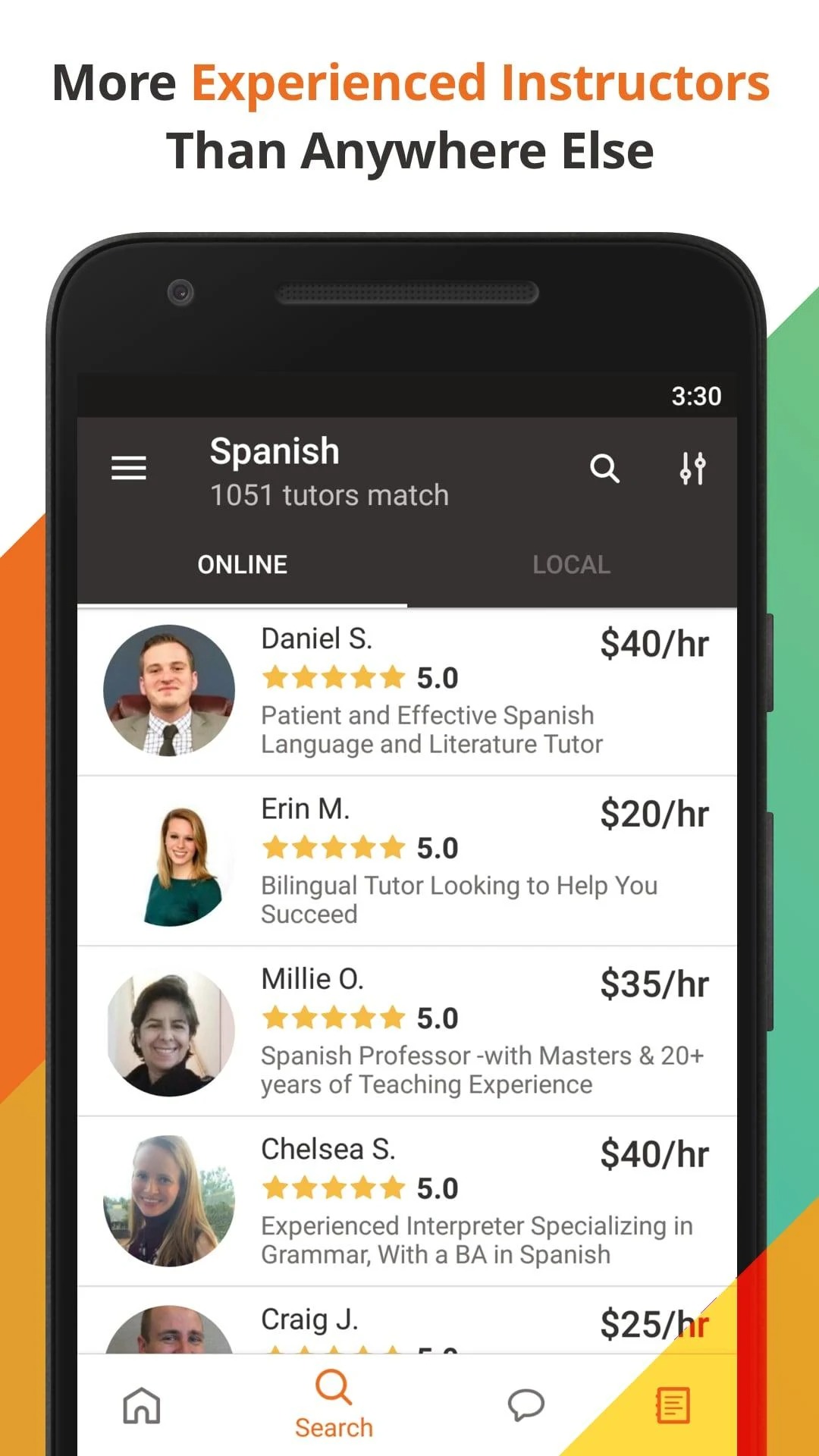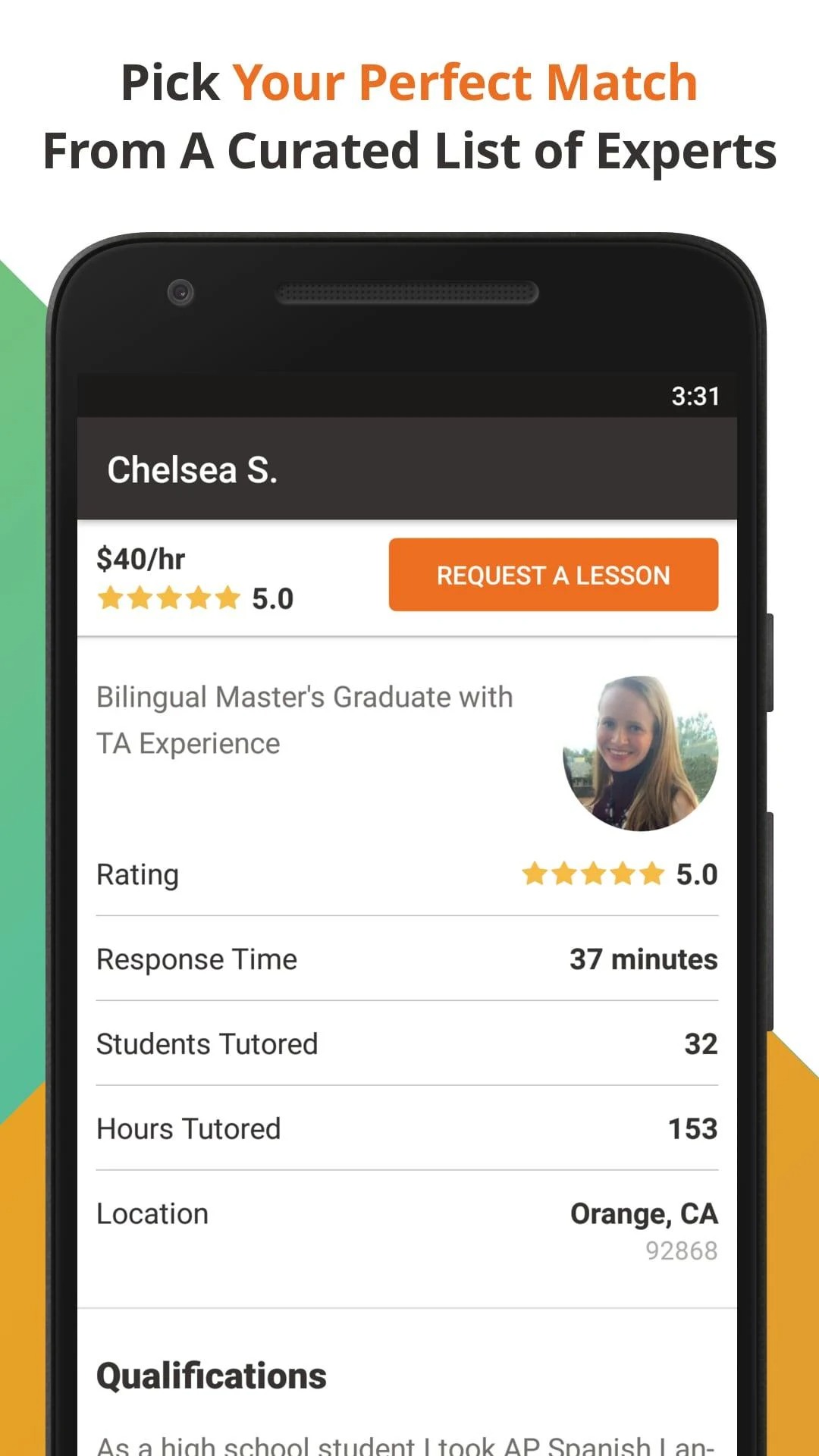 Homework is always a challenge for students because it takes up a lot of your time. You may have missed the opportunity to listen, misunderstand the material, or you may just be having trouble with the subject.
The applications in our list are designed to make it easier to complete the tasks. Now you can organize your time in such a way that your homework does not come as a surprise to you, and in case of difficulties to contact specialists or quickly find the necessary information and study it yourself.
It's never too late to study – 15 years old or 58 years old. People should be open to new knowledge – because knowledge is life.