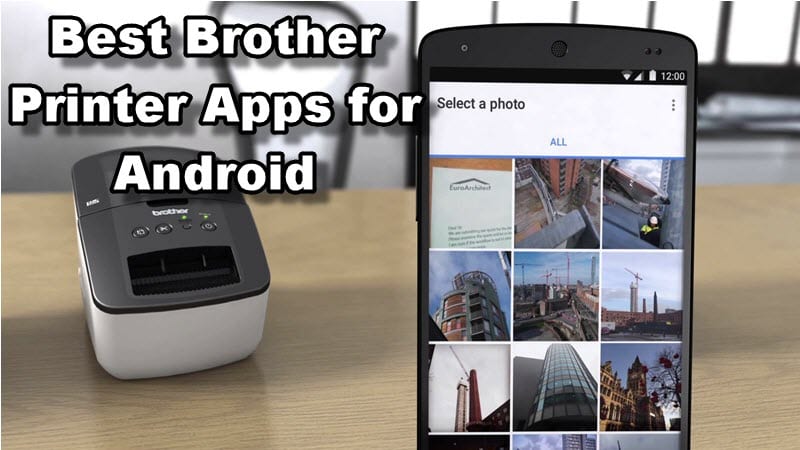 At the moment, mobile devices are quite capable of doing those basic tasks that are necessary for the user, thereby they almost completely replaced the stationary PC and eliminated the need to be "tied" to the desktop. In addition to entertainment, nowadays our devices can work with documents and even print.
Returning to the question of the advisability of printing from an Android device and taking into account all the nuances, advantages and disadvantages, one can say that it will not be possible to achieve full-scale printing of more complex documents or photographs with all the necessary settings. However, you can use a smartphone or tablet for these purposes, sometimes it is even necessary.
In this post, we have gathered all the best Brother Printer apps available for Android user. Also, you will see the list of other helpful apps while working with Brother printers.
Brother iPrint&Scan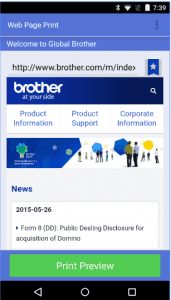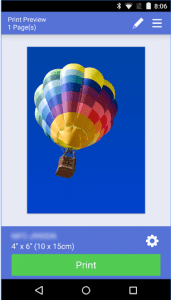 This app takes the first place and can be considered is the best of the best Brother Printer apps for Android devices. Let's see the detailed description of it then:
Brother Company presented a free mobile application iPrint & Scan for working with Brother multifunction devices, with the help of which you can print and scan documents directly from a tablet PC, phone, or communicator. Currently supported devices based on the mobile operating system Google Android version 1.6 and higher.
The mobile application Brother iPrint & Scan became the first app of its kind, that has appeared on the market of mobile applications and provides unique scanning functions, as well as mobile printing. Since then, iPrint & Scan has been improved and now it is used by more than 3.6 million users, printing in total about 10 million pages per month.
Absolutely all the latest inkjet or laser multifunction devices with a wireless or network interface are compatible with this free application. It allows users to print and scan directly from a mobile device easily
Main features and characteristics of Brother iPrint & Scan
Brother iPrint & Scan supports all the main functions of scanning and printing of Brother MFPs – including the possibility of photo printing. The program allows you to print photos directly from photo albums, it supports the most popular formats of ordinary and photo paper, including A4 and 10 × 15, allows you to scan documents with different settings and save them in a photo album, as well as in JPEG or PDF formats.
Connection to the MFP is available via the wireless interface of the local network. The program iPrint & Scan is compatible with the entire line of inkjet Brother MFPs of the latest generation, produced since 2009 and featuring a wireless network connection, including the most popular models of A4 and A3 formats. iPrint & Scan detects supported devices on the local network itself and does not require the installation of additional drivers. The application itself will search for supported devices on your network and give you the options to print.
How does it work
Brother iPrint & Scan at the first start offers the user to establish a connection with the necessary equipment. You can do this either via Wi-Fi or via Bluetooth or the Internet.
The interface and functionality
The main screen of the application consists of several round icons, each of them is responsible for the corresponding functionality – printing, scanning, fax, preview copies, etc. Here you can also see the status of the connected equipment.
In addition to the above functions, the user also receives a set of tools for managing the printer or the MFP – the information panel displays the rest of the ink in the cartridges, IP address, serial number and other data.
Formats
Brother iPrint & Scan supports working with the most popular file formats, including PDF, JPG, DOCX, and others. It supports the most popular formats of ordinary and photo-paper, including A4 and 10 × 15. Users of Gmail can print their letters or send the mail scans in two clicks only.
Brother iPrint & Scan supports working with cloud services like Google Disk, OneDrive, and Dropbox. You can connect your account in Settings. Here you can see help documentation or contact the support center.
Printing is usually limited to 10 MB or 50 pages.
In general, Brother iPrint & Scan gives the impression of a very high-quality application, as real professionals worked on it. In fact, this is the official application from Brother, intended for owners of printers and MFPs from this manufacturer. I reality, on a 5-point scale Brother iPrint & Scan deserves 4.3 points.
back to menu ↑
Brother Print Service Plugin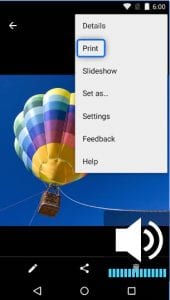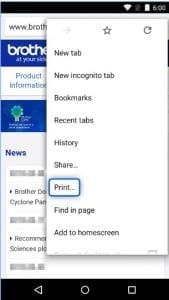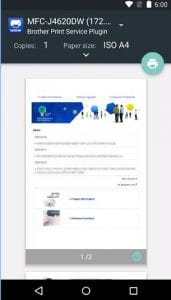 Another good service to print directly from Android devices to Brother printers is the Brother Print Service Plugin app. Printing is only available through the Wi-Fi connection.  This is a plugin app, so you can print using the "Print" option of supported Android apps:  Chrome Browser, Gmail, Photos, Google Sheets, Google Slides, Google Docs, Google Drive.
After you have downloaded the app, you should activate it. You can do it tapping the icon after downloading and enable it on the displayed screen. Or you can tap 'Settings' and find the button 'Printing', tap on it, then select "Brother Print Service Plugin" and enable it on the displayed screen.
Different options are available while using the app: copies, choosing paper size, color/mono printing, orientation, selecting of quality, 2-sided printing, borderless printing and more…
back to menu ↑
Brother iPrint&Label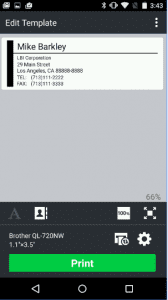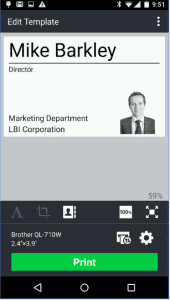 With Brother iPrint&Label application, you can create and print simple labels from a smartphone or tablet as quick as thought, not using a computer. The Brother iPrint & Label application allows you to connect to the printer over a wireless network using your Android device to design and print labels.
Characteristics of the app:
The menu is clear and understandable
You can print pre-designed labels quickly
It is possible to create custom labels using graphics and photos
Printing address labels is available using your contact lists
You can print name badges using pictures from your gallery or camera
Automatic formatting of labels is available, it is based on the size of the label used
Voice typing: the text for the label can be easily spoken out loud
You do not need to connect to the computer and install the printer driver.
Automatic search for supported devices on a wireless network.
Other helpful apps:
back to menu ↑
Mobile Transfer Express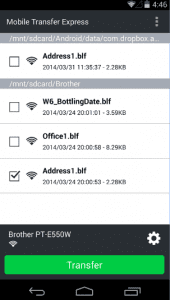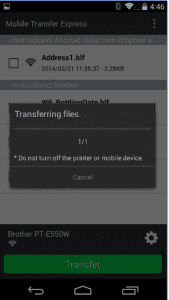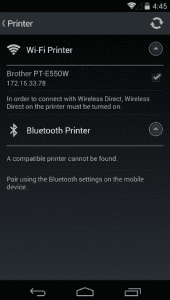 Mobile Transfer Express is an application that allows sending compatible samples, databases, and images prepared with the P-touch Transfer Manager for Windows from mobile devices to a printer for printing labels.
You can connect to a printer via Bluetooth or Wi-Fi. Before using this application, you should create a data transfer file.
back to menu ↑
Brother Image Viewer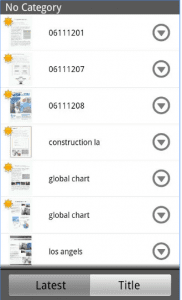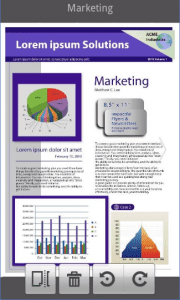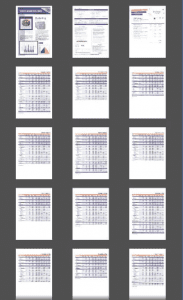 Brother Image Viewer is a free mobile application available for Android devices.  With the help of this app, you can view, edit and manage scanned data on your Android device. To use scan function, you should connect your Android and Brother devices via USB, or use Brother iPrint&Scan app.
back to menu ↑
Mobile Cable Label Tool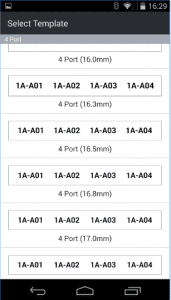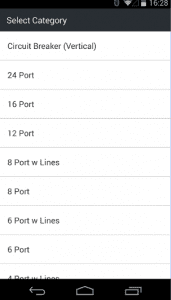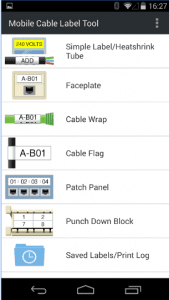 Mobile Cable Label Tool is a free application that allows you to print labels for marking electrical and telecommunications equipment. Printable data can be easily transferred to the Brother printer via the local wireless network from your Android device (smartphone or tablet).
Main functions of the app:
Automatic updating of the ready-made label templates by downloading from the Brother cloud server.
Ease of use: viewing, correcting and printing professional quality labels is available in just a few touches.
Automatic choosing of the size (width) of the label in accordance with the characteristics of the cartridge installed in the printer.
 Automatic search for supported devices over the local wireless network.
No need for a computer and printer driver.
back to menu ↑
Brother SupportCenter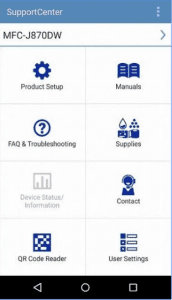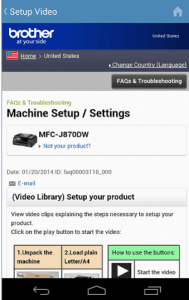 This application will help you to customize Brother products, access manuals, get answers to frequently asked questions and troubleshooting information, check the status of consumables and contact with Brother technical support.
Brother SupportCenter provides you with all the needed information.