Learn card tricks to surprise your friends. With these skills, you can be the center of attention in any company.
Use this list of best card game apps for magic tricks. Choose your favorite ones and learn new tricks.
You may also like: 9 Free Poker Apps to Play With Friends
Magic Tricks by Mikael Montier
If you are just starting to study card tricks, know that there are quite a few tricks in this category.
They do not need dexterity and will allow you to easily impress your friends. In the Magic Tricks by Mikael Montier app, you will find simple but at the same time interesting and mysterious card tricks.
The easiest tricks to understand are card tricks. But don't forget about the others.
The number of card tricks cannot be counted by any statistics. We can only say about the order of numbers – the score goes to thousands.
The quality of card tricks also occupies the widest range of illusionary skills. From elementary tricks, which the child can easily master, to highly professional ones. Their secret is known only to a few people dedicated to them.
The main focus of this app is guessing the map. Choose a suitable deck. Ask your friend or anyone around you to guess a card. Then, with the help of simple tricks, show on the screen of your phone a card which was made by the person chosen by you.
There are also many other exciting tricks to do here. All the instructions you can find in the special section of the application Magic Tricks by Mikael Montier. Learn to surprise your friends with new things.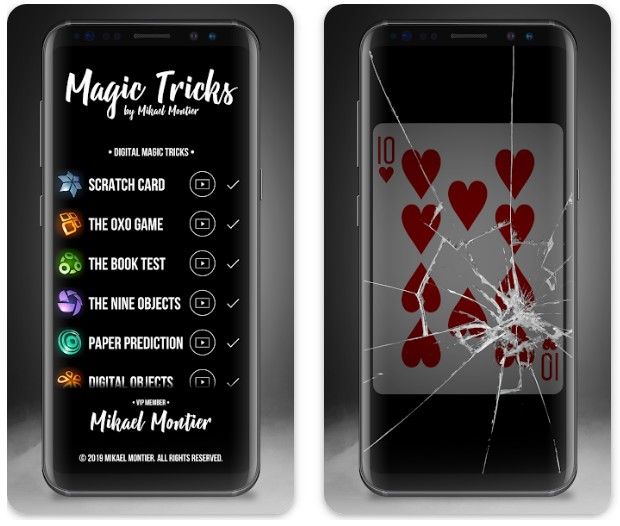 You may also like: 15 Free card game apps for Android & iOS
Learn Magic Tricks
The Learn Magic Tricks app contains more than 100 map tricks to help you stay in the spotlight of any company. This is one of the best applications of its kind that you can only find.
Card tricks are the most famous tricks after the white rabbit removal from the black hat. Smooth handling of cards is inherent in both casino cheats and skillful magicians.
It is important for you to convince everyone that the lady of clubs is in the neighbor's pocket.
Card tricks traditionally attract a lot of attention and always gather a lot of people. They cannot believe that a simple deck can bring so many surprises.
Card tricks are simple or complex. Their secrets can be mastered by anyone who has the patience to master them.
In the app Learn Magic Tricks, you will also find a lot of useful knowledge to create your own tricks. When you read all the articles, you can surprise your friends wherever and whenever you want.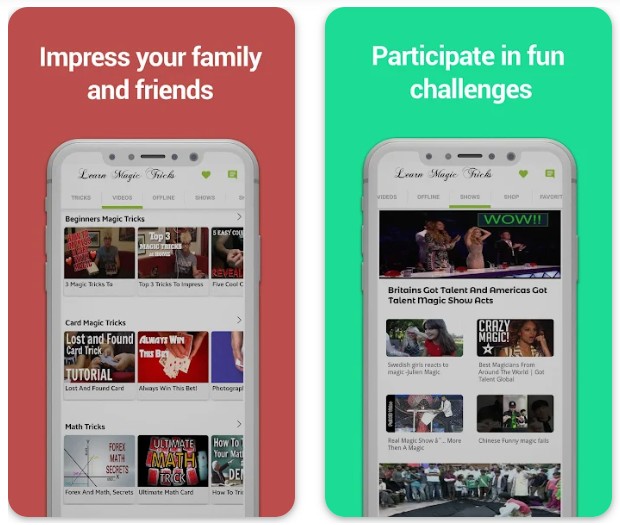 Playing Cards Magic Tricks
People have always been attracted to mysticism and magic. With the Playing Cards Magic Tricks app, you will learn unusual tricks and tricks.
It will help you surprise your friends and spectators every day. This way, you will be able to place anyone in the company. Stay in the spotlight with new knowledge.
In this app, you will find useful information and tips on how to do tricks with maps. The main thing to remember is to keep the trick process a secret.
Before you start doing the tricks, read all the information articles in this app. Here are only useful tips from professional magicians.
You will be able to surprise your friends by finding a mysterious map or even show them a flying deck. All this can be done directly in the application Playing Cards Magic Tricks.
If you prefer to use a real deck, you can follow the instructions during the focus in real life. Just put your phone in front of you and follow the instructions. But, make sure your phone is not seen by others. This way, you will be able to impress them with your magician skills.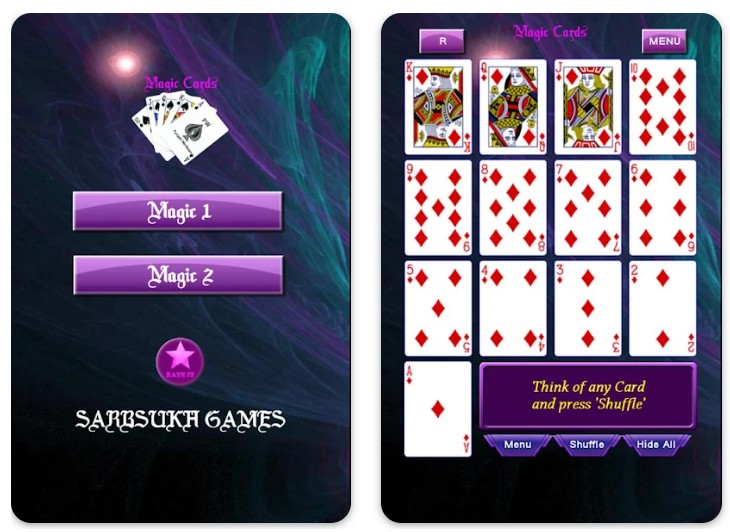 Magic-Tricks Tutorials
If you are the person who has ever been interested in card tricks, then the Magic-Tricks Tutorials app is designed for you.
The first time you log in to the application Magic-Tricks Tutorials, you are shown an article about maps. Where did they come from? How the number in the decks changed and other interesting information?
At the top of the screen, above each article, there is an image. If there is more than one image, you can flip through it with the appropriate gestures on the display.
In the app Magic-Tricks Tutorials, it is enough just to highlight text fragments and send them to friends in social networks.
In the lower right corner of the screen, there is a button "Share". Click on it and select a recipient. The article will automatically go to the selected person.
The application Magic-Tricks Tutorials has a built-in search system. If you don't understand a card term, tap on the magnifying glass at the top right of the screen.
To access the menu of focus categories and other functions, click on the button in the upper left corner. This will open a menu with the following options:
How to become a magician
Standard Techniques
Methods of shuffling
Simple tricks
Difficult tricks
New tricks
Favorites
This free app helps you surprise your friends and create an entertaining atmosphere.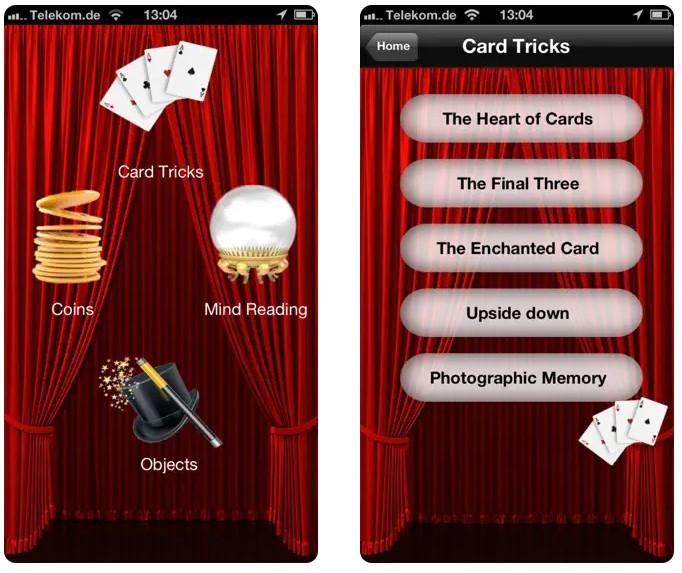 52Kards
The 52Kards app contains more than 700 interesting and entertaining tricks and secrets.
They can also be shared with friends. Many tricks are accompanied by illustrations. Learn the secrets of tricks and easily surprise your friends and family.
This app contains a variety of ways to surprise your friends or a group of strangers. The simplest but still most interesting trick is called "Heart of cards".
Here you will have to guess the card chosen by another person. You can use a virtual deck as well as a real one. But, in the second case, you need to prepare in advance and read all the necessary instructions.
First, take the deck and mix it thoroughly. Here you should pay attention to the lowest card. Then the viewer pulls out any card. After that, create a few decks.
The viewer should put the card on the deck of your choice. Now put all the decks together. At this point, it is important to remember where the viewer's card was.
This is the simplest and most banal example of all possible tricks. Install the application 52Kards to learn the most interesting things.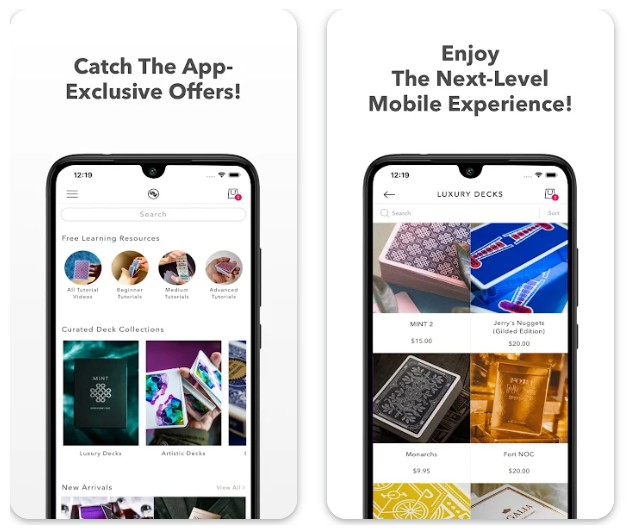 Card Magic Tricks And Tutorials
The Card Magic Tricks And Tutorials application is a unique collection of card tricks. Surprise your friends and become the center of attention in any company.
The application supports the night mode and offline mode. There is also a search here. Interesting tricks can be added to favorites and shared with friends.
Applications remember where you're staying for each category. This will allow you to resume reading from the same place later. It also marks the history of the article or while reading.
The app Card Magic Tricks And Tutorials includes more than one thousand tricks for different tastes. It is able to please anyone with different preferences.
These are versions with coins, maps, as well as various items. The app is distinguished by the presence of a special focus – guessing thoughts.
The app Card Magic Tricks And Tutorials provides detailed descriptions, as well as qualitative illustrations. They will allow you to understand magic even for a beginner magician.
The most important mode in this app is tricked with playing cards. Here you will learn how to surprise your friends with a regular deck of cards. Learn the most unusual tricks and become a perfect illusionist.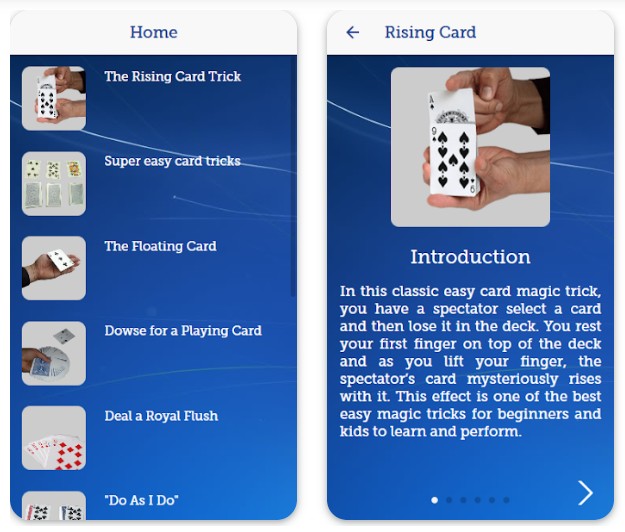 You may also like: 11 Best Rummy Card Games for Android & iOS
Master Magic Tricks
Master Magic Tricks is a tool designed to teach people of all ages the basics of magic and easy tricks in a fun way.
The application consists of various interactive games and tasks that introduce you to basic card tricks such as levitation, cycles and disappearances, among many others. You can also help develop the app if you have some tricks of your own.
One of the app's most notable features is its ability to educate people of all ages. The application is suitable for both children and adults. This makes it the perfect tool for parents who want their kids to learn something new.
However, some users are reporting issues with the app such as crashes and crashes. Also, some users note that the app may not be challenging enough for older kids who already have some experience.
While it may have some limitations, its interactive nature and ease of use make it a great option for anyone looking to master the skill of manual dexterity.
Application features:
Suitable for users of all ages
Quickly teach you easy tricks
Application cons:
Periodic technical failures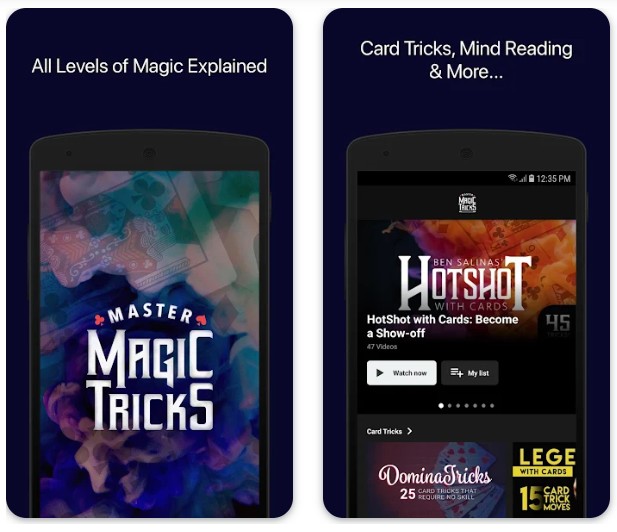 GEEMmick
GEEMmick is a game with which you can learn easy tricks and please your friends. Have you always been interested in card tricks and illusions? Then this application is definitely for you.
This application can both teach you a trick and become a tool for performing them. It includes a number of functions thanks to which you can surprise your company, namely prediction, divination, guessing thoughts and more.
The app won't make you a black magician or a lord of the rings, but you'll still have a couple of fun tricks up your sleeve. Do not lose the opportunity to be in the center of the feast – after all, everyone loves magic and tricks.
While the game has generally positive reviews, some users have complained about crashes and bugs in the game. Others have expressed frustration with the slow pace of the game and the amount of time it takes to load
Application features:
Suitable for users of all ages
Quickly teach you easy tricks
Application cons:
Periodic technical failures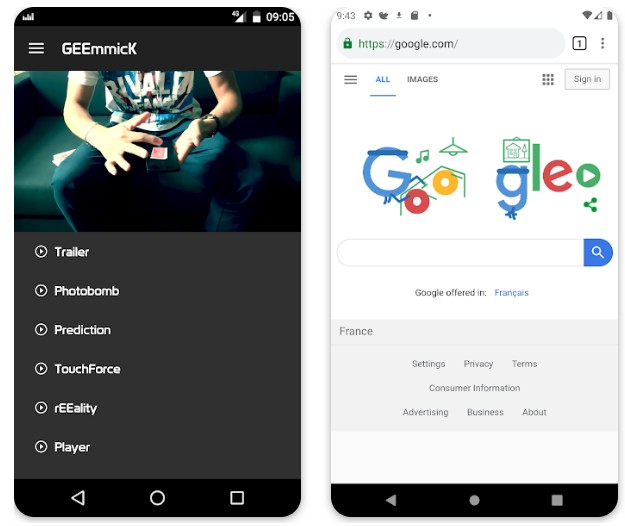 Learn Easy Magic Tricks
Learn Easy Magic Tricks is a mobile application designed to help users learn and perform various card magic tricks. The app includes step-by-step instructions and videos for over 70 different tricks, ranging from basic card tricks to more advanced ones.
The app is easy to use, with a simple interface and clear instructions for each trick. Users can browse the different categories of tricks, such as self-working tricks or ones that require a bit more skill, and select the one they want to learn. The app also includes a feature that allows users to save their favorite tricks and create a custom list of their favorite moves.
One of the downsides of the application is that it is only available for Android users, meaning that Apple users cannot access the app. Additionally, some users have reported technical issues such as crashes and slow loading times. Some users have also criticized the app for not including enough beginner-level tricks, making it difficult for novices to get started.
Learn Easy Magic Tricks is a useful app for those looking to learn and perform card magic tricks. While it has some technical issues and may not be suitable for complete beginners, it offers a wide variety of tricks and a convenient way to learn and practice them.
Application features:
Quickly teach you easy tricks
Application cons:
Periodic technical failures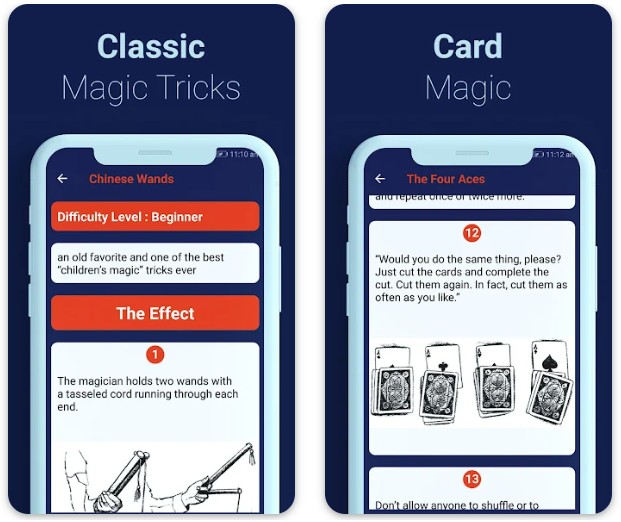 Card Tricks for Beginners
Are you into tricks and illusions? Then the Card Tricks for Beginners app will help you to go deeper into the process. Here you will learn a lot of tips on how to do interesting tricks with playing cards.
This app is suitable for beginners and amateurs as well as for professionals. Also here you will find a variety of tricks with coins, cubes, and other magical devices.
Magic tricks are very popular. You can use them at any event to focus on yourself. This way you can surprise your friends and family.
Also in the app Card Tricks for Beginners, you will find a selection of different video lessons. They will help you better understand the most unusual and mysterious illusions.
For all the tricks you will need a deck of playing cards. You can use a variety of decks. For example, the most common are 36 and 52 card decks. Surprise viewers by guessing the card they have wished for. Or show them a popular illusion with the disappearance of an entire deck.
This free application works without any restrictions and does not need built-in purchases. Besides, there is no annoying advertising.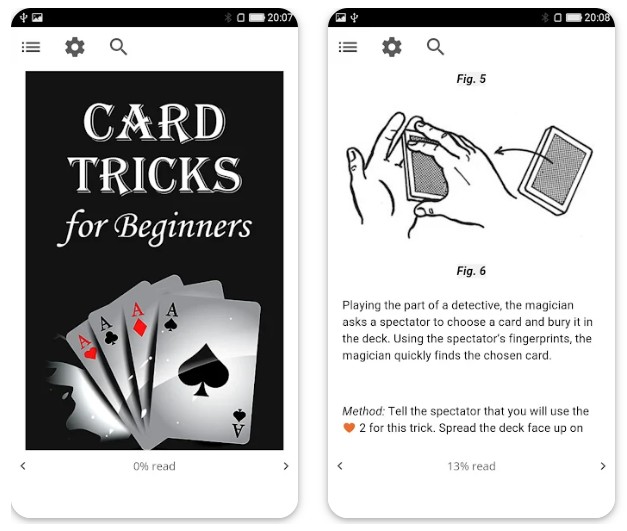 You may also like: 15 best prank apps for iPhone & Android
Learn Magic Tricks: Card & Coin
Learn Magic Tricks: Card & Coin is a mobile application that offers many magic tricks and tutorials to help you learn and master the art of magic.
The app contains step-by-step instructions and detailed video demonstrations for a wide range of tricks, from basic card tricks to more advanced coin manipulation tricks.
The app offers a user-friendly interface making it easy to navigate and find the right tutorial for any experience level. You can also save your favorite tricks and tutorials to access later or even share them with friends and family.
One of the standout features of the app is the ability to practice tricks using a virtual deck of cards and a virtual coin. This allows users to perfect their techniques before trying them out in front of an audience.
The app also includes a practice mode that provides feedback and tracks progress, helping users keep track of their improvements.
But still, the app has received some negative reviews, with some users reporting technical issues and bugs that interfere with their experience.
Some users also find that the app is missing some advanced techniques, making it more suitable for beginners.
With a user-friendly interface, detailed tutorials, and virtual practice tools, it offers a great way to improve your skills and impress your audience.
Although it may have some drawbacks, it is still a great choice for anyone interested in the world of magic.
Application features:
Teach you tricks
Before performing, you can practice in the application
Simple and user friendly interface