Learn card tricks to surprise your friends. With these skills, you can be the center of attention in any company.
Use this list of best card game apps for magic tricks. Choose your favorite ones and learn new tricks.
Magic Tricks by Mikael Montier
If you are just starting to study card tricks, know that there are quite a few tricks in this category.
They do not need dexterity and will allow you to easily impress your friends. In the Magic Tricks by Mikael Montier app, you will find simple but at the same time interesting and mysterious card tricks.
The easiest tricks to understand are card tricks. But don't forget about the others.
The number of card tricks cannot be counted by any statistics. We can only say about the order of numbers – the score goes to thousands.
The quality of card tricks also occupies the widest range of illusionary skills. From elementary tricks, which the child can easily master, to highly professional ones. Their secret is known only to a few people dedicated to them.
The main focus of this app is guessing the map. Choose a suitable deck. Ask your friend or anyone around you to guess a card. Then, with the help of simple tricks, show on the screen of your phone a card which was made by the person chosen by you.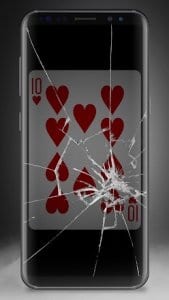 There are also many other exciting tricks to do here. All the instructions you can find in the special section of the application Magic Tricks by Mikael Montier. Learn to surprise your friends with new things.
You may also like: 15 Free card game apps for Android & iOS
Learn Magic Tricks
The Learn Magic Tricks app contains more than 100 map tricks to help you stay in the spotlight of any company. This is one of the best applications of its kind that you can only find.
Card tricks are the most famous tricks after the white rabbit removal from the black hat. Smooth handling of cards is inherent in both casino cheats and skillful magicians.
It is important for you to convince everyone that the lady of clubs is in the neighbor's pocket.
Card tricks traditionally attract a lot of attention and always gather a lot of people. They cannot believe that a simple deck can bring so many surprises.
Card tricks are simple or complex. Their secrets can be mastered by anyone who has the patience to master them.
In the app Learn Magic Tricks, you will also find a lot of useful knowledge to create your own tricks. When you read all the articles, you can surprise your friends wherever and whenever you want.
Playing Cards Magic Tricks
People have always been attracted to mysticism and magic. With the Playing Cards Magic Tricks app, you will learn unusual tricks and tricks.
It will help you surprise your friends and spectators every day. This way, you will be able to place anyone in the company. Stay in the spotlight with new knowledge.
In this app, you will find useful information and tips on how to do tricks with maps. The main thing to remember is to keep the trick process a secret.
Before you start doing the tricks, read all the information articles in this app. Here are only useful tips from professional magicians.
You will be able to surprise your friends by finding a mysterious map or even show them a flying deck. All this can be done directly in the application Playing Cards Magic Tricks.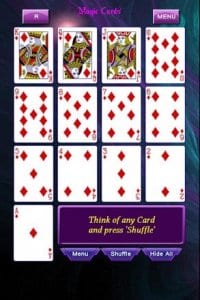 If you prefer to use a real deck, you can follow the instructions during the focus in real life. Just put your phone in front of you and follow the instructions. But, make sure your phone is not seen by others. This way, you will be able to impress them with your magician skills.
Magic-Tricks Tutorials
If you are the person who has ever been interested in card tricks, then the Magic-Tricks Tutorials app is designed for you.
The first time you log in to the application Magic-Tricks Tutorials, you are shown an article about maps. Where did they come from? How the number in the decks changed and other interesting information?
At the top of the screen, above each article, there is an image. If there is more than one image, you can flip through it with the appropriate gestures on the display.
In the app Magic-Tricks Tutorials, it is enough just to highlight text fragments and send them to friends in social networks.
In the lower right corner of the screen, there is a button "Share". Click on it and select a recipient. The article will automatically go to the selected person.
The application Magic-Tricks Tutorials has a built-in search system. If you don't understand a card term, tap on the magnifying glass at the top right of the screen.
To access the menu of focus categories and other functions, click on the button in the upper left corner. This will open a menu with the following options:
How to become a magician
Standard Techniques
Methods of shuffling
Simple tricks
Difficult tricks
New tricks
Favorites
This free app helps you surprise your friends and create an entertaining atmosphere.
52Kards
The 52Kards app contains more than 700 interesting and entertaining tricks and secrets.
They can also be shared with friends. Many tricks are accompanied by illustrations. Learn the secrets of tricks and easily surprise your friends and family.
This app contains a variety of ways to surprise your friends or a group of strangers. The simplest but still most interesting trick is called "Heart of cards".
Here you will have to guess the card chosen by another person. You can use a virtual deck as well as a real one. But, in the second case, you need to prepare in advance and read all the necessary instructions.
First, take the deck and mix it thoroughly. Here you should pay attention to the lowest card. Then the viewer pulls out any card. After that, create a few decks.
The viewer should put the card on the deck of your choice. Now put all the decks together. At this point, it is important to remember where the viewer's card was.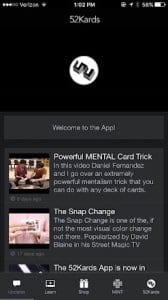 This is the simplest and most banal example of all possible tricks. Install the application 52Kards to learn the most interesting things.
Card Magic Tricks And Tutorials
The Card Magic Tricks And Tutorials application is a unique collection of card tricks. Surprise your friends and become the center of attention in any company.
The application supports the night mode and offline mode. There is also a search here. Interesting tricks can be added to favorites and shared with friends.
Applications remember where you're staying for each category. This will allow you to resume reading from the same place later. It also marks the history of the article or while reading.
The app Card Magic Tricks And Tutorials includes more than one thousand tricks for different tastes. It is able to please anyone with different preferences.
These are versions with coins, maps, as well as various items. The app is distinguished by the presence of a special focus – guessing thoughts.
The app Card Magic Tricks And Tutorials provides detailed descriptions, as well as qualitative illustrations. They will allow you to understand magic even for a beginner magician.
The most important mode in this app is tricked with playing cards. Here you will learn how to surprise your friends with a regular deck of cards. Learn the most unusual tricks and become a perfect illusionist.
Mind Reader (Card Magic Trick)
The Mind Reader (Card Magic Trick) app contains a collection of the most unusual digital tricks. Using the instructions in this app you can surprise everyone around you.
All the tricks in this app are categorized. But, the most important feature is the presence of a huge number of tricks with playing cards.
A vivid example of an interesting focus in this application is the illusion "Final Cards". Here the viewer needs to pull out 3 cards, which you can find.
For this purpose, you will need a deck of 52 cards. Ask the viewer to pull out the 3 cards and remember them.
Next, you need to make three decks. The first deck of 10 cards, the other two decks of 15 cards. This way you will have 9 cards left. You need to put them aside.
The viewer puts their cards on each of the three decks. The remaining 9 cards should be placed under the third deck. Then place the third deck on the second deck. All these cards should be placed on the first deck.
In the end, you just need to pull out the viewer's cards. For this focus, you will need not only knowledge of the focus, but also excellent memory.
Magic Amino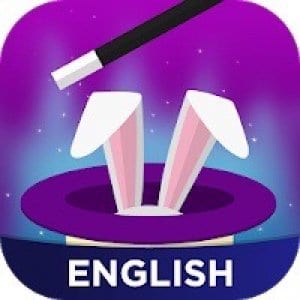 The Magic Amino app will help you learn the most unusual tricks. Thanks to them, you will be able to surprise your friends, having only a regular deck of playing cards.
This app contains a huge collection of information about various tricks. There are even tricks using augmented reality. This is a real breakthrough in the field of virtual illusions.
Also in this application, you can access video tutorials. Thanks to them, it will be easier for you to understand and learn the real tricks and their performance.
Thanks to this variety you will be able to use a variety of different decks of playing cards. The tricks here are adapted to 50 different decks.
Here you will find illusions for every taste. So, you can surprise your friends by guessing the card they have made.
You can use the virtual and real deck of cards. When using a real deck you need to prepare in advance and learn all the instructions for the focus.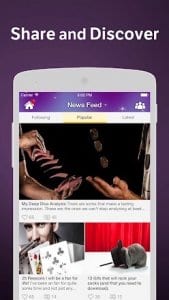 You can also put your phone near you to peek into the instructions sometimes. But, don't forget that you need to surprise your friends. This means that you should hide your phone from unnecessary glances.
Magic Tricks
Did you ever want to be a magician or an illusionist? Do you want to surprise your friends or become the center of attention?
Then use the instructions in the Magic Tricks app. They will help you with your articles as a real magician.
Here you will use the playing cards to perform unique tricks.
The most interesting focus is "Thought Reading". Announce to your viewers that you can guess the card conceived by the audience.
Call in four people, sit them down at the table and give them the cards. If you're with friends, you can all install the app Magic Tricks on your phones and use virtual cards.
Ask everyone to make one of the cards in their hands. Now collect all the cards, put them on five decks.
Invite people to choose the stack of cards they like and give them to you. Arrange the cards with a fan and turn the picture to the viewers. Ask people who have noticed their map.
As soon as someone answers, you will immediately pull out the card you wish to see. If the selected stack does not have the right card, take another stack.
In any case, you can guess the right card, even if the stack contains several puzzles.
Card Tricks for Beginners
Are you into tricks and illusions? Then the Card Tricks for Beginners app will help you to go deeper into the process. Here you will learn a lot of tips on how to do interesting tricks with playing cards.
This app is suitable for beginners and amateurs as well as for professionals. Also here you will find a variety of tricks with coins, cubes, and other magical devices.
Magic tricks are very popular. You can use them at any event to focus on yourself. This way you can surprise your friends and family.
Also in the app Card Tricks for Beginners, you will find a selection of different video lessons. They will help you better understand the most unusual and mysterious illusions.
For all the tricks you will need a deck of playing cards. You can use a variety of decks. For example, the most common are 36 and 52 card decks. Surprise viewers by guessing the card they have wished for. Or show them a popular illusion with the disappearance of an entire deck.
This free application works without any restrictions and does not need built-in purchases. Besides, there is no annoying advertising.
Card Magic
Immerse yourself in a world of mysterious magic and amazing magic tricks with the Card Magic app.
Want to learn new tricks or get useful tips for doing them? Then open a special tab where all the useful information is collected.
This app has tricks for a variety of purposes. You can invite one to five people to take part in the competition.
Also, all tricks are adapted to different card decks. So, no matter what deck you have with you, you can surprise your friends whenever and wherever you want.
In addition to the usual instructions, there are also video tutorials. This way, you can learn more about the technique of focusing that you want to surprise your friends with.
You can save your favorite tricks to the "Favorites" section. You can also share them with your friends. You can do this using social networks or messengers. To do this, you need to log in to the application Card Magic.
This free application has a nice interface and a lot of useful information. Besides, it does not need extra purchases and has no built-in advertising.
You may also like: 15 best prank apps for iPhone & Android