Car insurance is a necessity for all car owners – yeah, I know, that's an obvious thing. But we all know that most of the time you don't need it so you don't want to pay too much money for it and stay secure at the same time. In the following article, we found the cheapest car insurance apps in the USA to get you covered.
And in case you don't have a car yet, but you're only planning to buy one, we can suggest you an article where you will find the best apps to buy used cars by car owners.
one of the most reliable insurance provders

discounts depending on your driving style

fast to get

after a while the price can increase

has difficulties recognizing specifically when you're driving and when not

compares all the isurance offers on the market by price

forms discounts depending on your driving habits

well-designed interface

problems with insurance cancellations

has lags and bugs

one of the cheapest car insurance on the market

trustworthy

if you want to cancel, you'll have to fill in tons of forms

support service isn't very helpful

the best interface design

cheapest options on the market

easy to get an insurance

not responsive to changes

issues with payment

fast process of filling the form and getting registered

cheap insurance, no hidden fees

only available at Arizona
Root: Better car insurance
Root is a mobile app-based car insurance company that operates with the aim of providing better car insurance to drivers.
It uses data collected from your smartphone to track and analyze your driving behavior and then provides you with personalized insurance rates based on your driving profile. The app also provides a range of features to help you manage your policy and make the most of your coverage.
One of the key benefits of Root is its ability to offer more affordable insurance rates. The company aims to encourage safe driving by basing insurance rates on individual driving behavior, rather than demographic data or other traditional risk factors.
This means that if you drive safely, you may be able to receive a lower rate from Root compared to other insurance providers.
The Root app is designed to be user-friendly and accessible, and it provides a range of features to help you manage your policy and stay on top of your coverage.
For example, you can use the app to file claims, access 24/7 roadside assistance, and manage your policy details. The app also provides real-time alerts and updates, so you can stay informed about your coverage and any changes to your policy.
In addition, Root's accident detection feature can detect when you've been involved in a collision and provide you with a range of tools to help you manage the situation, including the ability to file a claim through the app. This can help to make the claims process easier and less stressful.
Overall, Root offers a new and innovative approach to car insurance that aims to provide better coverage and more affordable rates for drivers.
While availability and rates may vary based on state regulations, Root is a great option for drivers who are looking for a more personalized, technology-based insurance solution.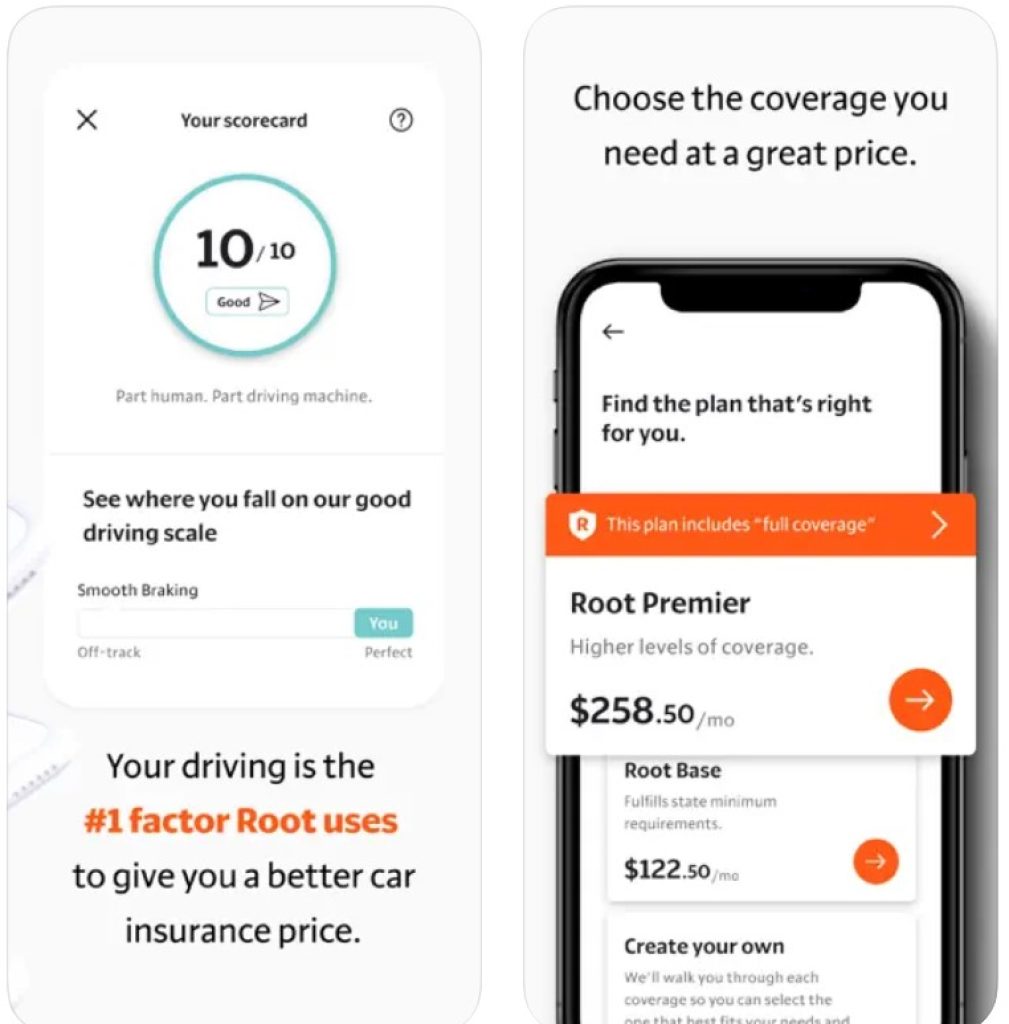 You may also like: 11 Best apps to connect your smartphone to car audio system
Jerry: Car Insurance Savings
Jerry app is a revolutionary platform that helps drivers save money on their car insurance premiums. With the app, you can easily compare and purchase the best car insurance policies available in the market.
Jerry accesses a vast database of insurance providers and their products, allowing you to find the best coverage options that suit your specific needs.
The app also provides detailed information about each policy, such as coverage options, deductibles, premium amounts, and more.
This information helps you make an informed decision when choosing an insurance policy. The app also includes a unique feature that allows you to monitor your driving habits and rewards you for safe driving. This can result in even more savings on your car insurance premium.
The app is user-friendly and easy to use. You can complete the entire process of purchasing an insurance policy from the comfort of your home or office. All you need is a smartphone or a tablet. The app also includes a 24/7 customer support team that is available to answer any questions you may have.
In conclusion, Car Insurance Savings app is a must-have for every driver. It provides you with the best insurance options, helps you save money, and makes the process of purchasing insurance convenient and hassle-free. So, why wait? Download the app today and start saving money on your car insurance premium!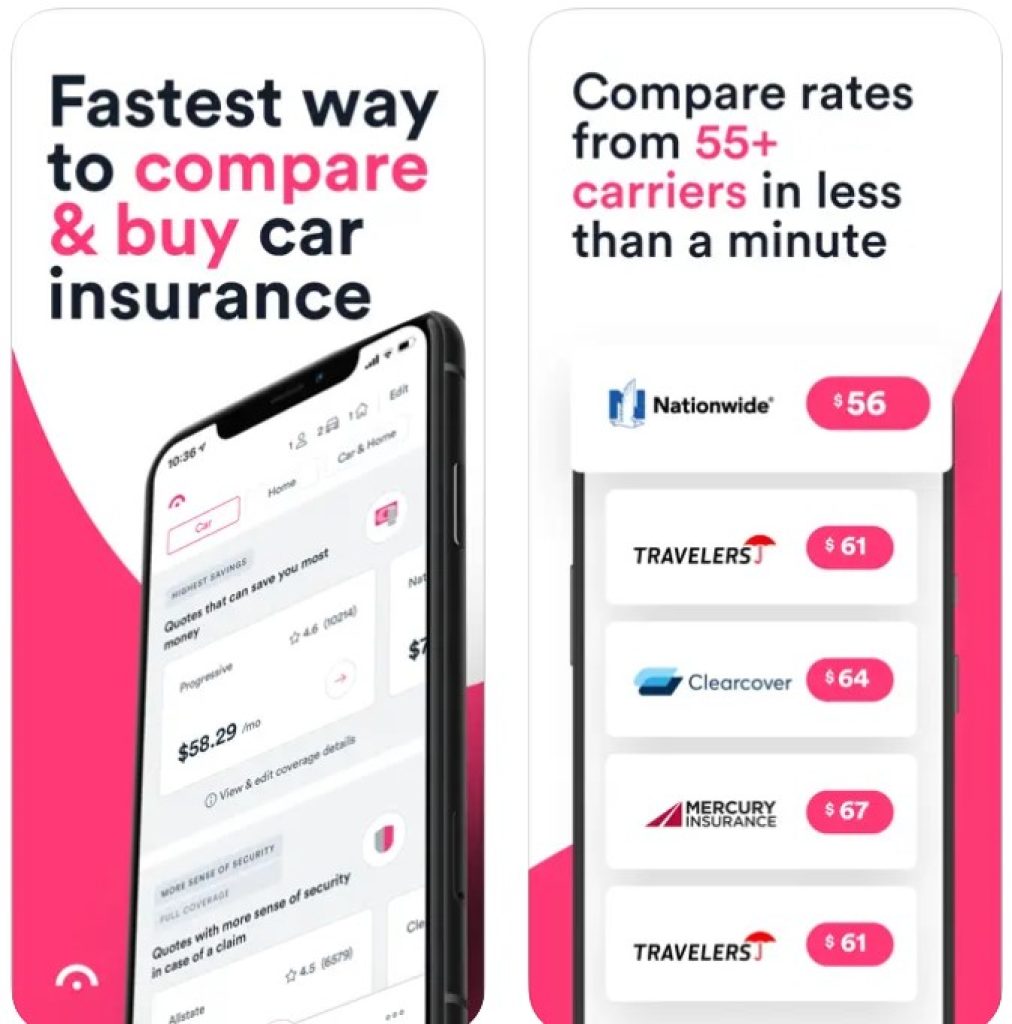 The General® Auto Insurance
The General® Auto Insurance app is a comprehensive and user-friendly platform that offers a range of features to help manage your auto insurance policy. With it, customers can easily access their policy information, view their insurance ID card, file a claim, and make payments on their policy.
The app also provides users with a range of resources, such as safety tips, roadside assistance, and educational materials to help them better understand their policy and coverage options.
One of the standout features of the app is its intuitive and streamlined design. Navigation is simple and straightforward, and all of the key features are easily accessible from the main menu.
Additionally, the app provides real-time updates and notifications to keep you informed about any changes or updates to your policy.
The app also offers a range of tools to help users better understand their policy and coverage options. This includes detailed explanations of coverage types, limits, and deductibles, as well as a helpful glossary of insurance terms.
The app also provides customers with the ability to contact its customer service directly from within itself, which can be especially helpful in the event of a claim or policy change.
Overall, the General® Auto Insurance app is a valuable tool for managing your policy and keeping track of your coverage. With its user-friendly design, comprehensive features, and range of resources, the app makes it easy for customers to stay informed and in control of their insurance coverage.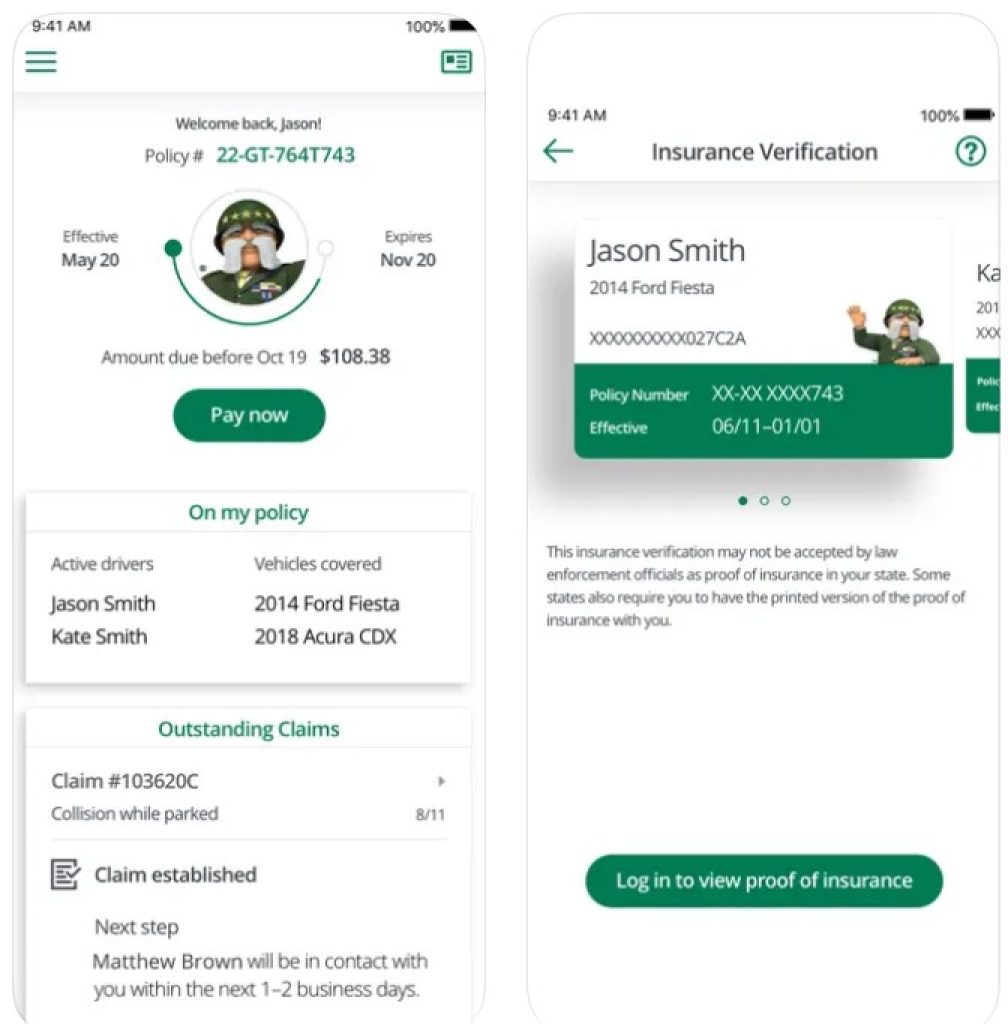 You may also like: 20 Best Black Friday Shopping Apps for iPhone and Android
GEICO Mobile – Car Insurance
GEICO Mobile is a car insurance app that allows you to manage your policy, make payments, and file claims all from your mobile device. The app is user-friendly and has a clean, modern design. You can easily access important information about your policy, such as policy details, coverage, and ID card.
The app also has a feature that allows you to file a claim in just a few taps. You can upload photos and provide details about the accident, and a GEICO representative will follow up with you shortly. This feature is incredibly convenient and can save you time and hassle in the event of an accident.
Another useful feature of the GEICO Mobile app is the ability to pay your insurance premium directly from the app. You can also set up automatic payments to ensure that your policy remains in good standing.
The app also provides a number of helpful tools and resources, such as a comprehensive library of frequently asked questions, a glossary of insurance terms, and a coverage calculator that helps you determine the right amount of coverage for your needs.
In conclusion, GEICO Mobile is a well-designed app that offers a range of useful features for managing your car insurance policy. Whether you need to file a claim, make a payment, or do anything else important, the GEICO Mobile app has you covered.

You may also like: 15 best apps to buy clothes on iOS & Android
Just: Affordable Car Insurance
Just as a new, innovative, and affordable car insurance app that makes it easy to get coverage and manage your policy. With Just, you can get a quote in just a few minutes, choose the coverage that's right for you, and buy your policy right from your smartphone.
The only downside of Just is at the current moment it's only available in Arizona, but the territory of coverage will be extended in the near future.
Just also offers a range of features to help you manage your policy, including the ability to view your policy information, make payments, and file claims.
In addition, this app uses cutting-edge technology to deliver the best possible experience for customers. The app leverages machine learning algorithms to analyze data about you and your driving habits, helping to provide you with customized coverage options that fit your needs and budget.
The app also integrates with your car's onboard diagnostics system to monitor your driving behavior in real time, giving you feedback and tips on how to improve your driving to help lower your insurance costs.
Just is also committed to being transparent and fair. The app provides clear and easy-to-understand information about coverage options and pricing, so you can make informed decisions about your insurance.
The support services seem to be friendly and they are available 24/7.
Whether you're a new driver, or a seasoned pro, Just is the perfect app for all your car insurance needs. So why wait? Download Just today and start getting the coverage and peace of mind you deserve!