Keeping records is a vital part of any small business. Dummies would think that they would need to hire an accountant for that, but who needs those when you have the accounting apps doing all the job? In the list down below you will find the free record-keeping apps.
And more bookkeeping apps can be found in this article.
QuickBooks Accounting
QuickBooks Accounting is bookkeeping or a record-keeping app. You can use it to track all the statistics on your business – cash flows, incomes/losses, create invoices and etc.
The pros of this app are:
With this app, you won't need an accountant since the app can do it all
Automatic mileage tracking.
Speed up all your payments
It doesn't matter if you are using it for your small business or just for yourself
Tracking of all the payments
All the analytics is stored here
Forecast of cashflows in 3 months in advance
Categorizing the monthly expenses, like in the traditional accounting
Use the app the communication with your clients
Among all the record-keeping apps this one has the easiest to handle interface
The downside is the large size of the app. You need to have a lot of space in your phone memory to download it.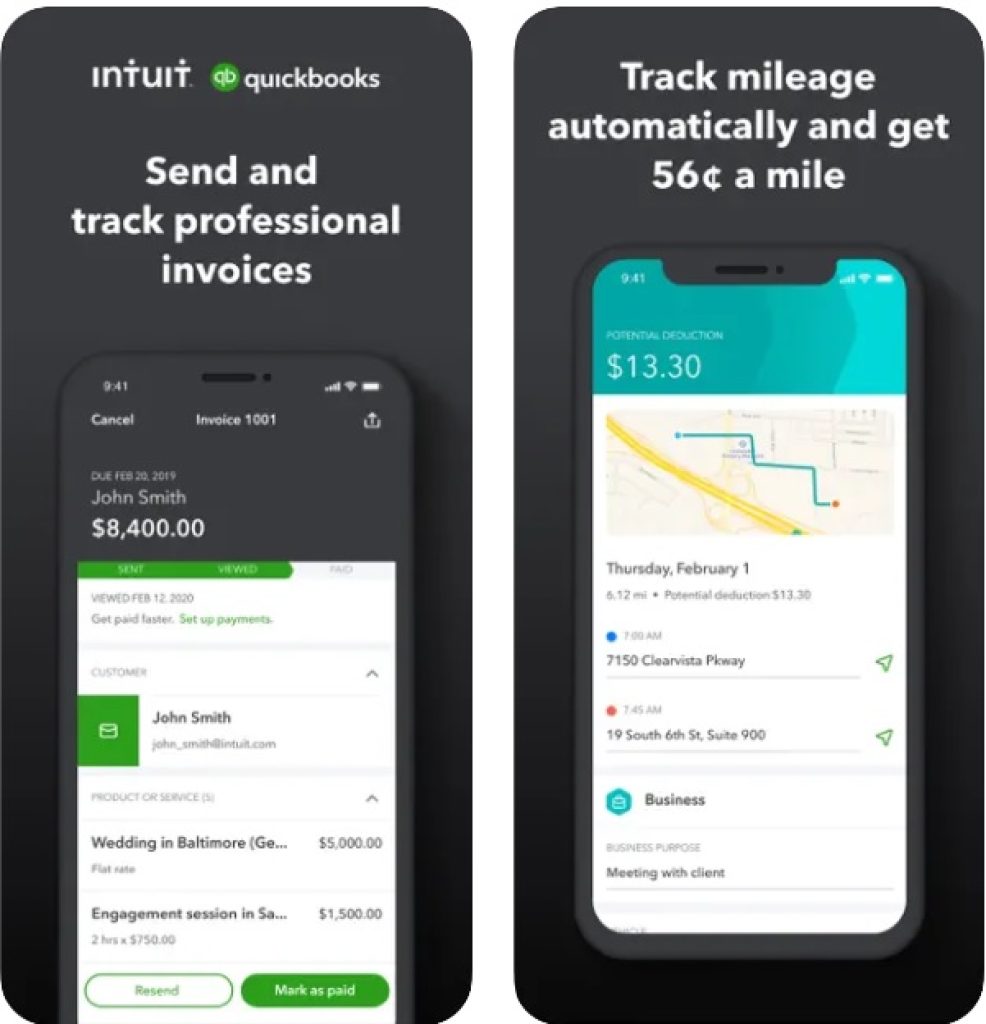 You may also like: 16 Best Money Transfer Apps for Android & iOS
Accounting・Bookkeeping Taxnote
Accounting・Bookkeeping Taxnote is a simple accounting app that allows you to keep track of your finances.

The advantages of this app are the following:
A simple interface and an incredibly beautiful design. The application is designed in a light style, which is very nice to look at.
Easy accounting. You just need to select a category, enter business expenses or income, and then they will automatically turn into a double-entry journal.
Very fast input. The app has all the great features for easy and comfortable input even with one hand.
Registration is not required. This is a big plus, as you will not have to spend a lot of time filling out the information, logging in, joining social networks, and so on
It is possible to export data in different formats, such as Excel, Google Spreadsheet, and other spreadsheet apps.
Keep track of the numbers in different categories for the day, month, and year. And also export overview data in CSV format.
The ability to put a password on the app to protect your data. Instead of a password, there is also TouchID.
The application offers automatic synchronization and backup of your data on different devices.
You can create multiple accounts.
No annoying ads.
The downside of this app is that there are certain features that are only open when you buy a subscription.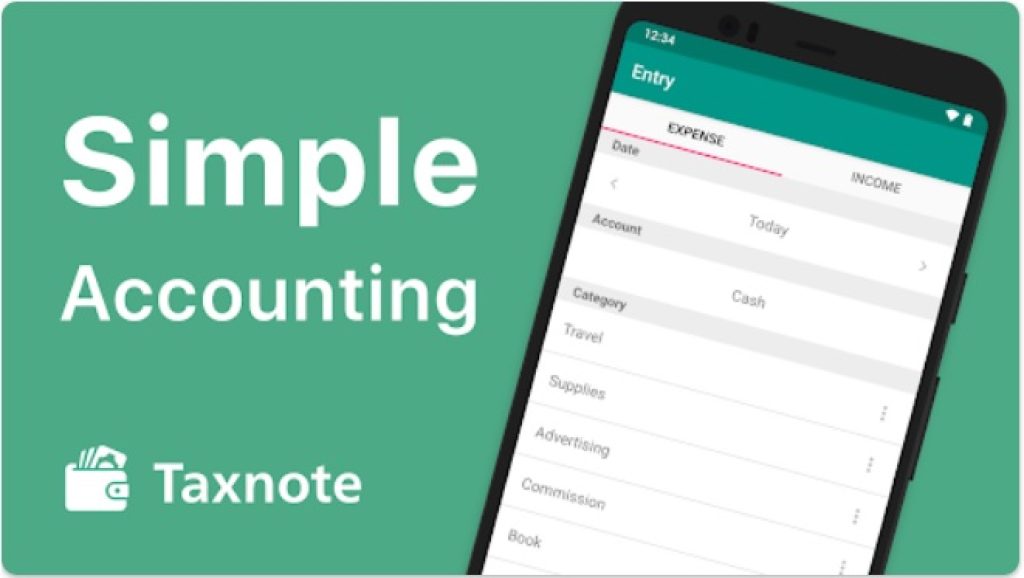 FreshBooks Accounting
Another cool record-keeping app for business owners.
The set of features of this app is quite diverse. First of all, when you deliver something, the app will lead the automatic calculation of the miles. Another cool thing in this category is that FreshBooks can classify your business trips (and the trips of your employees).
The creation of invoices goes as the standard. Then send them to your clients via the app. Moreover, the app will always remind you of some debts or payments if you have those. Moreover, the app involves some features of project management software – it allows to do the time tracking of the projects.
Here are some other features of FreshBooks:
Profit/Loss calculations
Automated reports about everything.
Double-entry accounting tools.
No ads.
Neat, minimalist design and simple interface.
Ability to share different data with other users or on social networks.
The only disadvantage of the app – sometimes there are bugs, such as long loading, updating data, and so on.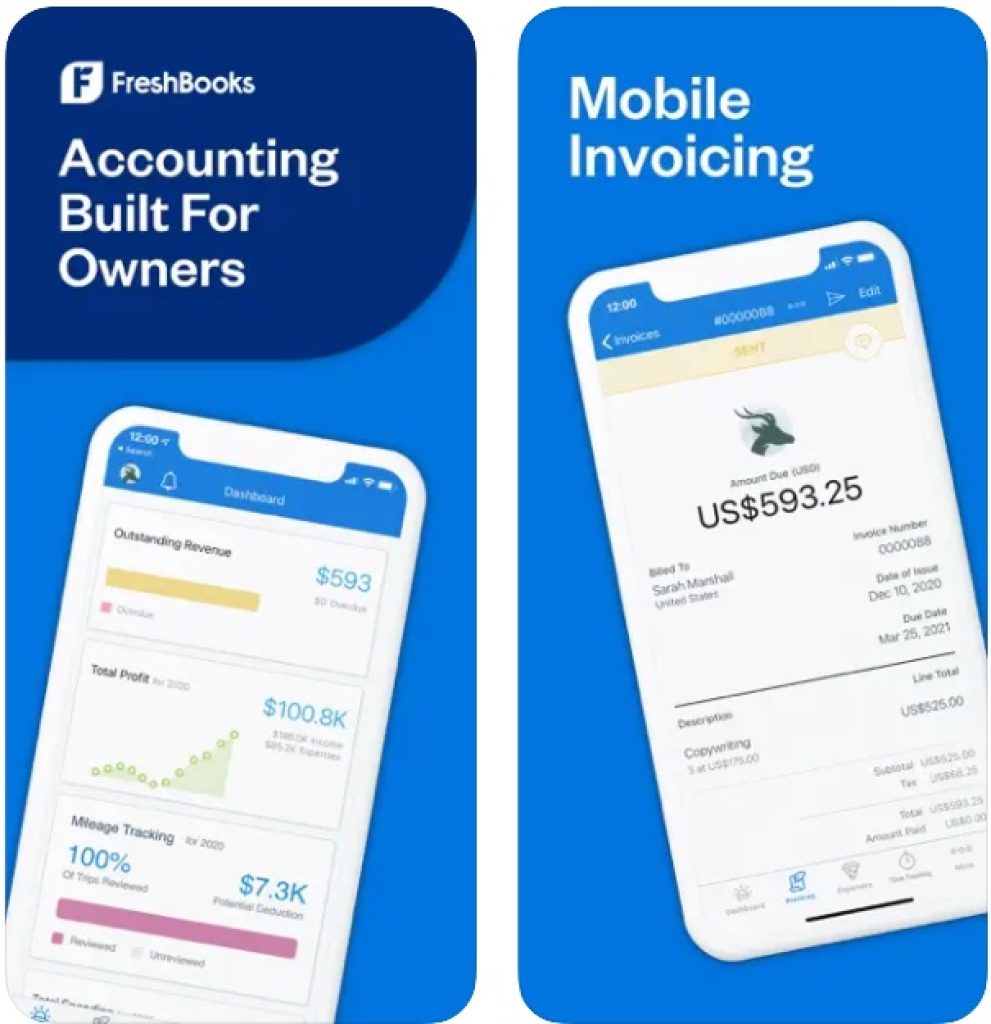 Record Book: Excel & register
Record Book: Excel & Register is mobile software for the digital ledger, record keeping, and spreadsheet and task list.
The significant advantages of this app are as follows:
100% data security guarantee.
There is an auto-backup feature that frees you from the worry of losing data
21 types of data and adding others. Manage phone numbers, photos, video, audio, files and more
An unlimited number of registers. There's a folder option to help you sort it the way you want
Create schedules for your employees
There are ready-to-use register templates for different types of businesses.
Report creator in CSV and PDF format.
Ability to share tedious information in messengers like WhatsApp, Gmail
Import files from Excel, and Google drive into the app.
There is a tool for generating reports, billing, and payroll receipts.
Possible to use for everyone.
For students – as an app to manage assignments and studies. For employees – as a to-do and task management app.
There is a To-do list compilation and important task reminders.
However, the app design and interface may not be to everyone's liking because they are made in saturated bright colors, which is sometimes distracting.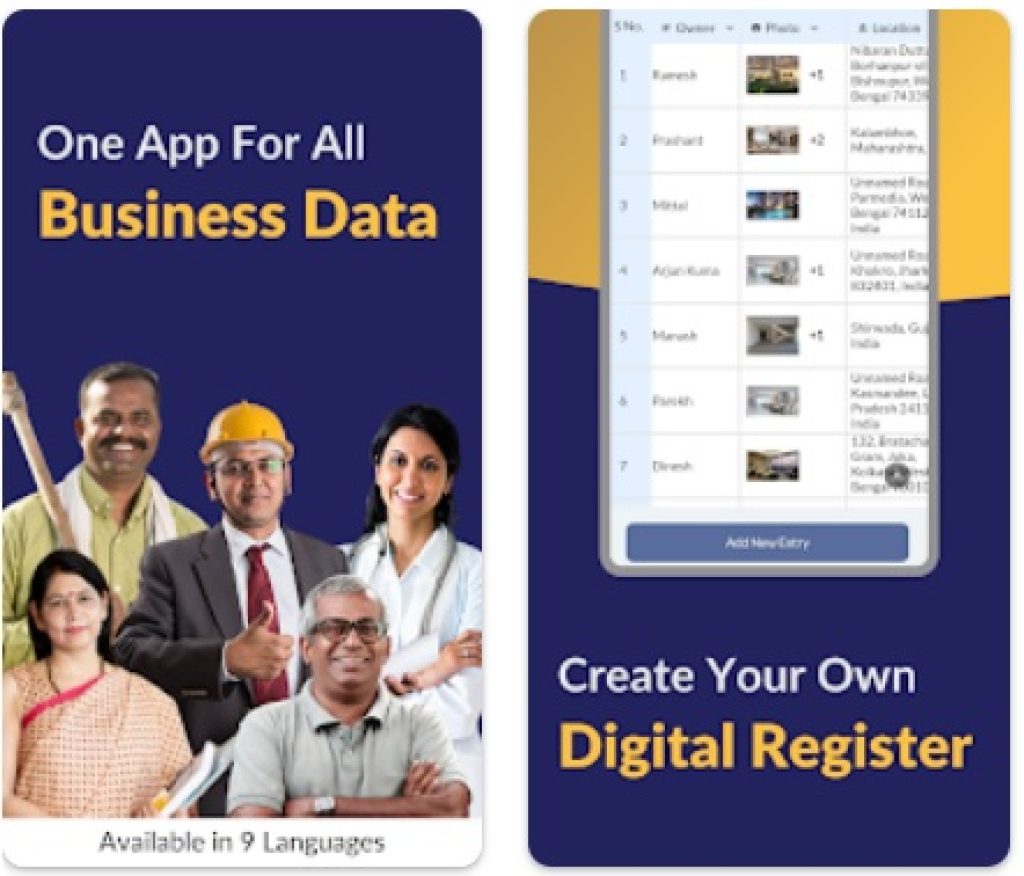 You may also like: 11 Best Family Budget Apps in 2021 for Android & iOS
PesaBook
PesaBook is an accounting and bookkeeping app for customer transactions. Basically, this is another alternative to all the apps listed above.
Here you can, as always, record your daily transaction with the further calculations of profits and losses and the calculation of your cash flows. And one interesting feature of PesaBook is that it allows tracking of the history of the credits given to customers.
All the data in the app is well secured. Moreover, if you don't want to use this app for your business, and just for personal records, you can create an account for yourself and your family – it's easy! And if you have multiple businesses or stores, you can create here a separate account for each.
This app has the following advantages:
Incredibly beautiful design of the application. Convenient and simple interface. There are instructions, and tips for work.
The ability to share different information both in the app and outside of it. You can do this in various messengers, and in social networks.
The acceptance of online payments from customers.
Download transaction reports in PDF format.
A possible disadvantage of the app is the inability (or inconvenience) to conduct ordinary people, not business owners. It contains a huge number of useful functions for business, but not for simple actions.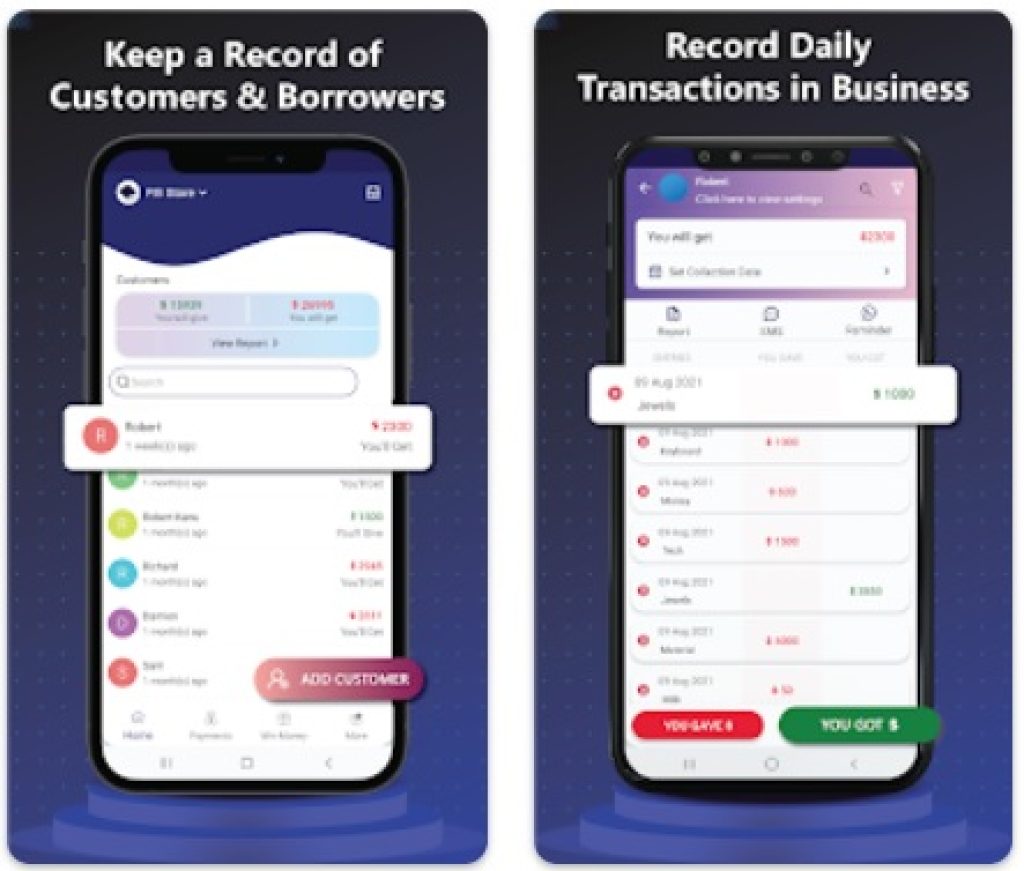 Xero Accounting
Xero accounting is a more classic and simple accounting app for business owners only. In addition to the classic bookkeeping, that has been mentioned many times before, this app allows you to do the bank account reconciliation and classification.
Another interesting feature is that Xero shows all your orders on the map. And this app synchronizes with your contacts, allowing you to transfer only the phone numbers of employees to the app so the communication is faster.
Here are some other features:
Sending information, messages about debts, or impending payments by mail or through any other application.
Converting offers into invoices in one click.
Cloud storage for the data
Interesting interface.
The downside of this app is the occurrence of errors or problems with updates. However, this is quickly resolved with the helpdesk. Also, the app is not suitable for too large businesses, as there is not enough functions.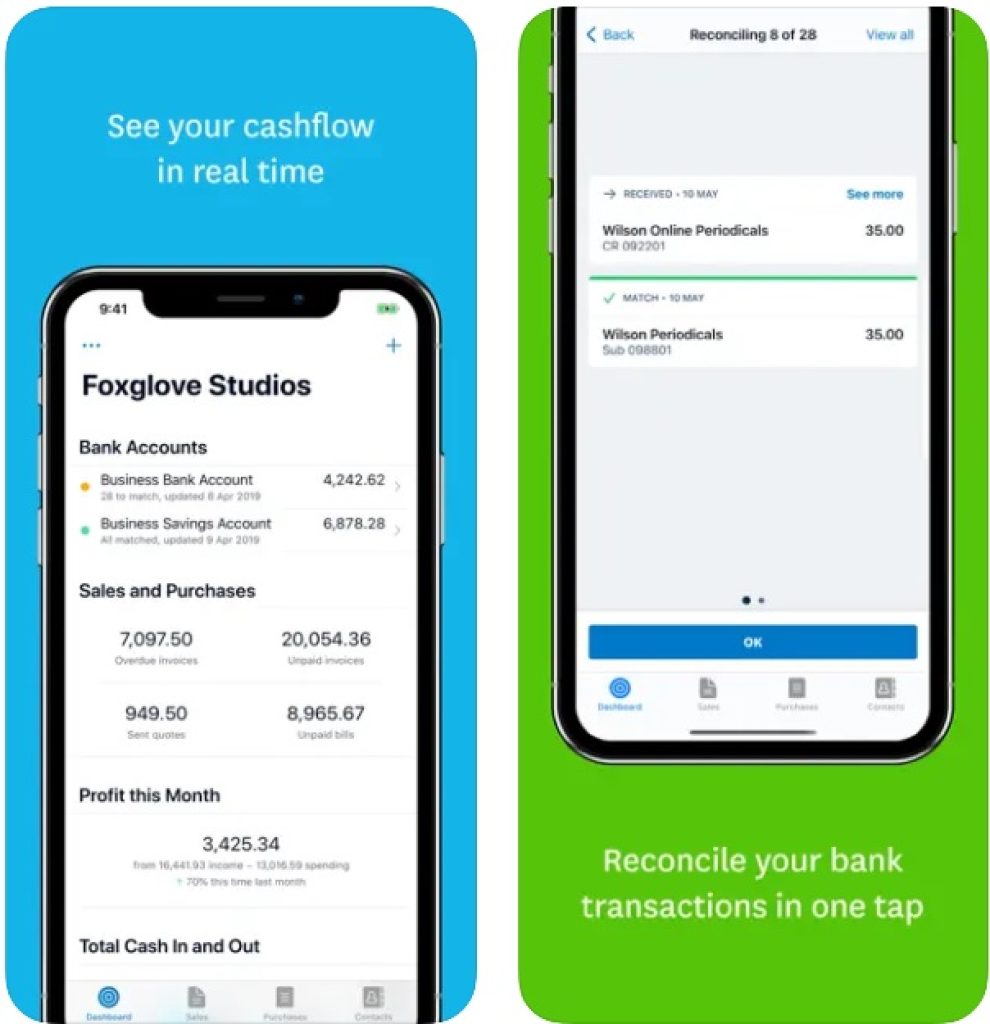 You may also like: 9 Free Money Apps for Kids (Android & iOS)
Zoho
Zoho is a small financial and bookkeeping app. In comparison to all other apps on our list, this one can brag for being lightweight. Zoho doesn't sell your data to the 3rd parties. All the classic accounting, such as the calculation of incomes, expenses, profits, and losses is here.
Payments can be done directly via the app and Zoho can also remind you about all the most important payment times. In addition, Zoho can even do small analytics of your business, showing the leakage of resources. You can also use it as the time tracker for your projects.
Other features:
Minimalistic and nice design of the app. The very simple and classic interface does not distract the eye.
The possibility to conduct transactions globally.
There is no limit to the number of transactions, unlike in some other apps.
You can share information not only in the original format but also in PDF format.
The disadvantage is that constant use of jeepers in the background of the app can strongly and quickly reduce the charge of your battery.