Seniors are not as lazy and powerless as many people tend to think. In fact, by keeping fit, you can stay healthy and mobile for quite a long time. Moreover, yoga and sports help in the prevention and treatment of many diseases.
So, pay attention to these best fitness apps for seniors. Try them all or choose the one that fits all your needs.
Gentle Exercises for Seniors
Gentle Exercises for Seniors app offers a special workout program designed for seniors who want to maintain their health and fitness. Experience a unique approach to exercise that combines elements of boxing, aerobics, and cardio exercises.
They will help to stimulate the cardiovascular system, strengthen muscles and joints, increase flexibility, and improve coordination of movements in users of retirement age. The main advantage of the app is its accessibility and ease of use.
The training program is divided into several levels of complexity, which allows each user to choose the optimal level of load. Beginners will be able to master basic exercises, and more experienced users can increase the complexity of training.
The app offers a huge library of different workouts that can be selected and performed anywhere and anytime. Workouts are presented in the form of video tutorials with detailed instructions on how to perform the exercises, which helps to reduce the risk of injury and overload.
The app automatically generates statistics of workouts, the number of repetitions performed, and the duration of exercises. You will be able to see your progress, track your achievements, and plan future workouts based on the data and statistics.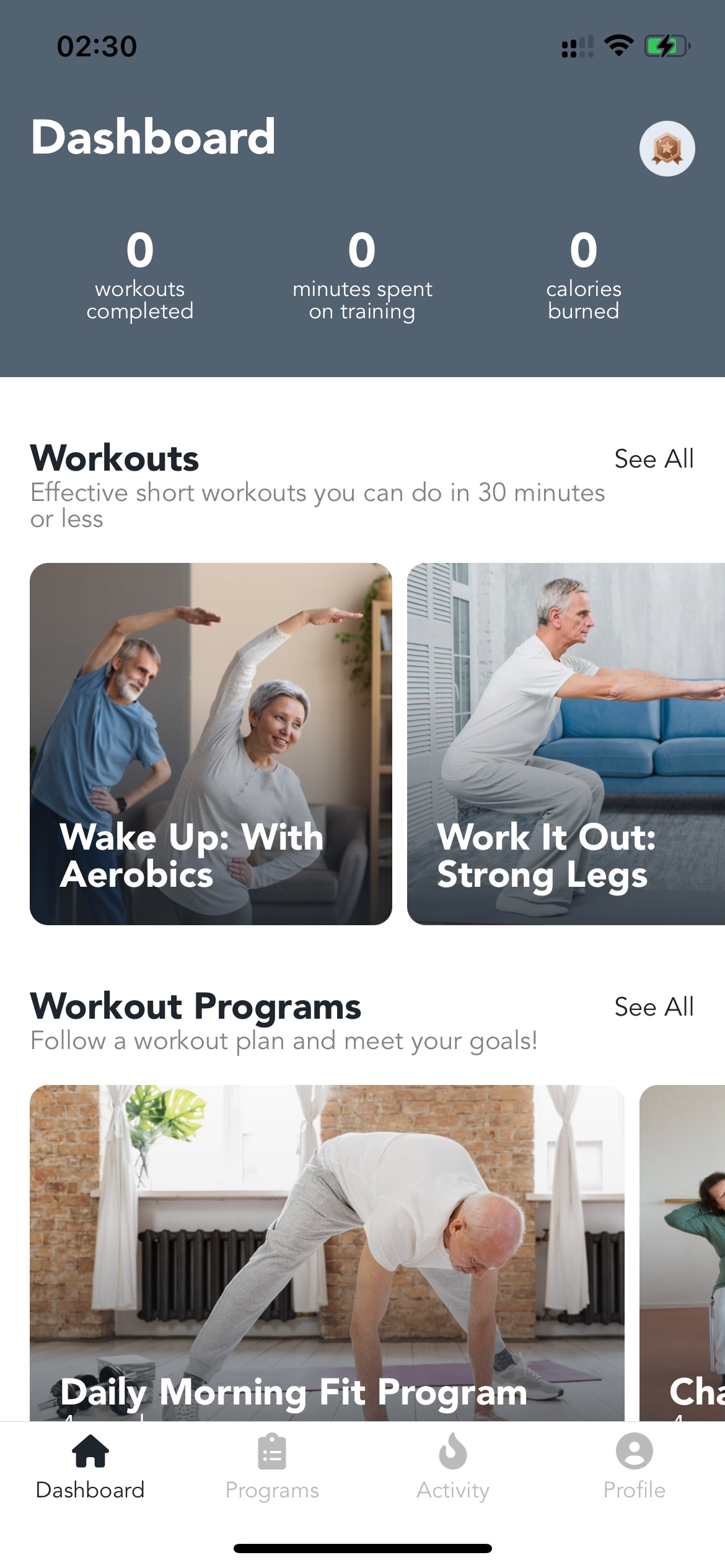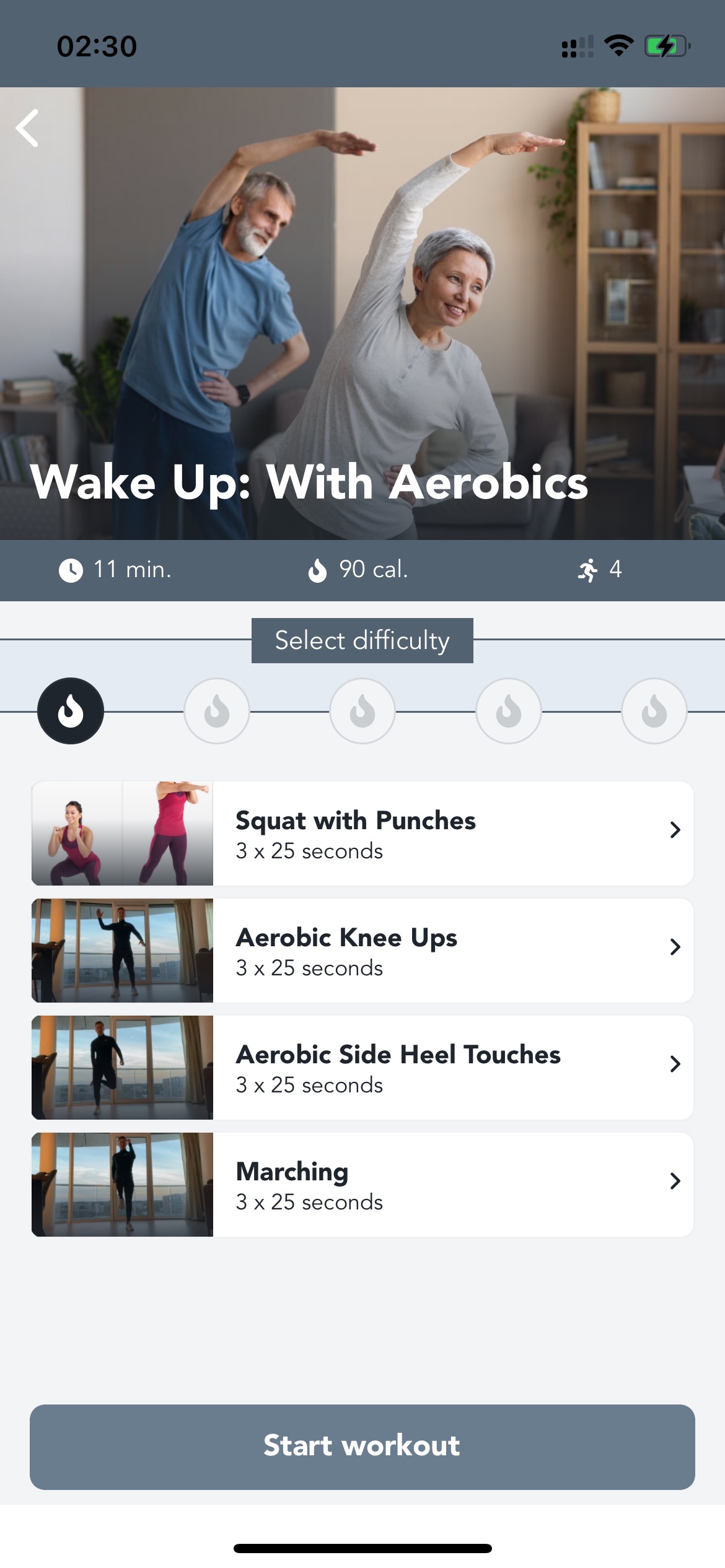 Do yoga, Pilates, light fitness, or just cardio workouts to improve your cardiovascular system. Choose a plan for a couple of days, a week, or a month to stick to your workout regimen. Track your exercise and calories burned in your profile.


You may also like: 6 Best Paced Breathing Apps (Android & iOS)
SENSALUS. Senior Fitness
SENSALUS. Senior Fitness contains over 100 unique workouts and programs created by professional trainers and physiologists. Regardless of your fitness level, you will be able to find a workout program that suits you. You can also create your own workout and track your progress with easy-to-use statistics.
Keep track of your diet with a food diary. Enter all the foods you consume and get recommendations on how to make your diet more balanced and healthy.
The app uses your device's sensors to track your physical activity. It analyzes the number of steps walked, distance, calories consumed, and other metrics to help you plan your workout more effectively. It also offers a wide selection of healthy recipes, designed as recommended by nutritionists.
You can find recipes in different categories to help you become even healthier. Share your workout progress with other users so that they too can go to the app and keep track of their health.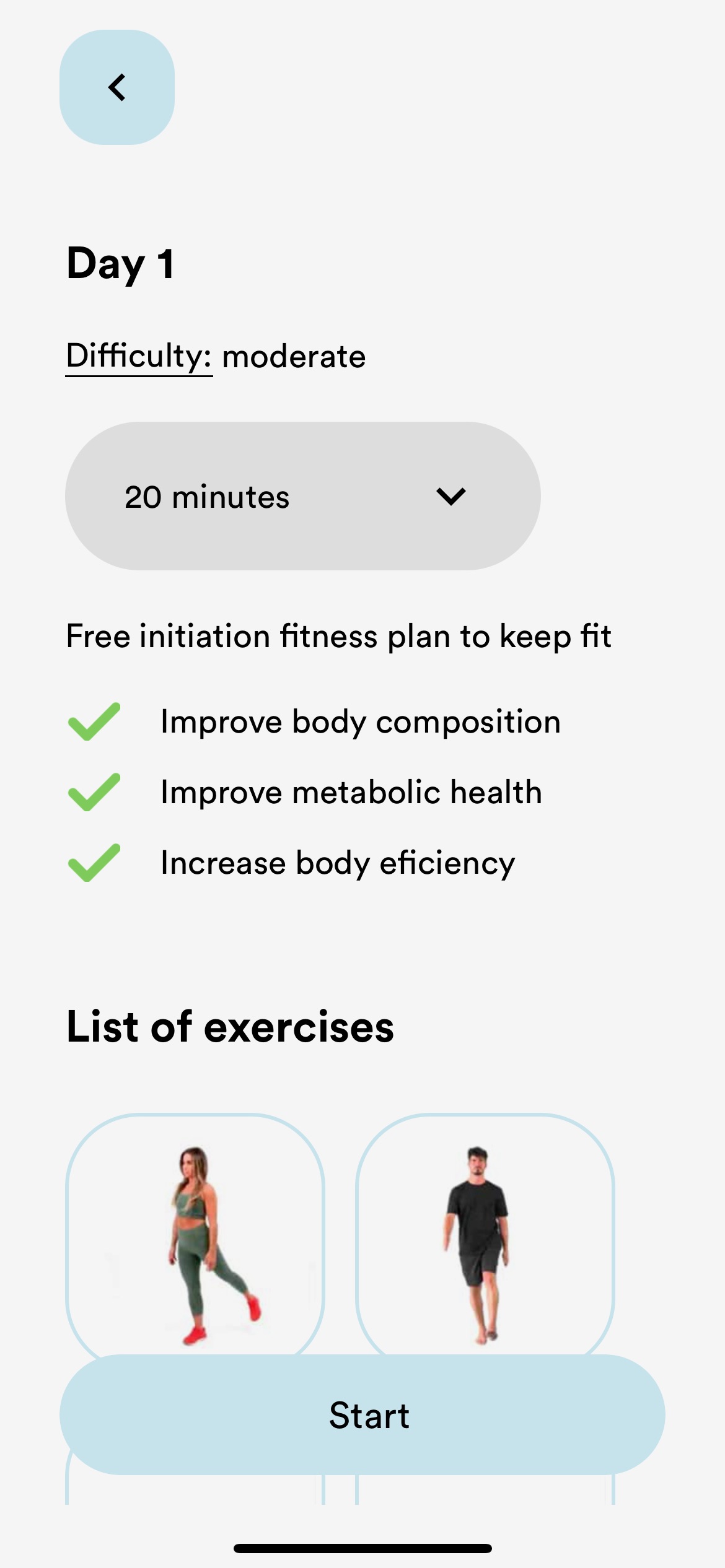 You can choose workout plans of any intensity, including relaxing meditations. Control not only your figure through exercise but also track your sleep patterns and the balance of rest and exertion levels.


Over Fifty Fitness
This is a unique mobile app designed specifically for people over 50 who want to stay healthy, fit, and active. With the help of exercises designed by professionals, you will be able to strengthen your muscles, increase flexibility, and stay healthy even after the age of 50.
The app offers you a variety of different workout programs, each of which targets specific muscle groups and areas of your body. One of the benefits of the app is the availability of personalized workouts that you can customize according to your abilities and needs.
You can choose a workout program depending on your goal and level of desired physical activity. The workouts are presented in video format with a step-by-step explanation of each exercise and the correct technique to follow.
Even if you are new to fitness, you can easily follow the workouts and achieve good results. The built-in tracker allows you to track your workouts, physical activity, number of steps, and calories burned during the day. This way you can track your progress and gradually increase the intensity of your workouts.
The collection of workouts is updated weekly and replenished with new programs, so you will be able to try new unique exercises aimed at different muscle groups.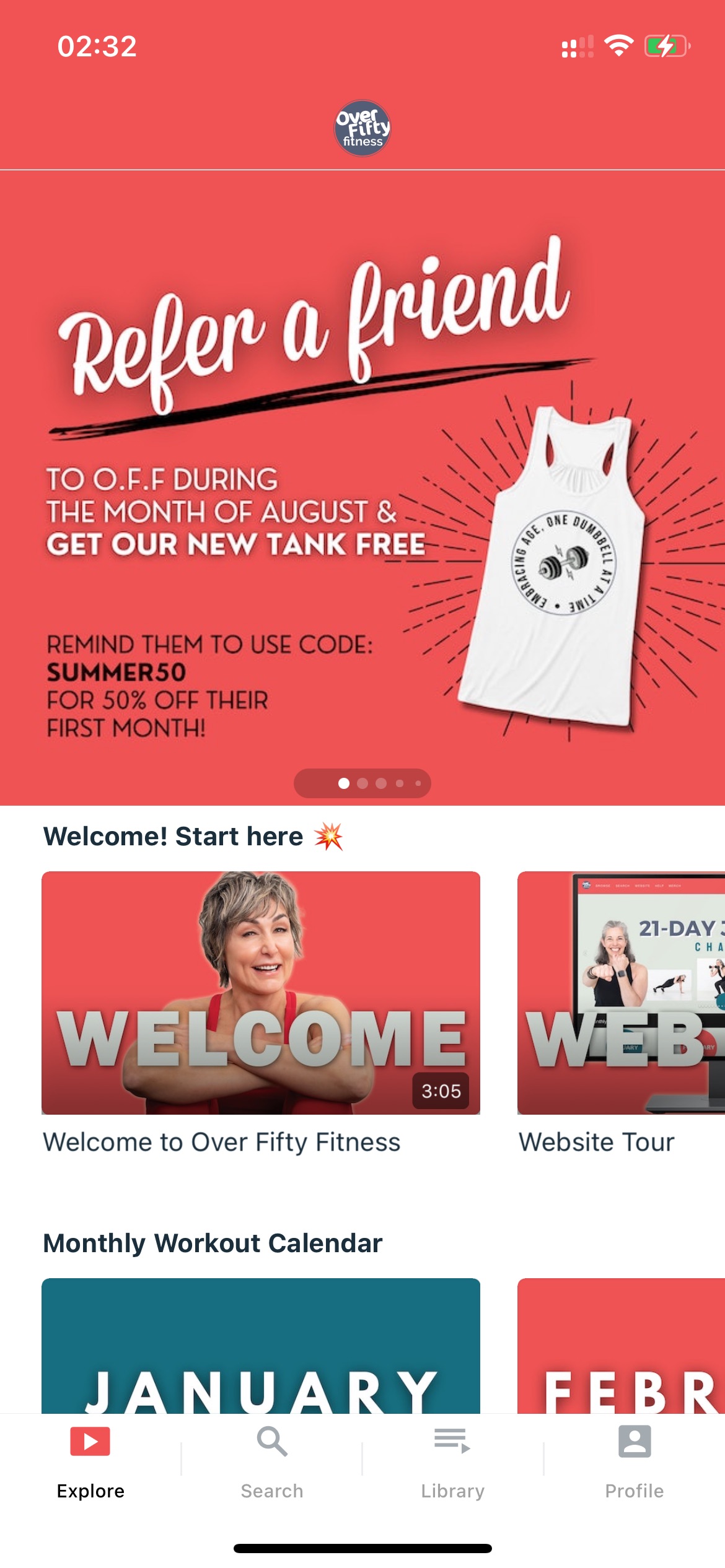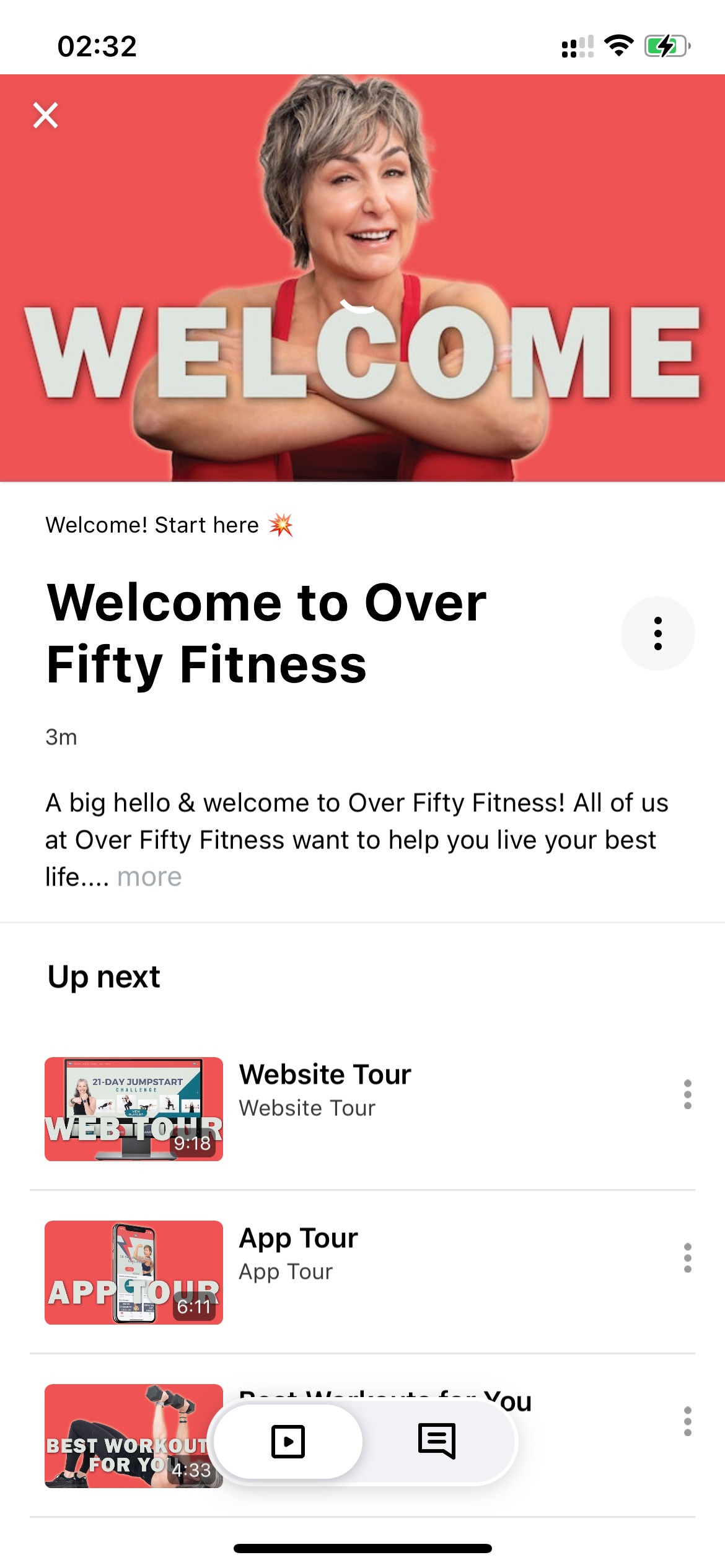 The app has a user-friendly interface that allows you to quickly and easily find the workouts you need, view your progress, and statistics, and customize your personal settings. Set daily reminders that will help you not to skip workouts and stick to your regimen.


Workout for Over 50s – Seniors
Workout for Over 50s is a mobile app that offers a wide range of fitness exercises specifically designed for seniors. It helps to improve fitness, coordination, stretching, and endurance.
The app offers simple and accessible exercises that can be done at home without special exercise equipment. Here you can choose from a variety of training programs developed by experienced trainers specifically for seniors.
All programs have different intensities and durations so that each user can choose the right ones according to their physical condition and fitness level.
View step-by-step instructions and correct techniques for each exercise. This makes it easier to understand the technique of execution, reduces the risk of injury, and ensures a safe workout.
Users can customize their workout program by selecting specific exercises, and adjusting the time and duration of workouts according to individual preferences. The app has a workout progress tracking feature that will help users see achievements over a certain period of using the program.
Check the statistics of your workouts, including exercise time, number of reps performed, and calories burned. The workout programs are presented for free, so you can go through them an unlimited number of times. Choose the right workouts by duration, difficulty level, and intensity.
All programs are categorized, so you can quickly find the right one and start training. Data about your achievements and completed exercises will be stored in your personal profile.


Exercise Plan for Seniors
Exercise Plan for Seniors is a mobile app designed for people of age to help them stay healthy and fit. This app contains a large collection of fitness exercises that have been developed by professional trainers, taking into account the age and physical abilities of seniors.
The app offers a variety of exercises to improve the flexibility, strength, coordination, and overall physical condition of elderly users. Thanks to its simple interface and clear functionality, the app is accessible to all users.
All exercises are accompanied by detailed instructions, which are available in both text and video formats. This allows users to correctly perform each exercise correctly in terms of technique. Also, the instructions and step-by-step explanation of each exercise help to avoid injuries while performing them.
You don't need any special equipment to perform workouts from the app, so you can exercise anywhere and anytime you want. Customize the workout mode based on your individual goals, fitness, and preferences. You can stop the program to rest and continue it at any time.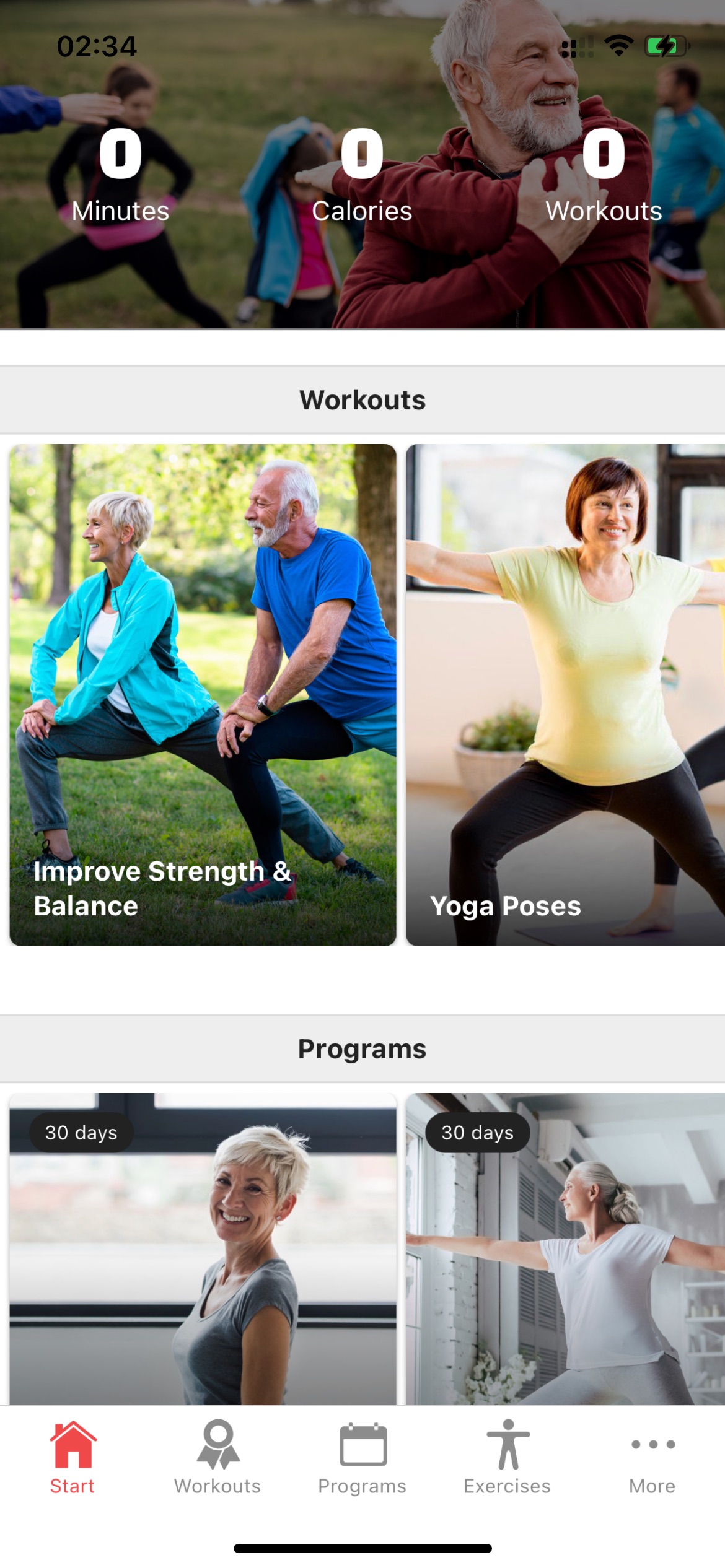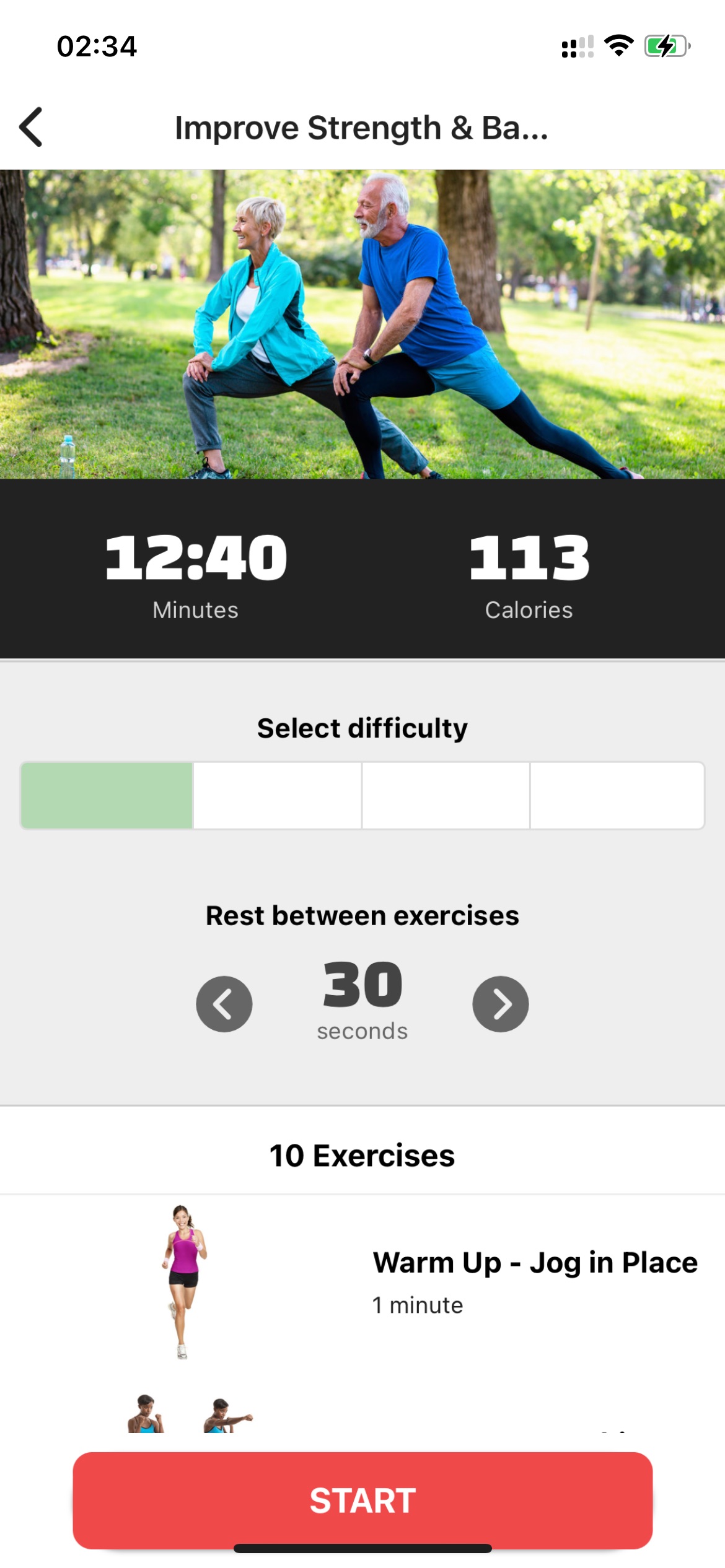 The built-in tracker allows you to track the amount of time and calories burned that you have spent during physical activity. All data, including statistics, will be stored in your personal profile. So you can review your progress at any time and share your results with other users.


You may also like: 7 Free Cougar Dating Apps for Android & iOS
Yoga for the Young at Heart
Yoga for the Young at Heart is a mobile app designed for seniors who want to start practicing yoga. Together with a personal trainer, you can learn yoga in your home. This app is developed by a team of yoga experts, so all exercises will be safe and even healthy.
The program is designed to take into account the age features of users and individual preferences. Here you can easily find the necessary training programs and exercises thanks to convenient navigation.
The app has a simple and concise design with categorized exercises. Workout programs have different levels of difficulty, which you can choose according to your individual body and fitness level. Choose any program that will suit your personal preferences and capabilities.
The app offers a large number of video lessons, where trainers explain each exercise in detail and show the correct technique of execution. You will get detailed instructions on breathing and poses for each lesson. Thanks to this, you will be able to perform the exercises safely for your health.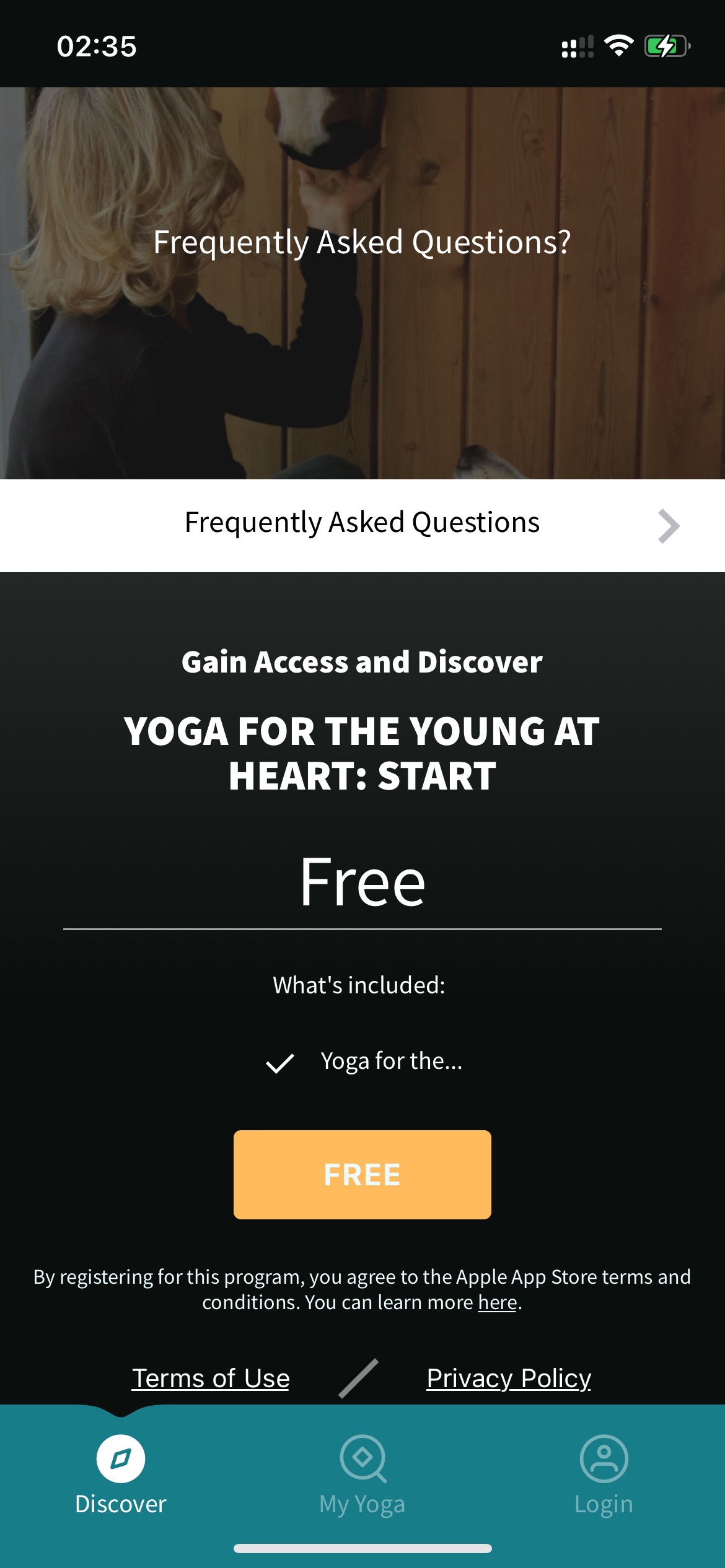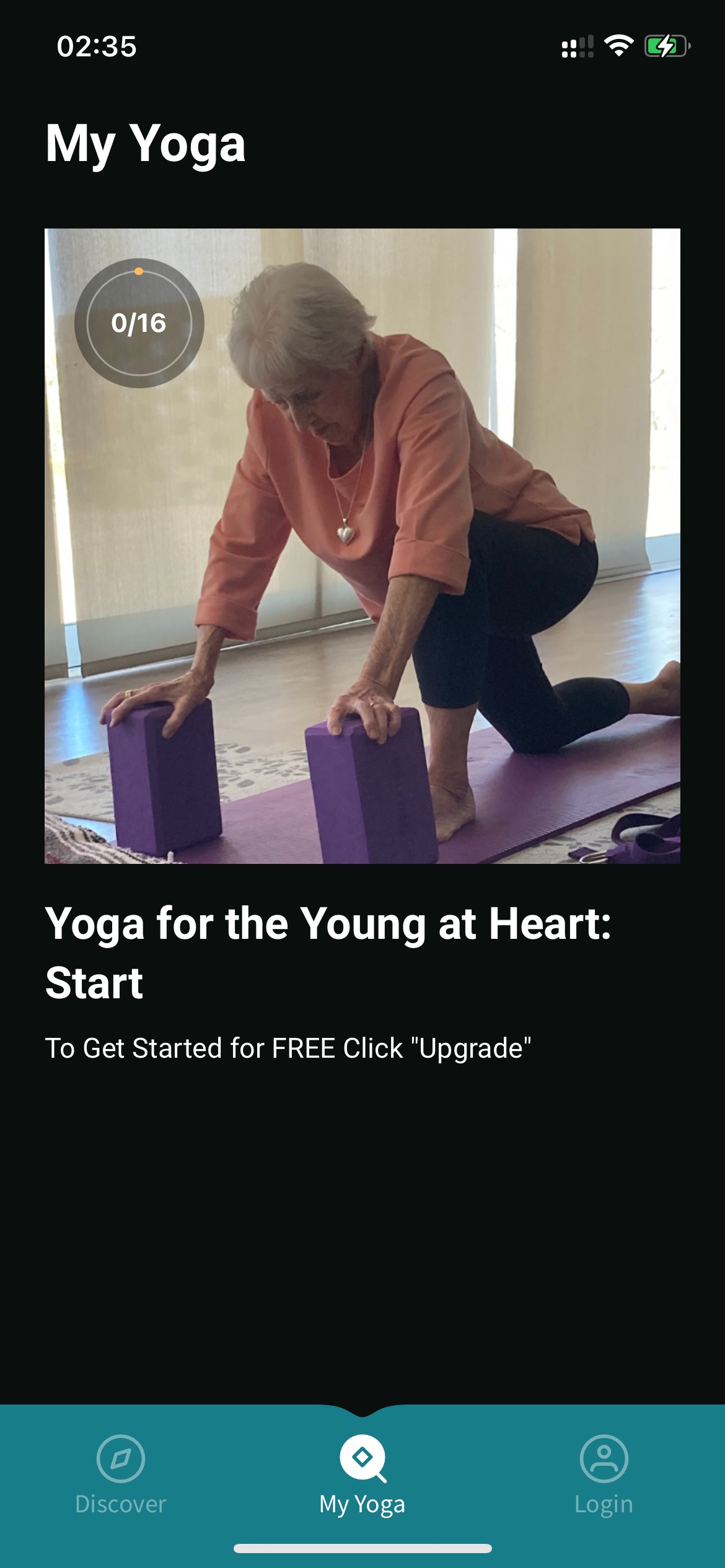 You can also save the video lessons to learn yoga without an internet connection. Choose a program for weight loss, improving flexibility, stress relief, and other purposes. Each program will be available for free, so you can use it an unlimited number of times.


Training Plan for Over 50s
This is a mobile app for people aged 50+ who want to stay physically active, improve their health, and stay fit through sports. This easy-to-use app offers personalized training plans that can be customized according to your abilities, goals, and needs.
Exercises from professional trainers help strengthen and develop weak muscle groups, improve flexibility, coordination, and balance, as well as improve endurance and reduce the risk of injury. Here is a large collection of workouts that include cardio, strength training, stretching, and even relaxing meditations.
Choose the right workout based on your fitness, goals, and time. Video instructions are added to each exercise to show the proper technique for performing the exercise. This will help you perform the exercises correctly and safely.
Track your workout progress and various statistics: number of reps performed, workout time, calories, and exercise progress. There is a built-in calendar that allows you to track your workout progress for any amount of time. You can view your personal achievements and workout results in your personal account.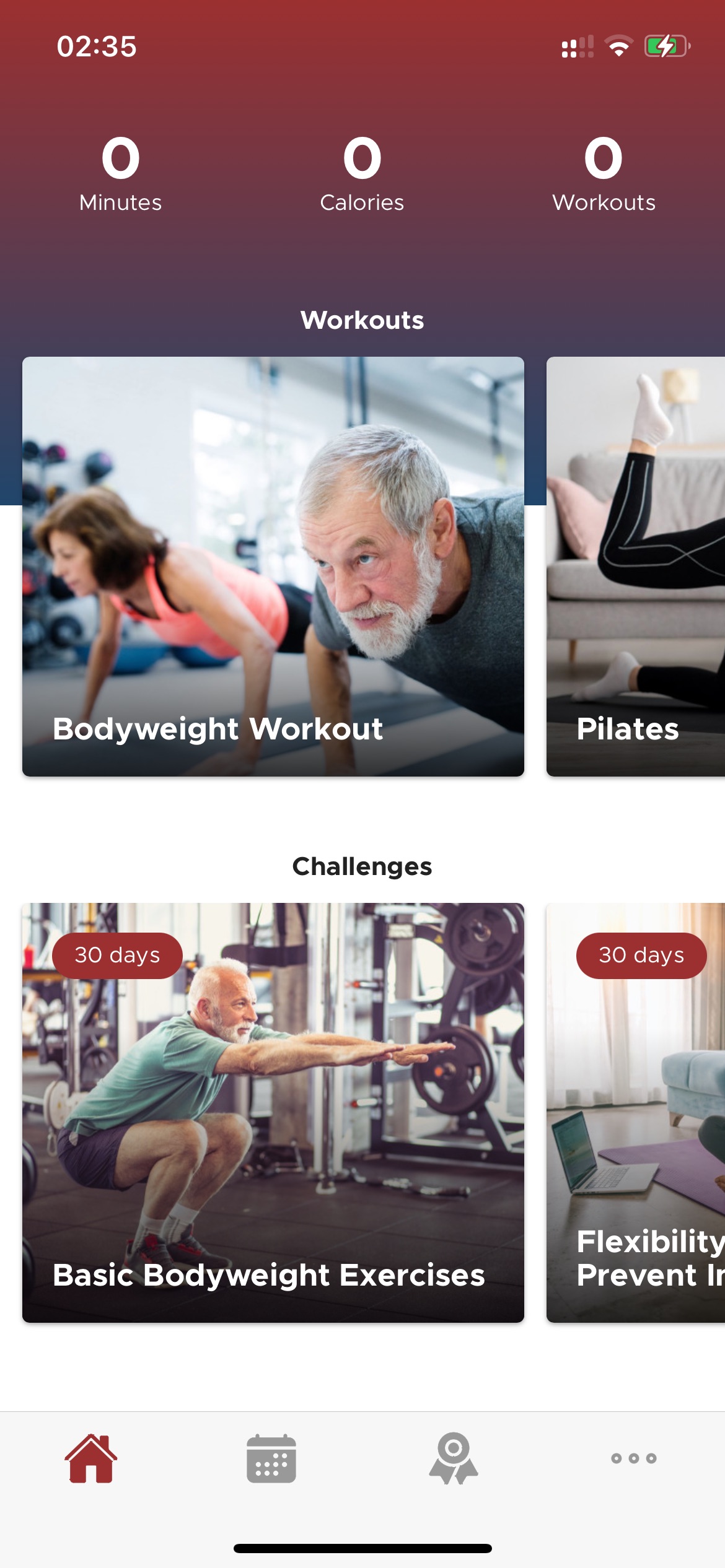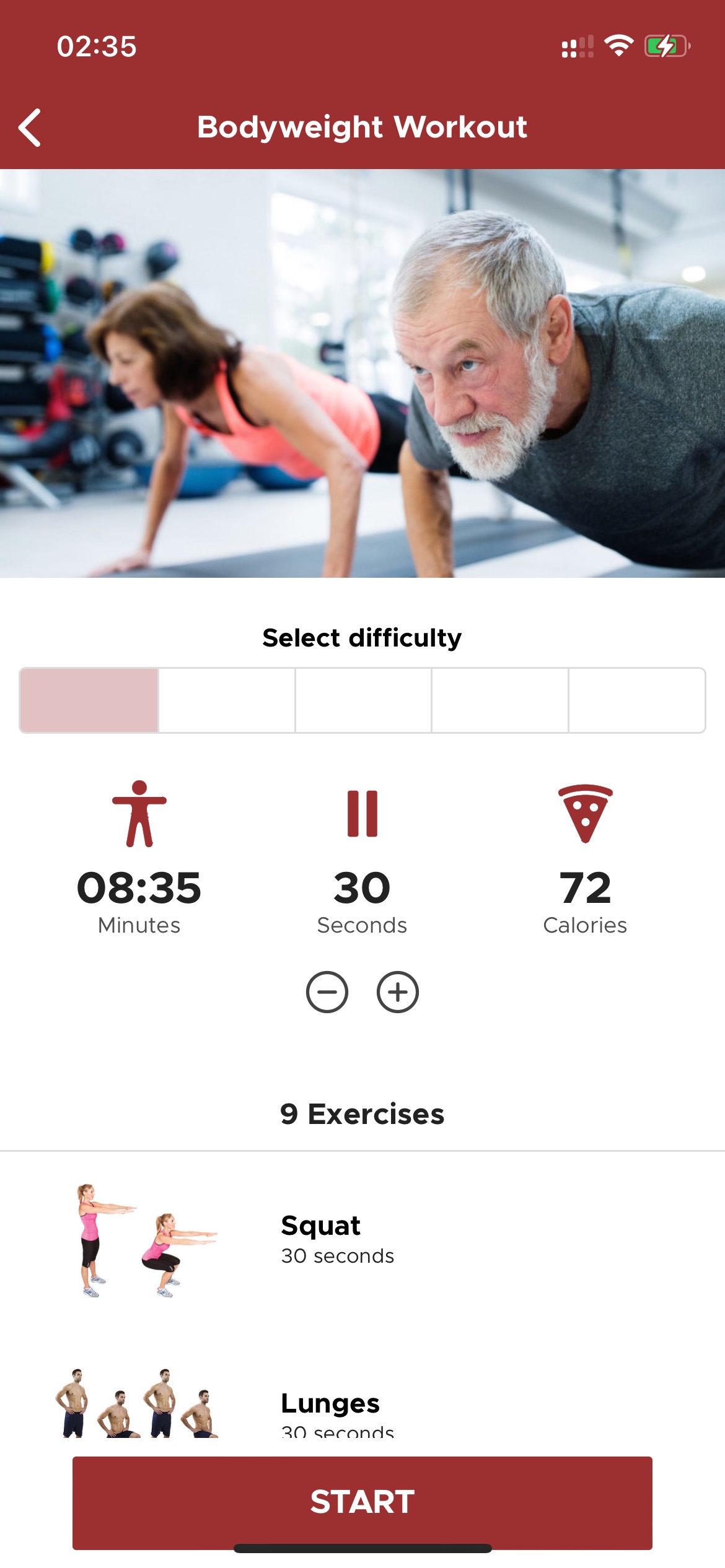 You can share your statistics with other users on social networks or any online platforms. Choose weekly or monthly programs to follow the regimen and maintain the required level of exercise.


Chair Exercises
Chair Exercises is a mobile app for seniors that will help you improve your fitness, increase your stamina, and develop weak muscles. This app offers unique exercises designed by professional trainers.
Each exercise is accompanied by step-by-step instructions and video lessons that allow you to train without risk to health at any age and with any physical preparation. There are programs for the development of different muscle groups, so you can choose any plan that suits you.
You can also choose exercises with different duration and number of repetitions. You won't need equipment and exercise machines to perform the workouts, so you can work out at home even at your desk. There's a large collection of low-impact seated workouts to keep you fit at any age.
Choose relaxing yoga-like workouts that allow you to improve your flexibility and stretching even without prior experience. The app's simple and clear interface makes it accessible to different age groups of users. You can use the workout programs for free without any restrictions.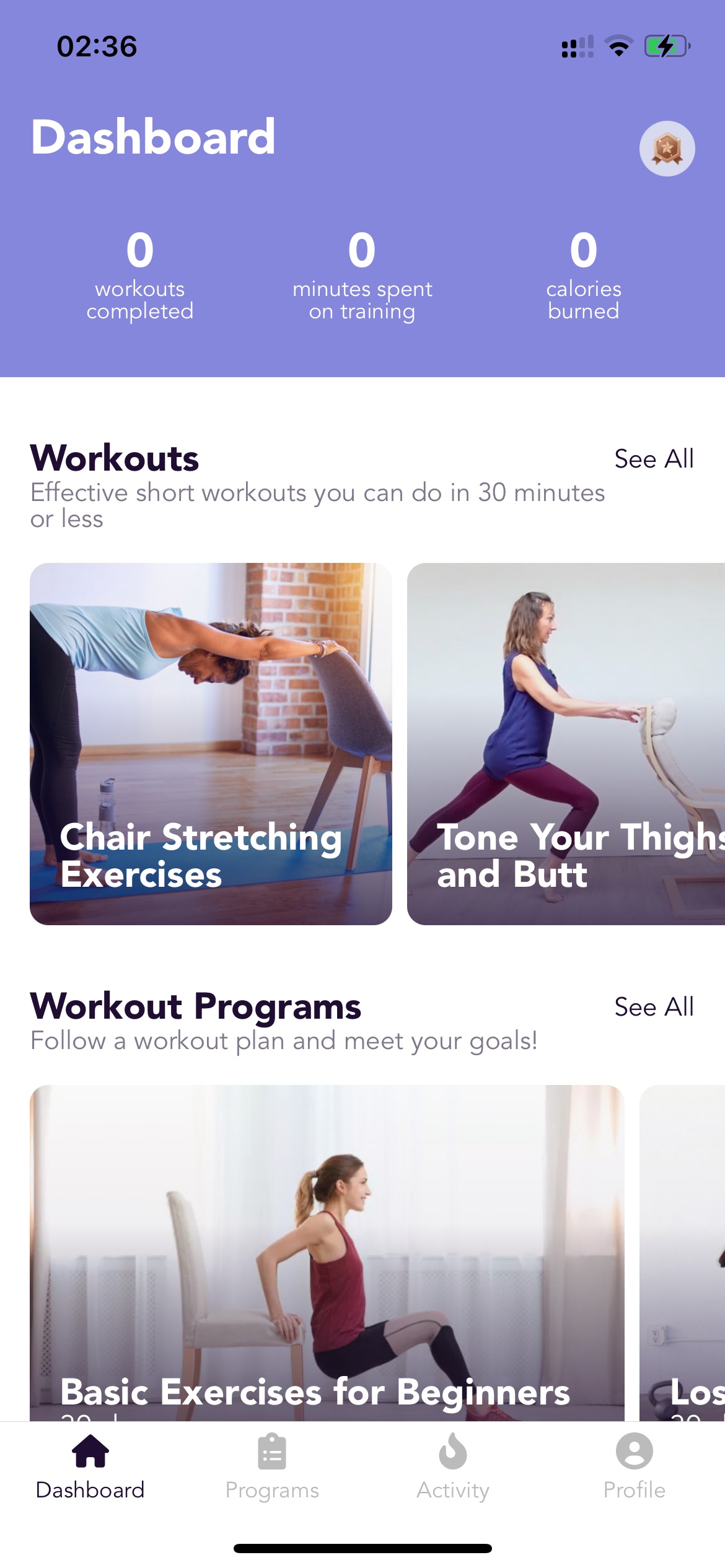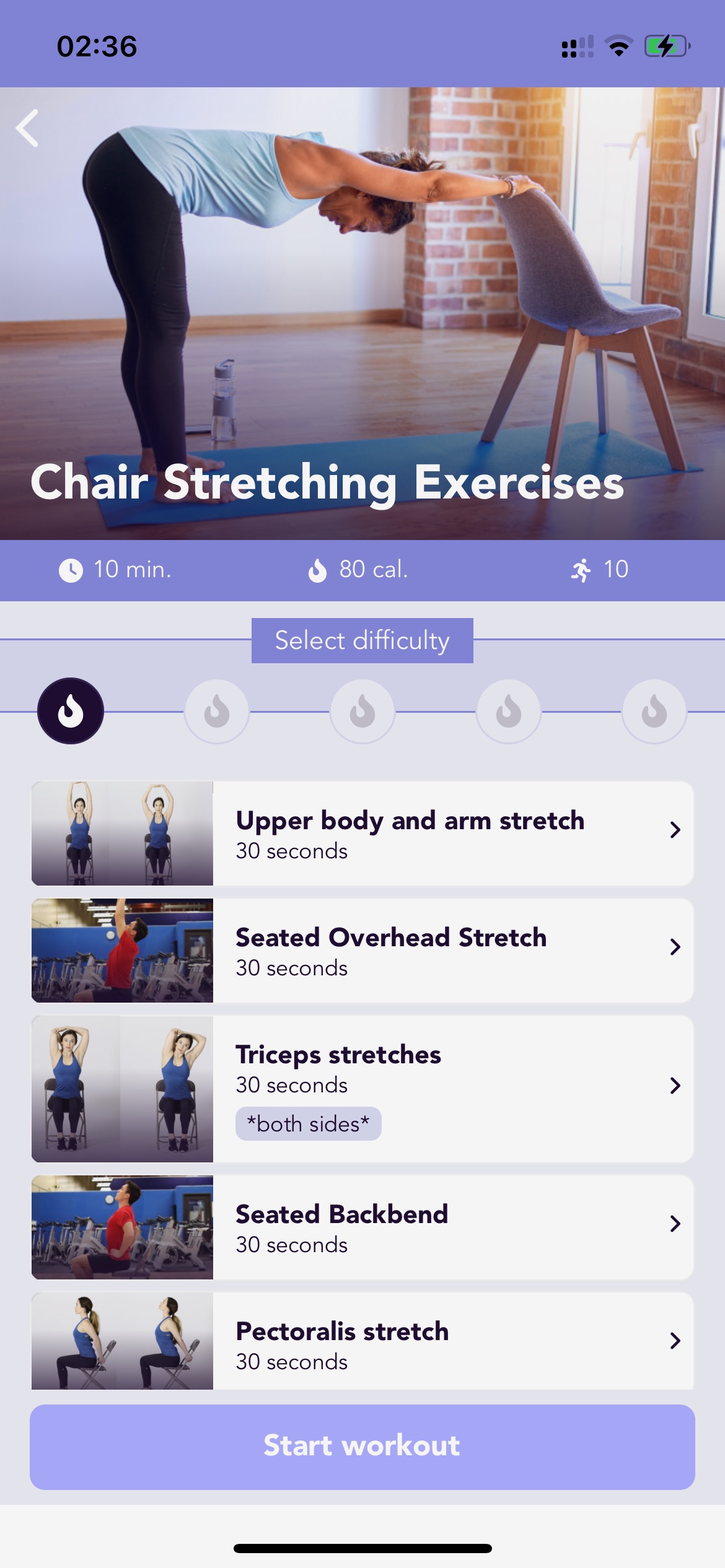 The only thing you will need is an internet connection. The app has a built-in timer, with the help of which you can track the amount of time spent on training. Each program is accompanied by information about the calories burned and the muscle groups it affects.


You may also like: 11 Free Household Chore Apps for Android & iOS
Workout for Older Adults
This is an innovative mobile app for older adults that helps you stay fit even as you age. You have access to free and convenient workouts that you can do at home or anywhere you want. Choose from a variety of workouts designed for seniors based on their fitness, body characteristics, and individual needs.
Here you'll find workouts designed to strengthen muscles and improve flexibility, balance, and coordination. The programs in the app can be selected individually for each user by duration, number of exercises, intensity, and level of difficulty.
The simple and concise interface provides clear navigation for users of all ages. Sections and menus are structured for maximum usability and quick access to workouts and other features of the app. Workouts are designed with seniors in mind, so you can find programs with minimal strain on muscles and joints.
The exercises are also accompanied by detailed step-by-step instructions, so you can perform the exercises correctly with minimal risk of injury.
The app allows you to track your progress and view the number of completed workouts. Keep track of your workouts, number of exercises, and calories burned to keep you fit. Set daily workout reminders and notifications so you don't miss exercises and maintain your regimen.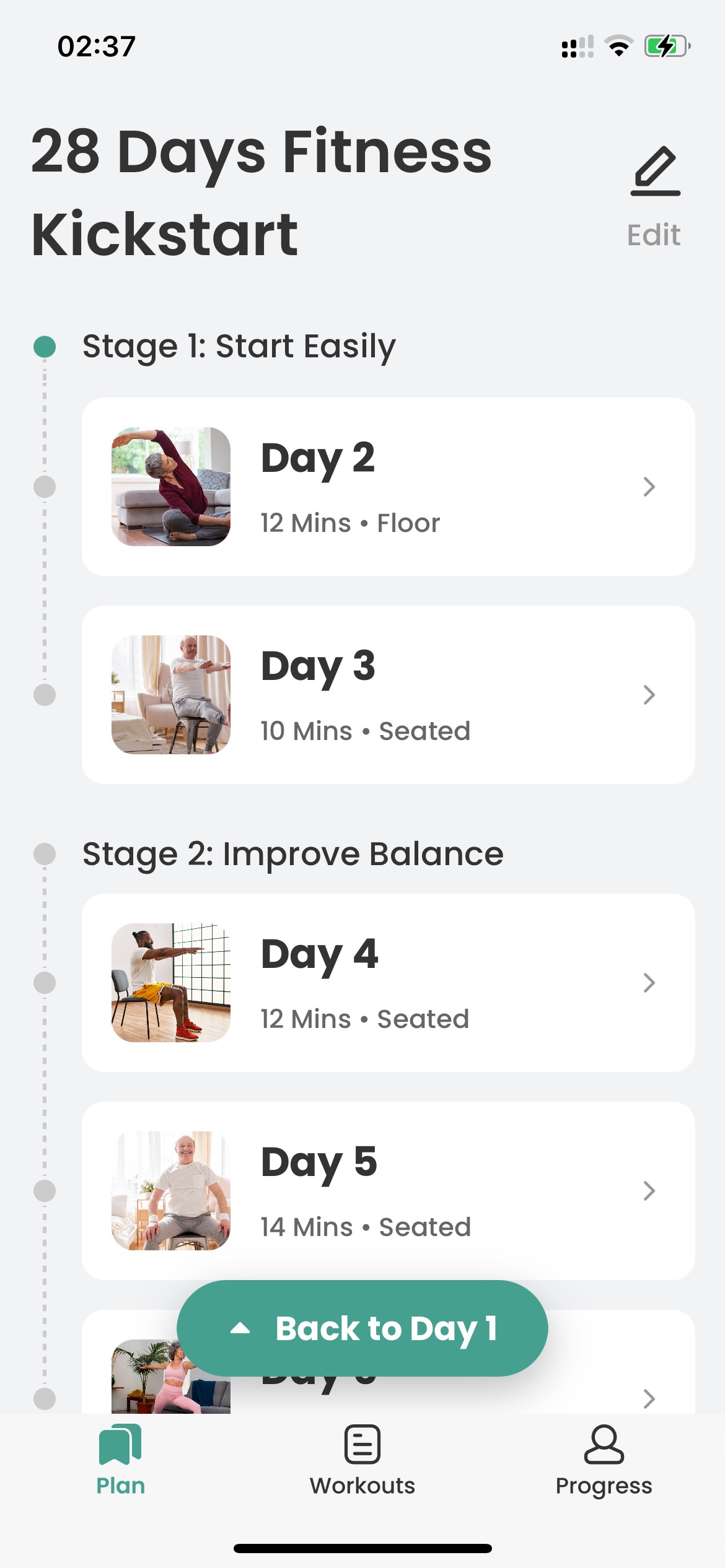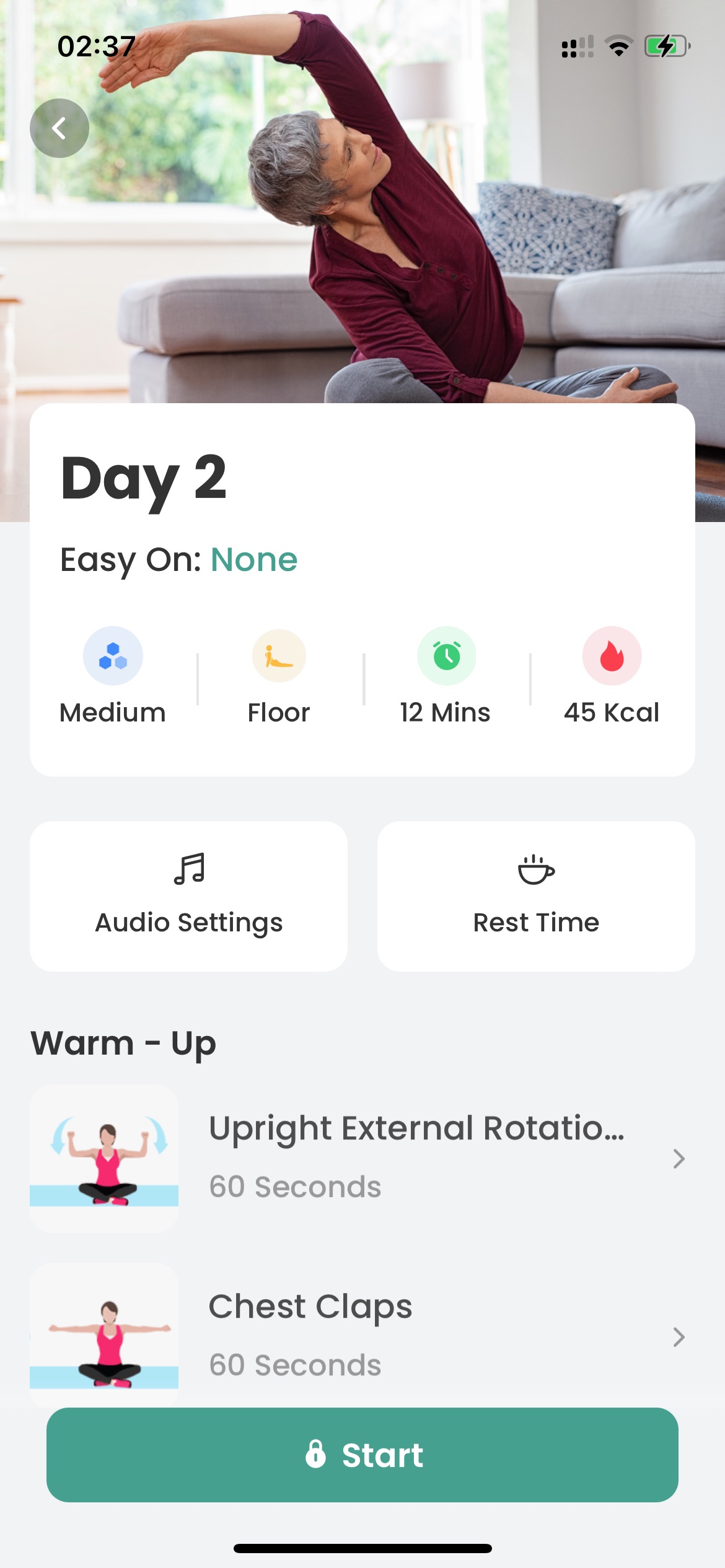 Take part in the app's community to find like-minded people and connect with them on common topics.