Using a special app may provide daily reinforcement and accountability while challenging an addiction. However, if the problem is too serious and can't be tackled by just using a smartphone service, we strongly advise seeking professional help. Here are the best free addiction recovery apps.
In addition to this article, we also recommend you to check the best therapy apps that take insurance in the USA.
I Am Sober
I Am Sober is generally one of the best apps of the type since it combines the functions of a countdown and a community builder at the same time. It helps to establish a new routine without bad habits and connects a user to people who are coping with the same problem and supporting each other on their way.
As for visualization, the app has an in-built tracker that shows how long a user has abandoned this or that routine. A reminder with goals and motivational quotes that make it easier to keep in mind why all that is needed so much accompanies the tracker.
At the end of the day, there's a field to take some notes about feelings and experiences throughout the day. One can note what makes it easier to battle addiction and write down useful patterns and techniques.
Another motivation tool is the in-built calculator that shows how much money one has already saved by quitting the addiction. There are also milestones of 1 day, 1 week, 1 month, etc. that help visualize the progress and enhance the feeling of a valuable achievement.
A user can note one's experience and take photos directly in the app. Then one chooses whether to share it with the community or keep it just as a personal reminder.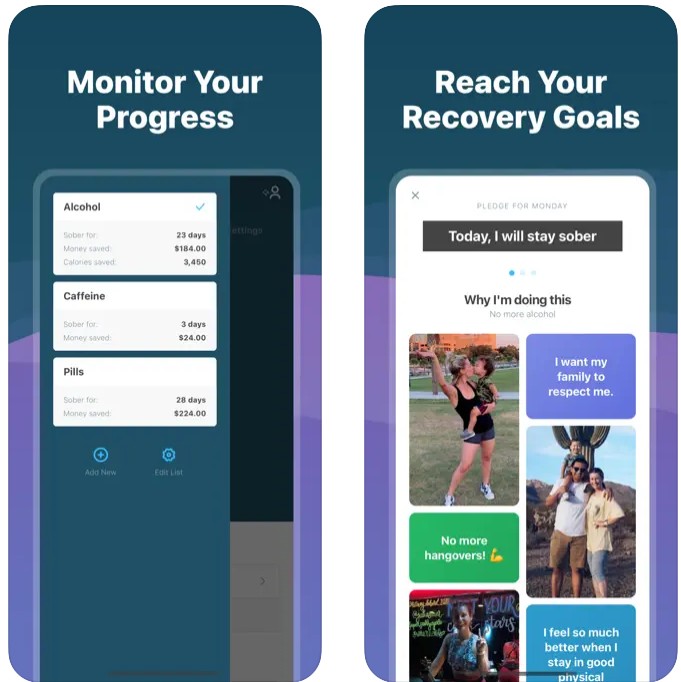 You may also like: 7 Best apps to beat porn addiction
Twenty-Four Hours a Day
Recovery needs a lot of spiritual maintenance and support. The aim of Twenty-Four Hours a Day is to provide such things by offering users daily quotes to reflect upon, meditations, and prayers.
Twenty-Four Hours a Day was created in 1954 and was initially a printed book. The app's description says it sold more than 6.5 million copies all across the globe, and now it is available online.
The service's major options to choose from are thoughts, meditations, and prayers for each day of the year, as well as the Twelve Steps, and the Twelve Traditions of Alcoholics Anonymous, the Serenity Prayer.
To see what the app has prepared for each day, a user has to press the "Today" button. There's also an opportunity of bookmarking favorite practices and meditations, as well as search all through the base of reading to find something in particular. To be sure one won't miss the daily meditation, there's an option to set a notification.
If there's something memorable that the service has offered once, all that is necessary to do is to jump to a particular day using the calendar. To adjust the font to a comfortable level there's also a special button.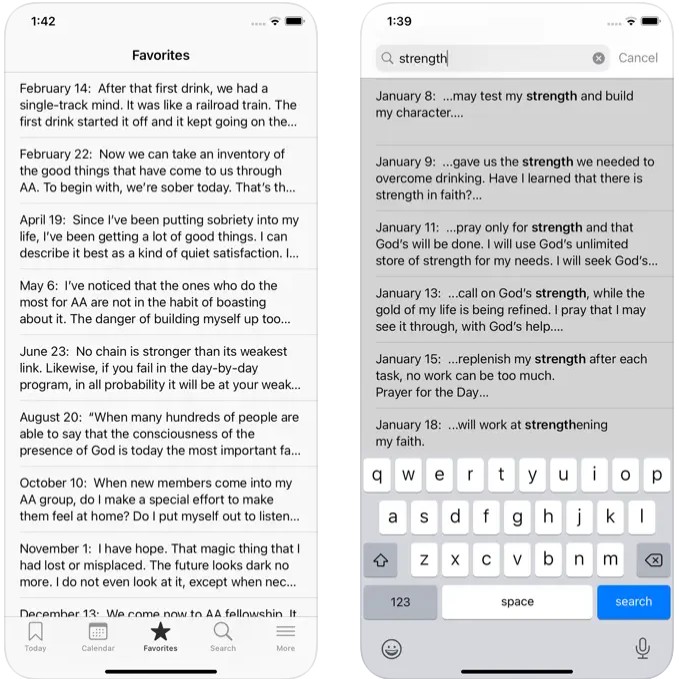 SoberTool – Addiction Recovery
SoberTool – Addiction Recovery is very simple to use. It is a basic counter that calculated the days without drinking, as well as the money saved.
The app gives a user small rewards and achievements for maintaining the habit of a healthy lifestyle. To help people continue their progress, SoberTool sends notifications reminding them to read a small motivation quote sent daily.
What is special about this service is a powerful search engine that guides a user through a whole base of quotes and advice. The only thing to do is to describe how one's currently feeling – and the app will lead to a suggested suitable answer.
Sometimes it's very hard to define whether addiction is provoked by external reasons, however, most of the time they are exactly the main trigger. Answering a small question within SoberTool will help to build a better understanding of true inner feelings that cause some kind of craving for distraction.
After a user has answered all the questions about one's current emotional state, the app suggests some piece of reading relevant to the problem.
It's said it's vital for transferring into recovery thinking. The service also contains a chat forum where people can share their personal experiences, ask for advice and get support from other members of the community.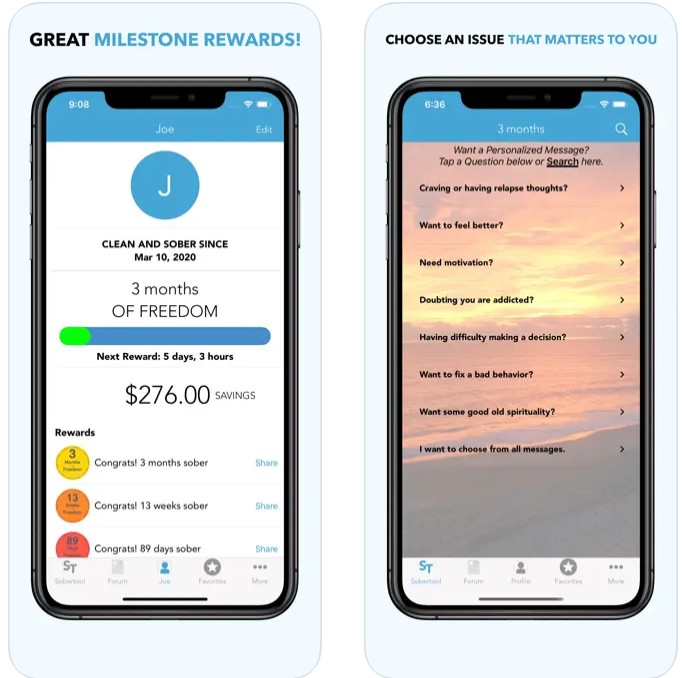 Nomo – Sobriety Clocks
Nomo is one of the simplest services of the type since it is a basic tracker of the number of days after the user has abandoned destructive addiction behavior. It is possible to create as many clocks as needed to track every single habit separately and establish strong control over all of them.
However, though Nomo is specialized in the clock function, it doesn't mean it doesn't have anymore. A user can discover many more, such as an encouragement wall made by the community, clock sharing if there's a wish to share one's achievements, finding a partner via the app, and private messaging. Sharing the progress is also possible via Facebook or Twitter.
Some little games and exercises are aimed at refocusing people's attention. Another interesting method is to send a notification to the partner if it's hard to concentrate and not give in.
There's an opportunity to have a lot of partners at once and to share feelings with all of them if it's necessary. A standard money tracker is also included in the app. The service is confidential and can be additionally protected by Face/Touch ID or by a secure PIN.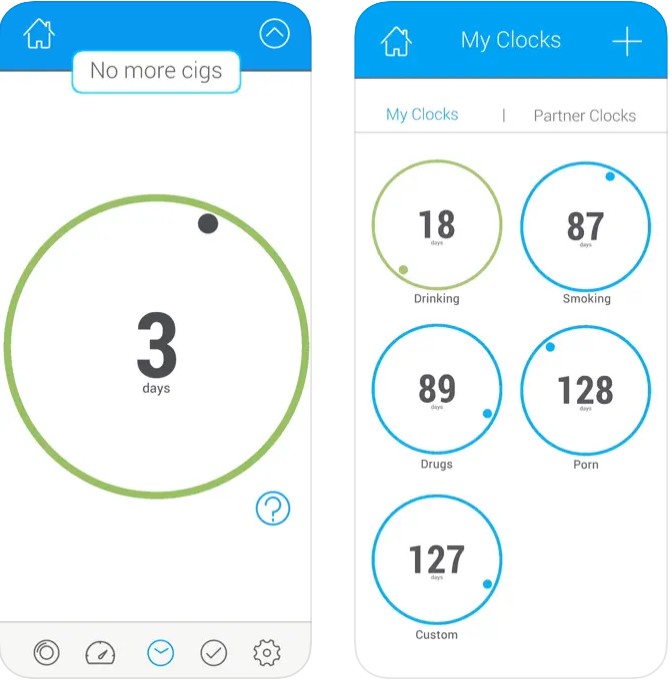 Sober Grid – Social Network
Be a part of a sober revolution – what an encouraging motto to invite people to Sober Grid, a social network, and community dedicated to connecting sober people in both the local area and all across the globe.
Sober Grid allows its user to find partners and chat with them via an in-built messenger. Users can send each other photos and videos. Sharing personal experiences with the whole community is also available: a user can post photos, videos, and messages to show one's progress.
As the app works like a network, every user has a personal profile that one can customize with photos, writing more personal information about hobbies and interests, and so on. There's also an opportunity to use an add-friend function and save people to favorites, as well as to track who visits one's profile.
As for the counters, the app includes a calculator to keep track of how many sober days a user has achieved. Badges are given for every milestone of the way, such as one week, one month, and so on. The app sends a small form to fill in every day to track not only the days but also to track mood and to write some pledges daily.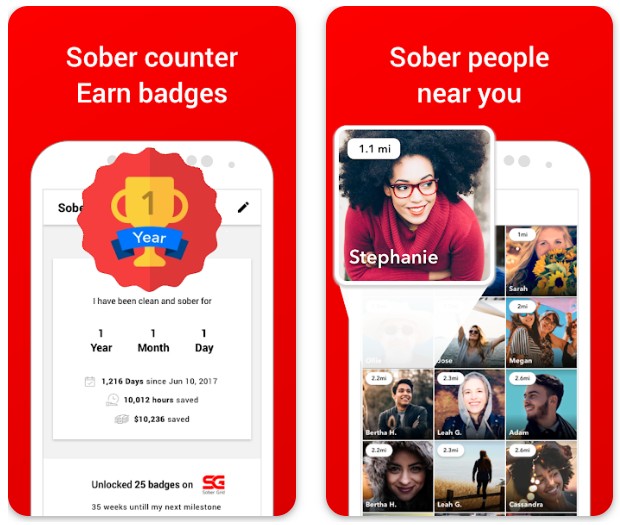 AA 12-Step Toolkit RecoveryBox
As it comes from the name, AA 12 Step Toolkit RecoveryBox is an extensive set of tools aimed at maintaining healthy habits and supporting recovery. The tools are based on the contents of the book "The Big Book of Alcoholics Anonymous", as well as on other recovery services.
One can read a whole book via the app since it contains a full-text version. There are also seventy additional stories taken from both editions of the book. Reading from the A.A. meetings is also included.
The service has a twelve-step guide that describes how to work with the offered steps. There's also a recovery detailed statistics calculator that helps track the progress.
The app allows users to create connections and access them via an instant in-built chat. To write down emotions, feelings and thoughts one can use the My Notes feature and create expressive gratitude lists with Emojis. All that can be shared with the community.
No to get distracted one can set daily or hourly notifications to stay conscious. As for the issues of confidentiality, the app can be protected by a PIN lock or Touch / Face ID functions.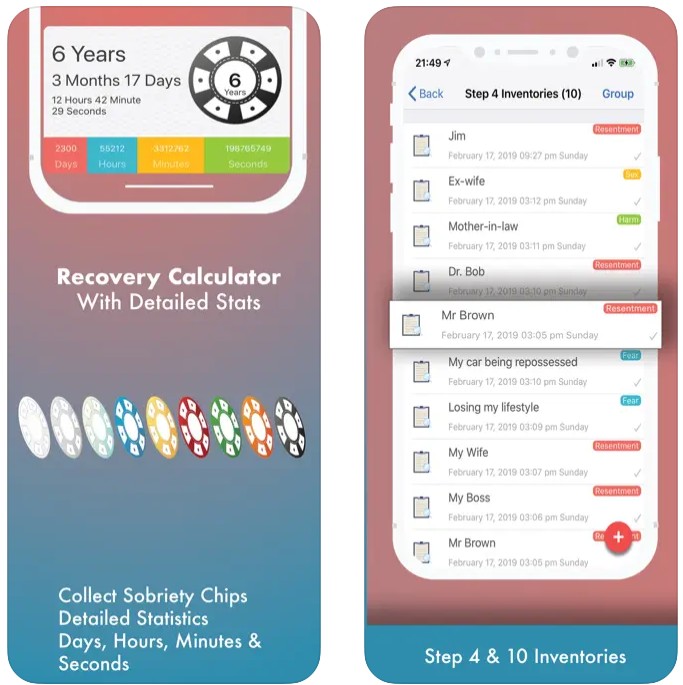 You may also like: 9 Best Alcoholics Anonymous Apps for Android & iOS
AA Joe & Charlie Big Book Work
Another book was issued by Alcoholics Anonymous with the name Joe & Charlie Big Book Study. Among that the app also offers a complete guide of twelve steps and many other tools such as listening to speakers, watching workshops, and reading daily quotes and personal stories to take in a recovery process.
The app has the voice-over of the Big Book so it is an audiobook now convenient to listen to. Listening offline is also available in case there is no access to the Internet. After listening to the book a user may opt for the rest of the functions, such as meditations.
Joe and Charlie offer meditation as rather a powerful tool, so the service contains a sleep and meditation timer. There's a database of relaxing sounds. A user can create a playlist of featured tracks, including taped texts, mediation guides, as well as binaural beats, and brainwave trances.
The app contains more than 2.4 million sound combinations. All the material comprises more than 100 hours of content and more than a thousand audio tracks. For a user to keep the journey daily motivational notifications are designed and accompanied by impressive artwork.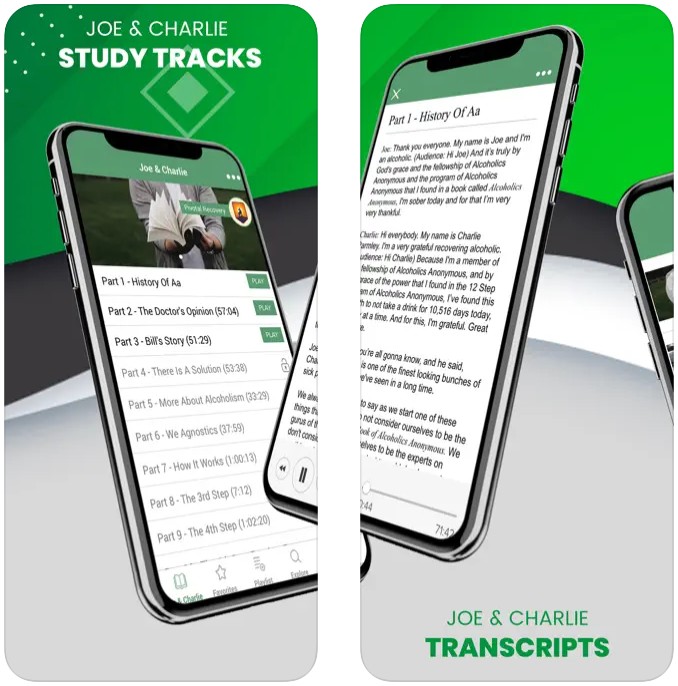 Simple Habit Sleep, Meditation
We have already started talking about the beneficial sides of meditation for recovery processes. Then let's now move to the next app of the type – Simple Habit Sleep, Meditation.
High-quality sleep is a significant factor in regulating almost all parts of human life, as well as addiction recovery. The app offers guided meditations and sleep sessions. It also sends a daily motivational quote on the user's device.
A small five-minute meditation provided by the service each day is recommended as a good first step to start the journey and improve one's life, diminishing the amount of stress and enhancing the quality of sleep. Mediations are also available offline.
As for motivation, the app has a large set of tools to support a user such as access to coaching content, a lot of tasks to increase motivation, as well as a special "Mindful Minutes" feature.
With the help of the service, it is possible to build a strong and convenient meditation system that will help to transform daily rituals into a habit. Meditation can tackle the issues connected with stress and sleep very effectively, enhancing self-awareness and self-confidence at the same time.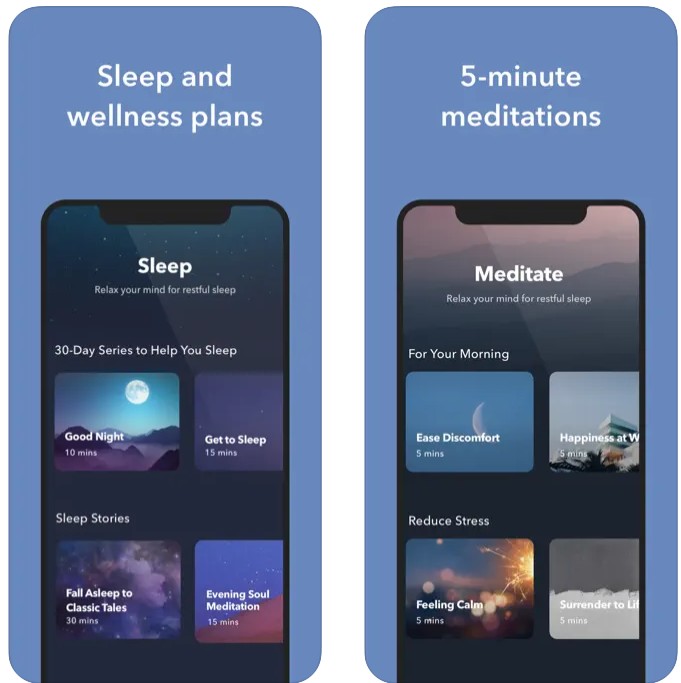 Sober Time – Sober Day Counter
Now let's get back to more specialized apps and day counters. Now we are discussing here Sober Time – Sober Day Counter, which is said to be a nice counter with a lively and supportive community.
The main feature of the service is that a user can set as many counters as one wants. We have already commented on this function, so let's see what else Sober Time offers.
It has some already formulated in-built goals, but one can add one's own goals to the app as well. One can also describe their journey in detail by using a special note section. A standard money-tracking feature is also available.
To make the whole process more appealing, there's also an opportunity to customize the app by choosing designs and background pictures. Sober Time sends daily motivational quotes and messages. It also has a community that a user can access via a forum.
There a user can share one's achievements and get advice, as well as support from other members. As we can see, the number of functions is similar to that of the majority of the services of the type.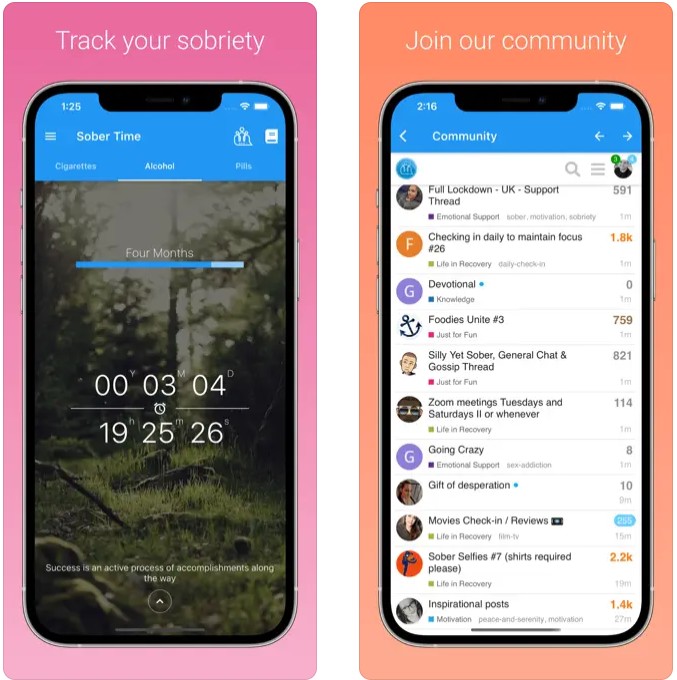 I am – Daily affirmations
And now we are back with affirmations and motivations. Here we have I am – Daily affirmations service. Though affirmations are rather a controversial instrument in managing people's life and leading them to better results, they are still claimed to work and benefit the process of building any new healthy habit.
I am is an app that provides an extensive base of affirmations that help increase self-awareness, as well as recognize negative thoughts and self-doubt patterns holding people back from reaching their goals, whatever these goals are.
The trick is to focus the energy on the target one want to achieve, whether it is building a healthy habit, staying positive, achieving life and career goals, and so on.
The app works the following way: it sends a notification containing a positive affirmative quote to the device.
A user can click on it and see it on a big screen, as well as choose a suitable background to make it even more appealing. It all looks very aesthetic, and one can share the pictures and quotes they like the most or add them to favorites.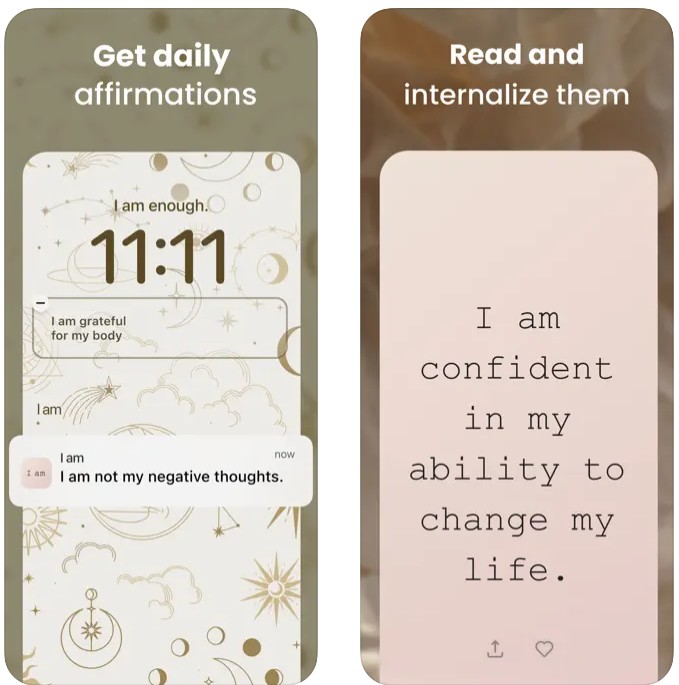 You may also like: 10 Free apps to stop drinking alcohol (Andoird & iOS)
BetterHelp – Therapy
Not every situation can be tackled by using apps only. Sometimes there's a strong need to contact the specialist – and that's exactly what BetterHelp – Therapy does.
It's said the service contains an extensive database of licensed therapists with over twenty thousand specialists in a wide range of areas. The app a user to contact the specialist and find the option that suits the client's needs.
The communication is built private and conducted via a secure messenger. There's also an opportunity to participate in educational workshops and group seminars.
The specialists listed are accredited psychologists (Ph.D./PsyD), clinical social workers (LCSW), licensed professional therapists (LPC), marriage and family therapists (MFT), or those having similar credentials.
It's said that all of them have been certified by their state professional board and have completed the necessary education, exams, training, and practice.
The app offers a new user to fill in a questionnaire form and after that, the system will start the search for a suitable specialist. There's a messenger field where a client communicates with the therapist as well as schedules live sessions.