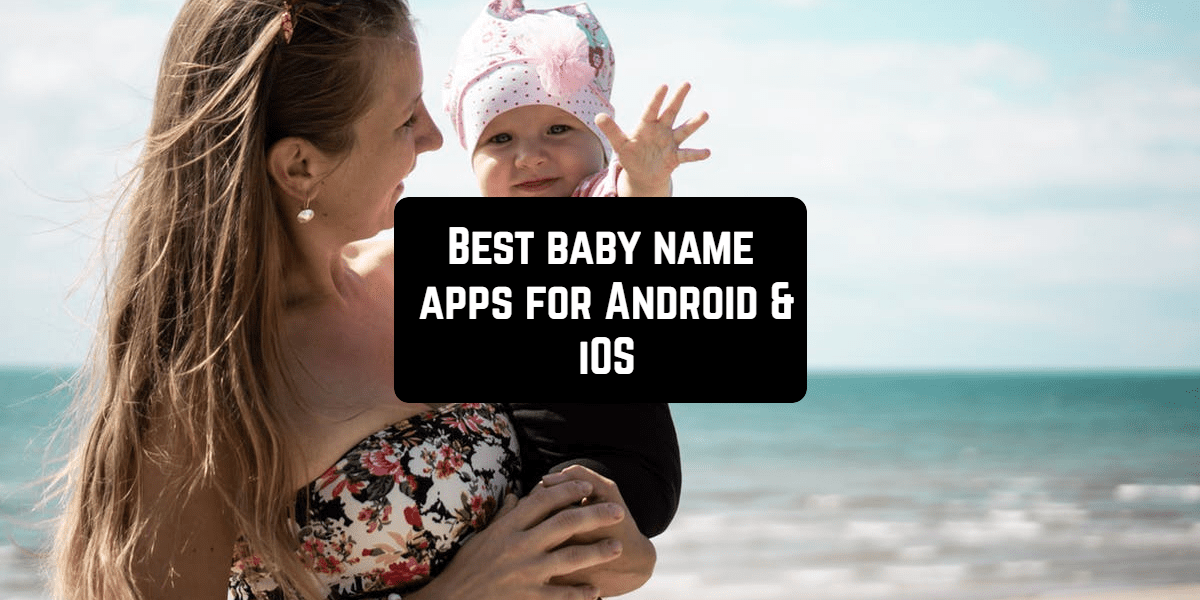 There are a thousand tales about how the name can form the destiny of a person. Well, if you decide to name your child like Nord-West or Apple, you can say there are going to be special cases in their lifetime. Would you prefer your kid would be a center of attention or had a regular name to avoid confusing situations?
Eventually, people create regular names not just for fun. On the other hand, we are more than 7 billion people on Earth now, how do we stand out?
Well, you can lower the level of stress of choosing the name of the future child by just installing the app. Get one from this list and you will find all the name background in a minute and find a perfect name for you baby which everyone will agree on.
Baby Names by Nametrix
This is one of the most popular apps for choosing a baby's name. It includes thousands of names and there are specific filters how you can browse through them. You are able to view all the names suggested in a catalog, sort by theme, gender, choose unisex names, sort by popularity, trends or, sort even by historical popularity. Once you chose, for instance, sort a name by popularity, the diagram will show you how is this name popular in a particular country of the world. It will even show you, which political party has more of these names.
In case when you're not sure how to even read the name you see, there is the audio pronunciation of each of them. If it's not your first child, you can get recommendations of the names for brothers or sisters. You can search for names by tags, for example, "unisex" or "Biblical". You will see professional leanings of a name, whether more men or women have this name. What is more, you can save your favorite names and then the app will provide you with recommendations of other names.
Baby Names by Nametrix is chock full of real-world, data-driven analysis unrivaled by any other app, website, or book. Just choose a name and see the analysis of it – where it's mostly used, what is the history of its origin, what are other variants of it or which names are currently the most popular.

You may also like: 7 Best pregnancy & baby birthday announcement apps
back to menu ↑
Baby Names – Boy and Girl
More than 50000 names – is it enough for you? From all the places in the world, any type, and background, any meaning, and history. Baby Names – Boy and Girl' helps you discover the perfect names for your baby! Check which names were popular throughout history. Study the pronunciation and the origin of a name, apply different filters to find a perfect name matching your preparations and wishes.
You can rate the names you liked and save them to your favorites. What is interesting here, you can even view a map of a name's origin. Sharing names is also possible, add, rate, and share your own baby names with the My Names feature. Pay attention to the design of the app – probably it will mostly be liked by the female audience. It is decorated in soft, violet colors with graphic fonts.
back to menu ↑
Kinder – Find Baby Names
There are a lot of myths, tales, and beliefs on how the name of a person determines his or her destiny. These may be the rumors but the psychological aspect is real for sure. This app was created to remind you once more about the importance of it. Kinder is designed to help you and your partner find that name, the name that fits your baby but also the man or woman they grow out to be.
In Kinder you are going to find a wide variety of names from which you can choose the one you like the most. Use the filters to find a name matching the vision of both of you and get the recommendations of other names similar to that one you found. The library of the app has more than 18000 names, so you have the space for imagination for sure.
By the way, it is possible to say that here the design could aim both male and female audience. It is more minimalistic, with not so vivid colors, painted in greyish tones with casual fonts. The descriptions of names can seem lean comparing it to the previous apps, but it works if you have already done the background research. Moreover, you and your partner can both log into this app and then choose a name separately and see, if it matches.

back to menu ↑
Baby Name Together
For those who are tired of an eternal fight with a spouse on choosing the name for your future child – this app is a great solution. Now you can be done with scrolling through the websites and acquiring the headache. Turn the time of the torture and exhaustion to the fun time when you are, for example, traveling. You and your spouse can create the list of the names you like together.
And when the list is compiled you have the opportunity just to discuss what you have selected, with an overview of everything. Link your accounts using the emails address, choose the names you love or hate, see the names you both like. The database consists of more than 30000 names – more than enough to choose from.
Find useful information on given names: meanings, statistics per country, popularity and average age as well as celebrities with that name. When you are not sure about the pronunciation, just listen to how it sounds in the app. You can also access the parent community in the app and consult with others about names (yes it is a big deal). Moreover, there is a forum dedicated to parents to discuss topics related to names, pregnancy, and parenthood.
If you feel lack of inspiration, turn to the community for it – there are people from Italy, Canada, Mexico, Thailand, Australia and more – they will probably give you a hint. Besides, stay tuned for the news in the baby names world. There are also additional cool features in this app, such as name lists including original, cool, unusual and unique boy or girl names, 2 interfaces available, cloud storages and much more. By the way, no adds!

back to menu ↑
LILLYDOO – Baby names: Swipe, like, match!
No one denies the importance of a name choice for a future baby. It is almost never easy. In this situation, you and your partner can have completely different views. He or she wants your child to have a Spanish name, you want an Indian one, then with which letter will it start, end and so on… Well, you can find a compromise with this app now.
First of, the database of the app includes more than 12000 names, Swipe through our name generator possible girls' and boys' names and learn more about their origin and meaning. To specify the results and get the more precise name, use filters to sort. Dig deeper and discover rare and unusual names.
Connect with your partner to stay updated about what names do you both like. Each time you find a match, it is saved to a separate list. You have the total access to that list. You can always add or delete the names from all over the world from your list.
The design of the app applies to both audiences, so everyone will discover something they like in this app. Minimalistic approach, cute pictures, no extra elements – just concentrate on the name search.
LILLYDOO is a baby care brand founded in 2015. To meet the needs of modern parents, LILLYDOO offers stylish baby care products you can rely on.

back to menu ↑
Babyname
This is one of the most popular apps for choosing the right name for your baby. Connect with your partner in the app and make a hard choice together. Then again, create a list consisting of the names you both liked thus you won't forget it. The database of the app is truly impressive – more than 30000 names. Find out about the meaning of the name when you chose it to avoid misconceptions.
In general, this app will be more appreciated by people who don't like any extra filling in the apps and go straight after what they came for. Babyname doesn't include much of background information about the names it contains, though, the database is really huge. No extra options will stand on your way and mess with your search. It is super simple here – you chose names and see which one match.
The interface of the app looks funny and that's probably why many couples will find it funny. Not a bad way to attract users. Swipe right to like a name and save it to your favorites. The icon of the app immediately catches your eyes as it depicts the egg on an orange background.

back to menu ↑
Baby Girl Names
Obviously, you can tell by the name of this app, it specifies on the girl names. Well, when you already know the gender of your child, it makes sense. Here you will find, which names have been popular in the US during the last 6 years and maybe find several names you like. Also, you can check the origin of a name, find out about its meaning.
The statistic shows that Emma, Olivia, Sophia, and Isabella have been extremely popular during the last years. Or, if you type the names, starting with "A" letter, you can see, which ones origin from Germany, which ones from Portugal, which ones from Arabic countries and so on. You can also see the rating of the names and mark them with a star as your favorites. The app synchronizes with your social networks, so you can share your lists with your partner or with friends, or – just tell the whole world about it.
Not so much here it is possible to say about the design – developers could work better on it. The frames are painted in classical "girly" pink colors, the whole interface is simple, to the extent that it looks "raw". However, for people who are into the 90s style – probably they will find it attractive.
back to menu ↑
Baby Names by BabyCenter
Choosing the right name for a baby can be pressuring and stressful. As a parent, you recognize all the responsibility which will come to you after you give a name to your child. Will he or she like it? Will it suit them? Will it match their temper? Well, no one actually knows answers to these questions and no one has ever been completely happy with their names but at least you can make your attempts easier with this app.
Make the whole process more fun by sharing names with your partner and discussing it. Baby Names by BabyCenter is the only baby name generator that combines powerful data analysis with names gathered from millions of BabyCenter members. While you are scrolling through the names, you're finding out and starting forming your preferations. Maybe you will discover something you didn't know before. Or you can use the help of the app and it will suggest a name on its own.
An easy swipe right or left lets you quickly rate each name, providing our baby name finder the data needed to offer you more baby names you'll like. When you see a name that's one for your shortlist, swipe up to save it. You can choose a boys' or girls' name, or both. To connect with your partner, use a special code. Now when you tap on a name in your list, you can see more details on the name and change your rating for it.

back to menu ↑
Baby Names and Meanings: FREE
It happens that some people decide literally from their own childhood which name they would like to give to their future child and they really stick to it till they have their own children. But of course, not all of us are like that. However, when the pregnancy comes the issue of choosing the name is inevitable.
The app has a huge database of the names from more than 70 places of origin. It is a name-finder for all the newborn babies all around the world. This new android baby app for baby names is to help every parent to find the right name for newborn babies.
You don't have to go completely nuts on finding the right name, just check which names are currently the most popular in the US. Or in other countries, such as Australia, France, England, Mexico, Ireland, Spain, India, and Sweden.
Click on the star icon to save the name to your favorites. Among more than 20000 names you will definitely find a special one. Fast scroll button will help for a quick great move through this best name selector list. You can search for any types of names, they can be Godly Islamic, Christian Tamil, Muslim, Indian, etc.
Names are displayed with gender pictures: blue – masculine, pink – feminine, and unisex names for any newborn baby. By the way, you can choose even the meaning of your own name in this app. Ask your family to participate in this complicated process and also compile their own list in this app. Search for perfect first names matching your custom surnames.
back to menu ↑
Baby Name and Meaning Free
Have you ever noticed that celebrities prefer to name their kids in a very unusual or eccentric way? Want to feel like a celebrity? Then you can also try to find an unusual name for your child with this app. This is basically the online dictionary of the names. You will find unique names in a number of languages.
From the very first days of planning, birth, adoption or development, the name will play a significant role in your child's life. It is natural that parents are concerned about making the right choice. The advantage of this app is that you can search for the names offline. All the names are sorted by nationality. The app is the best reading with a fast scroll for a great experience, in scrolling the name list. You can browse, for example, for twins names if you are expecting them. It is better to select from adjacent names in twin baby names category.
Customize the name, decide, with which letter you would like it to start, which meaning would it have and which background. Which event will influence the name of a child? Maybe you want to name it as a famous character – a list of those is also inserted in the app.
Another interesting feature of this app is that you can observe the statistics of a given name in different years. The interface of an app looks quite friendly even when it seems simple. It comfortably combines all the search tools so you are not overwhelmed with all the options presented.

back to menu ↑
New Baby Names With Meaning
Every year there is a name which is especially popular among parents and everyone literally name their kids the same. It is a disputable question whether is it good or not – if many children have basically the same names. Probably, not the best idea ever since it provokes the creation of nicknames and therefore, bullying in school. On the other hand, kinds with too complicated or weird names can also be bullied. Another reason to pay special attention to the name you choose.
This app presents more than 10000 names for each baby. According to the child's nationality, region and culture, you can choose a proper name. Here you can choose a name according to the numerology number. The single-digit numbers, 1 – 9, are the foundation of the science of Numerology. It gives you an indication of your life purpose and also indicates what challenges, tendencies, and obstacles will come into play throughout your life.
According to this app, syllables are crucial as well. It is a unit of spoken language that is next bigger than a speech sound and consists of of a syllabic consonant alone sounds preceding or one or more vowel sounds alone or following.
There are also variants to find a name by Zodiac sign or Rashi or Nakshatra. A Nakshatra is one of 28 sectors along with the eclipse. It is the term for the lunar house in Hindu astrology. Their names are related to the most prominent asterisms in the respective sectors.
Despite all the features, mentioned above, the design of the app looks really cute and basically appeals to the female audience. It doesn't try to look like something professional, it is rather meant to be used for fun.
back to menu ↑
US Baby Names 2018
This app is a little bit more specific – the geography of names is restricted by USA borders. From one point it is even interesting since it shows you more than 10000 American names given to children from between 1880 and 2018 and in any state between 1910 and 2018. It would fit even for a scientific study at one point.
However, you know that the US is the country of immigrants – so it took a lot of names from all around the world. Many names came from the UK, Scotland, Northern Ireland, England. Some of them are French or Dutch. Here you can choose a name by the length.
If you examine the names given in the app, you will notice that such names for boys as Logan, Mike, Liam, Mason have been popular throughout the recent years. You can specify the criteria, for example, choose a State from where you'd like to get info from and see which results you will get.
This could be a very convenient option since it increases your chances to find a matching name for your region, make it stand out, but not in a weird way.
You may also like: 15 Best family locator apps for Android & iOS