East or West, home is best, isn't it? Sometimes we need changes. What can we change in our environment to change our lives? Of course the interior of our house! You can turn your house into a home. You don't need to go to the shop and spend tons of hours to choose furniture.
You may also like: 11 Free Room Layout Planner Apps for Android & iOS
All you need is your phone and a good mood! There are a lot of apps to buy furniture online. The list that is given below can help you the best app for furniture shopping!
Pepperfry – Online Furniture Store
It is easy to make the home a makeover! The app can help you with it. You can choose a lot of different furniture for your house. The range is wide. You can try different designs and styles. The app gives you coupons for shopping to make it cheaper.
The navigation is easy and intuitive. You won't be confused. The app is really comfortable for shopping. You can adjust lists of furniture. There are a lot of ready sets of furniture to inspire you.
Sometimes we are afraid whether the furniture suits the style of the house or not. The app allows you to try it online. Just take a photo of the room and insert the necessary furniture. You will exactly know how it will look.
There is a wishlist to save your favorite furniture. You can also watch the list of furniture that you have already seen. You can buy furniture and if you don't like it when you get it, you can return it. The app has many categories to choose from. It also has good customer support.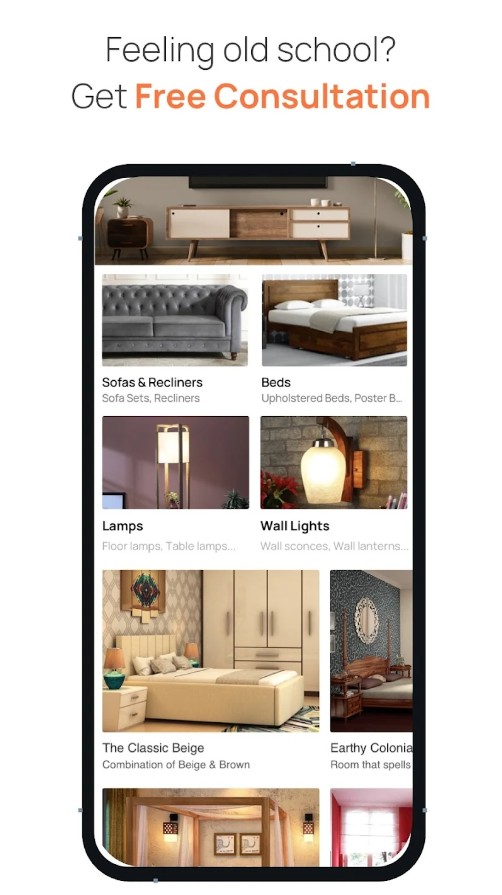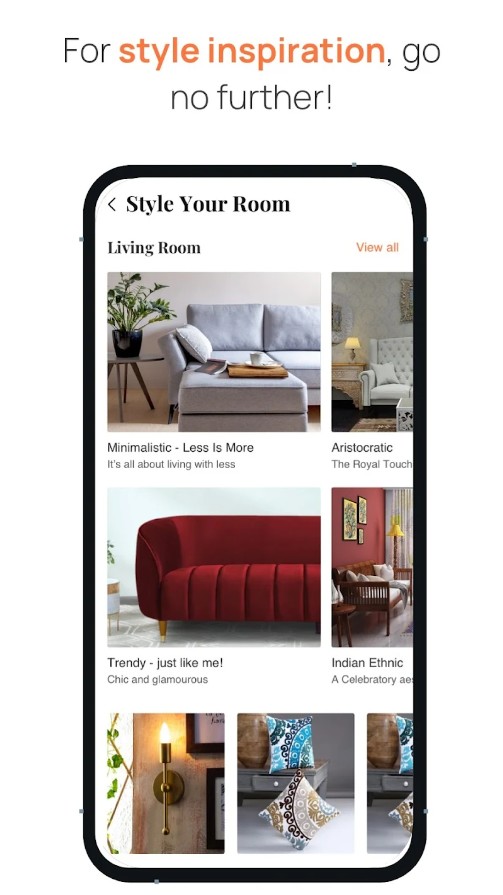 You can also check: 15 Best men's shopping apps for Android & iOS
Furniture online shopping app – Buy cheap!
The app allows you to find the furniture of your dream! Search in a convenient catalog. Online shopping has never been so easy. There are a lot of designs for every room in your house. You can sort of furniture by price or popularity.
Are you looking for new furniture for your study room or kitchen? You can get it online without leaving home. All the designs are modern and so good. The app can show you all stores to buy furniture.
Find unique and comfortable furniture for your home. The navigation of the app is intuitive and perfectly comfortable. You can get the furniture of your dream!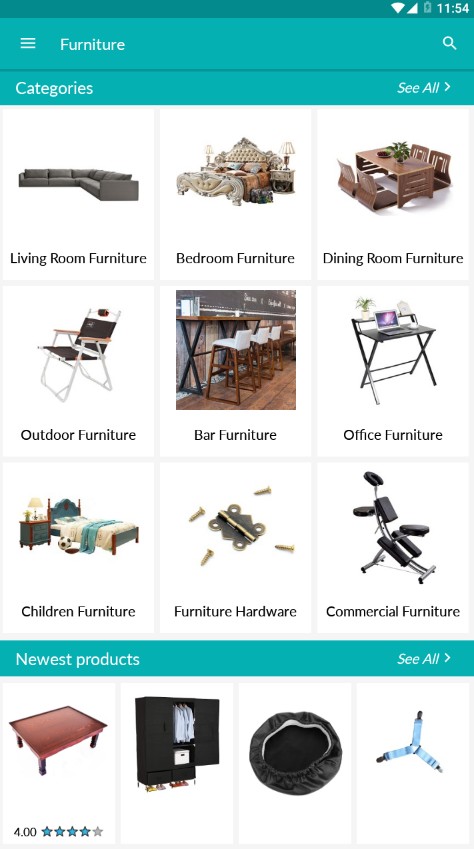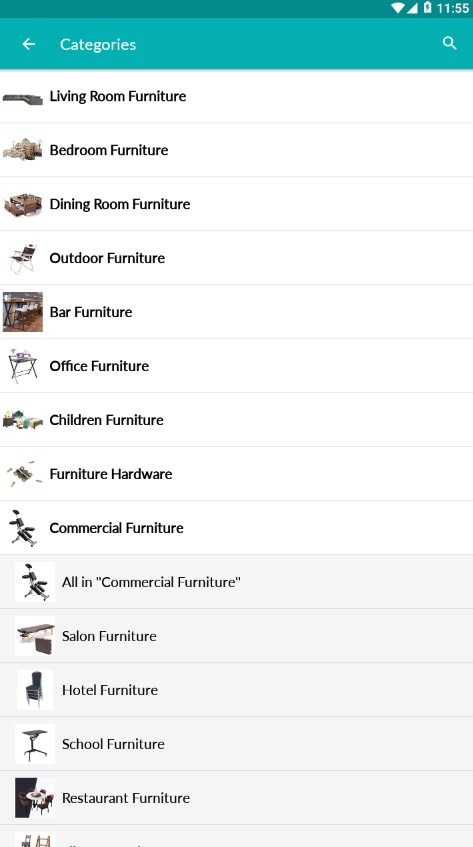 IKEA
The IKEA app suggests a virtual world where you can browse through an extensive range of furniture options. From sleek Scandinavian designs to cozy rustic pieces, the app showcases diverse styles that cater to your unique taste.
It offers you the ability to visualize how IKEA products could fit into your space using augmented reality. It lets you virtually place furniture and items in your home, ensuring they blend seamlessly with your surroundings before you even make a purchase.
Explore a variety of room settings and get ideas on how to style your space. The app's intuitive interface guides you through this creative journey, making it accessible for both interior design enthusiasts and newcomers alike.
Overall, IKEA is a classic choice when people start to decorate their rooms, IKEAS is about quality and special cosy style.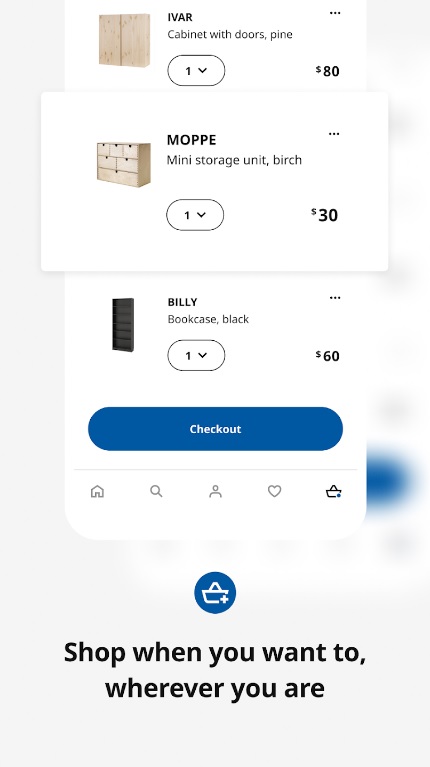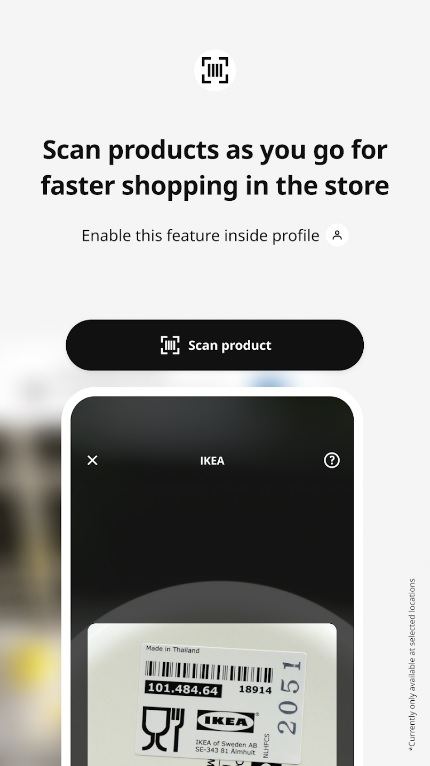 Wayfair – Shop All Things Home
This is number 10 app for furniture shopping. A lot of people have already downloaded it. All furniture is in your hand! The app has one innovation. It is the 3D editor for a better understanding of how the furniture suits the room.
You can use the app for every room and even for the office. The navigation is intuitive and comfy. Millions of people have already changed their style of the house. The app allows you to see life-sized versions of furniture. This is really useful for online shopping.
After buying the furniture you can track the way to your home. There are millions of products. You can create the design of the room online. Just choose the furniture you like and add ut to the photo of your room.
The furniture shopping will be fast and easy with Wayfair! More than 10 million people tried it. The customer service is outstanding.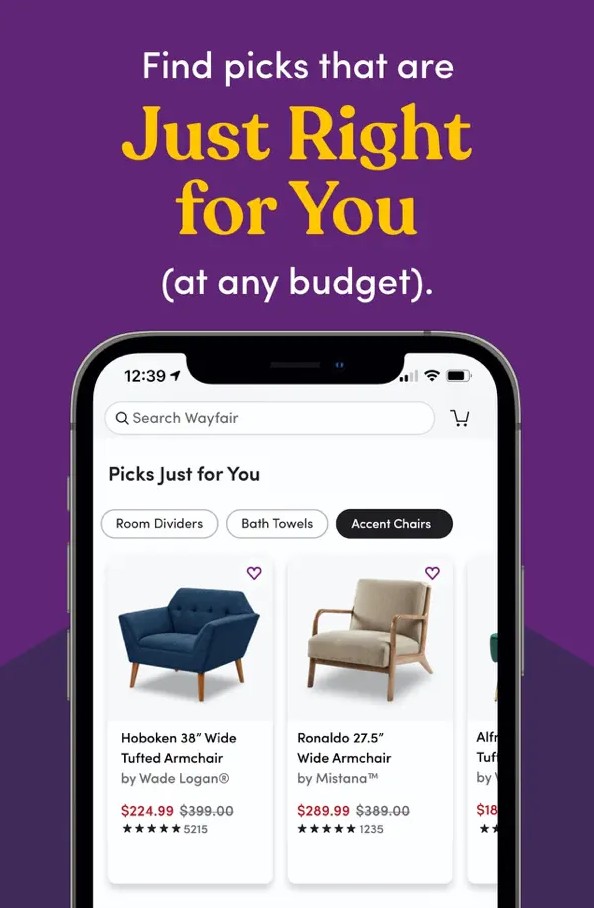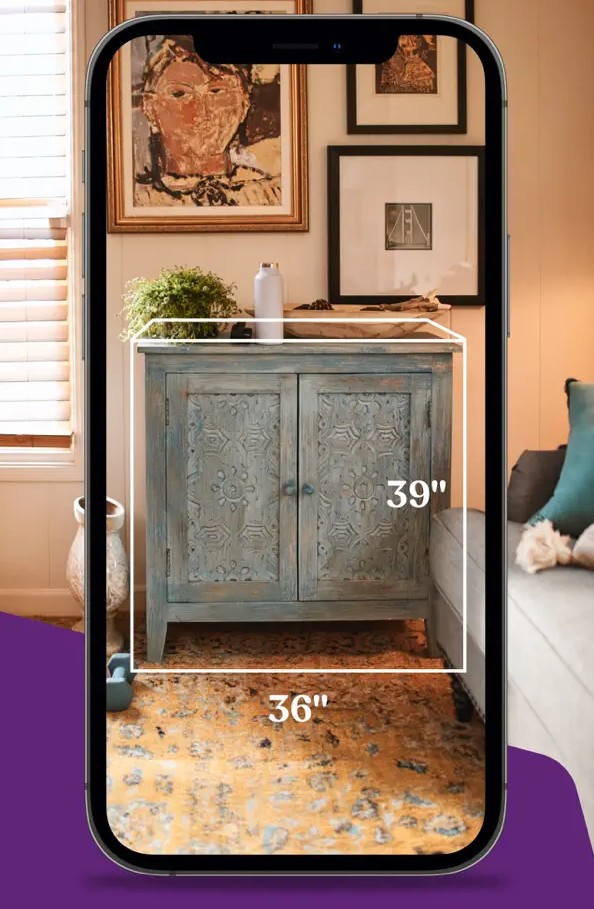 Etsy: Buy & Sell Unique Items
Etsy is an online shop that's gaining popularity.
When you enter Etsy you'll be asked to turn on notifications so you can get the latest updates on the products.
There are three sections on the main screen: For You, Discover, Etsy Pics.
"For you" is the products recommended by Etsy. In "Discover", you'll be able to find all the products you need. You can you the "Search" button for that as well. "Etsy pics" are the popular products. When you find something you like, just add it to the cart, pay for your order and wait for the arrival of it! You can track your order on the app too.
The great interface will your shopping experience comfortable!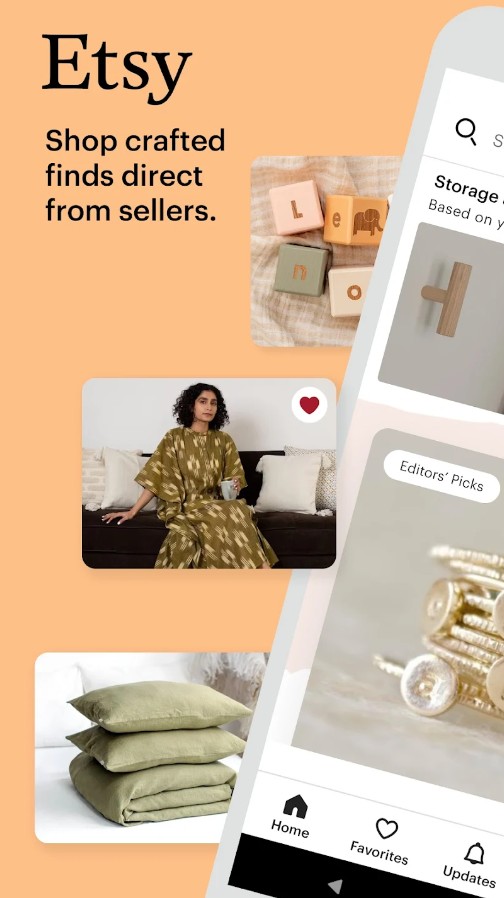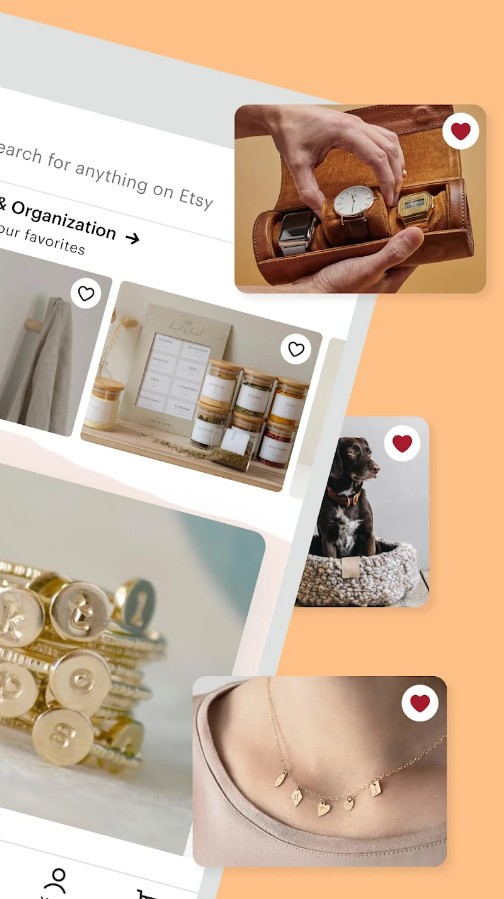 Overstock — Furniture & Decor
The app won a lot of awards for its work. It is a good furniture shopping app to buy furniture online. There are a lot of categories of different styles and kind of furniture. You can find whatever you want in a large price range.
You can use the visual editor to try the furniture at your home online. You will get a lot of coupons and special offers by using the app. The app always notifies its users about something special or sell-out. You can buy your dream furniture.
You can save the products that you like for later purchase. If you have questions you can ask them the support agent. The customer service will always help you. The prices are so good and affordable.
Online furniture shopping is fast and easy with Overstock. Create the house of your dream without leaving home or get inspiration to change something in your house.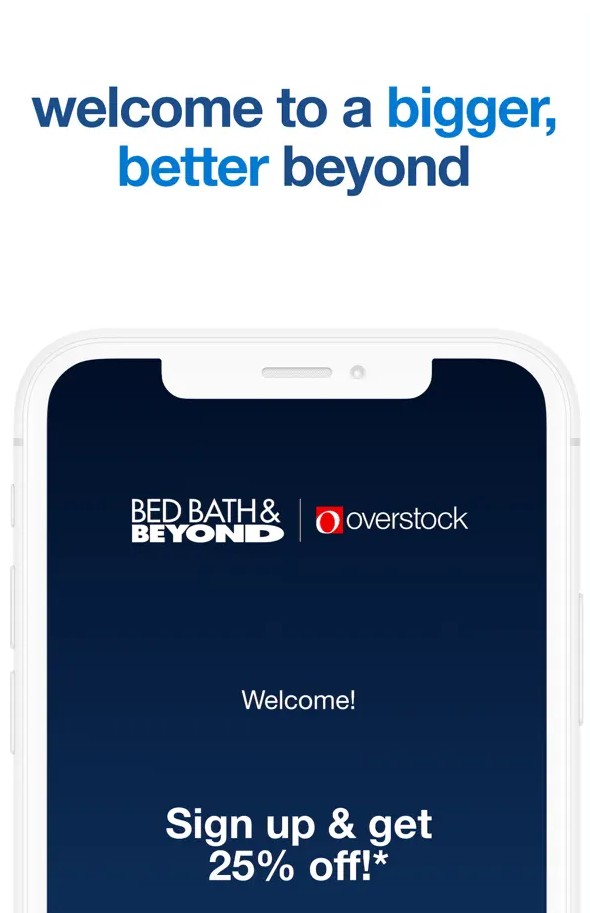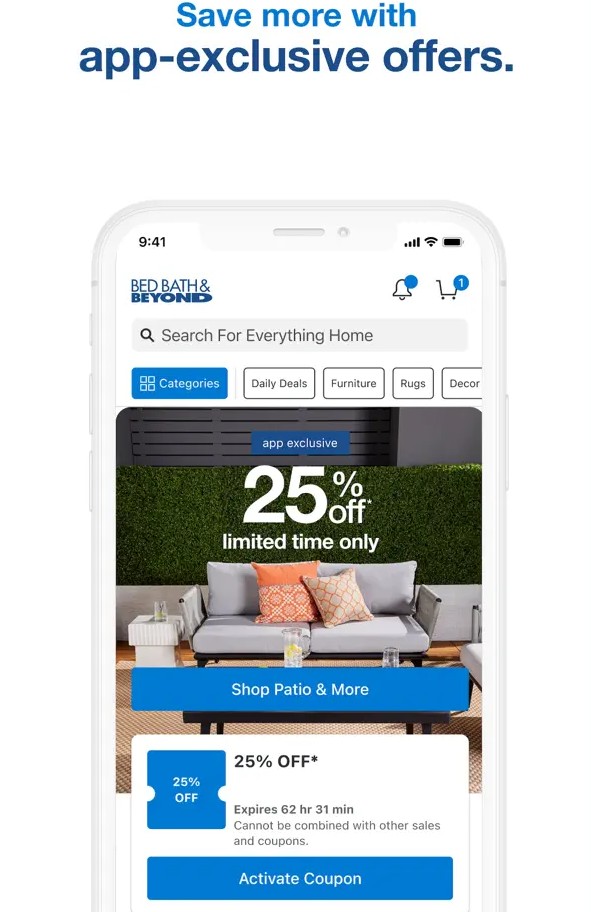 ZaraHome Shop Online
The app was developed by Zara, the fast-fashion retailer. You can find a lot of kind of furniture and home decorations here. ZaraHome is a modern and stylish online shopping app.
The app allows you fast and smooth browsing and navigation. You can find all the most fashionable furniture in one list. You will be full of inspiration just looking at the list of new brands.
Every Zara product has individual information. You will know everything about the furniture you like. The new innovation is a voice search. It is really useful. The app has a map with ZaraHome stores. You can go there and buy the furniture you have chosen.
The app has a contactless payment function. It is more convenient and faster. Make your home perfect with ZaraHome!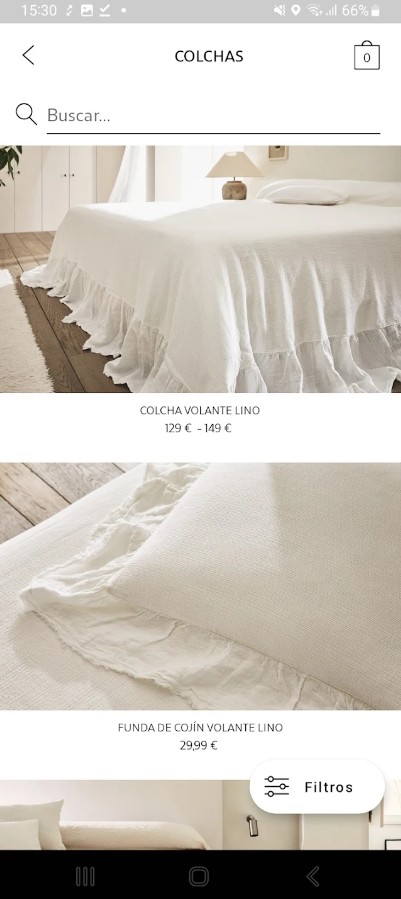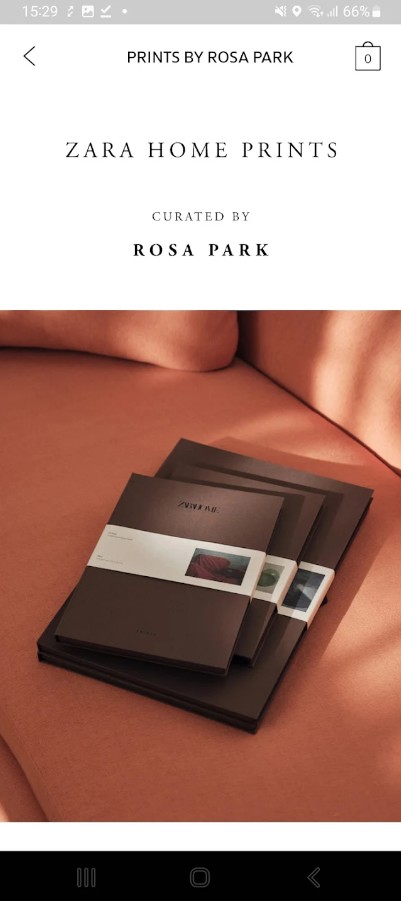 You may also like: 11 Free Floor Plan Apps for Android & iOS
eBay Kleinanzeigen Marketplace
eBay Kleinanzeigen Marketplace is one of the most convenient applications to purchase and trade items from any category. The interface is quite simple.
After you have downloaded the application, you will be directed to the main menu. There are several options suggested. Here you can find a gallery with recommended things.
At the top of the screen, different categories are situated, for example, cars, houses, furniture, clothes, and others. If you are interested in the purchase of the car, then push the button.
If you are looking for a particular product, click on the Search button. Enter the product name in the search bar and use filters to make it easier for you to search.
To get additional information about the product, click on its icon. Here you will find out the size, color, condition of the product.
Scroll down and read the description to make sure that the product suits you. Also, you can get there additional information about the trader.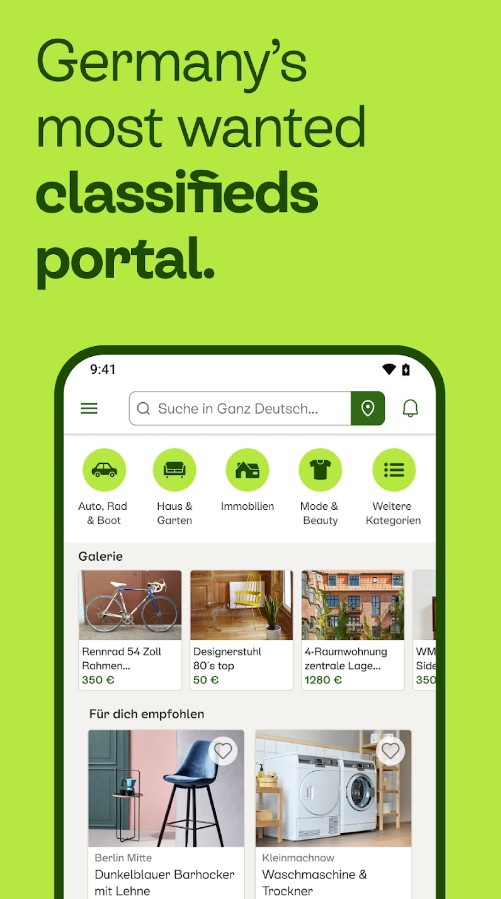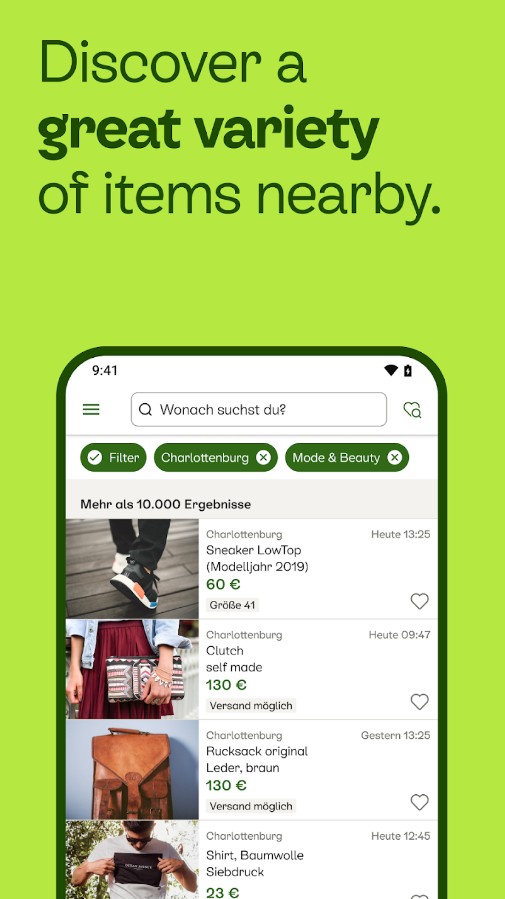 Westwing Home & Living
The app has been downloaded more than 1,000,000 times. It is a good online furniture shop. There are a lot of discounted prices. You can find the perfect table for your kitchen or the comfortable sofa for the living-room.
You need to be fast to buy something with a huge discount. All deals have limited time. You will get everyday inspiration with the app. The furniture shopping will be perfect leisure time.
You can transform your house into a new palace of beauty. There are a lot of brands for every corner of your house. The shopping is secure, you don't need to worry about the theft. Try it and you will be amazed! Many beautiful things for your home are in one app.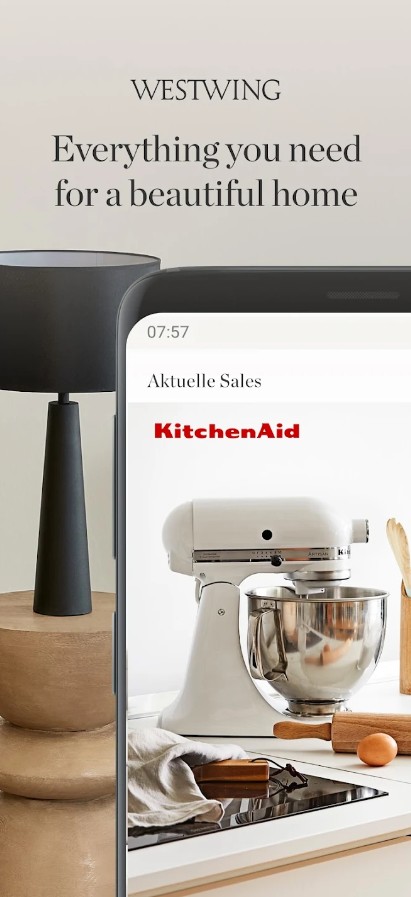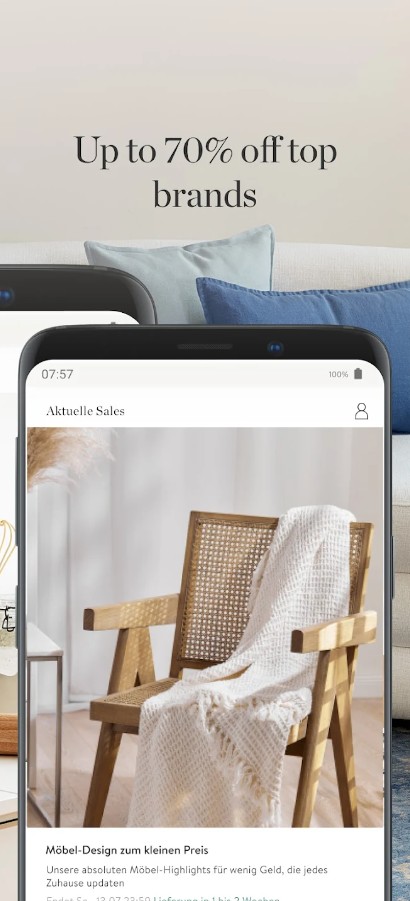 Urban Ladder – Furniture Store
The app was developed by an Indian furniture company. There isn't the only furniture but it also has a lot of home decor and styles. All products are qualitative and adorable. There is furniture for kitchens, study rooms, dining-rooms and so on.You can find whatever you want. The furniture catalog helps you with it. It is very useful and comfy. There are a lot of categories for better searching. You will get a personal recommendation based on your search list.
The app can also notify you when a new collection comes out. You can enlarge the product to see them better and understand every detail.
It has been downloaded more than 1,000,000 times! The app gets its users everyday inspiration. You will be inspired by seeing new designs. It also has amazing customer service to answer every question you asked.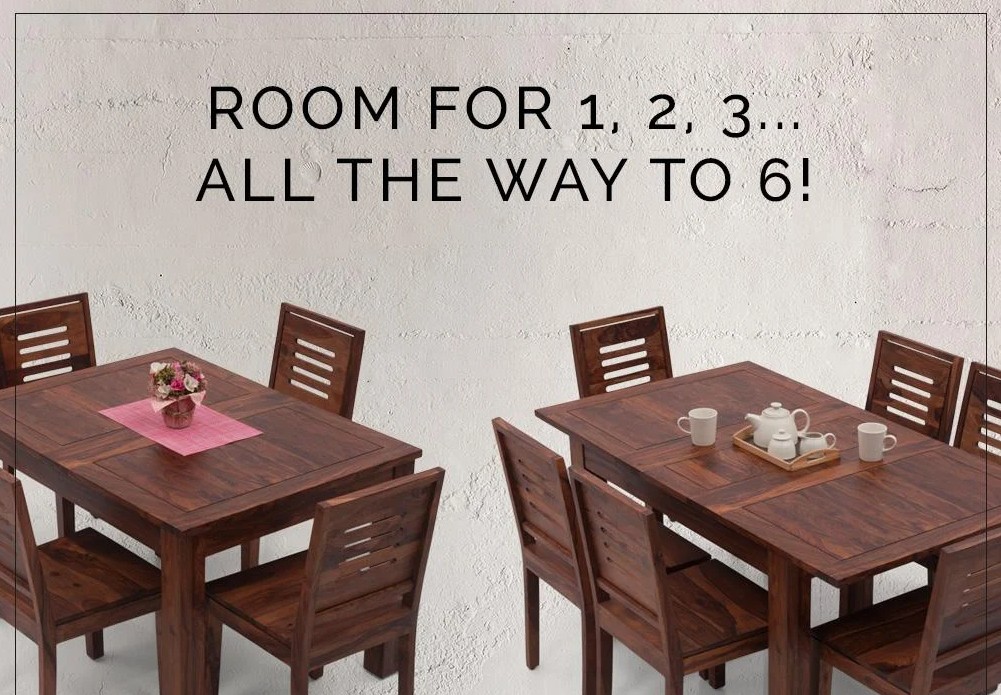 Joss & Main: Furniture & Decor
Joss & Main prides itself on offering an array of furniture that caters to various tastes and styles. It app presents an assortment of furniture that seamlessly fits into your vision of a perfect home.
You can explore an expansive collection of decor items, from exquisite rugs that tie your room together to elegant lamps that cast a warm glow.
The app's user-friendly interface lets you design your space virtually by placing items in your room using augmented reality. This innovative feature ensures you can visualize how each piece complements your space, all from the comfort of your phone.
With Joss & Main, you can seamlessly transition from exploration to purchase. Order the perfect sofa, the dining table you've been eyeing, or that stylish wall art you simply can't resist.
To sum up, it is possible to say that this online shop offers you furniture to any room and to any test, so everyone can find something special.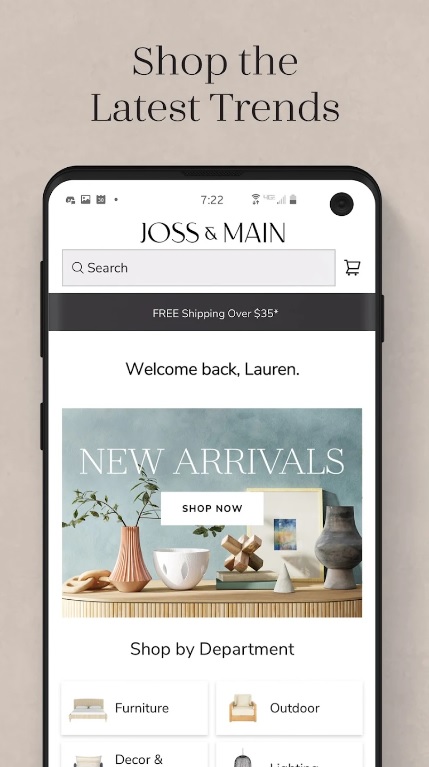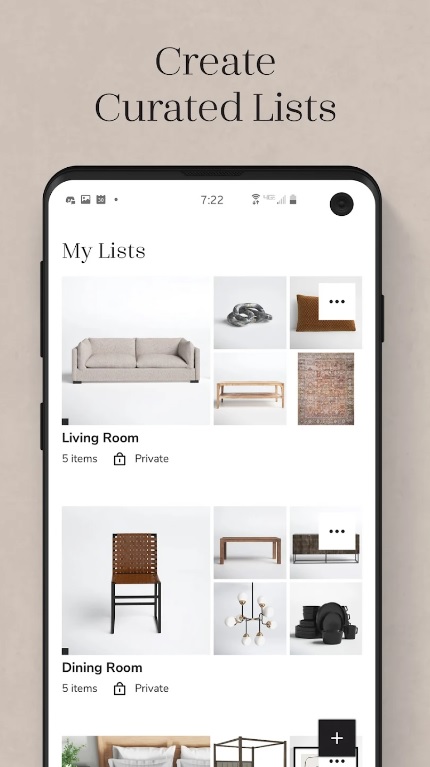 Rooms To Go
This app offers an impressive selection of furniture to suit various lifestyles and design aspirations.
Also, it extends its charm to an assortment of decor items that infuse character into your space. From intricate rugs that add a touch of warmth to captivating wall art that sparks conversations.
Browse through the catalog, explore different themes, and visualize your ideal living space. When you find the perfect pieces, the app makes purchasing a breeze, ensuring that your chosen items are just a few taps away from being part of your home.
The app understands your preferences and offers tailored suggestions that align with your style. It turns the overwhelming task of furniture shopping into an enjoyable, efficient experience, whether you're furnishing a new home or revamping your existing one.
Finally, Rooms To Go is the app that provides the tools to curate your perfect house, in this shop there are all you need to make your rooms comfortable.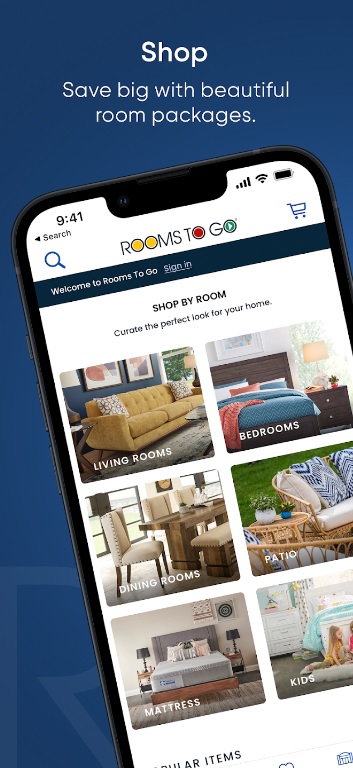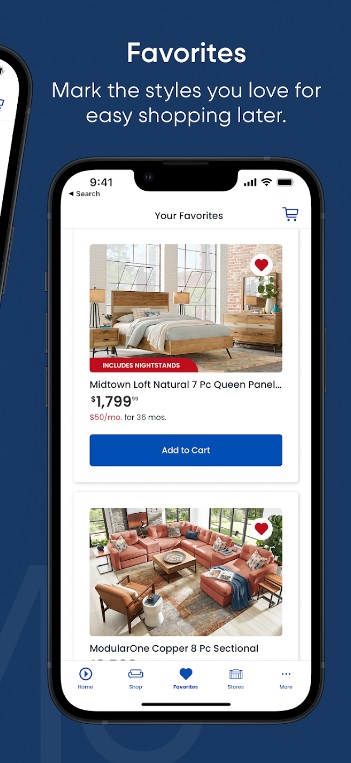 Furlenco
Furlenco is a platform that allows you to choose furniture from a huge collection of cozy armchairs and modern tables.
From plush sofas that beckon you to unwind to space-saving dining sets perfect for comfortable dinners, Furlenco boasts a diverse selection of furniture. 
Moreover, Furlenco is more than just a furniture rental app; it's a lifestyle enhancer. Imagine being able to furnish your home without the hassle of purchasing, moving, and assembling furniture. With Furlenco, you enjoy the luxury of well-crafted furniture without the commitment.
The app offers affordable rental plans that allow you to indulge in quality furniture without compromising your budget.
To sum up, I can say that Furlenco has plenty to offer, you can not only buy furniture but also rent it.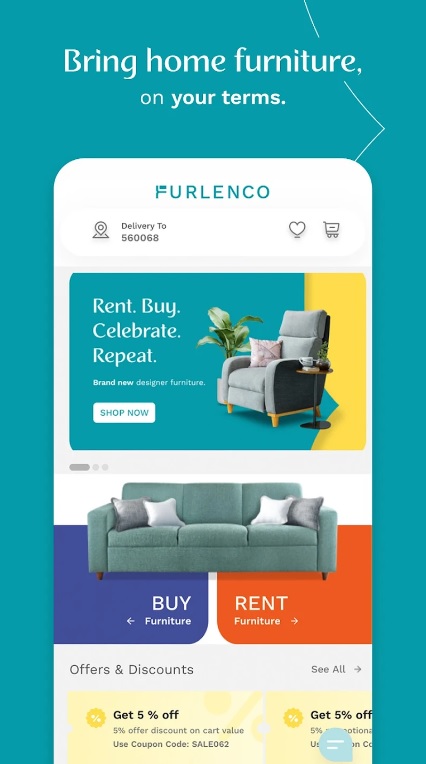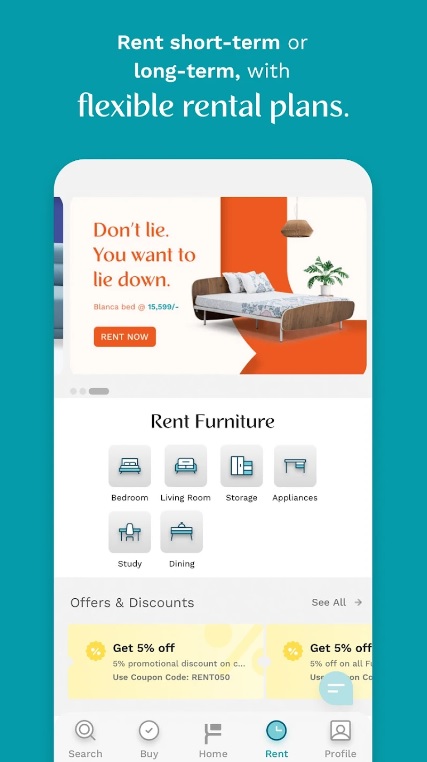 Chairish – Furniture & Decor
Chairish offers a diverse range of furniture, catering to various styles and tastes. The app provides an array of choices that let you infuse your personality into every corner of your home.
One of the app's standout features is its collection of unique and one-of-a-kind pieces. Whether it's a vintage chandelier that adds a touch of glamour or a statement-making sculpture that sparks conversations, Chairish helps you uncover treasures that make your space truly exceptional.
In addition, Chairish empowers you to transform your design dreams into reality.
In conclusion, I think that this app is a comfortable platform to buy furniture for all styles and desires, you will definitely find something you really like.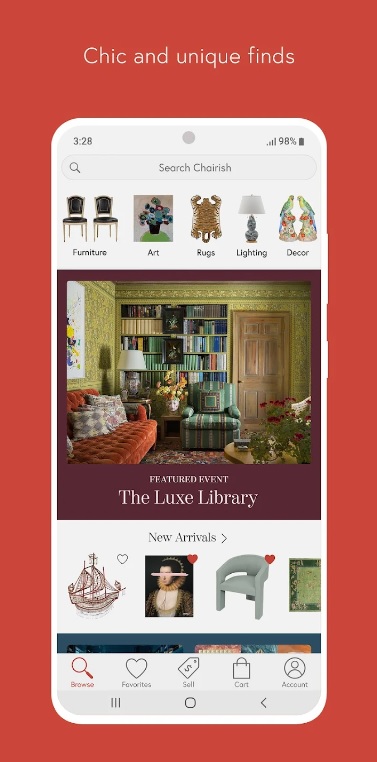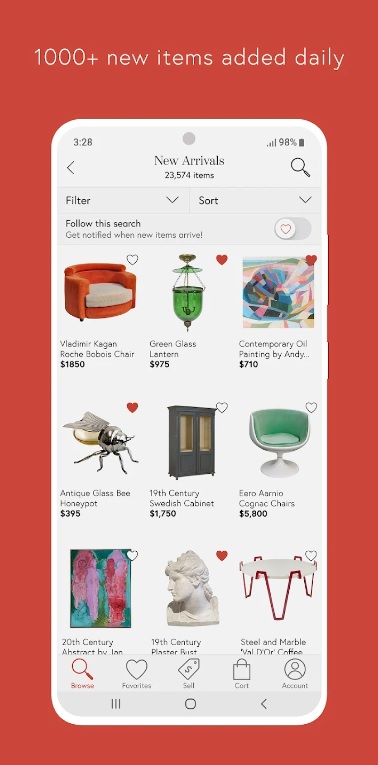 pfiindia.com- Biggest Furniture Online Store India
You can buy Indian furniture online without leaving your home. This app can help you with it. Buy new products for your house and make it look beautiful. You can look through a giant and massive collection of furniture. There are a lot of categories such as bedroom, kitchen, nursery, study room and so on. Just download it and then you can create your own account. The searching system is easy and intuitive. You can search using filters such as colors, shape and others.
You can look at the reviews of the products you want to buy. Add furniture in a wishlist to buy it later or show it to your friends. Every product has its own description. It helps you to know the product better.
This furniture online shopping app helps you to create a wonderful style of your house. Turn on your imagination and search for new furniture. It also has perfect customer service. You can track all your order to know how long does it takes for the product to come to you.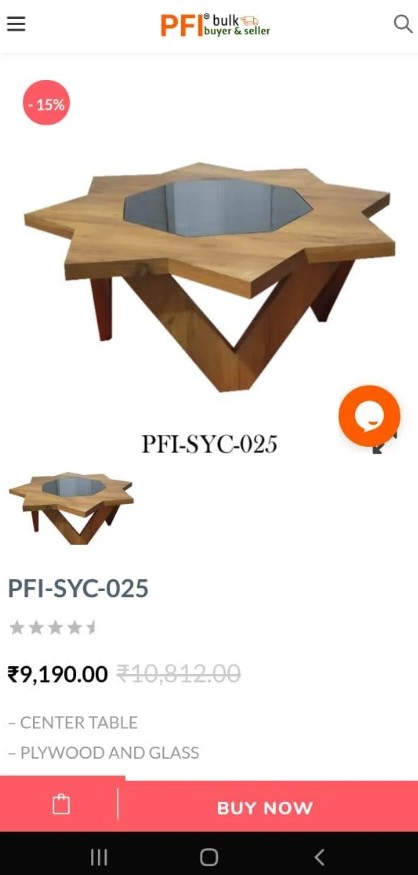 myFOA
The app can provide you the furniture from the United States of America. There are a lot of competitive prices and products. You will definitely find something to your liking. The app has a huge collection of different styles and designs.
You can buy everything you want because the products are so varied. The app allows you to see the information about the furniture. You will know about its size, shape, color and price. You can adjust the catalog by rating or popularity.
Add furniture to the wishlist not to miss it. The app also has good customer service. You can ask ane question and get a quick answer.
It also has a website. You can rotate and look from all sides of the furniture for a better understanding. Create comfort in every room of your house with myFOA.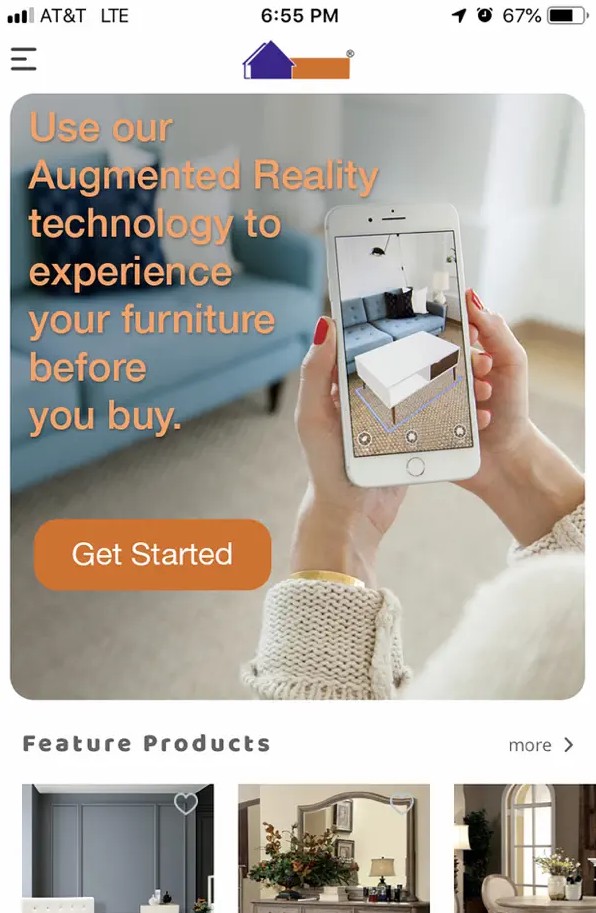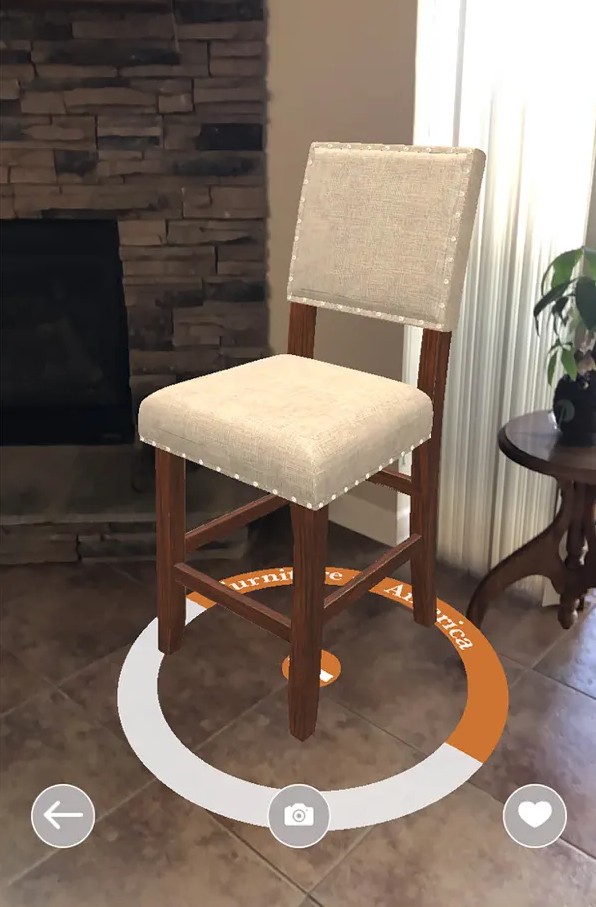 You can also check: 17 Best online shopping apps for Android & iOS
FurnitureHub.pk – Pakistan's Online Furniture Shop
You can buy Pakistan's furniture. The app allows you to choose beautiful furniture from different categories. Online shopping is the best way to buy new furniture. You can search for products by name.
There are a lot of designs and styles to choose from. The app also has hot products that have high sales. The navigation of the app is intuitive and comfy. You can try different designs and styles. The range is wide.
Buy sofas, arm-chairs, tables or everything you like! You can find everything in this app and change the inner style of your home!