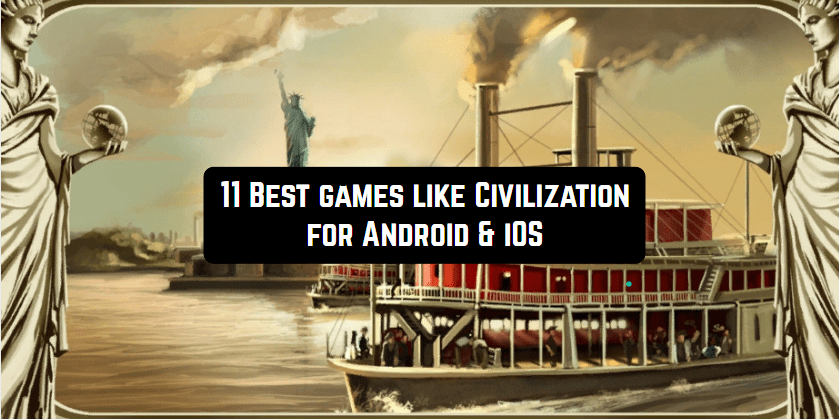 Civilization is a series of games that are considered to be the best strategy in the world according to many gamers. In this game, you can try yourself as a strategist who decides the fate of the whole country, builds diplomatic ties or wages wars and guides the people to the prosperity and glory. Of course, if you have completed this game, you want to find some more. But we are lucky, there are plenty of games similar to Civilization for Android and iOS where you can continue developing and testing your strategic and tactical skills. So, let's take a look at the best strategy games like Civilization for your device.
Forge of Empires
This is a good alternative to Civilization for Android and iOS: in this game, you are to build a city and to get it through times from ancient times to the future era. You will develop technologies and your people will be able to produce more and more new advanced goods necessary for their lives and prosperity.
What is more, you are to explore new lands, to build ties with your neighbors and you should decide whether these relations will be peaceful or not. Trade and plan the intrigue or wage wars to build the most powerful empire.
Advantages of this game:
Forge of Empire is one of the best alternatives to Civilization for mobile platforms as it has all the basic functions;
Pleasant design;
Historical aspect.
The game is free to download but offers in-app purchases.
back to menu ↑
World of Empires
World of Empires is a game like Civilization in all the aspects. You develop your empire through eras by improving technologies, building cities and training units special for each civilization. The game has an interface and graphics similar to Civilization as well (for example, hexagonal cells).
Features of World of Empire:
You are to decide the way your civilization develops;
Many opportunities for development; the game is frequently updated;
Contains both military and civil aspects of civilization development.
Free to play on Android and iOS.
back to menu ↑
DomiNations
DomiNation is quite similar to Civilization. It contains eight different nations to play for, and you guide the chosen nation through times from the stone age to the bright future and make it the most powerful in the world. Each nation has unique buildings and units. What is more, the game has a multi-player aspect.
Advantages of the game:
All the features you are looking in the game like Civilization;
Beautiful design;
Historical buildings and events.
Free to play, offers in-app purchases.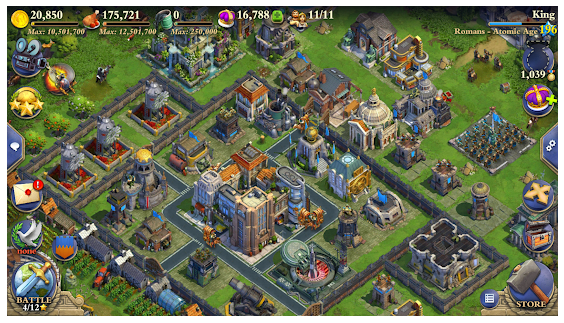 back to menu ↑
Townsmen
Townsmen is a classic city-building game with the setting taking place in the medieval times. In this game, you develop your city providing the inhabitants with everything necessary, all their physical and cultural needs. Optionally, the game contains military aspect: you can add soldiers and bandits. So you need to use all your strategic skills to protect your people in the dangerous surroundings.
You should play it because:
It's a classic town-building strategy;
Many scenarios for you to follow: you can  add challenges like weather changes or bandits and many more;
Your townsmen will give you advice and tips on how to develop your town.
Absolutely free to play as long as you don't want to remove adds or by game's money for real money.
back to menu ↑
Roads of Rome
One of the best strategies you can find for your device. It is not only a game where you use your skills for developing some sort of land but the setting is explained by the romantic story. You are to explore the fruitful barbarian lands and build a prosperous town for your people. Caesar will control your actions and give you some advice.
Advantages:
Beautiful graphics and smooth intuitive interface;
A well-developed strategy gathering together civil and military aspects;
Quite like the Civilization from the point of gameplay.
The freemium version is available to download.
back to menu ↑
Hades' Star
This is a good alternative to Civilization with the settings based on space. You are to explore the new galaxy and to colonize it. You can interact with other players, build diplomatic relations, cooperate and trade, or declare and wage wars to conquer new territories. The game is extremely beautiful and interesting to play, at the same time it has all the aspects of strategy.
It is worth trying because it has:
Beautiful space setting;
All the aspects of strategy;
It's a unique game from the point of locations.
Free to play, but offers in-app purchases.
back to menu ↑
Tribal Wars
This is a classic real-time strategy game where you need to build a medieval fortress and develop your army to protect your tribe. The game provides an opportunity for military strategy, but you need to use all your skills in order to form a powerful tribe.
Key features:
15 unique buildings to build and upgrade;
The opportunity to declare war or fight a defensive war with your enemy;
Military diplomacy: build alliances to protect your tribe from rivals.
Multi-player mode.
Free to play, offers in-app purchases.
back to menu ↑
Civilization Revolution 2
This is the game developed by the developers of the original Civilization series. Everything you love in Civilization is in here: you can choose what way to develop your empire (military, technology, trade or culture), choose who will represent your people and build diplomatic ties with other leaders. The game is a sequel to Civilization Revolution for mobile and has more units, more technologies to develop and smoother graphics.
Features:
A classic Civilization game  with all the features;
Easy to play on your Android and iOS devices and goes for both platforms;
New units, technologies, buildings, and additional challenges.
The game will cost you $9.99.
Recommended article: 11 Best games like Life is strange for Android & iOS.
back to menu ↑
Clash of Clans
Another classic RTS game you must have heard about. In this game, you need to build a village and to join a clan to protect your citizens from outer danger. It is rather a fight strategy but you also need to develop the economy of your village to make your people prosper. You need to develop your troops to form a strong army and be able to fight any war.
Advantages of Clash of Clans:
Many people playing this game all over the world;
A good war simulator;
All the features of real-time strategy to prove you strategic and tactical skills.
The game is free to play.
back to menu ↑
rymdkapsel
This is also a strategy for Android and iOS, but it is quite different from others listed. This is a minimalistic strategy game. You are to build your own space station and explore the space around you. This is rather a base-building game: you don't need to form and train units to fight, you need to think about how to build the best base.
Summary:
A unique design, simple and lightweight;
Space-based setting;
Good opportunity to prove your strategic skills.
The price is $3,99. Available both for Android and iOS.
back to menu ↑
SimCity BuildIt
Another strategy and simulator for those how loves the civil aspect of strategy. You are to build a city and develop it according to your citizens' needs. The game has many unique buildings and an opportunity to cooperate and trade with other players.
Features:
Beautiful design and intuitive interface;
Peaceful aspect of strategy;
Many opportunities to build, trade and cooperate.
The game is free to play.
---
So, playing these games you will practice all your strategic and tactical skills! play good games and enjoy your time.